patrick_y
[PuristSPro Moderator]
27288

<!tag blob="forumpost.visitstar">
Dubai Watch Week: Cool Watch Alert: Vanguart Black Hole Tourbillon
I saw this at Dubai Watch Week and I found it to be very impressive! I found it to be THE MOST SURPRISING WATCH at Dubai Watch Week!
It's a digital watch kind of like the Lange Zeitwerk, but it has a more futuristic TRON/Spaceship vibe. It also adds a Flying Tourbillon. The science fiction look is really nice in person and is definitely a beautiful look!
The team that makes Vanguart is from Renaud Et Papi (Audemars Piguet's in-house technical solutions provider). Renaud Et Papi alumni are known throughout the industry as some of the best watchmakers and innovators in the industry - many have started their own firms including the team at Vanguart.
The awesome timepiece definitely has a very special gravity - it sucked me in deeply! And I like it a lot! Really looking forward to the amazing concepts from Vanguart in the future! Check out our video of Vanguart's timepiece in action at
www.instagram.com
where you can see some videos of the numbers advancing. There's also a spinning regulator/governor on the back!
Okay, so now, I decided I wanted one - but when I heard the price - my heart did jump much faster. Unfortunately for me, I have VERY EXPENSIVE tastes. There's a titanium version that I like more than I like the yellow gold version so maybe that'll help me save some funds - but the white gold version (pictured below) speaks to me the most. But go take a look at the video on Instagram and tell me that you don't find that super cool!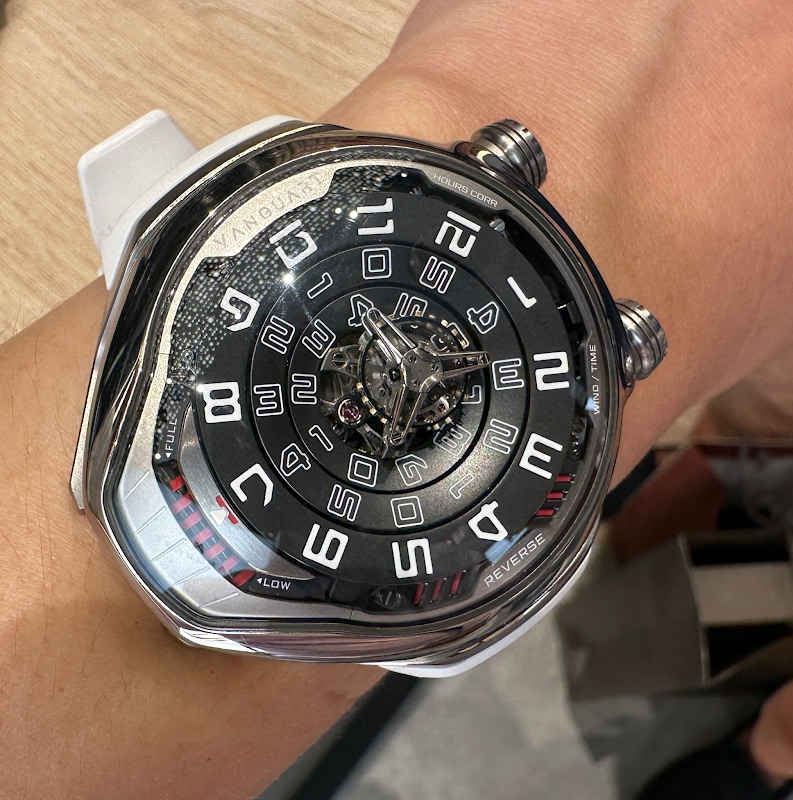 And to the team at Vanguart - awesome timepiece. You are rightfully proud of your creation!
More posts: