cgreen
81

Guilloche dials
Morning all,
Hope you're enjoying a great weekend. I'm turning to the forum for a bit of help in the vintage world. I'd like to know when Cartier started using guilloche on their dials and whether it was done in-house or supplied to them by a dial manufacturer. Were there different dial manufacturers that delivered perhaps better quality dials, hand done guilloche?
This has come about because I'm interested in buying a '40s - '60s vintage piece and am doing a bit of research.
I'd very much like to find a Tank and/or Tonneau in platinum with guilloche dial, Breguet hands and a Jaeger or AP movement. Does such a thing exist? And if so does anyone know a ref number(s) and better yet does anyone have photos they can share?
Also, I know that the European Watch and Clock Company was supplying movements but I've recently seen a movement in an auction catalog written as International Watch and Clock Co. Is this perhaps a mistake or is this another company?
To that end, why are EWC movements so sought after by collectors? Are they robust calibers or just something that is part of Cartier's history and thus desirable from a standpoint outside of their technical soundness?

Finally, I saw a platinum Tank from the '40s but it comes with a deployant clasp in pink and white gold...could this be original? When would Cartier have begun using such a clasp system?
Whatever you all can tell me is terrific, thanks very much for your help, I'm looking forward to hearing from everyone. Have a terrific day, speak soon.
Yours,
Chris
PHOTO ADDED by Editor for dial illustration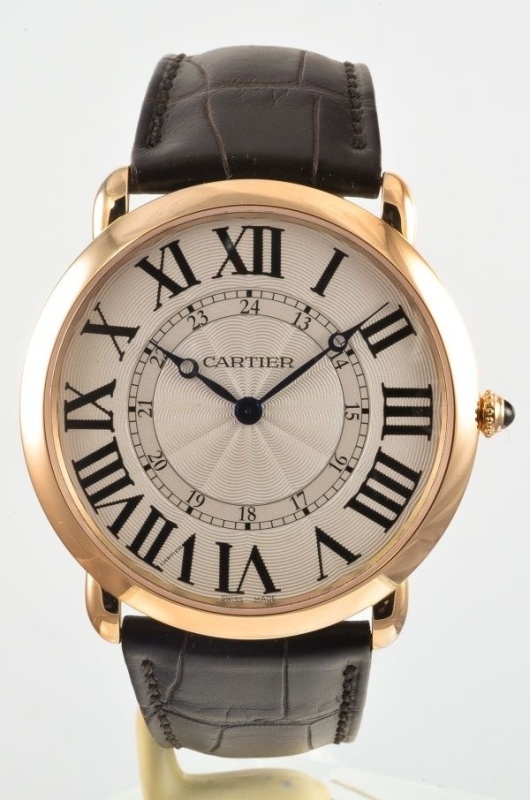 This message has been edited by MTF on 2013-11-22 02:02:22
More posts:
<!tag blob=wf.addthis>