Mary Anny
201

Submariner 5513 dials in their last decade
In 1983 the overall aesthetics of the most popular Rolex Submariner ever changed quite radically. While case, bracelet, and bezel remained virtually untouched, the watch dial progressed to a new look, precursor to today's Submariners.
The very last Submariner matte dial (top picture) was apparently produced until 1984 although most 5513 watches bearing it were sold in 1983. The dial is called Maxi V, it has the everlasting long triangle at 12 o'clock (last time we'll see that), slender coronet, wide Submariner text upon the depth ratings, and, most importantly, no gold surroundings for the hour indices.
The first 5513 with glossy dials and tritium indices surrounded by white gold were sold in 1983. The very first glossy dial from the new era (in the middle), let's call it Mark I, shows the tiny triangle at 12 o'clock of today's Submariners, a rather slender coronet, the peculiar Submariner "S" from many maxi dials, and a "huge" SWISS - T < 25 logo positioned similarly to meters first dials from the late sixties.
The very last 5513 dial (bottom), let's call it Mark II, is glossy, has gold surrounded indices but wider coronet, simplified text font altogether, and very subtle minute markers. It came to light seemingly in 1985. The text font (with different depth ratings) and the overall dial style were kept in the very first Submariners 14060 with tritium dials. My 1967 Sub got this dial in a 1999 service by a Rolex AD.
I know of no other 5513 dials from the decade.
From the point of view of vintage watch collectors, I know that the 5513 from that period are the ugly ducklings among the 5513 and unworthy of consideration. Nevertheless, some of them are sold today at higher prices than watches with sad matte dials and cupcake-like hour indices (don't kill me).
The photographs are courtesy of H.Q. Milton.
I hope you find it interesting reading.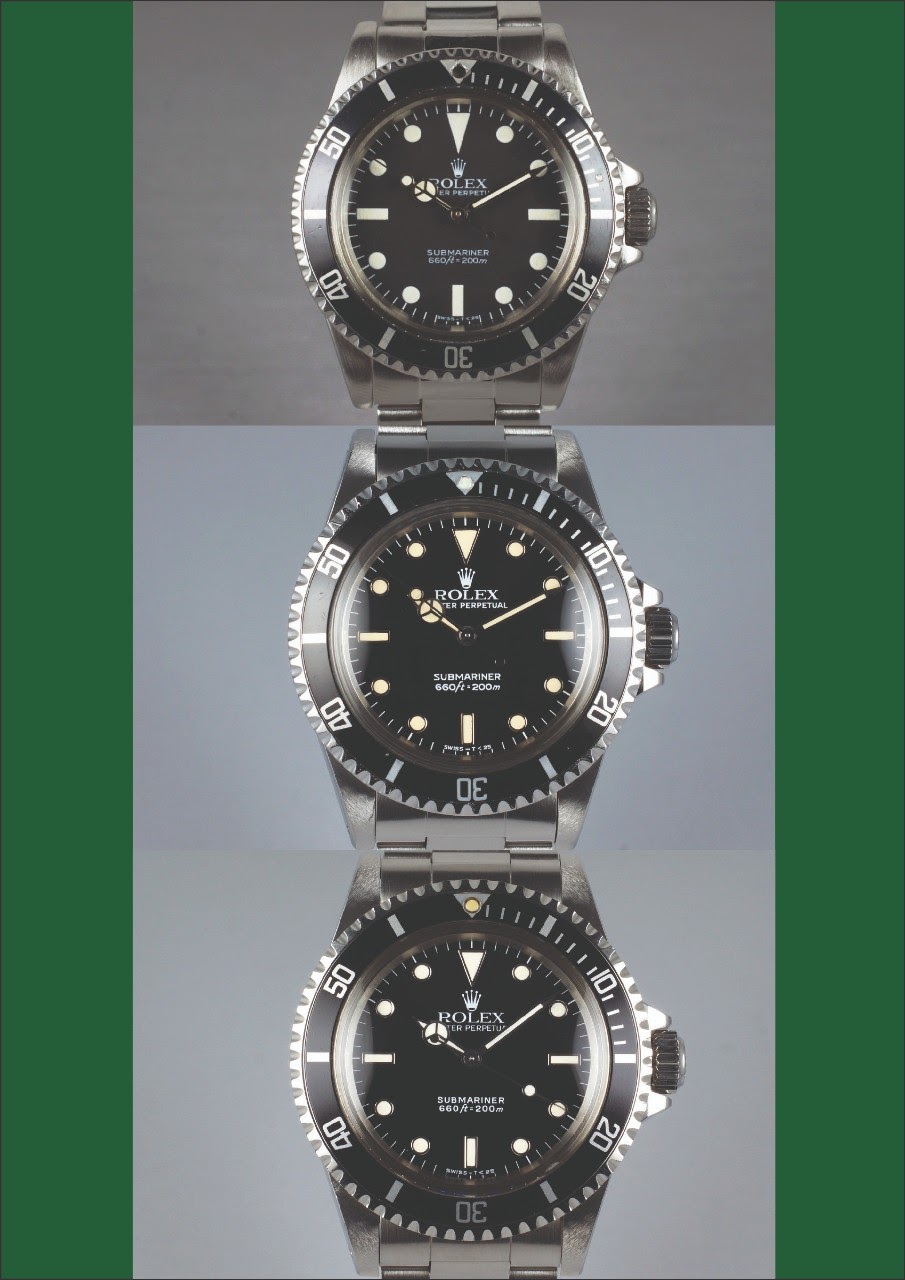 More posts: