FatFryer
12

Kennsen Annual Calendar Chronograph Review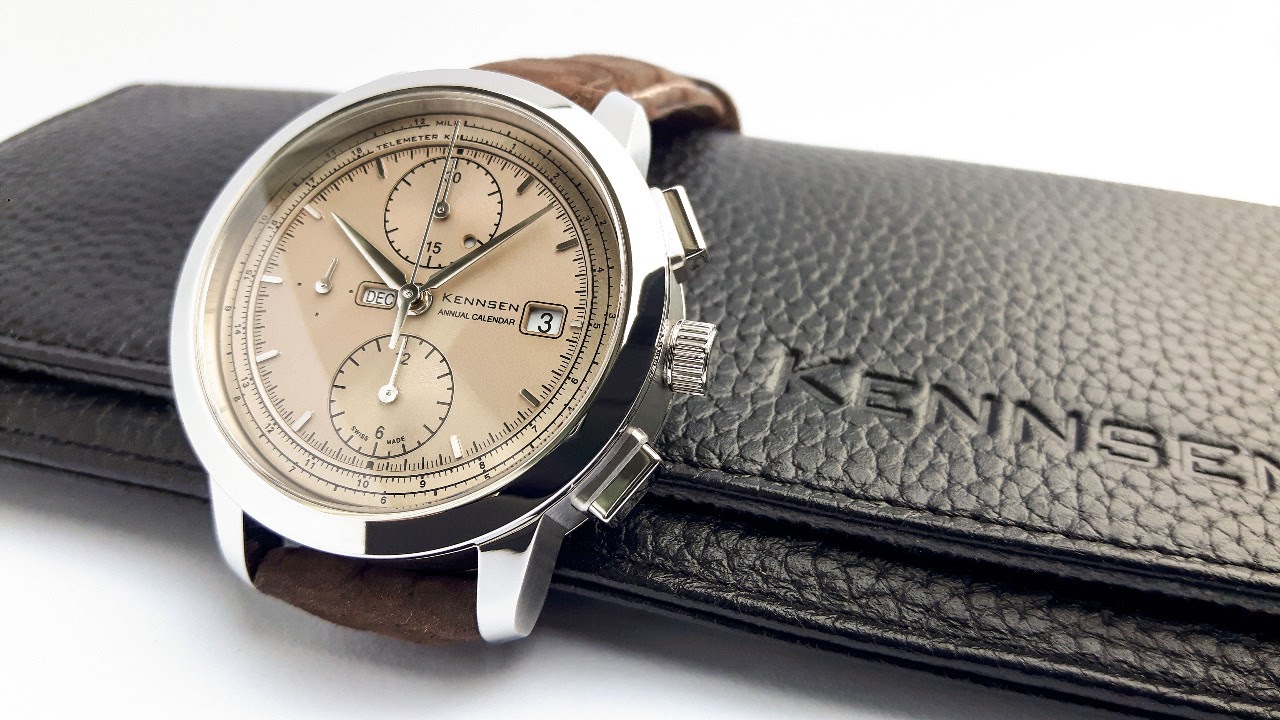 This an edited version of my thoughts that I originally posted on a site I frequent, so apologies if this is something of a repeat for you. I am impressed with this watch and found it refreshing to have answers to my questions from the person behind it, which is not something that happens often. If you are interested Annual Calendar Chronographs please read on:
Background
I owe a lot to James Bond: Apart from regularly saving the world, 007's penchant for a certain watch brand introduced me to the fascinating world of mechanical watchmaking. A decade or two further on, my interest watches is now somewhat off the beaten path. H ere is the story of my latest acquisition: a Kennsen Annual Calendar Chronograph:
For some time I had been interested in acquiring another chronograph but this time I focused on something new for me: a combination chronograph and annual calendar . Some consider the annual calendar as the poor relative of the perpetual as it requires a manual adjustment at the end of February. I however like this clever calendar system that, once in the year, relies on you to do the right thing.
Of the few companies proposing annual calendar chronographs , first-up was Patek Philippe with several models – but then it is also credited with being the first bring of the (annual) complication to market in the mid 1990s.
The more affordable examples of the annual calendar chronograph include
:
The
UN Marine
but (and this is a personal thing) I find the look wrong for me.
Montblanc had a model using a Stellita base and stacked Dubois Depraz modules at a price near the UN.
Bucherer has a variation on this formula at a cheaper Swiss Francs (CHF) 7k

MIH (Musee International d'Horlogerie) has an inter esting model (soon to be discontinued) based on a 7750 with a module by Ludwig Oechslin. At CHF 6k (last time I checked), it has a lot to offer and is also considerably less costly than the ( non-chrono ) 2824-based annual calendar of Ochs and Junior (also Oechslin).
In the end though, my eye was caught by the watch I eventually purchased: the
Kennsen
Annual Calendar Chronograph at CHF 5k.

In short, this watch is based on a 7750 rebuilt with their own in-house annual calendar and, unlike the MIH, has all its counters dial side.
The technical development, up to final virtual prototyping, was all done by Kennsen in Biel/Bienne while the rounds of physical prototyping and final production is done in the Vallee de Joux.
In brief, I am pleased with "my" discovery and because Kennsen are somewhat unknown, I have penned a few notes:
The watch arrives:
The Kennsen Annual Calendar Chronograph came securely packed in outer card box and an inner in which were a two-year warrantee and user manual in the form of booklets. The watch itself was packed inside a leather travel/storage wallet which, when opened, revealed my champaign-dial Annual Calendar Chronograph. Did I like what I saw? Yes, very much so; it is one of those watches that actually do look better in reality than they do in photos.

The watch – from the inside out:
The base movement is a Top Grade 7750 with the out-of-the-box blued screws replaced for silver ones. I asked Mr David Lea, the director of Kennsen and sole inventor/developer of the calendar system about this screw replacement. He apologised for his frankness and indicated, in a nutshell, "Outside of Daniels' I don't particularly care for them".Fair enough I suppose; I have seen some very cheesy blued screws and personally like a clean look. In any case, for me these screws work very well with the watch. Also visible through the display back is also a sober grey rotor that I find complements the movement.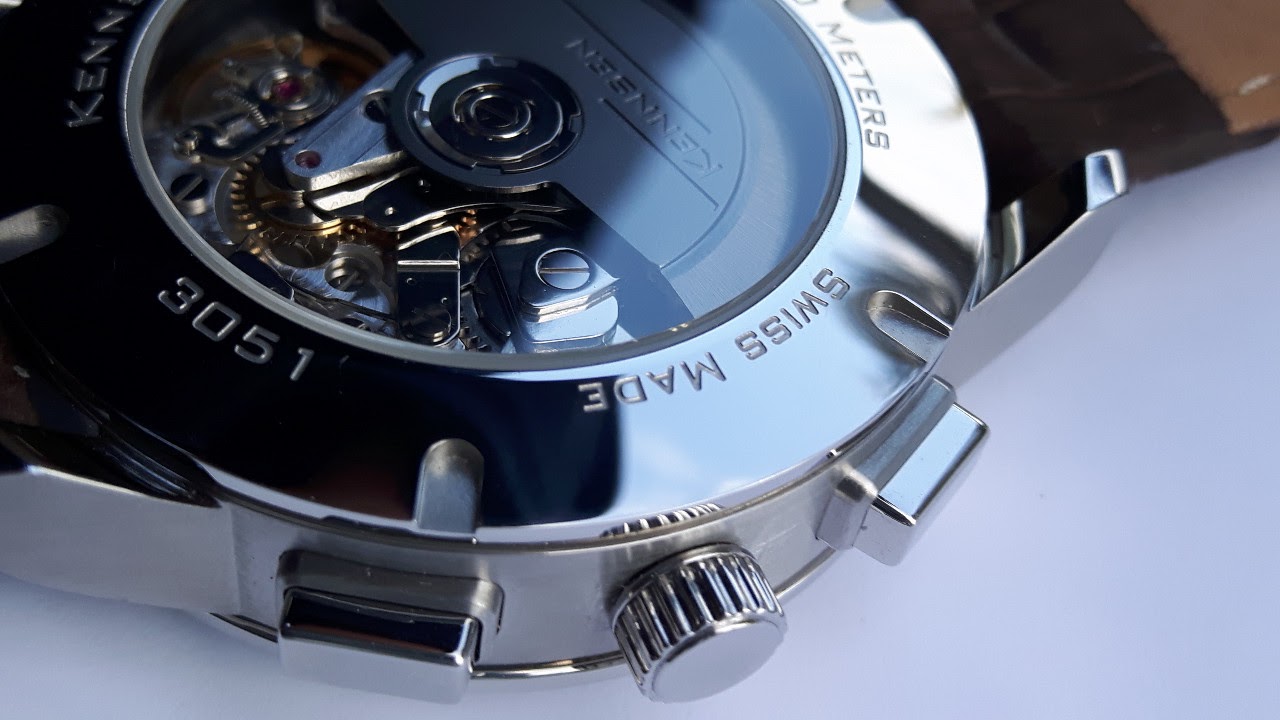 The movement itself is said to be hand adjusted to -2 to +6 seconds per day. In the two weeks I somewhat closely monitored the watch, I have found it nearer 1-2 or 3 seconds fast per day on the wrist.
The big thing for me about the movement though is not the cosmetic embellishments but its mechanical sophistication. While the chronograph bit is ETA (they say Valjoux), its annual calendar bit (protected by two patents) is all Kennsen. The entire calendar work-plate, jumpers, gears, date ring, everything, has been invented/developed by Mr Lea for this calendar which operates with co-axial year programming and month display wheels.
The new mechanics also include a day/night display which I have found extremely useful when setting/playing with the watch. More details about the mechanics themselves can be seen on their site and on Watches by SJX. Briefly Kennsen's Annual Calendar is a total replacement of the original 7750 calendar work and does not add any height to the movement.
And on the movement, an admission here: I admire the 7750. It is the classic tractor of horology and at the roots of much of the watch industry: the DC-3 of the watch world.

Back to the watch :

Importantly Kennsen's calendar was developed to be fast-adjustable by the crown which is a nice touch. You are told however not to attempt to wind the date backward when adjusting the hands (or use the fast adjustment when "night" is indicated). So forward only for date adjustment, but from my experience, adjusting the date forward through an entire year is no particular chore.
The stainless steel case has a crossover sport/dress feel which I very much like. Kennsen makes a point of saying the case is their design and is Swiss Made, which should be normal, but I have heard that increasingly watchmakers pursue other options. The case itself measures 42mm in diameter and 49 mm across the lugs and is water-resistant to 50m. The watch sits very comfortably on my 18.5cm (7.3 inch) wrist and has no problems fitting under a business shirt. Unfortunately my cellphone does not do justice to it.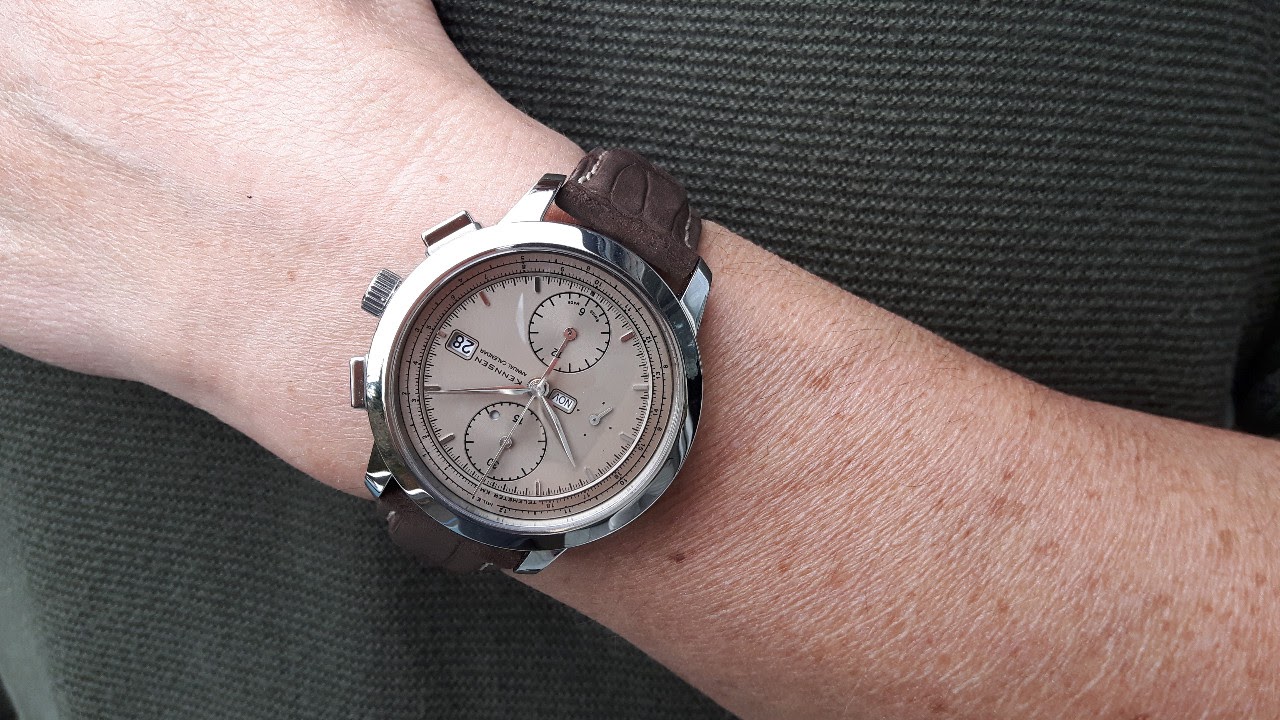 The dial is large (34mm according to Kennsen) and has a raised outer telemeter scale which makes a welcome change from the usual enlarged chapter ring or tachymeter. It
does balance the sub-dials quite well, which does not always happen with modern watches using movements designed when a cased man's watch was 36mm (the 7750s, El Primero, Lemania, etc).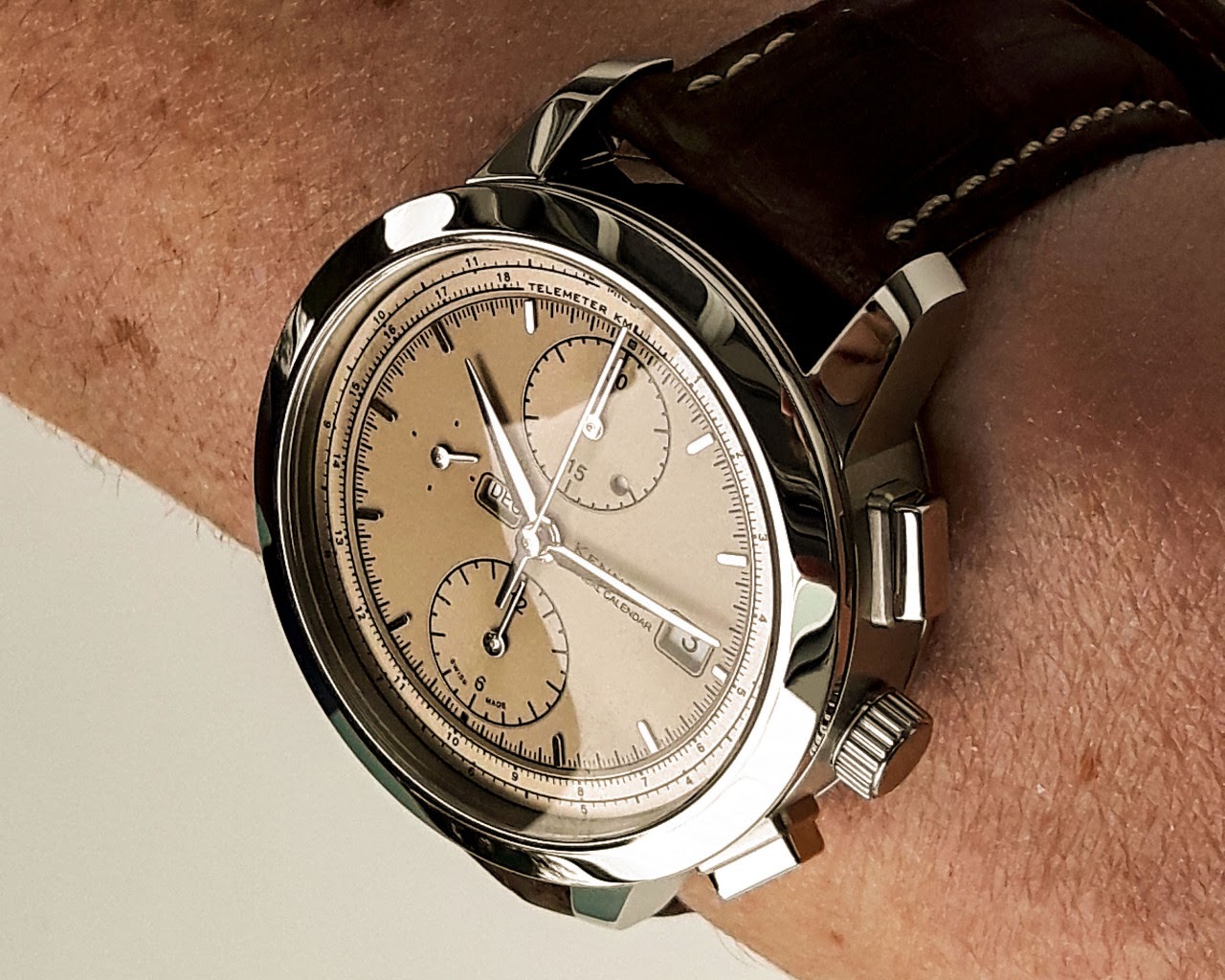 The date and month displays are via windows. Unique to Kennsen, the month window is positioned on the left. Some might find this odd but I personally like the quirky nature of it – if watches all looked the same I might not find them so interesting.
Date switch-over at the end of the short months involves two separate drives and the total short-month changeover seems to be five and a bit hours for mine – longish, but still not bad compared to the four attributed to Patek (I hope one day to check this personally). For more information about this I emailed Kennsen and to my surprise got quite a detailed answer:
This short-month changeover length is intentional as they wanted: 1) security between drives and 2) to use a short radius driving arm for the annual wheel to minimise the force required.
The watch has no day display
but,
while I can need reminding of the date, knowing what day it is has never been a problem (at least not yet).
The champaign dial of my watch works well and sits under a domed crystal. The main dial itself is matt with circular brushing in the sunken sub-dials and radial on the raised telemeter ring. All of these are however subtle touches. Also subtle is the colour which although described as champaign has nuances of lemon to salmon depending on the light.
The highly polished hands work well with the dial as the combination gives a lot of life to the watch. The downside is trying to photograph them when you are not a professional. Another downside is of course that the watch has little night time legibility – although that was rather obvious from the outset. As I said, great on the wrist, less so trying to photograph it.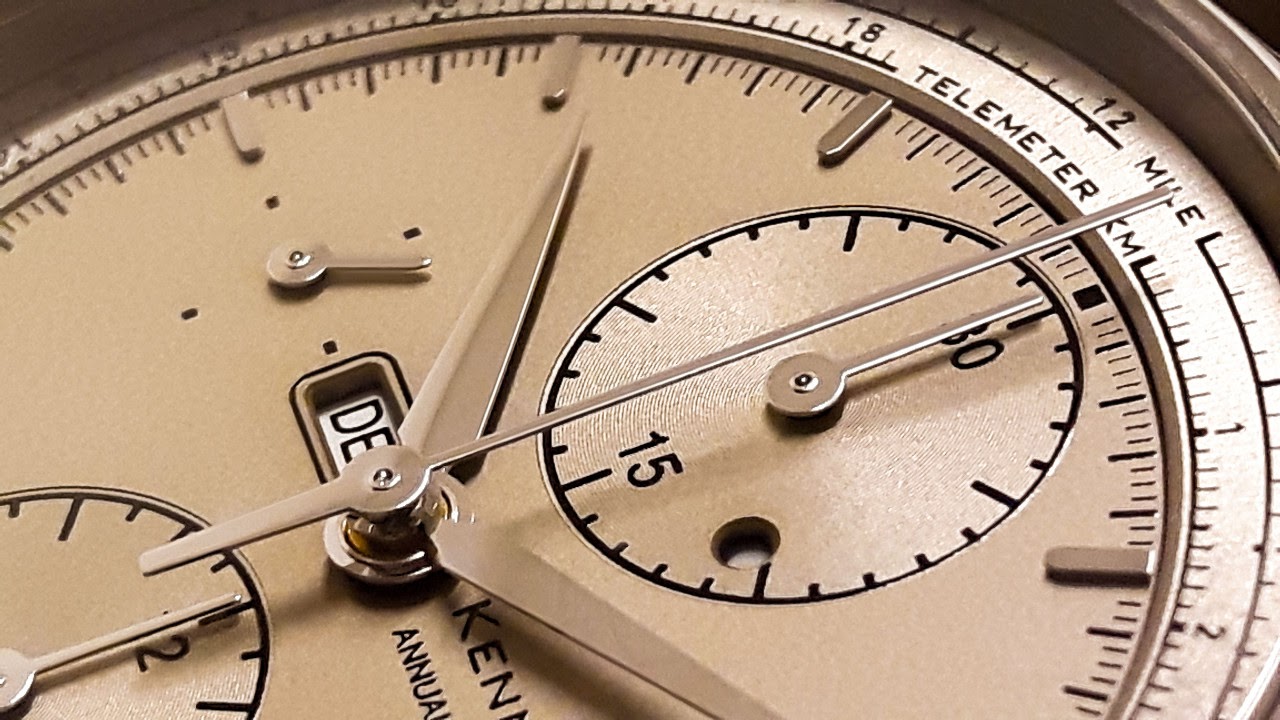 Conclusion:
If I can reference our Mr Bond once more: this is a stealth-mode watch. It is attractive and deliberately understated (no bling here), but resting beneath the hood is a technical prowess and a ratio of real watchmaking to price that is hard to beat. I very much like this style.
At 5k Swiss (CHF) the price is much less than asked for other chronograph annual calendars with similar base movements. While it is not cheap in absolute terms – you can pick up a ( non-chrono ) annual calendar from Swatch Group mammoth Longines for less (or a quartz of course) – Kennsen has a lot to offer; even more so when you compare it to the many mechanically untouched 7750s out there from "brand name" firms at this price level. Personally I am very happy with my new acquisition and can only wish you the same for what ever watch you choose.
Cheers.
More posts: