<!iframe style="align:center; height: 250px; max-width: 100%; width: 100vw; overflow:hidden;" src="https://storage.googleapis.com/pubzapuscentral/watchprosite/ad/adsGO10/index.html" frameborder="0">

cazalea
[Seiko Moderator]
13118

<!tag blob="forumpost.visitstar">
Pheasant in a package
We prepared some special dinners tonight, to use up a few pheasant breasts and a few bottles of Pinot Noir. I found a recipe that sounded reasonable and rewrote it to my specifications:


PHEASANT BREAST EN PAPILLOTE
W/CIDER, GARLIC BUTTER & VEGETABLES
The pheasant is cooked in a foil package, helping keep it moist and tender.
Recipe for 2. Ingredients
•
100g salted butter + 1 clove garlic, chopped
•
2 tbsp parsley, finely chopped
•
1 tbsp tarragon, finely chopped
•
2 skinless pheasant breasts
•
250g small potatoes, thinly sliced
•
2 handfuls watercress or rocket / arrugala
•
100g sweet bell pepper, thinly sliced
•
6 radish, thinly sliced
Pre-heat the oven to 325°F and place a flat baking sheet on the middle shelf.
Mix the garlic butter ingredients together and season with a little pepper.
Cut two pieces of foil and baking parchment, about the size of an open copy of a magazine.
For each parcel, lay the parchment on top of the foil, make a thin bed with the potatoes and season, place the greens on top then the vegetables, season well & top with pheasant, butter and thyme. (Tip:Add more butter than it calls for)
Fold and seal three sides, then add the lemon juice and cider before sealing the last side.
Bake for 20-25 minutes on the hot baking tray.
Check to see if the potatoes and pheasant are cooked in. If not, reseal and return to the oven until done.
Place the parcels on a plate and allow everyone to unwrap their own to get the full steam effect.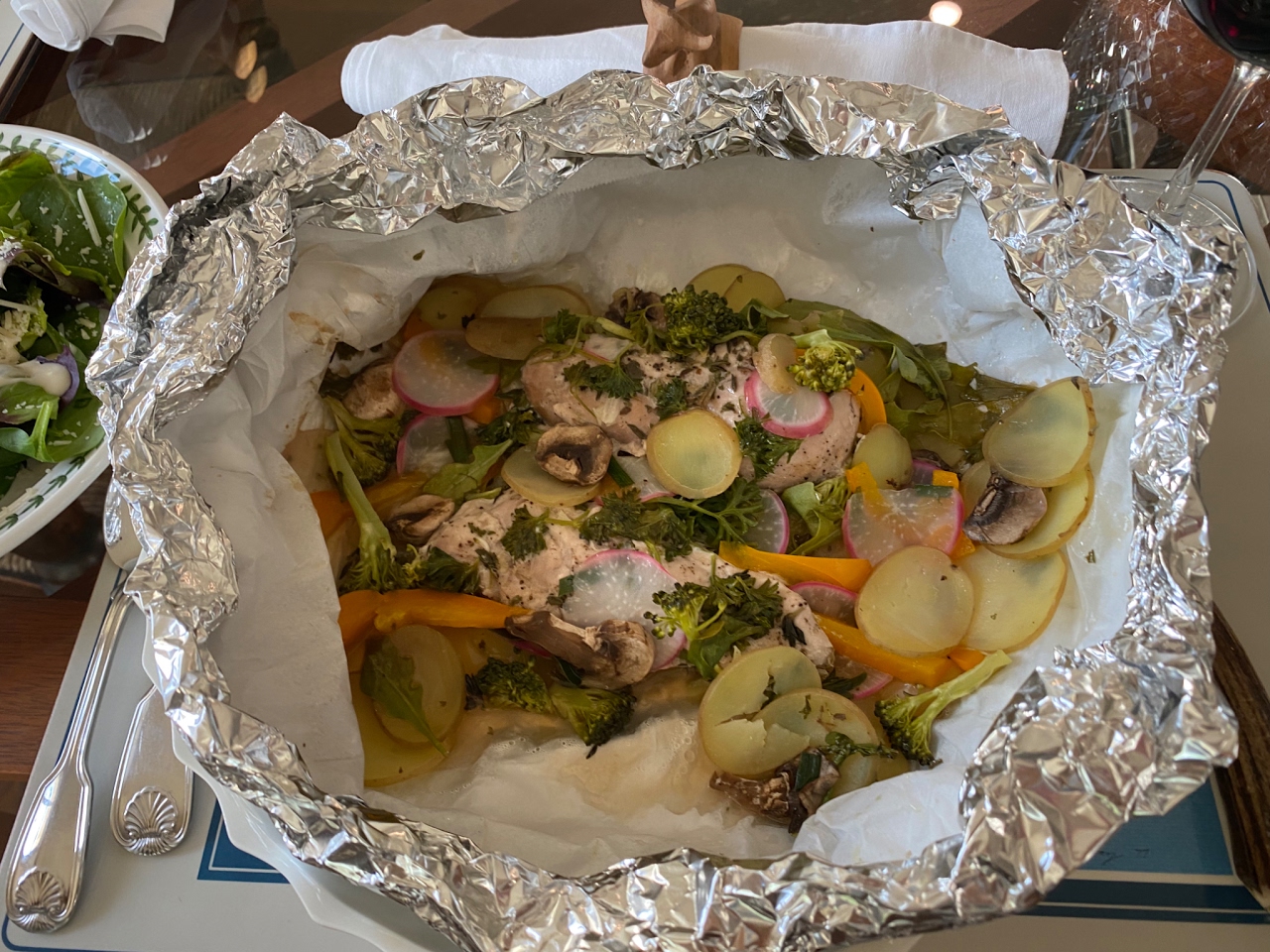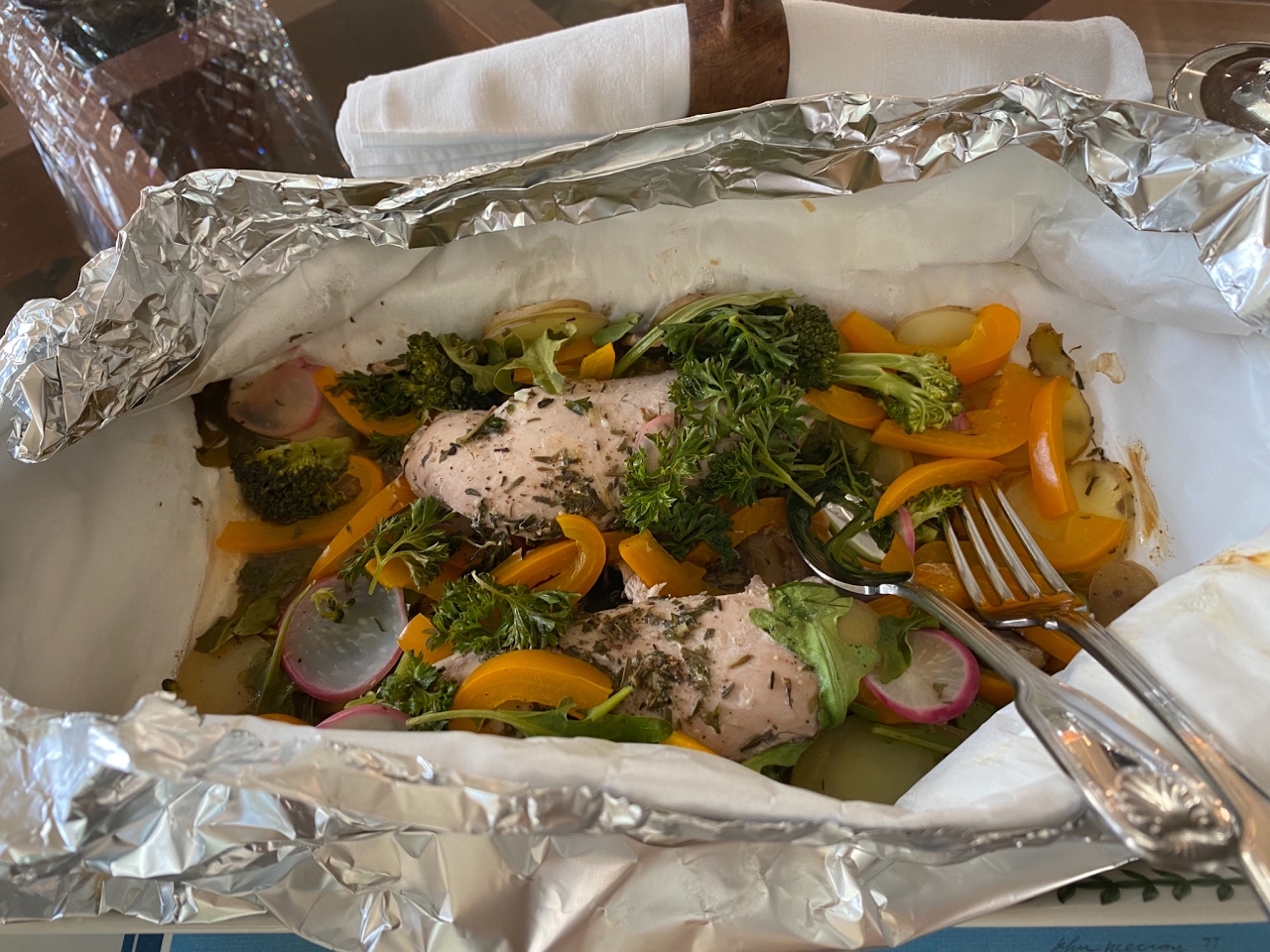 Despite the steam cooking, outside of the breasts were dry. I ladled on a bit of raspberry jam which added a touch of moisture, sweetness and tart; orange marmalade would work too if you have it.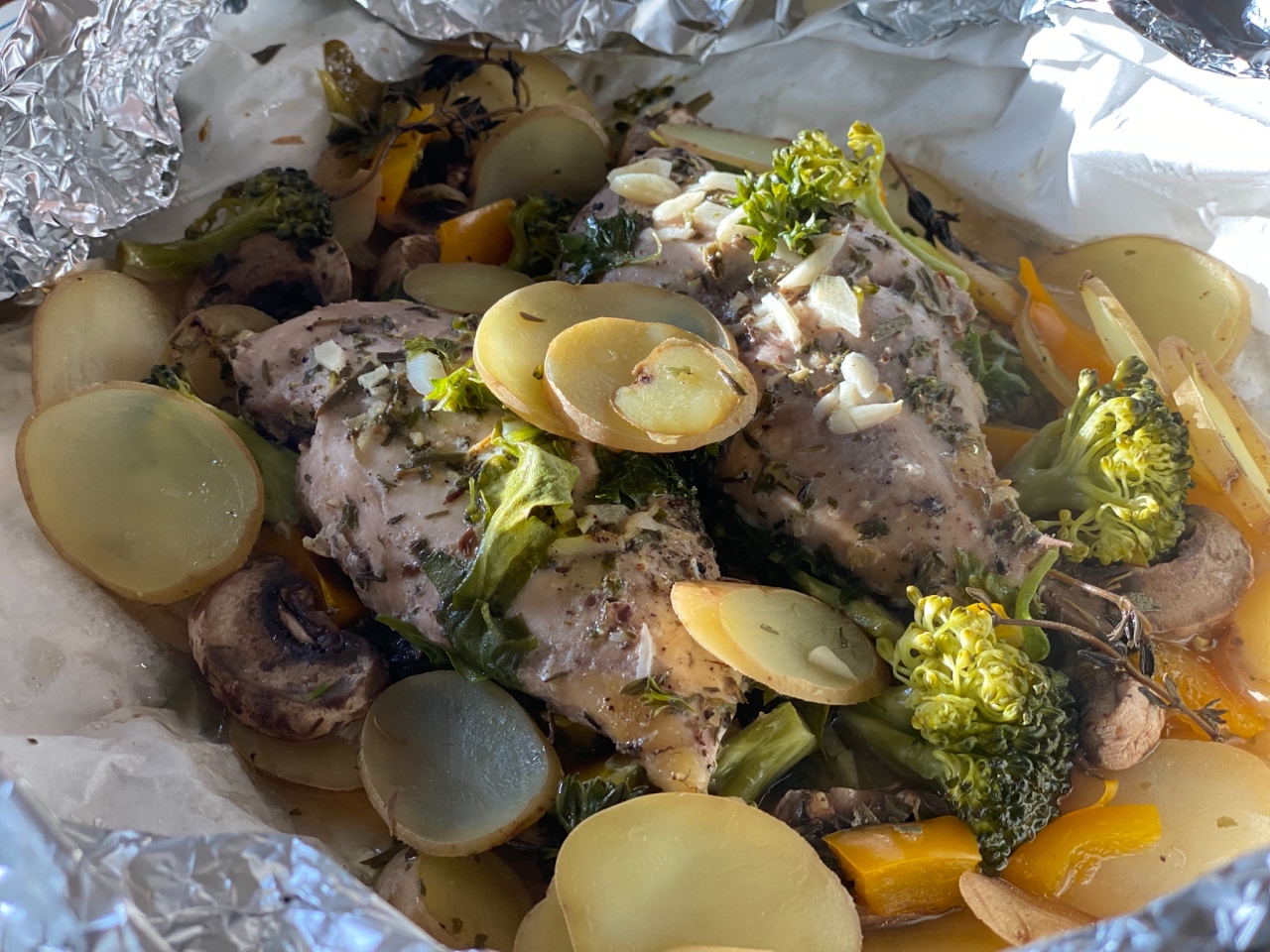 The great thing is everyone can select what they want to put in their package.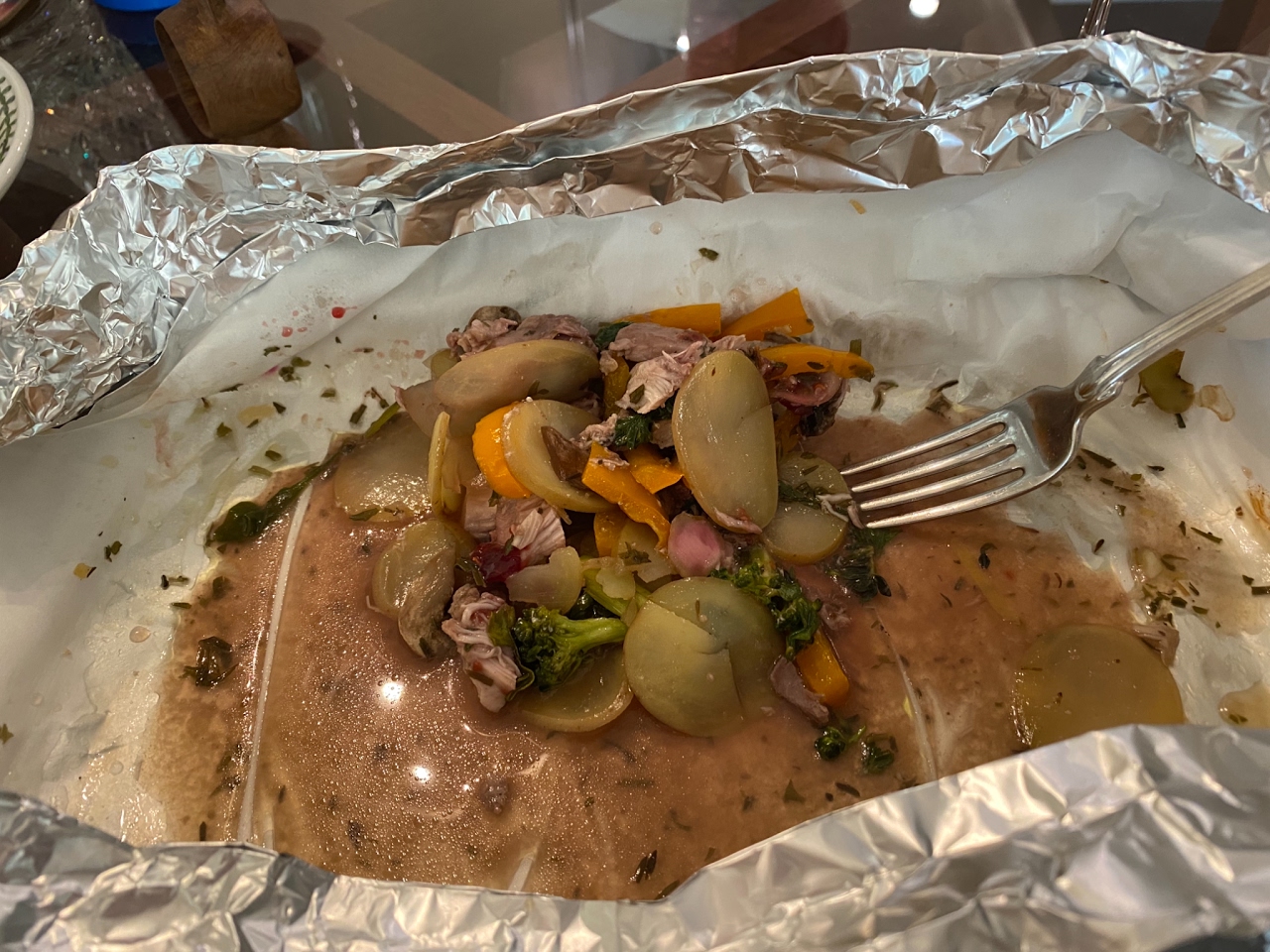 We forgot to bring my bread so the dinner had to end here. Yumm!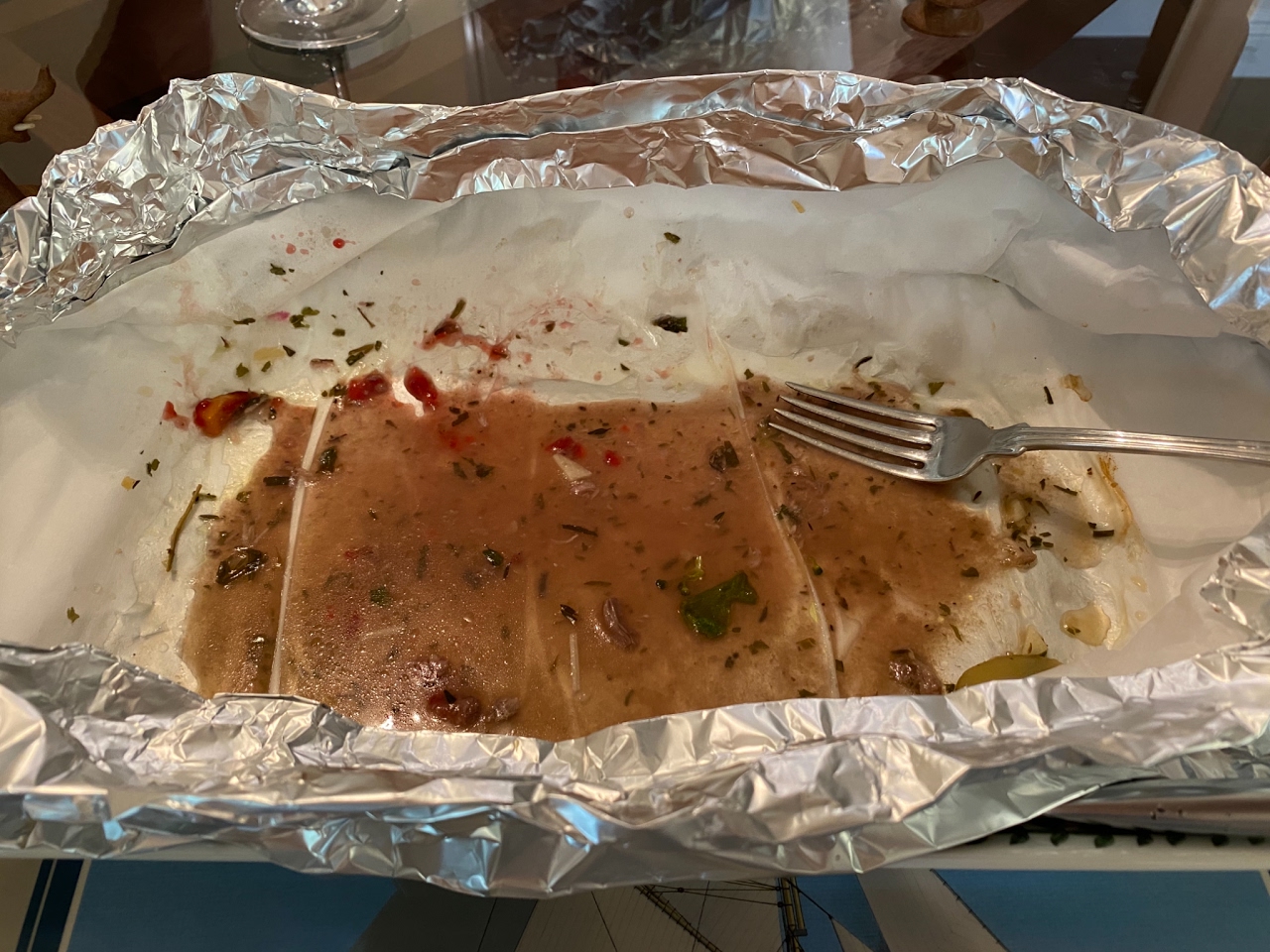 Cazalea
PS — almost forgot the watch shots