ArmisE
111

Three's company
I'm aiming to have the bracelet switched back onto the white model if/when I get time to go to the boutique. Still, I tend to wear this one the most along with the blue model. Oddly, however, while I'm most intrigued by the skeleton, you can tell I don't wear it as often as I used to by the fact it still has all its factory stickers on since returning from service a while back. I never regarded it as a 'safe queen' but it is going back to the vault tomorrow. Seeing how that is, I probably could have titled this post "Three's a crowd."
Still, I wanted to share with you all. Thanks for looking.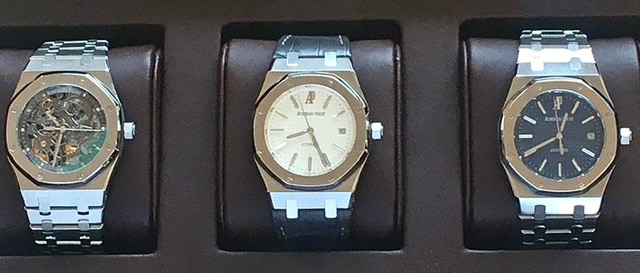 More posts:
<!tag blob="addthis.follow.small"> Comments:
view entire thread
Three's company
I'm aiming to have the bracelet switched back onto the white model if/when I get time to go to the boutique. Still, I tend to wear this one the most along with the blue model. Oddly, however, while I'm most intrigued by the skeleton, you can tell I don't ...
AP trio
Sharing is always good. The skeleton is the keep as new as possible peace. The white a daily beater, and the blue for holidays. If this is a three peace only collection, it is remarkable that a collector want only from one brand and model. The same in my ...