cazalea
[Seiko Moderator]
15666

<!tag blob="forumpost.visitstar">
Grand Complications, Part 3
In the previous 2 posts we considered what makes a Grand Complication, and the mental gymnastics required to conceive and design such a thing. Now we also have to think about actually making it.
We know that watches CONSUME TIME as well as DISPLAY TIME. Conceiving and making even a simple watch takes years. And lots of money. During the interval between conception and reality there are normally technical issues, marketing issues, sudden discoveries, competition, financial reversals, etc. Only a strong hand at the tiller can take a company through the storms and bring a Grand Complication watch to market.
ANALOGY
Let me continue with the math examples I have used early. When moving from house to house, a truck hauls our stuff. We do some rough estimation and rent the proper size. Now we have to fit it all inside. Perhaps this image will convey the challenge.


A Citroen CX Wagon isn't a truck but for a family in Europe it used to be the equivalent. We went camping in Scotland with some Danish friends. Despite its immense size, their CX could barely cope with the stuff they deemed essential, and every time we changed campgrounds this same ritual happened, because overnight they would forget what fit where... (we had our own car and carried quite a bit less).

So likewise with a Grand Complication, in addition to CUBIC VOLUME, during the design phase, we have to worry about exact fitment (see above and below), assure everything is good for correct operation, proper service procedures and documentation.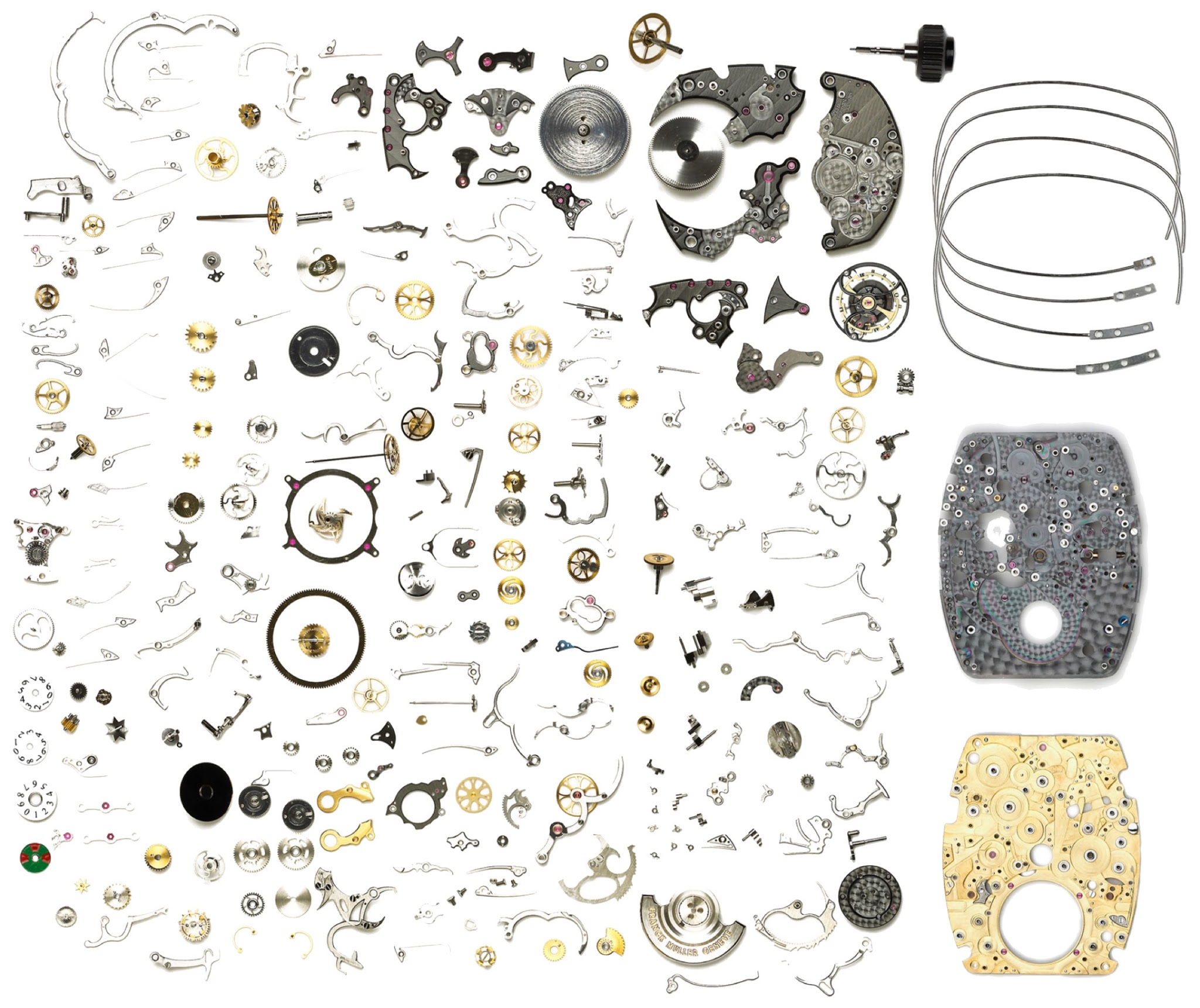 Once that's settled, we also have to consider DENSITY.
NOTE: I went with a friend to deliver 120 cases of beer as a gift to the mechanics at a car dealership (before lawyers). The brewery forklift driver looked dubious when we showed up in a Ford F100 pickup. We thought the truck could carry the beer. The VOLUME would fit. But as the pallet was lowered into the truck bed, and the front wheels lifted up off the ground, we realized the DENSITY would not fit. The truck was rated to carry 1200 pounds - and the pallet weighed 2200+ (100 12-packs/pallet x 22 lbs/12-pack + 25 lbs/pallet=2225 pounds)

Which brings us to the question of How Much can a watch weigh?
OPTIONS
Let's look at some GC wristwatches
First, the FP Journe Astronomic. Can you decipher the back side? In the technical data I learned the thread diameter of the stem, how many screws are in the watch, but not its weight.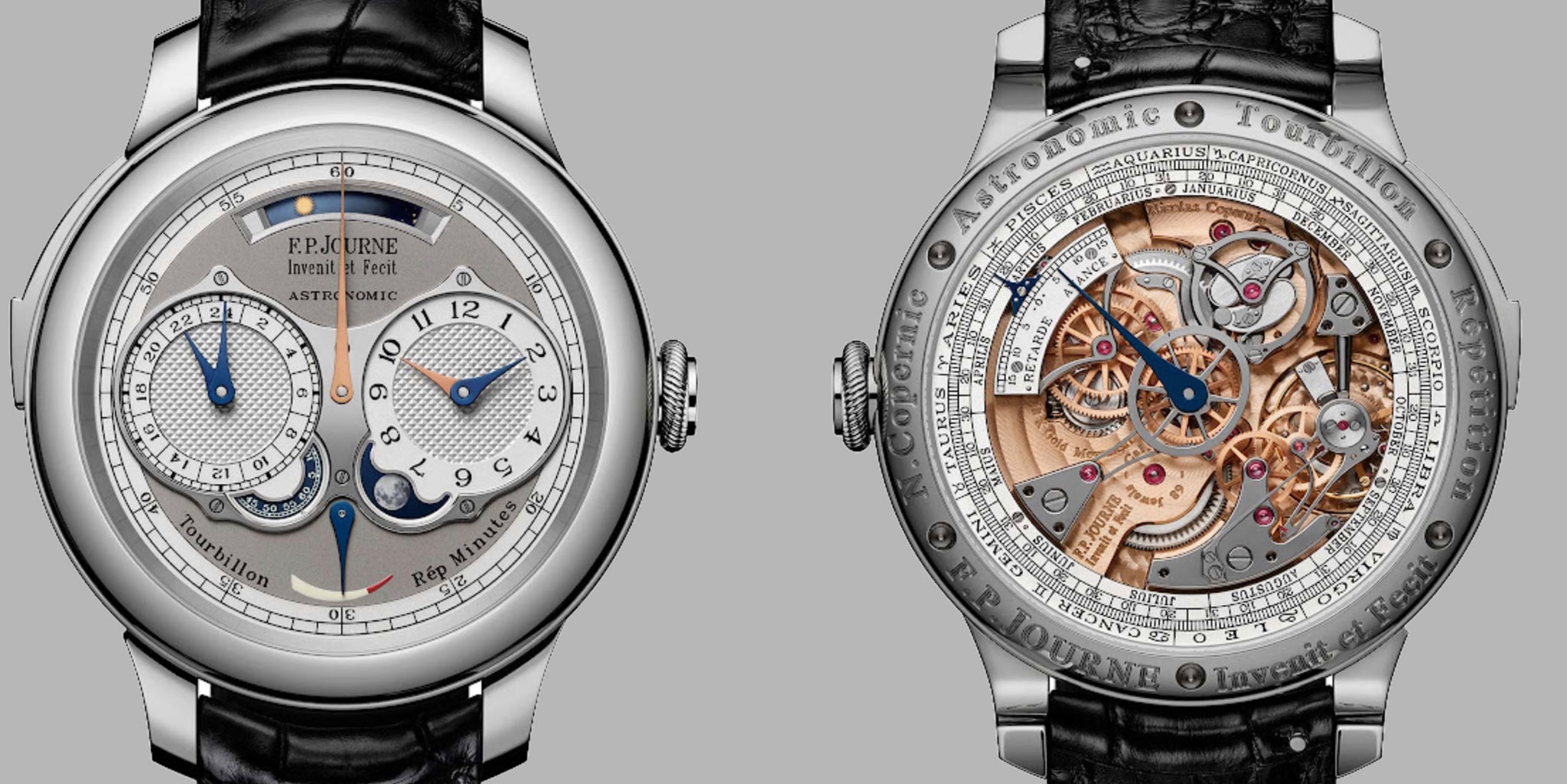 How about this Vacheron Constantin? I don't even have to ask about the star chart -- even if you could explain it, I probably could not understand it. And I couldn't find the weight on the VC website.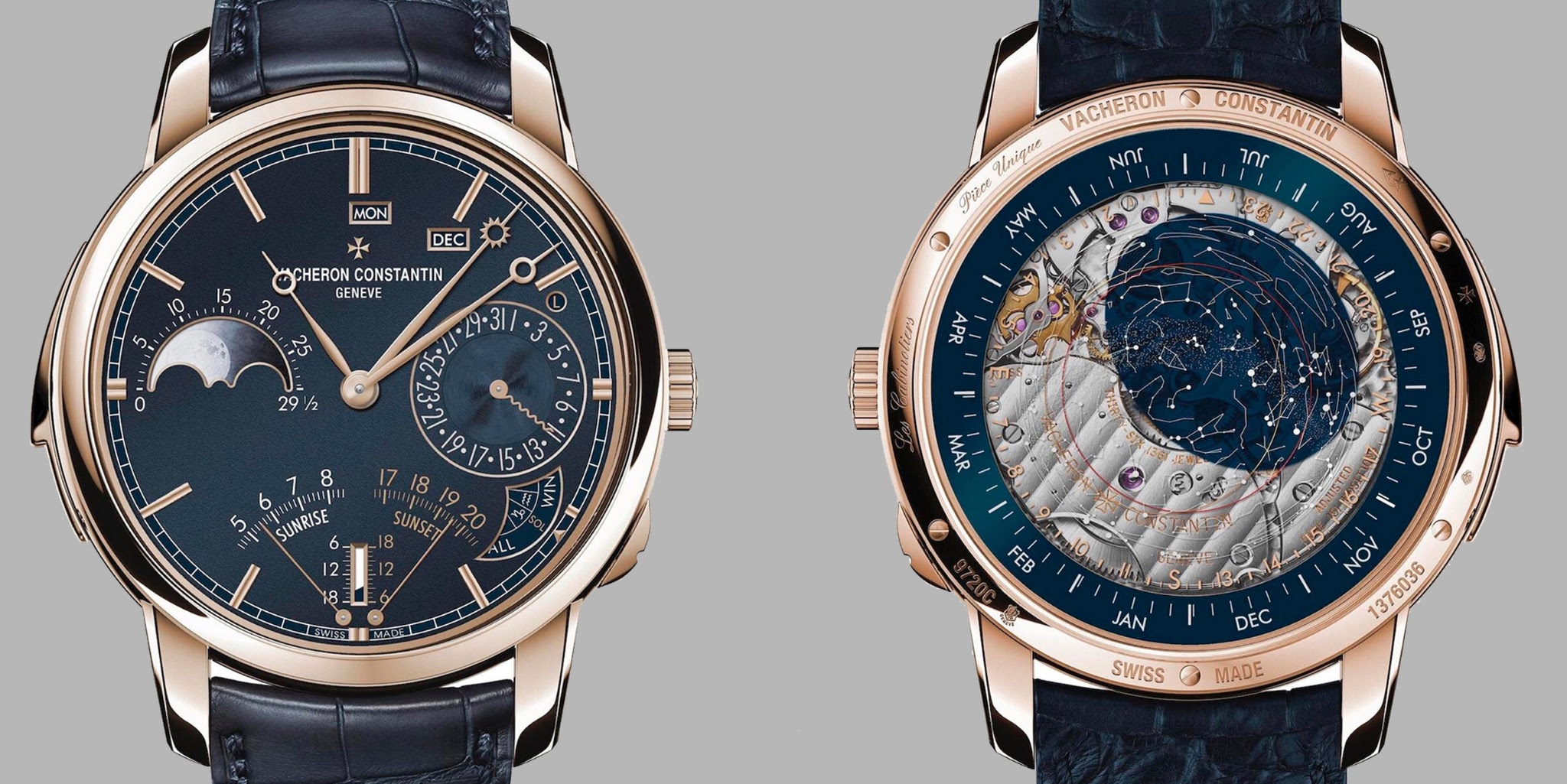 An A. Lange Sohne -- this I can comprehend, as it is a perpetual calendar, moonphase, split seconds chrono with tourbillion. No weight listed.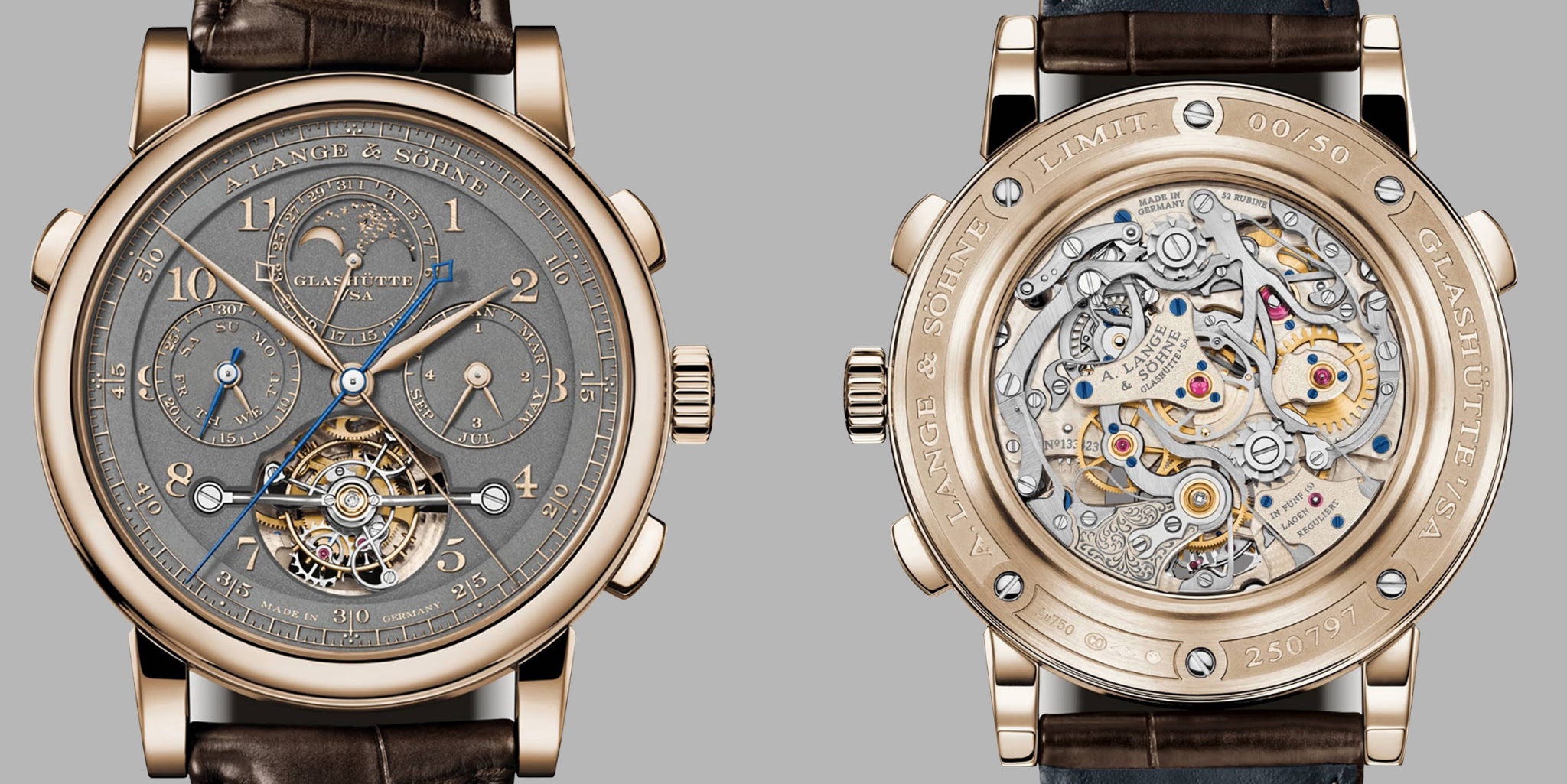 The back side of this Patek Philippe seems a bit redundant. But could there be any 4 more dissimilar watches to choose from than these?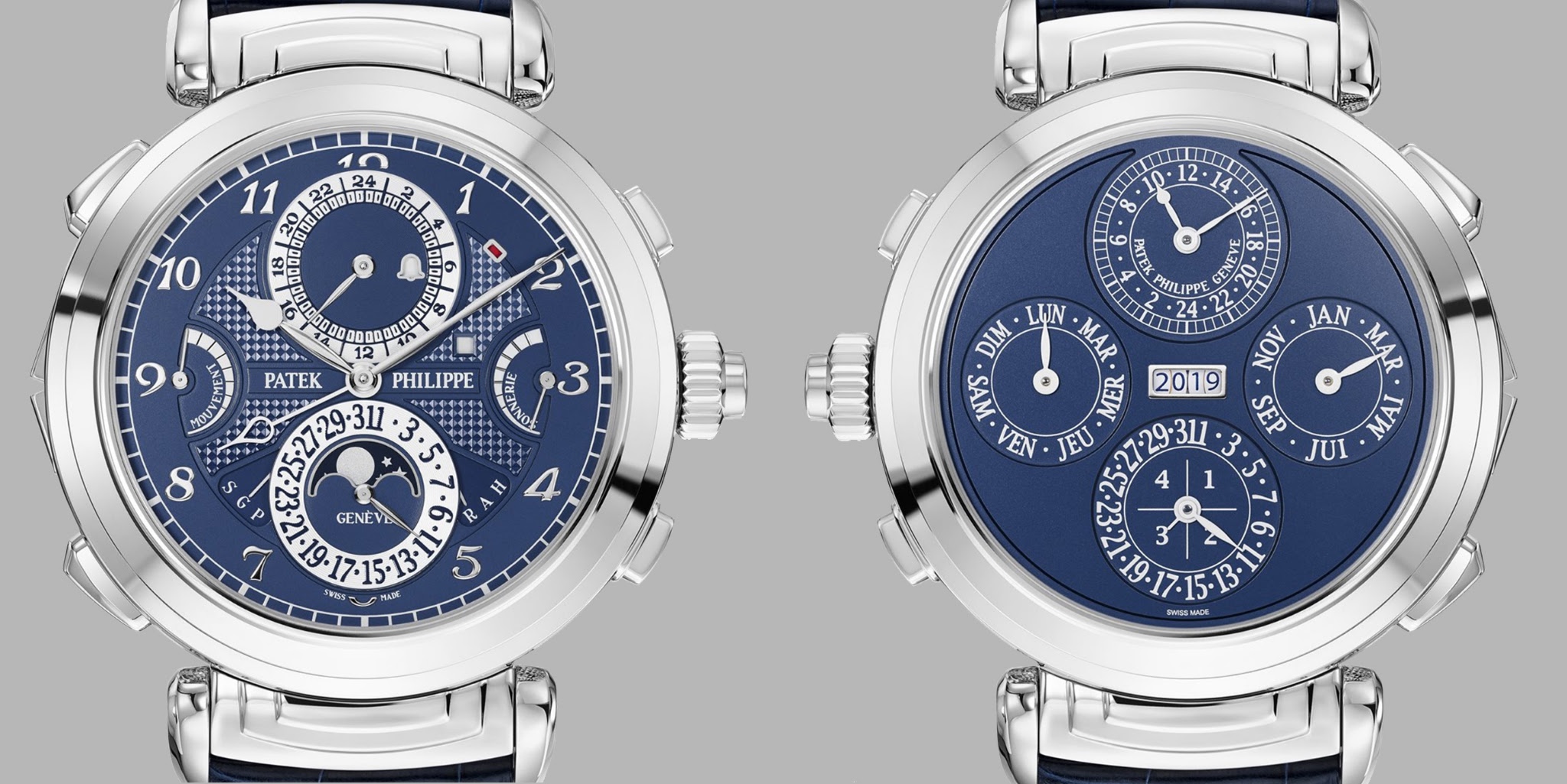 For any of the Grand Complications it would be necessary to have a cheat sheet on your closet door, for reference when you are winding it or strapping it on. Like this: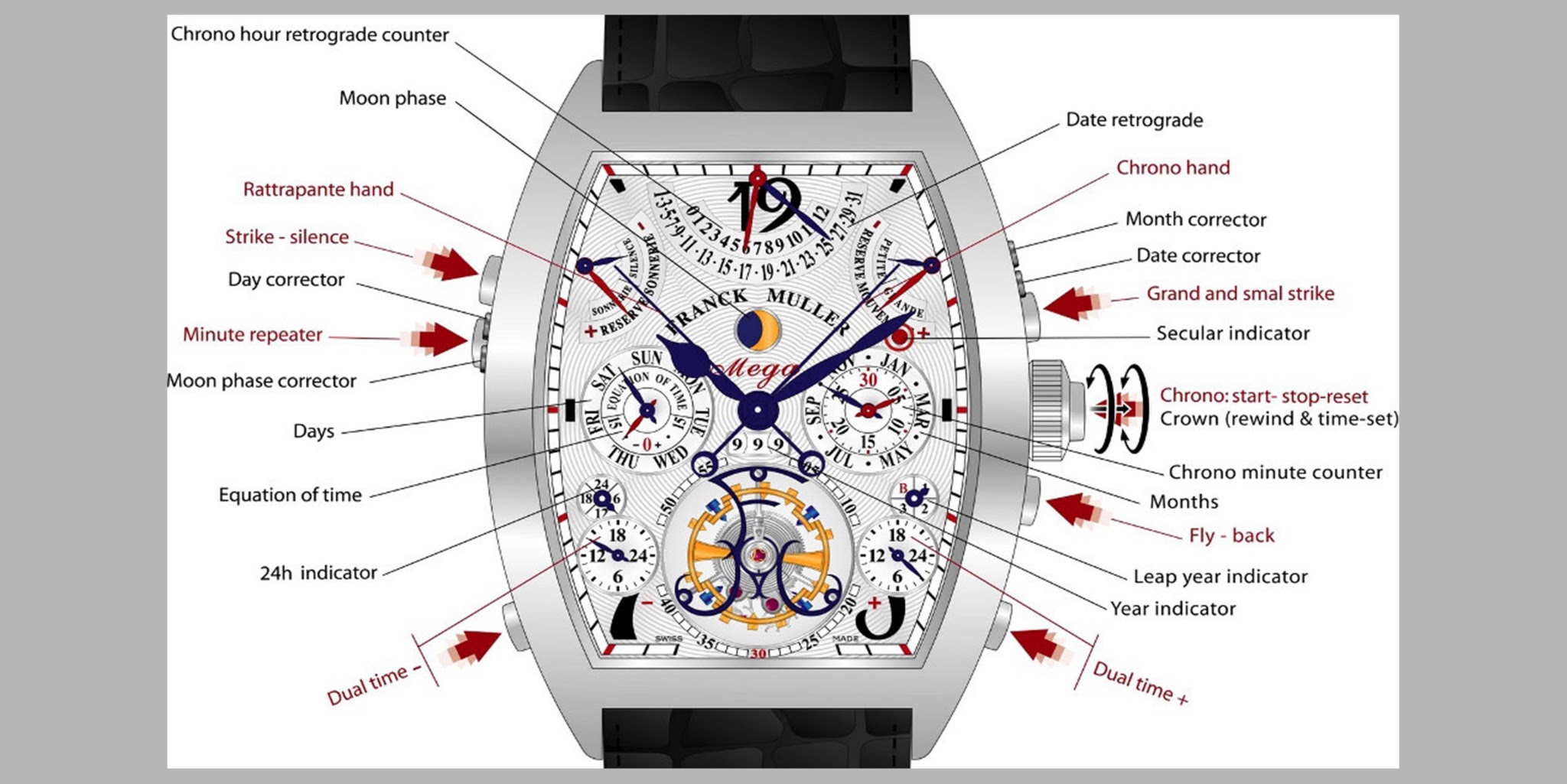 As for actually setting all the functions, keep the manual handy, bookmark the website page, or call the factory in Switzerland. Just don't do it in the evening after you have had a glass or two.
FURTHER COMPLICATIONS
Let's look at a grand complication, double-dialed, astronomical/astrological gold pocket watchpocket watch from Patek Philippe - the model 89. This is one of four produced: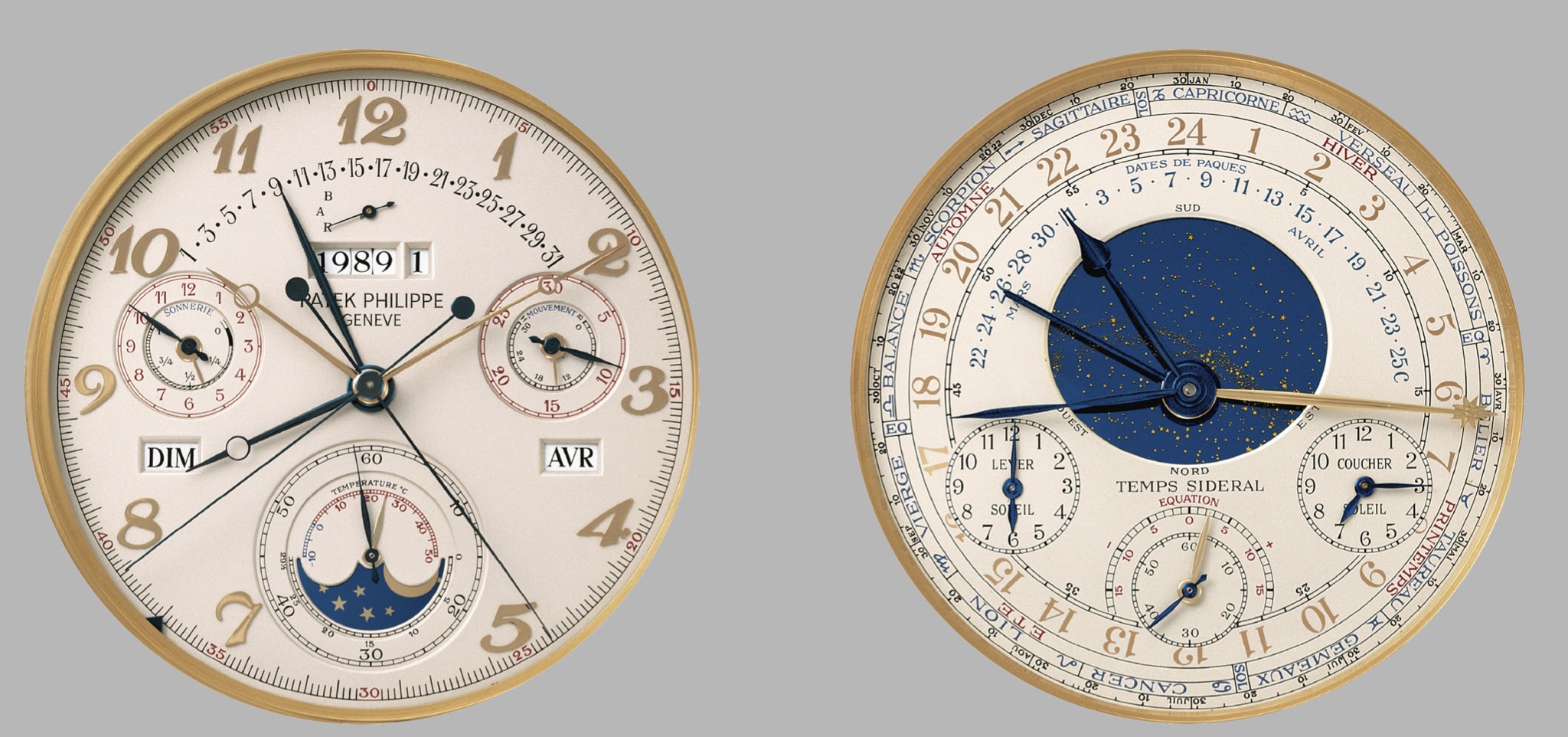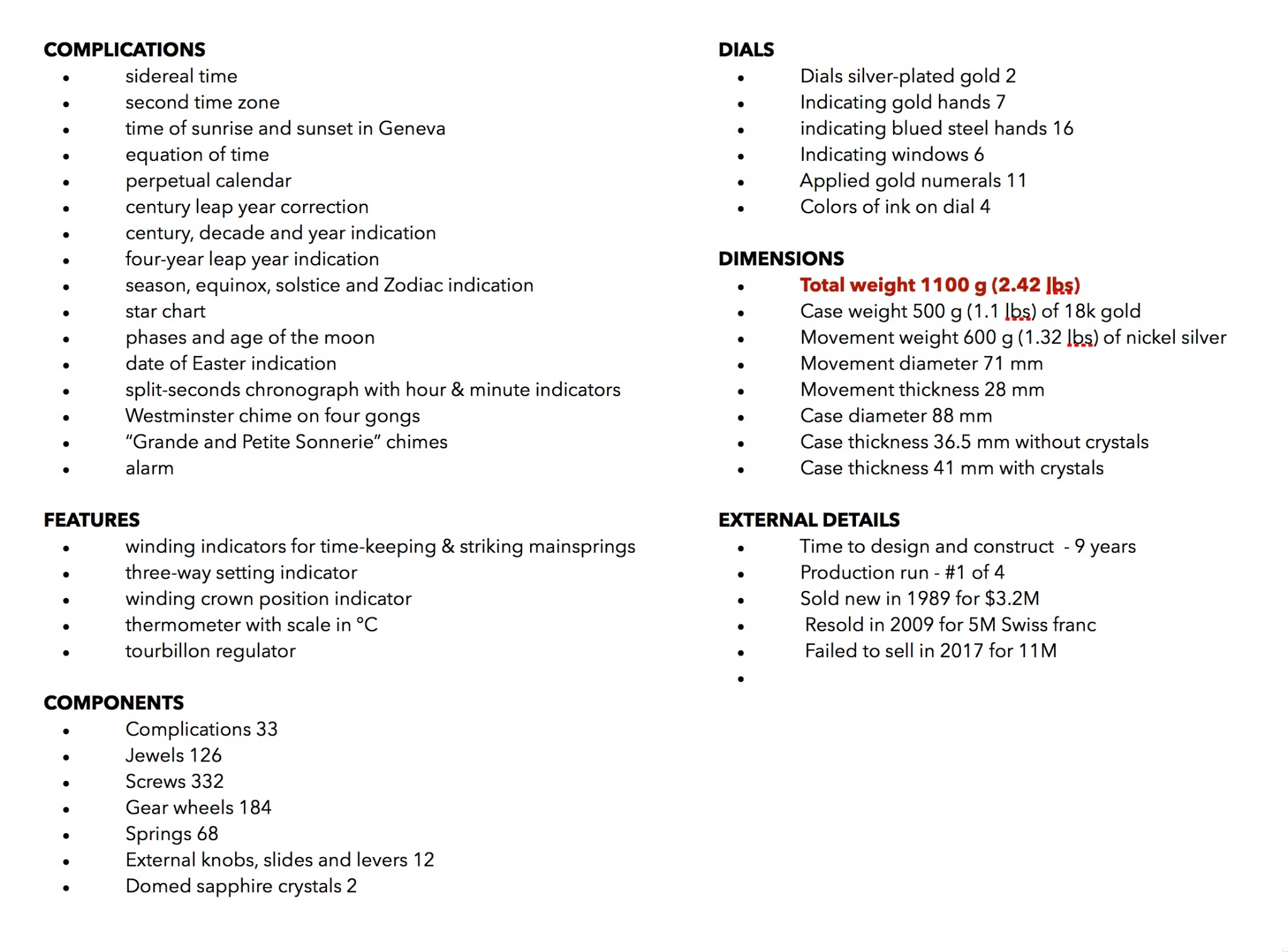 DILEMMA
Let's say one of us had several millions to spend on a single complicated watch. We research the functions, we already know the brand. We go to Switzerland to check it out. But in the end, when we lift it we are shocked! We learn how much it weighs and wonder, "Can I really use this? Can I show it to my friends and family? 1 lb of gold and 1.3 lbs of movement?" This is a HEAVY decision.
Google says these items weigh roughly a kilo, the same as this watch

A Pineapple
Fennec Fox
Large Black-Footed Ferret
Ringtail Possum
A Half-Rack of Baby Back Ribs
Black-Tailed Prairie Dog
Cottontail Rabbit
Would you want any of them on your arm or in your pocket?

No, I thought not.
Thanks for reading,
Cazalea

PS - I am leaning towards this one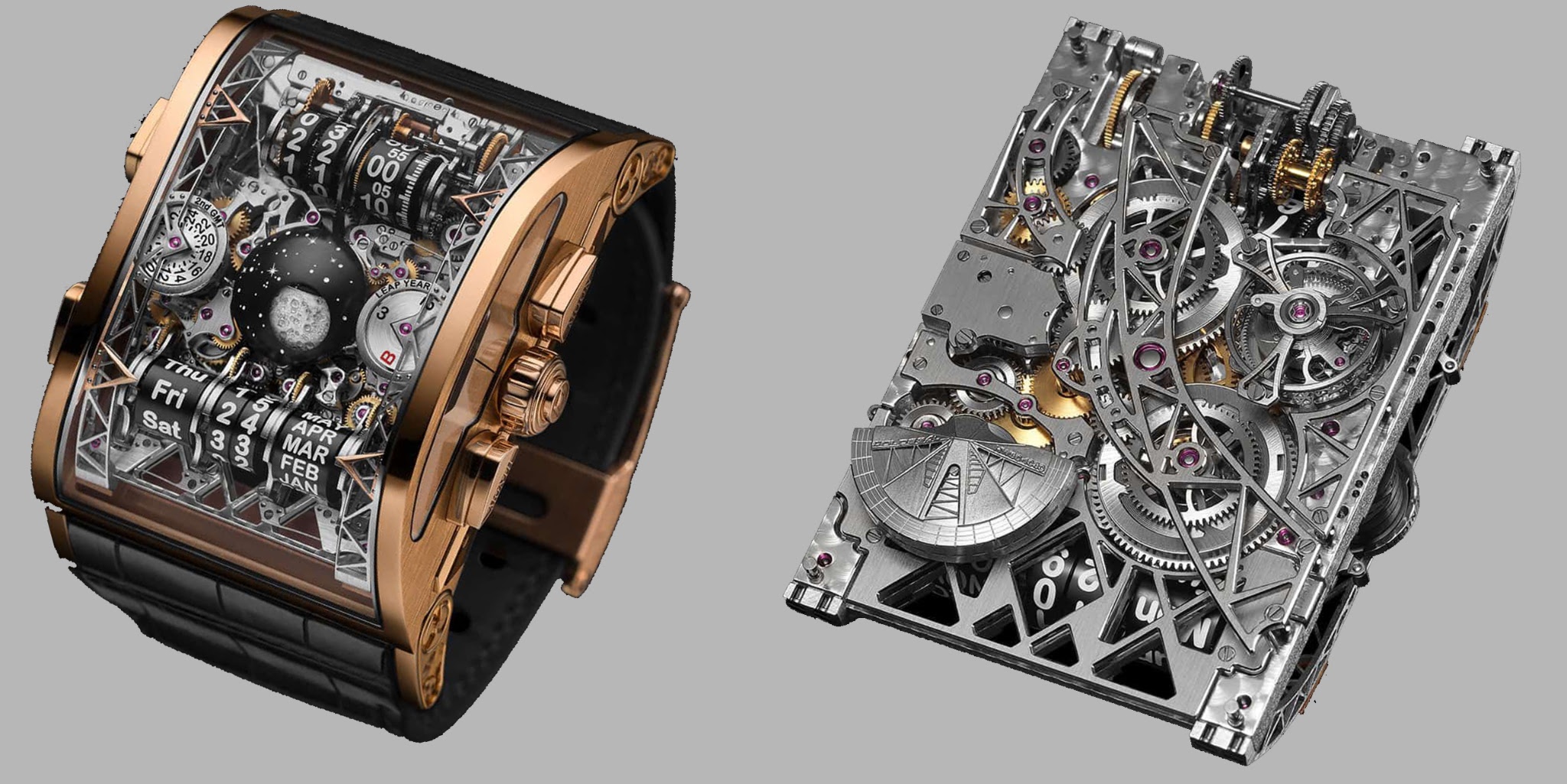 HYSEK COLOSSAL ROLLER RETROGRADE JUMPING HOUR
Rectangular shape
Size: L 57 mm x H 18 mm x W 44 mm
18K Rose gold
Arch-shaped sapphire glass with anti-reflection treatment
Sapphire crystal sides and back with anti-reflection treatment
Rotating lugs
Single-pusher crown
Water resistance: 30 metres
MOVEMENT
Hysek HW80 caliber
Automatic, mechanical movement
Roller retrograde jumping hours
Sweeping minutes
Perpetual Calendar with day, date, and month displayed on 4 rollers
Leap year on a disc at 3 o'clock
"Celestial sphere" Moon Phase display
Hand-painted Moon and "celestial sphere"
Second time band disc at 9 o'clock
Power reserve indicator roller at 3 o'clock
Seasonal Day-Night indicator roller at 9 o'clock
Hand-painted numerals on rollers
Rear-mounted flying tourbillon
Platinum micro-rotor, offset and decorated by hot-wire cutting
2 barrels
1080 components
186 jewels
61 bridges
7 ceramic ball bearings
Autonomy: 45 +/- 3 hours
Hysek Titanium balance wheel
Balance spring: PE4000 alloy
Frequency: 28,800 vph
Patent: CH00375/16
More posts: