cazalea
[Seiko Moderator]
16092

<!tag blob="forumpost.visitstar">
Weekend Wild Kingdom Walk
Friday Evening
I went down the back stairs to find my wife and agree on a plan for dinner, and sadly noticed that I need to paint the steps again.
The feather caught my attention -- maybe the owl is back? I decided to grab my camera and take a look around.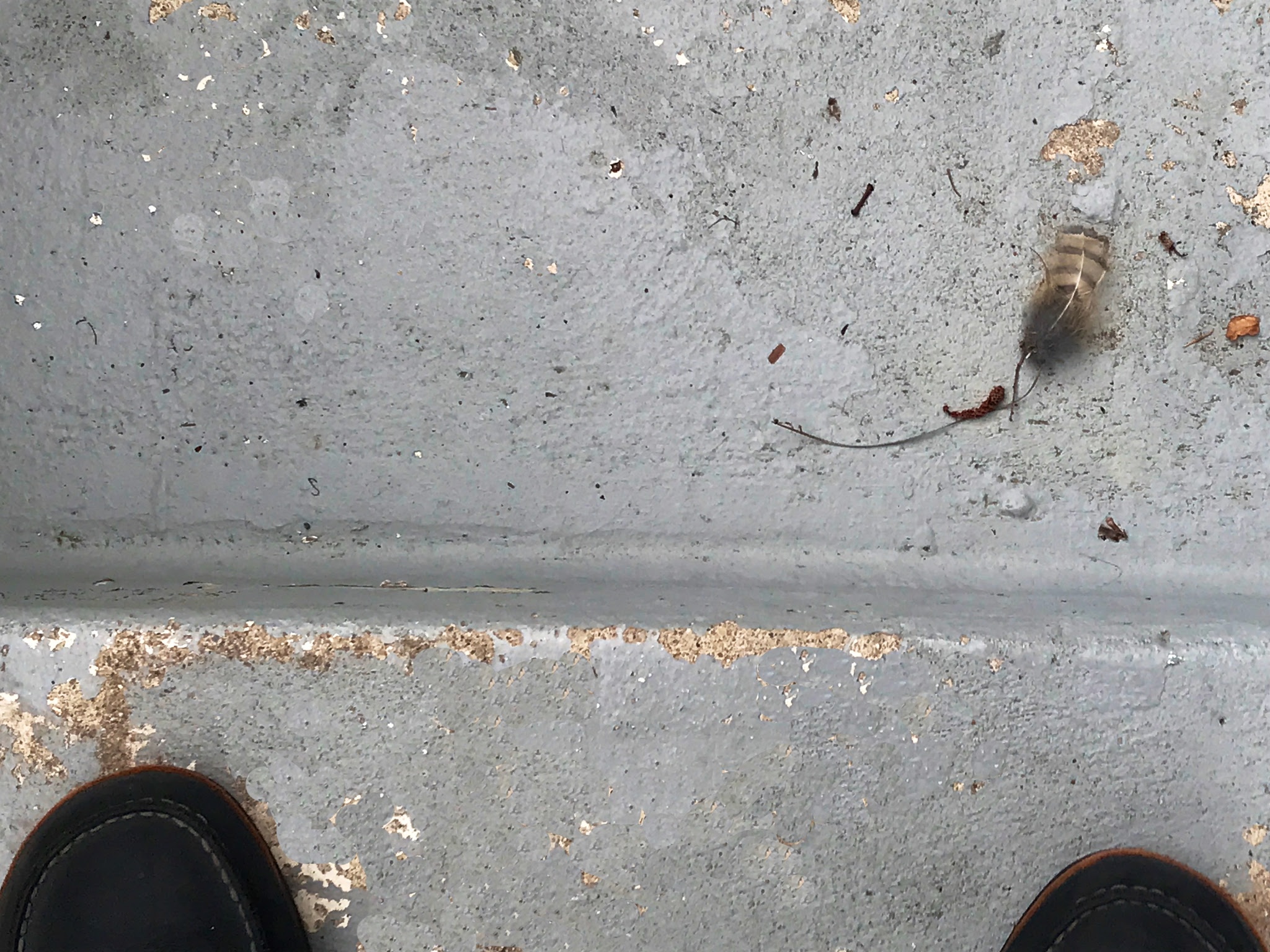 I went down by the big trees and found more clues.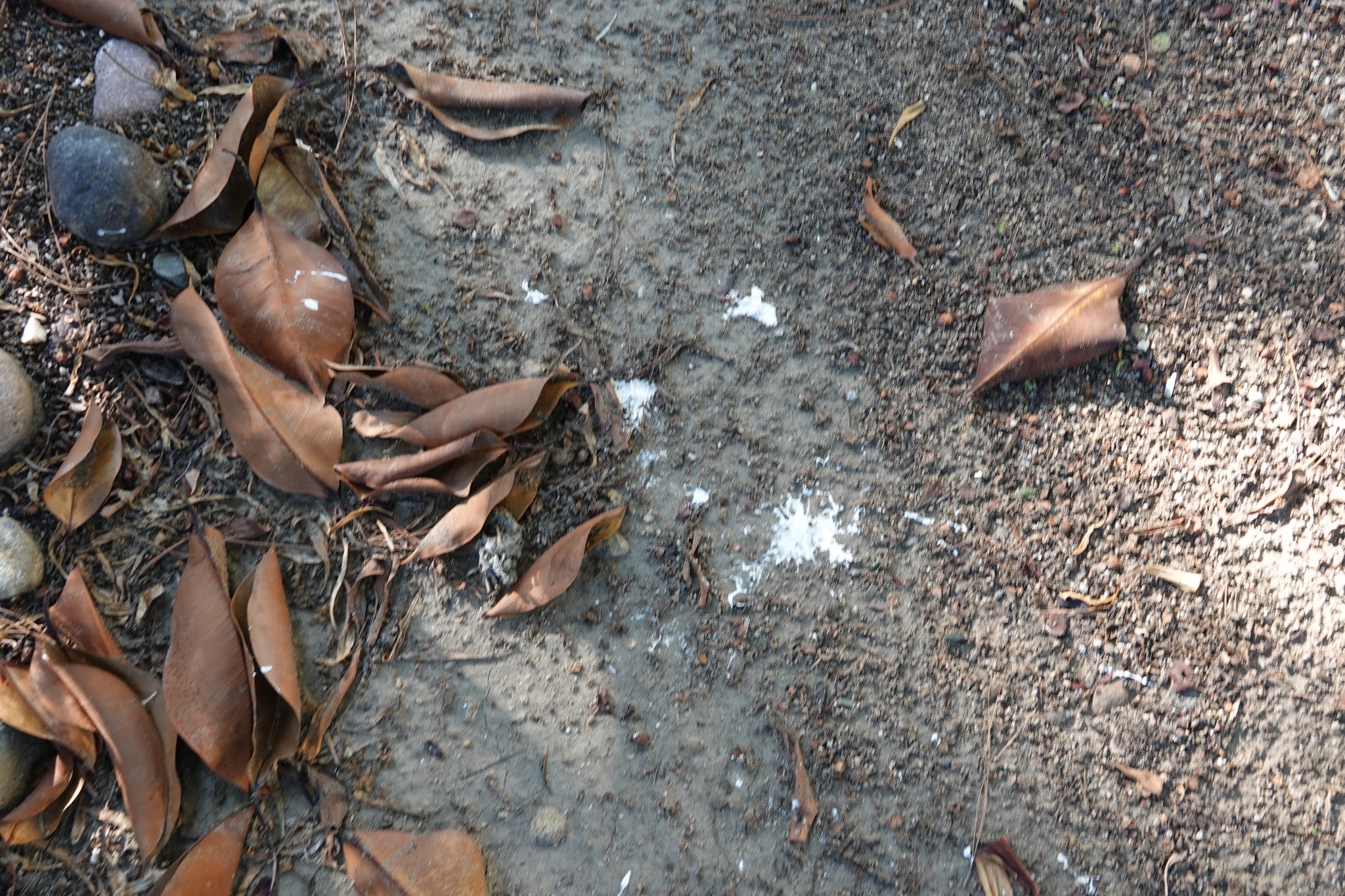 This is extremely rare -- I looked up and he was perched just above me, looking down with that malevolent look owls have. Imagine what a mouse thinks -- Eeek!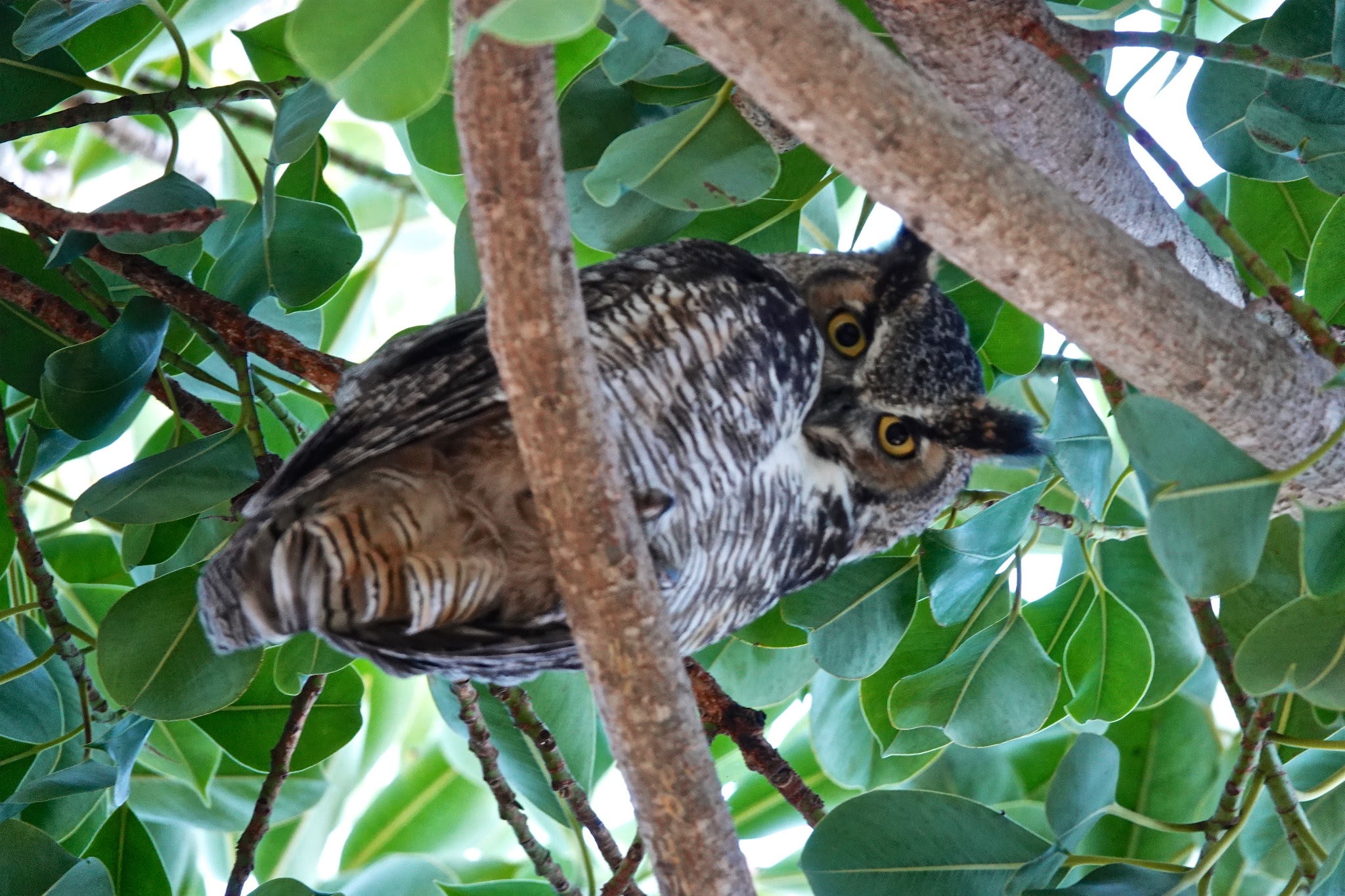 Withering under his glance, I heard a hummingbird and moved on out from under the trees.
While scanning around the garden for the hummer (usually on top branches of trees) I saw a dragonfly instead -- practicing for the Animal Olympics perhaps?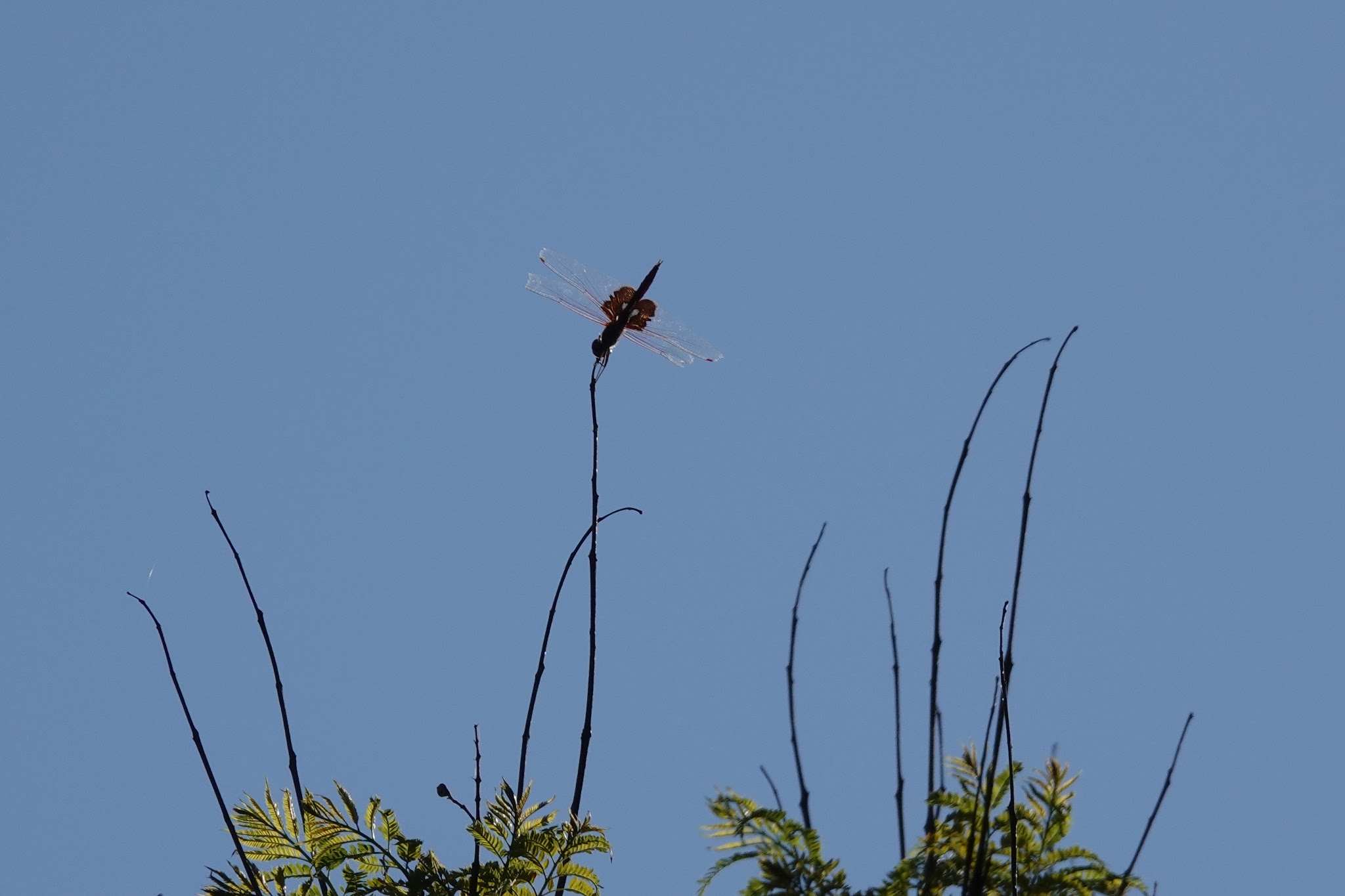 I'm not kidding, I watched him through the viewfinder as he did push-ups on top of a branch, then swung around and pushed himself in and out -- always staying in the sunlight. From this pose, he pushed himself back and flew off.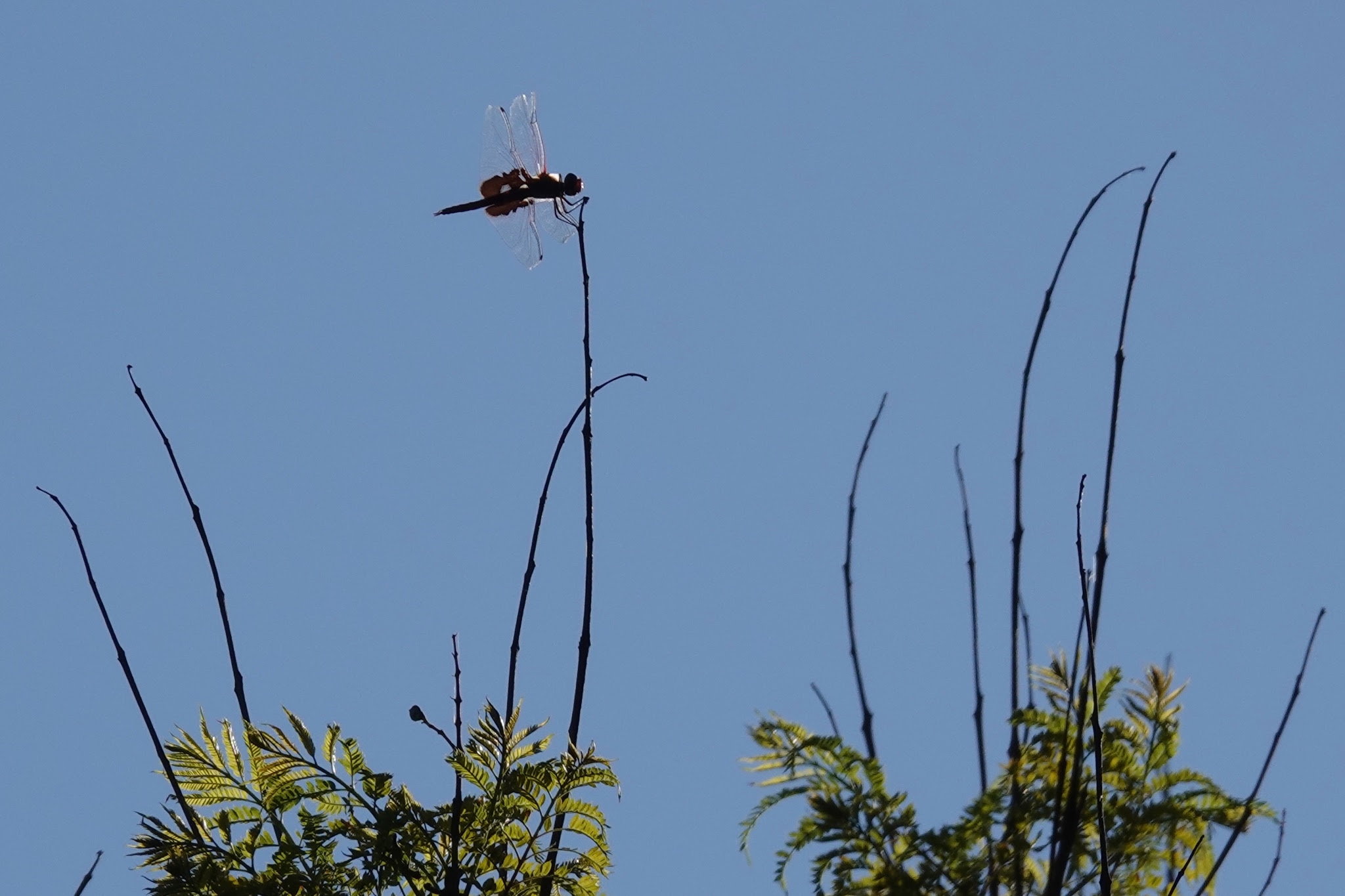 (Later I went back again, but he was gone).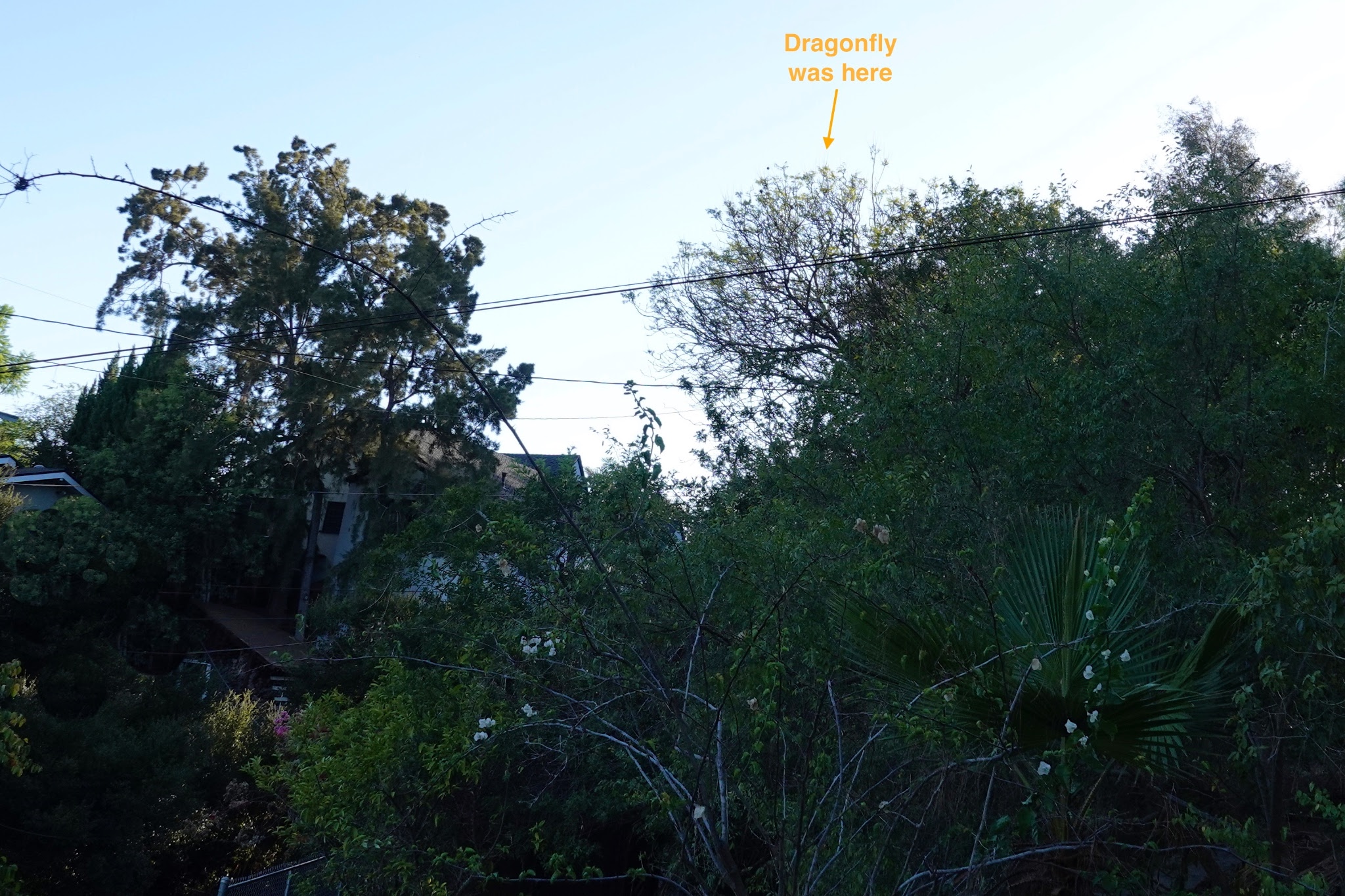 In the meantime I noticed the jade plant blooming, probably because we got some rain a few days ago. It was almost totally pink rather than green/brown.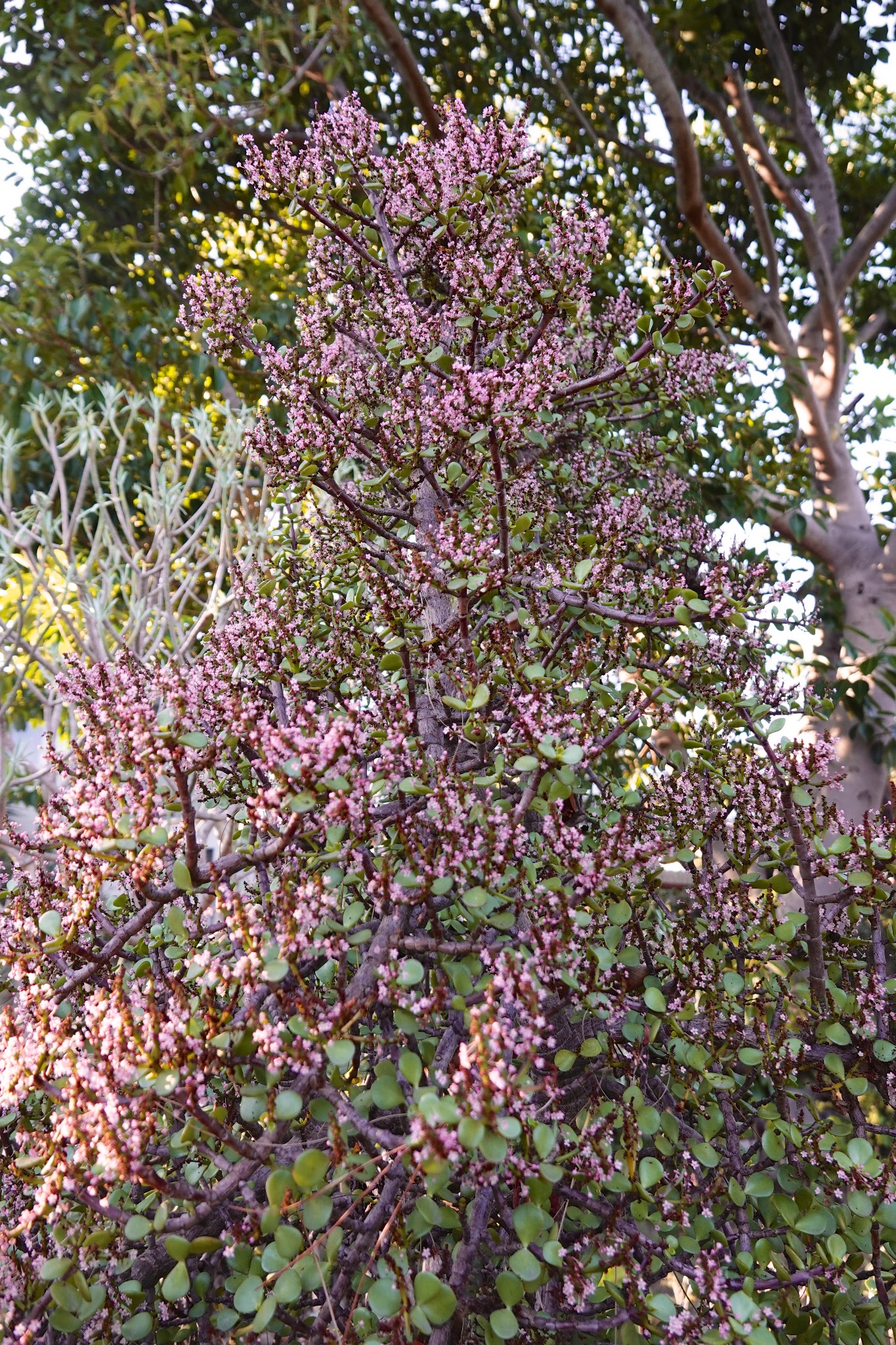 Down at my feet the owl has messed on my hose, and left us a present of an owl pellet. All the bones and hair he doesn't care to ingest or digest.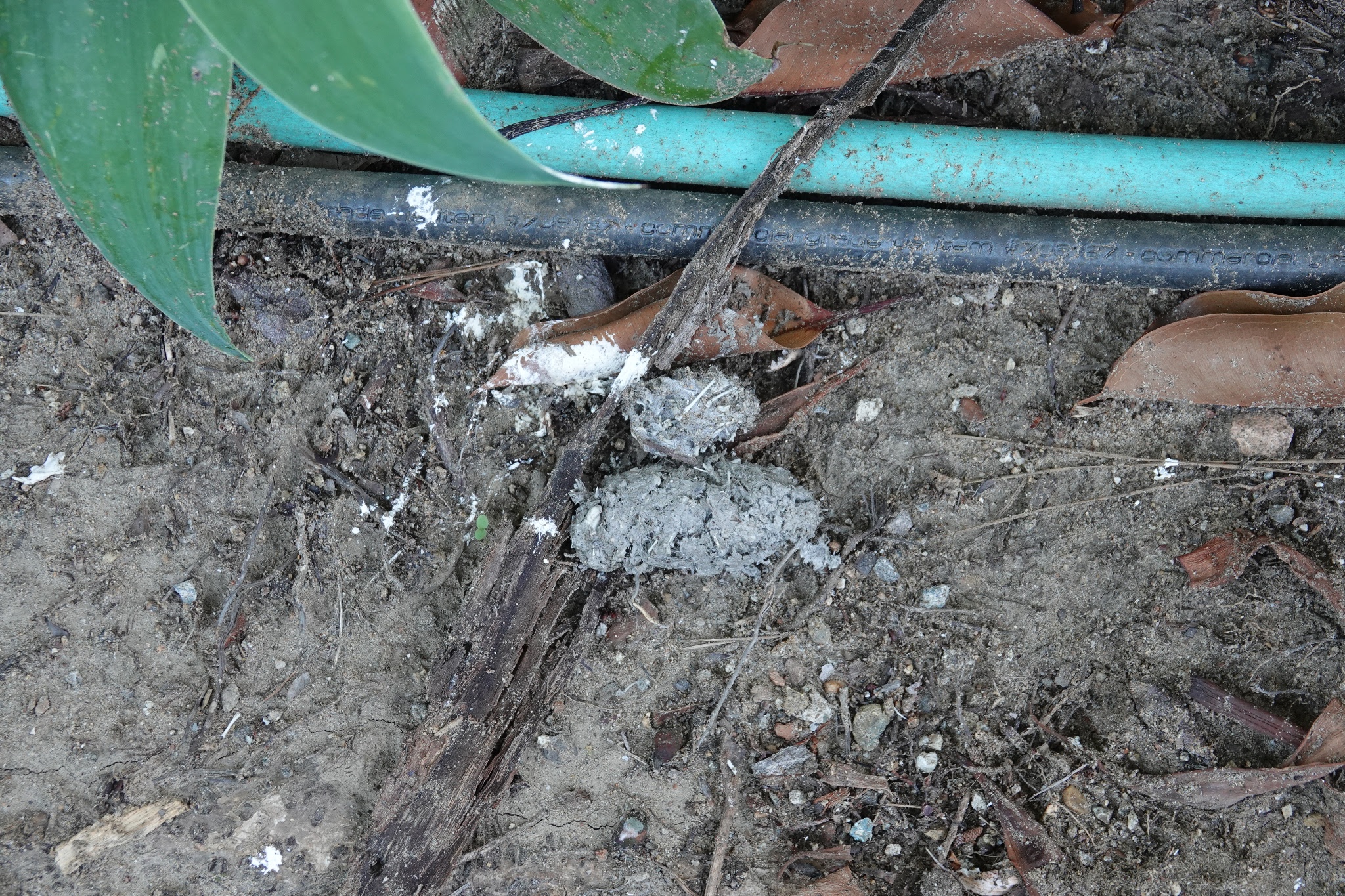 This time he didn't bother to glare at me.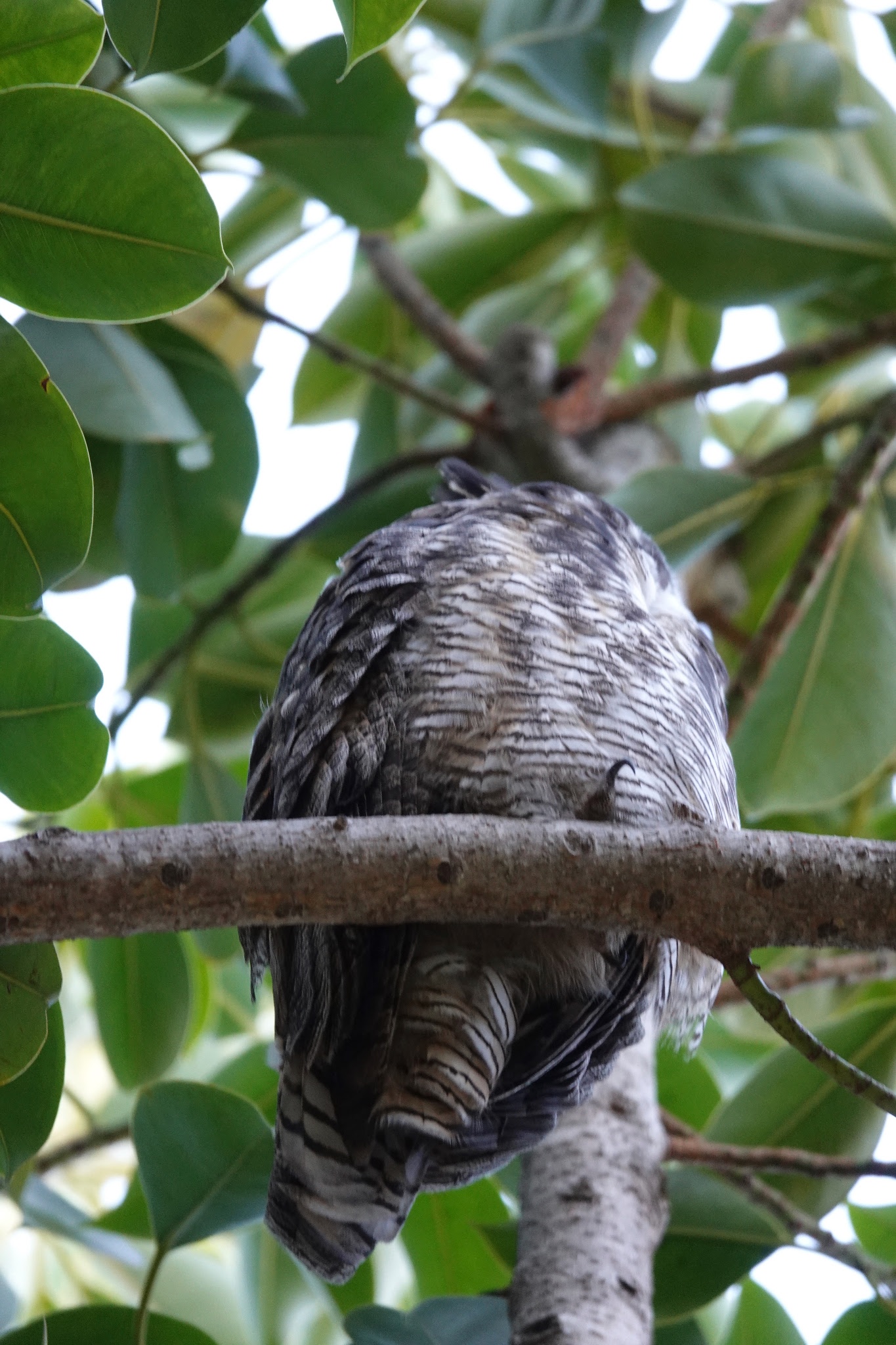 My wife thought the light might be good in the front garden so I went up the steps again. Trumpet vines halfway enroute were blooming - this beautiful but annoying flower just touches my head if I don't duck.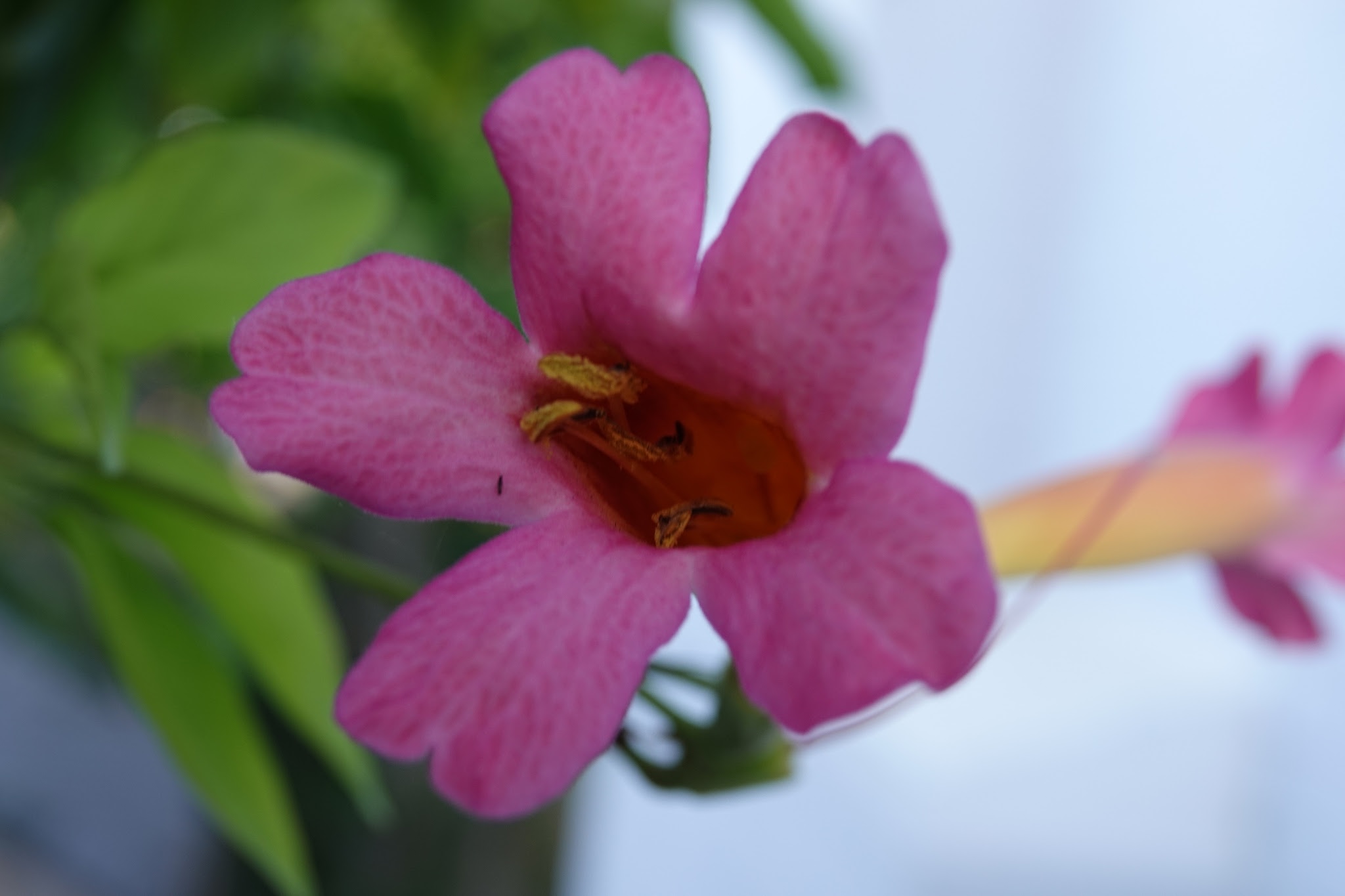 And this thing emerged from nowhere, she claims, about 3-4 days ago. And it's already in bloom?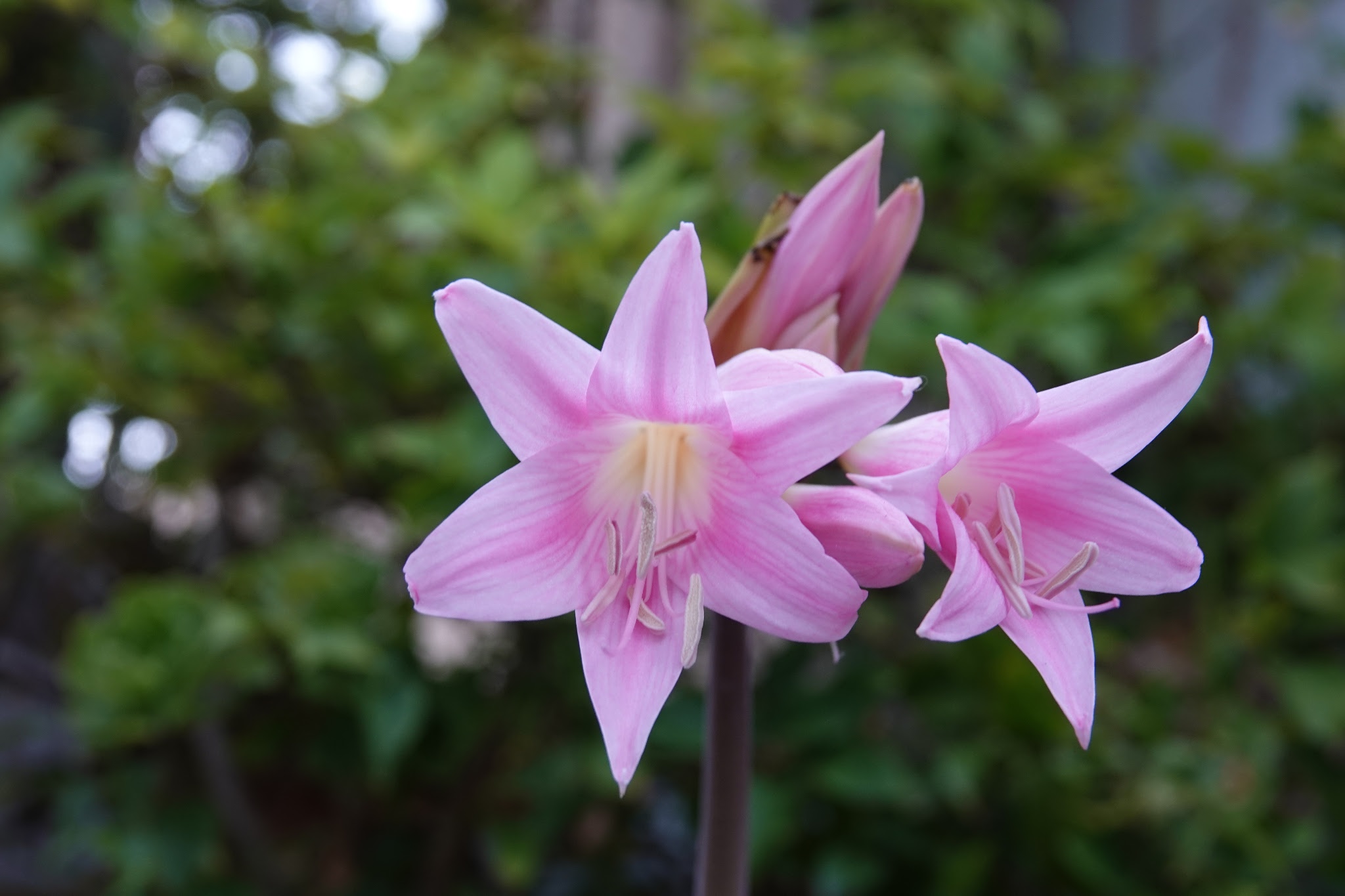 The light was just right in the front garden especially on the Cape Honeysuckle hedge, which I see needs trimming. We like to leave the blooms for the hummingbirds but the hedge goes crazy.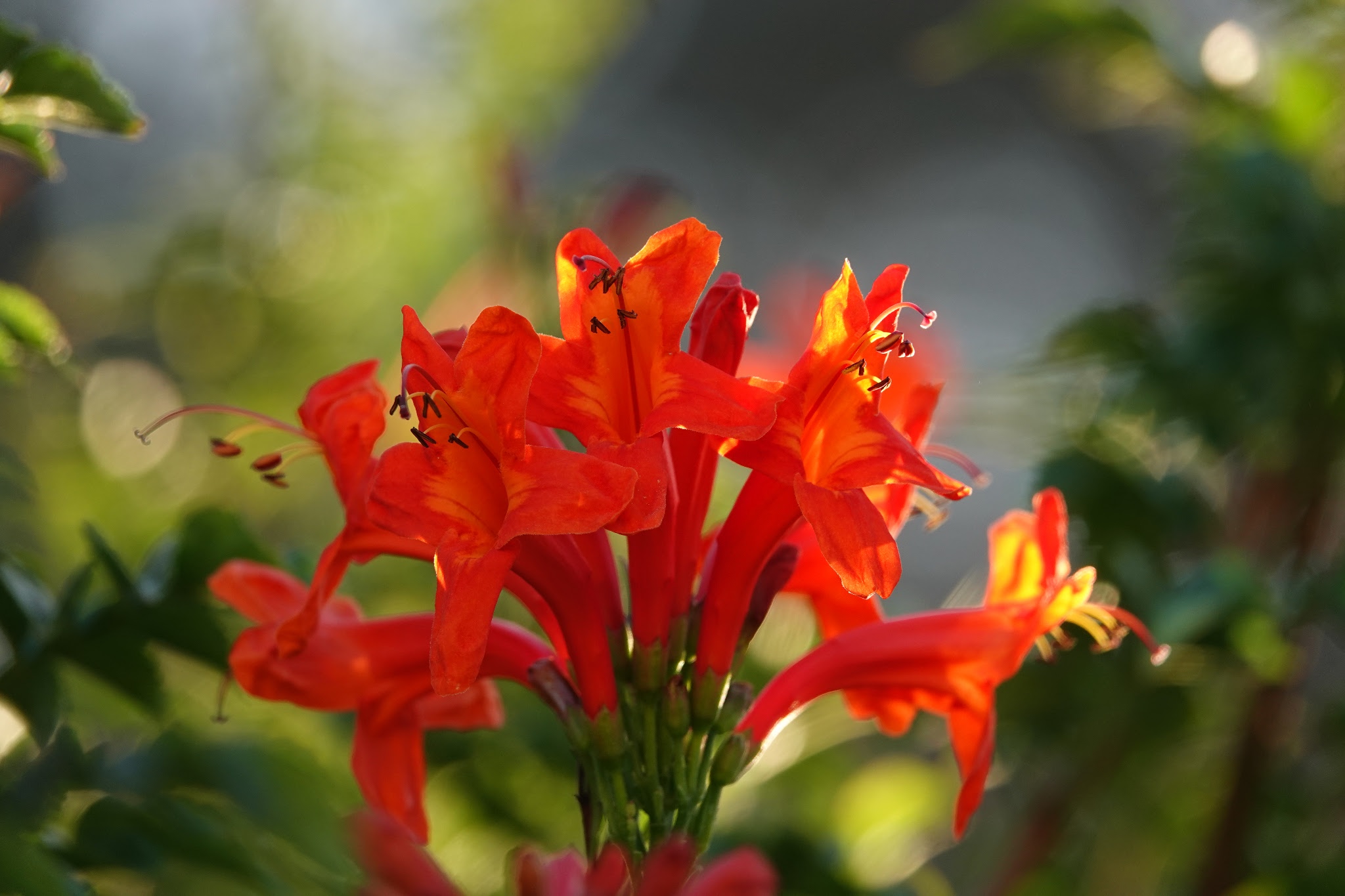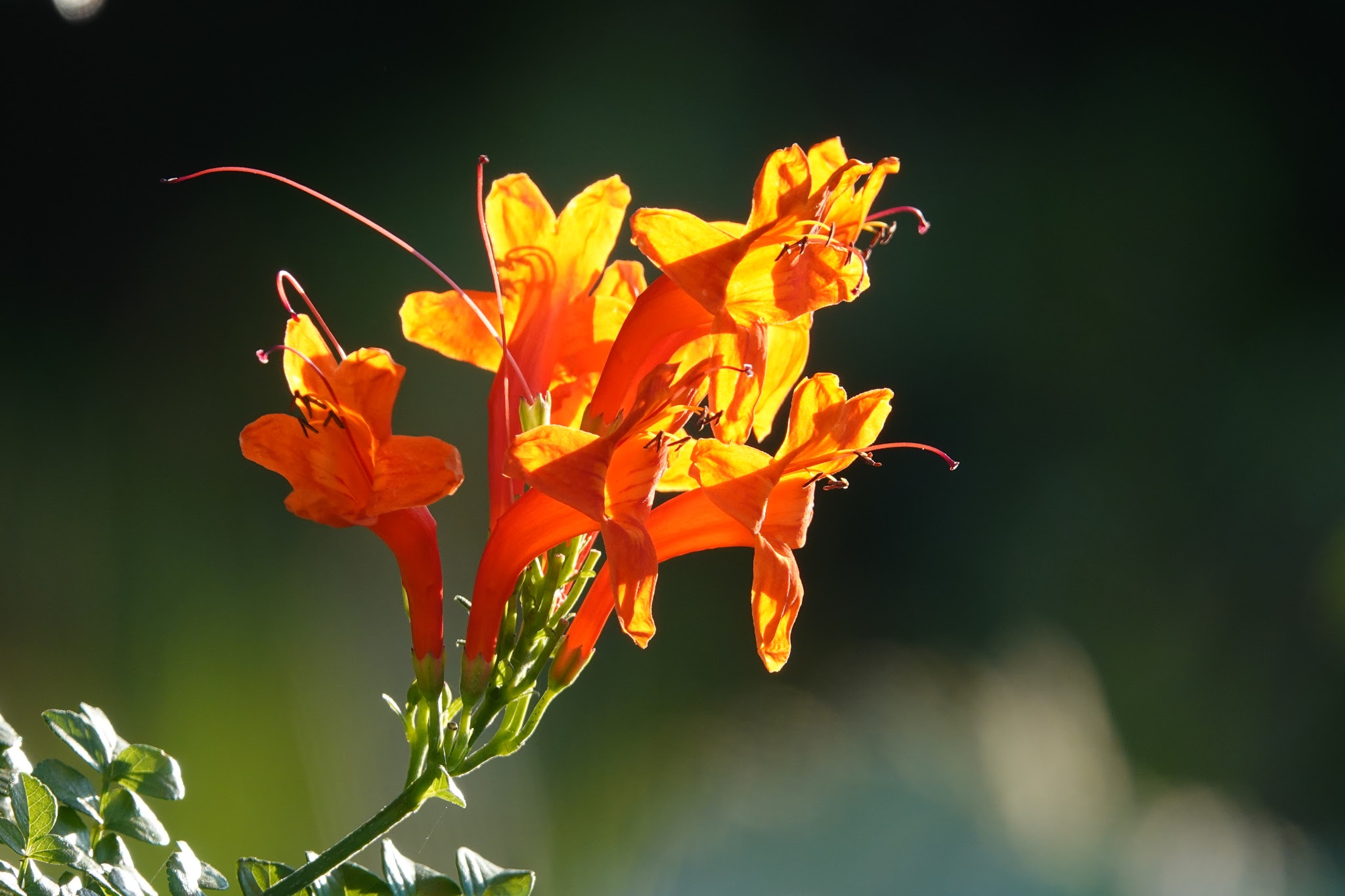 Here's the cactus in bloom. She says these flower spikes came out in the last 48 hours!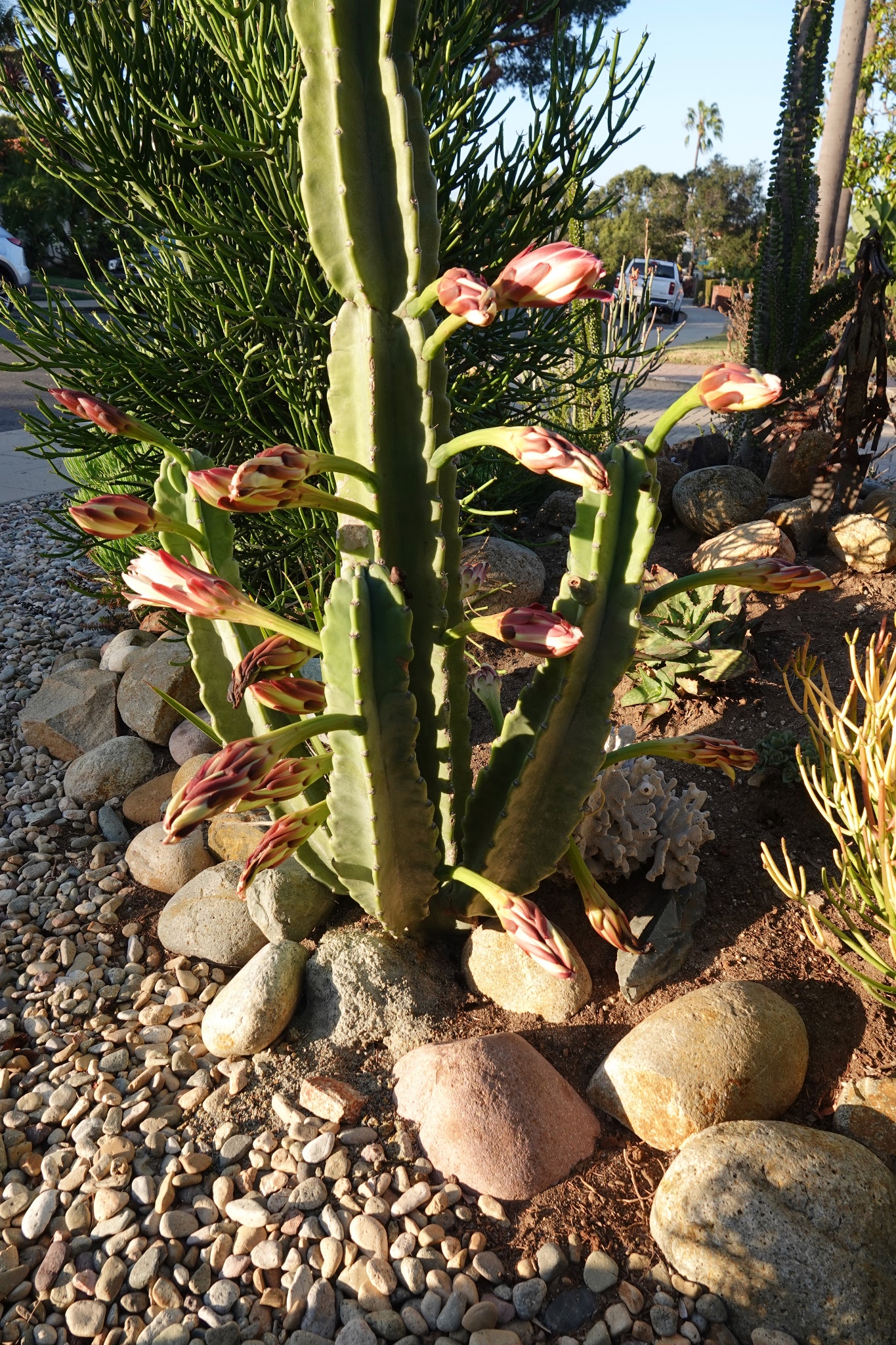 As I was inspecting the cactus I noticed a tiny tiny lizard sunning himself on our ornamental frog. He didn't run away, or move a muscle. These guys are very fragile and I figured he's dead.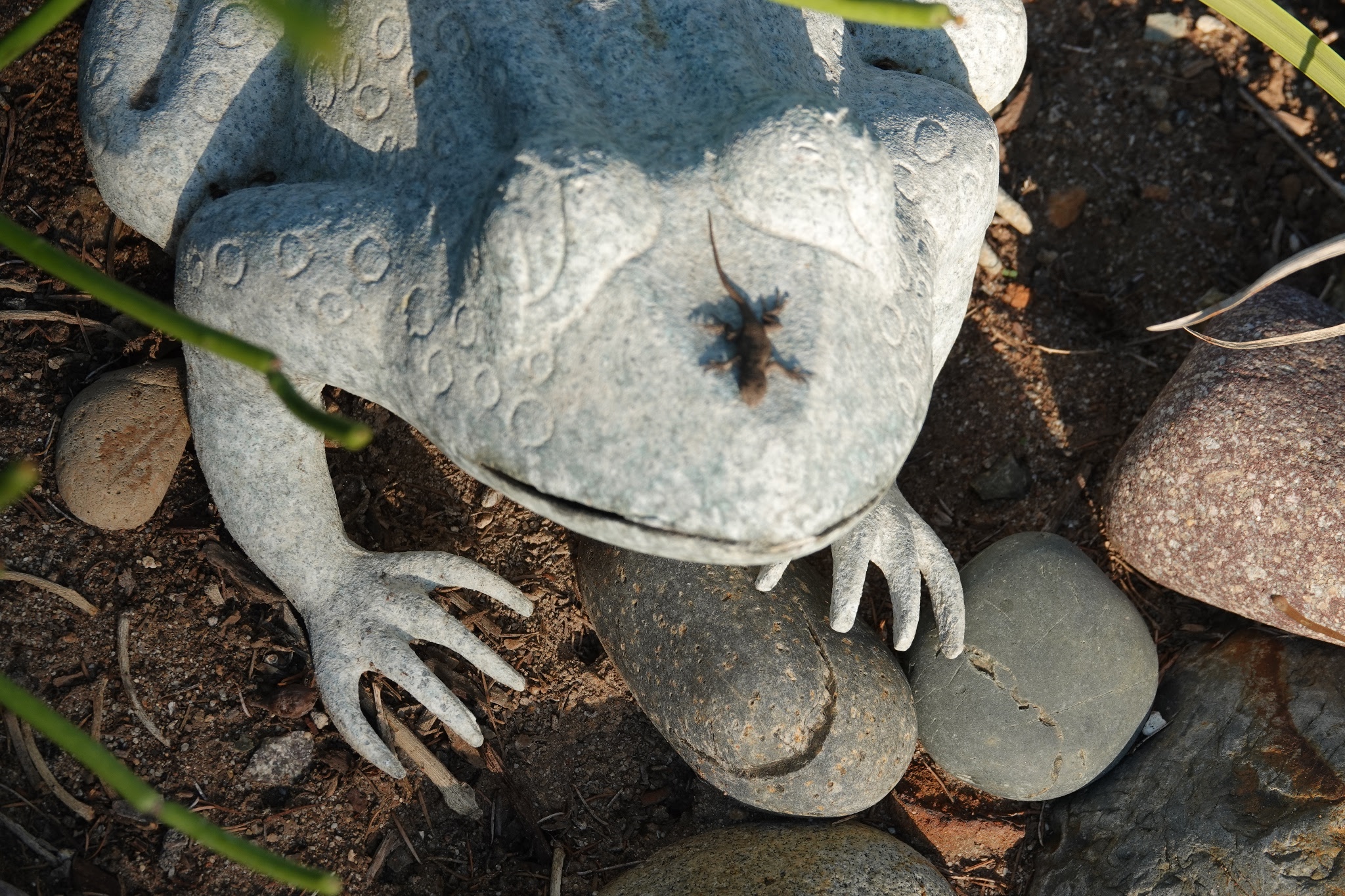 Eyes open but no evasive reponse was seen as I moved in for a close-up, a couple feet away from his face. He looked drunk, or just too tired to bother with life (I get that feeling sometimes).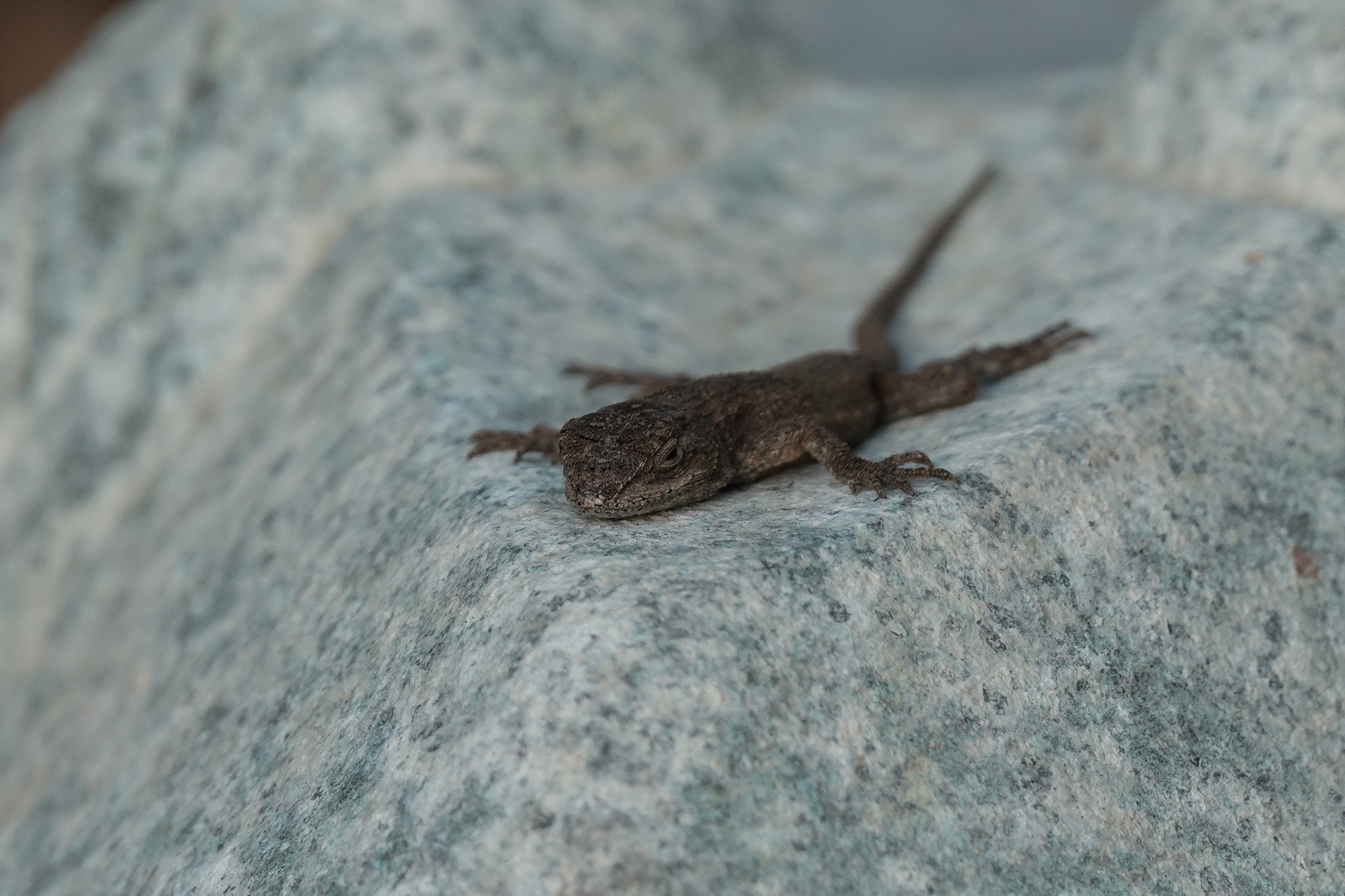 Dead or Alive? I found a long slender twig and touched him. WHOA! He lifted his head and moved a bit. Still alive.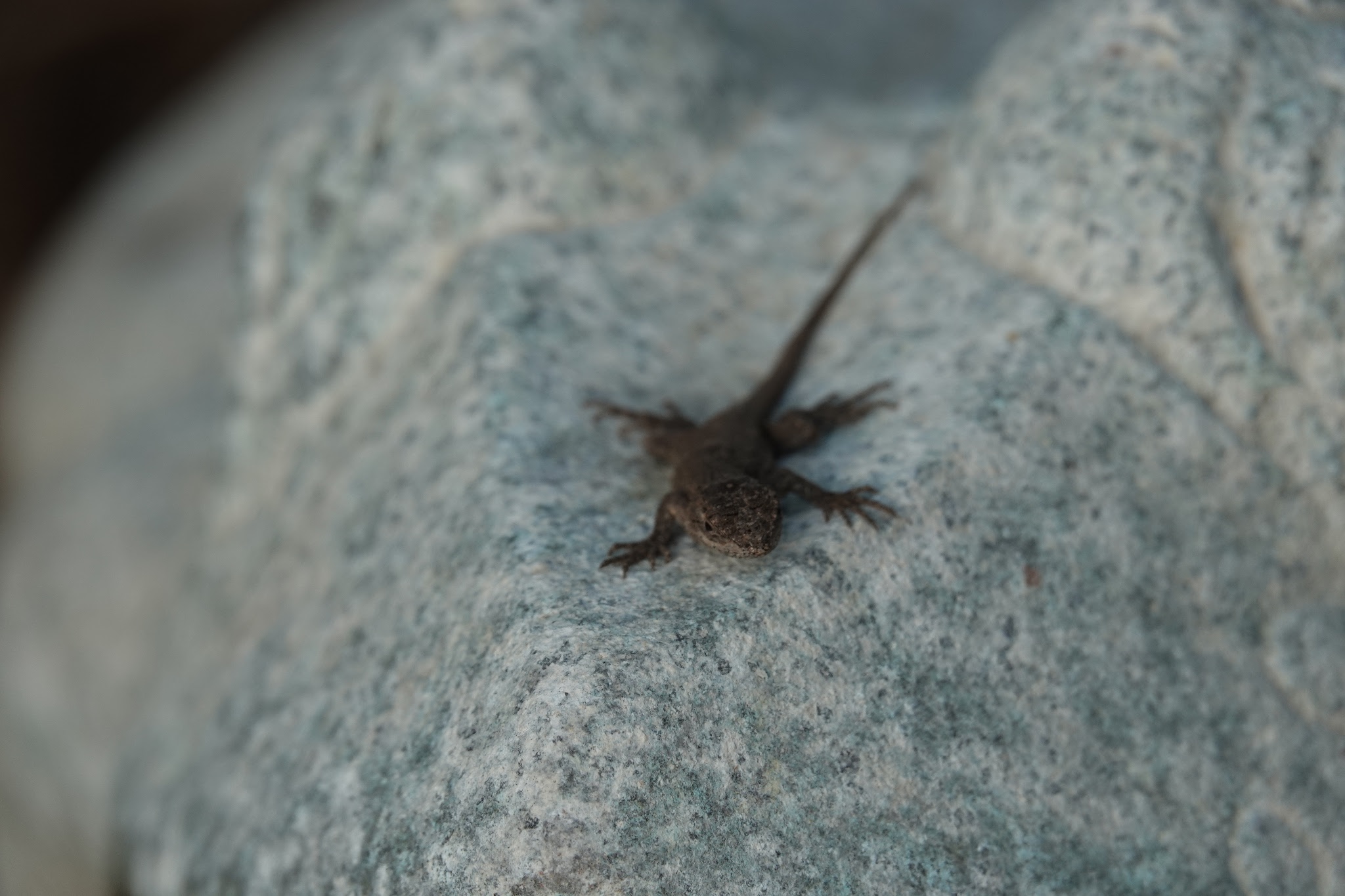 I backed out and got a wide shot.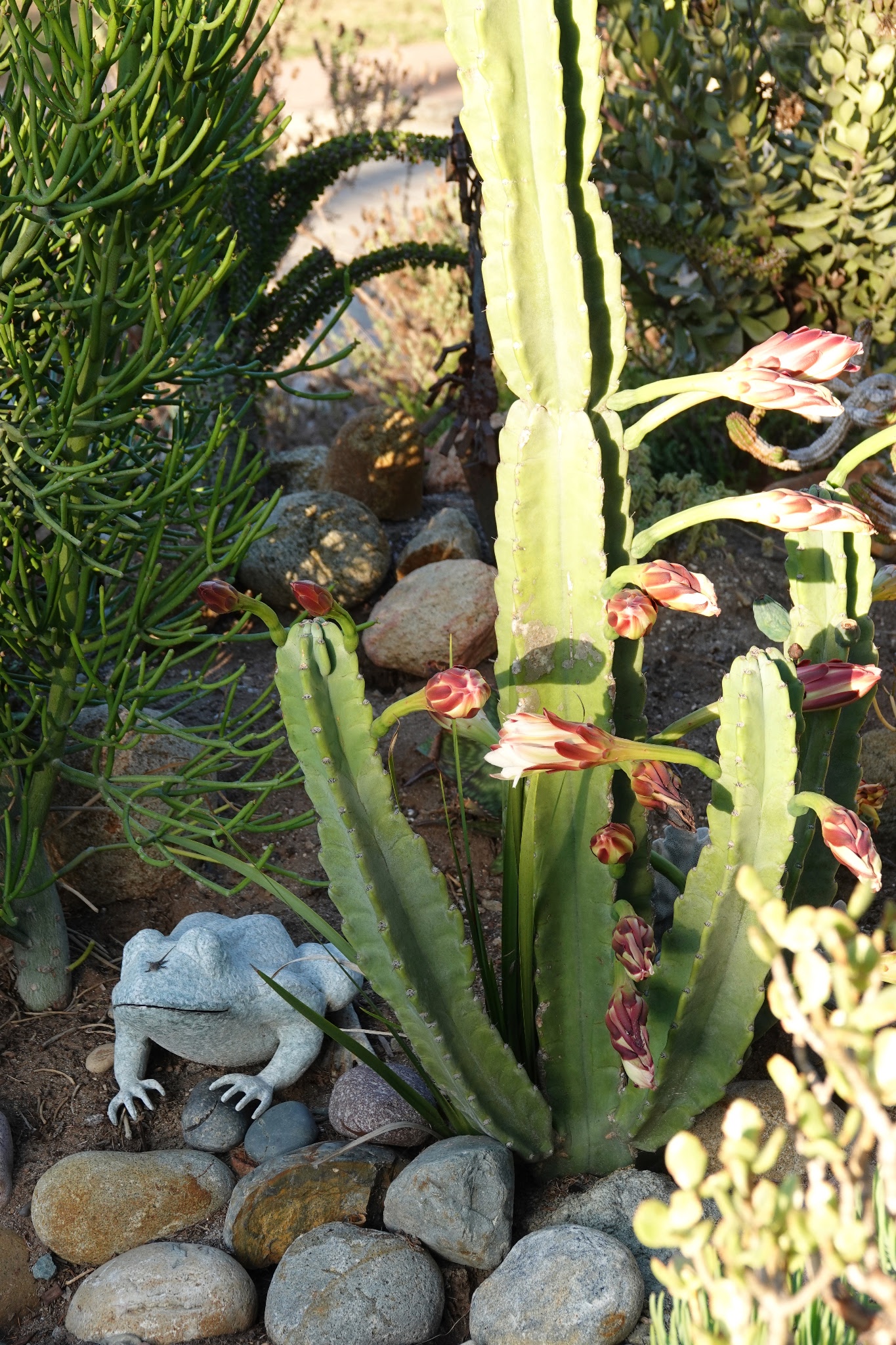 After all this adventure I had to make a simple, colorful dinner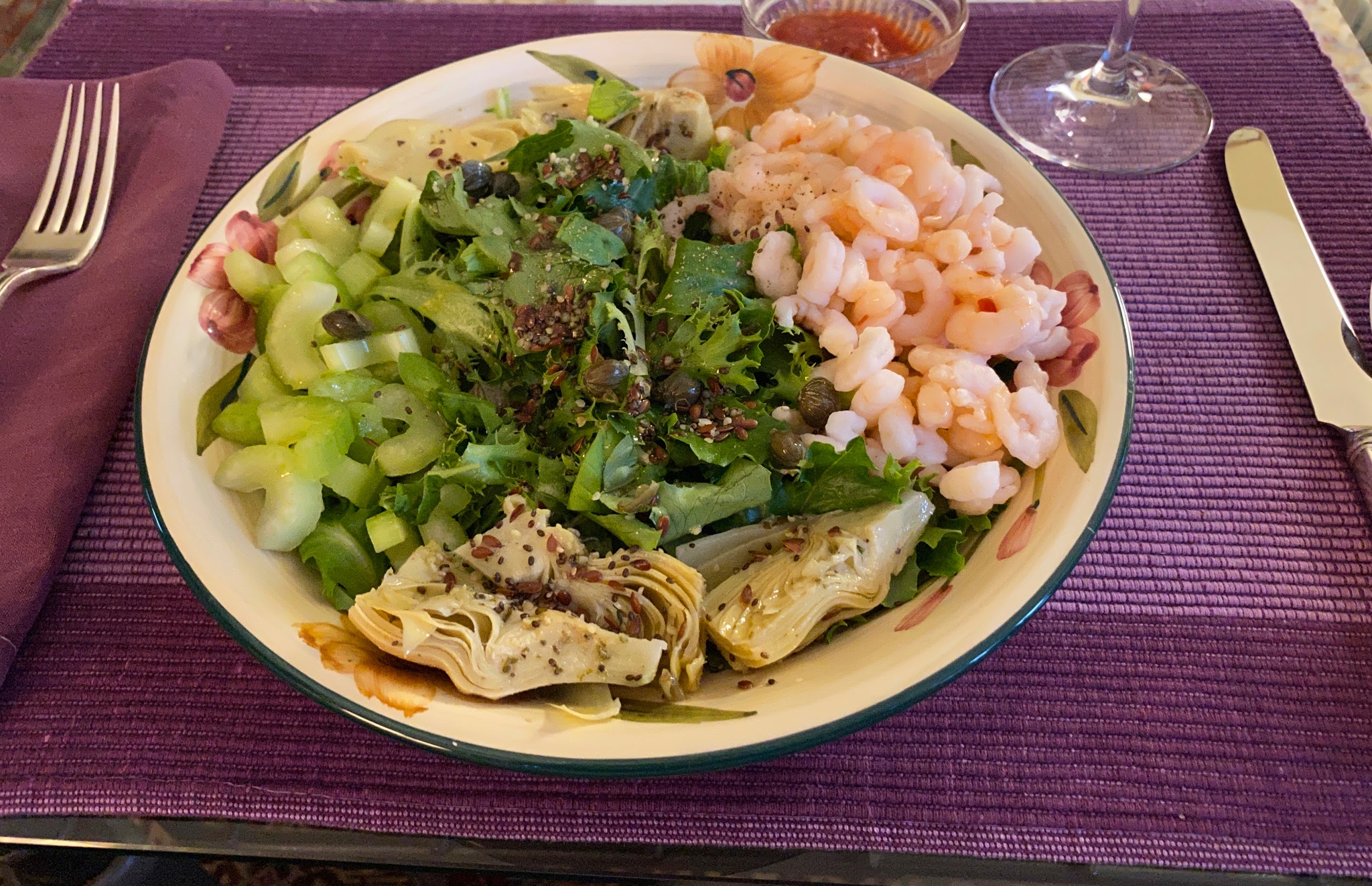 Saturday morning
I started on the back stairs and saw the owl immediately. He was not hiding (who's to hide from at that hour) but see if you can find him: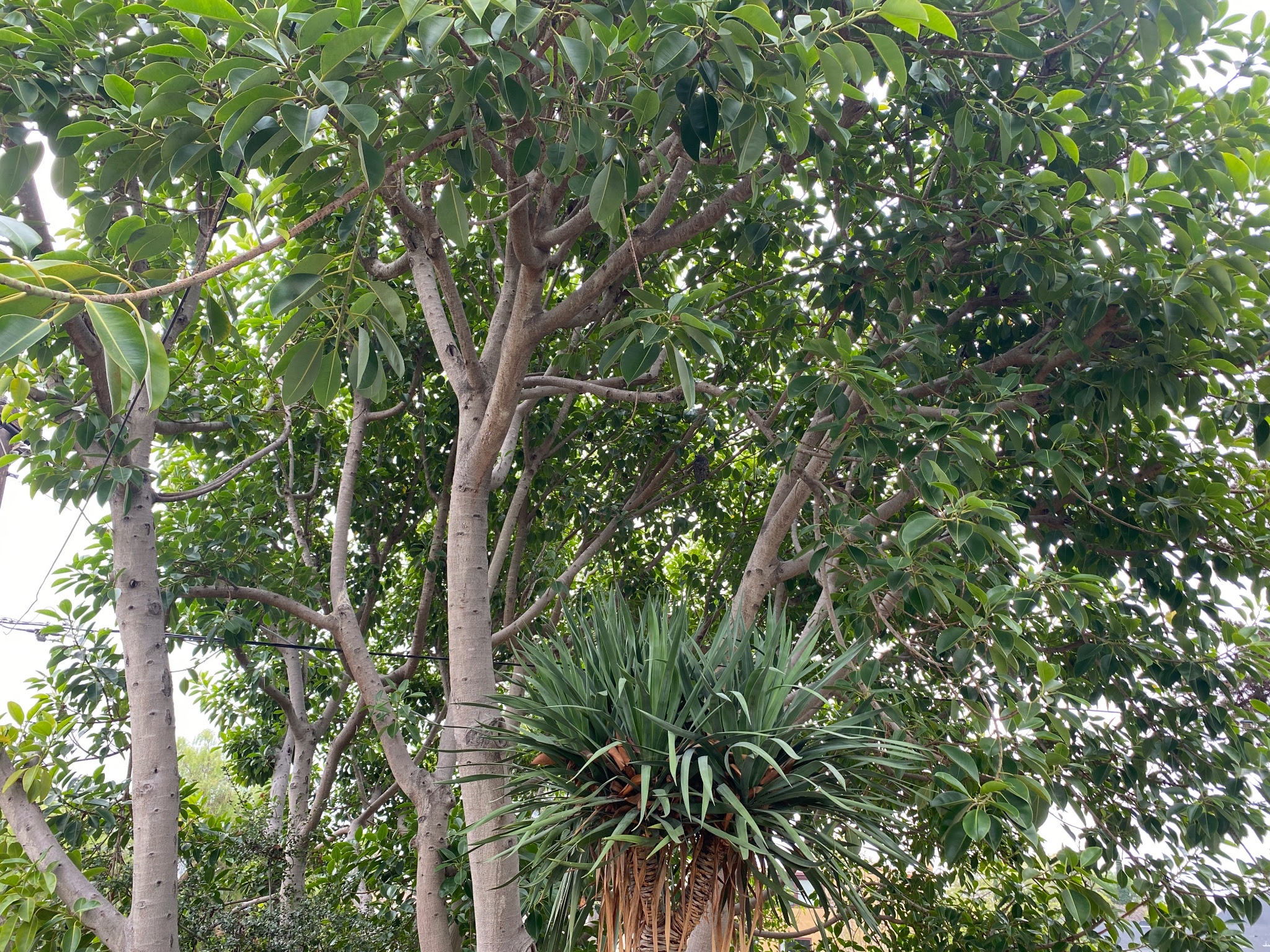 Mostly sleeping?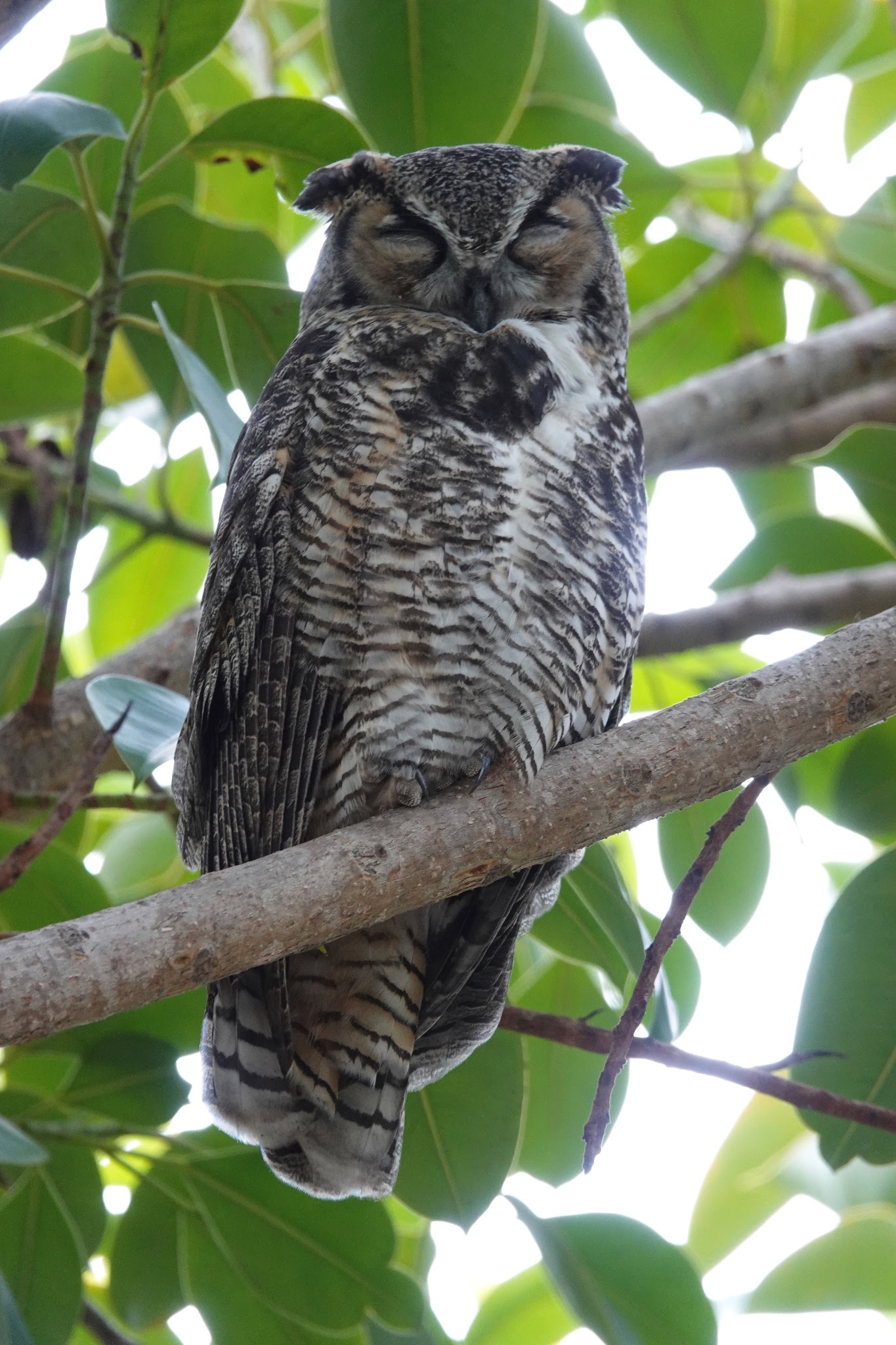 He looked at me and started to yawn. I've never seen a bird yawn before! And he did it a few times so I was able to capture the human-like expressions.

The cactus flower from yesterday but 18 were almost completely open (my wife counted).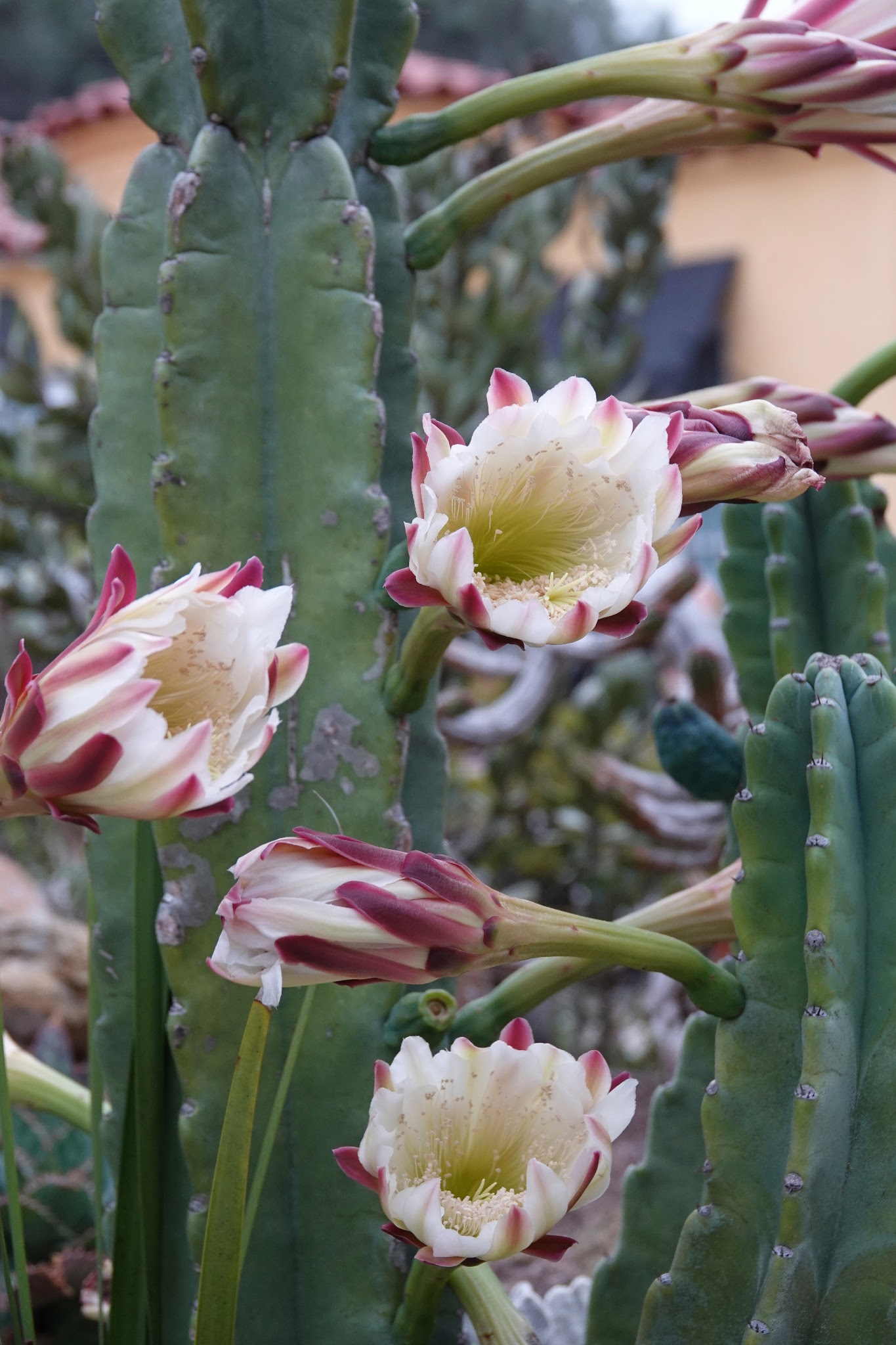 Is it a fly-trap? OR bee-trap? Or every bee's dream flower? My wife told me that by 9am they were all closed again ... so does that mean night pollinators? Bats? Moths?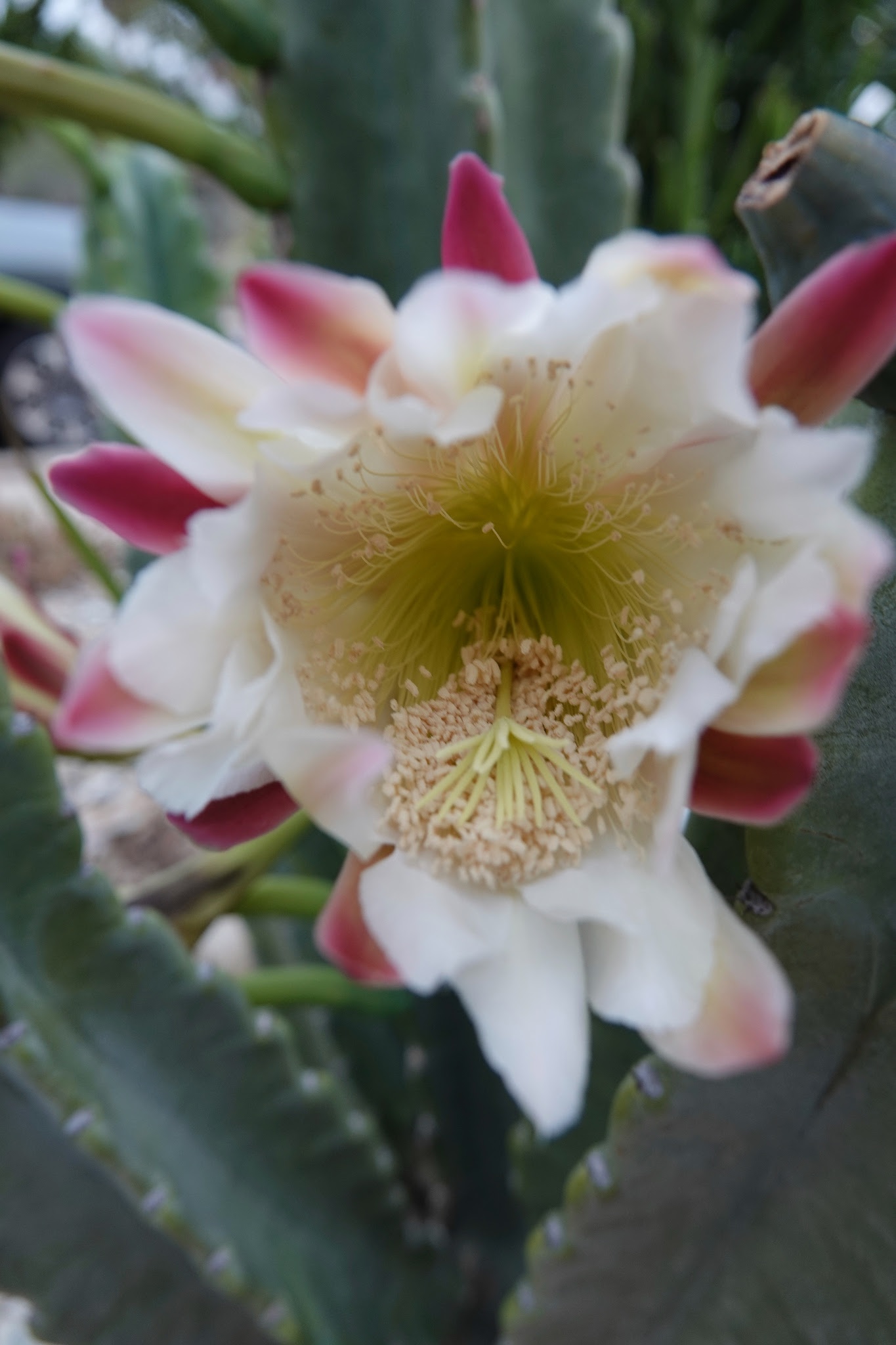 Chirp! I was strafed by the hummingbird who has taken our yard as its territory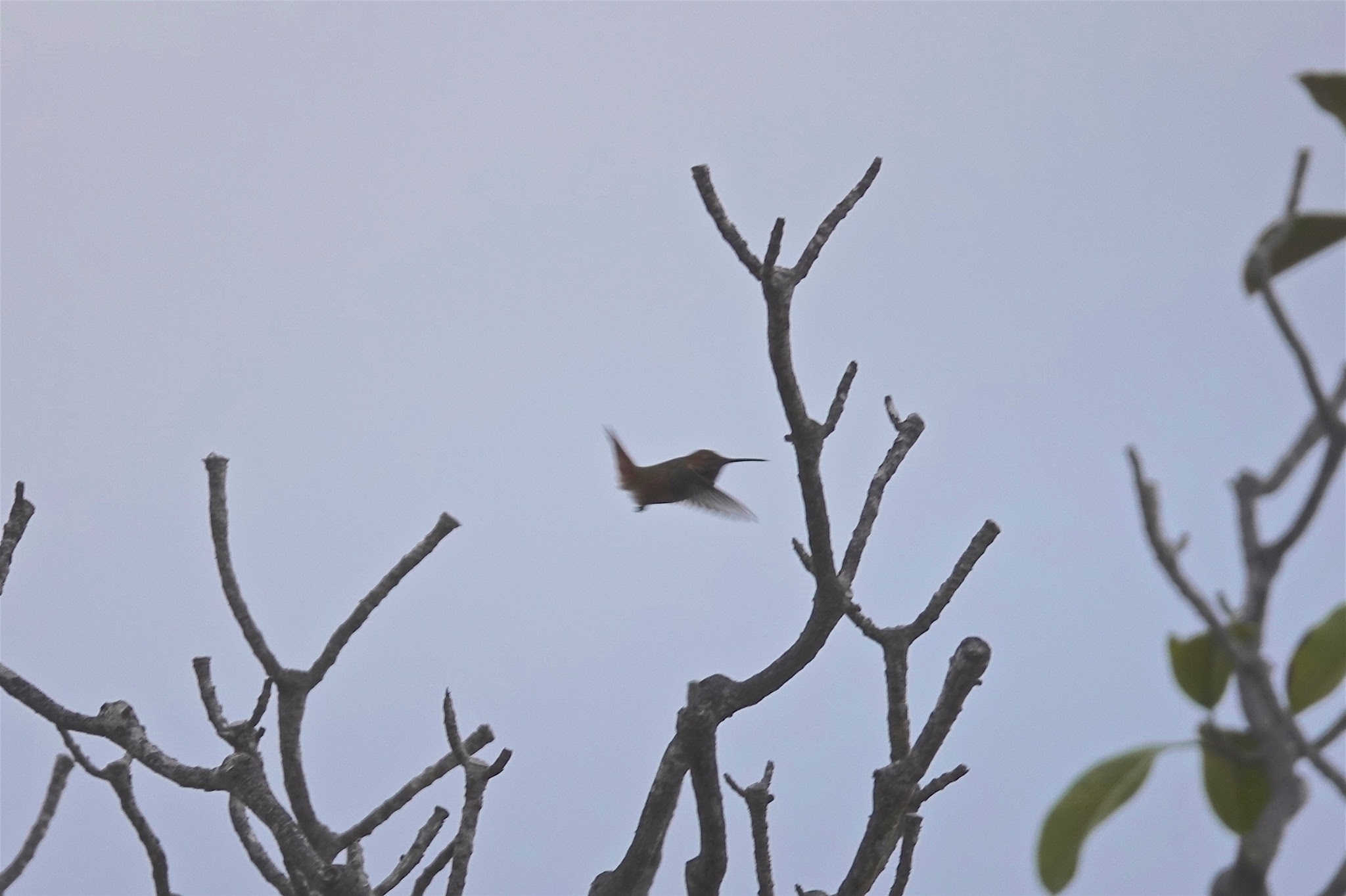 After some cat & mouse games with the camera, it settled down on a tree in plain sight and let me get some photos. No bright sunlit angles in this overcast sky but I'm happy.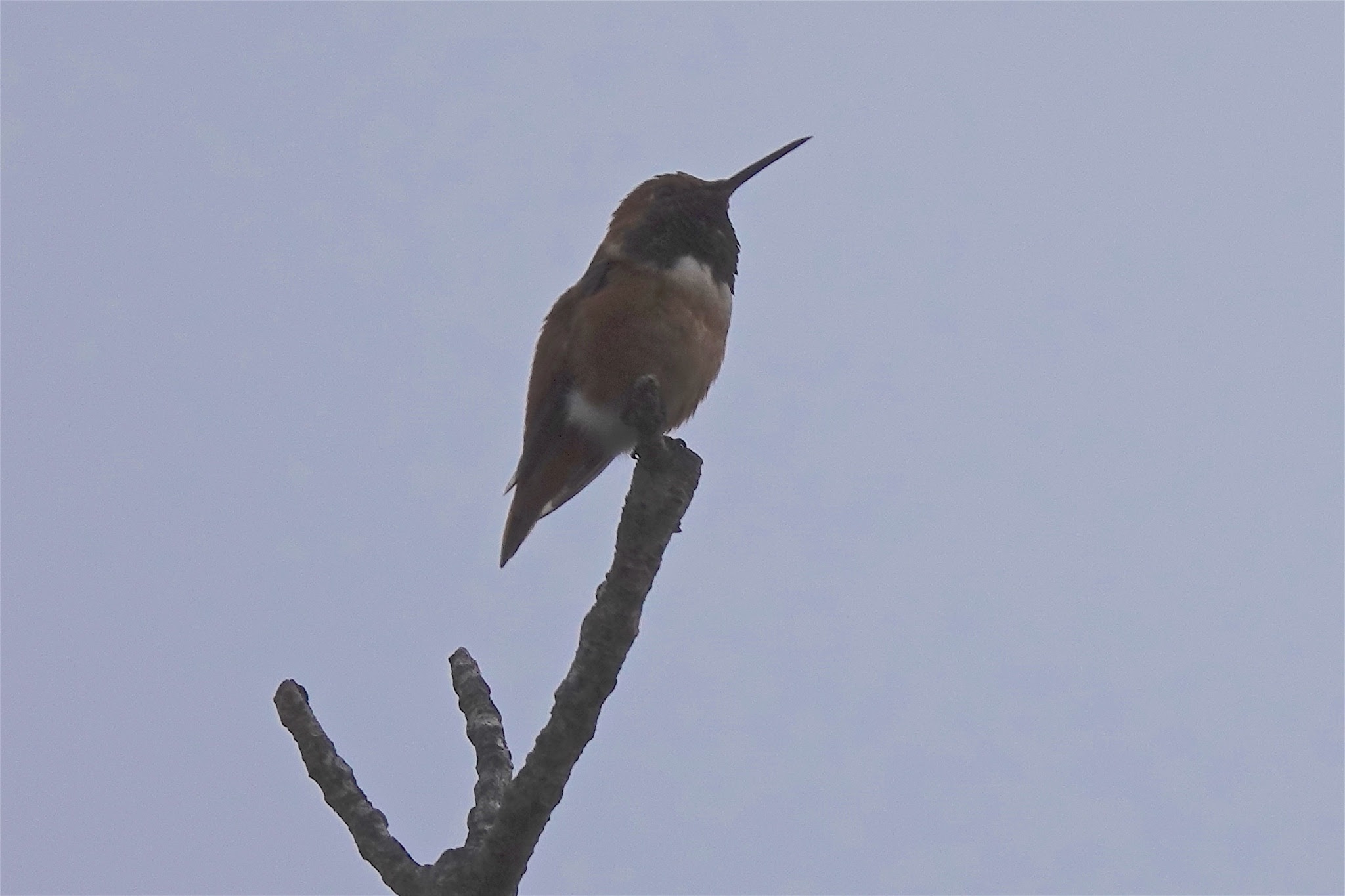 Thanks for coming along for this short (distance) but long (photographically) walk around our wild kingdom in the city.
Cazalea
Now I am in the basement catching up on my chores (avoiding the steps, the hedge, etc.)