patrick_y
[PuristSPro Moderator]
13437

AWAY Polycarbonate Luggage Review
Frequent traveler and Moderator Patrick_y writes a review about luggage! Luggage is a vital piece of equipment many travelers depend on. Patrick_y who has a collection of multiple pieces of luggage in active use writes about AWAY luggage a new and independent brand of luggage that has seen high growth over the recent years. In short, our moderator likes the luggage and highly recommends both the luggage and the ethics of the company. If you want to know why it's highly recommended, please read on...

I determined I didn't want to use my existing luggage for a trip to Africa so I relished at the opportunity to acquire a set of "AWAY" brand luggage. I purchased a three piece set in polycarbonate; 1, Larger Carry-on with rechargeable battery, 2, Medium Check-in, and 3, Large Check-in.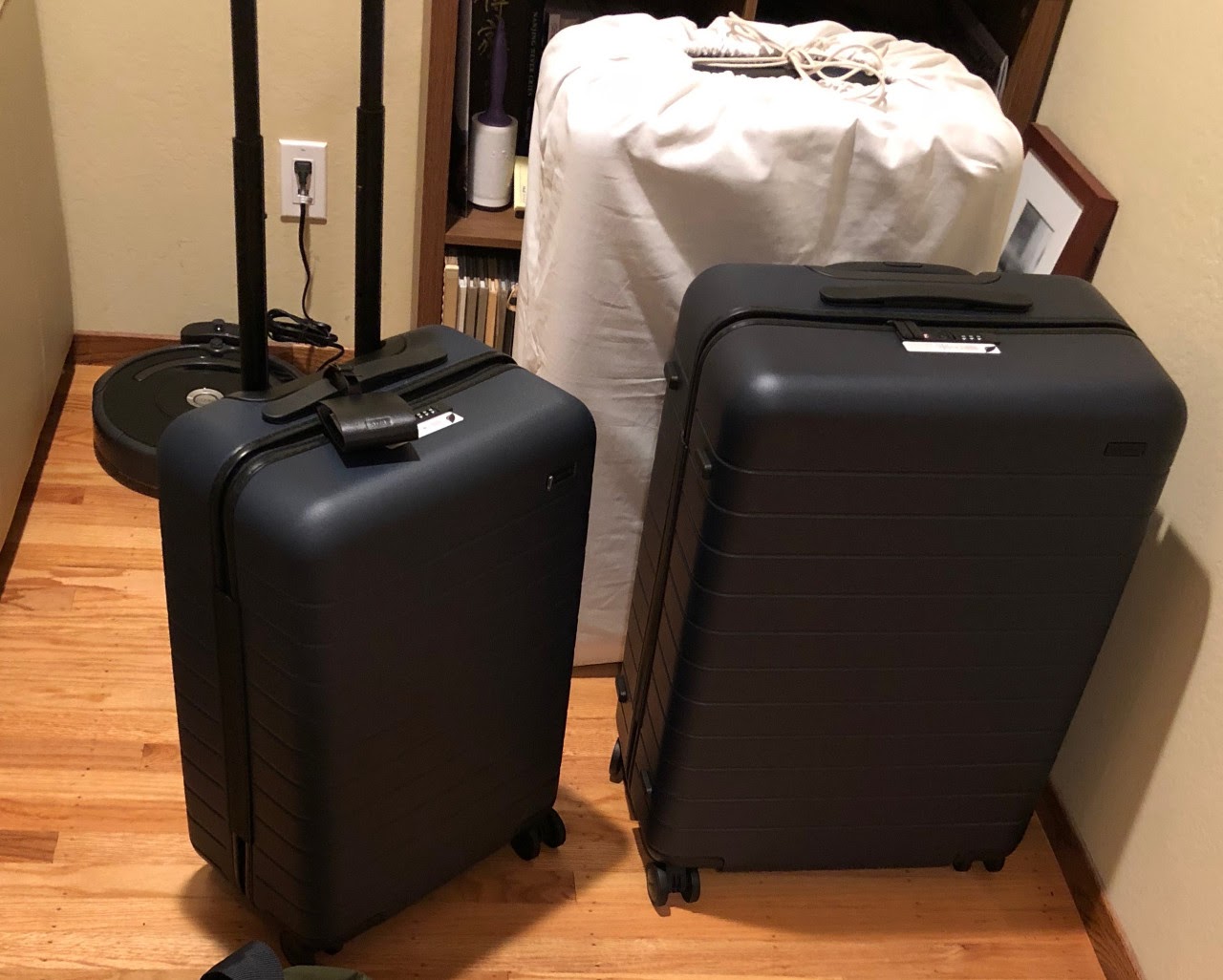 The AWAY Set. Larger Carry On, Medium Check In, and (still in its dust bag) the Large Check In. All three pieces nest within one another, although I wouldn't nest them after they've been used since the wheels will be dirty!

Am I Qualified To Write A Review About Luggage?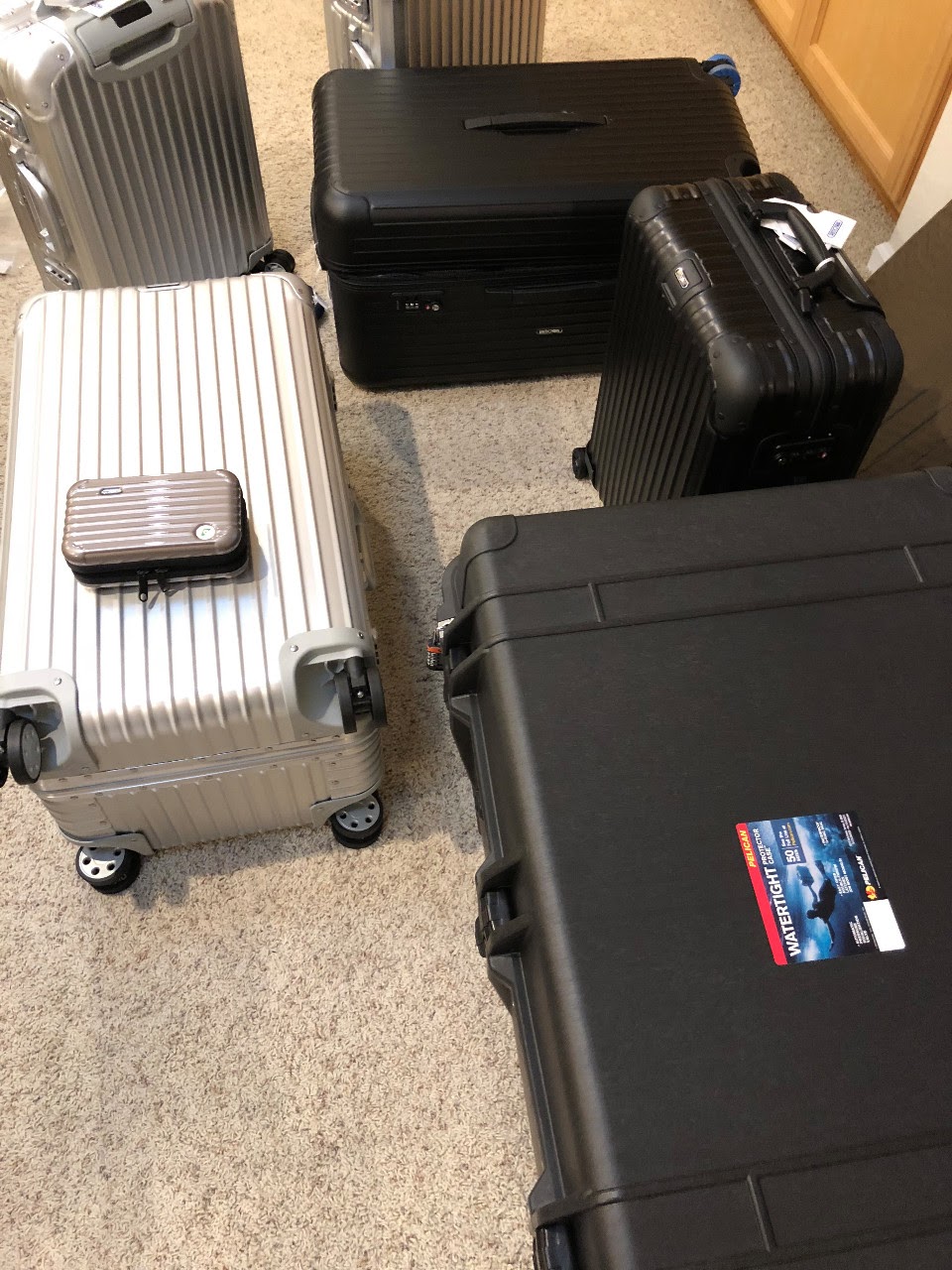 Some hard-sided luggage in the author's collection. The author keeps an inventory of spare cases for different missions.

I keep on asking myself; I'm qualified to write about watches and automobiles; I know how they're made, the mechanics, the history, the details, and even the business structure. But do I know enough about luggage? Over the years I've acquired a tremendous amount of luggage! I've been a trans-oceanic traveler since I was a toddler. I acquired my first set of grown up luggage just as I became a teenager or thereabouts. Over the decades I've acquired luggage from Hartmann (before Samsonite merger), Tumi (before and after Samsonite merger), and Rimowa (before and after LVMH merger). Luggage not only hold your important equipment but have become important pieces of equipment themselves! Wherever my trips take me; from the most humid environment in the Maldives, to the frozen lake of Geneva during January (right around the time of the SIHH watch convention), to the dirt roads of an African Safari in Kenya, I'm always dependent on lots of equipment; and luggage is one of those vital pieces of equipment!
AWAY Company Has Good Ethics
When I first saw the AWAY brand, I thought it was a just another luggage company. Later, I learned that the company had two young co-founders who had a profound mission statement – To Make Travel As Seamless and Joyful As Possible. I'm normally skeptical about these mission statements, but AWAY's management team did something that earned my respect and erased my skepticism.

One day, a friend of mine told me he needed to get his luggage modified. Modified? Who modifies luggage? I asked him for more background. He told me that his AWAY carry-on luggage had an integrated non-removable battery and the battery needed to be removed to comply with airline regulations. AWAY was going to modify his luggage so he was in compliance with the airline.

Keep in mind: this was in 2016 when airlines were experiencing lithium battery fires (from passenger cell phones, laptops, and even the airplanes themselves) and were restricting passengers from carrying unnecessary batteries to reduce risks (you may recall some airlines were even going to ban laptops). My friend acquired the AWAY Luggage Carry-on with a built in battery (for recharging cell phones) a year or two before the lithium battery problems.
As the airlines were moving towards banning these batteries, AWAY could have just said to their clients to buy new luggage; most other brands with batteries offered no remedies (very few had built in batteries). But that would've been leaving their clients in a tough spot! AWAY did the right thing by offering to modify thousands of suitcases they had already sold to clients so their clients could meet the new airline requirement. This was no small feat, as the logistics and deployment was truly a test of a new company's capabilities and resolve. It's good to know that a company stands by a product they sold in the past! Some watch companies don't even do that!

AWAY – The Review of the Product
The exterior is real polycarbonate, which is dent resistant and should maintain its shape. The polycarbonate does get dusty as it can get a bit of a static charge that attracts dust of the dirt roads in Africa.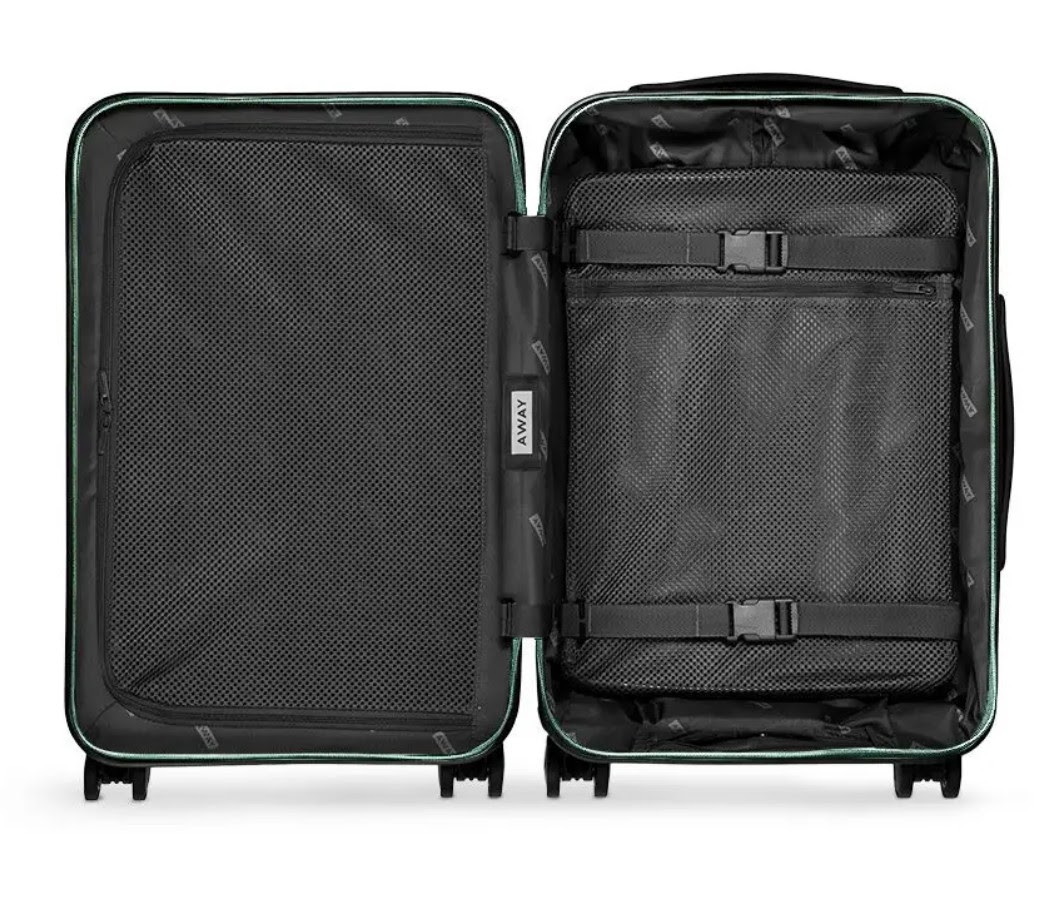 The interior is fully lined. The left side just has a nylon mesh cover. The right side shows a compression system that works very well. The nylon mesh pouch also holds flat things like shopping bags, emergency sewing kits, scarves, papers, and the like. (Photo Credit: AWAY website)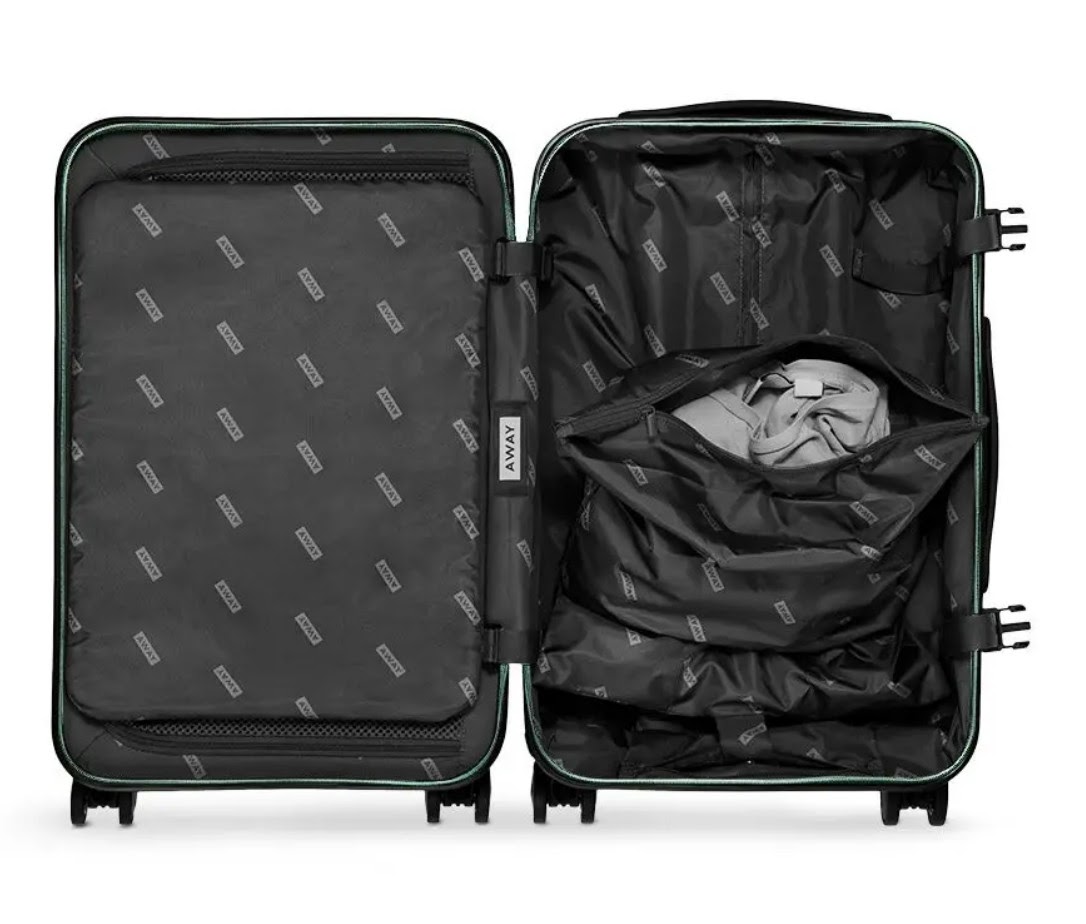 There is also a laundry bag for dirty laundry. Also, IMPORTANT to me, the two tubes for the telescoping handle sit fairly close to the back of the suitcase. TUMI's Alpha 2 model has a flaw that the tubes for the handles sit further away from the back which then impedes on your packing space! (Photo Credit: AWAY Website)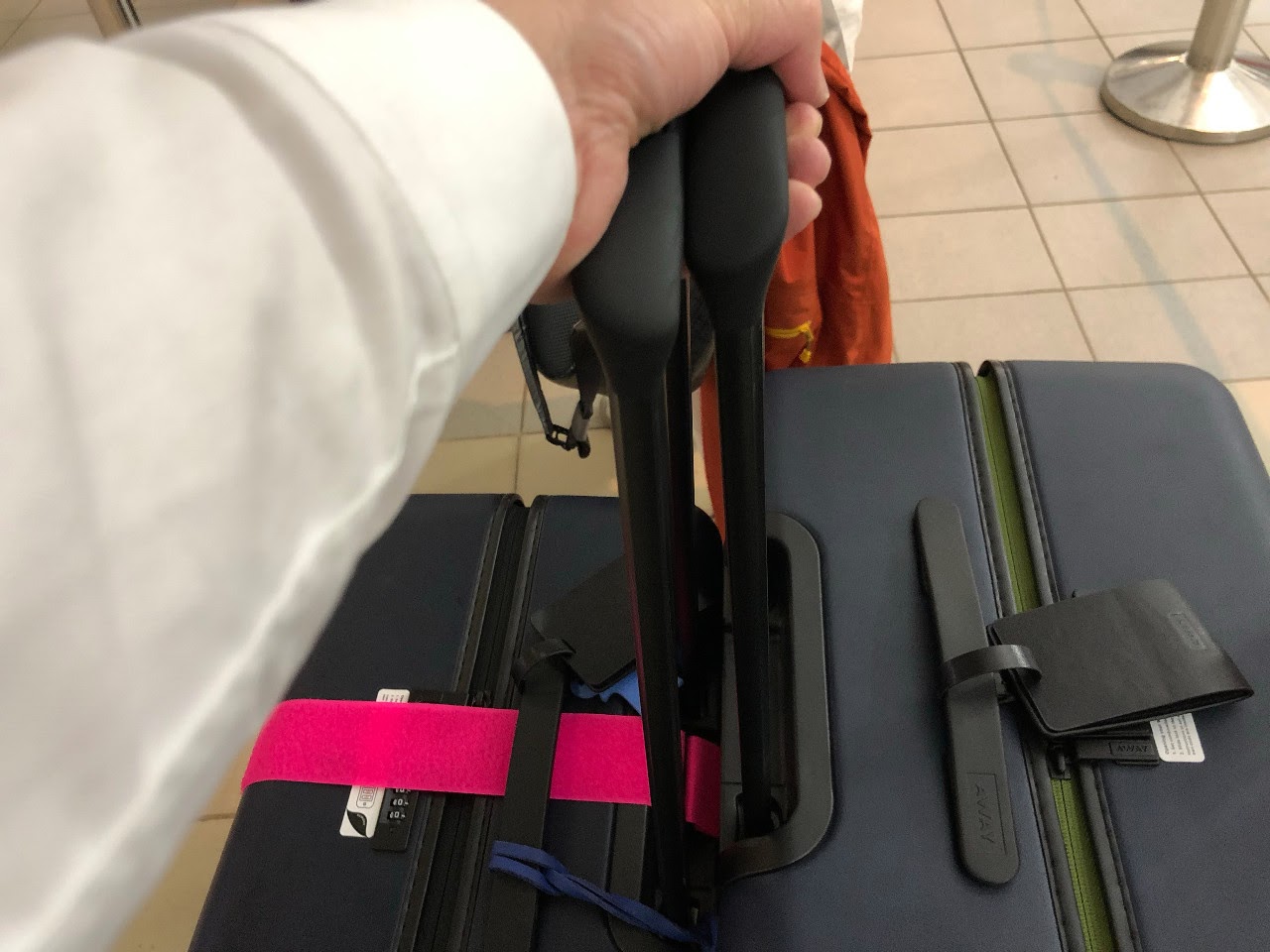 The photo above shows the Medium AWAY and Large AWAY Check-In cases, their extending handles lock at the same height. The height matches the height of other suitcases within AWAY's lineup or even with TUMI, so I can push two suitcases at the same time with one hand! The handle also has a good feel; not too much play that you feel you'd wear something out, but not too rigid at the same time.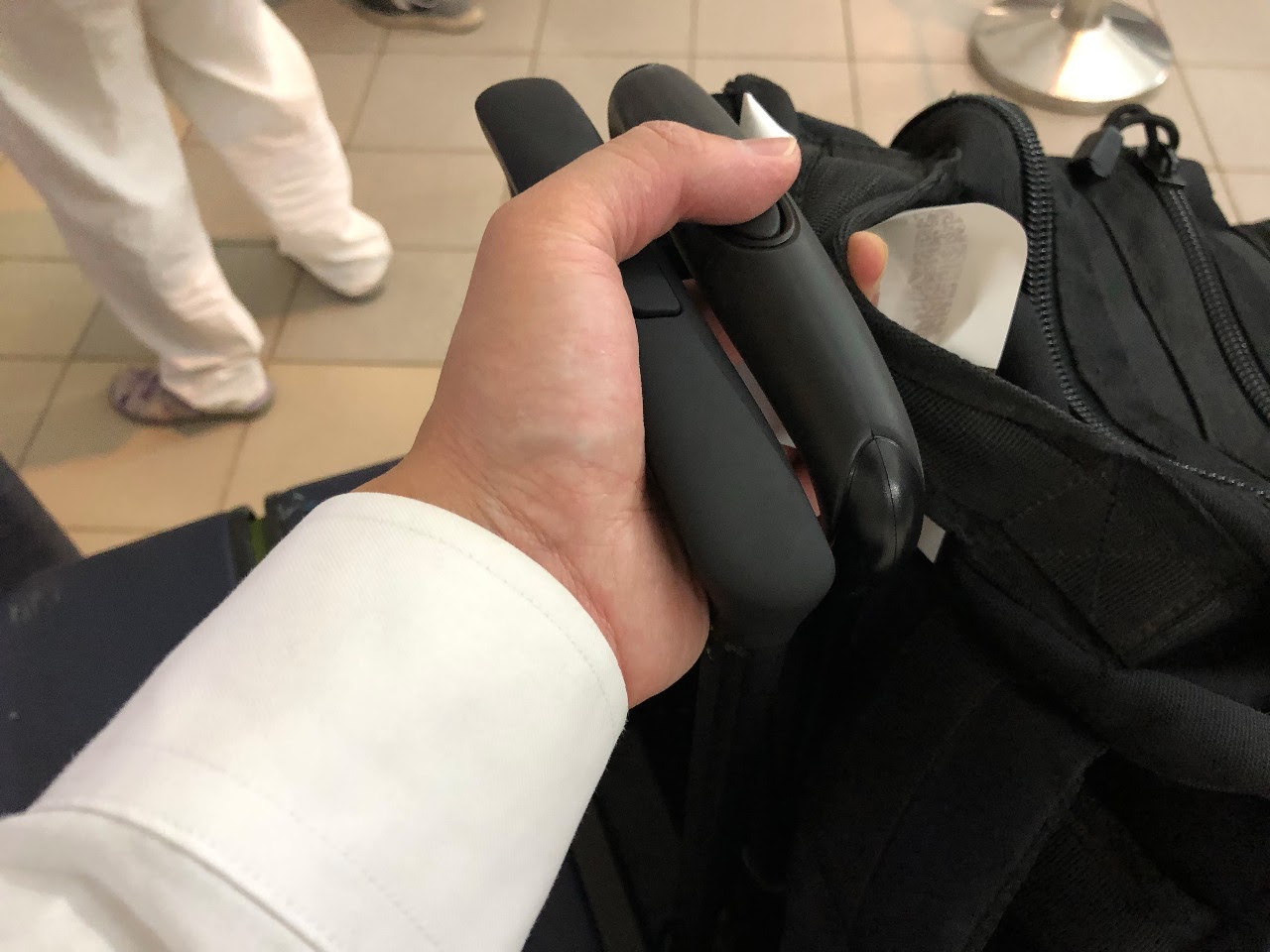 This is the Large Check In AWAY with the TUMI Alpha 2 Carry-On, the two handles are at the exact same height, perfect for one hand operation.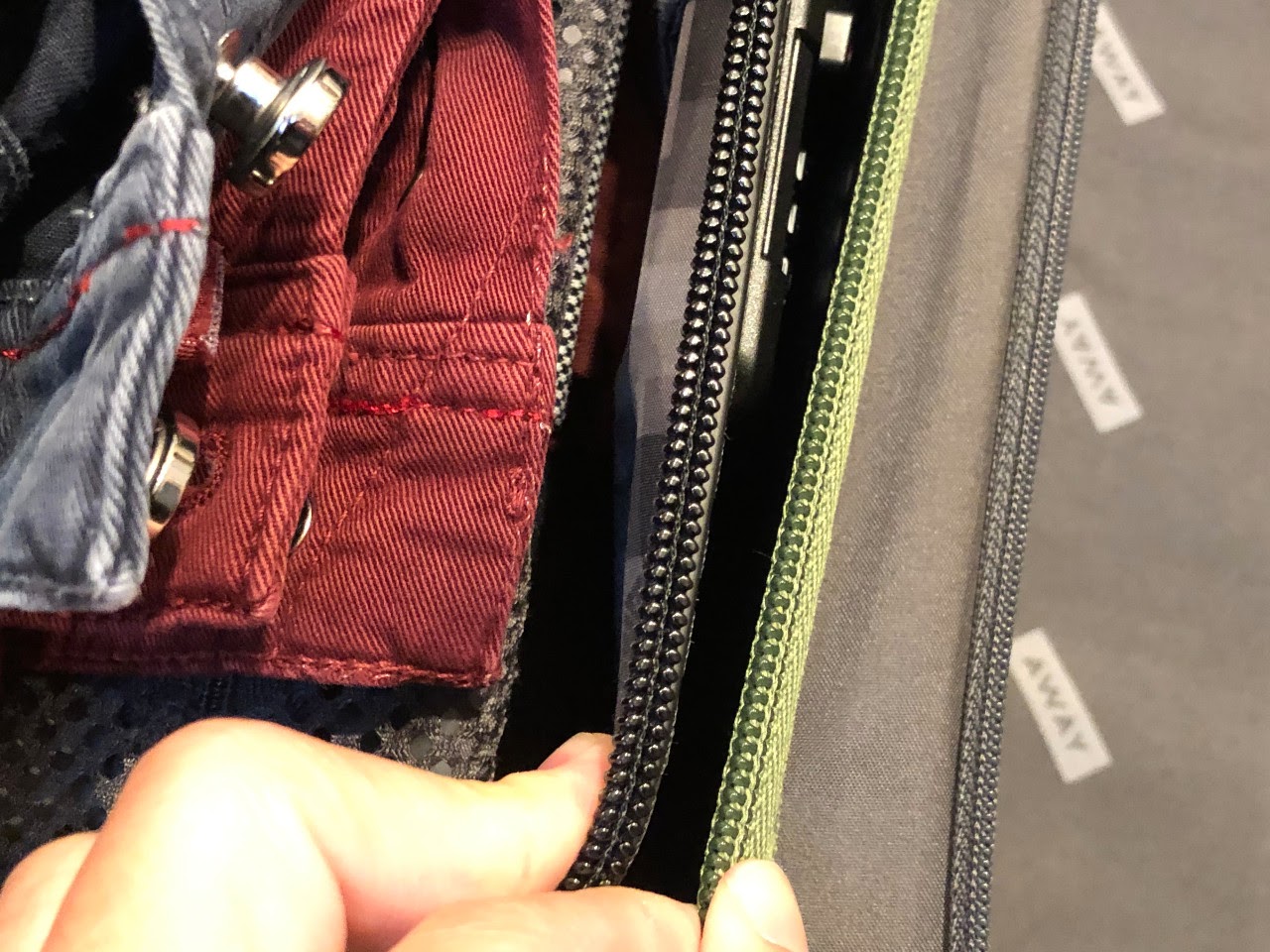 RIMOWA pictured on the left, AWAY pictured on the right. AWAY zippers are supplied by YKK, they are single-row teeth zippers. RIMOWA (left) at one point had double-row teeth zippers but have since gone back to single teeth zippers in 2019.

Other features worth noting:
1. The four wheels are double castered (as opposed to single) and are reasonably quiet. They work relatively well on all hard flooring, some carpets, and even on cobbled roads. They're made in Japan by Hinamoto, a supplier that is highly regarded; but I can't tell if it's a ball bearing system or not. If you damage a wheel, AWAY has a lifetime warranty on its luggage. Basically AWAY will cover just about any failure on its luggage for the entire time it is possessed by the purchaser or the purchaser's gift recipient.


2. Dimensions of the case max out the airline's allotted dimensions, have capacious capacity, and are overall fairly lightweight. Making the entire set very practical.
3. AWAY is very proud that their cases nest into one another for storage. I'm less impressed, after use, the suitcase is dirty, I'm not going to put a dirty suitcase within another suitcase. And if you decide to cover the dirty suitcase with the included canvas dust bag, it gets very tight to nest the cases.
4. I am very impressed with the LIFETIME WARRANTY by AWAY. Supposedly, any failure, a broken zipper, an inoperable wheel, a faulty telescoping handle, or a crack in the case means that AWAY will either repair or replace the part. This is better than TUMI's 1 year full and 5 year limited warranty and RIMOWA's 5 year limited warranty. I haven't had any failure in my less than one-year-old AWAY case, but I do feel good about it!

In Summary
I was very pleased with my purchase of a set of AWAY luggage. It's definitely a well designed and functional piece at a much more reasonable price than other makers such as TUMI and Hartmann (don't even get me started with the pricing at RIMOWA). Furthermore, the brand's founders seem to be trying to do the right thing ethically by going above and beyond to help their customers during that lithium battery scenario from a few years ago. The brand's EXTREMELY GENEROUS Lifetime Warranty also instills great confidence to me that I will not likely have a lot of problems. And even if I do have a part failure, knowing that it's not going to cost me more than half the suitcase is worth (one of my Tumi cases had to have a repair that cost nearly $200, the case was several years old but only cost around $400 back in the day) is another good feeling. I have purchased three hard-sided polycarbonate pieces from AWAY so far and I might be considering a soft-sided nylon fabric AWAY in the future!

DISCLAIMERS: I paid for my own luggage. No free luggage was bestowed upon me. All photos are mine except the two that were taken from AWAY's website.