Meet L' Abeille Bourbon, one of a fleet of powerful high seas towing vessels deployed to protect France's often stormy Atlantic coastline, and her charming captain, Charles Claden. The "Bee," based in Brest since she was christened by Bernadette Chirac in 2005, sails with a crew of 12 and is chartered by the French government along with it's sister ship, L' Abeille Liberté. (According to Wikipedia such vessels "…are traditionally named according to their activities around the ships they assist; in this case, like a bee around a flower.")
You'll pardon a point of pride, here, as my last name ends in -dahl: both "bees" were designed by Norwegian naval architect Sigmund Borgundvåg, and built at the Myklebust Verft shipyard in Gursken. And as I think all will agree, these amazing ships are as strikingly beautiful as they are effective. (Also, please note that the video below provides English subtitles!)
But isn't this a forum about watches? So, indeed, it is.
Thus, despite my intense interest in these ships (the engine compartment on the 80-meter-long Bourbon is 60 meters long itself (!), and if all four engines are started while in port, the windows of nearby buildings rattle; on its own, the ship can tow an oil tanker of 550,000 tons)… Yes, despite my interest in these ships and the fearless crews that keep them running, I was surprised and intrigued by glimpses of commandant Claden's watch, tantalizingly revealed at time marker 5:00 of this brief five-minute-forty-three-second tour of the Bourbon. Some of you may have read my post about the late Vin Scully's timepiece, and would not have been surprised that it was the inimitable Dr. No, whose skills at the keyboard, as well as long years of experience, allowed a quick and definitive answer to my query. So…
Who'll have a go at this one?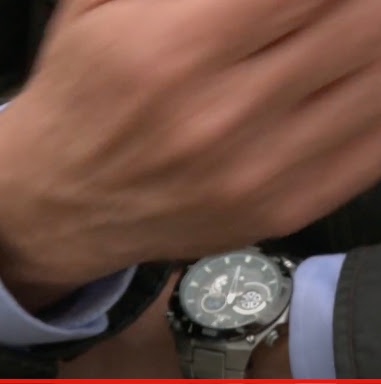 Although the face of this watch was not immediately recognizable to me, it was apparent that this was no ordinary timekeeper. And quite naturally--inspired by the knowledge that commandant Claden was named a chevalier de la légion d'honneur in 2001—I wondered aloud, "Could this, a decorated man's companion, be an unusual and fine timepiece?" "Might Claden even be (I went on) a "'collectionneur?'" "Might he (going for the gold, here) even be an avid reader of this forum???"

(You see how my Sicilian exuberance—my mother's side of the family—sometimes gets the best of me.) Whatever the case (for it could simply be a robust quartz watch with a number of bells & whistles), the captain's thirty-four year career of 365 rescue operations stands as a model of dedication. There is no talk of heroics. "Above all we want to, quite simply, to try to do things well, period. It ends there!" he says. Yes, indeed, captain. Any watchmaker would agree. It does, when all is said and done, end there.

Have a most pleasant Sunday all! FH