JoshTheCanadian
289

<!tag blob="forumpost.visitstar">
1-Year Review: Bulgari Octo Finissimo S with Silvered Dial
The good, the bad, and the ugly. Well, in this instance, I want to go in the reverse.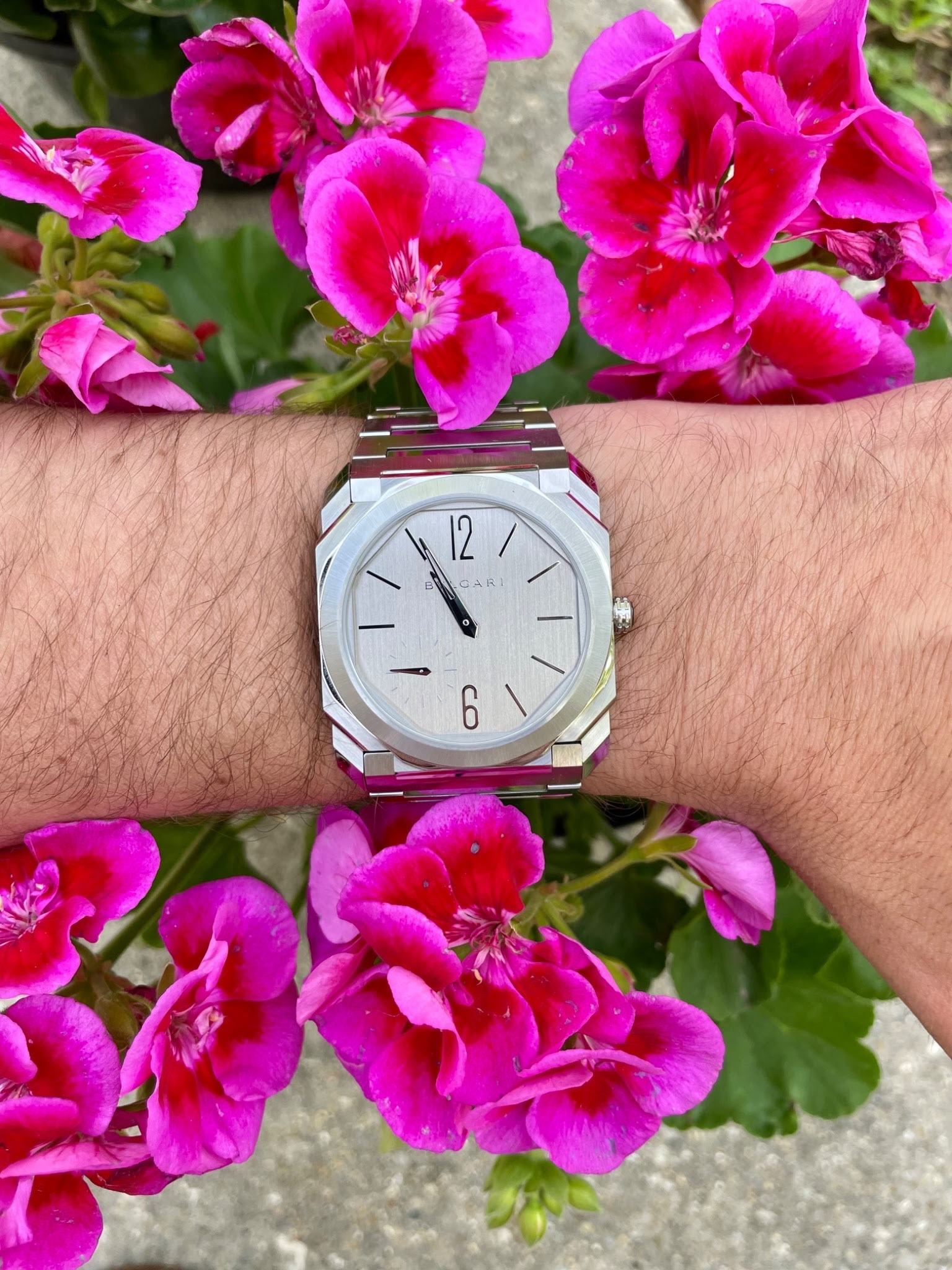 The ugly: I bought the watch in September 2021. Immediately, I noticed issues with winding efficiency. I would wear the watch during the day and it would die overnight. Further, the second hand stuttered between the 30 and 60 second marks. Neither of these deficiencies were acceptable. I sent the watch to Bulgari at the end of September. I did not get it back until the beginning of March – 3 months after I was promised that it would be fixed (I was told it would be fixed by December). Since then, I have not had any issues with the second hand. However, while the winding efficiency is improved, it is still not up to snuff. If I wear the watch all day, it will be running the next morning. However, without winding the watch, I am not getting anywhere close to a power reserve of 60 hours. This unresolved deficiency dovetails into another ugly point – Bulgari's lack of transparency.
Both watches photographed below were released by Bulgari during Geneva watch days (each of the watches are time-only automatic watches):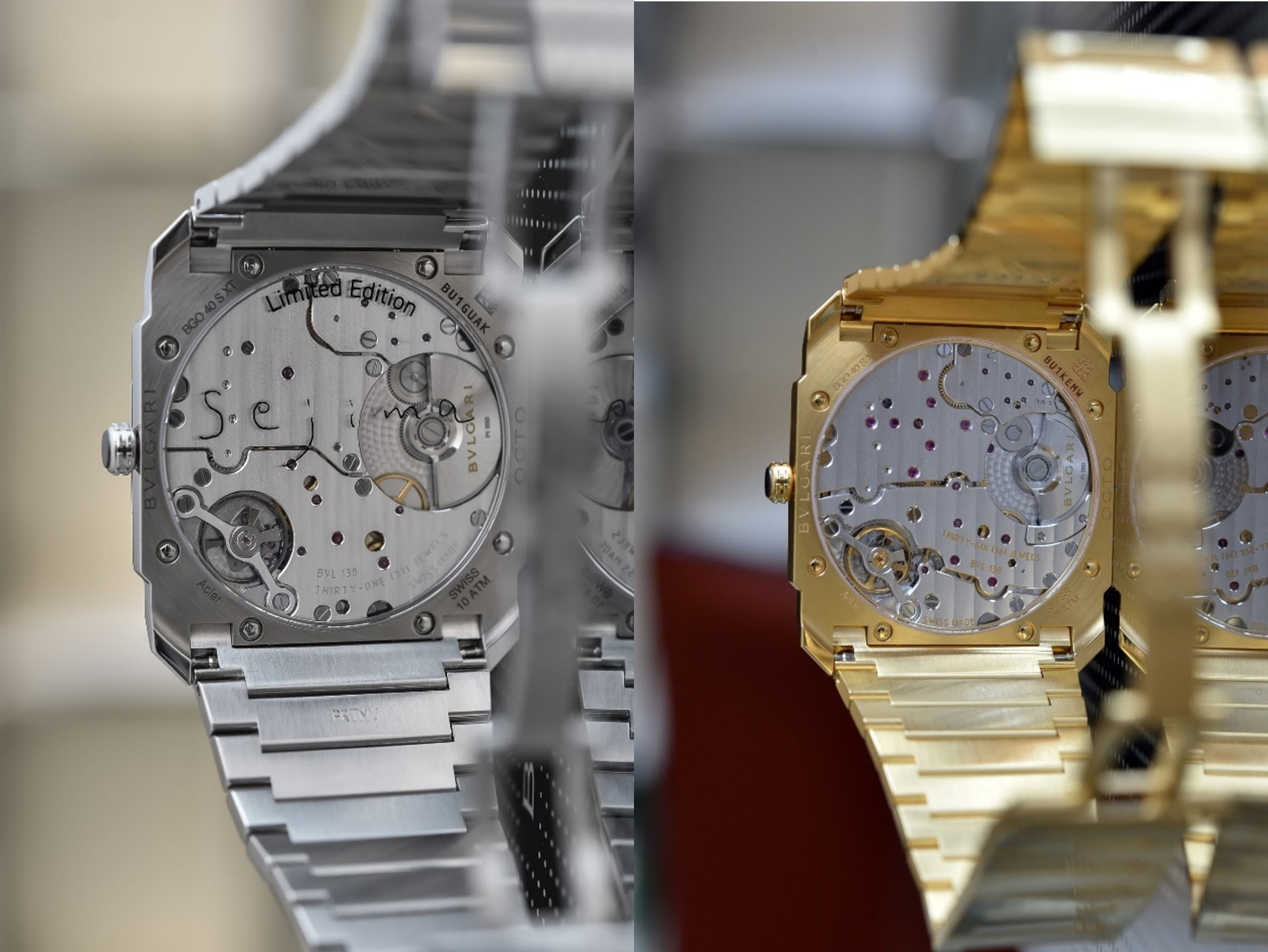 These are different movements, yet each of these movements are described as "BVL138." I have yet to see a single media source explain why this "change" occurred. I also have yet to see any explanation from Bulgari. The movement on the left, which is new, has a larger rotor – perhaps it improves the winding efficiency? However, that newer movement is considerably less attractive than the older movement, which has significantly more jewels, has nicer anglage, and has an additional bridge.
I am not sure if Bulgari is the appropriate subject of my ire – or whether it is with the sycophantic watch media. But it leaves a bad taste in my mouth.
The bad: the following points are not necessarily bad – but they are somewhere between ugly and good. There is no escaping the fact that the Octo Finissimo is a bigger watch. Sure, it is a reasonable 40mm on paper. However, with the extra-thin square case and the wide, cuff-like bracelet, it simply will not work on wrists under a certain diameter. And it may not work on the rounder wristed among us. I have aesthetically-pleasing, easy-to-fit wrists: they are 7" and flat, and for me, the watch fits like a glove. That said, I can easily see why a lot of people cannot make this watch work for them. To me, that is a pity, for the many reasons described below.
Similarly, the Octo Finissimo, with its distinctive design, may not be a great fit with certain wardrobes (I came to watches from my clothing hobby, so I may be particularly sensitive to watch-clothing synergy). The Octo Finissimo is at home with tailored clothing – particularly sharp tailored clothing. Further, the Octo Finissimo works well with "Italianate-casual," think Stoffa or Valstar, and it is also cool worn subversively. However, the Octo Finissimo demands a perspective. If you are a French blue shirt and khakis kind of guy, the Octo Finissimo just looks wrong. That said, this can be spun into a positive – the Octo Finissimo pushes you to dress for it.
Another point – and again, this is not a "bad" point – I feel like the Octo Finissimo has not had the success that it should have had. Here is a quote from Hodinkee describing the iteration of the Octo Finissimo reviewed here: "But then I considered the Octo Finissimo's peerless combination of record-breaking thinness across multiple models, its captivating design, and its seemingly unending introduction of complication models. The transformative effect the Octo Finissimo has had on how watch enthusiasts see Bulgari as a brand is obvious to anyone who's been paying attention. To me, for these reasons, the Octo Finissimo is the new watch design that stands out most in the past 20 years." Read any article addressing the Octo Finissimo, and you will see a similar statement. Yet, you can pick up nearly any iteration of the Octo Finissimo up without a hitch – even on Hodinkee's website – and even an allocation for limited editions is not difficult. By no means am I complaining – I appreciate that I did not have to jump through a bunch of hoops to buy my Octo Finissimo. That is how buying a watch should be. However, I do believe that the Octo Finissimo remains underappreciated. Whether that is because of the Bulgari name, the somewhat divisive design, the larger size, or something else, I do not know. But I do find it a little sad that the new Parmigiani Tonda PF – itself a great watch – has a waitlist while the Octo Finissimo does not. To me, the latter is significantly more noteworthy. (nb. I want a Tonda PF, particularly the new GMT). This point dovetails into another point: I would not buy the Octo Finissimo as an "investment piece" (generally, I think you should not buy any piece as an investment piece). I doubt the Octo Finissimo will ever make a splash on the secondary market. But hey, I have been wrong about a whole host of things in my life.
Finally, this is a point that does not bother me at all, but I guess the crown is a little tiny? I think it is proportional to the watch, and I personally do not have any issues with (un)screwing it and winding the watch, but I do not have fat fingers. The Octo Finissimo uncompromisingly favors aesthetics, so I am not bothered.
The good: I'm not sure that I can use the word "good" to describe this watch. Because the word I am looking for is "great."
Let's start with comfort. To me, wearability is critical and I have always gravitated towards wearable watches. The majority of watches in my collection are thin, and I have a standing 11.9mm or under rule (that said, I am known for breaking the rules every now and then). At 6.4mm, the Octo Finissimo is the thinnest watch in my collection, and it is by far the most comfortable. The combination of the larger footprint, wide bracelet, and thin case makes the Octo Finissimo my most comfortable watch. It slips under every cuff, and just kind of sits there on my wrist. People preach about the comfort of the Explorer. I have an Explorer, and the Octo Finissimo is way more comfortable.
Further, to echo the above-quoted Hodinkee comment, the Octo Finissimo is the new watch design that stands out most in the past 20 years. The Octo Finissimo is distinctive and it has a perspective. It is not derivative yet, at the same time, is unquestionably an evolution of a watch designed by Gerald Genta. A point that is particularly fascinating to me: the watch is, simultaneously, an evolution of a Gerald Genta design and a design that is at-home with Bulgari's design language. The watch industry is an industry that trots out the same or similar stuff year after year and claims innovation. Bulgari, on the other hand, really is pushing forward the notion of what a watch can be, and I appreciate that.
Next, the quality to price ratio. Given the retail price, you are getting a watch that is actually horologically interesting. I cannot think of another watch in this price range that can say the same thing. As I mentioned in the preceding paragraph, the Octo Finissimo is a unique, distinctive design, and you are getting a lot of design for your dollar. Further, you are also getting an ultra-thin watch movement – itself a complication. Lest we forget, the movement in this iteration of the Octo Finissimo, when it was released, was the thinnest automatic caliber ever.
Alright, let's get more granular.
While the watch has a large footprint, it does not wear like a dinner plate. I am extremely sensitive to watches that wear big, and this one does not. I am not saying that the watch wears small by any means – but it wears smaller than its large footprint.
The vertically brushed dial is a thing of beauty. The dial color is constantly shifting and somehow the watch looks different every single time I look down at it. Further, while legibility may be a perceived concern based on the renders, I find it extremely easy to tell the time. In addition, even though it does not have any lume, the markers and hands are reflective enough that I can often read the watch in low light.
The bracelet is not often mentioned but is really, really lovely. It is slinky but does not feel chintzy. It drapes over my wrist, it does not pull my hair, and it has a pleasant heft to it. It has a very unique, almost serpentine-feeling design to it. And it has an extremely clever hidden clasp that, when secured, rests inside of hollowed-out links. Sure, it has pins – but that is easily forgotten and does not bother me.
This iteration is water resistant to 100m! And it is only 6.4mm! That is pretty darn amazing when you think about it.
You would think this watch would be a scratch magnet, with its countless polished and brushed surfaces. It is not. It is so thin that it rarely picks up scratches. And I struggle to notice much wear on this watch despite a year of use.
And now, the final and most important part: I smile every time I look down at this watch. I do not wear a watch to bed. However, sometimes when my wife is asleep and I am waiting TV in bed, I reach into my drawer, put this one on, and admire the way that the TV bounces off of the dial and the various angles. I get excited every single time I put this watch on, and I am not sure that you can ask for much more in this hobby.
More posts: