SIHH 2013 PuristSPro Report: Cartier (M. Teillol-Foo & PuristSPro Team)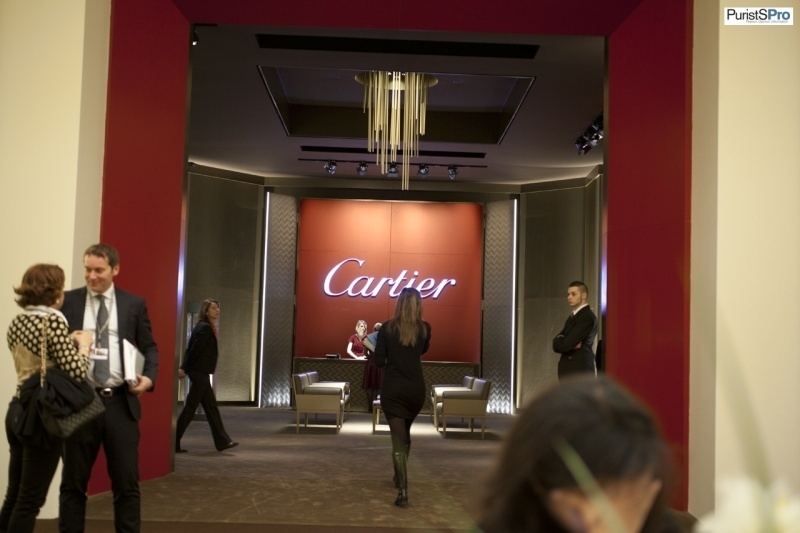 Last Year's (2012) Star of the Show: Rotonde Minute Repeater Flying Tourbillon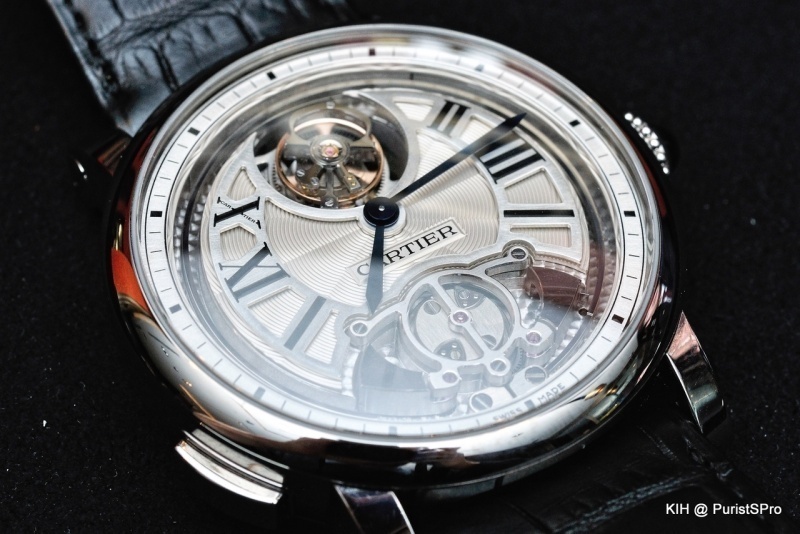 It is difficult to pick a single watch as the Cartier juggernaut churns out so many models each year since they recently built their mega-factory next door to Renaud & Papi workshop in the La Chaux-de-Fonds / Le Locle area. In 2012, they had a huge talking piece - minute repeater flying tourbillon but also for the common man, the new Tank Anglaise only on integrated bracelet. In terms of volume and revenue, the humble Tank Anglaise may be said to be the "star: of 2012.
We will come back to the Tank Anglaise later. Meanwhile, have a look at a working example of the said minute repeater flying tourbillon.....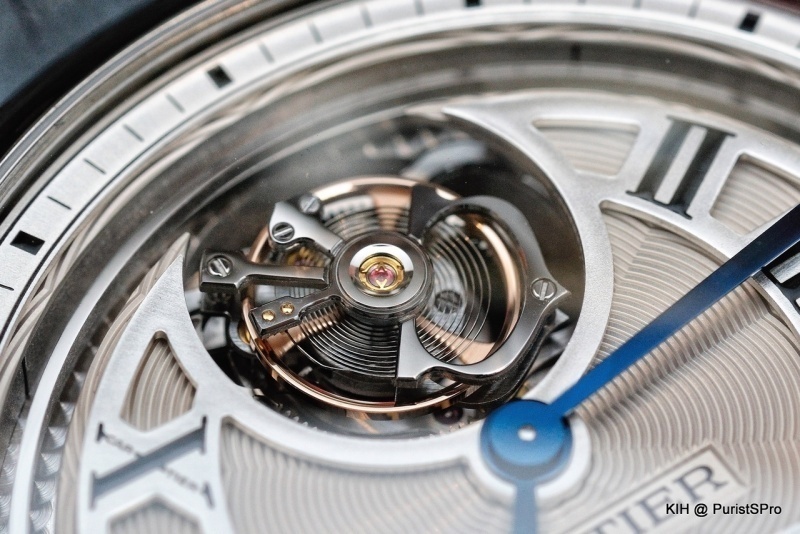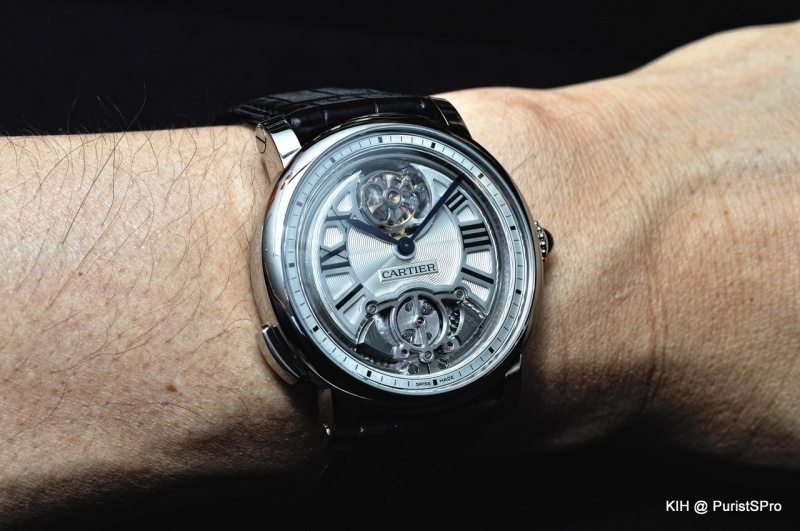 2013 Brand Themes:
Cartier had one main theme - Mystery to Fantasy - that translated across the 2013 collections:
Fabulous Hours of Cartier:
Mysterious Hours of Cartier
Balon Bleu de Cartier
Calibre de Cartier
Crash
Roronde de Cartier
Tank Anglaise
2013 Star of the Show: Ballon Bleu de Cartier tourbillon double jumping second time zone watch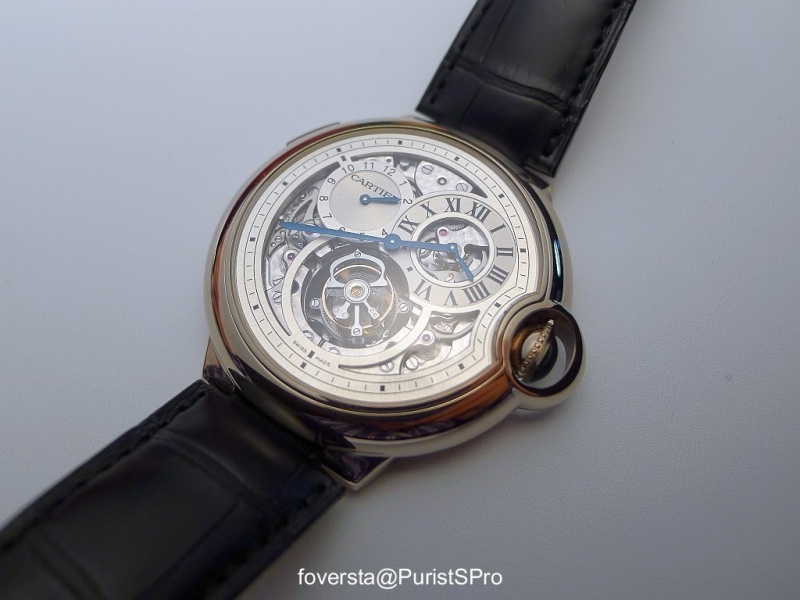 Balance and Symmetry are the watch words here.
It may not have the big budget publicity furore or the newspaper column-inches but in the real world of real watch owners, this is a useful albeit whimsical indulgent timepiece. This is haute horlogerie at its best.
Pertinent...Relevant...Achievable.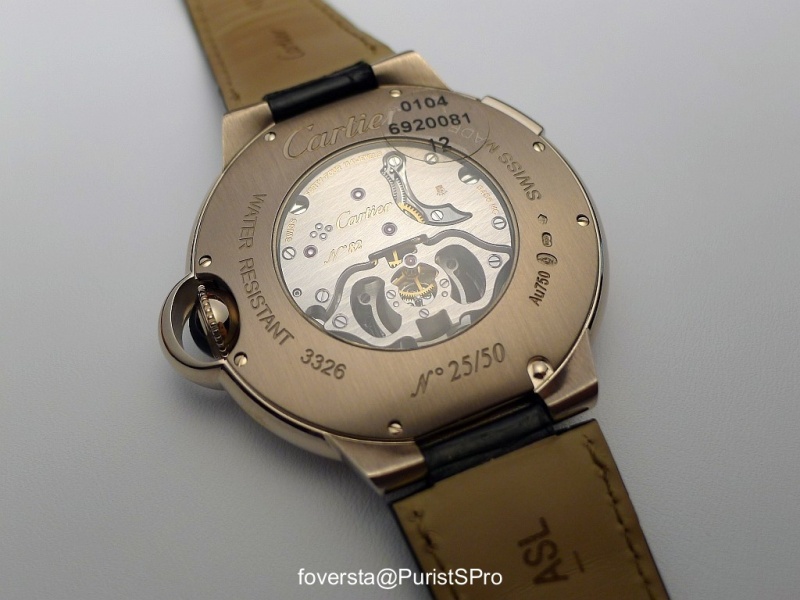 So; what is the big deal here? Of course, there is the tourbillon to look at but the main attraction happens every hour, on the hour.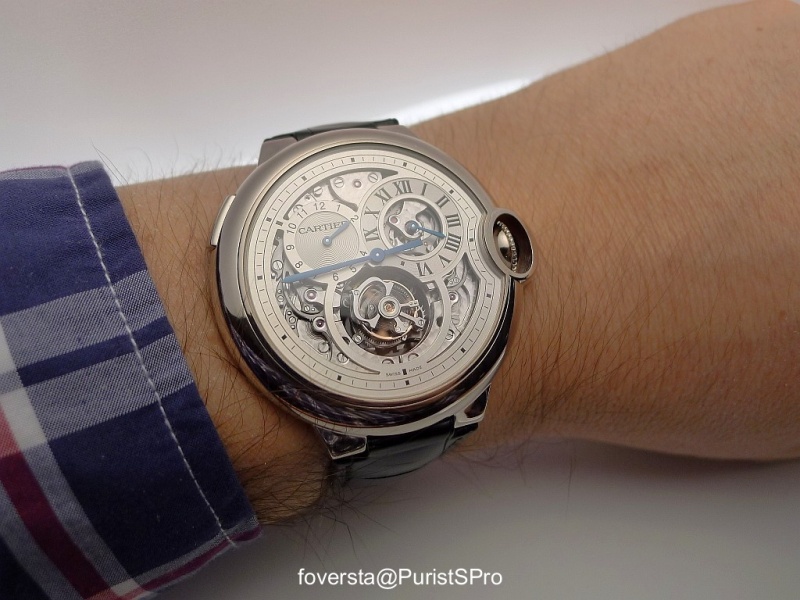 Every hour ends with a little click from the mechanism and two levers that are each linked to a spiral spring are released. The two parts snap back to their starting point in a fraction of a second. During this 'snap' movement, a retractable arming finger on the lever engages with one of the twelve linked teeth of the star wheel. In a blink of an eye, this advances each of the two wheels by one twelfth of a revolution which causes the two hour hands to indicate the next hour in their respective counters – one for local time, the other for home time.

Other Novelties 2013:
Les Heures Fabuleuses de Cartier
41 pieces, including 23 unique editions, the Heures Fabuleuses de Cartier twist reality; as timekeeper and jewellery intertwine. They proclaim that the Collection is like a Surrealist manifesto: "This is not a watch". Secret watches, brooches that pull apart from pendant watches and pocket watches.
Adornments that pull apart to form separate brooches.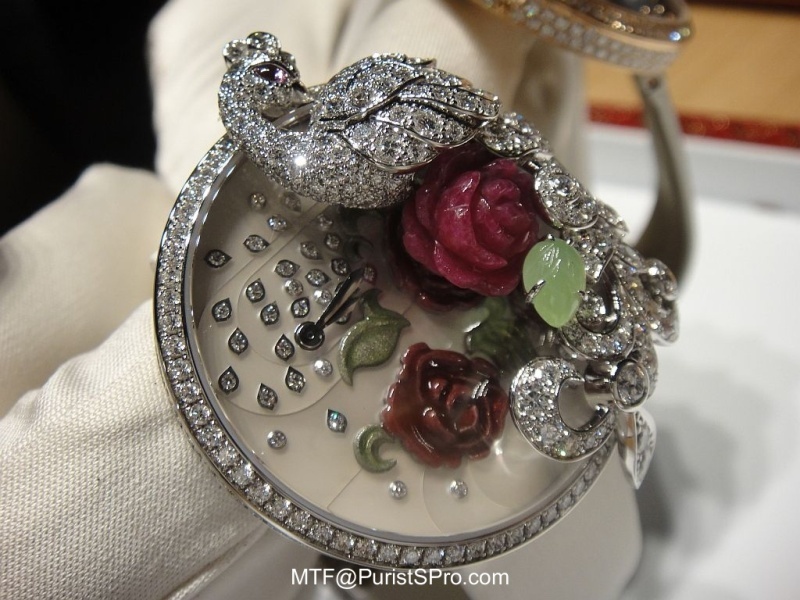 Peacock watch 60 pieces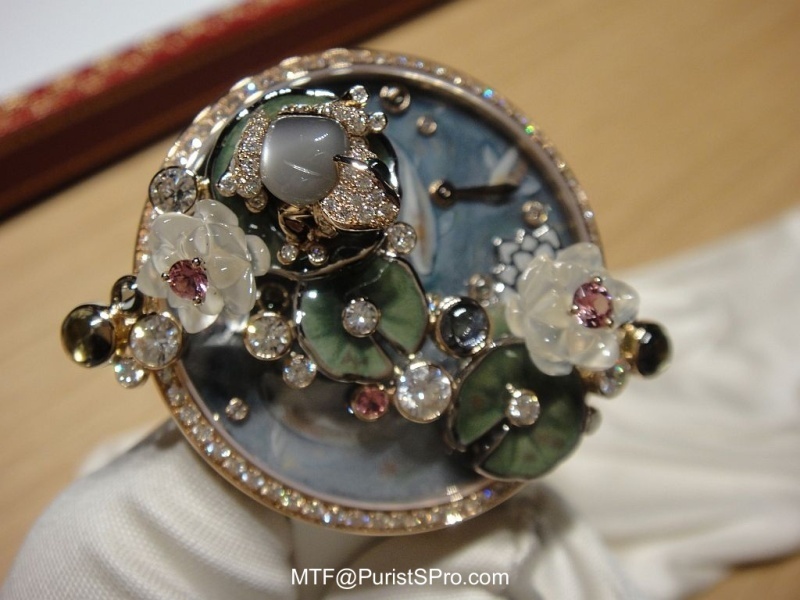 Frog watch 40 pieces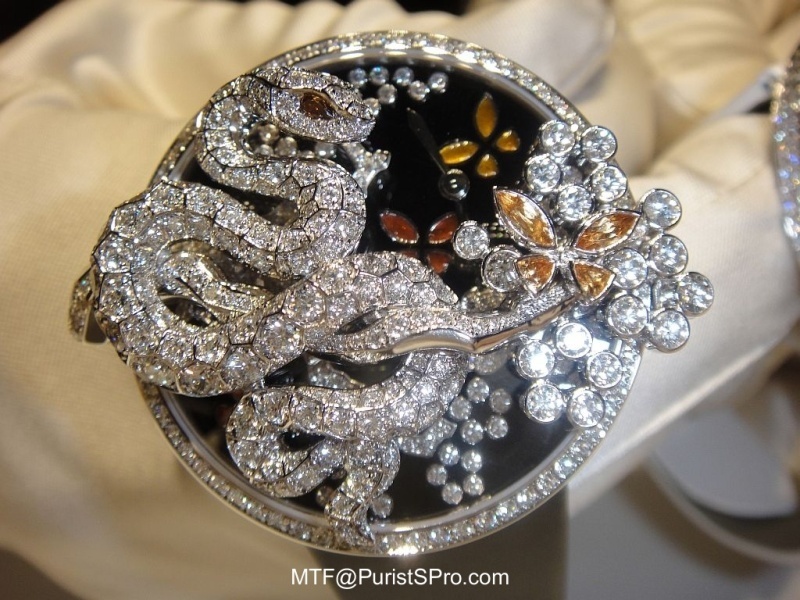 Snake watch 60 pieces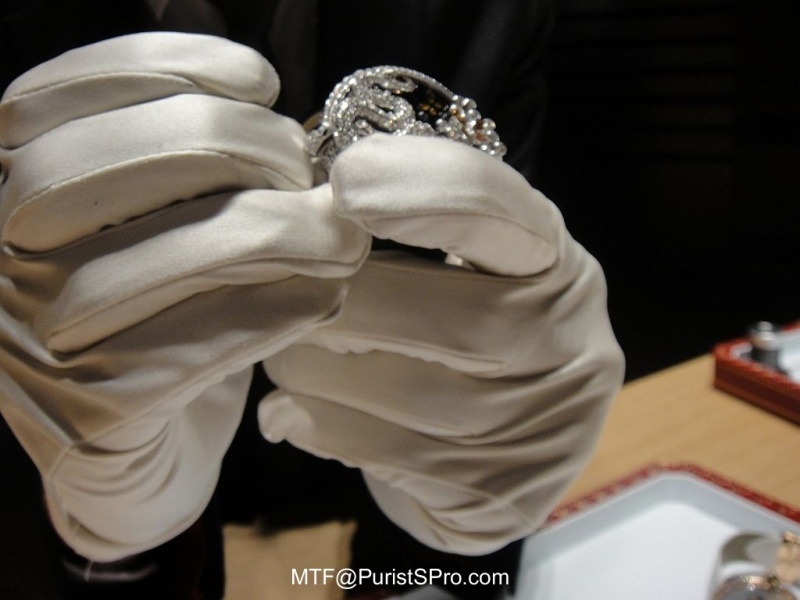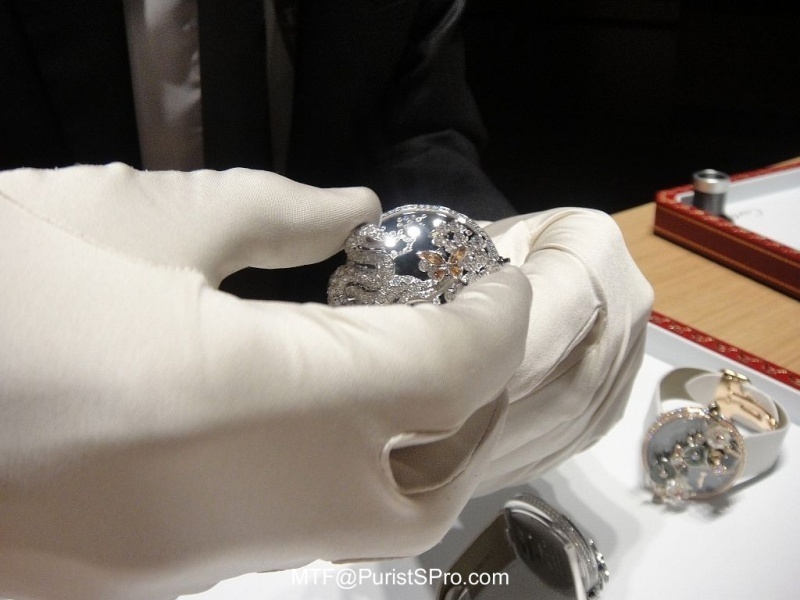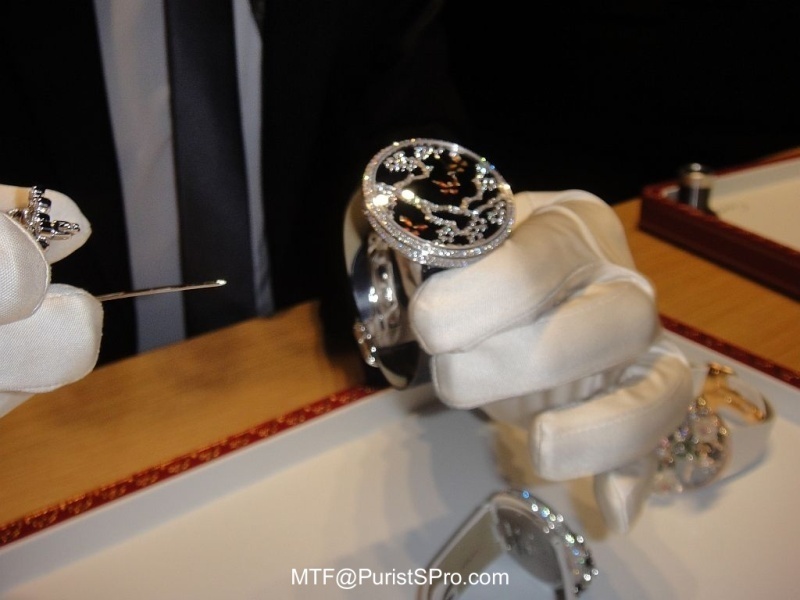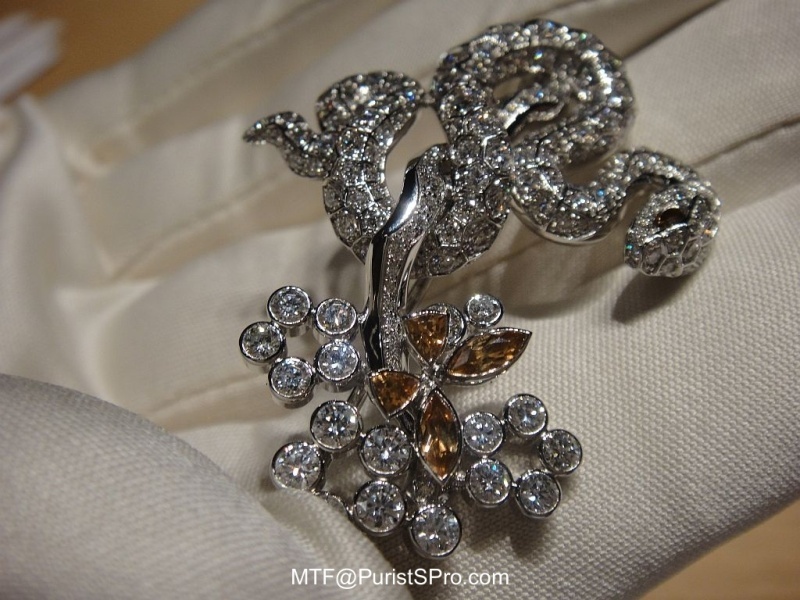 Separated snake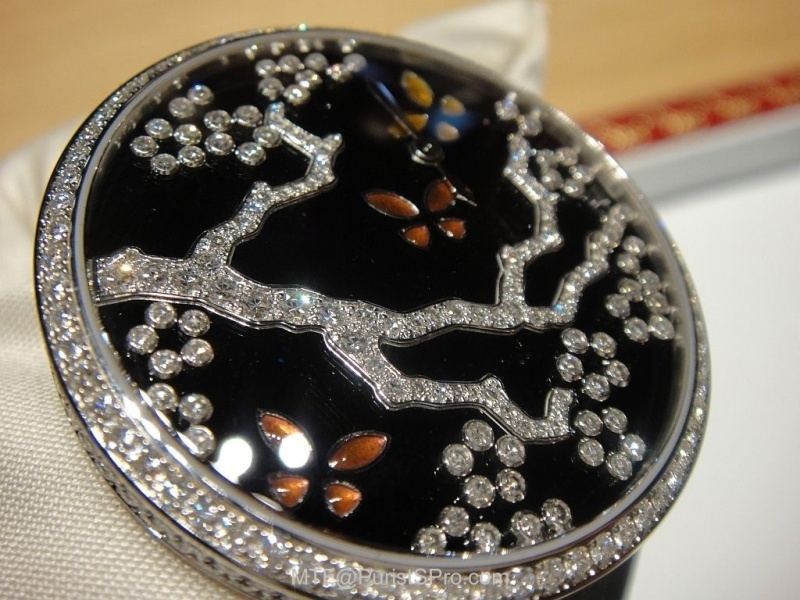 Tree missing the snake
Montre Tortue secrète de Cartier watch, morganite version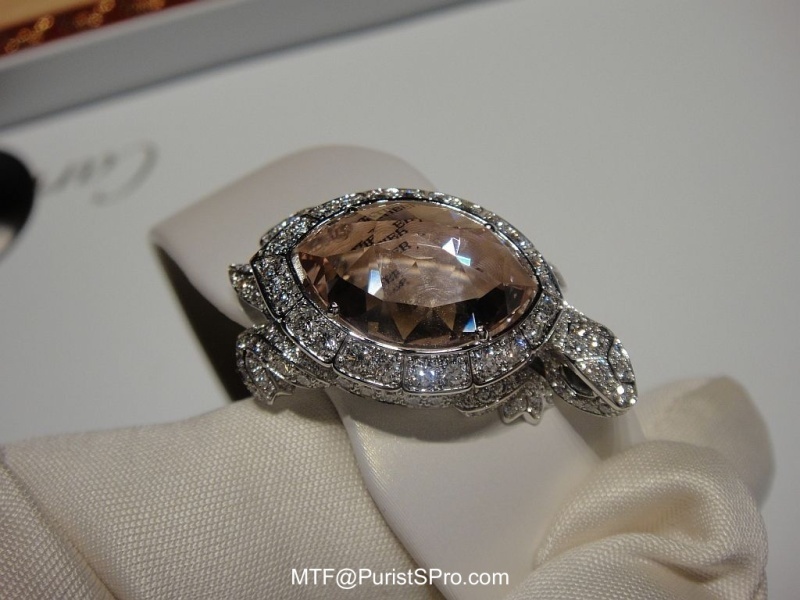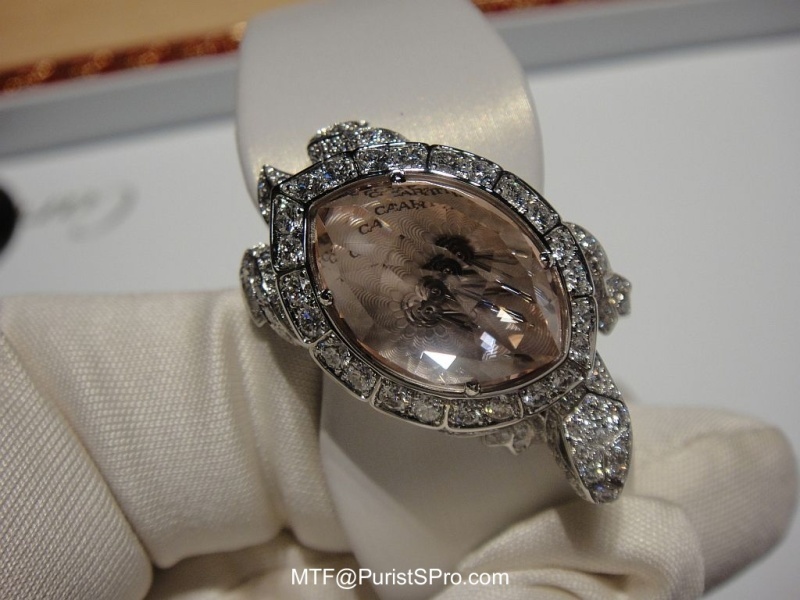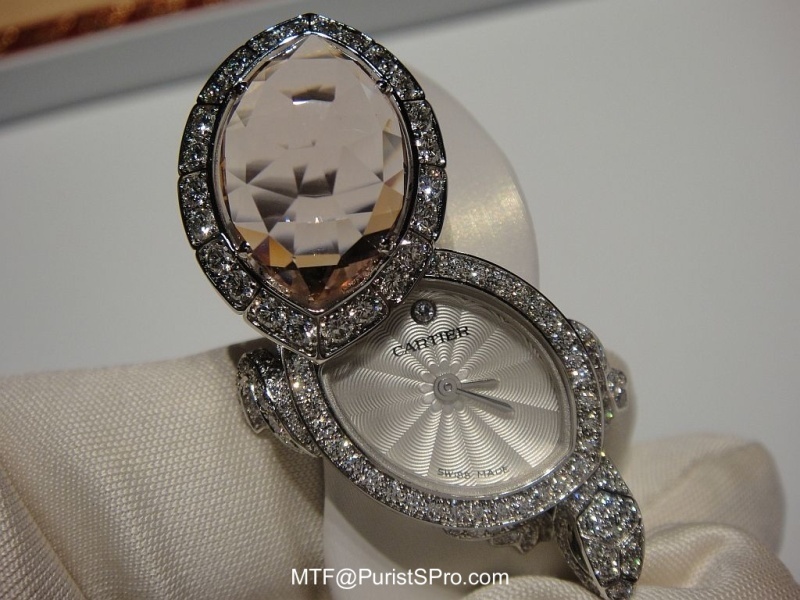 Montre Tortue secrète de Cartier watch,diamond-paved version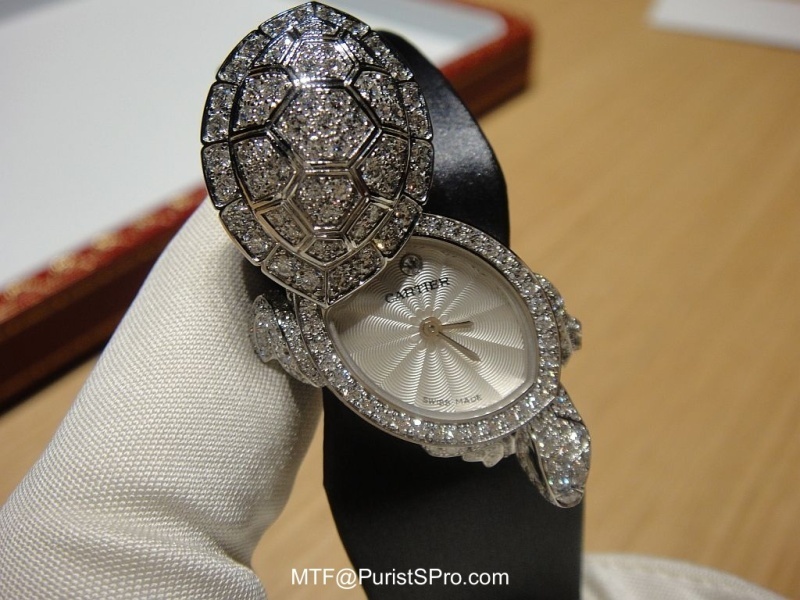 Envol d'un Phoenix watch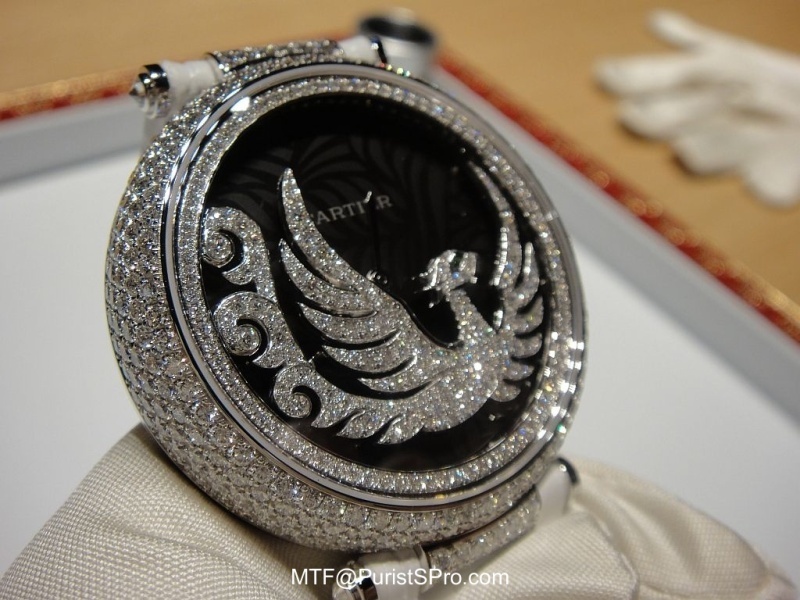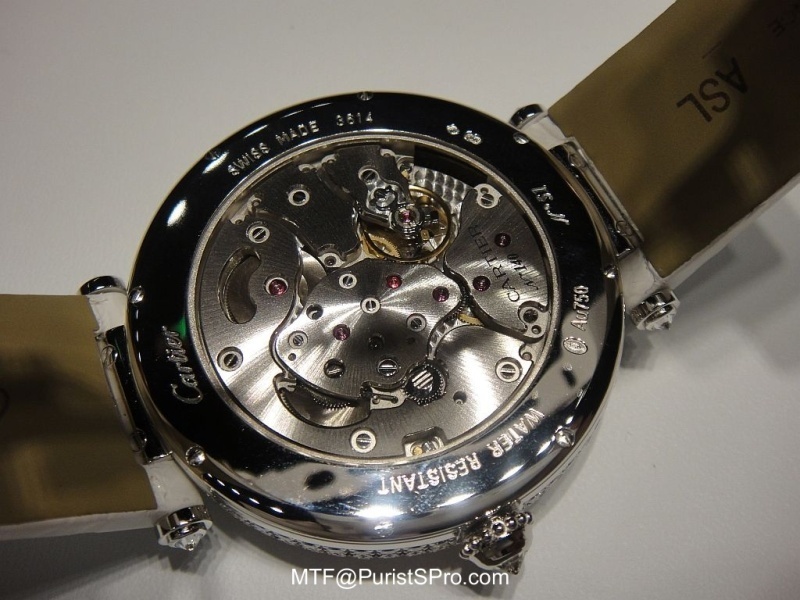 Panthère divine de Cartier watch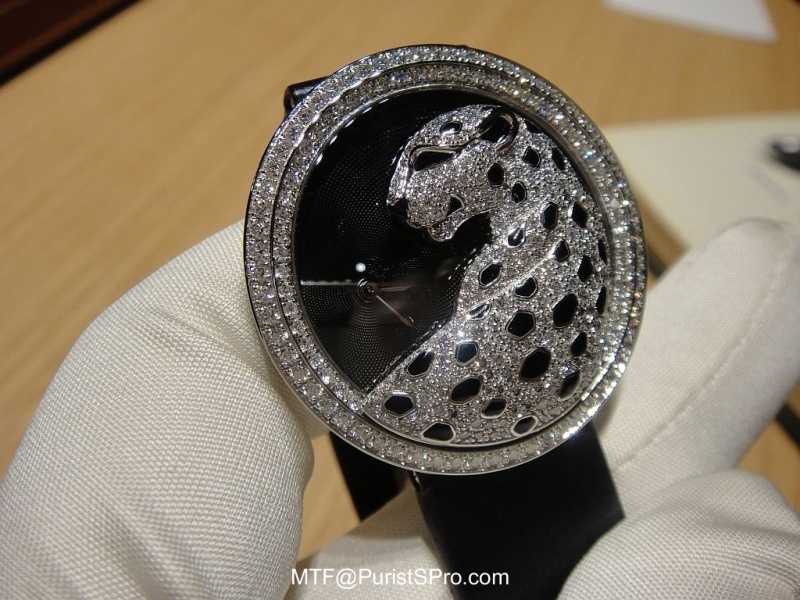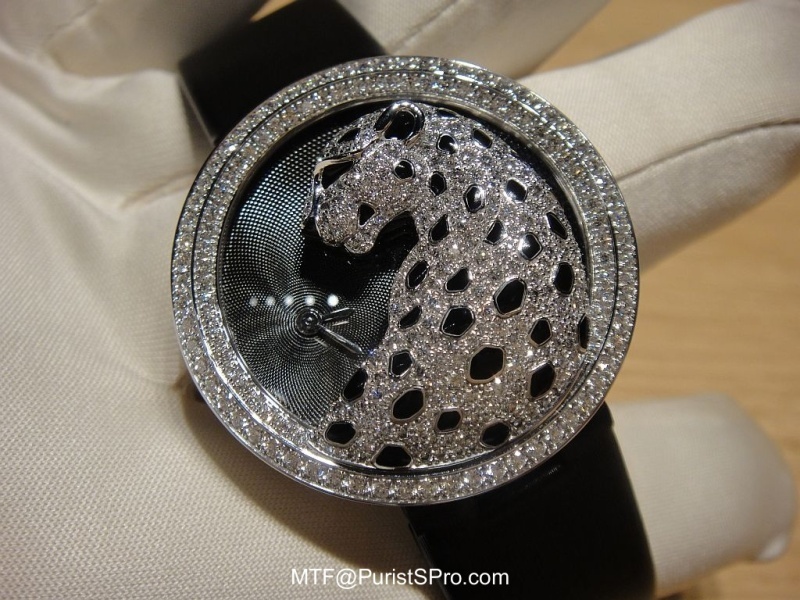 Other Artistic watches with decorative arts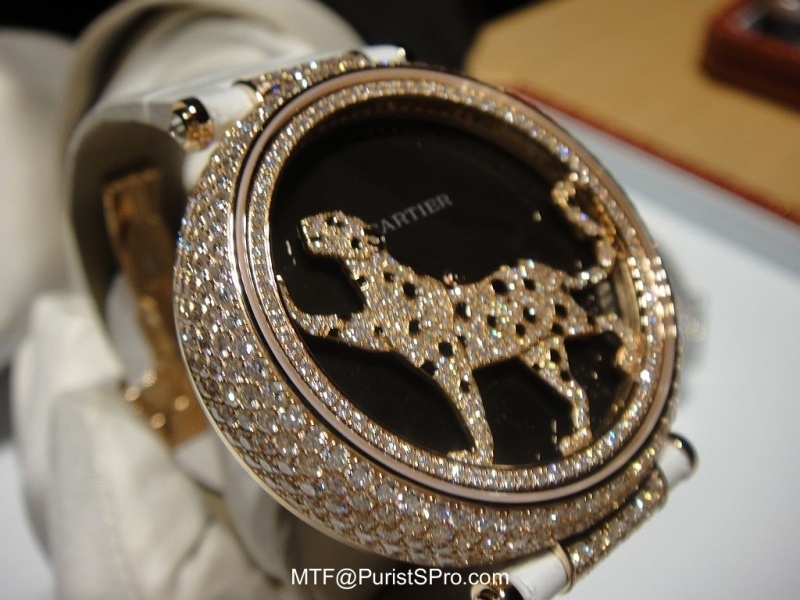 Rose gold version of the Prowling Panther -- Masse Secrete Panthere watch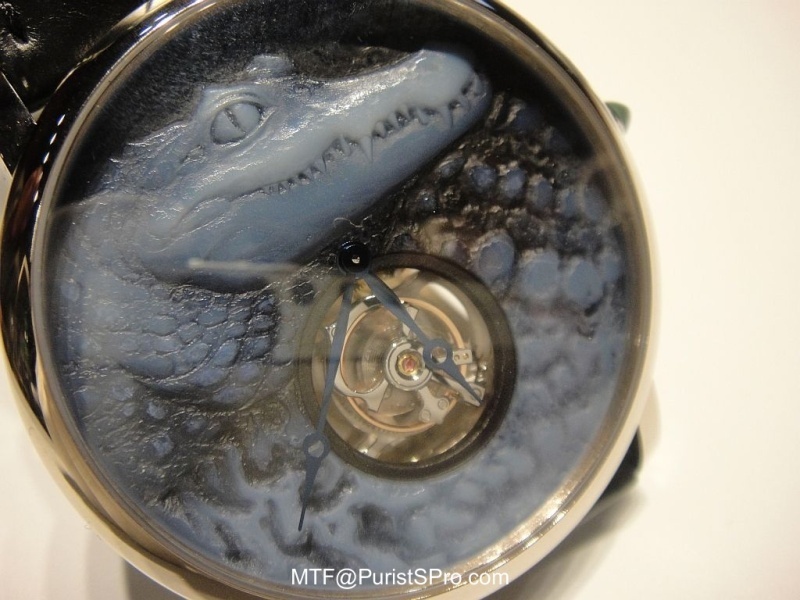 Cameo dial carved from a bi-layered stone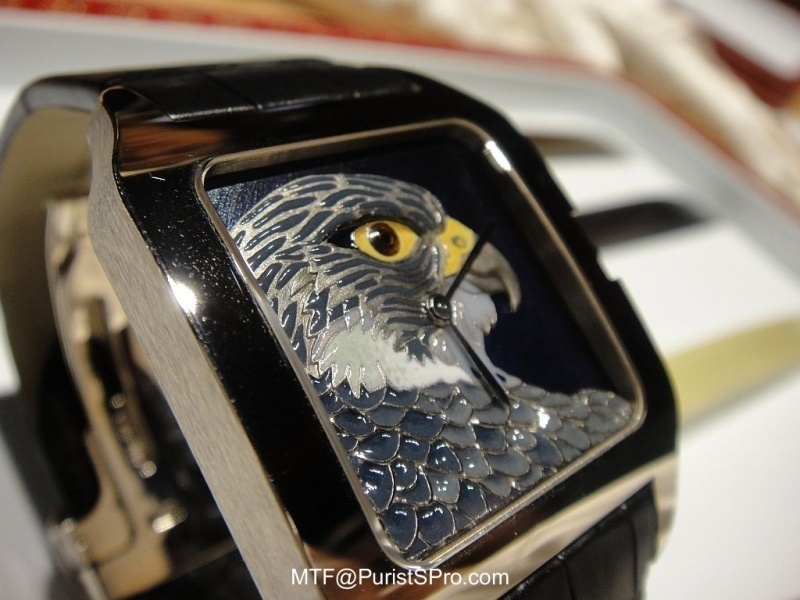 Enamel Raptor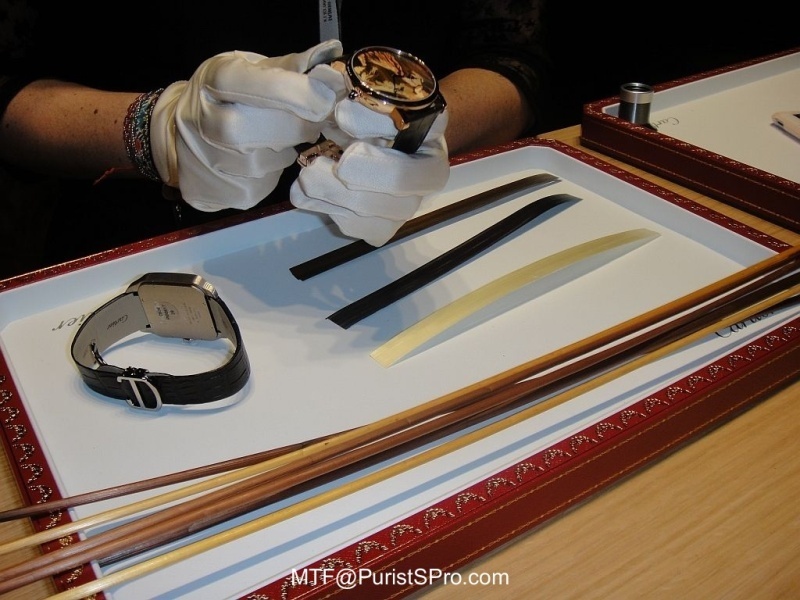 From rushes and reeds......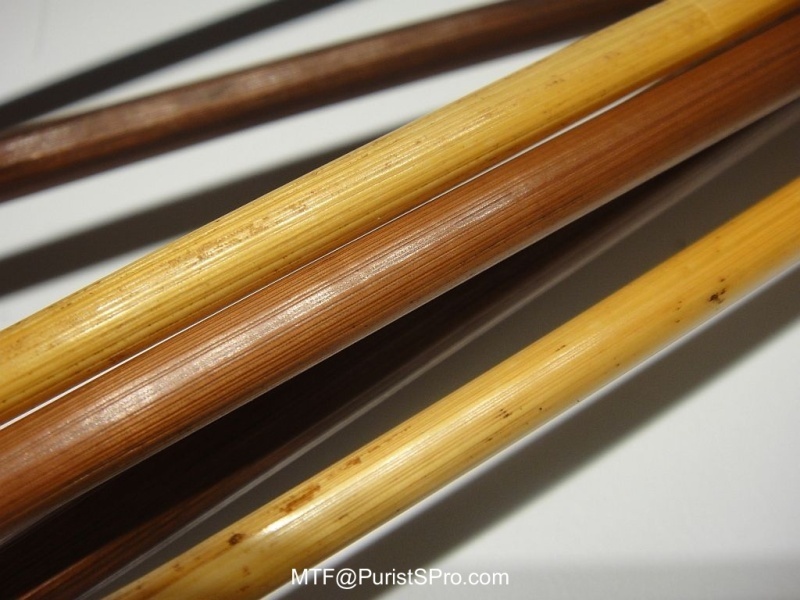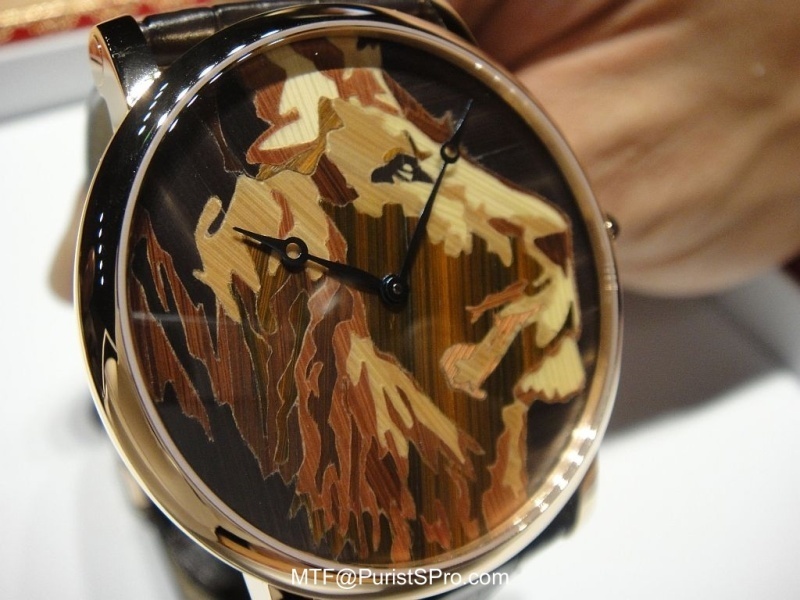 Marquetry Lion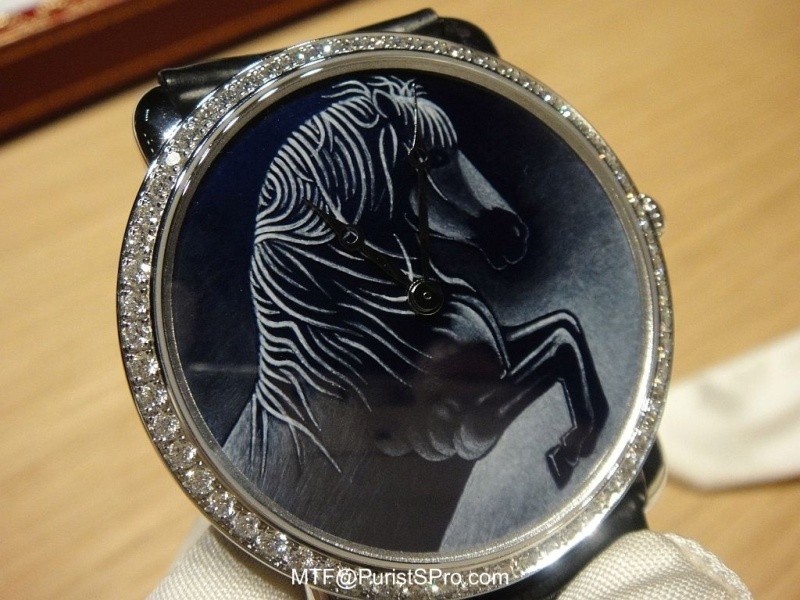 Grisaille Enamel Horse in the Limoges style:
A dark grey (almost black) enamel base that is painted with various depths of white (Limoges) enamel to form different shades of grey.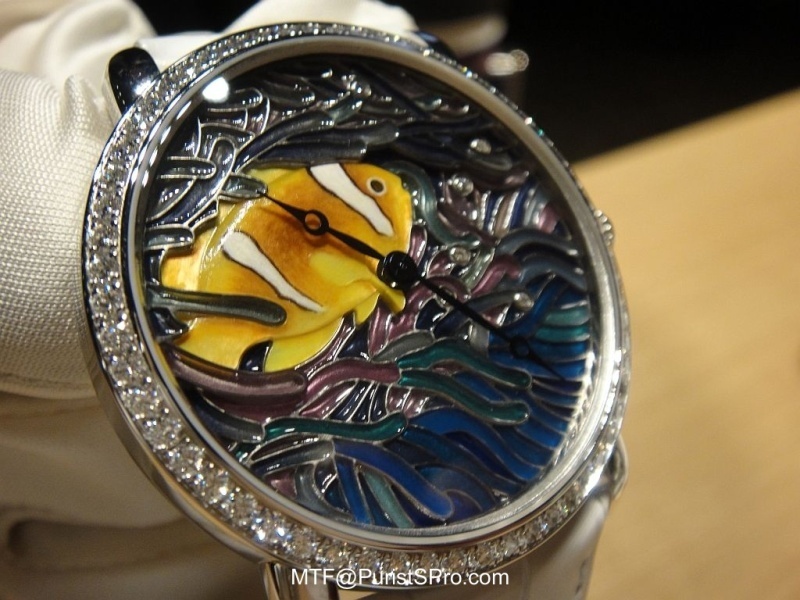 Clown Fish Enamel with various techniques including the rare Plique-à-jour cloisonné like a stained-glass window.


Tank Americaine with unique "scaled" bracelet and various levels of gem-setting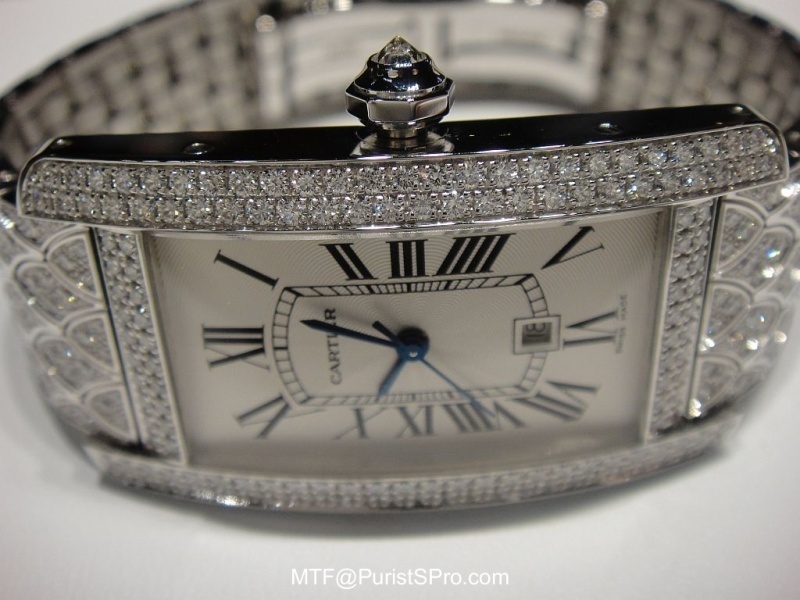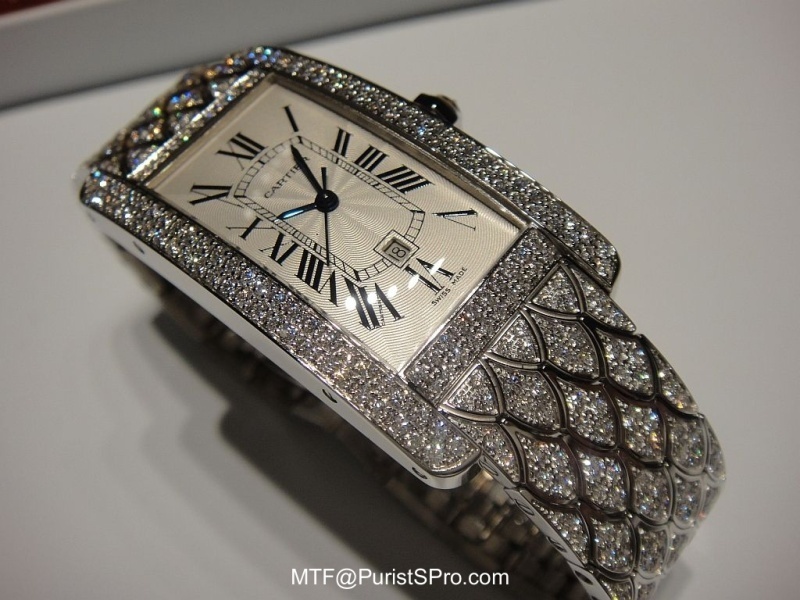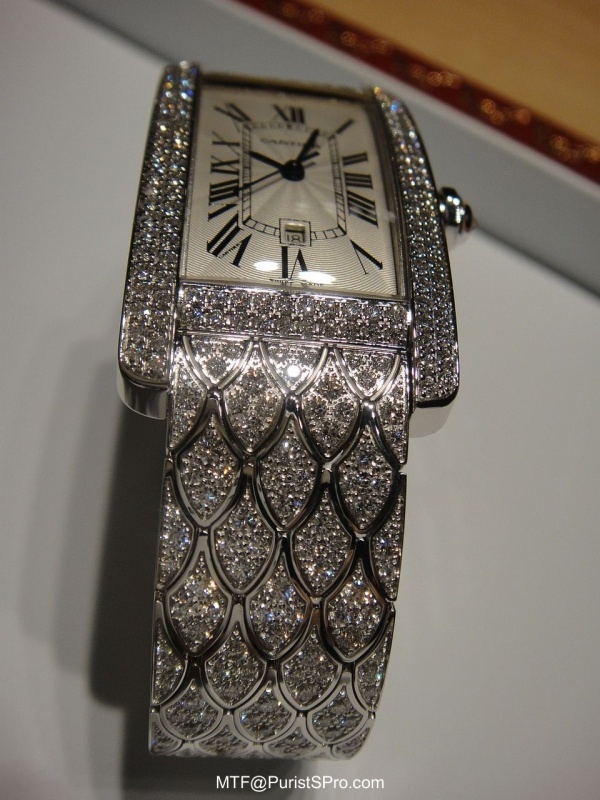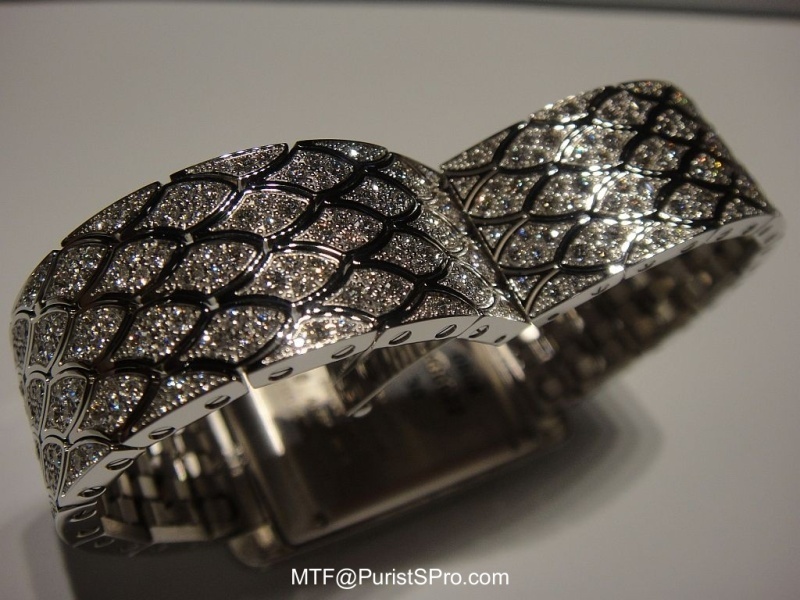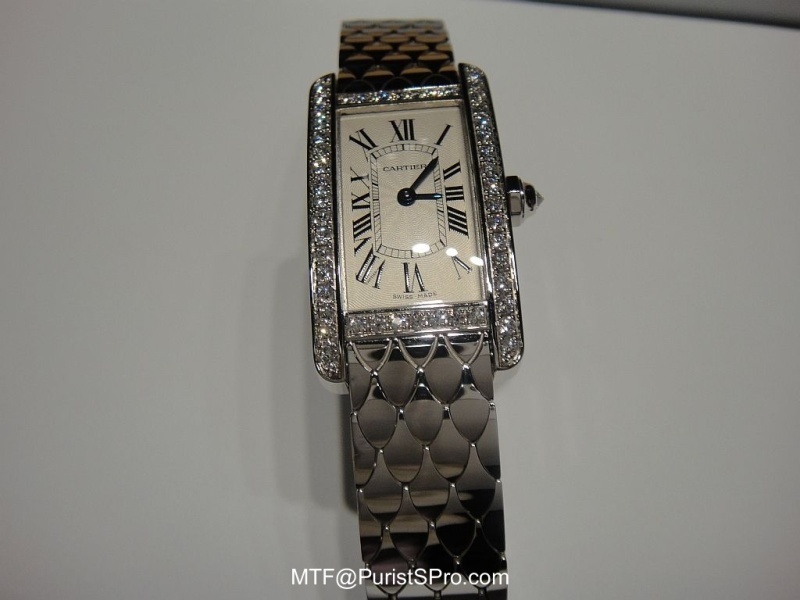 Les Heures Mystérieuses de Cartier
For over a century, Cartier has produced Mystery timepieces, starting with clocks. Les Heures Mystérieuses de Cartier continue this traditon with two novelties.
The first mysteriously displays the hour and minutes with two hands that seem to float magically in space.
The second focuses the attention on a mysterious double tourbillon whose floating cage performs a delicate and spellbinding dance
Montre Rotonde de Cartier Mystery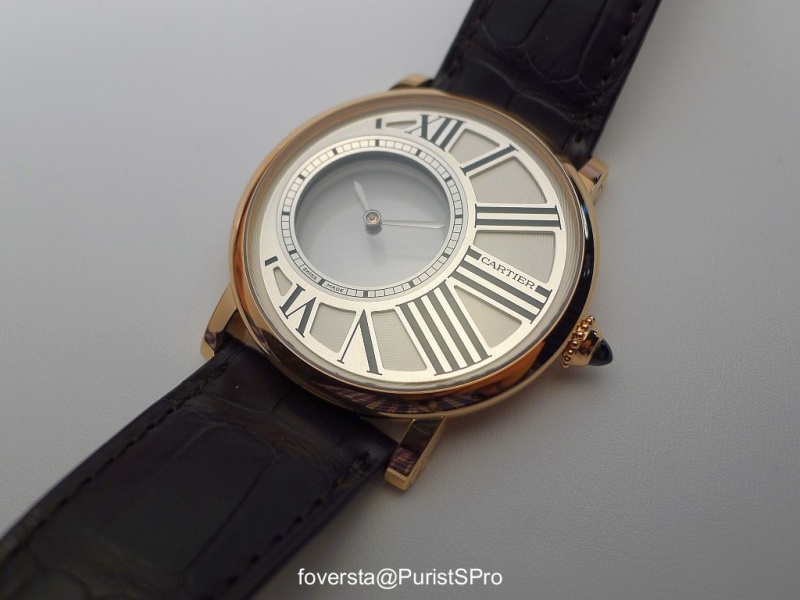 The new and mysterious 9981 MC movement creates the illusion of floating hands that move with no visible connection to the 'clockworks'. Everyone loves a mystery.......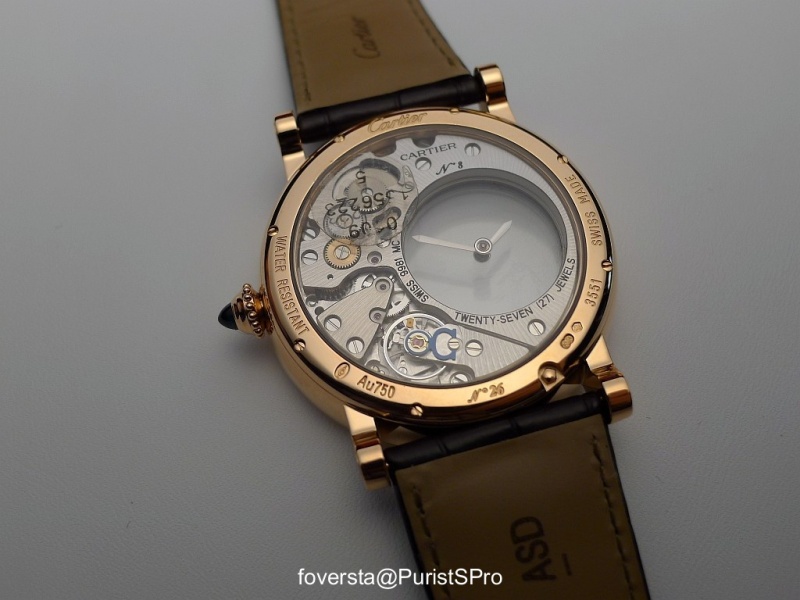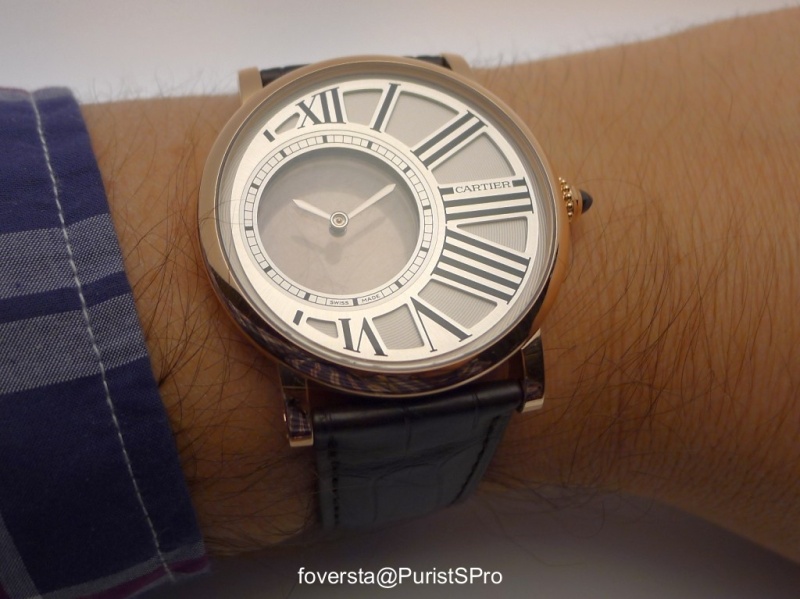 A better presentation may be a mirror set at the bottom of the "hole" that would obscure the visible hairy wrists. That would have preserved the mystery but saved the public display of hirsutism that may be inelegant in some circles.
On the other hand, people may suspect that it is "all done with mirrors"! You can't win both ways.
Montre Rotonde de Cartier Double Mystery Tourbillon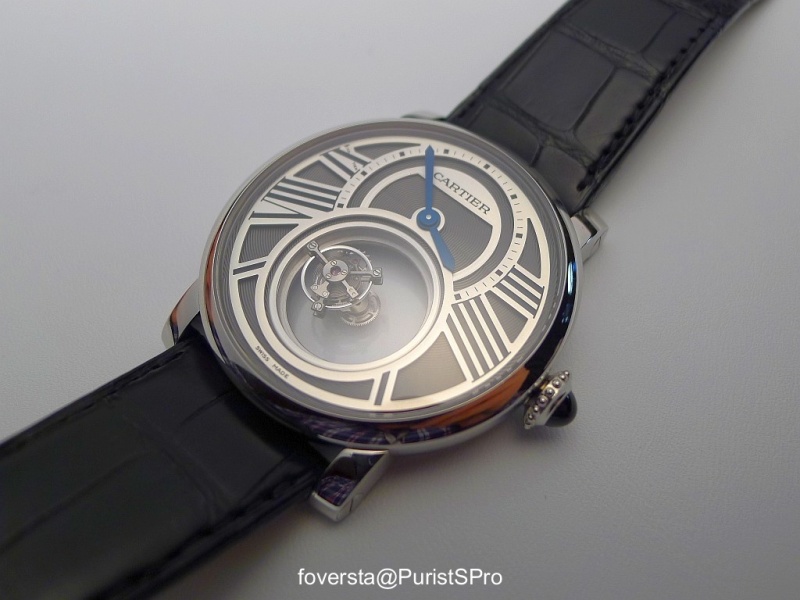 Closer inspection will reveal the magic concealed in the mechanism. Indeed the flying tourbillon, which turns once on its own axis every 60 seconds, appears to be floating completely free in space, with no visible connection to any gear train.
The illusion is complete when the same tourbillon cage starts to perform a second rotation at a rate of one turn every five minutes.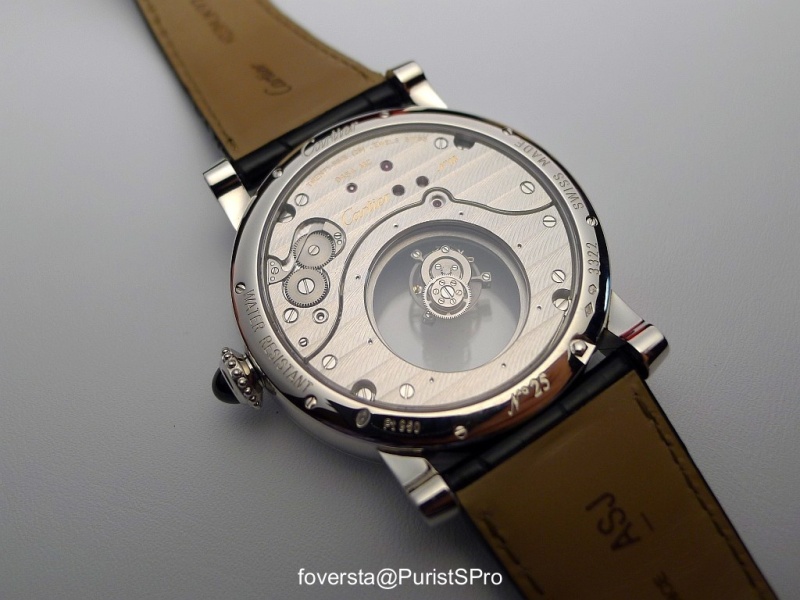 The New movement, 9454 MC Double Mystery Tourbillon.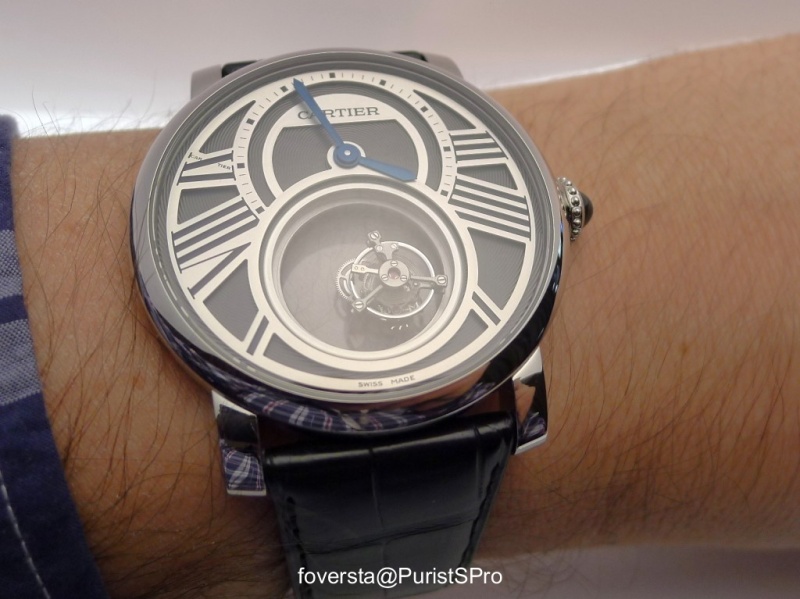 The same arguments about hairy wrists or not also apply for this watch and the jury is still out.....
Calibre de Cartier Chronograph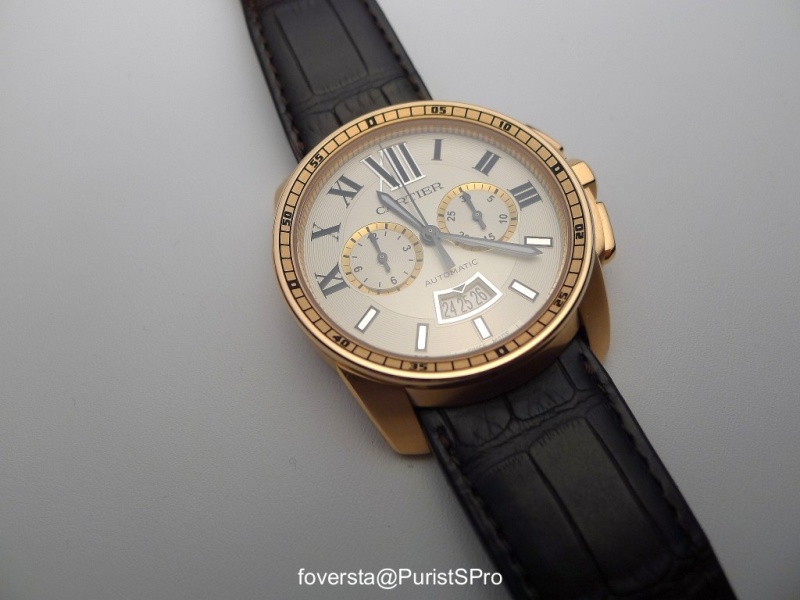 New calibre 1904-CH MC adds a chronograph to the Calibre de Cartier range, and indeed to the Cartier portfolio to pop up in other case shapes.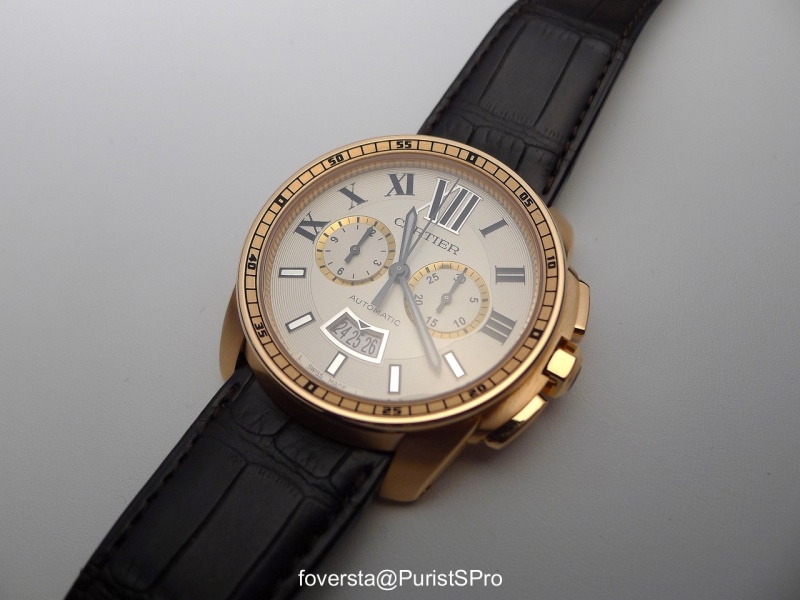 The date window to show three dates, although adopted by other brands as well...still makes no sense. Most people know that the 25th of the month is preceeded by the 24th and is folowed by the 26th....it happens every month......like clockwork.
I guess it adds a smiley face to the dial, which may have been the objective for balance.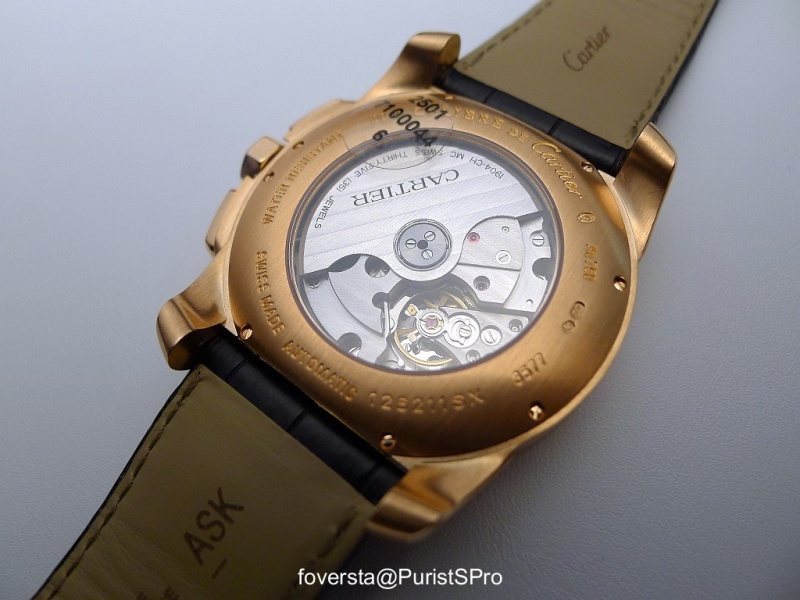 Cartier CRASH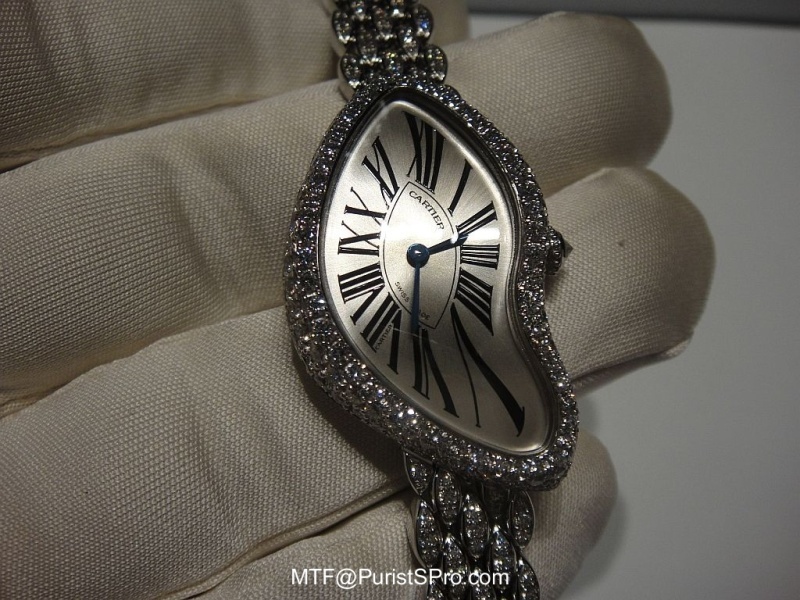 "London swings like a pendulum do....Bobbies on bicycles two-by-two..."

Created in 1967 at the very heart of "Swinging London", the Crash watch bears the pop-tastic, psychedelic spirit of an era of birth control pills and freedom. It was Cartier fate and an accident waiting to happen. According to the story, a client returned a Cartier watch that had been involved in an accident in order to have it repaired and Jean-Jacques Cartier, then the head of Cartier London, was so taken with the shape of the case that he wanted to reproduce it.
The rest is history and a cult collectors' piece was born. Now, with a re-editon of 267 numbered pieces for the models with gold bracelets and 67 numbered pieces for the models with gem-set bracelets, Cartier starts another cult era.
Rotonde de Cartier perpetual calendar chronograph watch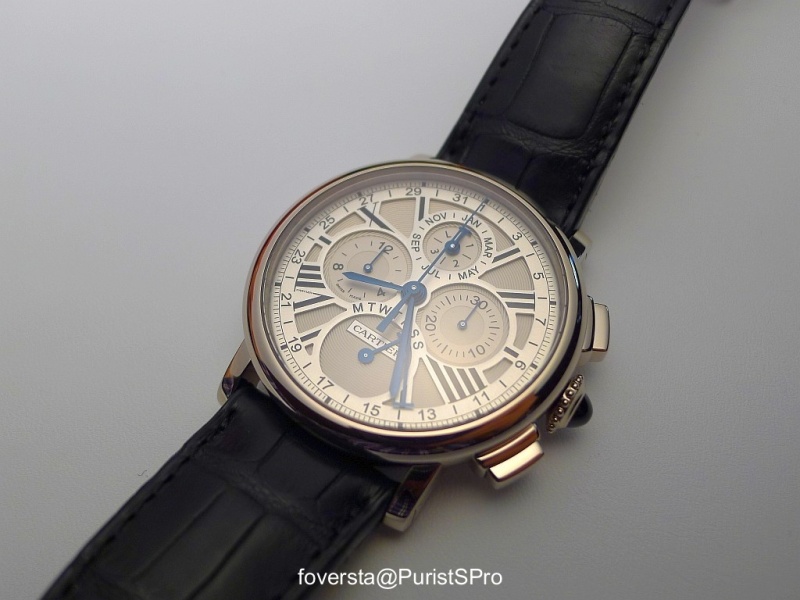 By adding a perpetual calendar module to the new Manufacture chronograph calibre 1904-CH MC, Cartier presents a watch with both functions. It now has a competing model against the usual purveyors of perpetual calendar chronographs.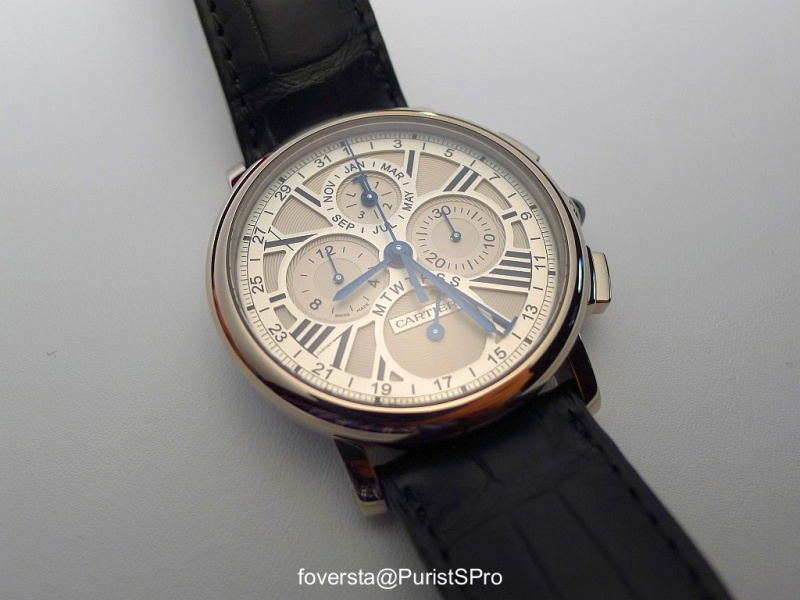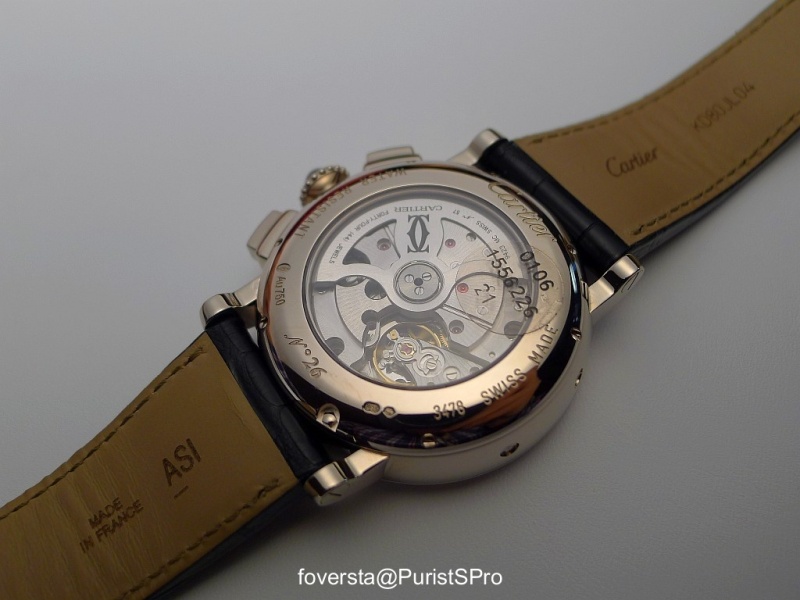 With the new perpetual calendar module, the basic 1904-CH MC movement is elevated to a new designation:
Calibre 9423 MC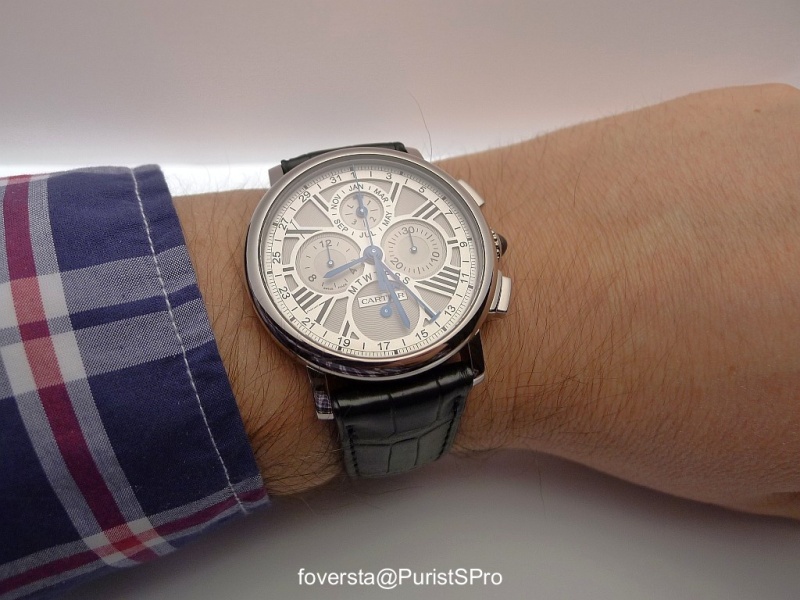 Tank Anglaise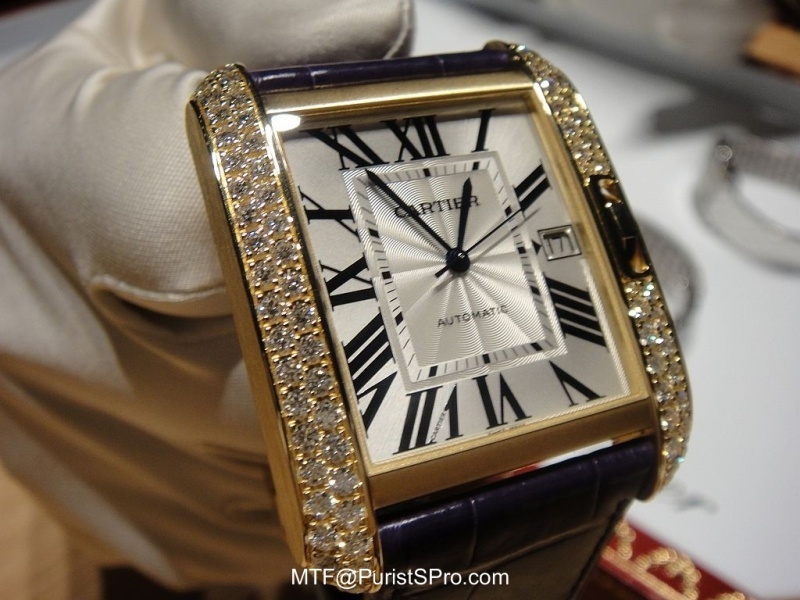 The Tank Anglaise gets leather straps and looks better for it. Various levels of diamond-setting are optional extras.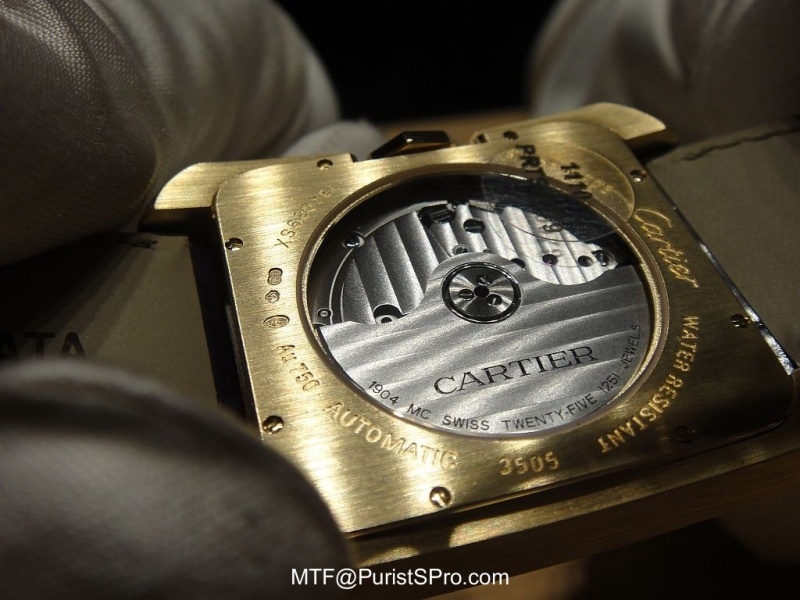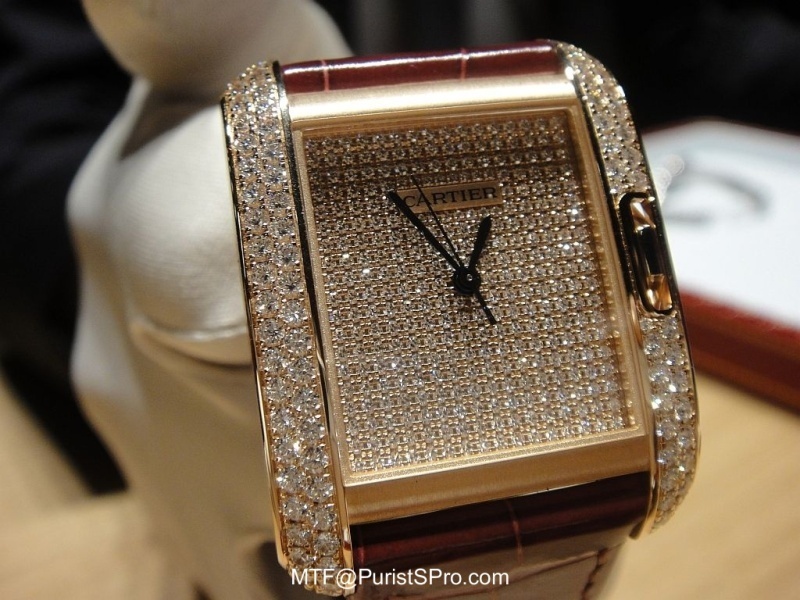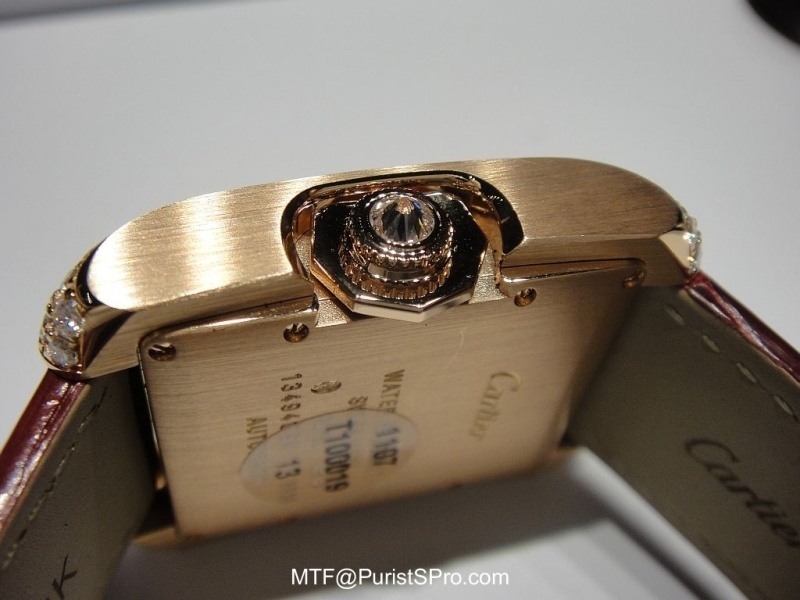 Diamond crown
Miscellaneous variations of previous models
Tortue XXL Multiple Timezone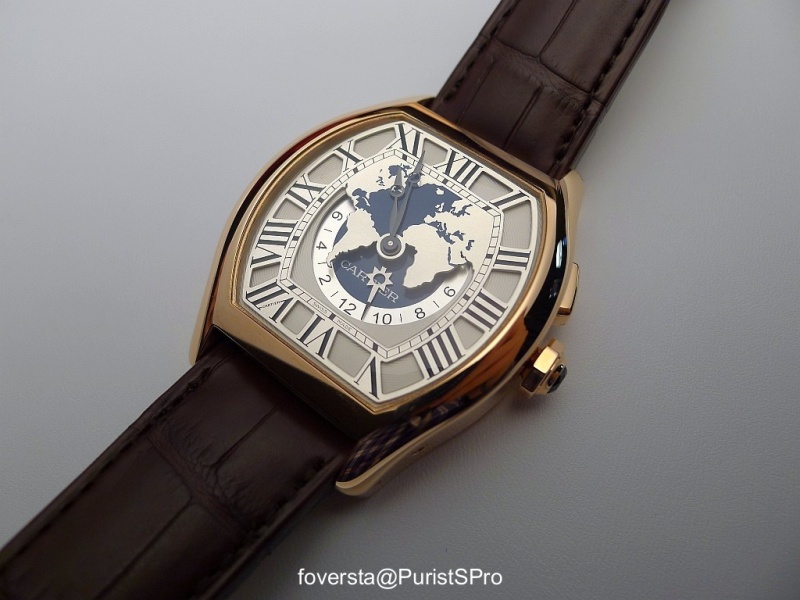 First appearing in a Calibre de Cartier case, for 2013 it is presented as a Tortue watch but with the so called "jet-lag" time difference between Current and Home Time indicator missing.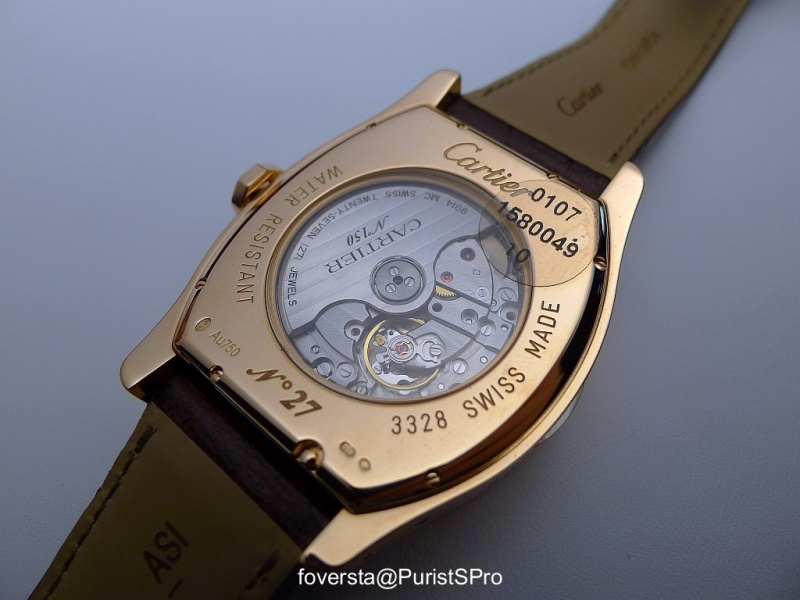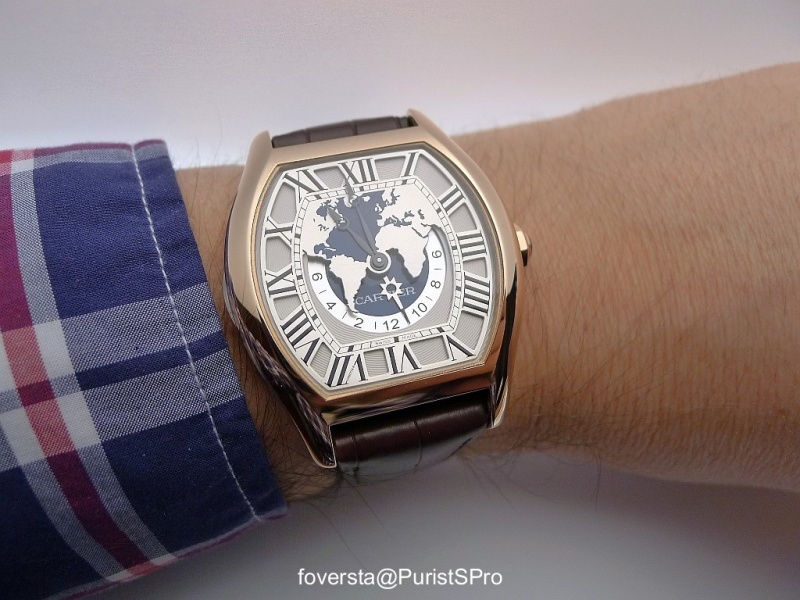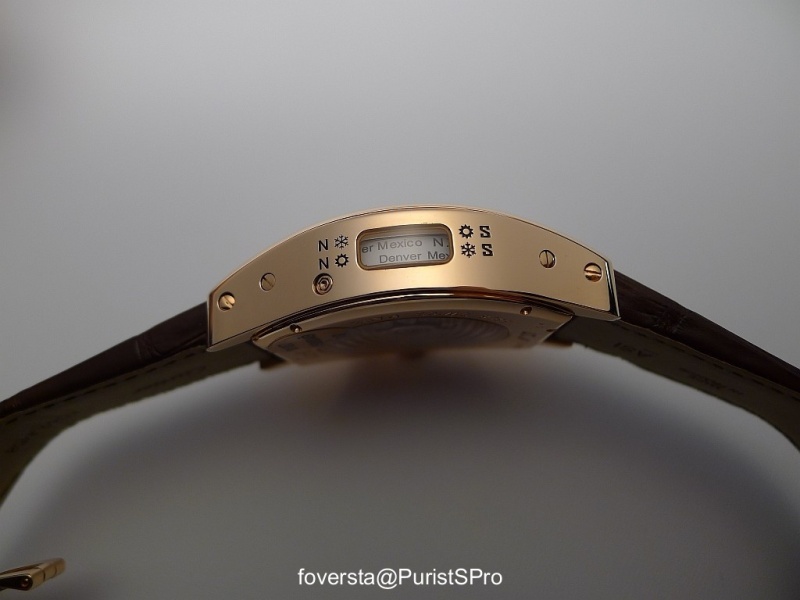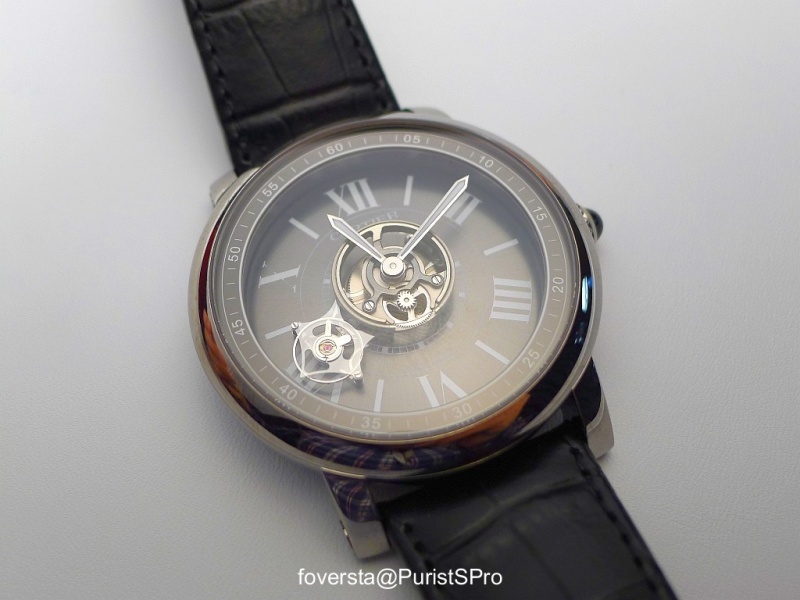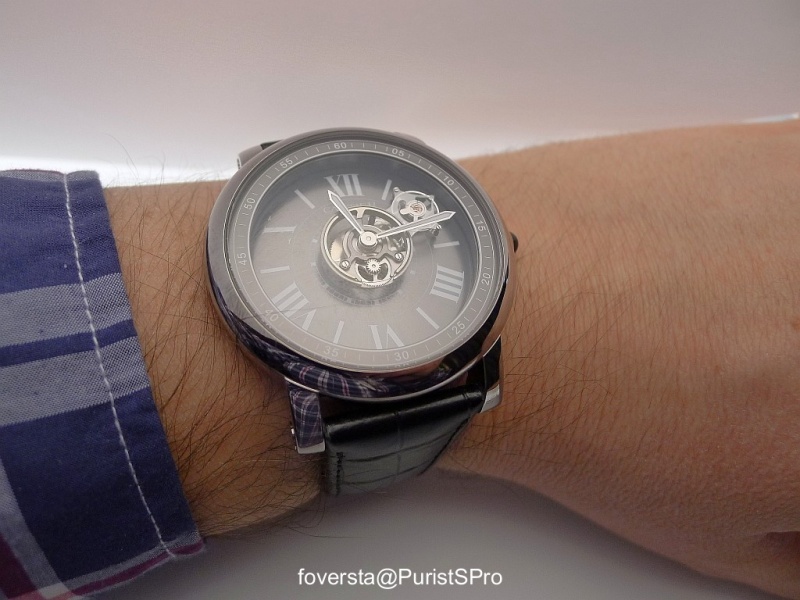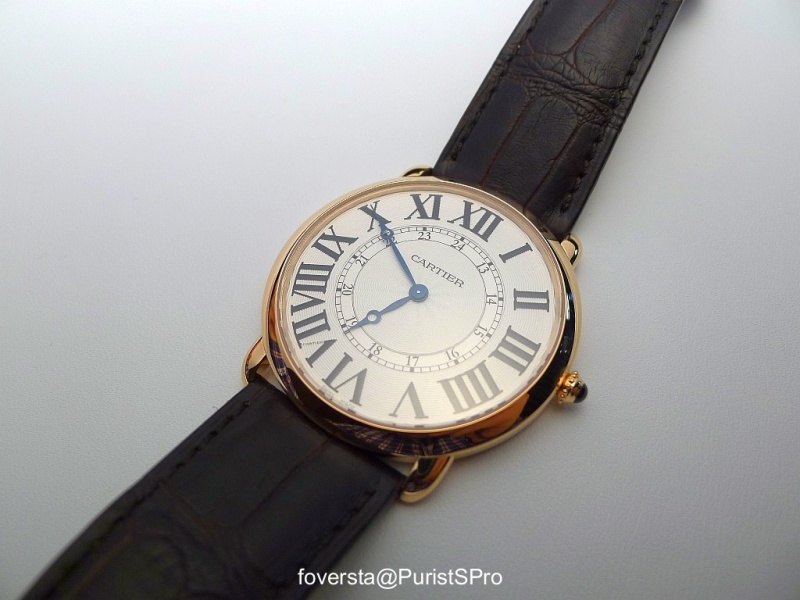 SIHH 2013 PuristSPro Report


A. Lange & Söhne - alang.watchprosite.com
Audemars Piguet - ap.watchprosite.com
Baume & Mercier - home.watchprosite.com
Cartier - cartier.watchprosite.com
Greubel Forsey - ahci.watchprosite.com
Jaeger-LeCoultre - jlc.watchprosite.com
Montblanc - montblanc.watchprosite.com
Panerai - panerai.watchprosite.com
Parmigiani - home.watchprosite.com
Piaget - piaget.watchprosite.com
Ralph Lauren - home.watchprosite.com
Richard Mille - richardmille.watchprosite.com
Roger Dubuis - rogerdubuis.watchprosite.com
Vacheron Constantin - vacheron.watchprosite.com
Van Cleef & Arpels - home.watchprosite.com