JToddH
[Purist]
2492

Hublot Big Bang Unico Red Ceramic: Why the Big Deal?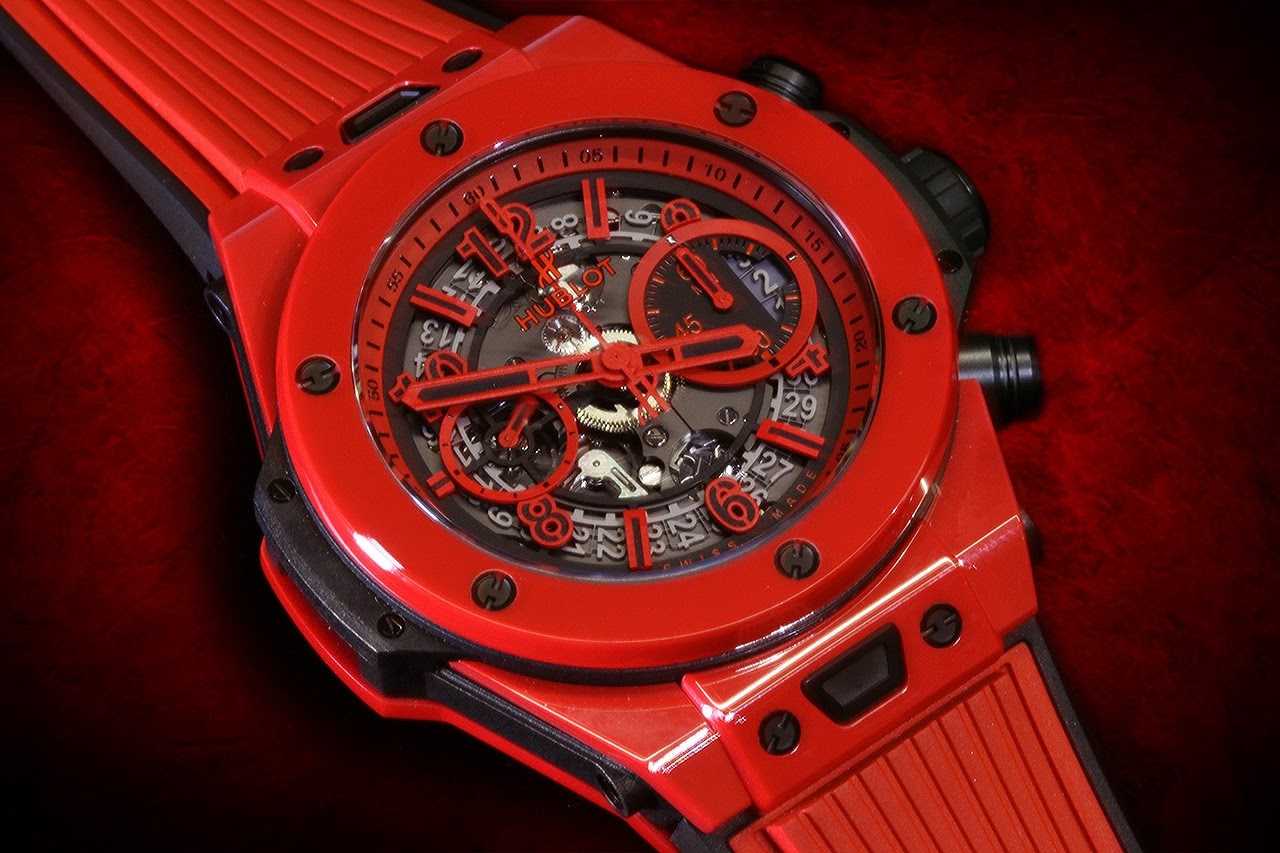 This year at Baselworld, Hublot debuted the new Big Bang Unico in Red Ceramic. This was, in my opinion, a significant technological accomplishment for the brand and once again demonstrates their creative dexterity and technical prowess. More importantly, it reminds us of Hublot's commitment to innovation and its voracious approach to overcoming technical challenges. Hublot is the antithesis of the status quo.
This article is not a review of the Big Bang Unico in Red Ceramic. It's gorgeous, enough said. If you want to know more about the Unico [Brilliant!], see my previous article at:
Instead, this article is about the tenacity of the brand and its defiant pursuit of "bright" red ceramic.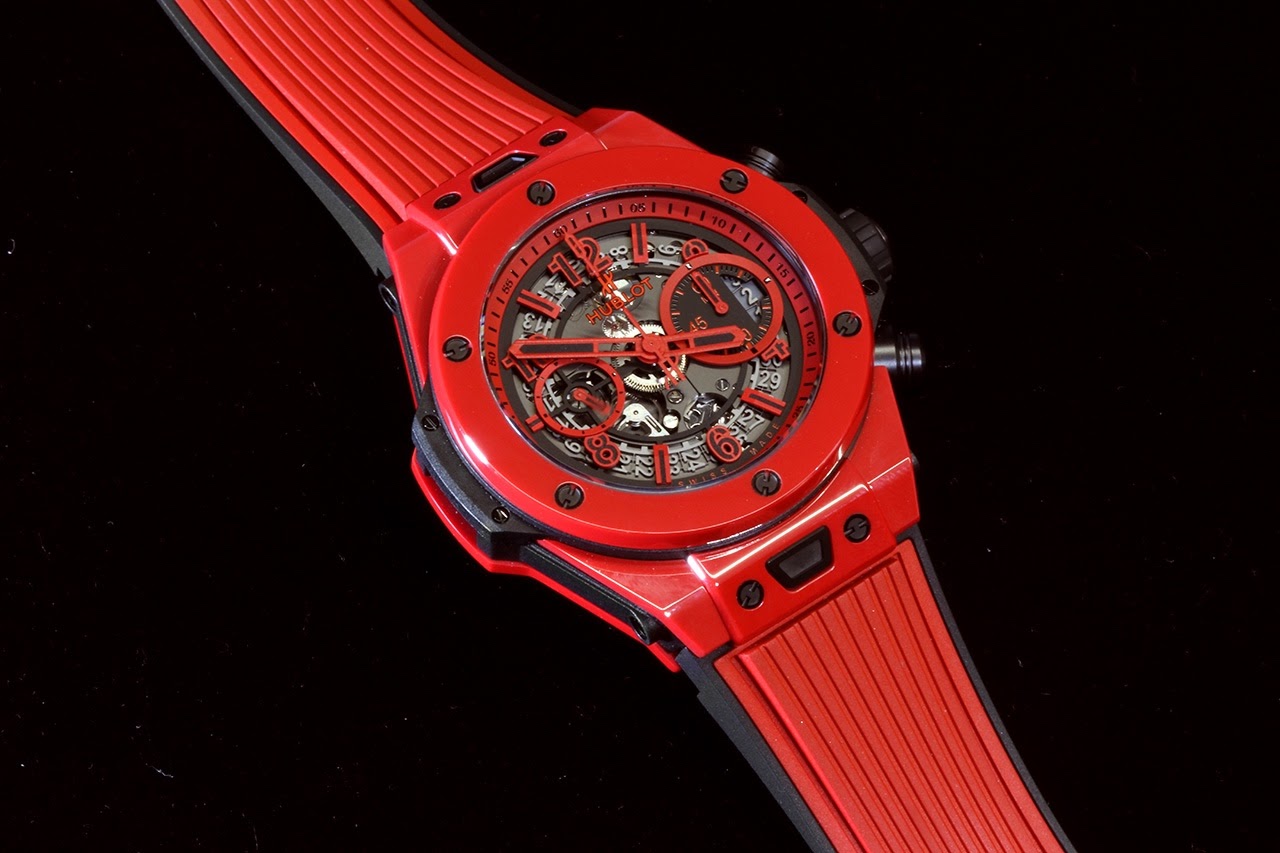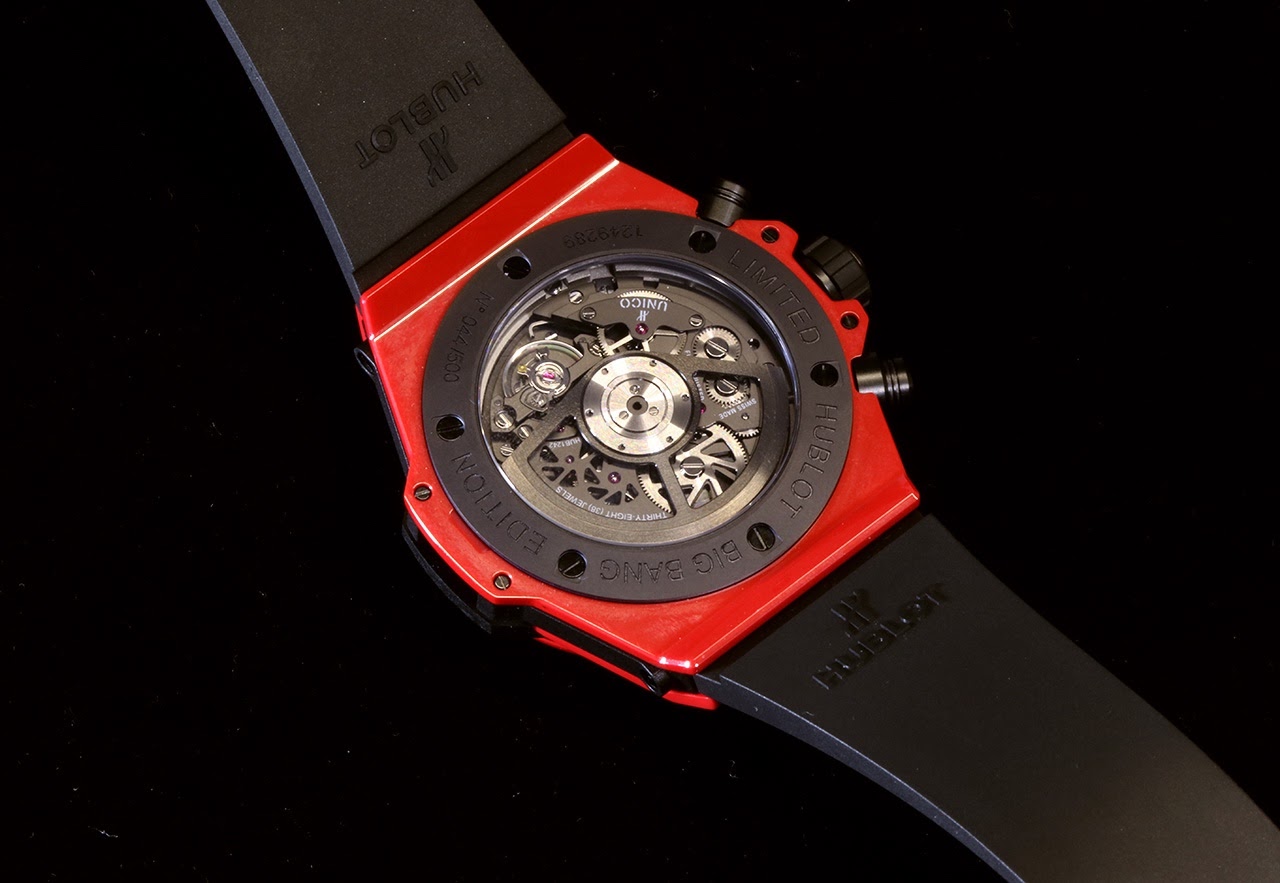 With the proliferation of colored ceramics throughout the watch industry, it was inevitable that a company would discover the chromatic holy grail of ceramics – bright red.
In 2014, Rolex had a landmark achievement when they released their GMT Master II with a "Pepsi bezel," sporting a red and blue ceramic bezel. A milestone for Rolex, the warm warm red ceramic was well received by watch aficionados.
Though perfect for the GMT, this red was simply not vibrant enough for Hublot, who I'm sure you recall, has a long-standing partnership with Ferrari. And who knows Red better that Ferrari?
Perhaps I'm a little biased on this topic because I was made privy to Hublot's quest for bright red ceramics several years ago while visiting the manufacture. In confidence, they shared with me their goal of achieving the perfect red and the frustrations and challenges they met along the way. The early iterations of red were nice, but simply not up to the insuperable expectations of the brand. Until now.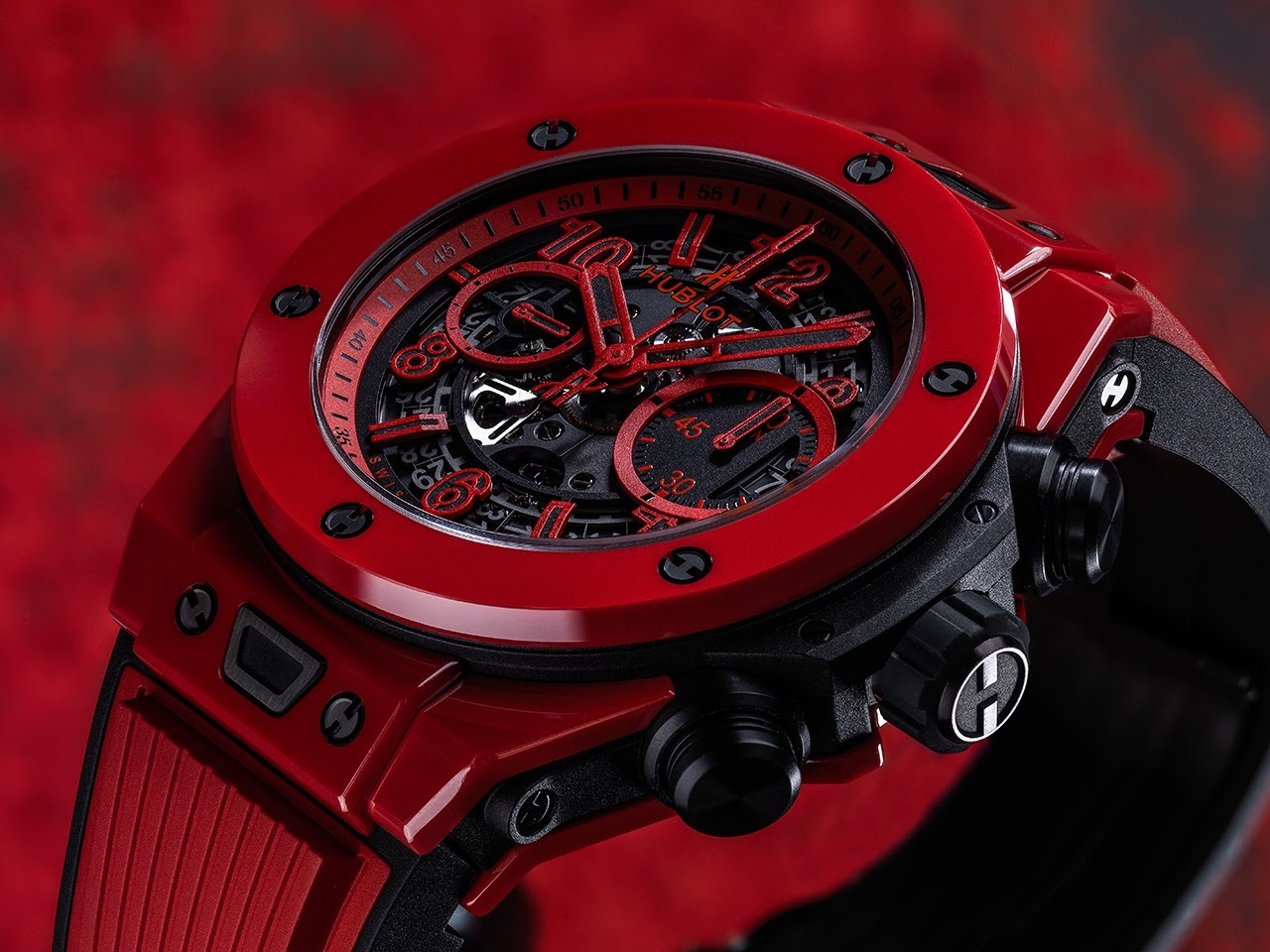 I asked Hublot CEO Ricardo Guadaloupe about the brand's insatiable quest for innovation and why the development of Red Ceramic is so important. According to Mr. Guadaloupe, "For Hublot the important thing is to be first, unique and different, especially for materials development. Hublot was the first to create the world's most scratch resistant 18-carat gold, named Magic Gold, and now is the first to produce bright red ceramic. Hublot always tries to make the impossible possible and master 'The Art of Fusion.' "
Years ago, one of my personal heroes, Steve Jobs shared his philosophy of life during a PBS interview. He said, "Life can be much broader once you discover one simple fact, and that is - everything around you that you call life, was made up by people that were no smarter than you. And you can change it, you can influence it, you can build your own things that other people can use. The minute that you understand that you can poke life and actually something will, you know if you push in, something will pop out the other side, that you can change it, you can mold it. That's maybe the most important thing. It's to shake off this erroneous notion that life is there and you're just gonna live in it, versus embrace it, change it, improve it, make your mark upon it."
Perhaps this is why Hublot isn't "traditional" in their design - for that there are hundreds of other brands available. Then again, even the most "classic" watches we all know and love became classics only because brands from another era chose to push the boundaries of watchmaking with their innovation and creativity.
Stirring Hublot's cauldron of imagination, creativity and innovation is their Director of Research and Development, Mathias Buttet. I've had the honor of meeting Mathias on several occasions and discussed innovation at the brand. Part engineer, part mad scientist, part Merlin, this man is the mythical genius of fiction and fairytales. He's brilliant and engaging and inspires the entire R&D team at Hublot. You can tell him anything, just don't tell him "he can't." Rest assured, "he will." Case in point, Red Ceramic: "We did not wake up one morning saying that we were going to produce red ceramic. The red ceramic is part of a family of ceramics that the international industrial sector has been trying to produce for twenty years," explains Mathias. "Hublot is used to going through paths that are not ordinary. The Magic Gold adventure taught us to constantly question things that we thought were immutable."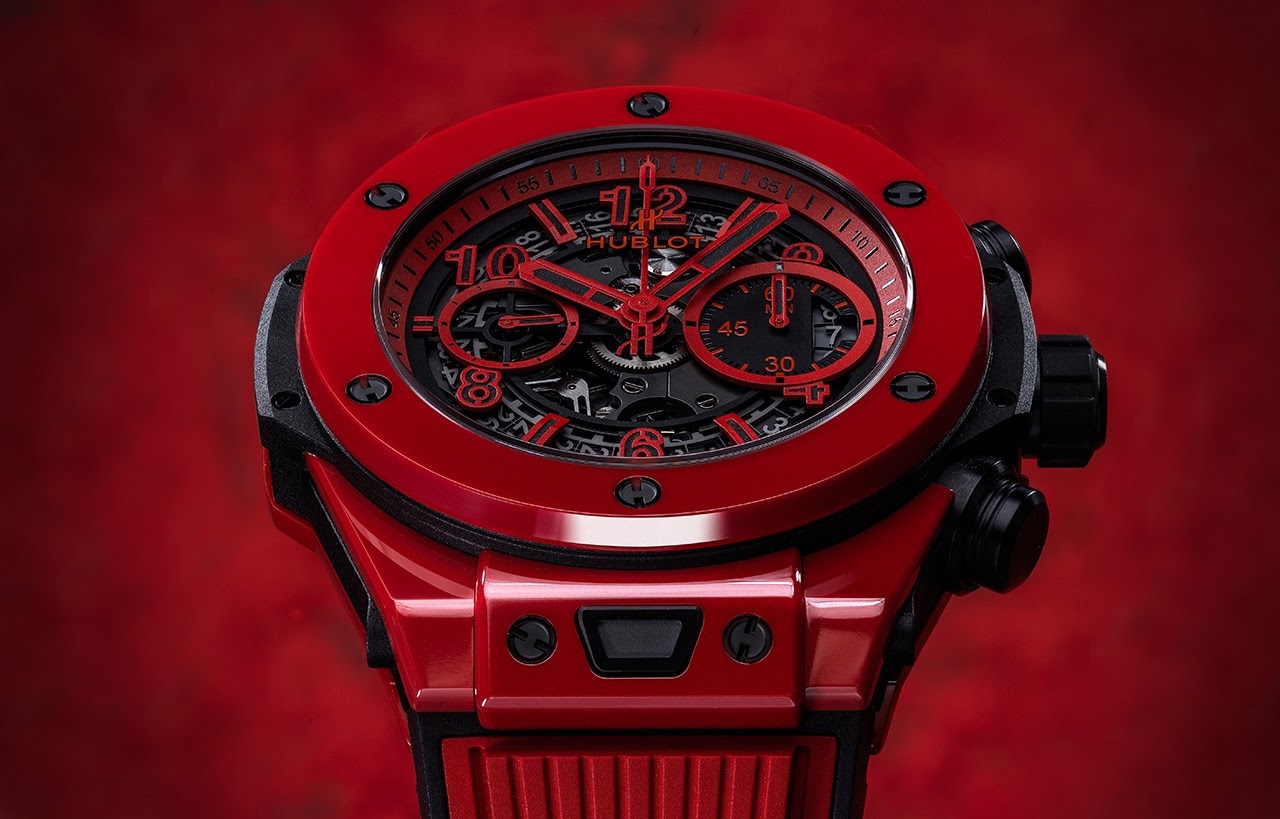 Red. So what's the Big Deal?
My guess is that the revelation of Red Ceramic is lost on most accustomed to seeing red in every other material imaginable. Still, the significance of achieving a bright red ceramic should not be understated.
"This family of ceramics that everyone is trying to get can be called "Bright Ceramics." The watchmaking and jewelry fields, through major watch brands, needed bright red or yellow ceramics instead of all these very pastel or dark colors that the ceramic industry still offers today." Mathias went on to explain, "To understand the difficulty of obtaining ceramics in bright colors, it is necessary to know that to harden white ceramic powder (zirconium oxide), needs to reach temperatures up to 2'000°. Yet, the color comes from pigments composed of metal oxide that are destroyed around 800°. It was therefore impossible – at least during these last 20 years, to reach a suitable hardness while preserving the bright color.
As I stressed before, we could concede that the temperature problem would never allow us to obtain brightly colored ceramics. However, one day an idea was born in Hublot R&D department, and, to sum it up, it came from a revealation following the question, 'The heat that brings zirconium oxide up to about 2000° is energy. Could this energy come from a source other than heat?'
In this respect, we designed a process that heats the ceramic to about 800 degrees, being careful not to burn the color pigments. We replaced the missing 1'000 degrees with energy from pressure. Thus, during the sintering operation, we strongly pressed our ceramic powder to obtain bright red zirconia discs."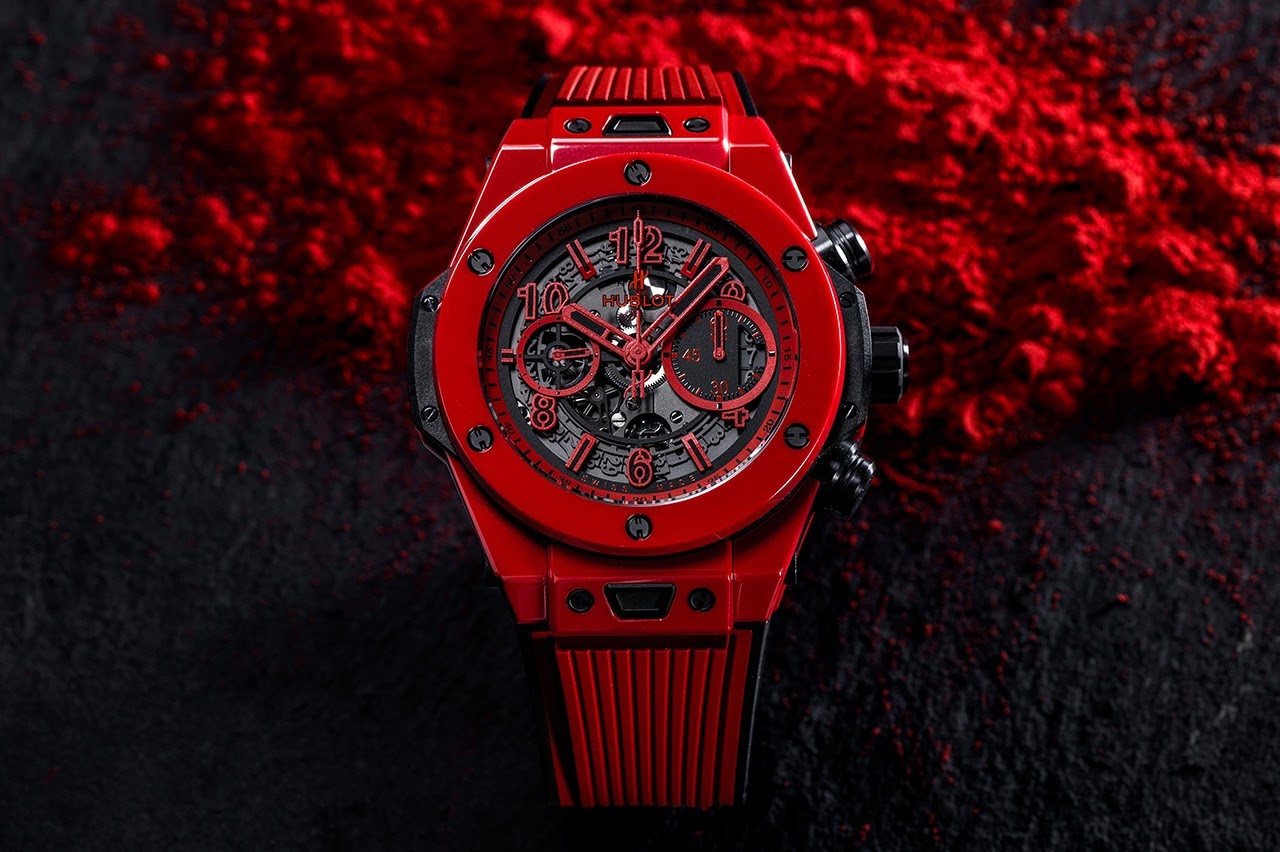 Hublot devotes a lot of time and resources to the development of unique materials. Achieving Red Ceramic required a significant investment for a material that, at best, may work its way into only a few hundred watches, perhaps a few thousand in the coming decades. But Hublot has a bigger vision, or to be practical, a marketing model that that sees beyond the application of Red Ceramic for their watches.
"Watchmaking is the 'poor child' of industry," explained Mathias. "Until now, watchmaking has not developed new materials because our consumption does not provide sufficient return on investment.
It is not with a ton of material, which is used to make 5'000 watches, that we can compete with the automobile industry, which for the same ton makes four cars and series of up to several millions of copies. Watchmaking has therefore become accustomed to waiting for new materials developed and used by aerospace, automotive and armaments to be protected for twenty years by their patents and to be available after this period.
For example, the titanium watch was born 20 years after titanium was introduced to the aerospace industry. It's the same for carbon fibres and flax fibres.
I like to think that Hublot has reversed the situation. We have become accustomed to developing our materials and filing patents, and now, other industries are interested in our materials. I can assure you that in this case, we are not talking about marketing but about a real technological need. Indeed, in watchmaking movements, we have attained a stage where we have reached the mechanical strength limits of all the materials we use. We are a bit like a pole vaulter who broke his record in 10cm steps from year to year and who today beats his record by a tiny millimeter taking huge risks."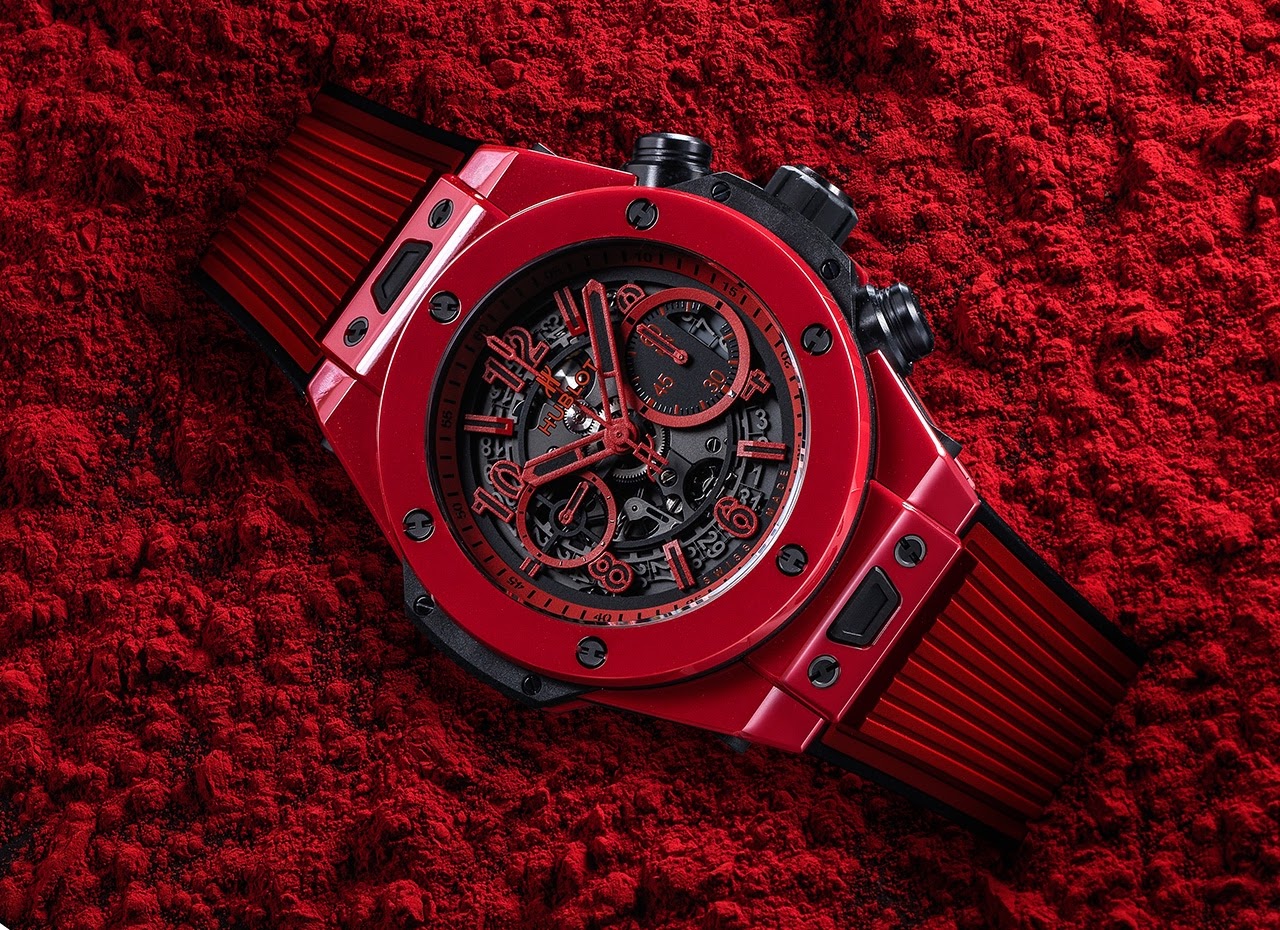 Along with the achievement of Red Ceramic comes another series of challenges in finishing the ceramic case components. Fortunately, years of experience with other ceramics, and especially Magic Gold, have provided Hublot with the ability to harness the full potential of these materials. Mathias explained, "Firstly, the machining of ceramics and the machining of metal are two processes quite different. Moreover, our bright color ceramic is very different from standard ceramics. In fact, the zirconium oxide obtained until now by standard methods giving the dark, pastel, black or white colors have a hardness of about 1,000 Vickers. Our bright colored zirconium oxide is much harder, with a hardness of about 1350 Vickers.
In addition, we can only machine it at the end of the material manufacturing process, when it has the maximum hardness of 1350 Vickers, which poses a huge problem for machining components. We started to produce watches but we are developing new methods of manufacturing ceramic components. Our production is increasing but we remain open to any proposal or good ideas from the outside."
Over the years, I've heard concerns that ceramic is more susceptible to breakage, a fact that is hard to deny, no matter how improbable. As the owner of a ceramic Hublot, I've certainly never had any issues. Still, with the increased hardness of the Red Ceramic, I asked Mathias how he would address these concerns. He resonded by saying, "Well, I would tell them the truth. I was the first surprised by the solidity of this new ceramic. The resistance values of materials are not very representative. For this reason, I prefer to share the result of comparison of resistance to shocks that we tested. We compared the same components of the watch with the resistance to the same shock between our Magic Gold, our black ceramic and our red ceramic. In all tests, the red ceramic wins. I'm not saying it's unbreakable, but it's definitely stronger than other ceramics."
With "bright" Red Ceramic now a reality along with the innovations and patents associated with its development, I asked Mathias, "What's next?" He told me, "We have indeed filed patents that protect our invention internationally, in the process as well as in the material itself. These patents obviously describe the main principles of production but the development took us three years and many parameters are still improving since we did not focus or stop on the red color – despite our partnership with Ferrari. Ferrari aslo builds yellow cars… and it is above all a Hublot Red Ceramic. Other surprising colors are in the state of prototypes.
Finally, I asked Mr. Guadaloupe what's in store for fans of the brand. "Hublot is about celebrating the art of fusion and we are geared towards the future. We are working a lot on research and development into movements and materials. So there is a genuine watchmaking substance at the brand, despite our young age."
With a final tease, he said, "Let's be surprised, as we will not stop researching on materials! I prefer you to be impatient and discover our future collections! "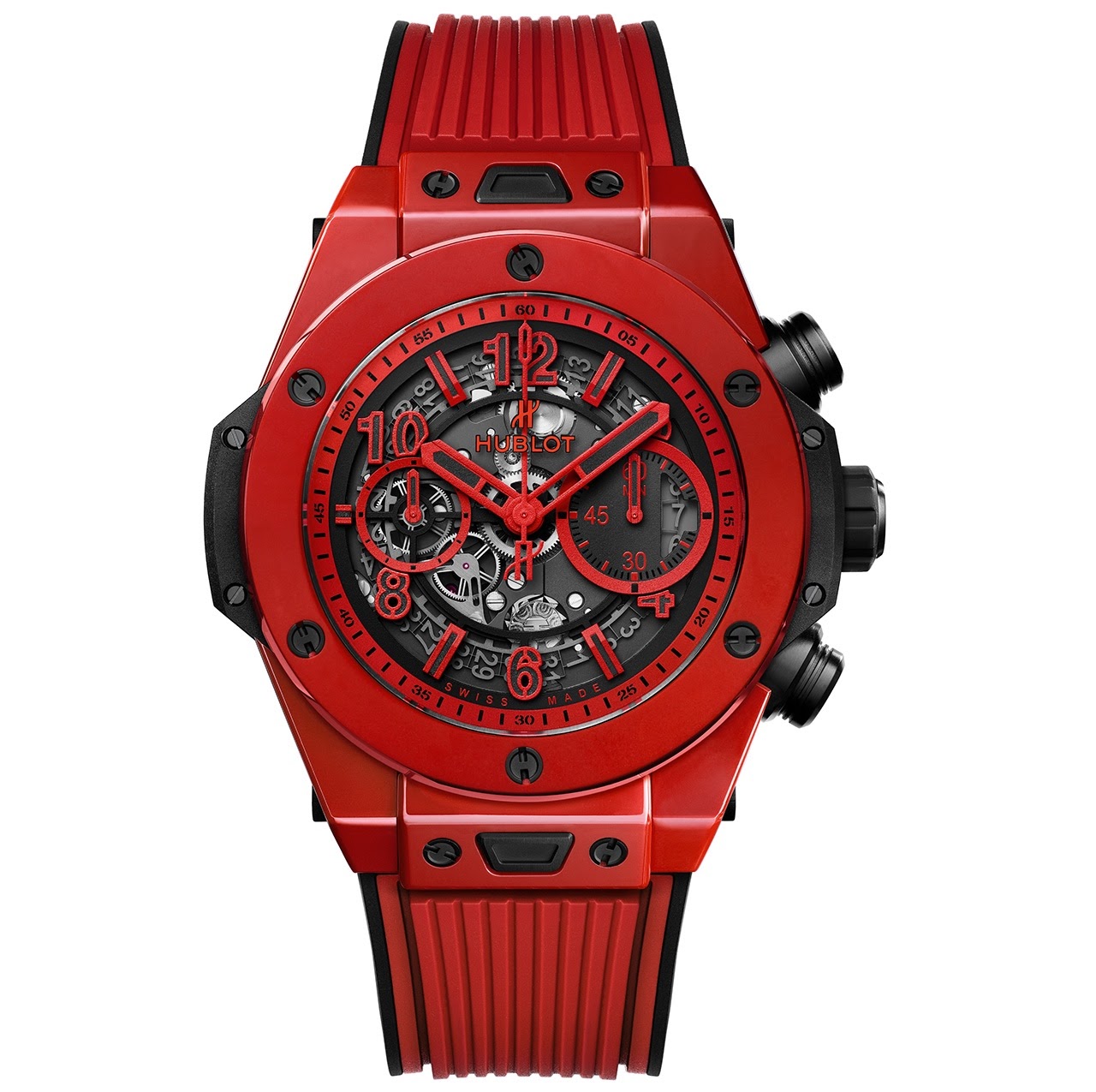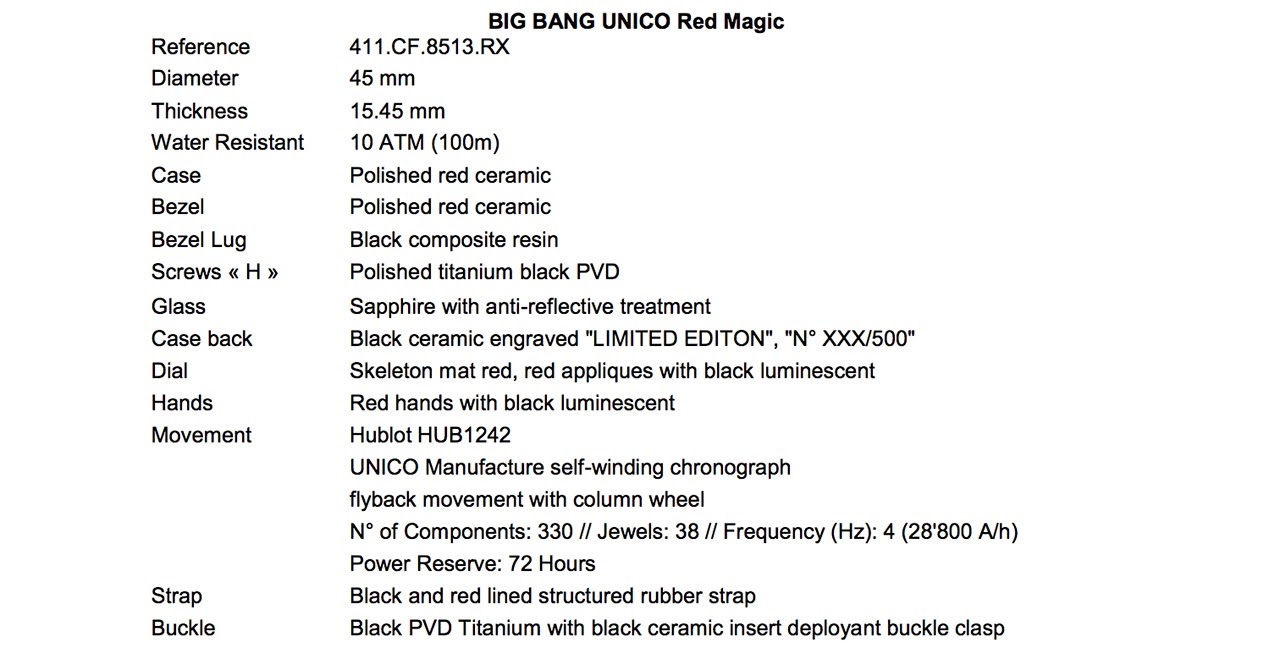 This message has been edited by MTF on 2018-05-07 07:41:01
More posts: