pingtsai
[PuristSPro Moderator]
2063

<!tag blob="forumpost.visitstar">
A Pictorial History of Watches by Bulgari
Bulgari watches have experienced a long and dynamic history of iconic creations, creative interpretations and constant strives toward technological improvement. The instantly recognizable BVLGARI-BVLGARI watch is a mainstay, anchoring the collection from a historical and design perspective. It also serves to billboard one of Bulgari's most ubiquitous and prominent design elements, its own company logo. Bulgari design has also seen inspiration from classical ancient Greek and Roman motifs such as the snake as observed in the Serpenti watches and the Greek amphitheater in the Anfiteatro watches. They've invested equal attention into improving the mechanical workings of their watches by acquiring the technical watch expertise of such firms as Daniel Roth, Gerald Genta and other top watch manufactures. As a whole, Bulgari's watch history is rich with character and purpose, a legacy that will continue to grow as a major contender in today's luxury watch markets.
What's in a legacy? Part II
A Pictorial History of Watches by Bulgari
By Ping Tsai
© September 2010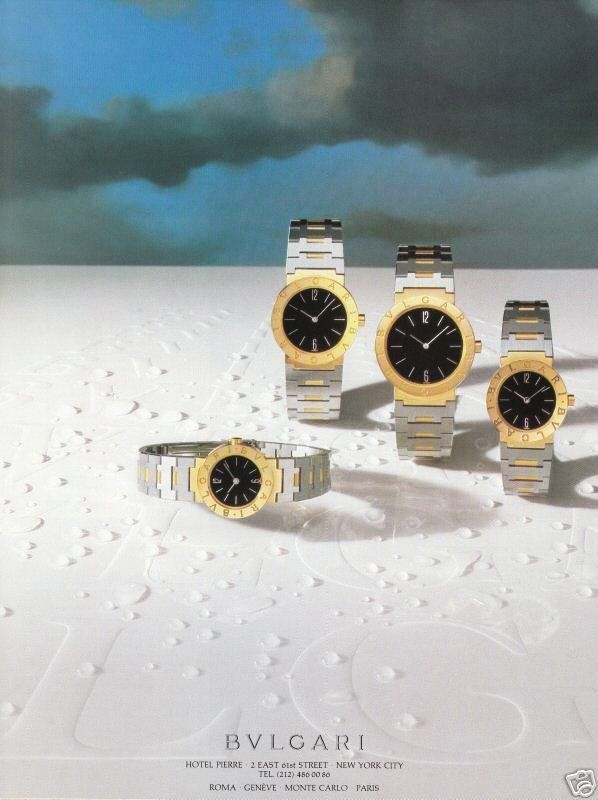 Vintage Bulgari print ad from 1982
Some of the earliest examples of their watches are from the 1920s. During that time Bulgari placed more emphasis on the exterior of the watches, adorning them with precious stones and styling them according to the Art Deco trend that was popular then. The watches housed movements that came from well known watch manufactures at the time such as Audemars Piguet, Jaeger-Le Coultre, Vacheron Constantin and Movado.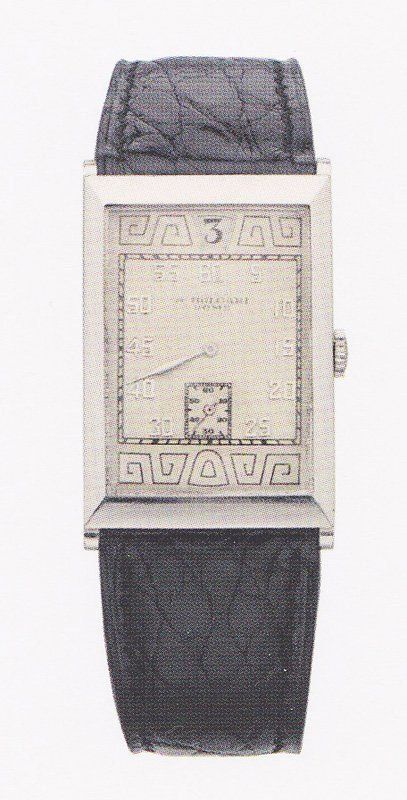 A gentlemen's wristwatch, 1930 with platinum rectangular case. Dial is decorated with stylized Greek key motif inspired by Art Deco design, date display window and a square seconds sub-dial. Dial is signed S.BULGARI, ROMA.
The Bulgari Serpent Watch
In the 1940s, Bulgari incorporated the snake motif into the design of some of their watches. The popular pieces were sculpted interpretations of the coiled serpent. These flexible gold "snake bracelet-watches" were meant to be worn wrapped around the wrist with one end consisting of the serpent's head adorned with jewels and hiding the dial of the watch. In ancient Roman times, the image of the coiled snake symbolized immortality and was often used in talismans that people wore for good luck or to ward off ill-fortune. For Bulgari, the snake has become a signature design theme used throughout their history.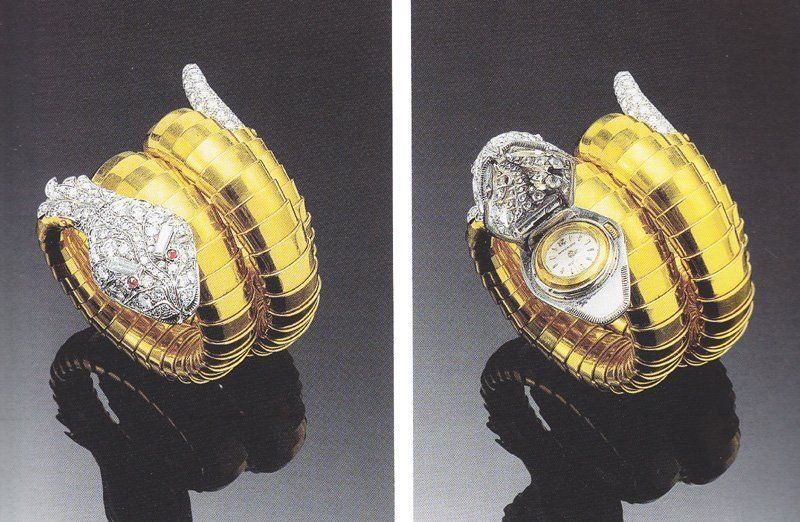 A gold and diamond serpent bracelet-watch by Bulgari from the 1940s. The flexible links are in polished yellow gold, tail and head set with diamonds, movement by Movado concealed in the jewel head.
Bulgari's initial three coil gold snake wristwatch with diamonds, such as the one in the photo above, was extremely successful. In the decades that followed, 1950s and 1960s, Bulgari expanded upon the theme by introducing other versions of the watch such as ones with polychrome enamel scale-like linking which were sometimes decorated with gemstones.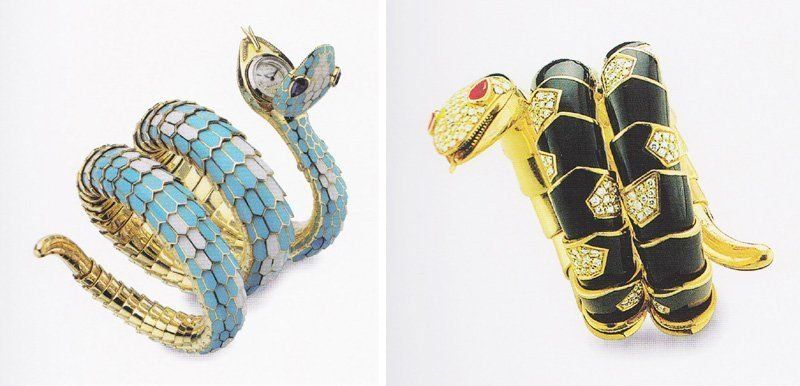 Two gold and enamel snake-bracelet watches. Left one (1965) consists of turquoise and white enamel scales, pear shaped sapphire eyes, and a movement by Jaeger-LeCoultre. Right one (1970) is decorated with black enamel scales with pave set diamond accents and pear shaped ruby eyes.
Bulgari's coiled snake watch underwent further evolutionary changes in the 70s. The new watches were more stylized designs inspired by the original forms. They were made up of plain flexible links, employing a technique known as Tubogas linking and consisted of geometrically shaped open dials instead of the previously concealed snake head dials. Interpreting the snake as a simpler form was a significant reflection of Bulgari's use of stylized shapes from nature which characterized much of their design practices in the 1970s.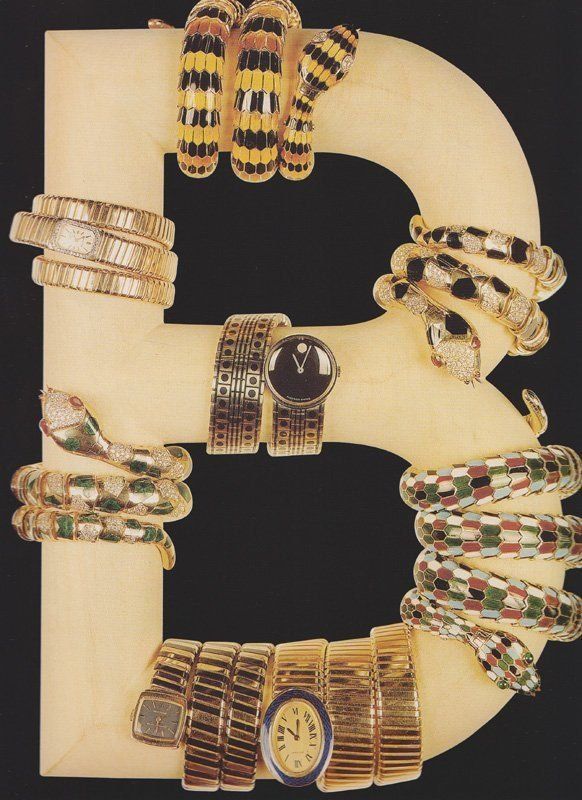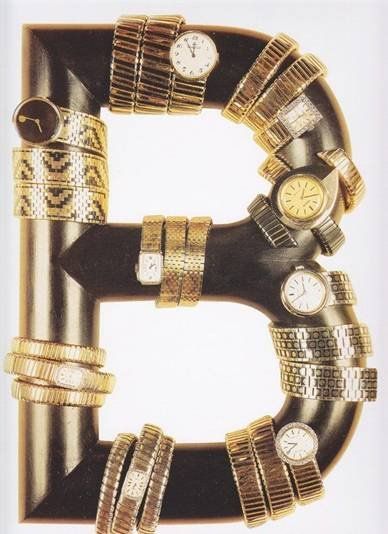 17 bracelet-watches by Bulgari from the 1970s showing variations on the snake motif. Decorated with polychrome enamel and gemstones or as a more stylized form with Tubogas bracelets or woven bands.
In 2009 , to celebrate Bulgari's 125th anniversary, the company presented a new collection of coiled snake watches called Serpenti . The new collection comes in a variety of forms, transforming its sinuous and flexible body into wrap-around bracelets, rings and jewel-watches. Sixty years after Bulgari first launched coiled snake watches, they reinterpret the concept with the Serpenti Collection by combining the classic Bulgari style with contemporary and elegant line. The new collection includes five models in pink and white gold, single or double coil by playing on colors through refined decorations with diamonds, colored gemstones and mother-of-pearl on the scales (individual links which simulate the scale of the snake's skin).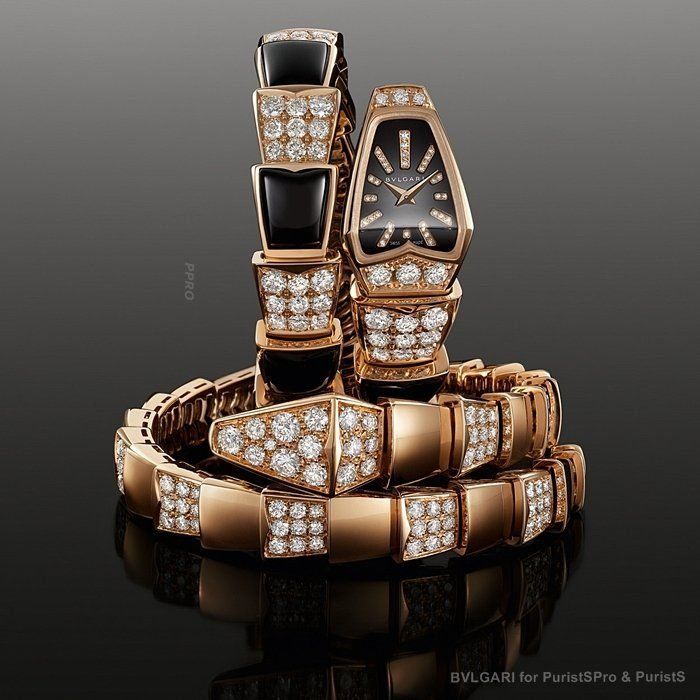 Watches from the 2010 Bulgari Serpenti Collection
When Bulgari began to have a more prominent watch collection of its own in the late 1970s, its success led to the establishment of "Bulgari Time" a few years later in Switzerland which oversaw all watch development matters for the company. Starting in 1989, Bulgari partnered with Girard Perregaux for all the technical research involved in developing watch movements. Teaming up with one of the oldest and well respected Swiss watchmakers ensured that Bulgari would experience continued technological growth and sophistication of their timepieces.
The BVLGARI - BVLGARI
Towards the end of the 1970s, Bulgari created the watch that they are best known for, the BVLGARI – BVLGARI. The case was a flat disc shape, 5mm in height. It had a black enamel dial and gold bezel with a double inscription of the "BVLGARI" logo. The initial concept for this top selling model came from a limited edition digital gold watch that Bulgari had released earlier. This previous example had the words, "BVLGARI ROMA" inscribed on the bezel. Created in 1975, only 100 were made to be given as gifts to Bulgari clients.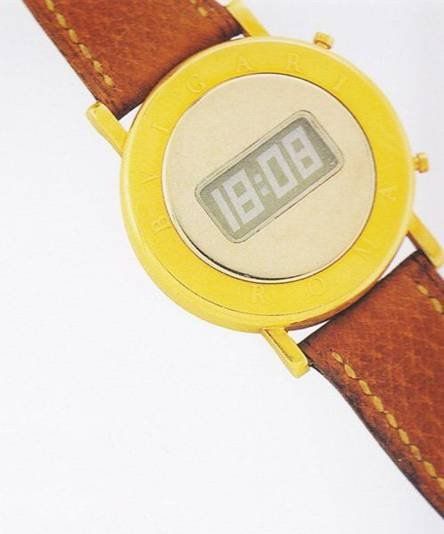 A gold digital wristwatch from 1975 with "BVLGARI ROMA" on bezel.
The promotional watch was hugely popular and as a result Bulgari used the same cases for their mechanical watches and later created and released the BVLGARI-BVLGARI watch in 1977. It gained wide appeal instantaneously and remains a signature watch design by the company till present day.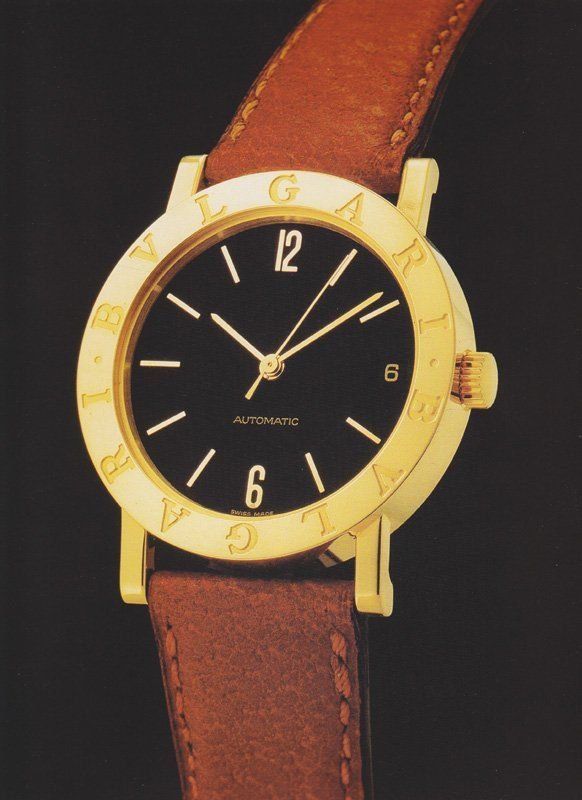 The BVLGARI-BVLGARI watch, 1977
Since the introduction of the BVLGARI-BVLGARI watch, there have been several different variations on it released to the public. The initial one was in yellow gold with a tan leather strap. Bulgari then created a steel version of it with different colored leather straps. It was available with a mechanical or quartz movement, with or without a date display window and in different sizes to suit male and female customers. They made versions with white gold, platinum, stone or diamond encrusted dials, metal bracelets, and chronograph functions.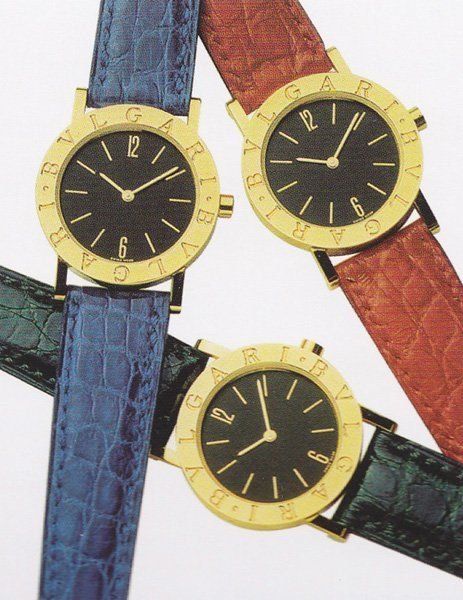 BVLGARI-BVLGARI watches from 1977 showing variations in strap colors.
In 1993, Bulgari released a limited edition black plastic and gold BVLGARI-BVLGARI watch on a tan leather strap. A limited number of these watches were sent to each Bulgari boutique. Each watch was numbered and engraved with the city where the boutique was located. The plastic and gold materials used in the watch were an unusual combination. With the uniqueness of this quality and the appeal of a see through case-back that displayed the gold automatic movement, the watch was so popular that it sold out immediately and has now become a collector's item.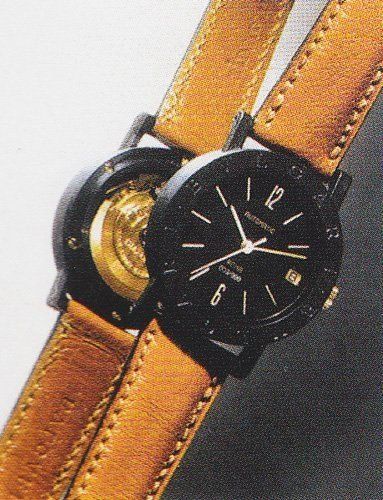 Limited edition black plastic and gold BVLGARI-BVLGARI watch from 1993.
In 2005 Bulgari released another limited edition BVLGARI-BVLGARI watch, a chronograph called Carbongold . They expanded on the idea from the previous plastic model by using a more sophisticated material, carbon fiber, for the case and added more variations in yellow, white or pink gold for the details. The watch was another huge success for the company, initiating a frenzy amongst Bulgari clients to obtain one.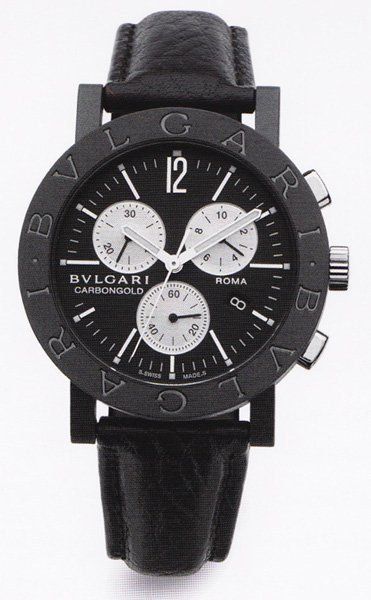 BVLGARI-BVLGARI Carbongold watch from 2005
2006 was a significant year in the development of the BVLGARI–BVLGARI watch. Bulgari created new models that encompassed more intricate looking black and white dials with clou de Paris finishing. One version had a 41mm diameter case in white or pink gold. The dials were curved and decorated with impressive satine soleil, guilloche verticale and cote de Geneve finishing. The watch had a manual wind movement that was extra thin, a 72-hour power reserve, and was water resistant up to 30 meters.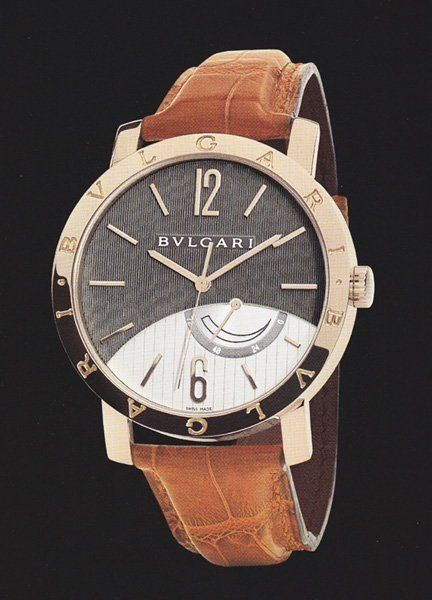 BVLGARI-BVLGARI watch with yellow gold case and 72 hour power reserve, 2006.
LOGO AS INSPIRATION
Bulgari incorporated their logo into the design of some of their other watches as well, creating interesting variations in looks and shapes yet still retaining a cohesiveness with the rest of the collection. One such watch which came out in 1989 was the Anfiteatro, named for its concave inner bezel which resembled the shape of ancient Greek amphitheaters. The presentation of the "BVLGARI" logo on the concave bezel was a major design aspect of the watch but much more subtle than the BVLGARI-BVLGARI watches. The letters of the logo on the inner band appeared more as an extension of the dial rather than a separate entity. This feature accounted for the watches' classically inspired look and ultimately its popularity. It was released with an automatic movement in yellow gold with a champagne colored dial and in platinum with a white dial.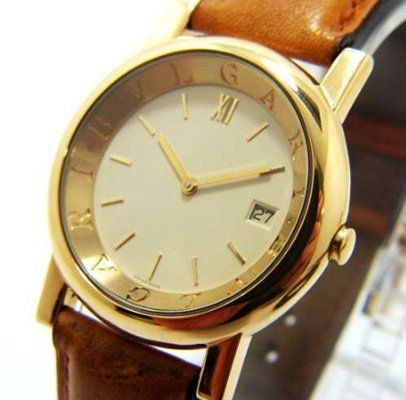 Anfiteatro watch with champagne dial, BVLGARI logo engraved on inner bezel, 1989.
The Quadrato was another watch that displayed the "BVLGARI" logo in a subtle way. Released in 1992, it stood apart from Bulgari's other models because of its square case. The logo was inscribed on the side of the case and reflected the company's tendencies toward understatement during the 90s. The Quadrato came with a quartz or mechanical movement and with or without a date display. It was also offered in three sizes, yellow gold or stainless steel with black dial, and later with choice of diamond or jewel detailing.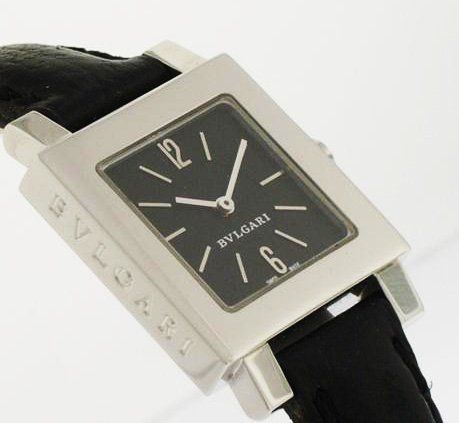 A Quadrato steel wristwatch with engraved BVLGARI logo on side of case, 1992.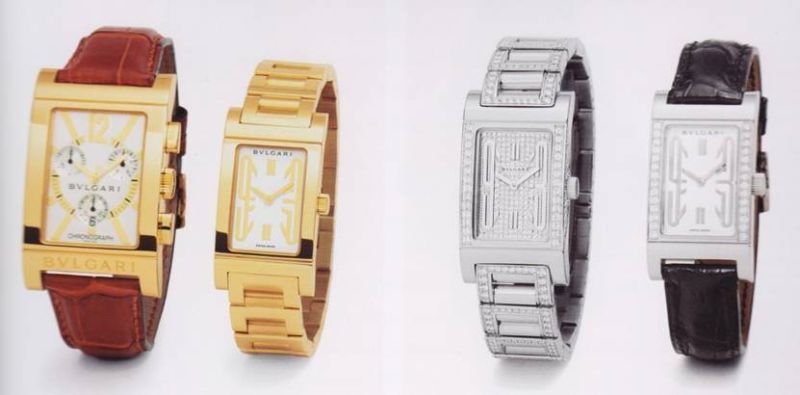 Rettangolo, a watch with a rectangular case was inspired by 1930s design. It was characterized by elongated lines and oversized numbers on the dial, 2000.
The "BVLGARI" logo also featured prominently in sportier more practical watches such as the Chrono in 1988 and Sport Line in 1994. The Chrono was a quartz powered chronograph watch while the Sport Line had an automatic movement, black dial and fluorescent indices. Both were offered in a variety of materials such as gold, gold/steel and steel alone.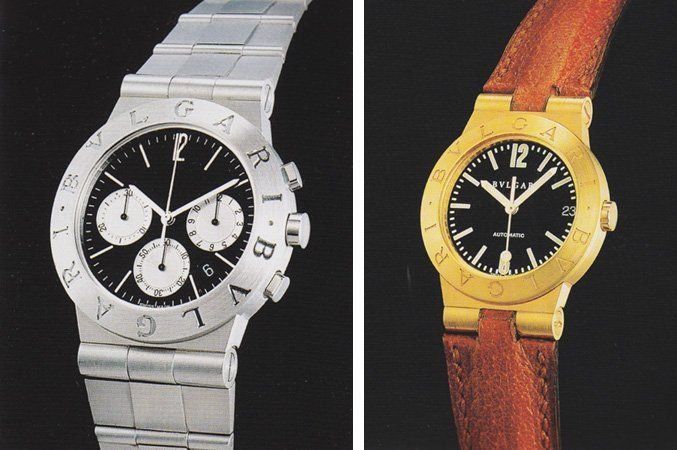 Bulgari's Chrono and Sportline watches.
THE BULGARI SPORTS WATCH
Continuing with the sports watch theme, there was the Scuba in 1994, an automatic diver's watch with fluorescent hands and numerals and a date display at 3 o'clock. It came in gold or steel with a bracelet or rubber strap. The movement was COSC certified, signifying that it had met the high standards of the Official Swiss Chronometer Board. The Scuba Chrono was also added to the line in 1995.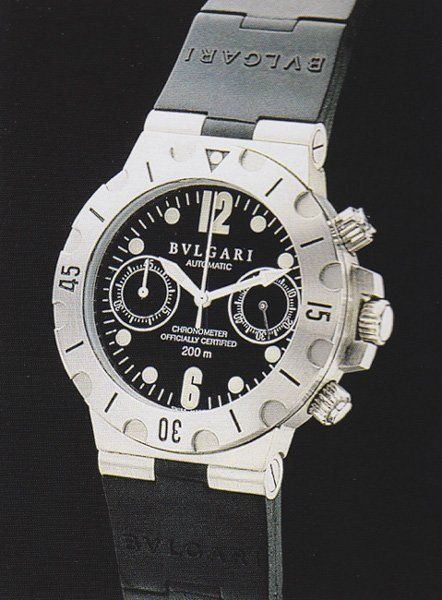 Scuba Chrono, 1995
In 1997 the Solotempo was a stainless steel quartz watch with a contemporary looking dial. The double "BVLGARI" logo appeared on the outer rim of the dial and the center dual used graphic lines for the hour markers.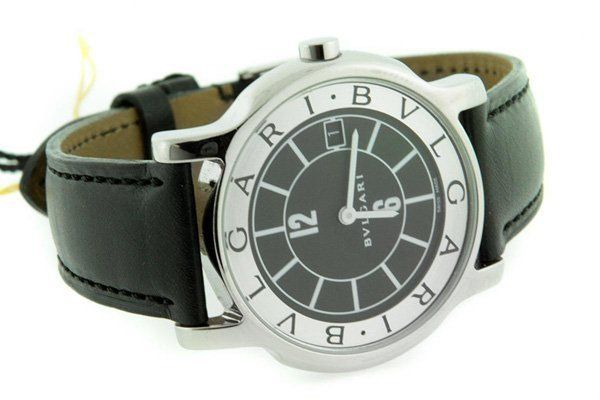 Solotempo, 1997
The Aluminium was a modern sporty looking watch launched in 1998. The unique features about the watch consisted of its aluminum case and black rubber bezel with incised double "BVLGARI" logo. The bracelet of the watch is a combination of black rubber and aluminum links and buckle. The red tipped seconds hand provided a splash of color to a black and white dial. To promote the release of the watch, Bulgari teamed up with Alitalia and had the image of the watch painted on the side of a Boeing 747 that flew within the Alitalia fleet for a year. The innovation of Aluminium inspired the design of future Bulgari watches to come.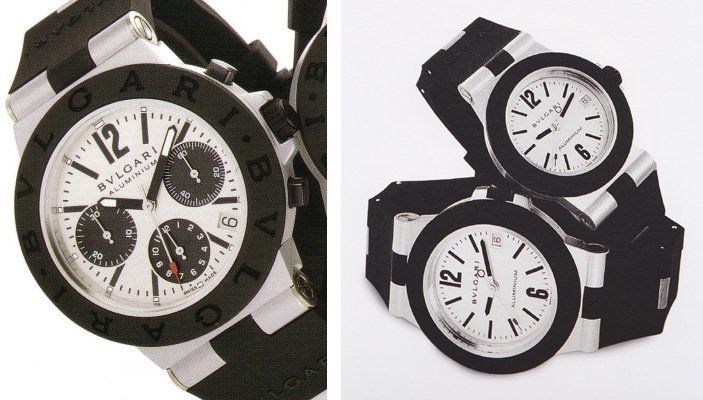 Aluminium, 1998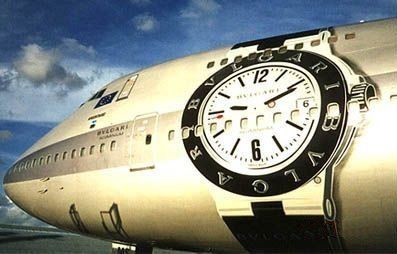 Picture by Mabanomy1
Starting in 2001, Bulgari designated all of their existing sports watches, Aluminium, Sport, Chrono and Scuba , under the general category Diagono. These watches were grouped together for their similarities in design of the case, bezel and the use of high-tech materials. The Diagono Professional line consisted of watches with more complicated features – the Scuba for diving, the GMT and a tachymetric version. The Diagono Titanium was released in 2005 and developed as an extension of the Aluminium. It employed similar contrasting color combinations and the use of titanium as a metal was an ideal choice for the high performance sports watch due to its light weight and durability.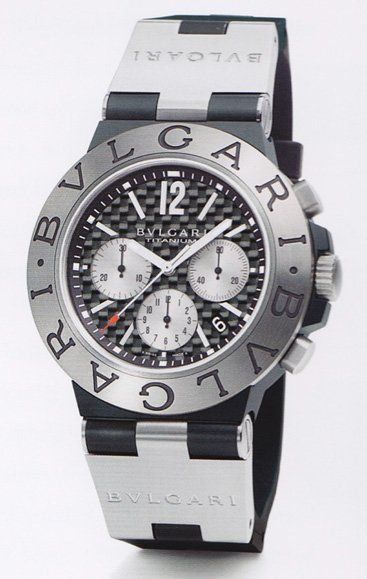 Diagono Titanium, 2005
Bulgari named this all encompassing line Diagono because of the oblique cut of the bezel based on two "diagonal" lines which characterized the sports watches in the group. Also the ancient Greek word "agon", which means "competition", was a fitting part of the name as well.
In 2004, the Ergon line offered the best of classic Bulgari watch design with an ergonomically arched case. The strap was curved and fitted conforming to the wrist and along with the curved case, the watch felt like a single entity on the wrist.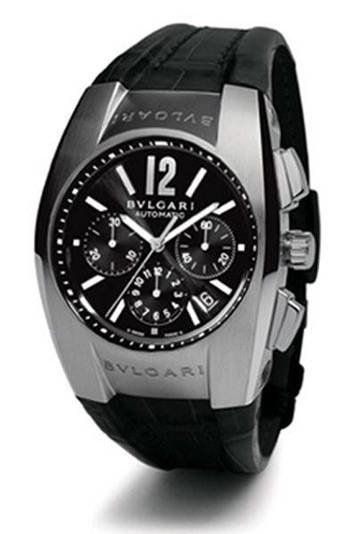 Ergon, 2004
The Assioma in 2005 had two "BVLGARI" stamped curved arches connecting the vertical sides of the case. Incorporating curved lines into a linear looking case, the watch served to further illustrate Bulgari's eclectic and fluid design philosophy while still maintaining a cohesive sense amongst their watches. The Assiomas came in a variety of materials, sizes and complications. They often consisted of intricate finishing on the dial as well as the movement.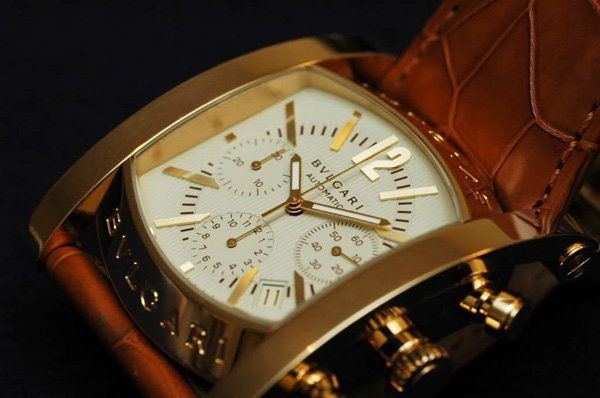 Assiomo, 2005 - Photograph by Jonathan Z
HIGH COMPLICATION WATCHES
Bulgari's introduction into the area of horologic Grand Complications began in 1994 with the creation of a Tourbillon and Minute Repeater for the Anfiteatro line in yellow gold or platinum.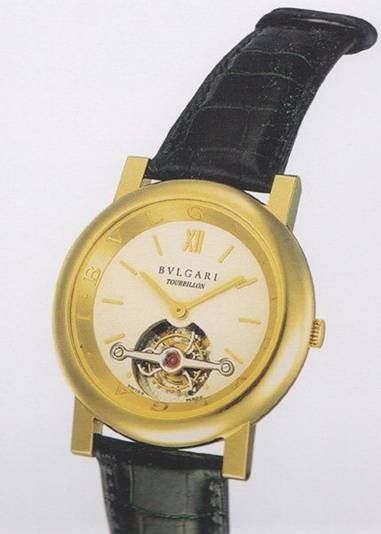 Anfiteatro with tourbillon movement, 1994
In 2000, the Bulgari Group made a significant move in its intentions to become a major player in the world of high horology when it acquired the Swiss watch companies, Daniel Roth and Gerald Genta. In order to have access to manufacturing facilities, Bulgari also obtained the company Manufacture de Haute Horology. The acquisitions were combined into a new company called Daniel Roth and Gerald Genta Haute Horlogerie S.A. In 2005, Bulgari acquired majority shares in Cadran Designs, a Swiss company that manufactured high quality dials, and Prestige d'Or, a company known for its watch bracelets in steel and precious metals. The corporate strategy positioned Bulgari to create and produce high end watches with quality elements and mechanisms. They now had everything they needed to compete with the existing luxury watch manufacturers with even the most complicated of timepieces.
In 2004, the first BVLGARI-BVLGARI Grand Complication watch was presented to the public. It was a limited edition Tourbillon in yellow or white gold with a 64 hour power reserve and a transparent case-back to view the movement.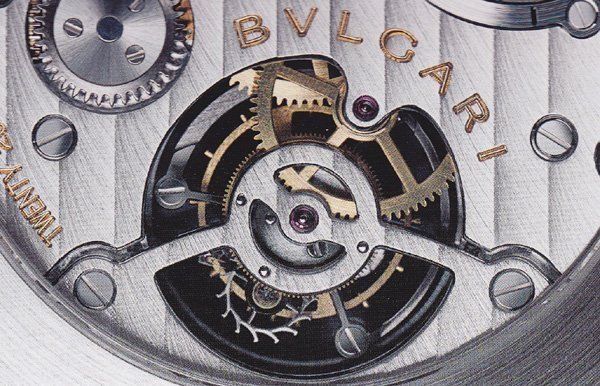 BVLGARI-BVLGARI Tourbillon movement, 2004
In 2006 the Assioma Complications, Multi Complication and Heure Retrograde were created. The Multi-Complication with a platinum case fused together a tourbillon, perpetual calendar and GMT functions in one watch. For this watch, Bulgari created the caliber BVL 416 which is comprised of 416 individual parts and is completely hand assembled and finished.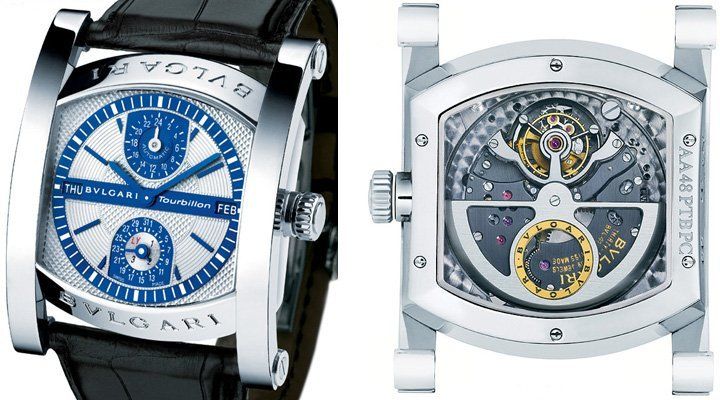 Limited Edition Assioma Multi Complications watch, 2006
The Heure Retrograde had a mechanical movement, caliber BVL 261 with 261 separate components, and came in gold with an AM/PM indicator. It was also entirely assembled and finished by hand.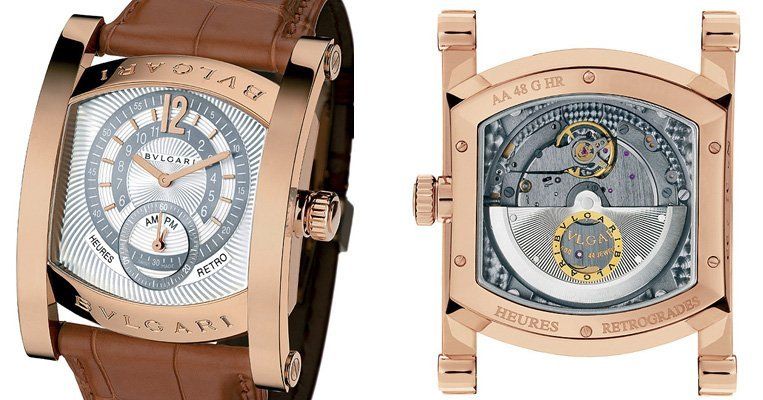 Limited Edition Assioma Heures Retrograde watch, 2006
In 2007, Bulgari released a skeletonized version of the Multi Complications called the Assioma Skelet . The watch was a limited series of only 20 pieces.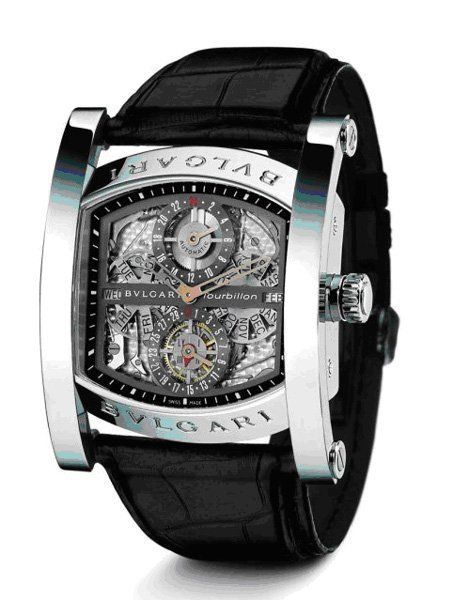 Assioma Skelet, 2007
In the next few years, Bulgari continued to step further into the world of high horology. In 2009, they released the Sotirio Bulgari Collection of watches. According to Bulgari, "The Sotirio Bulgari timepieces are the result of a distinctive and rigorous design approach that combines classic elegance with contemporary aesthetic. All the models are characterized by an innovative case, where the absence of the logo is paired by a unique construction, a very refined alternation of treatments and with the lugs directly integrated into the back case at converging angles". In 2010, the company released a line of Sotirio watches powered by the new Calibre 168, a mechanical self-winding movement entirely designed, developed and produced in-house by Bulgari.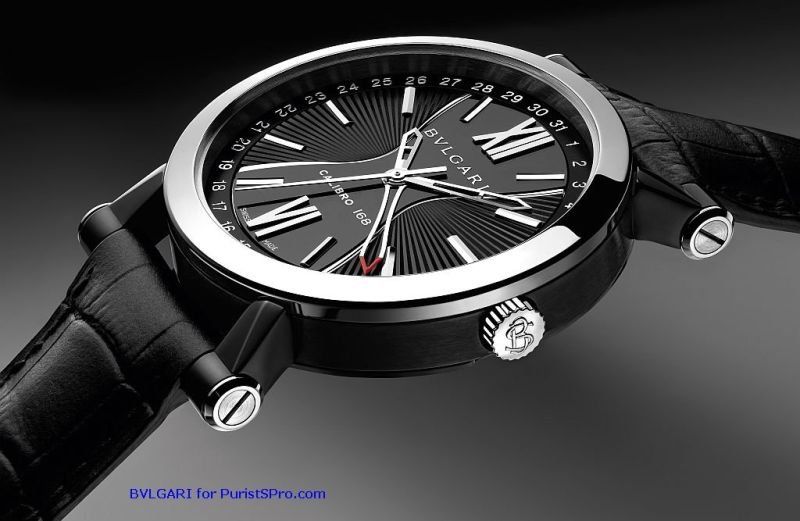 Sotirio Bulgari, DLC, 43mm steel case with DLC treatment, black sapphire dial, with hours, minutes and central instant-jump date.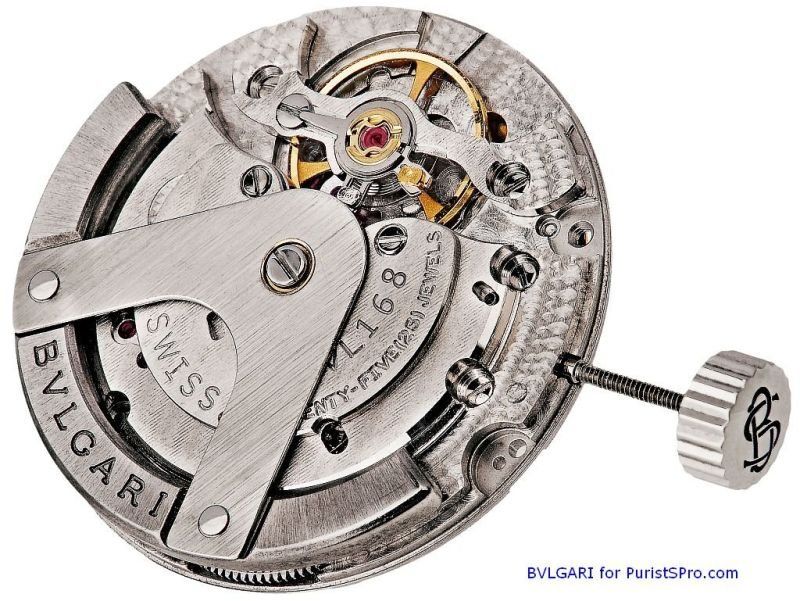 Bulgari's Calibre 168 movement



2010 was a pivotal year for Bulgari. In January the CEO, Francesco Trapani, in a major step regarding Bulgari's watchmaking strategy, announced a partnership between Bulgari and Daniel Roth/Gerald Genta watches. They were no longer going to stand on their own, but instead be co-branded with Bulgari. A few months later at Baselworld Bulgari introduced the new Bulgari Gerald Genta and Daniel Roth watches. Please click on the below link to see pictures of these watches as well as other new watches released by Bulgari this year at Basel.




Reference for photos and information: "BVLGARI" by Daniela Mascetti and Amanda Triossi

Copyright September 2010 - Ping Tsai & PuristSPro.com - all rights reserved

Comments, suggestions, and corrections to this article are welcome.




This message has been edited by AnthonyTsai on 2010-09-09 10:32:34
This message has been edited by ED209 on 2010-09-15 21:50:55
More posts:
view entire thread
A Pictorial History of Watches by Bulgari
Bulgari watches have experienced a long and dynamic history of iconic creations, creative interpretations and constant strives toward technological improvement. The instantly recognizable BVLGARI-BVLGARI watch is a mainstay, anchoring the collection from ...
They certainly have...
One cannot deny the long-standing history and strategic as well as artistic efforts. Thanks for taking a look. This message has been edited by pingtsai on 2010-09-10 10:20:08
Carbongold
I thought it was one of their more interesting pieces as well. There's actually a few floating around for sale that are brand new. I think my top choices would be the Rome or New York one. Thanks for taking a look.
more than pictures...
great information..thanks for the hard work...learn something new everyday... Thank you! nice post...
The Progress of Time at BVLGARI
Thanks Ping for the summary. Bulgari seems to have walked a similar path as Cartier; first with movements from suppliers and then with their own Manufactures. First as jewellers and then as watchmakers in their own right. Both brands have just introduced ...
Interesting parallels...
...between the two. Bulgari seems to have extended beyond jewelry and watches and positioned themselves as a full luxury lifestyle brand. I would imagine that this leads to a closer understanding of their clientele. It will be interesting to see how they ...
Thanks Ping for the history of Bulgari watches
Very interesting to see the developments from the 1920's to current. And also the lineage and how the current models still hold the Bulgari style. One of the most interesting things in your article was the pic from the 1970's, I didn't realize that there ...
Great post, Ping!
It's fantastic to see the brand's horological evolution, culminating with the new in-house movement released this year. While I still am unsure about the design motif for the rotor of the new caliber 168 (Do I like it? Do I hate it? Not sure.), I think Bu...
Anfiteatro
Thanks for this tour of Bulgari, Ping. I love the history of watchmaking, and this puts a lot into perspective, particularly the evolution of their designs. It is remarkable how quickly Bulgari have pushed the envelope of their haute horlogerie lines in t...