Ratskunk
234

<!tag blob="forumpost.visitstar">
Help Wanted: Breguet watches owned by Thomas Engel
It may be 20 years since I lasted posted on WatchProSite but I am working on a project and thought maybe people much more expert than myself can assist a novice like me.
Please note: I am not a scholar of any stripe so I am treading in unknown waters and I may not have any idea of what I am talking about so please pardon any inevitable mistakes made relating to my project.
Please note: I am unfamiliar with the forum software so please forgive any formatting issues in my post.
Please allow me to thank anyone that muddles through the following and I appreciate any guidance anyone may offer me.
A small part of my project involves creating a list of Breguet watches once owned by Thomas Engel (TE) (note I am not referring to the Breguet-style watches made by Thomas Engel but the Breguet watches once in the Thomas Engel collection). Through various sources I have identified 31 Breguet watches and a Breguet carriage clock (No. 179) that once belonged to Thomas Engel. These sources included: Thomas Engel's autobiography, the 2001 Antiquorum sale, the 1976 MIH exhibition, Watchmaker to Kings and the 1964-1965 Christie's sale of 60 Breguets once belonging to Sir David Salomons.

Certainly my list is incomplete; I have researched 50+ books, countless auction records, many, many articles from Alte Uhren, Klassik Uhtren, Chronometrophila etc. and I have been unable to answer the below questions and I hope someone/anyone may assist me. Note: I have contacted many people in the watch industry regarding my questions, some have been kind enough to respond but being a total stranger I am as expected ignored but even within the responses I did receive there was little consensus to the answers.
1. Christie's 1964-1965 Sir David Salomons sale: Edgar Mannheimer purchased all 20 lots from Part III of the sale (November 1965). Anecdotes suggest all 20 watches were purchased on the behalf of Thomas Engel (can this be verified?) My documentation finds for certain that Breguet Nos. 987, 3519, 3872 and 5047 of the Part III sale were owned by TE...the remaining watches from Part III are: Breguet Nos. 2556, 4760, 2758/417, 3012, 852, 3999, 4285, 3624, 4321, 119, 2183, 2687, 2934, 3625, 4047 and 2568 but I cannot locate any supporting documentation that these watches were owned by TE; if it can be verified that all the Part III watches were purchased by Edgar Mannheimer on the behalf of Thomas Engel then problem solved.
1b. Thomas Engel purchased one watch each from Part I and Part II; I know the watch purchased from Part II was Breguet No. 4238 but I have been unable to identify which watch from Part I was purchased by TE.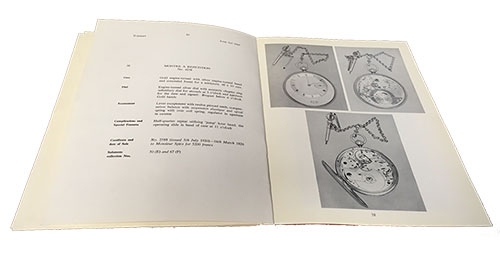 2. To the best of my knowledge Edgar Mannheimer and Seth Atwood split a set of Breguets (15 I think) owned by Dr. Halpern and the watches obtained by Edgar Mannheimer were then purchased by Thomas Engel; I am trying to find which Breguets they were.
3. Antiquorum 2001 Thomas Engel Collection Part II? 17 Breguets were sold in the Part I sale and to the best of my knowledge the Breguets scheduled for Part II were purchased as a group by private individual or museum; I am trying to locate a list of these Breguet watches.
4. Watchmaker to Kings: there are 30+ Breguet watches featured in the TE book "Watchmaker to Kings" I had thought all the watches in the book belonged to Thomas Engel but in the book Thomas Engel says: "My thanks go…to the numerous unnamed collectors who trustingly made their watches…available to me for reproduction" which suggests not all the Breguets in the book belonged to TE. Additional documentation suggests the following watches in the book did belong to TE: Breguet Nos. 164, 1320, 2292, 3519, 987 and 2782 leaving at least a score of watches without a verifiable owner.
Here is a list of references I have used so far in my project (and cluttering up my office) but these references do not to the best of my knowledge answer my current questions (at least not explicitly). Note the references are related to my project as whole not necessarily germane to the Breguets owned by Thomas Engel.
A.L. Breguet: Watchmaker to Kings, Thoughts on Time, Thomas Engel, Sticher Konzepte 1994. 221 pages.
Zenith: Swiss Watch Manufacture Since 1865, Manfred Rössler, Damiani 2009. 328 pages.
The Art of Breguet, George Daniels. Sotheby Parke Bernet 1984. 1st edition. 394 pages.
Centenaire de A.-L. Breguet, 1747-1823: exposition de son oeuvre d'horologerie et de chronometrie. Musée Galliera, Paris, 1923. 46 pages.
Professor Thomas Engel Collection-Part 1. Antiquorum, Geneva, 2001. 154 pages.
Thomas Engel, Ein moderner Thomas Edison, Die Biografie, Thomas Engel. Costa Maritim, Wiesbaden 2003. 300 pages.
Thomas Engel: Taschenuhr-Chronometer Im Stile Breguets, Manfred Rössler. Klassik-Uhren, Ebner Verlag. Issue 6/2011 pg. 26–43.
Richard Daners: Sein Werk-Son Oeuvre. ATHENA-Verlag; Auflage 2007. 128 pages. French & German.
Zenith: The Story of a Watch Manufacture Under a Guiding Star, Joël Duval. Albin Michel, 2015. 448 pages.
Das Tourbillon-Faszination der Uhrentechnik, Reinhard Meis. München, Verlag Laterna magica 1986.
Breguet 1747–1823, Sir David Lionel Salomons. London, print for the author, 1921. 240 pages (Supplement 50 pages).
Drehganguhren (tourbillons und karusselluhren), Alfred Helwig. Berlin, Deutsche uhrmacher-zeitung, 1927. 98 pages.
IWC, International Watch Co., Schaffhausen, Hans-F. Tölke, Jürgen King. Verlag Ineichen, 1987. 238 pages.
Watches: a complete history of the development of the watch, Cecil Clutton and George Daniels. London, 1979. 312 pages.
George Daniels: A Master Watchmaker & His Art, Michael Clerizo. Thames & Hudson, 2013. 208 pages.
Watchmaking, George Daniels. Sotheby Publications, 1981. 416 pages.
Alte Uhren 2/1983 and 3/1983. Ebner Verlag, München 1983.
Eine Zeitreise von den Entdeckungen Guillaumes…, Hauke Norbert Heffels. Klassik-Uhren, Ebner Verlag. Issue 6/1999. Pages 18–33.
Ungleiche Zwillinge, Richard Daners. Chronométrophilia No. 48, 2000. Musée International de l'horlogerie. Pages 89–100.
Geschichte und Anwendung der Guillochiertechnik im UhrenBau, Christoph Allemann. Chronométrophilia No. 19, 1985. Pages 35–73.
Ein Tourbillon nach A.-H. Benoit, Richard Daners. Chronométrophilia No. 21, 1986. Pages 29–46.
Eine Hemmung mit konstanter…Minutetourbillon, Richard Daners. Chronométrophilia No. 35, 1993. Pages 46–54.
The Marine Chronometer Its History and Development, Rupert T. Gould. ACC Art Books Ltd, 2016. 287 pages.
Longitude at Sea in the Time of Louis Berthoud and Henri Motel, Jean-Claude Sabrier. Antiquorum, Geneva, 1993. 720 pages.
The Celebrated Collection of Watches by Breguet formed by the late Sir David Salomons. Christie's 1964–1965. Three Parts.
Le tourbillon, prouesse technique des horlogers, Musée lnternational d'horlogerie. Chronométrophilia No. 40, 1996. Pages 2–31.
Pocket Chronometers, Marine Chronometers…(Watches in the British Museum), Vol. VI, Randall & Good. London, 1990. 275 pages.
Les Grands Artisans de la Chronométre Histoire de l'horloerie au Locle, Alfred Chapuis. Editions du Griffon, Neuchâtel, 1958. 276 pages.
The Decades of the Newe Worlde, Peter Martyr d'Anghiera (translated Richard Eden). London 1555.
Frédéric Houriet, The Father of Swiss Chronometry, Jean-Claude Sabrier. Editions Simonin, Neuchâtel, 2006. 221 pages.
Derek Pratt FBHI Watchmaker 1938–2009, Treffry, Timothy E., (editor), British Horological Institute 2012. 1st edition. 205 pages.
A.-L. Breguet pendant la révolution française à Paris, en Angleterre et en Suisse, Alfred Chapuis. Neuchâtel 1953.
Watches & Clocks in the Sir David Salomons Collection, George Daniels & Ohames Markarian. Sotheby, London 1980. 318 pages.
About the so-called Benoît Tourbillon. AFAHA (French Association of Old Watchmaking Amateurs) Review No. 22. 1987. Pages 29–38.
Benoît: Tourbillon escapement, M. LeRoux. ANCAHA Bulletin No. 44. 1985. Pages 31–55.
Breguet in the Hermitage, Emmanuel Breguet; Jean-Claude Sabrier. St. Petersburg : State Hermitage Museum, Slavia, 2004. 155 pages.
The Camerer Cuss book of antique watches, T.P. Camerer Cuss. Antique Collectors Club, 1976. 332 pages.
L'Oeuvre d'Abraham-Louis Breguet: Catalogue de l'exposition. Musée International d'Horlogerie, La Chaux-de-Fonds, 1976. 56 pages.
The Engel Method, Dan Holohan. Plumbing & Mechanical Magazine. BNP Publishing, September 2015. pages 32–33.
The Art of Breguet: An important collection of 204 watches, clocks and wristwatches. Habsburg, SA, Geneva 1991. 479 pages.
Carriage Clocks: Their History and Development, Charles Allix. Antique Collectors' Club, Suffolk, 1974. 483 pages.
The Almost Lost Art of Breguet Part I, Peyton Autry. NAWCC Bulletin, April 1988. pg. 146–154.
The Almost Lost Art of Breguet Part II, Peyton Autry. NAWCC Bulletin, April 1992. pg. 154–161.
The Clark Tourbillons Parts 1 & 2, Peyton Autry. NAWCC Bulletin, December, 1994 pg. 763–768 & August 1995 pg. 458–461.
Musée International d'Horologerie: Catalogue of Selected Pieces, Catherine Cardinal. La Chaux-de-Fonds, 2002. 384 pages.
Breguet chez Chayette, Chayette, Sabrier & Turner. Rogers Turner Books, Paris , 2010. 190 pages.
A.-L. Breguet L'art de mesurer le temps, Catherine Cardinal et al. Institut l'homme et le temps, La Chaux-de-Fonds, 1997. 55 pages.
Montres et emaux de Geneve: Louis…et Empire, Alfred Chapuis. Lausanne: Journal Suisse D'Horlogerie et de Bijouterie, 1944. 234 pages.
The Quest for Longitude, Edited by William J. H. Andrewes. Collection of Historic Scientific Instruments, 1998. 437 pages.
Breguet and the Ottoman Empire, Topkapi Palace Museum. Instanbul, 2010. 68 pages.
Abraham-Louis Breguet L'horloerie à la conquête du monde,Emmanual Breguet et al. Musée national suisse 2011. 271 pages.
Breguet-Watchmakers since 1775, Emmanuel Breguet. Alain de Gourcuff, Paris 1997. 383 pages.
Breguet. An apogee of European watchmaking. Curator: Marc Bascou. Paris: Louvre Museum, 2009. 263 pages.
Breguet Art and innovation in Watchmaking Emmanual Bregiet and Martin Chapman DelMonico. Munich, 2016. 176 pages.
Breguet. Meisterwerke klassischer Uhrmacherkunst, Osvaldo Patrizzi et al. Callwey, Munich 1991. 380 pages.
Breguet-ein Schweizer in Paris=Breguet-un Suisse a Paris, Sigrid Pallmert. Schweizerisches Landesmuseum, Zürich, 1991. 30 pages.