JP_iron_head
60

Buy the dealer not the watch... maybe you should buy both...
Here is my little funny story...
Once upon a time, a watch enthusiast wanted to buy an AP Diver 15710ST with sapphire caseback to be able to admire the marvelous AP calibre 3120, and enjoy a beautiful sporty watch that he likes. So I started to look for one, mainly on chrono24.
This week-end I found one proposed by a non professional dealer and, I don't know, something on the pictures let me think that there is something wrong ... I asked him a picture from the back of the watch to check the mouvement and here is what he send to me ...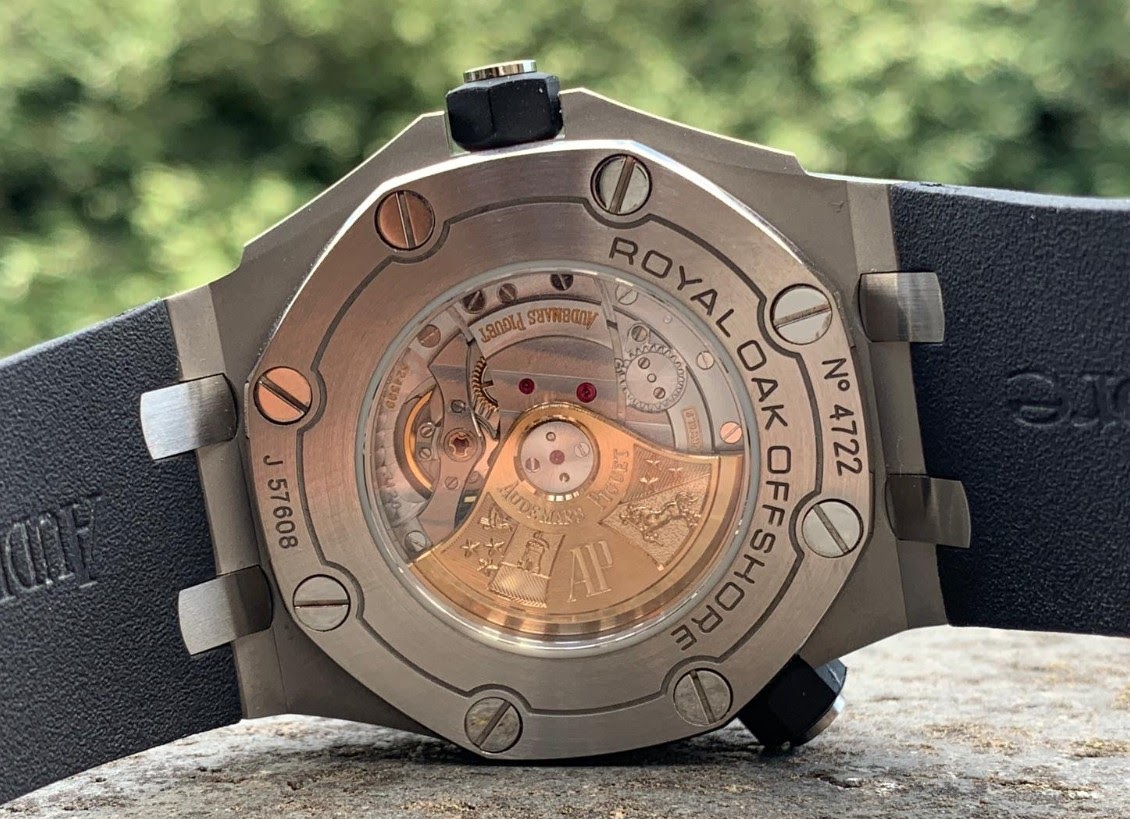 I took about a sec to laughing out loud, what the fuck is this??? I type then AP fake 3120 on Google, just to be sure ... So here is a comparison between a AP 3120 and a fake 3120...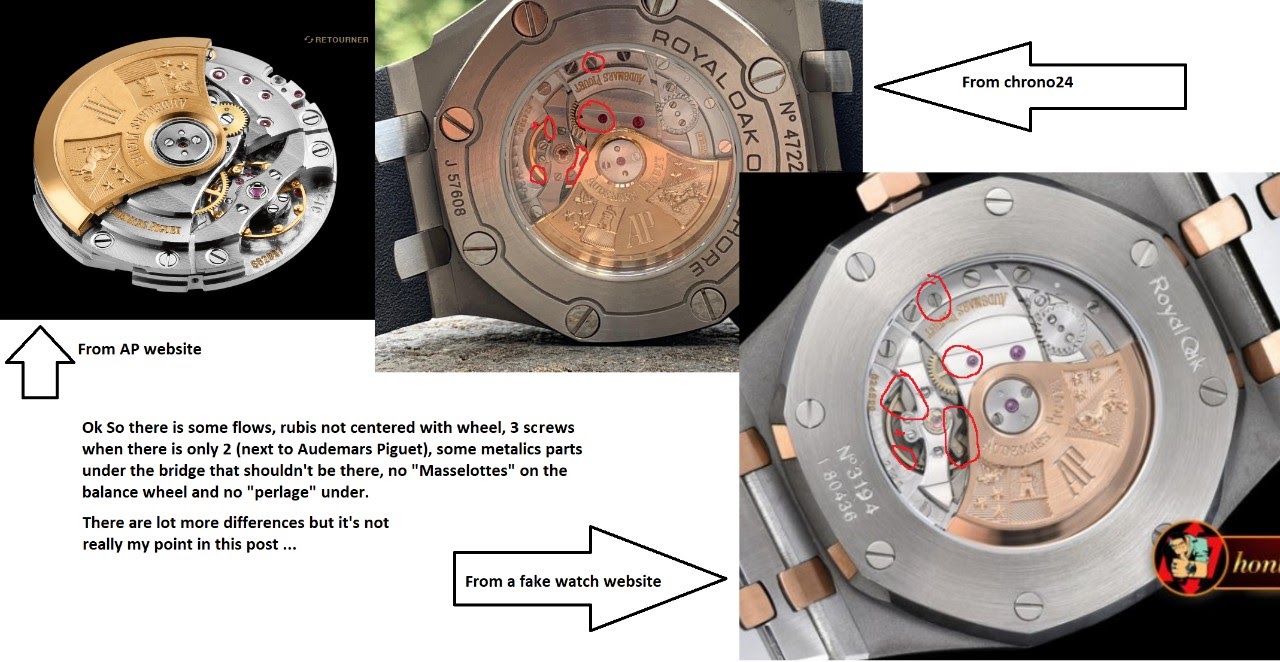 *FLAWS not FLOWS ont the picture
I have report this watch to chrono24 and it has been removed. End of the first part of my story.... The moral of this first part is: Buy the seller, not the watch. Which lead us to the second part of my little funny story.
Few days after I found another one, that is still for sale on chrono24 for 12 600€, the dealer is a trusted seller, has a lot of good comments, and sell many other AP, I feel confident, I make an offer for his watch, days pass and no news, deal is avoided since I have no answer. I continue to look for another one, few days after, I fall again on this one, i have to say that there is no bow and paper with the watch and I thought that could be a leverage to discuss the price. I start to check his picture in details and WOW... I realized this one is also a FAKE... Whaaaaaaaaaaaaaaaaat, a pro with lot of AP in stock, trusted seller on Chrono24 is selling a FAKE... Whaaaaaat????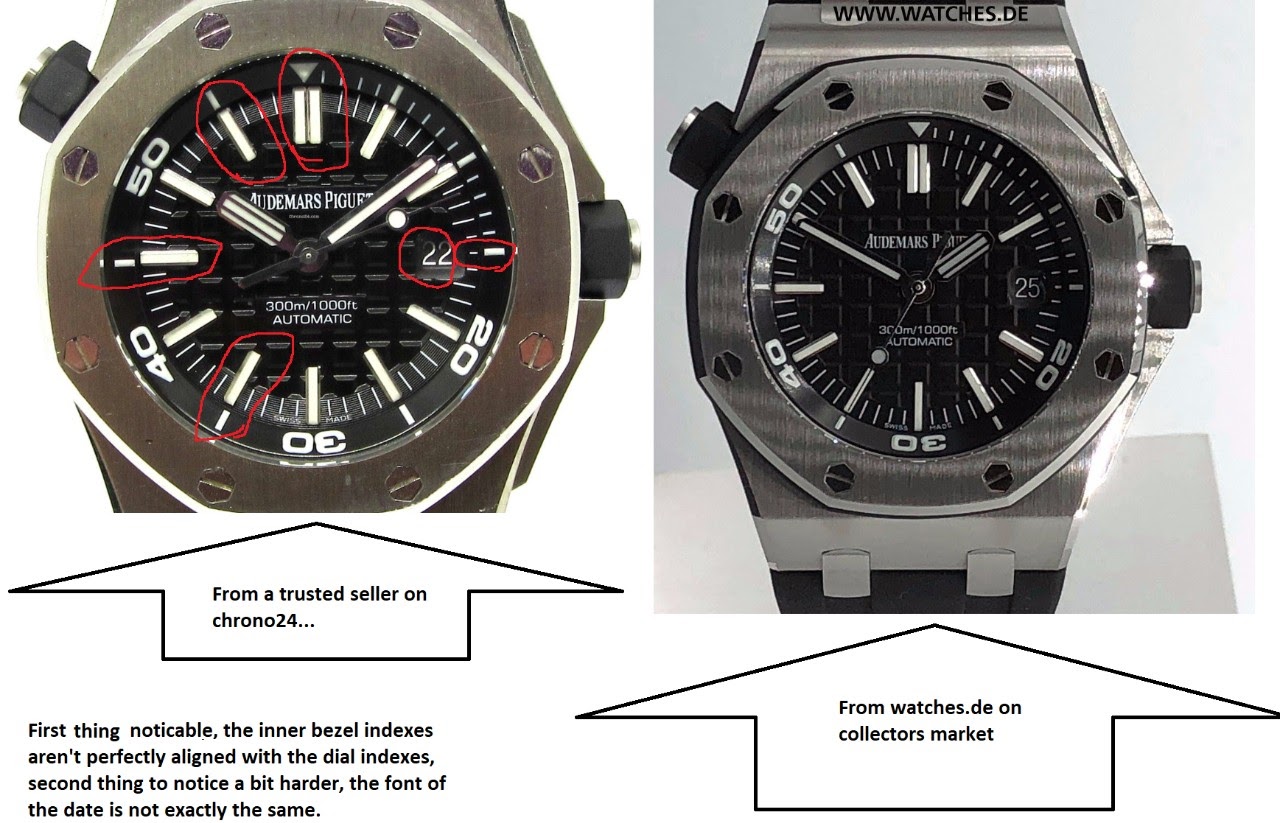 I decided to go further to confirm my bad feelings and I checked the back, even if he tried to hide it, here is the picture that he posted on chrono24...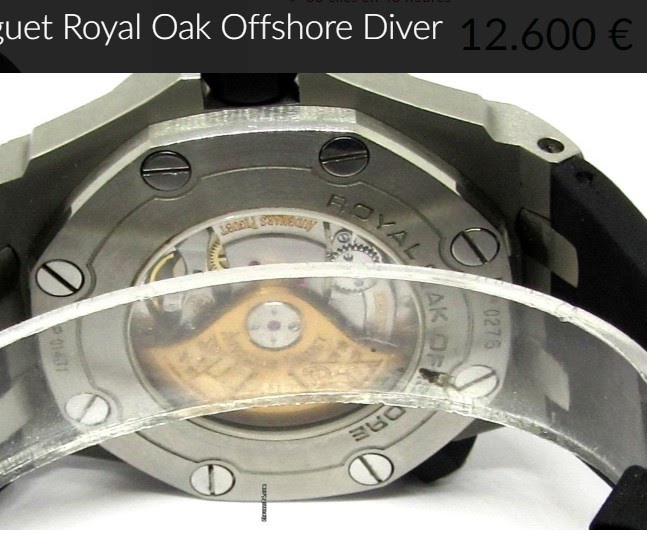 And now a little comparison ....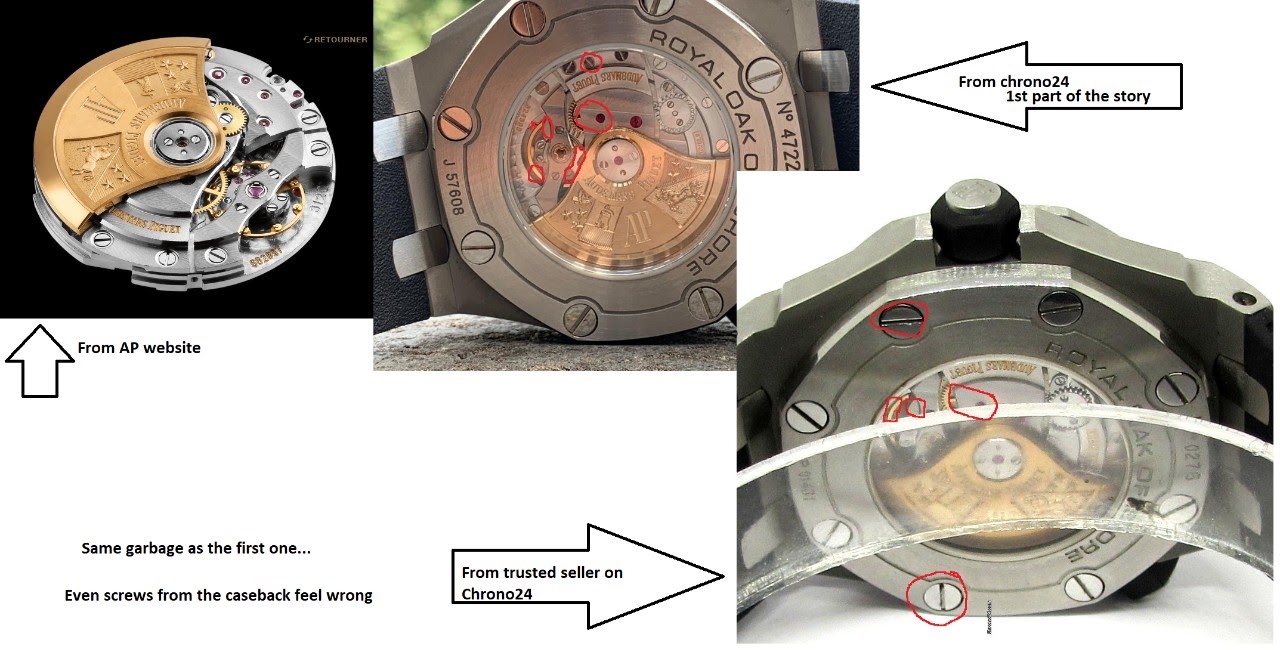 So moral of this story... Do not buy only the seller! Buy both! And double check
I didn't named the so called pro who is selling this watch, but since the watch is still for sale on Chrono24 it will not be hard to find it.
I have to say that I have bought most of my watches on chrono24, and that I had problem only once and the seller had refund me totaly, everybody knows that you have beware of non pro seller or not trusted seller on Chrono24, but wow, it's hard to believe that some pros are doing this kind of things, and it scares me, because in this case you can check the calibre, but what if it was an AP 15703 with solid caseback...
For me the hunt continues !
Have a good day all, and take care.
PS: I didn't put the name of the trusted seller but if a moderator, wants to add it, be my guest, If I'm not in the good section you can also move my post.
PSS: My English is not very good, I hope you'll excuse me if there are spelling errors or mistakes
More posts: