amanico
[JLC Moderator]
217487

Vintage Fifty Fathoms: The difficult quest for information
Following a recent thread regarding vintage Fifty Fathoms and Fish & Chips, I would like to present my two Fifty Fathoms and tell you about the corresponding quest for information. I consider that this difficult quest was a kind of initiatory step toward the world of vintage FF.
The oldest one is the LIP Blancpain Fifty Fathoms with a 3-6-9-12 dial.
This watch is an early version with 4 double signatures:
- on the dial
- on the back
- on the magnetic inner case
- and also on the rotor!
It is quite ironic to have this double signature on the watch when you know how the Fifty Fathoms was born: Robert Maloubier and Claude Riffaud, the 2 French naval officers that have contributed to the specifications of the Fifty Fathoms, first contacted LIP, a French watchmaker, to produce the first diving watch. And LIP declined the offer. Then, and only then, they contacted Blancpain Rayville SA that accepted the project.
The reason why there are double signatures on my watch is that LIP was a famous watchmaker in the 50s, even more famous than Blancpain at that time. In 1954, a partnership was established between LIP and Blancpain regarding the distribution in France of the Fifty Fathoms and also the supply of some movements to Blancpain. Do you want to have precise information on this partnership? It is nearly impossible. LIP went bankrupt and Blancpain has no link - but the name - with its former company.
 
Going back to my introduction and the difficult quest for information on these vintage models, I was therefore very pleased to see the following vintage ad that DrStrong once posted.
Starring the LIP Blancpain Fifty Fathoms (credit DrStrong)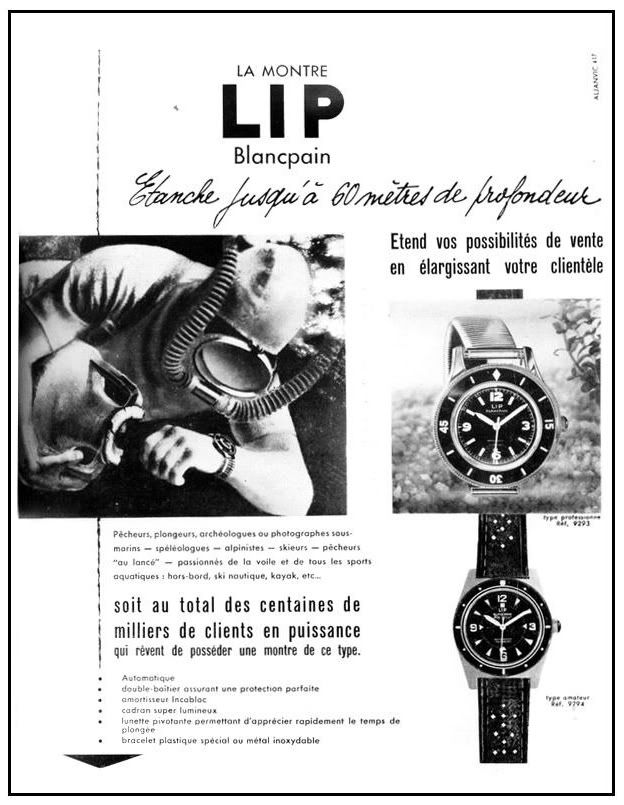 "> size=3>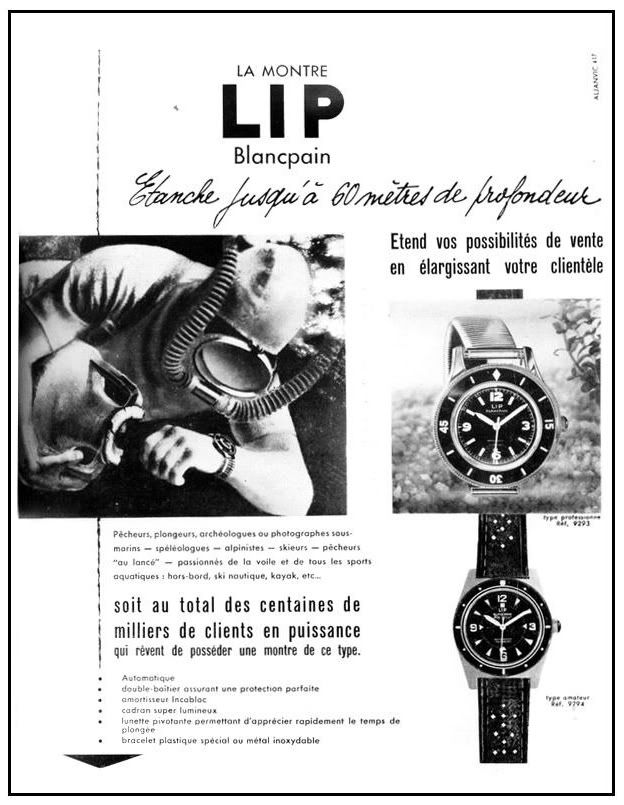 ">
 
I can tell you that finding and looking at the advert of your exact version is a very exciting moment!
 
The second Fifty Fathoms model is a later Milspec version (on the left below)
This is certainly the watch for which information have been the most difficult to gather and collect. First of all, the present Blancpain company has only few archives on their past and Allan Tornek passed away before I could contact him. Then, Fifty Fathoms were produced in many different versions with very limited series for each one.
 
As a consequence, it is a real challenge to find similar watches nowadays. When I say similar, it means with the exact same attributes: dial, hands, crown and bezel. I have never found any other watch with a 100% matching. Briandumais presented a very close version on this forum, but hands were different. Idem for Larry Tornek's model (different hands) or the one displayed in Knirim's book (slightly different bezel).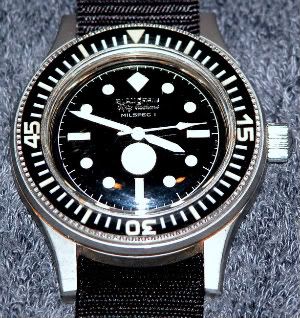 ">
alt="" src="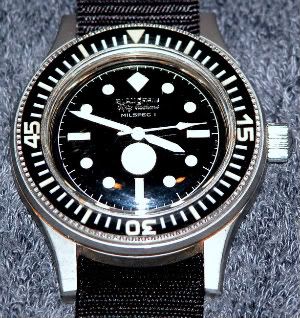 ">
credit"> size=3>
">
credit : Bill Yao (Larry's Milspec) & Knirim
 
The only thing I knew was that my watch had been originally bought at the Abercrombie & Fitch store in New York . It was indeed a civilian version. But it was very difficult to find other traces in the past. I had looked for many documents, vintage catalogues or ads. I had searched the web for years. It was impossible to collect any data on this Milspec watch.
 
And one day, on a French forum, at the 9th page of a thread dedicated to the Fifty Fathoms, I saw a wristshot with a key document in the background.
 
Here it was: the exact Milspec watch, with a 100% match! In addition, this archive was said to come directly from the best source for Milspec Fifty Fathoms. It had been communicated to the forum member by Allen Tornek himself!
This document is below (credit: FF-XX):
"> size=3>

">
Can you imagine how excited I was when I saw this document? It also reminded me that my Milspec watch came with the exact same tropic band!
 
Moreover, a reference was mentioned on the document: 4220-00-910-9629.
 
After a quick search on the web, I found this reference in a military report that classifies the radioactive materials used in the U.S. Army.
 
So, was this so-called civilian version also used in the Army?


This quest is a never-ending story!

 
More posts: