AnthonyTsai
[PuristS]
22903

<!tag blob="forumpost.visitstar">
Maximilian Büsser November 2007: Founder & CEO of MB&F
PuristSPro Interviews Maximilian Büsser

by Anthony Tsai & Art Dakessian
© November 2007
At the age of only 31, Max made his mark in the world of high horology when he was Managing Director of Harry Winston Timepieces from 1998 to 2005. And having worked on the Opus series with independent watchmakers while at Harry Winston for these 7 years, Max felt it was time for him to leave Harry Winston and create his own company where he would have full reign on design and concept. This is how his new company MB&F came to fruition, and Max is here to share his thoughts with us at PuristSPro's Los Angeles MB&F Horological Machine No.2 event.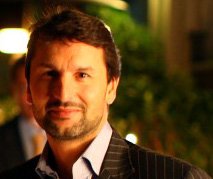 ----------------------------------------------------------------------------------------------------------
PPro: With flying buttresses, bolted portholes and a sliding crown guard on the HM#2, what was your inspiration behind the design of the HM2?
MB: (chuckling) Ok – It's a mix. It's a mix of childhood memories, architectural references, and basic gut feeling, which is what MB&F is about. It's a mix of who we are, how we've been constructed throughout our childhood and who we want to be. This is about what we want to express, and not what we would do to please a larger public.

So, the first influence is a game of my childhood called Meccano in Europe, which I think in the US, is called Erector set. A game where pieces of metal with holes in it can be bolted together, and that allowed you to construct a car, a house, a machine or whatever you had in mind. And that was the first idea – the bolting together came from that.
Eric Giroud, the designer with whom I work on the whole idea of creating these 3-dimensional machines, and who is an architect, imagined the flying buttresses. The portholes are therefore, like in a cathedral, supported by flying buttresses.
The third influence comes from a lot of sci-fi back in the 1970's or 80's TV serials Be it on Mars or on the moon, settlements were usually featured under a great dome of glass. And under the colonies would live under that pod, protected by a pressurized environment. So the whole idea was to feature 2 pods with each it's own life form: in one the immediate time which is the hour and the minutes, and the other your environment which is the date and the moon phase. Then a last influence stems from the Chinese acrobats who juggle plates on bamboos, which made for the discs turning a good 5 mm over the movement.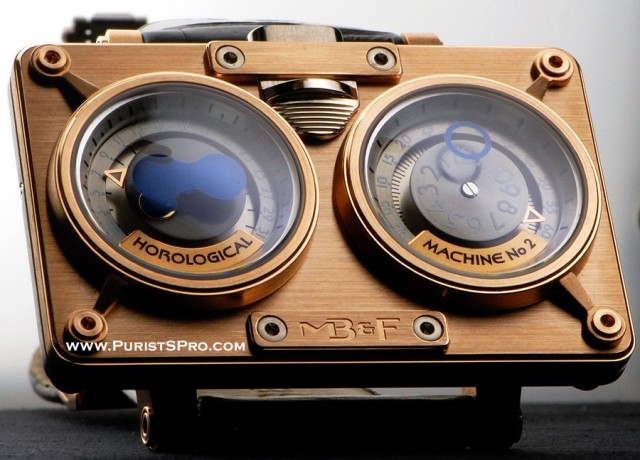 MB&F Horological Machine No. 2 in rose gold
PPro: Why did you decide to use titanium for the back of the watch? Why not matching WG or RG? Were you afraid the watch would be too heavy if you used matching WG/RG?
MB: There are in fact 3 reasons. First was indeed lightness – At this point the case boasts 85 grams of gold. If the base plate had been in gold, the case would weigh in at something like 170 grams without the movement. It would have been much too heavy. Second point was rigidity - so the back of the case is titanium. And the third reason was what we call tension. All our projects and concepts incorporate the notion of tension, tension between items, which are usually opposites. Tension between very modern micro engineering and very classical watchmaking - tension between Calvinistic values of seriousness and a touch of sense of humor (e.g. with the Grendizer double-axe rotor). And so it was also for the tension between a precious metal like gold and the high tech alloy of titanium.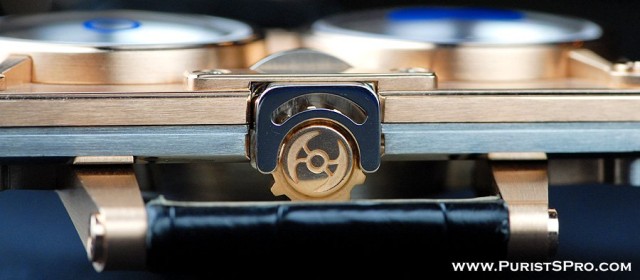 Rose gold on top and titanium on bottom
PPro: From our past HM1 dinner, you mentioned that HM2 would be more affordable than HM1, so the complication for HM2 had to be something not too complicated such as a minute repeater or tourbillon. Why did you decide on time, date, and moon phase complication for HM2? Why not a chrono or perpetual calendar?
MB: All the machines we create and everything we do at MB&F circles around the human being. With HM2, I wanted to work with Jean-Marc Wiederrecht with whom I had worked with for 7 years at Harry Winston, and I played to his strengths. His strengths are primarily jumping hours and retrograde indicators.
So I designed the concept with Eric and presented it to Jean-Marc, who fell off his chair (chuckling), came back on to it, and said "Yeah great – let's do it. This is something I can do."
A crucial point in our creations is reliability - going to work with the best in each domain and playing to their strengths is a necessity. Don't try and make a person whose strength is in minute repeaters to engineer a retrograde indicator and the other way around.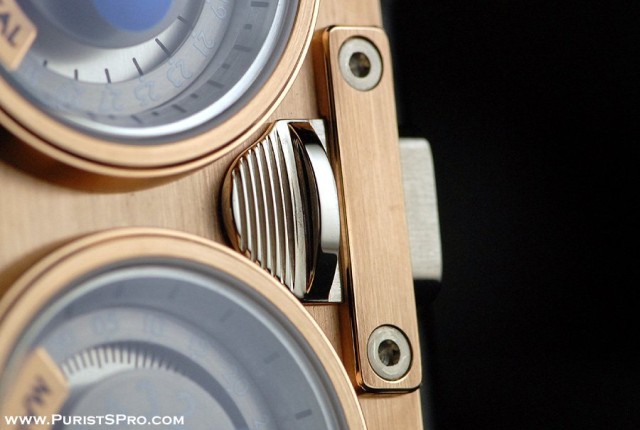 Pull-out crown of the HM2


PPro: Both HM#1 and HM#2 have horizontal dual window layouts; and a result of this, the designs look similar even though they are different. Is this going to be the trademark feature for all of MB&F's Horological Machines? If not, then why the similar aesthetic design between HM1 and HM2?
MB: No, each of the horological machines will be very different. HM1 and HM2 have a family resemblance because originally we designed both movements in the HM1 case. And then it hit me before even MB&F was launched: if we're going to be a creative label and not just another brand, each product has to be different. So the whole root of it is that we had already designed the whole concept movement in the HM1 case and then shifted to a very different case. HM3 will on the other hand come from a totally different angle. Generally speaking we need space to develop the engineering concepts we create. And with very small wrists, it is impossible to wear a watch where the height is much larger than the width. So since I have a small wrist, I'm condemned with very large movements to design the watches in that direction.



PPro: Will all HM designs truly be "horological machines" by design or will there be some HM's housed in more traditional watch cases such as the standard circle case? The designs of HM1 and HM2 are basically love it or hate it. Is this what we should expect from MB&F for all future models?
MB: It will only be love it or hate. Clearly. MB&F was created and needs to keep its production very limited to be able to cut loose of the restraints of commercial considerations. One of the real luxuries in MB&F is to be able to create products where you know that 90% of the population may not understand them. We can live with that because if 10% like them, that's already more than enough, but also and that is very important: those who do like our concepts are more then passionate about them. I have met clients who are much more fanatic about their HM1 then even I am! So, No: no classical; no round. It would be pointless and anyway so many other brands do that so well out there.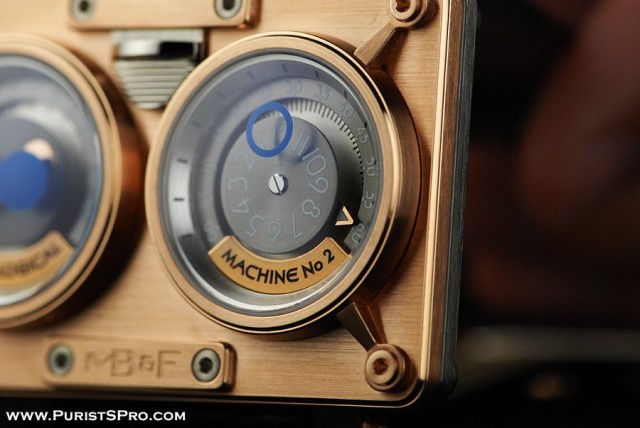 Jumping hours and concentric retrograde minutes porthole of the HM2


PPro: The HM2 case seems to be somewhere between a machinist's sculptural language and the language of a medieval architect. Will the HM3 be influenced by Calatrava?
MB: It's interesting because one of our creations in the coming years is inspired by Calatrava, but not the HM3. HM3 will definitely amaze but it's very difficult for me at this stage, when we're presenting HM2 to talk about HM3 even though I would love to. I would also love to talk about HM4 already because it's already in development, and HM5 and 6 that are already designed! We can easily get carried away by all the creative process but it's important to present one product at a time.



PPro: Are there any watches in the future that will be 40mm or smaller for those who don't like large watches?
MB: Probably not, because as I said we need space to develop the engineering to back up our ideas. I would love to create a product in a 40mm case incorporating our ideas, but reliability concerns and today's micro technology do not allow that yet.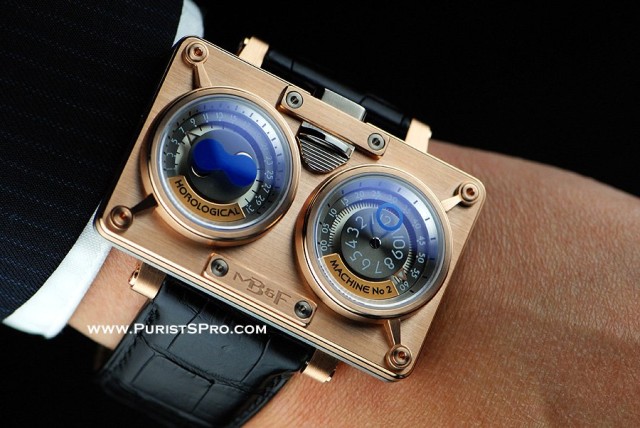 The HM2 (59mm x 39mm x 13mm) isn't as large as you would think. Here's a wrist shot of the HM2 on a 6 3/8" wrist.
PPro: At PuristSPro's recent 5-Master Watchmaker event in early October, during our Q&A session with the watchmakers, the topic of who's going to provide service to these independents' watches, if God forbid, they get into a freak accident? When this question is source for concern when talking about some independents, how much more would this apply on this project-based community of co-workers? Especially, for the new movements in HM1, 3, 5, etc.
MB: It's a very important question, and it seems to me that our industry suffers more and more from a quest for too much immediate gain without thinking about service. The first way we can ensure that our service will be taken care of all the time is that even though we're up to HM6 now, we're working only with engineers and watchmaking companies which have very solid bases. HM1 was developed with Laurent Besse, who is virtually unknown, but has created some very important movements of the watch industry. He not only develops them but also manufactures and services them. Agenhor manufactures, I believe, over 25 modules and movements at any time each year, for brands, which I cannot mention here, and who for many, rely solely on his expertise for the after-sales service. Many so-called high-end brands don't have a totally integrated after-sales service. So that's what Jean-Marc does, and working with developers such as Jean-Marc Wiederrecht or Laurent Besse ensure the durability of our creations.



PPro: Is the extensive use of Allen screws in HM2 a sign that today's watchmakers are pretty shaky and having problems keeping the screwdriver blades from scratching the case finishing?
MB: (laughing) The Allen screws are a symbol of the "machine" philosophy, but there is a downside to them: Yes they are much more stable as far as tightening or un-tightening goes, but on the other hand they take up much more space. You need more height for the bolt than if it were a normal screw so that also means we have to integrate that parameter in the height of our cases.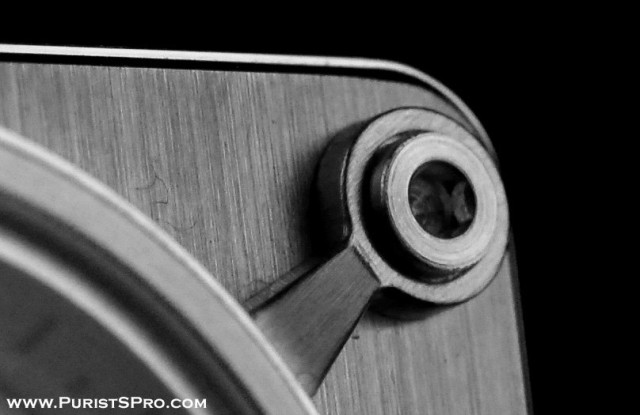 One of the many Allen screws on the HM2

PPro: ~US$59K for HM2 puts this watch in serious competition with other watches which have complications. Who is your target customer?
MB: We don't have any target customer. I have noticed that on the HM1 pieces we have delivered, at least, that there are 3 sorts of customers, and the same may apply to HM2. First we have a minority of collectors who are extremely savvy about movements and bought the watch solely because of the breakthrough movement whatever the casing would have been.
The second type of buyers seem to be avid collectors who one morning woke up, opened the drawer of the cupboard looked at their 10, 20, 40, or 50 watches and said to themselves, "Damn, why have I bought 10, 20, 40, or 50 times the same watch?" They realized they had reached a turning point. Everyone has been walking down the same avenue for the past 100 years, and these customers need to open a door and go down their own street.


And the third client, who was a client I had not expected, makes me also extremely happy. He is the client who doesn't really know much about horology but just had a complete emotional bonding with the product. It happened in Paris with our first HM1 piece. Our retail partner, Chronopassion, delivered it to a gentleman who said he didn't know much about horology. But when he saw the HM1, his reaction was "I need that watch!" He probably didn't know that much about the whole inner system of how it worked, and it was maybe his second or third expensive watch.
It's interesting you go from a completely rational way of thinking, the real movement lover, to completely emotional thinking which is "I love that watch. I don't even know what's in it but I want it." And then you have those in between who mix emotional and rational who make up the majority of the clients.
PPro: Which Non-Active watchmaker do you admire most, and why?
MB: On one side of course Abraham Louis Breguet. Just walk through the small museum Breguet opened in Place Vendome, Paris. And you think Wow; Breguet just has to re-edit any single one of those pocket watches into a wristwatch and it would be today, 200 years later, an absolute sure hit. Breguet was continuously experimenting, continuously inventing, continuously creating what had not existed.
And the other watchmakers I admire most are all those independent anonymous watchmakers who used to create innovative steel pocket watches – just go and visit F.P. Journe's Steel Time exhibition and you'll be swept off your feet. They created amongst the most incredibly imaginative and complicated movements cased in these blackened steel pocket watches. True unsung heroes, like some of the "friends" involved in our MB&F creations.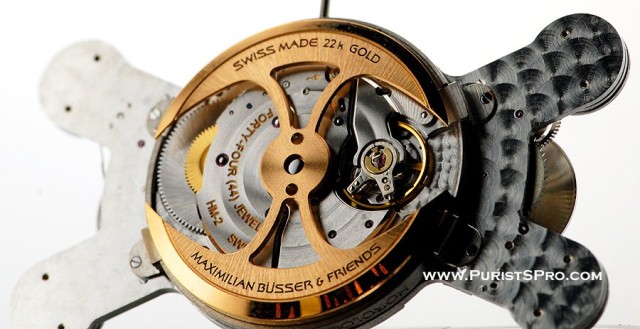 HM2's iconic double Hakken automatic 22k rotor


PPro: The unknown watchmaker like the Unknown Soldier.
MB: Yup – exactly. Who did it, not for the credit, but for the pleasure.
PPro: It is said watchmakers survive on sandwiches: What menu would you choose for your last meal?
MB: My only answer would be I would have no appetite at all because I've still got so much to do in life that I just could not accept that I would have to leave.
PPro: Thank you very much Max for your time, and that's the end of the interview!
MB: Oh really? I'm sorry; I was really enjoying myself!
For more pictures and videos of MB&F's Horological Machine No.2 at PuristSPro's Los Angeles MB&F event, please CLICK HERE .



Copyright November 2007 - Anthony Tsai, Art Dakessian, and PuristSPro.com - all rights reserved
PuristSPro Homepage | ThePuristS Homepage
Comments, suggestions, and corrections to this article are welcome.



This message has been edited by AnthonyTsai on 2007-11-19 20:38:33
More posts: