<!iframe style="align:center; height: 250px; max-width: 100%; width: 100vw; overflow:hidden;" src="https://storage.googleapis.com/pubzapuscentral/watchprosite/ad/adsGO10/index.html" frameborder="0">

cshimokita
[Photo Forum Moderator]
7881

<!tag blob="forumpost.visitstar">
"The Elements of a Pictorial Photograph" (1896) by Henry Peach Robinson
In Chapter 19, "Winter Photography" Robinson writes about the difficulty of taking photos in the cold white months... "the fear of rheumatism, neuralgia, colds, fevers, and the multitudinous ills to which suffering humanity is subject from fall of temperature".
Since we're having one of the 'best' winters in recent history I can at the very least read about the theory and problems of winter photography from a historical POV... and as a fun side project I have scanned an online copy of the titled book and using an OCR to create a text based AZW3 / MOBI document including illustrations.
I have mentioned Henry Peach Robinson in a previous thread about Pictorial Photographers and his book from 1896 is worth reading, not the least for its perspective on historical photography... plus the wonderful examples and references.
H.P. Robinson: "For I think it must be conceded that the representations of wintry scenes have never equaled those of summer nature in any age of art. I cannot call to mind at present any adequate rendering of snow. There is, of course, ["Duel After the Masquerade", a painting by the French artist Jean-Léon Gérôme], but the snow painting does not rise above the quality of figure painter's landscape. In the exhibitions a few winter subjects are almost always shown. These are sometimes perfect as far as they go, but they seldom go beyond an impressionist's imperfect rendering of snow."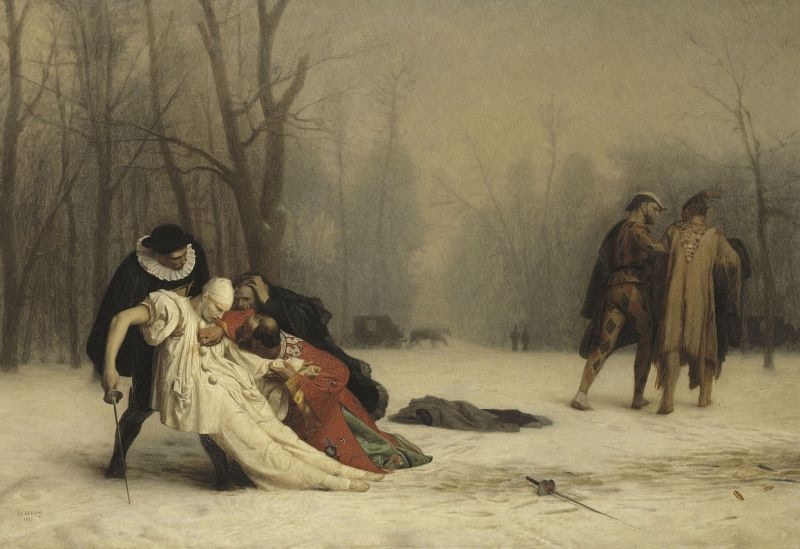 "Suite d'un bal masqué" (1857) by Jean-Léon Gérôme

Robinson: "
The pathetic wretchedness of the world in winter is suggested, but it is a memory, not a study.
" consider "Frosty Morning" a painting by the English artist Joseph Mallord William Turner... "
perhaps the truest rendering of a black frost ever painted
".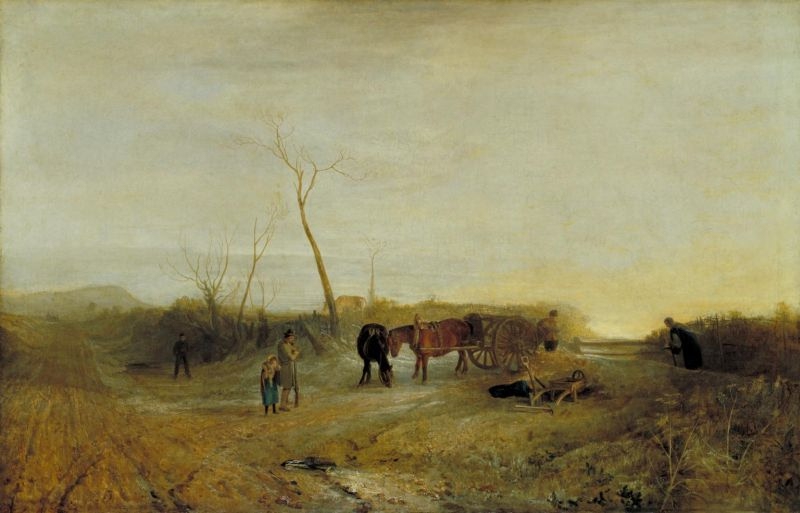 "Frosty Morning" (1813) by Joseph Mallord William Turner

Henry Peach Robinson (1830 – 1901) was also an author of a number of book promoting photography as ART...
Pictorial Effect in Photography: Being Hints on Composition and Chiaroscuro for Photographers - 1869
The Art And Practice of Silver Printing - 1881
Picture-Making By Photography - 1889
Art Photography in Short Chapters - 1890
Photography as a Business - 1890
The Studio and What To Do in It - 1891
The Elements of a Pictorial Photograph - 1896
Catalogue of Pictorial Photographs - 1901
I hope you have enjoyed this little trip down the rabbit hole... taken as it were during some 'stay-at-home' days of early 2021.
Casey
.
<!tag blob="addthis.follow.small"> Comments:
view entire thread
"The Duel After the Masquerade"... the composition
A winter morning in the Bois de Boulogne (a large public park located along the western edge of the 16th arrondissement of Paris). A man dressed as a Pierrot (a stock male character in French pantomime) has been mortally wounded in a duel. A surgeon, dres...
One of my favorite Japanese Photographers...
小島 一郎 (Ichirō Kojima - 1924~1964) from Aomori Prefecture... served the war effort in China during World War II, returning to Aomori, in 1946 he helped out in the family photographic equipment business. Kojima participated in an amateur photography group (...
hahaha... I do like his work...
I just ordered his only photo book JPY 4,180 (including tax and delivery). I was surprised that it was shown as available on Amazon JPN... not 100% convinced that Amazon can deliver... we'll see. Casey
I agree fernando...
It looks like Kojima bleached out the area around the middle person's head, and he was known to print the sky darker than exposed. The sky looks to be reworked with sandpaper ; ). The second photo is a nice composition as well, but I could only find a ver...