cazalea
[Seiko Moderator]
14742

<!tag blob="forumpost.visitstar">
Marking the Days
Watches deal with time. Calendars are part of time. They help us organize what happens on a certain day. They let us tell one day from another within a week, a month or year.
Today I ask, "How can we express calendar events with a watch or clock?" (Day of the week, date in the month, week in the year, month of the year and phase of the moon)
It seems there are two very popular displays: hands on dials or words (or graphics) in windows.
Here's an old and very expensive Patek watch that uses the words in windows approach. There's a number for the date, then words for day and month (and moon phase at the top).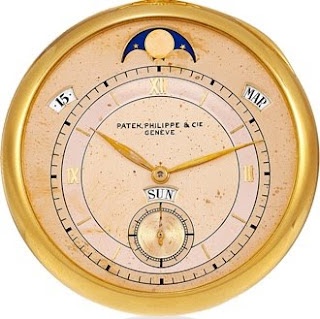 My IWC perpetual calendar watch shows the calendar using yellow hands on sub-dials. It has day of the week, month, and date on 3 sub-dials. The moon is at top center, and the year in a small window at bottom left.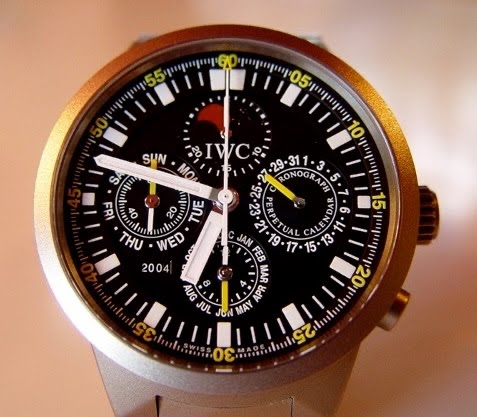 Here's another IWC watch, but it uses numbers in windows for month and day. A tiny L indicator in the bottom window tells us if it's a leap year. For Americans, this layout isn't ideal, as we tend to put the month first (08 / 25 / 2010) rather than having the day of the month first like most of the world ( 25 / 08 / 2010 ). An advantage is the watchmaker doesn't need to print dials in different languages.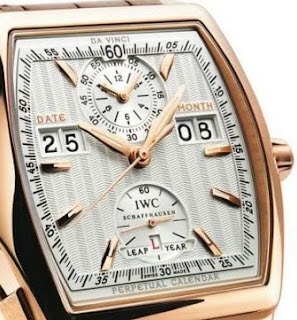 This gold Girard-Perregaux watch clearly expresses the day, month, date and moon phase. Windows and words display the day and month, while a revolving hand on the sub-dial is used for the date of the month.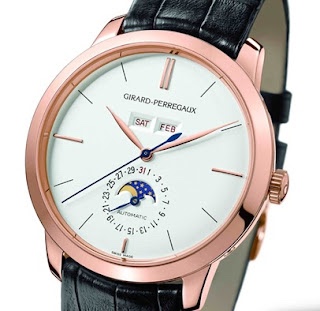 Here's another watch with windows and words for the day and month. In this case the date is around the outer edge of the dial so the numbers can be large enough to read.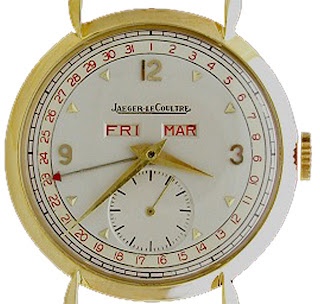 This one uses the opposite approach, a window for the date (at top), and at the bottom, dials display the day on the left, and month at the right. The center dial indicates a second time zone on a 24-hour scale.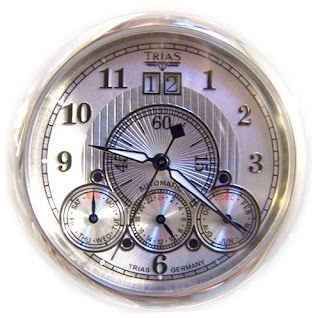 Here's an unusual piece developed a decade ago, with fully-spelled-out month and day, on rolling word-in-window indicators.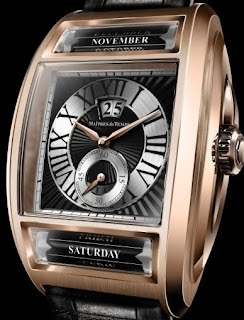 The following clock uses neither words in windows or hands on dials. Little black and red tabs move in the background, highlighting a specific day and date. That way all the motion is created with a rotary clock motor, no flipping, rolling words here! This is a creative design and used by some watches too. We'll call it back-lit indication. This Seiko clock cost me about $75 but has been discontinued. And doesn't work very reliably either.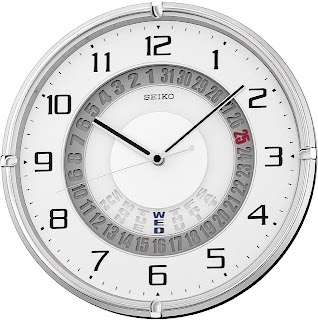 Now that we have discovered this 3rd method of indication, we're in the position to say Just because you can do it doesn't make it better! The photos here show two new and different JLC calendar watches. They show the same calendar features, but which is easier to read?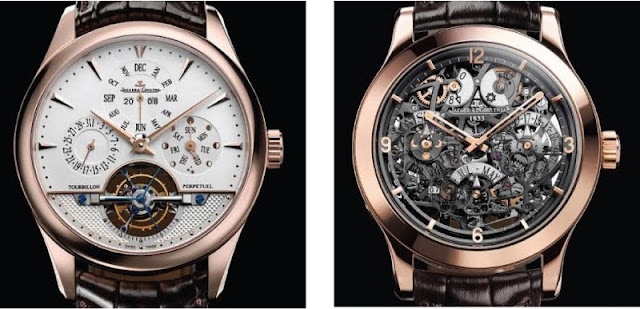 Hands on dials are better than back-lit indicators, in my estimation! Granted, with the watch on the right you get to see the movement too, but it's very hard to read.
In case this blog has you wanting a clock calendar on your desk, here is is a new, easy-to-read, hands on dials, Chelsea clock. I have a Seiko clock much like this one.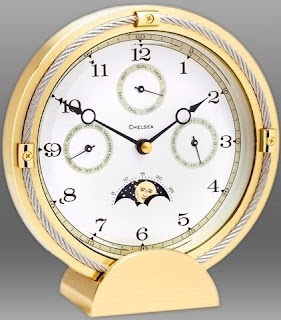 Or do you prefer the words in windows calendar display? It isn't a new idea. Here's an Ithaca clock calendar mechanism that was patented 160 years ago!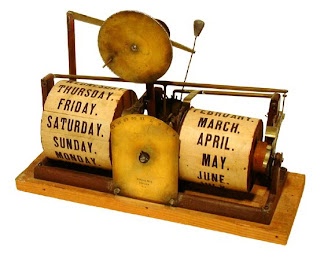 This is how it looks in a complete Ithaca clock. We see words in windows for day and month. The date is shown with hand on dial around the the outside of the dial.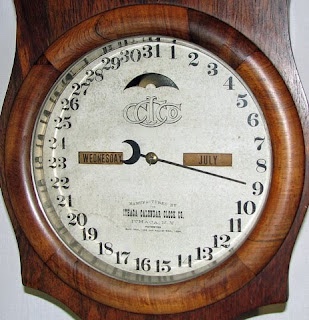 It's almost exactly like the older JLC watch shown earlier. The time is on a separate upper movement section.
This clock is 150 years old and in beautiful shape, and sold for $1500.
Finally, here's a Dussalt clock with the months around the outside of the dial. This is a real antique work of art.
Also about 150 years old and costs about $5000.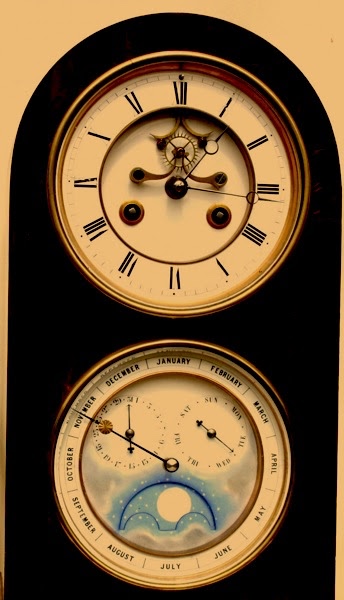 I'll keep looking, and I will let you know if I find any other method besides words in windows, hands on dials, and back-lit indicators.
But before we go, let's look at this Patek Phillipe watch -- its unusual function is Week-Of-The-Year, which is a special display used primarily by businessmen and financial people, in Germany, Switzerland and a few other places.
Moving from the inside/center outwards, we have Day of Week with a pointer, Time with regular hands, Day of Month in a window, then Week of Year with a pointer, and Month of Year with a pointer.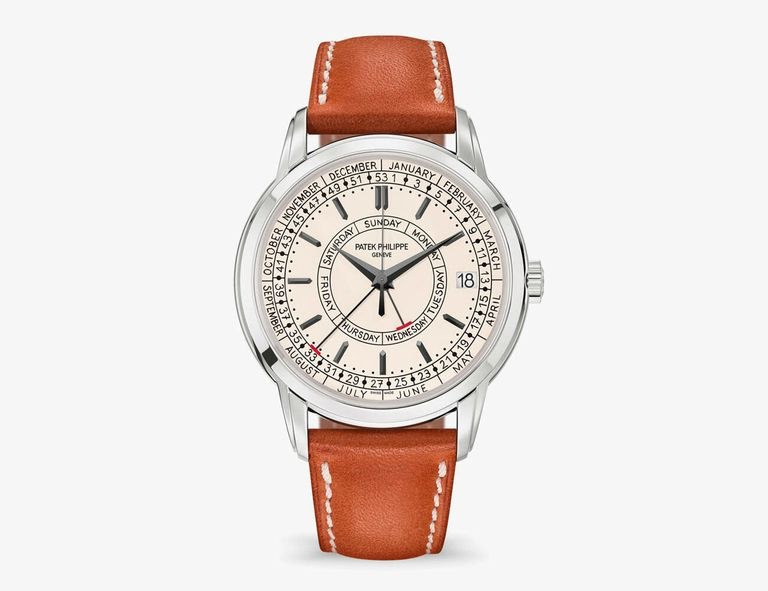 The watches I have shown thus far are showing the most common "Day" features. But we can show more, such as this watch from O & J which has indicators for sunrise and sunset on a perimeter dial. And more:
Length of day and nighttime for the location of your choice
Solar noon
The position of the sun and moon in the sky
The moon phase, date and time.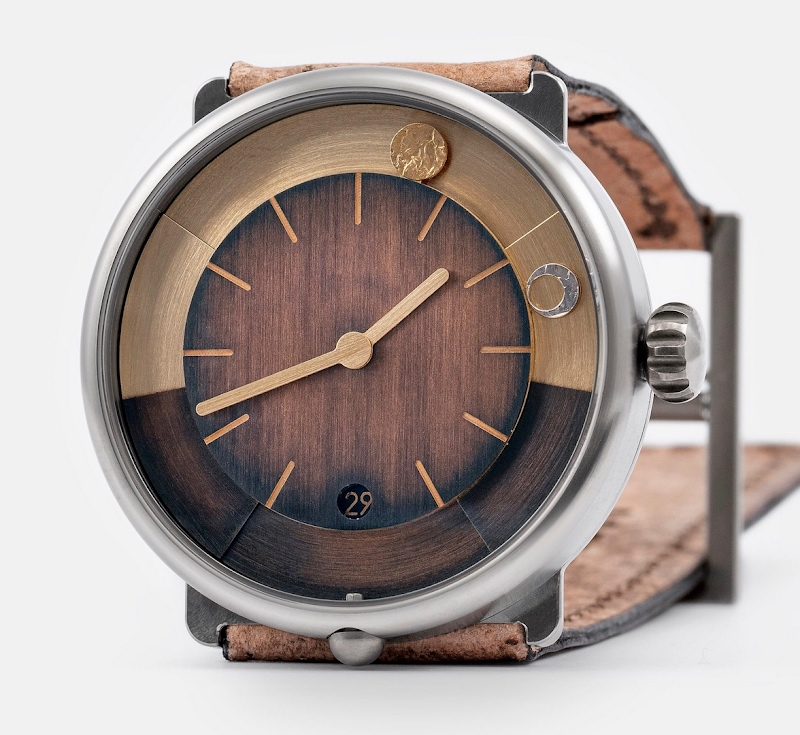 Any mechanical watch that displays these two times is subject to need for adjustment when you change your location. Sometimes you can do that yourself; otherwise a watchmaker at the factory will set it when you order the watch.
This far-more-expensive watch from Krayon shows the same sorts of things, but with a scale so you can be a bit more precise about an item (sunrise or set) that isn't a precise item. It depends on where you are, what is blocking your view of the sun, etc.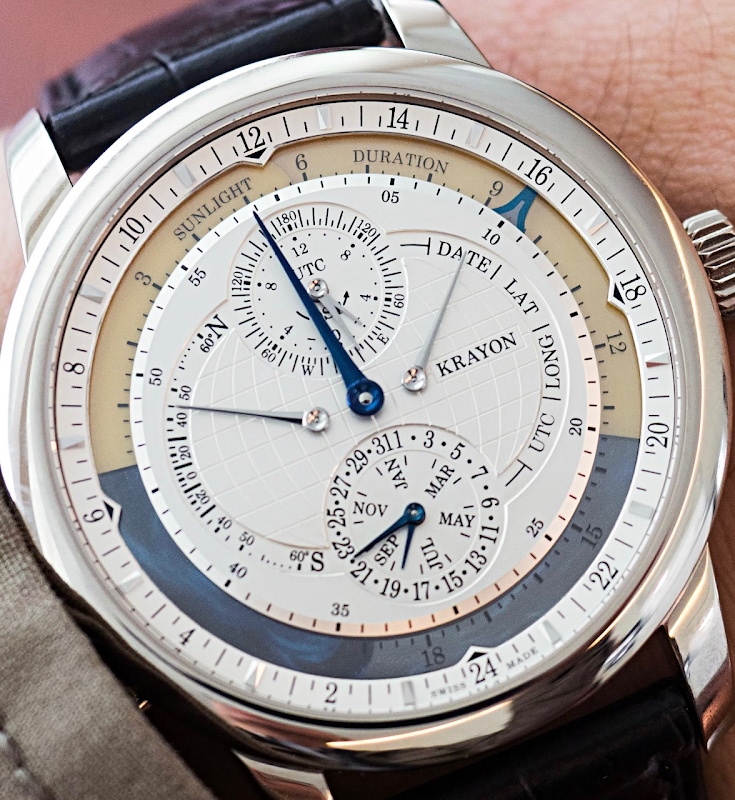 The simpler and much less expensive Martin Braun watch shows the sunrise and sunset times using needles above scales, moved by cams on the dial. This is easy to understand.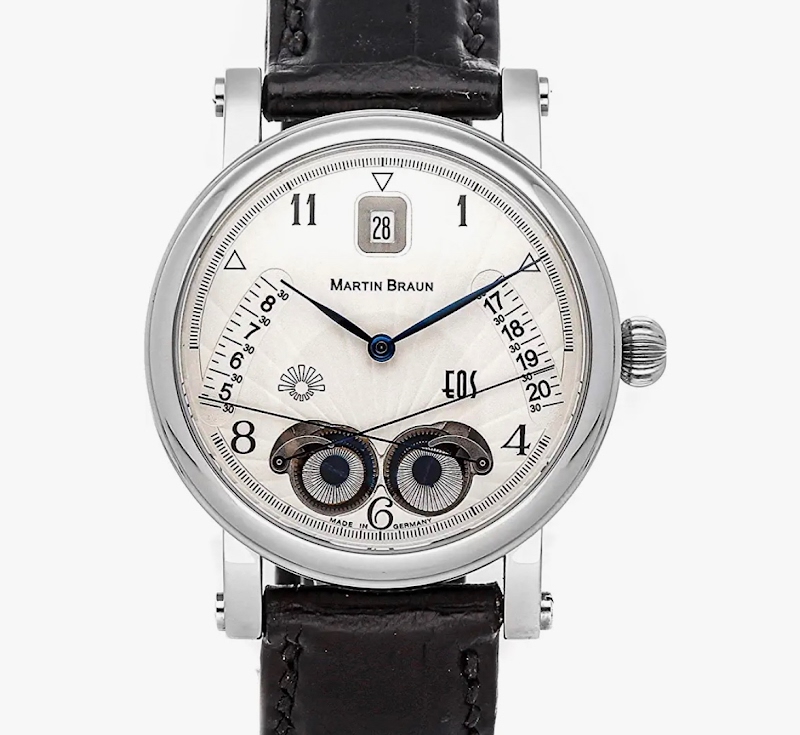 A related feature to sunrise/sunset is high and low tides -- but this is a more complex indication to show on a dial, and typically requires a quartz / programmed movement.
I have found a few... here's a Nixon with "swiss movement" and a tiny sub-dial which indicates the tides. I presume that like a moonphase, you would have to know the high tide for your area, and you set the subdial using the extra crown at 8 o'clock.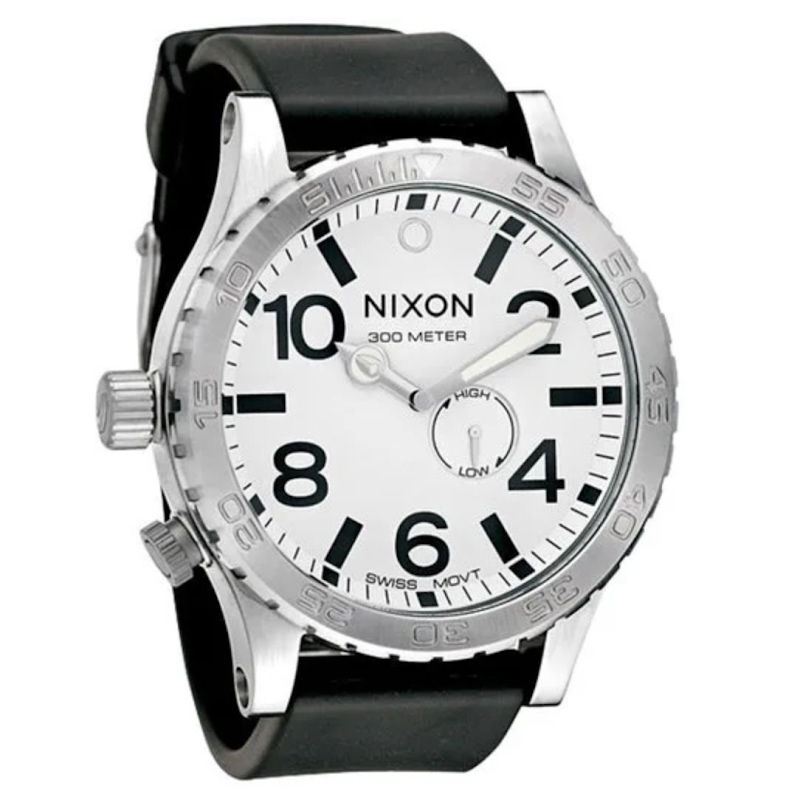 The following Hook & Gaff watch has a nice clear text on the outer rim of the dial, with a bright red needle. There's no confusing when the tide is going from one cycle to the next. OR is there? This note accompanies the watch:
Our King Tide watch is set up for semi-diurnal tide cycles that occur on our east and west coasts.
The tide cycles in our US Gulf Coast region are diurnal tide cycles, meaning there is only one high and one low during a full cycle
Gulf Coast tides also vary greatly in time duration between highs and lows among different locations.
Here's a Timex version of a tide watch (which if you examine it closely also has a thermometer scale)
Totally digital watches use tiny graphs to show the tides, as on this G-Shock.
I have to stop now but I hope this has provoked you to think of the various ways watchmakers find to display TIME in all its facets.