<! iframe style="align:center; height: 250px; max-width: 100%; width: 100vw; overflow:hidden;" src="https://storage.googleapis.com/pubzapuscentral/watchprosite/ad/adsGO15/index.html" frameborder="0">

cazalea
[Seiko Moderator]
14588

<!tag blob="forumpost.visitstar">
Walking on Top of Our World
Or at least the top of La Jolla, which is both "tops" geographically as well as economically around here. We went to an open space area we had never heard of before this morning when I spotted it on a map.

We went "blind" not knowing what to expect ... such as no parking nearby. 😟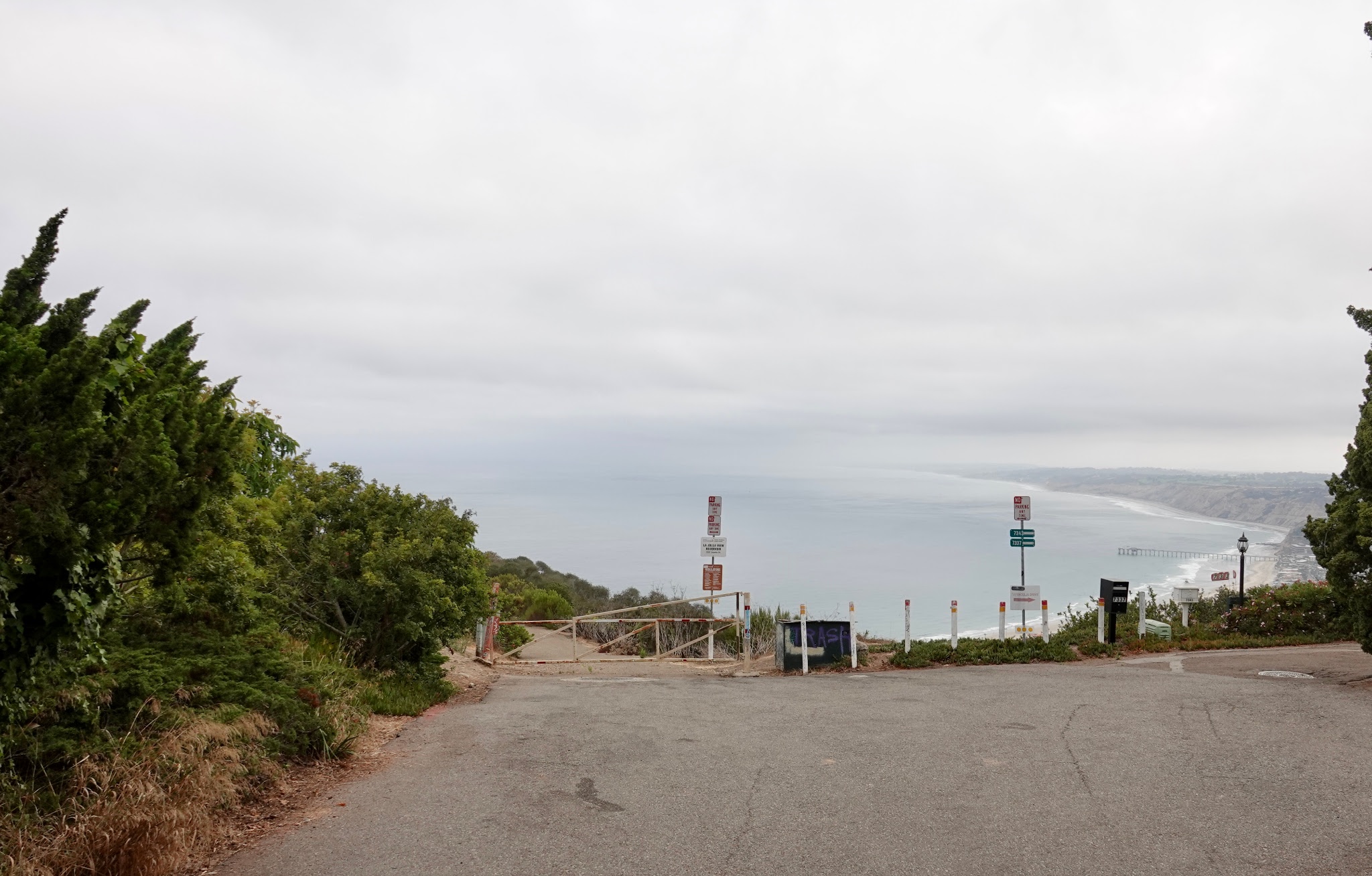 We found a place to walk, and decided to take the "low road" because a woman and her two dogs were on the "high road" It seemed rude to cut in front of them.

The path led us to this weird succulent (I think it looks like a crab).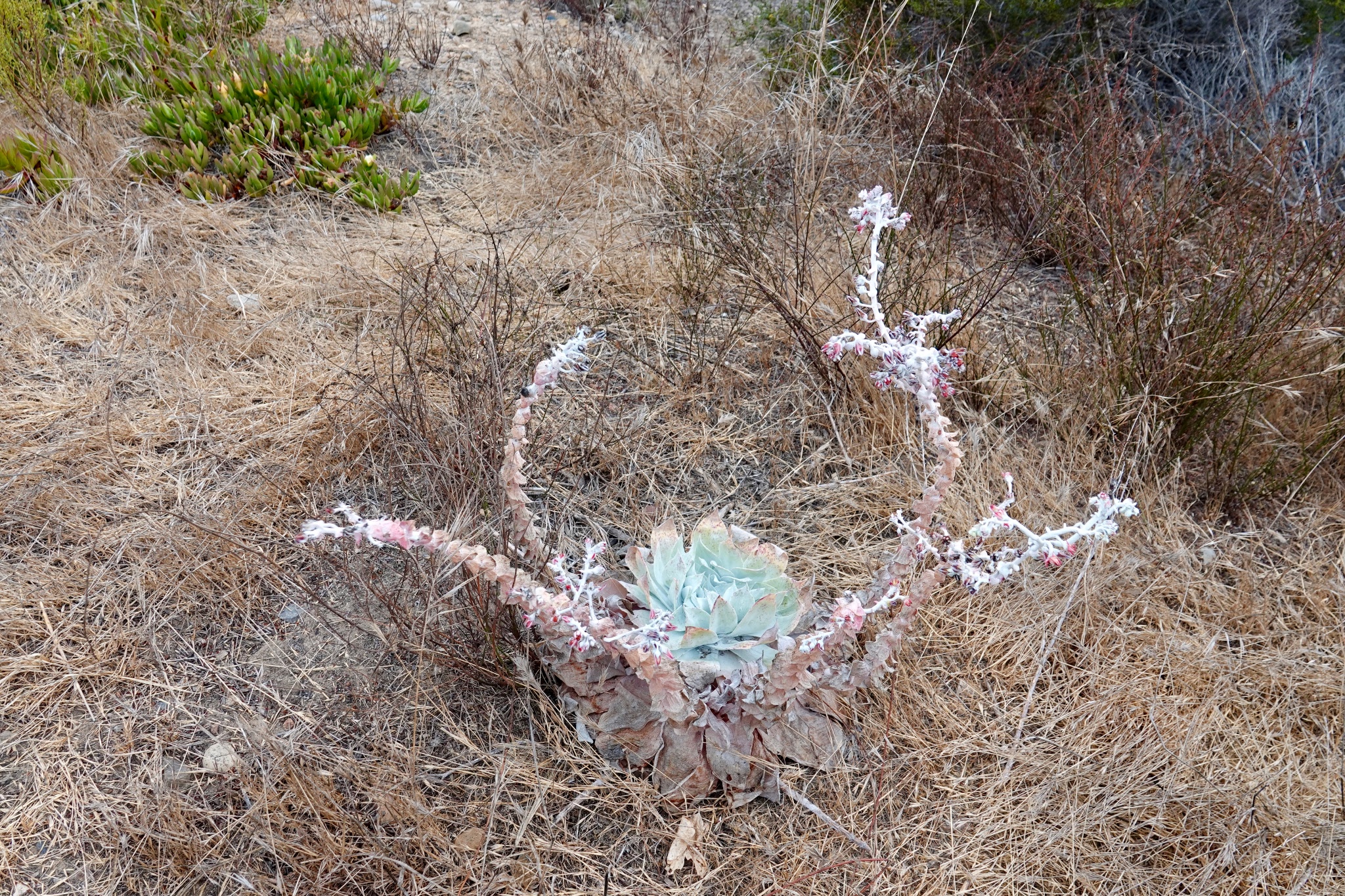 My wife immediately found a bird in the bush, and I (and my camera) were able to find it too.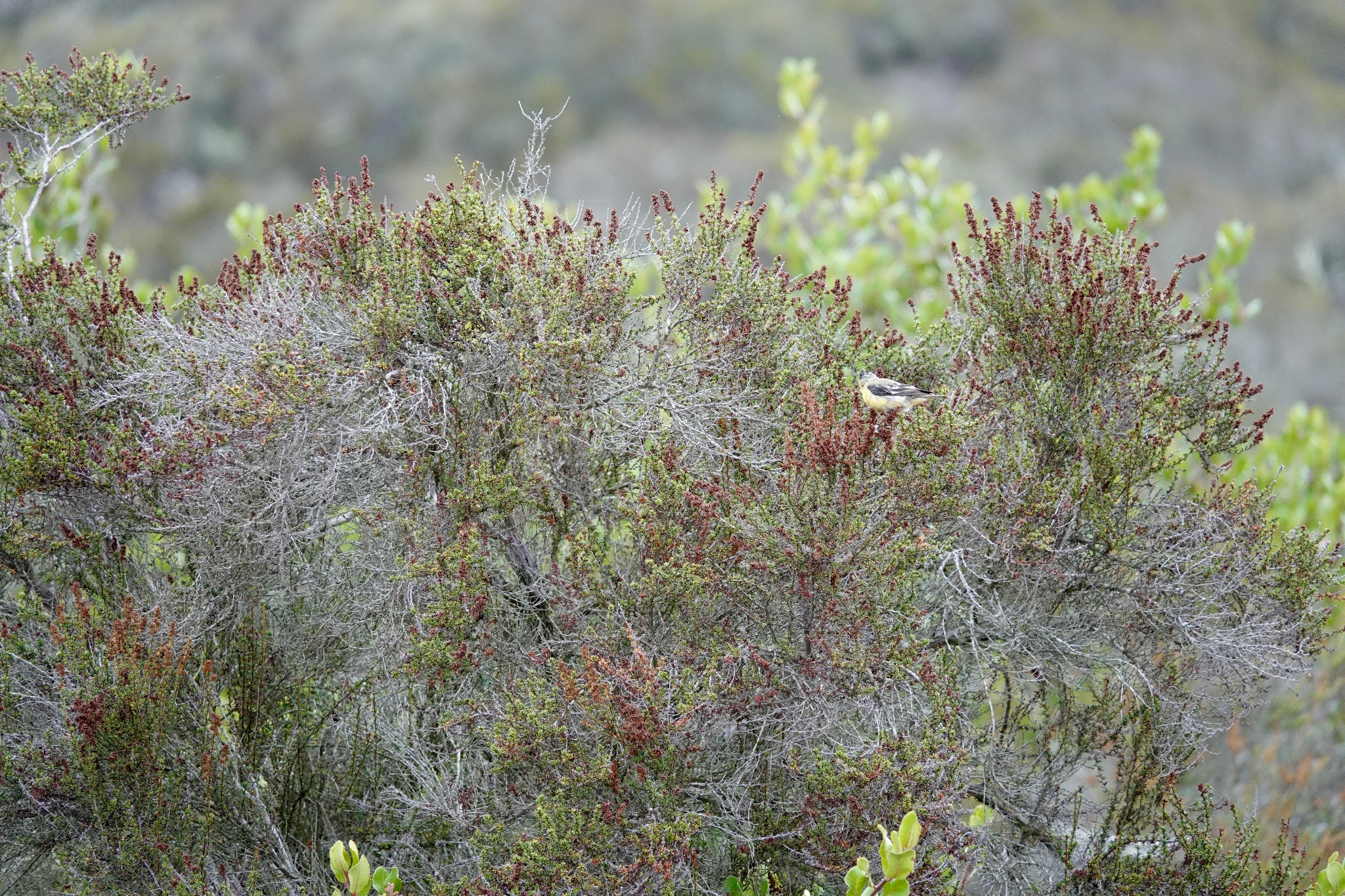 Some hibiscus flowers were right at the entrance of the park, probably having escaped from someone's yard.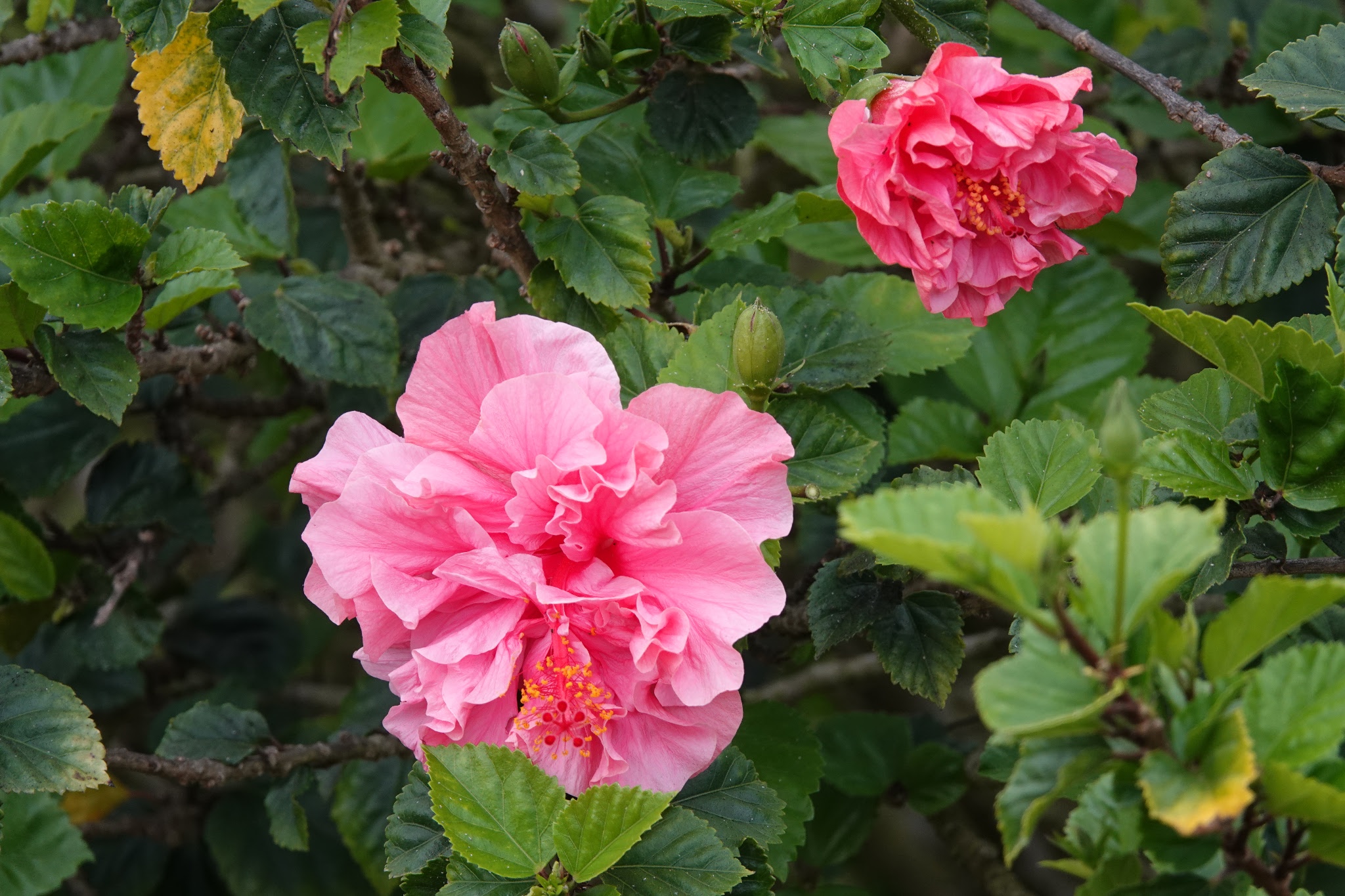 This is "native" plant life, and the annoying fly that was buzzing around my head stopped here. See if you can find him.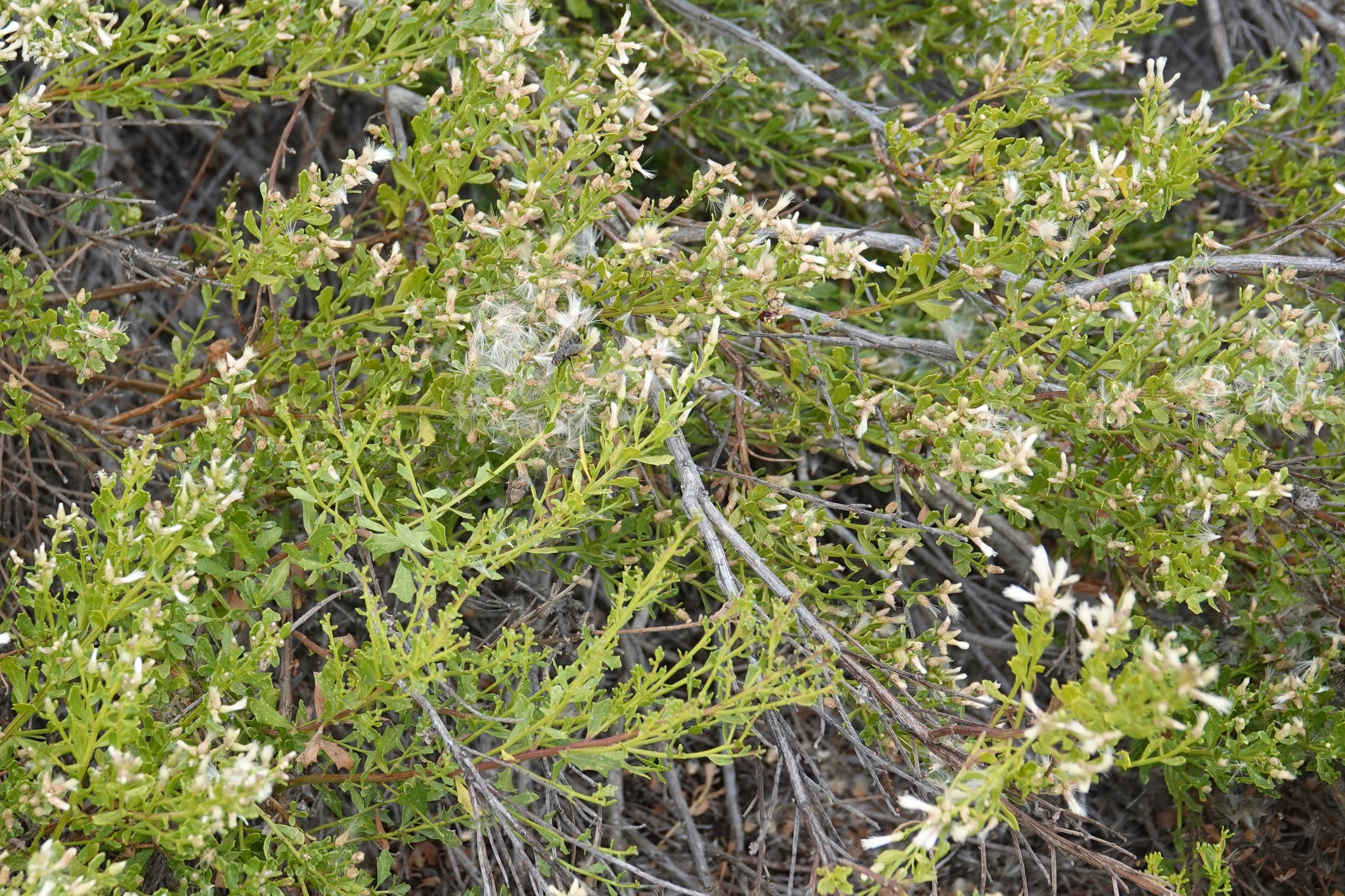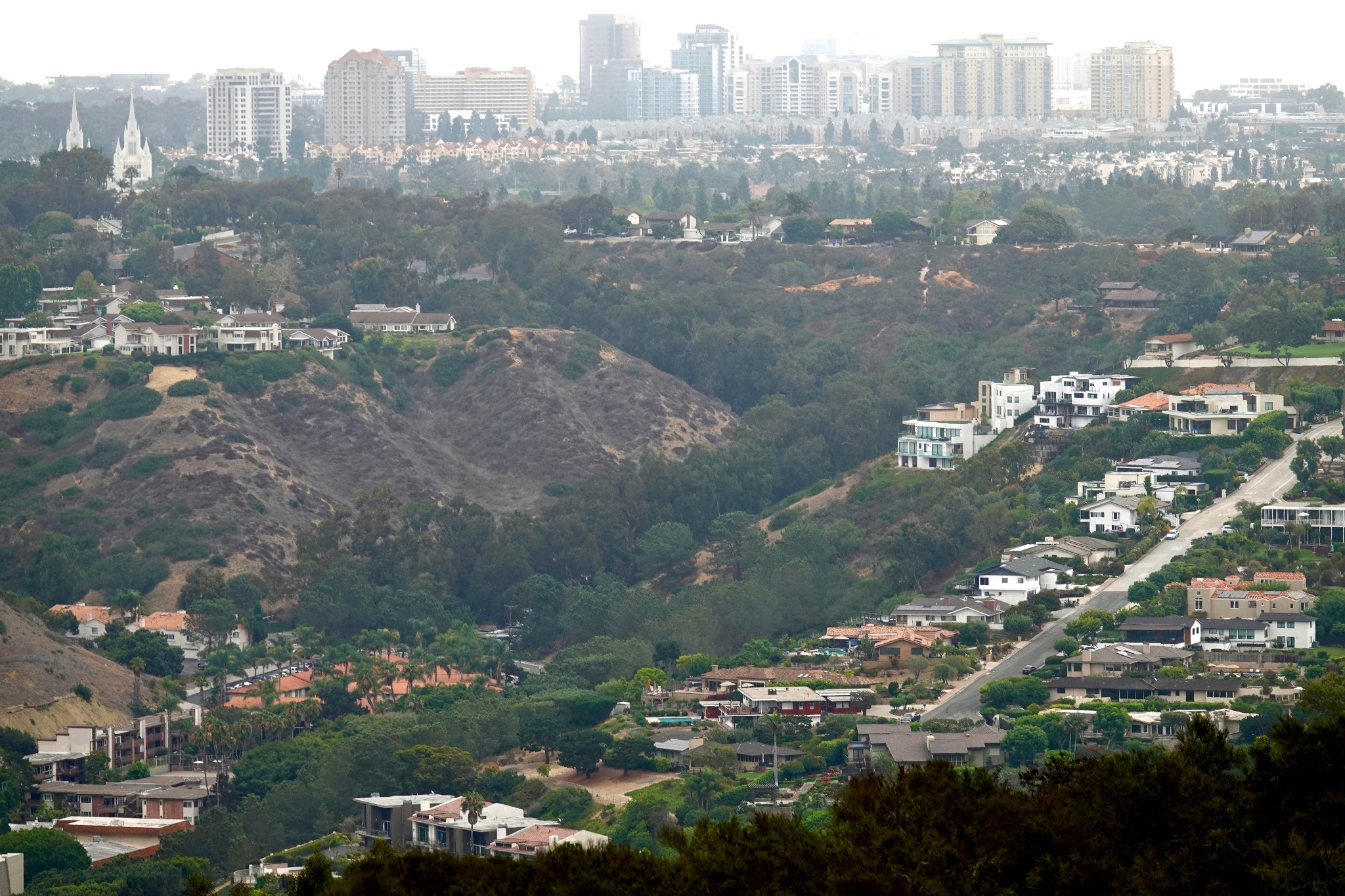 North side of the branches have the lichen.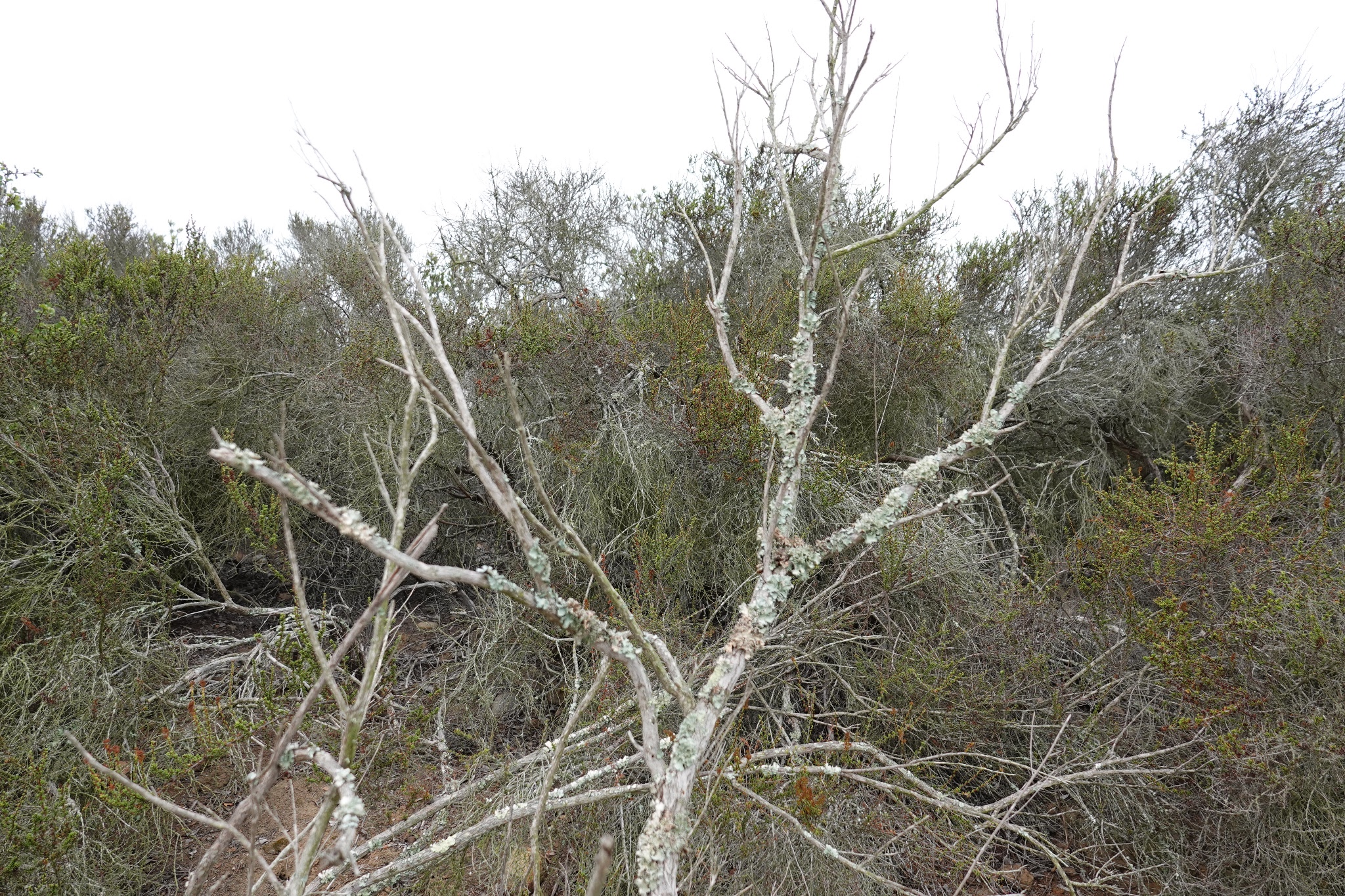 Looking with the telephoto lens, in the distance we found a bird house.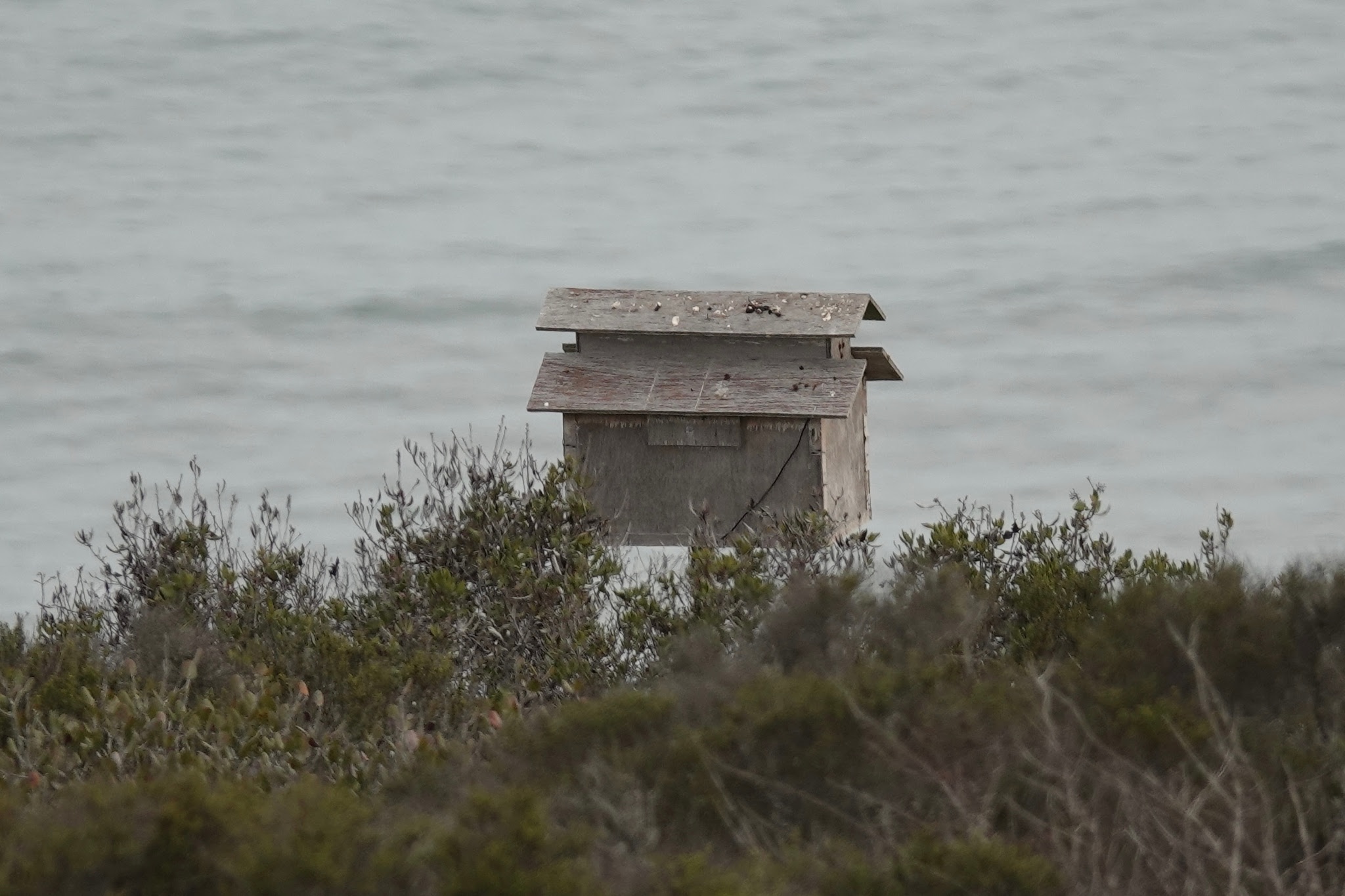 And an elaborate clay-tiled chimney cap.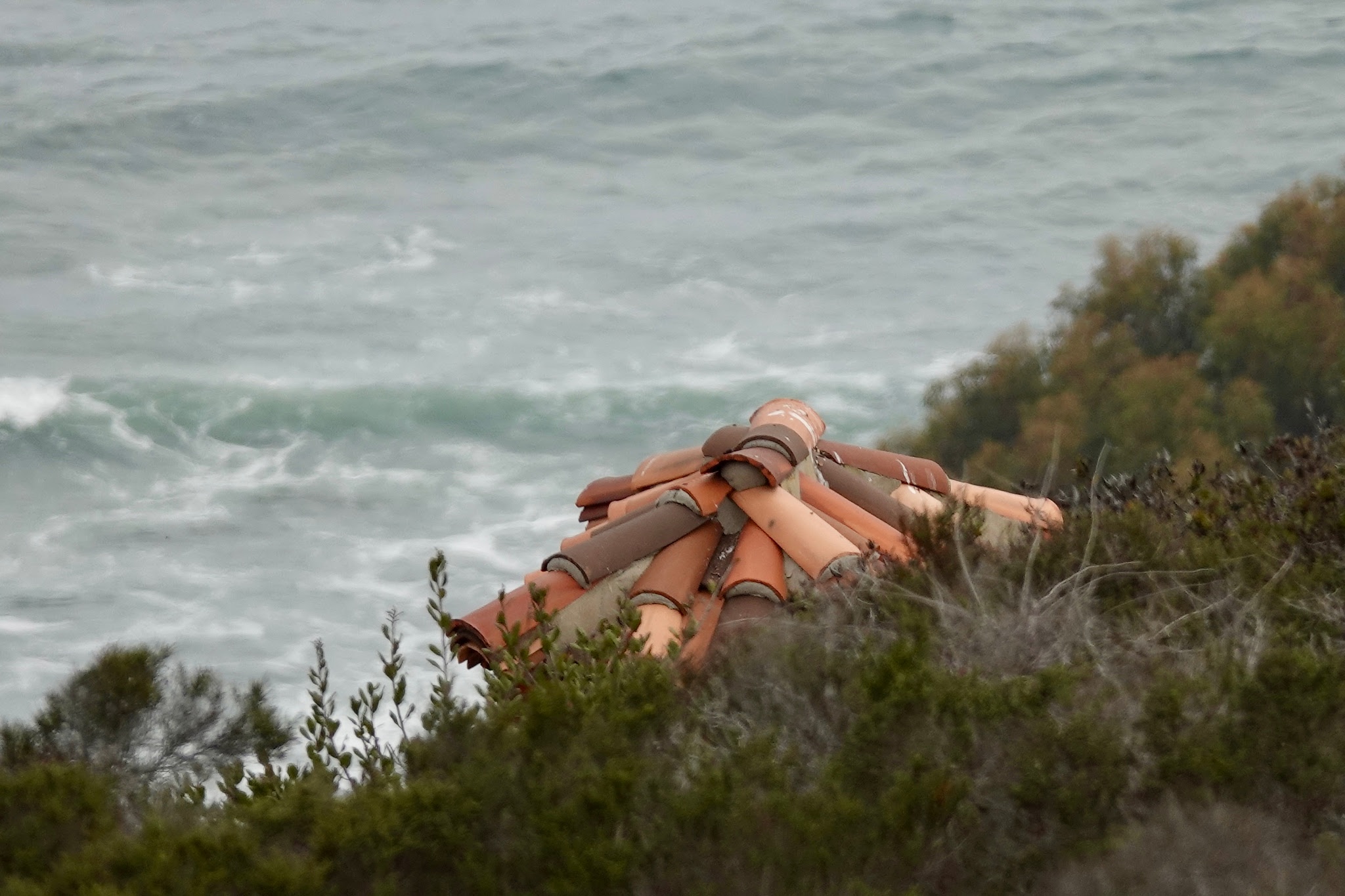 Meanwhile carefully dodging land mines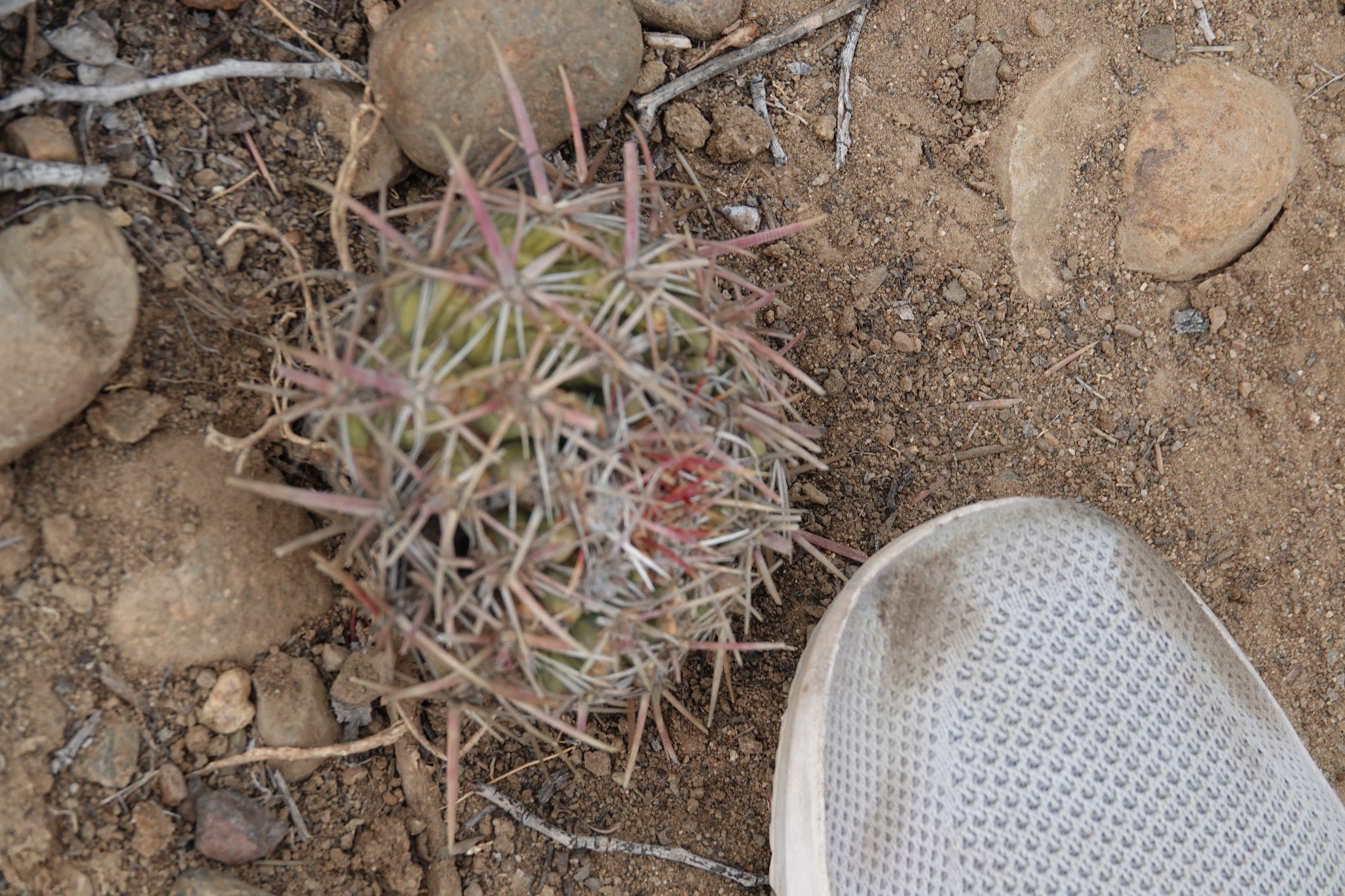 Here's the dog walker on the other side of the canyon now. Behind huge designer sunglasses, she looks like she would rather be in the south of France, in her other mansion
(I detected an accent when we exchanged "Good mornings") earlier.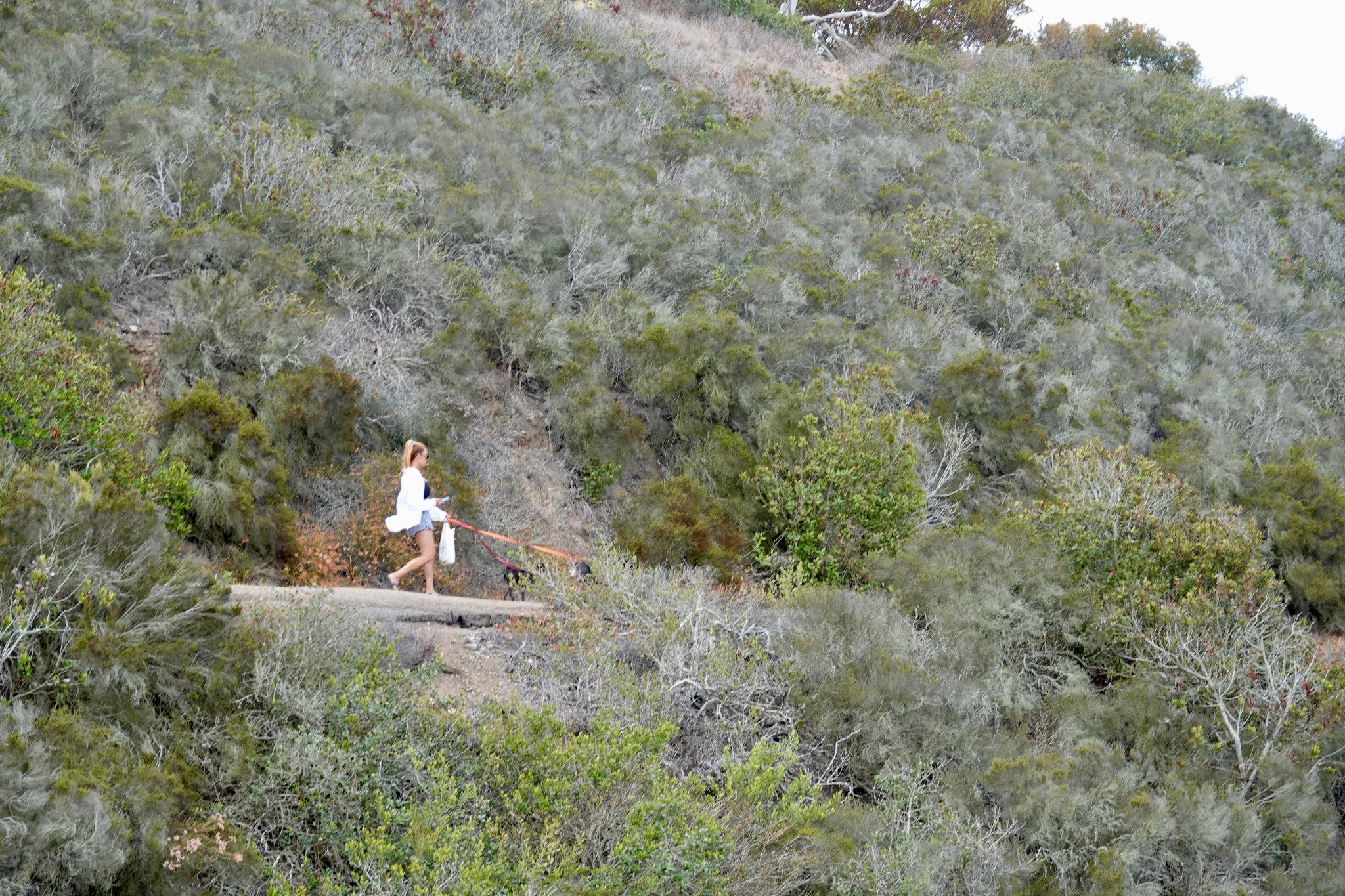 These two never spoke to one another. He walked up and down the hill 3 times, while we were there, engaged in executive business talk. She barely moved the whole time, fixed on her portable communications device...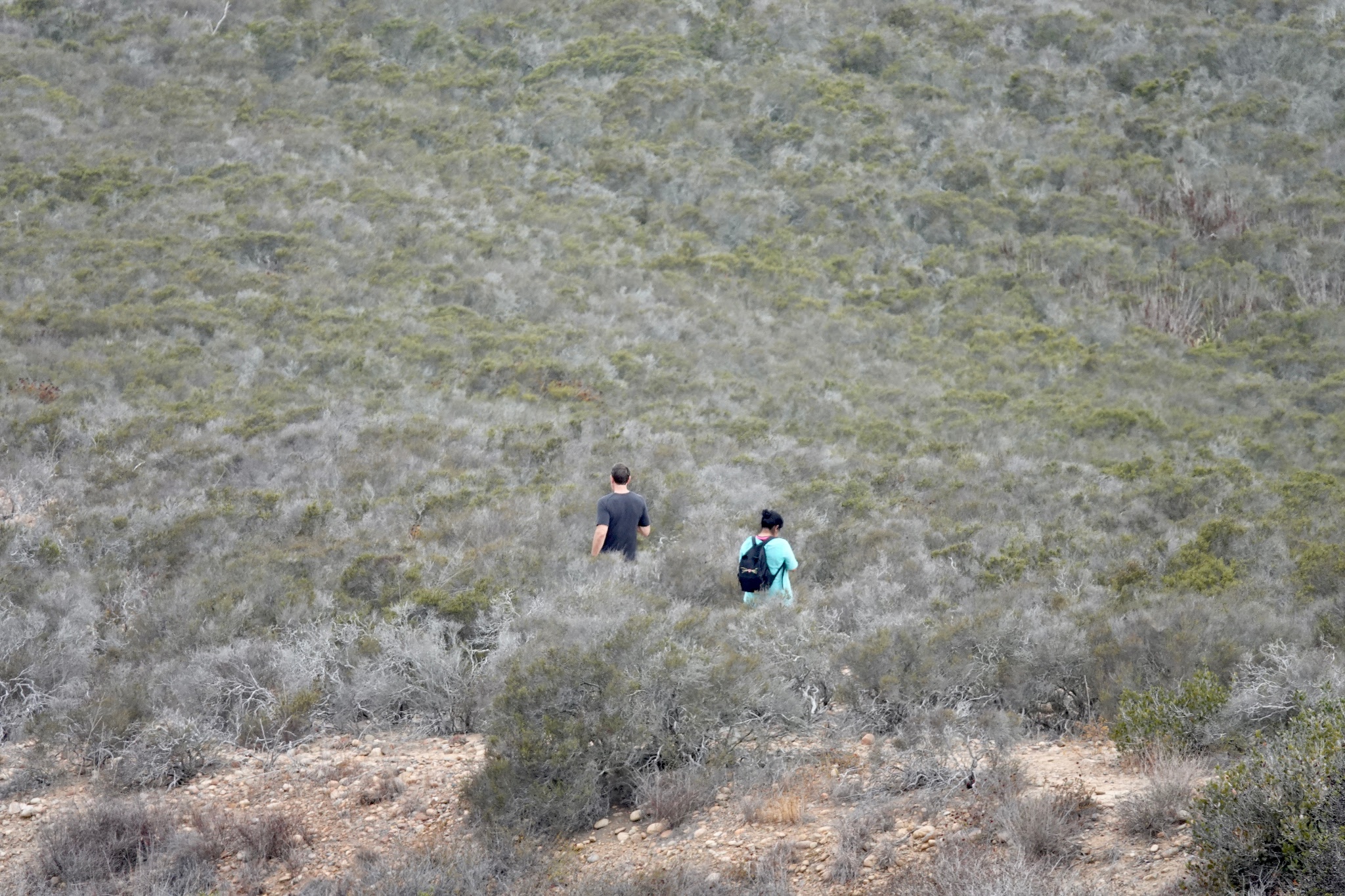 It's been a very long time since I've found a funnel spider. We were unable to coax him up to attack our twig.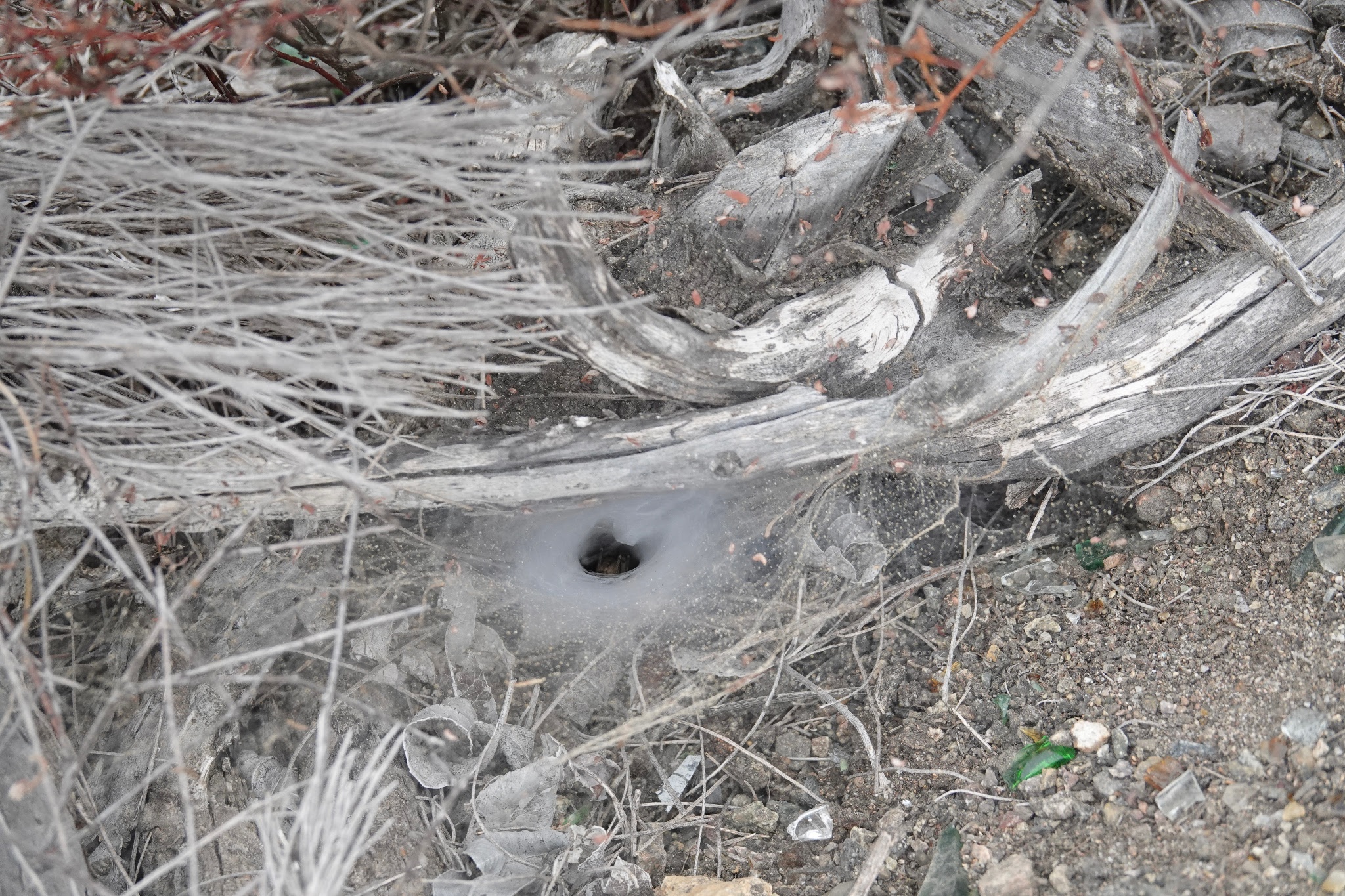 Two hummingbirds were going at one another at the top of a bush (backlit, sorry)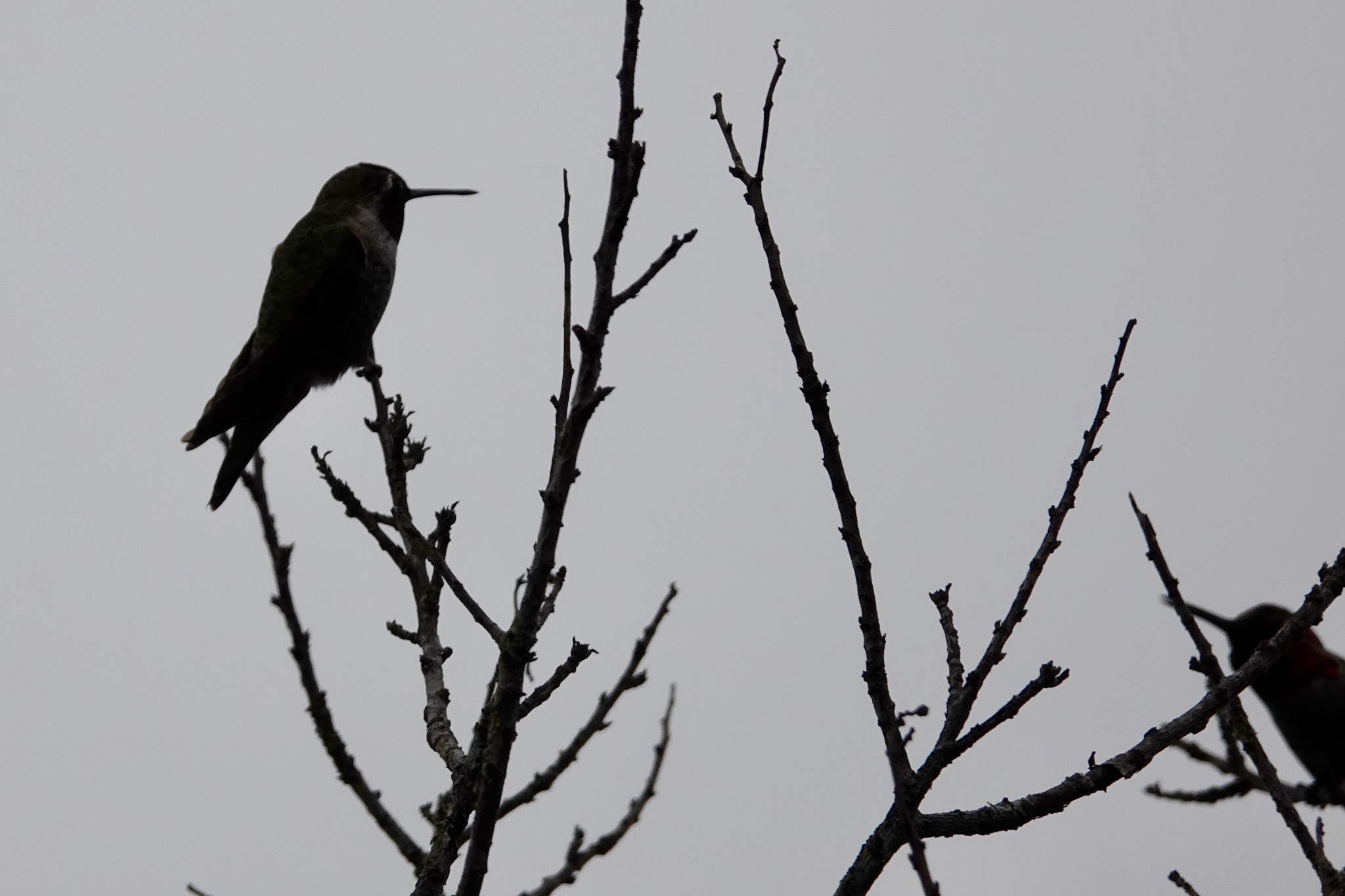 I found a better camera angle and I'll let you zero in on what they are doing. Bird #1 moved into the middle of a bush.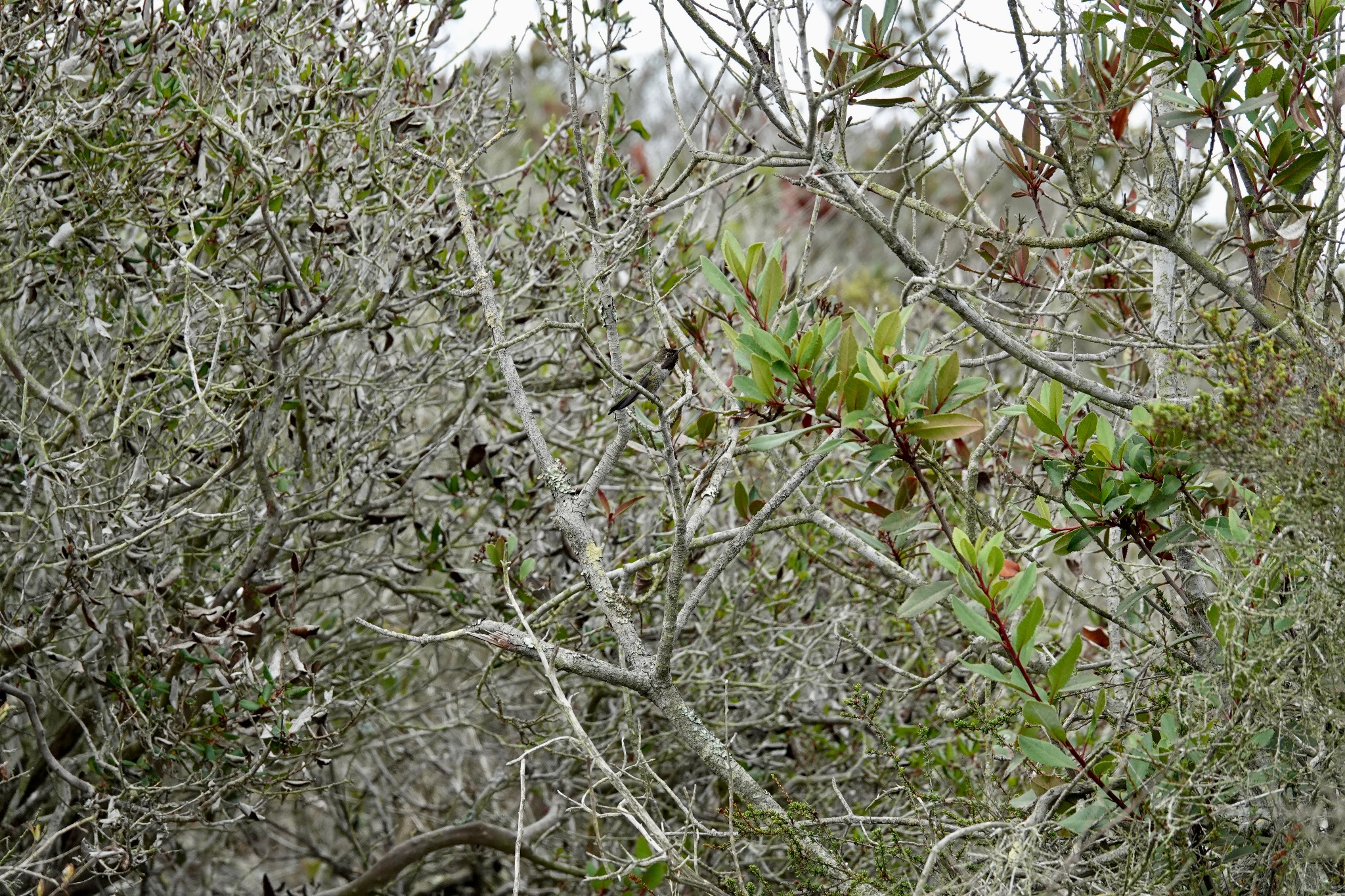 Bird #2 flies in miraculously navigating through all the branches.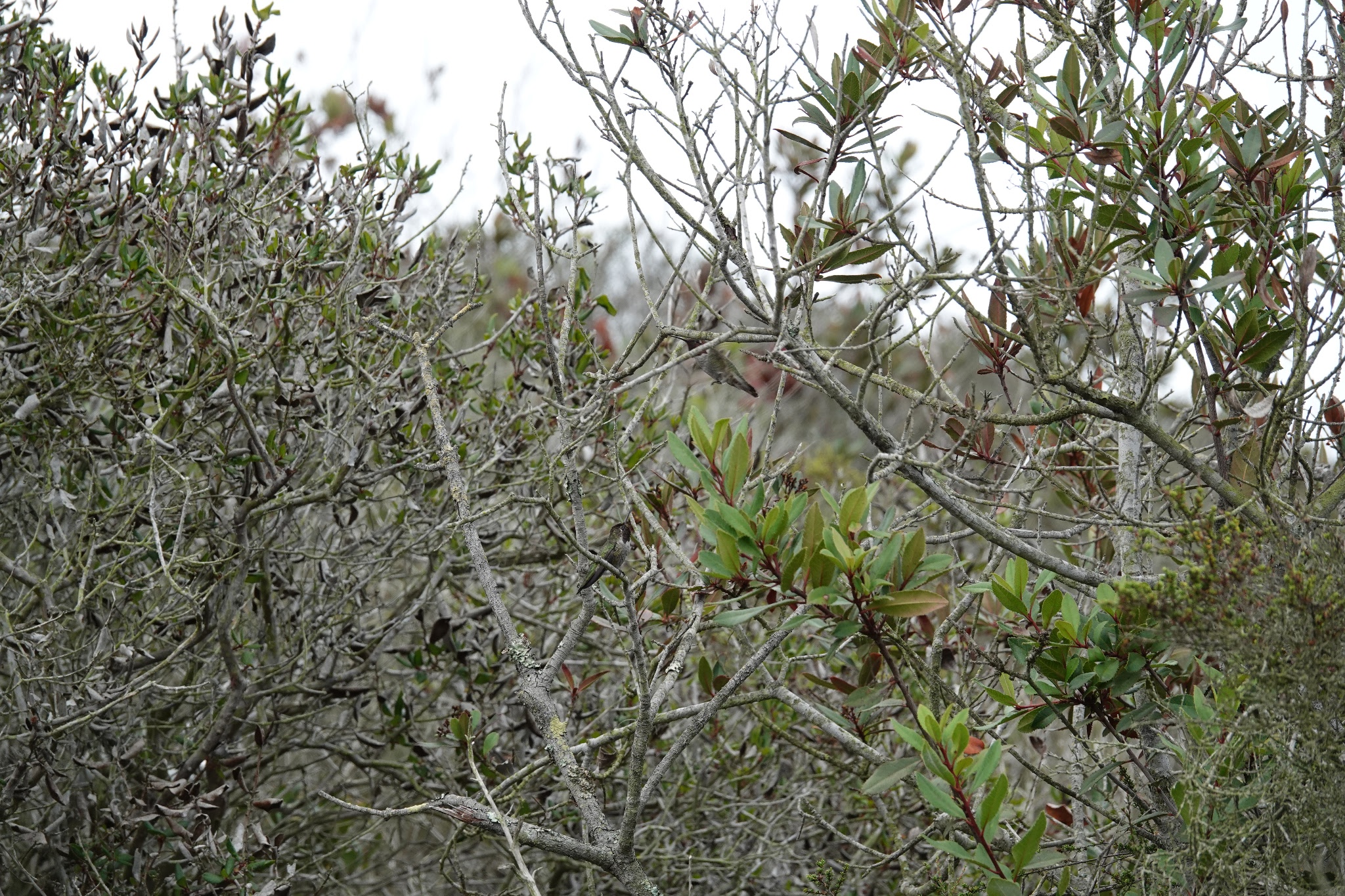 Bird #2 lords it over bird #1. Higher branch, brighter plumage.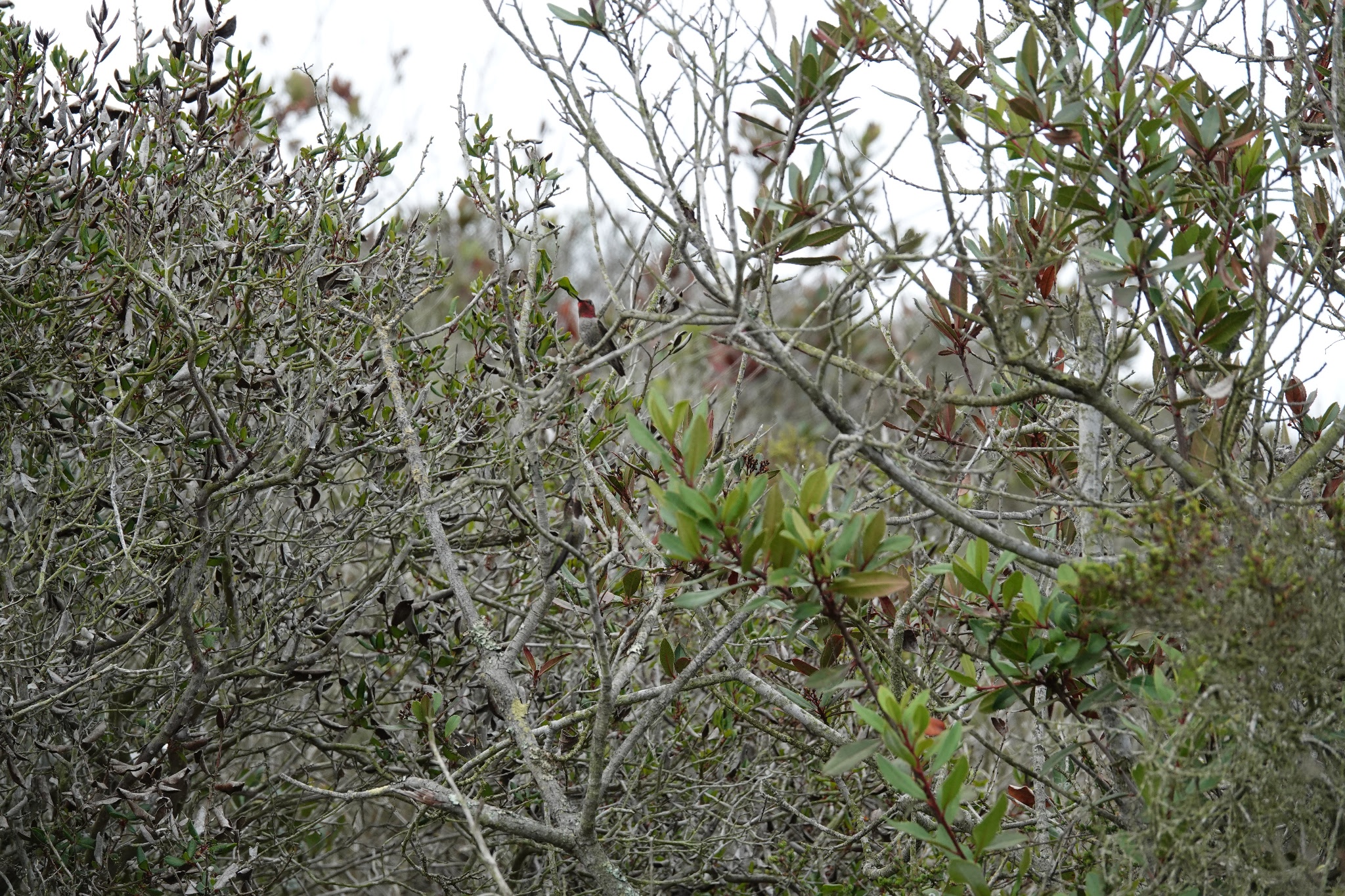 Bird #1 meekly protests.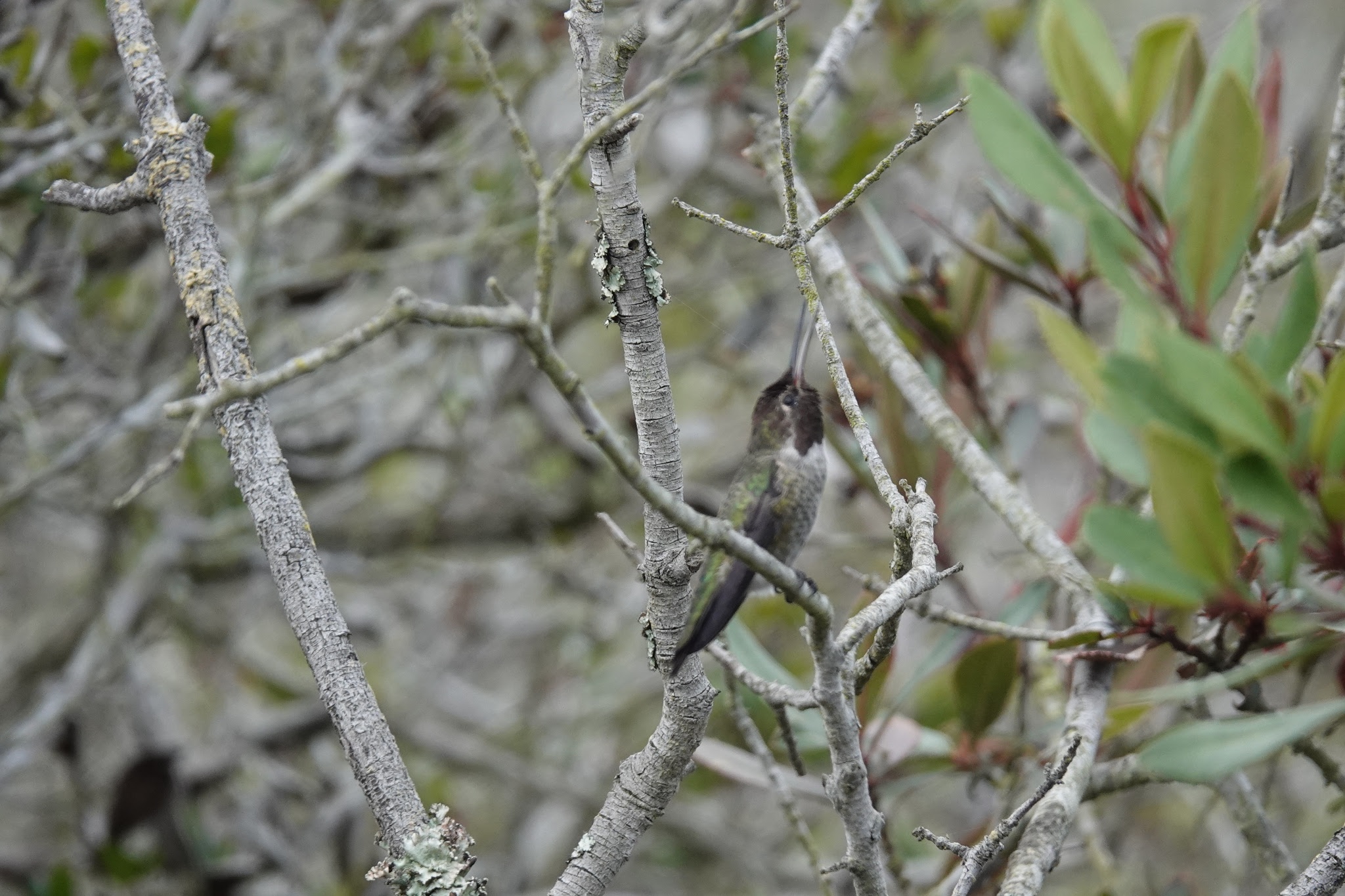 Bird #2 sniffs in disdain.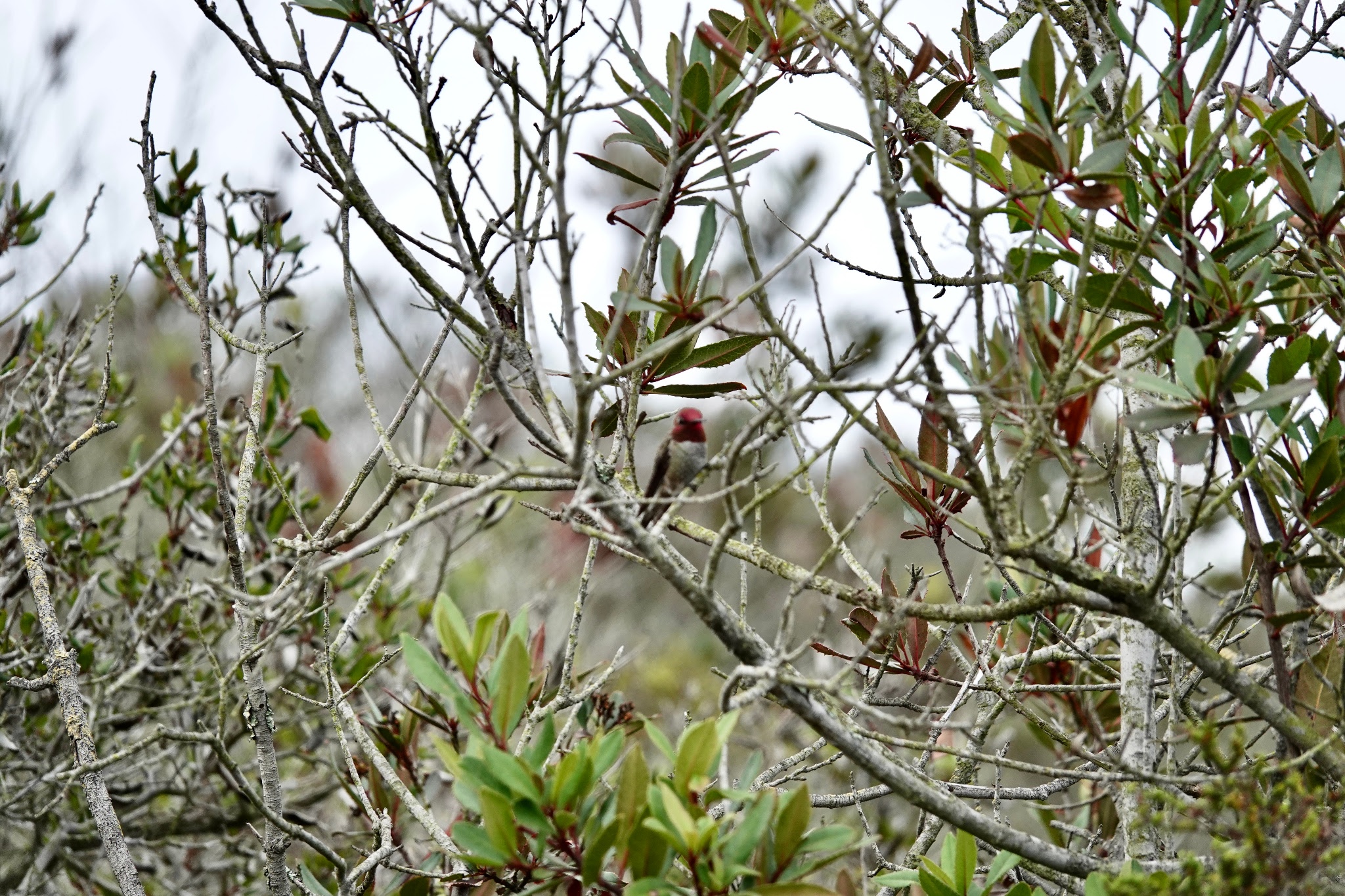 Bird #1 flies home to momma (all in my imagination).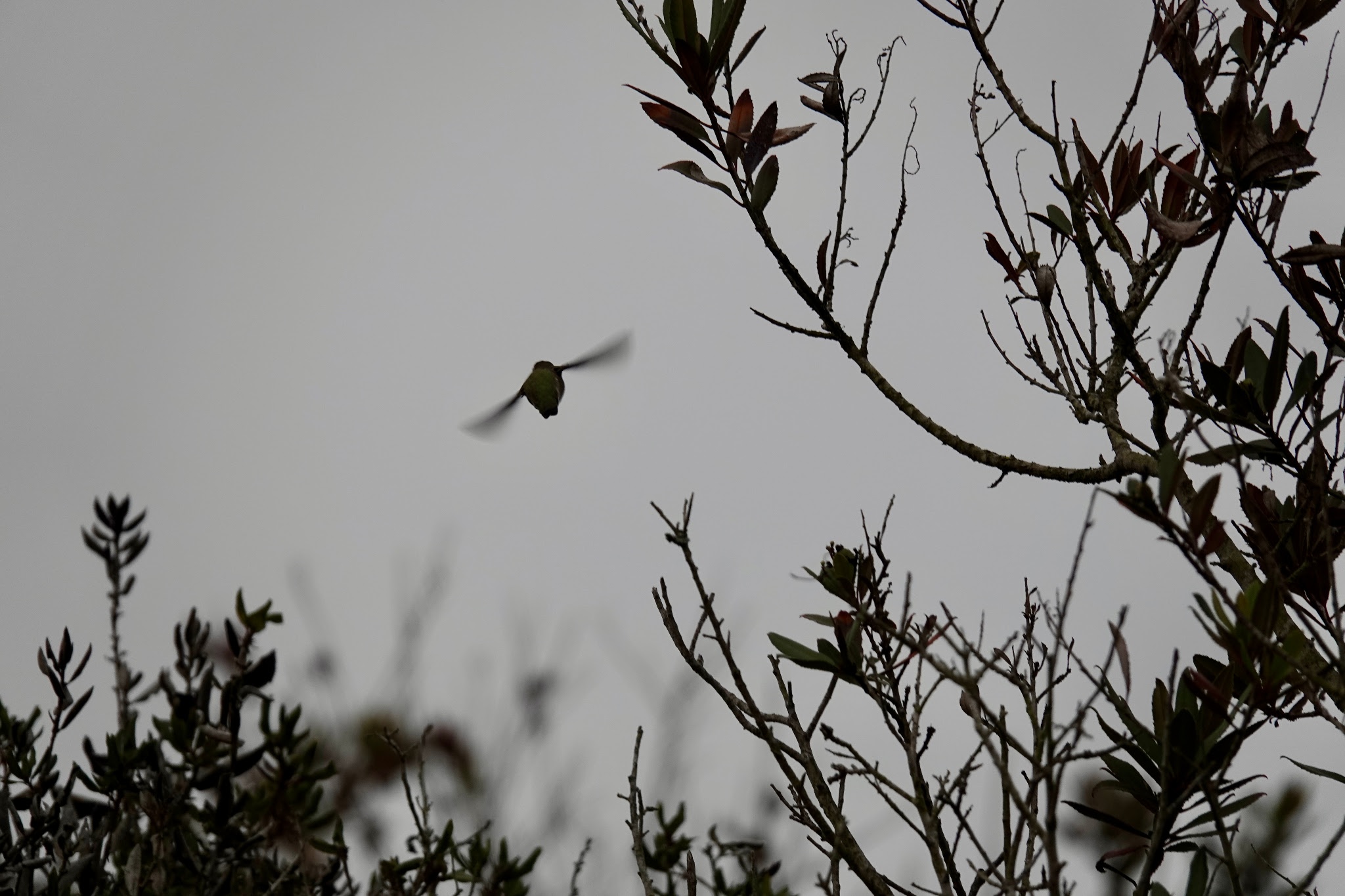 We continued on along the hillside.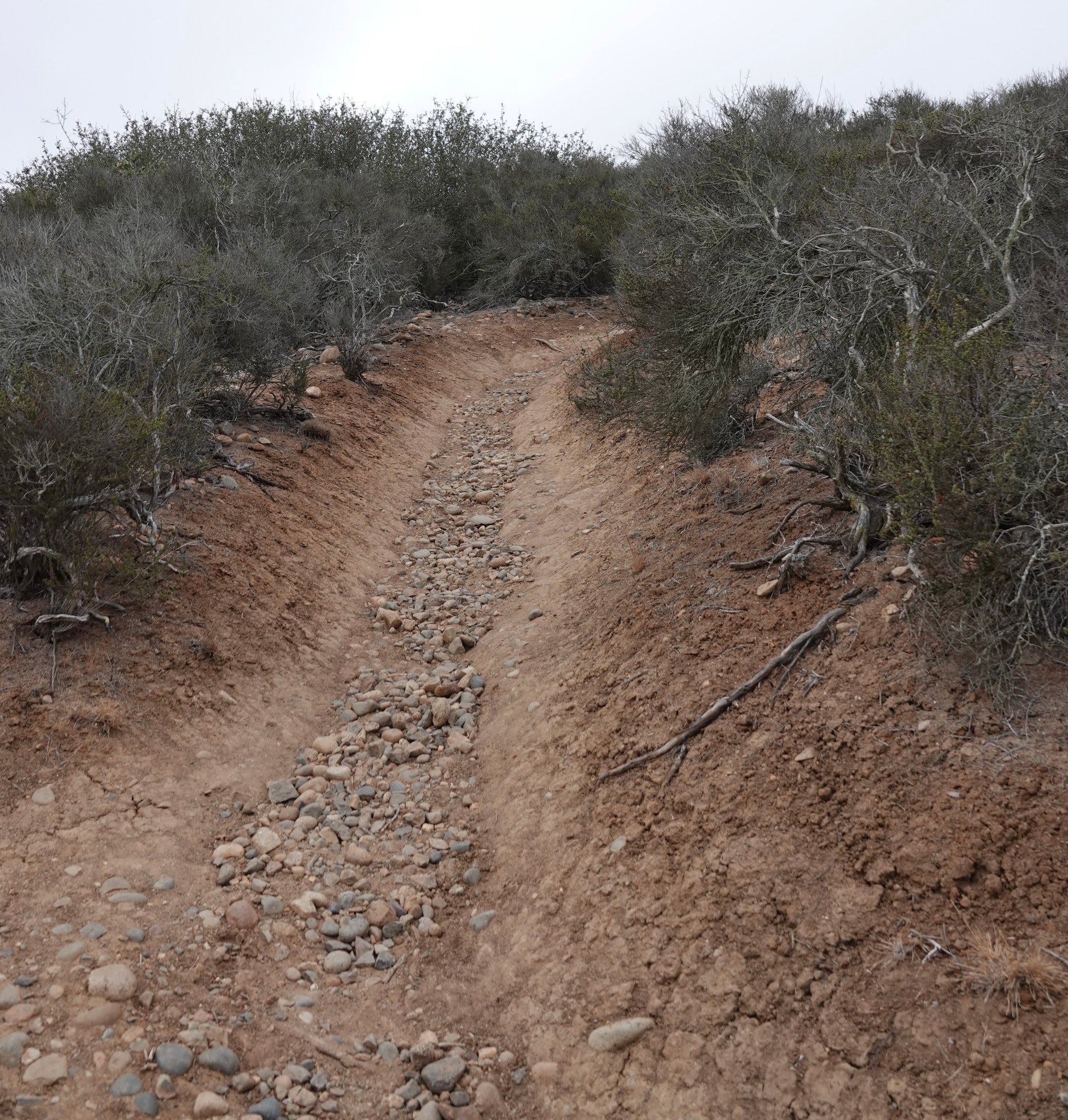 This Jade plant is usually found in gardens, not on a dry hillside like this. It badly needs some rain.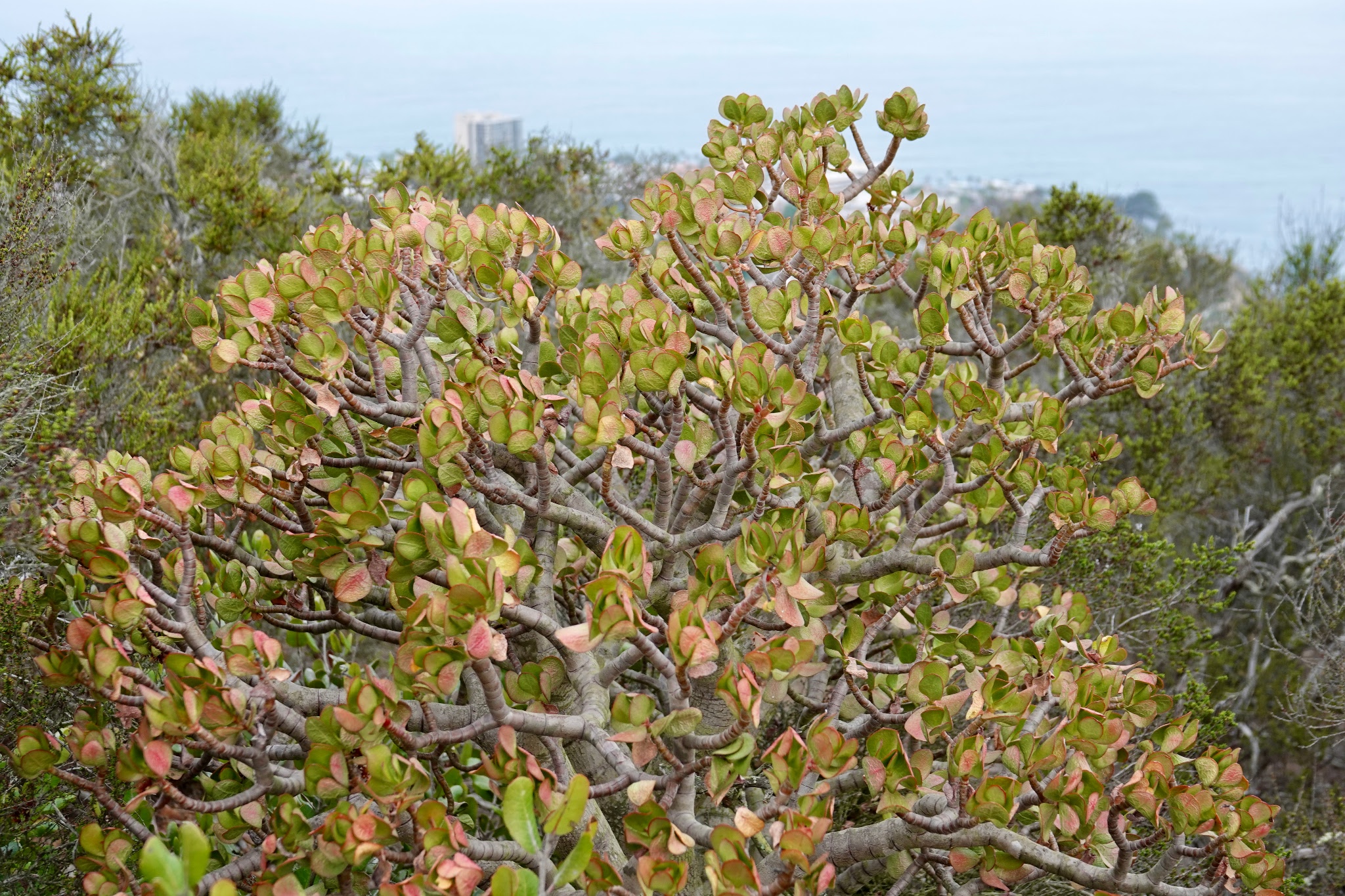 Here's the stationary lady again, not having moved.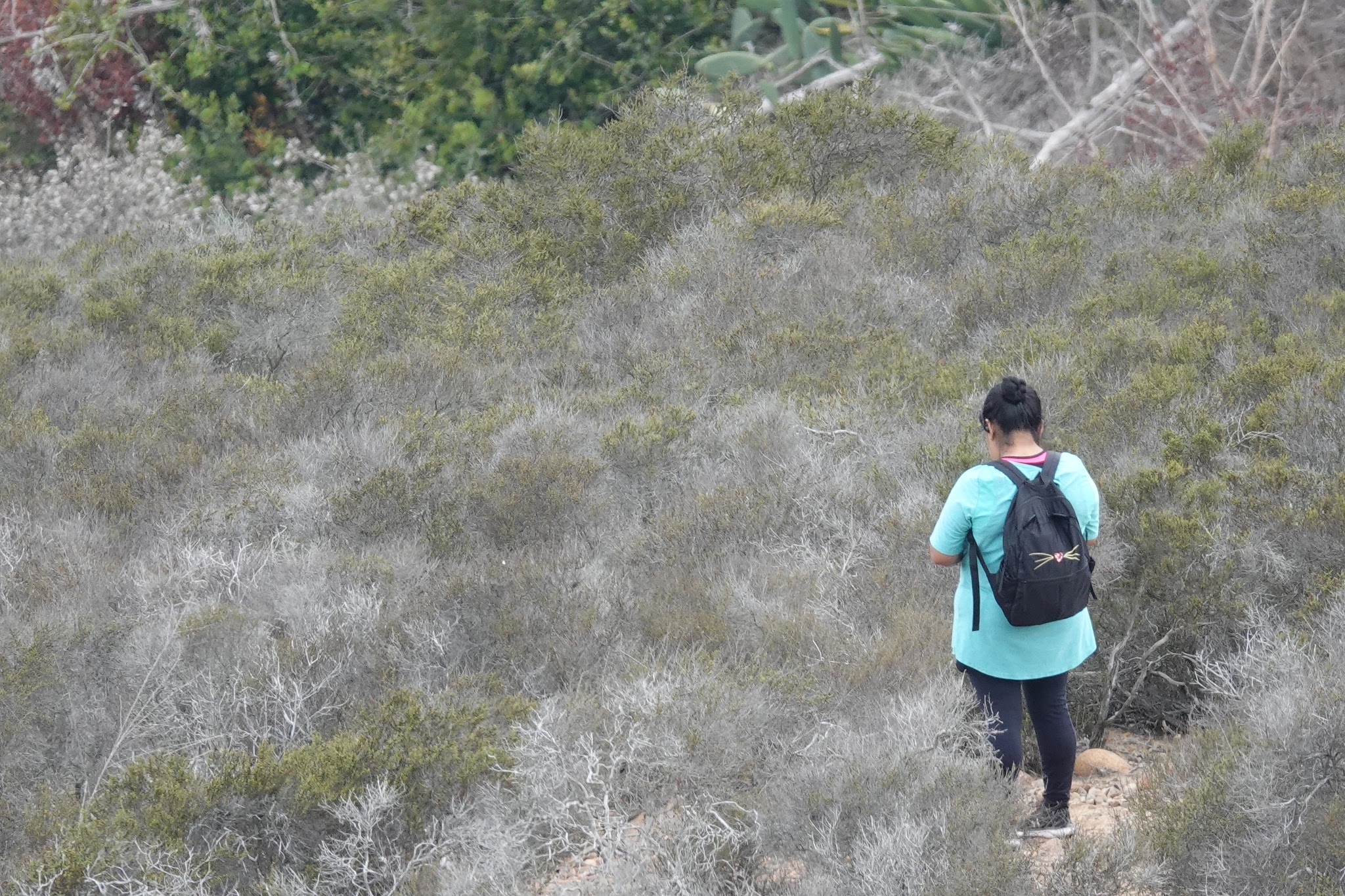 While he is on his third ascent and we can just hear the occasional word drifting up... my phone says we climbed equivalent of 15 flights of stairs - he must have done 75-100 flights of elevation!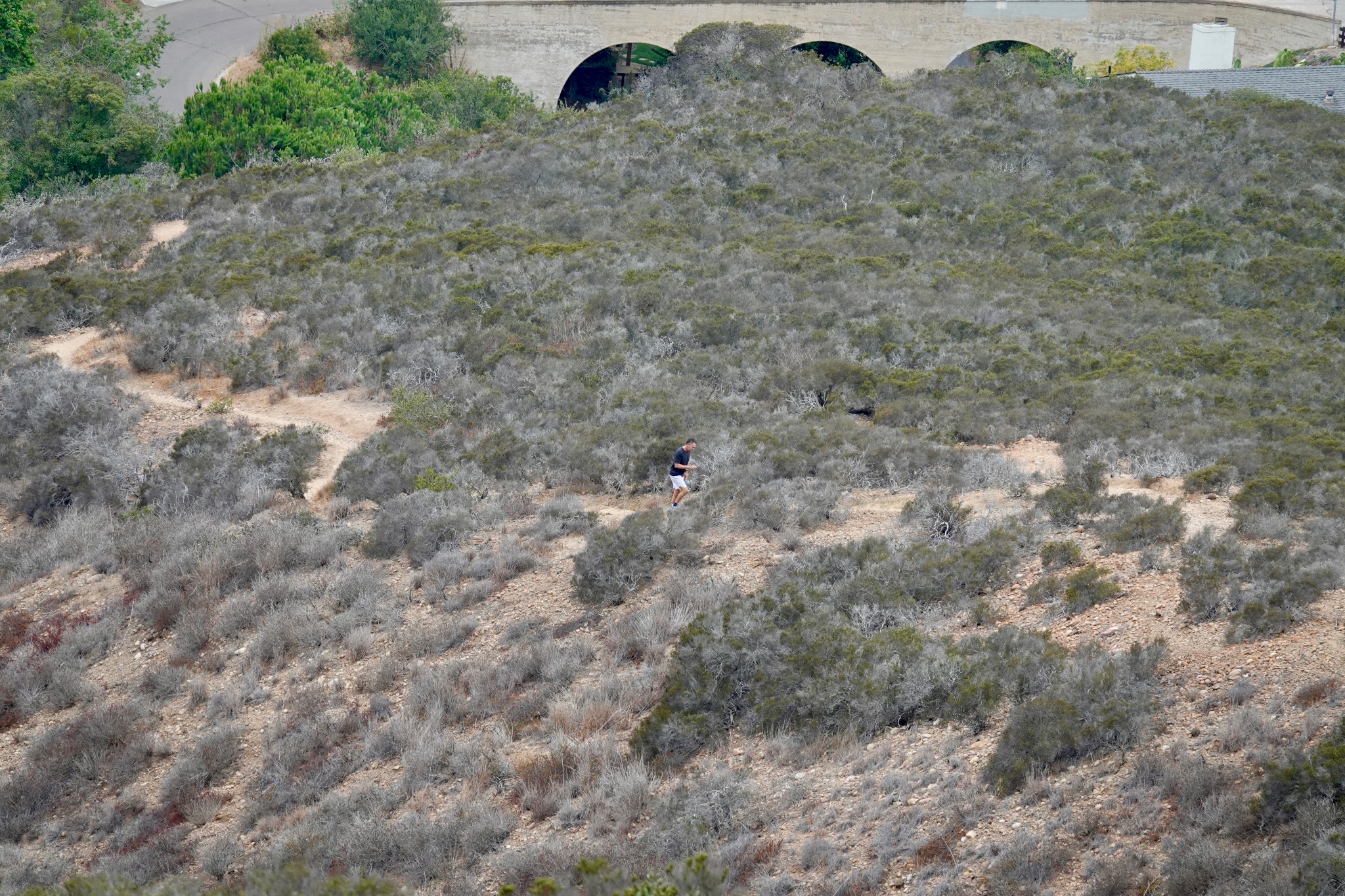 We wondered what animal would make this cave but decided not to investigate. It looks like there are some eyes looking back at the camera.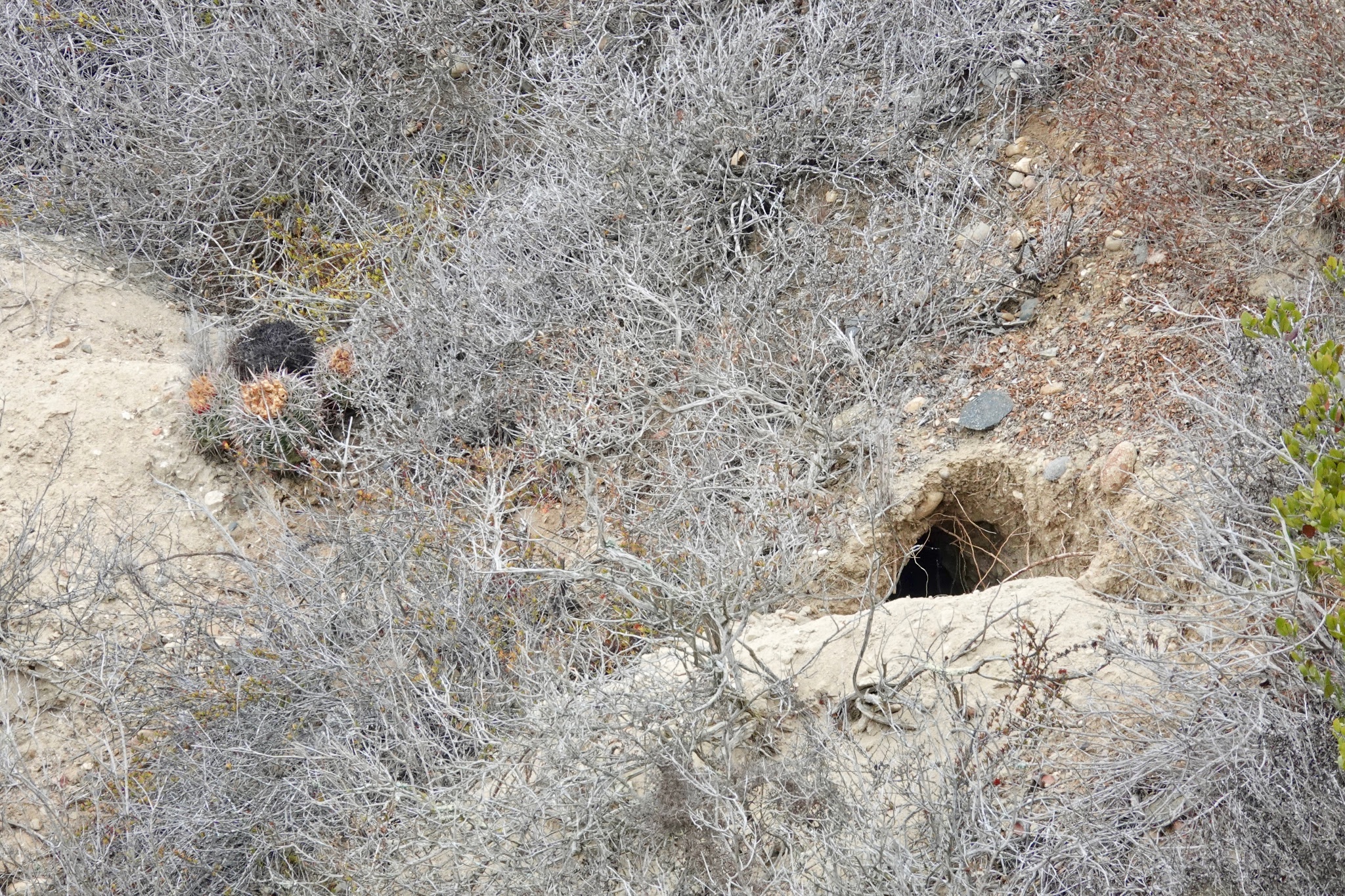 Something that eats mammals and leaves large droppings ...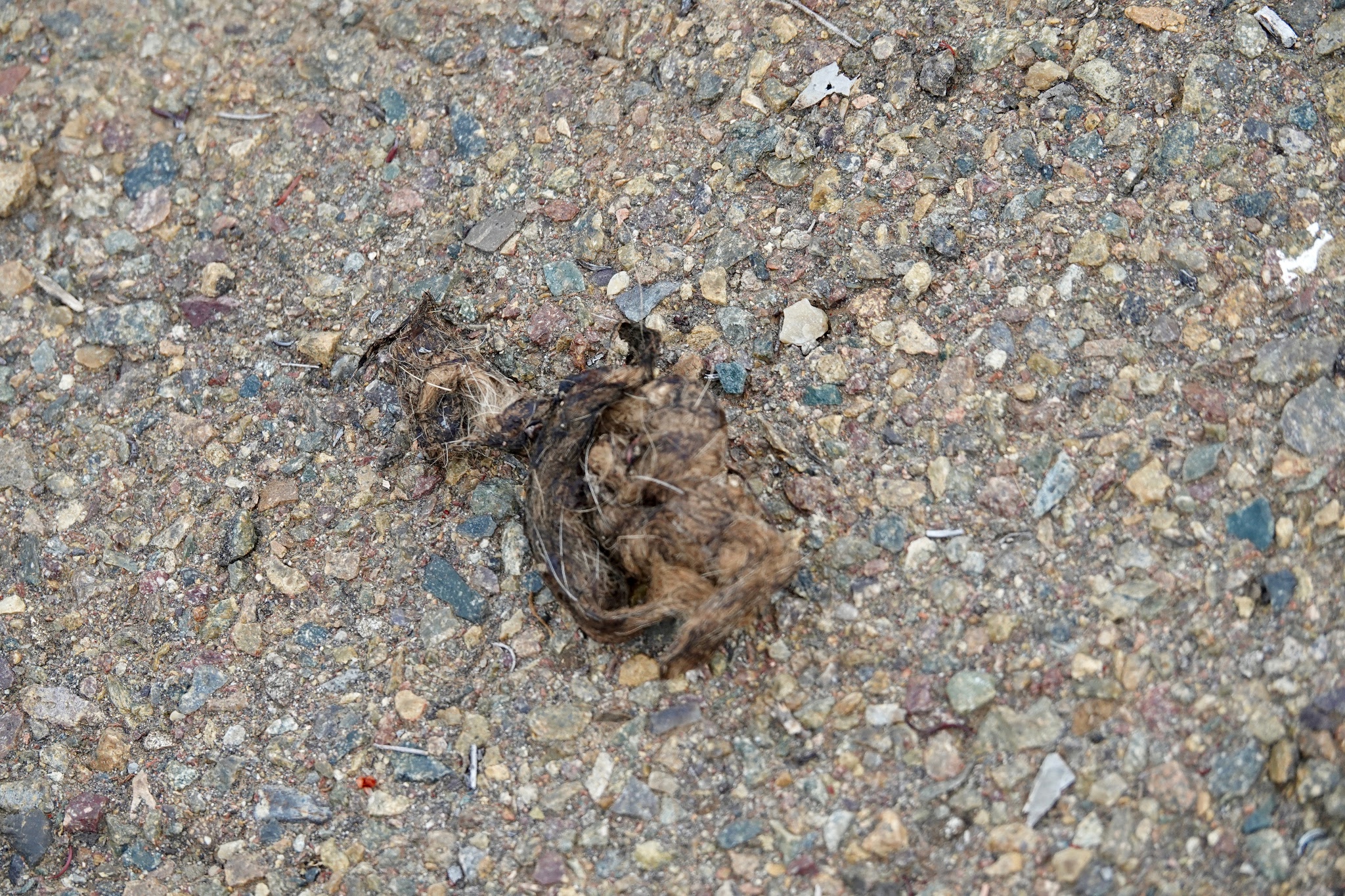 If we turn our attention to the water again, we can see a spec out there.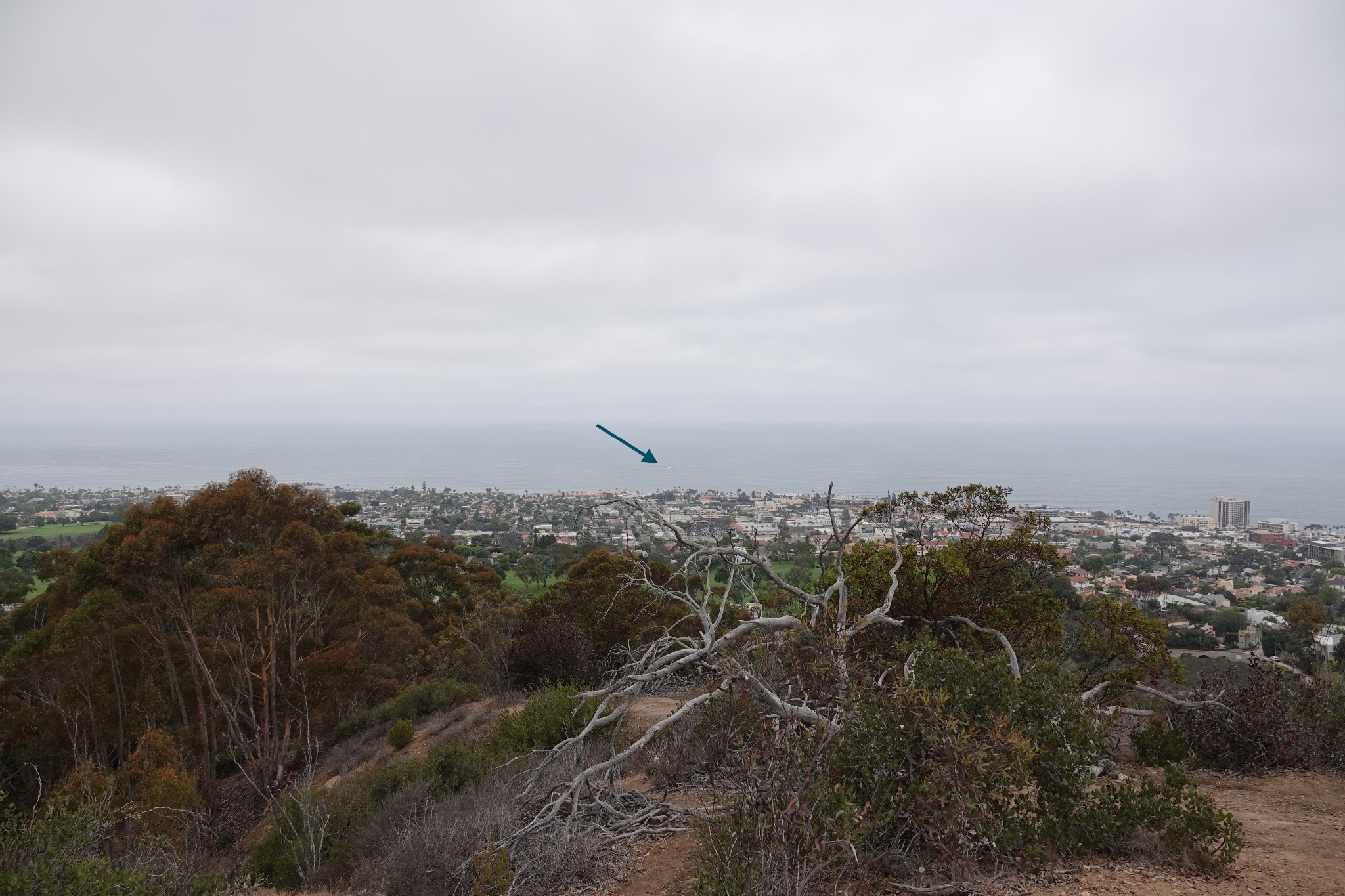 It's the New Seaforth, out for a day of fishing.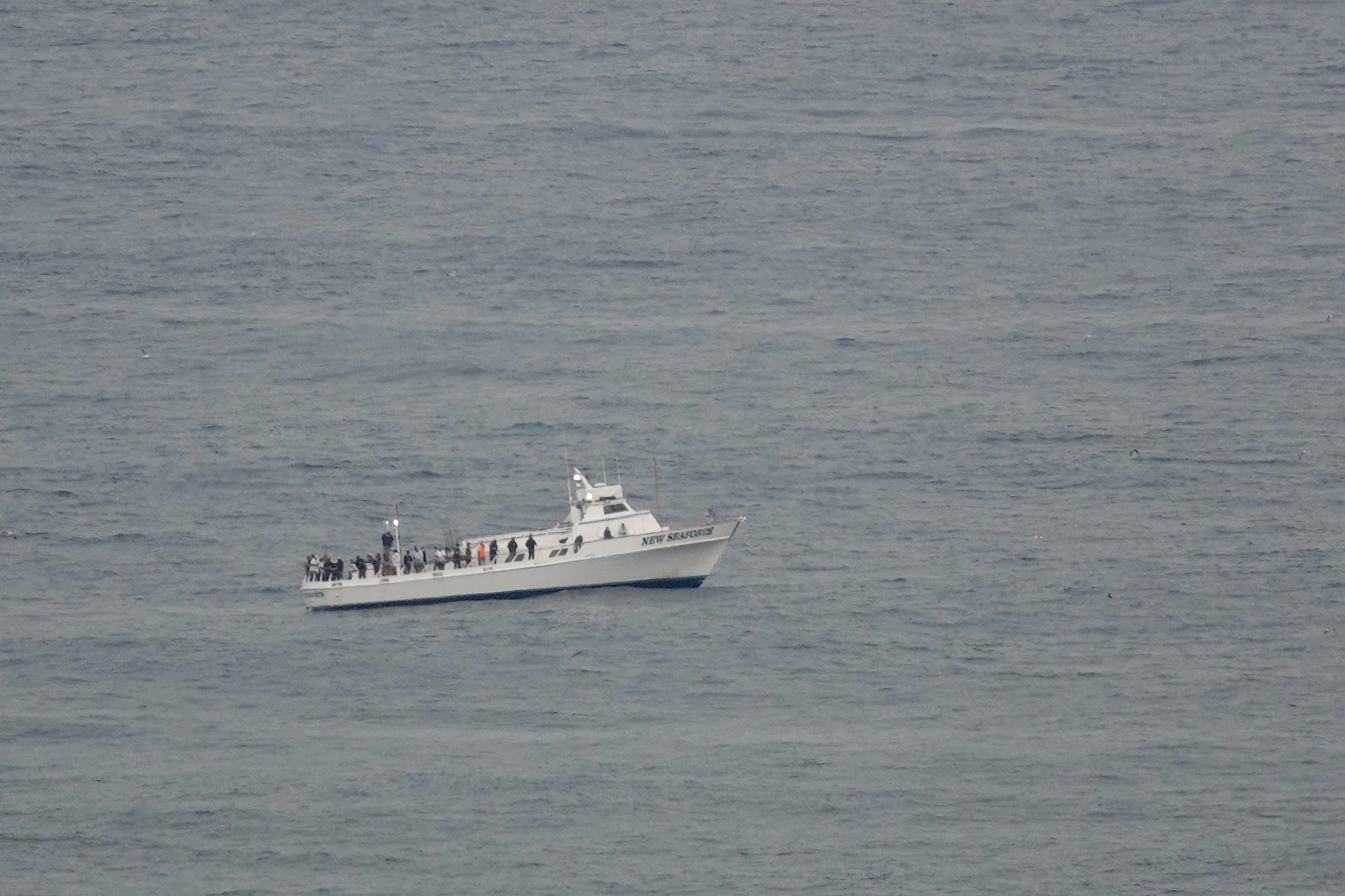 In case you are interested, here's the tally for yesterday's sportfishing boats out of San Diego: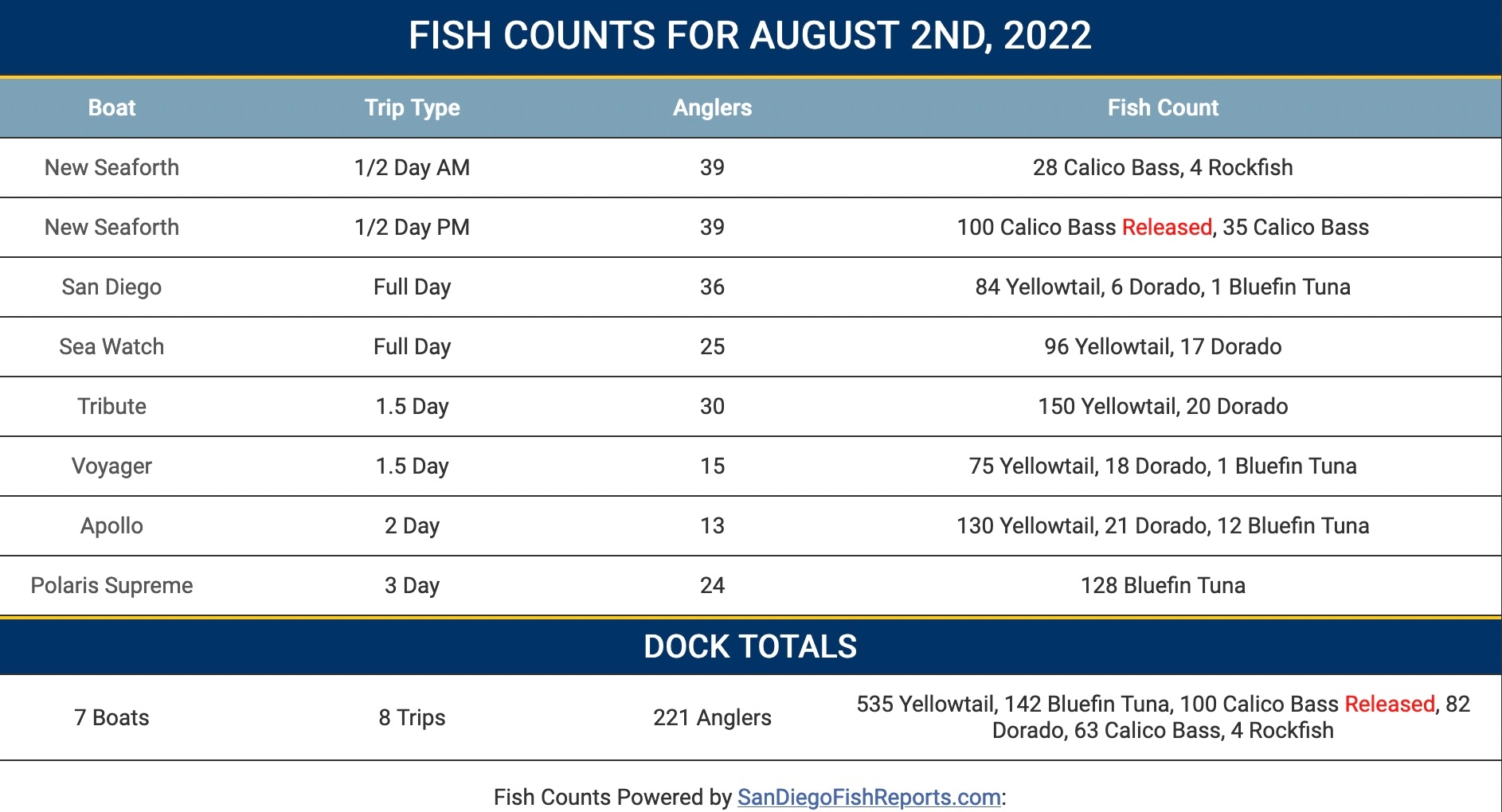 The pink La Valencia Hotel in La Jolla, called the "grand olde lady". When my mother was still with us, I used to take her there for lunch or a martini.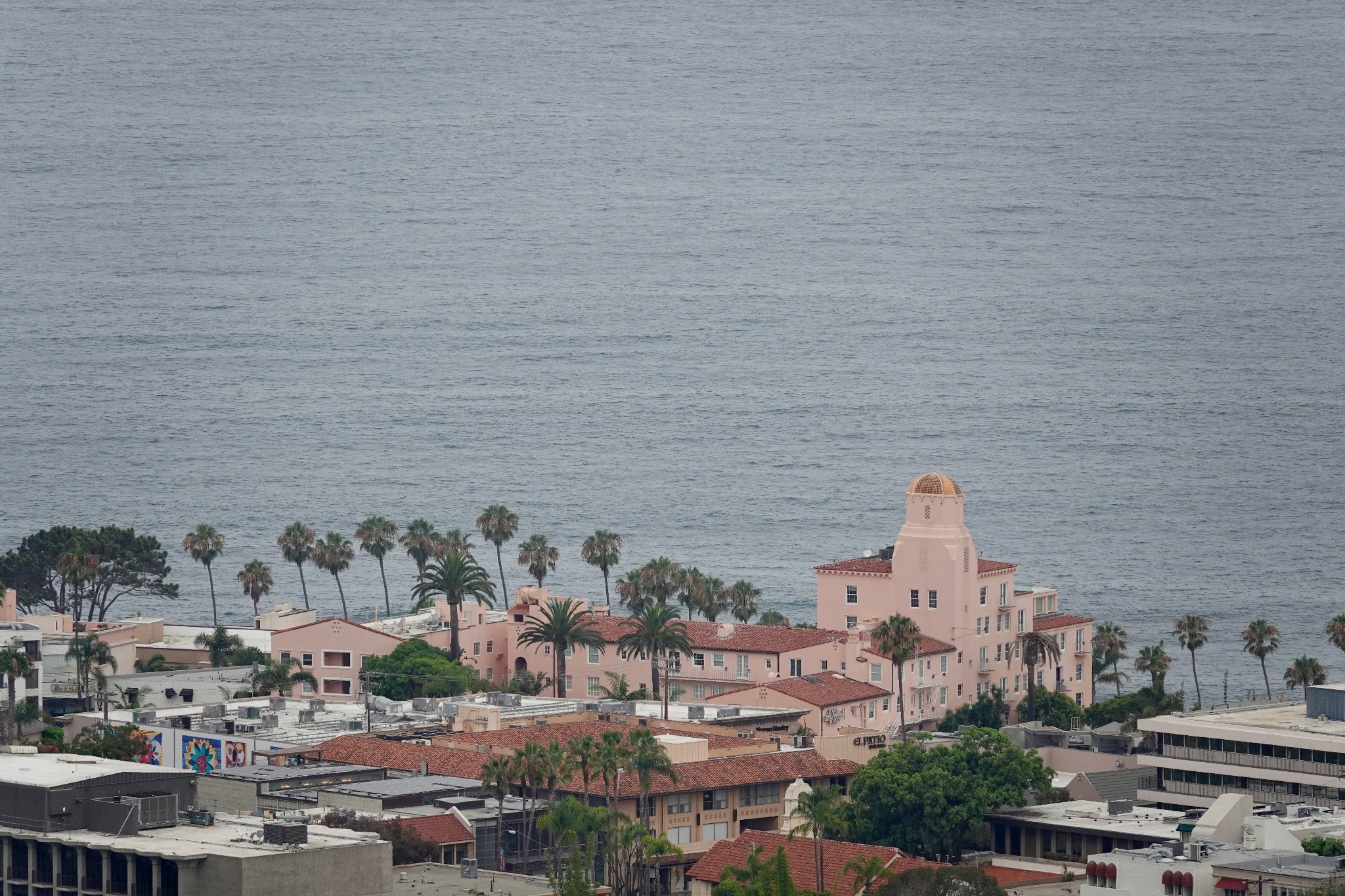 Another hummingbird brings me back to the present.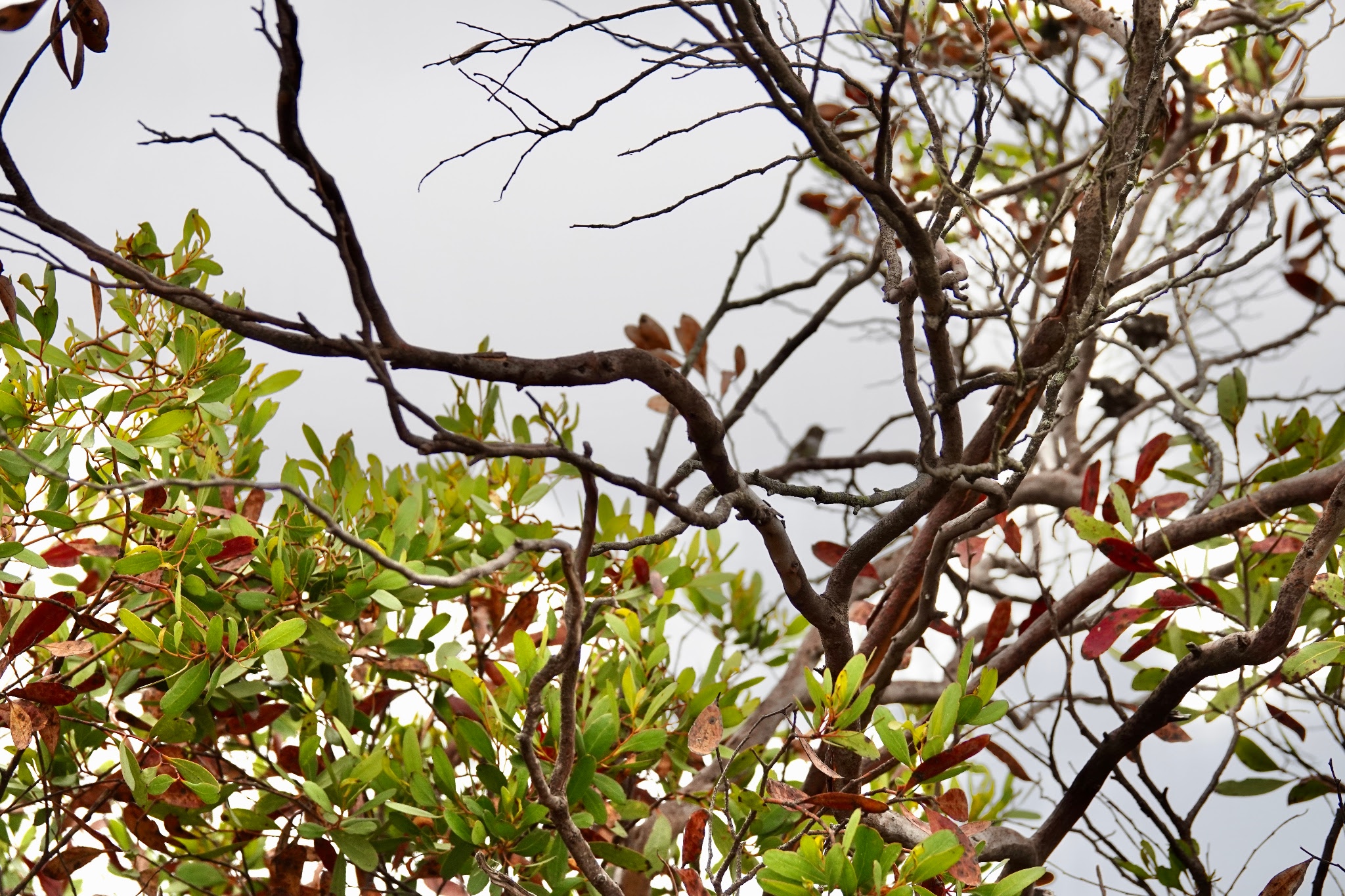 Here's the old Country Club reservoir which helps keep that golf course green.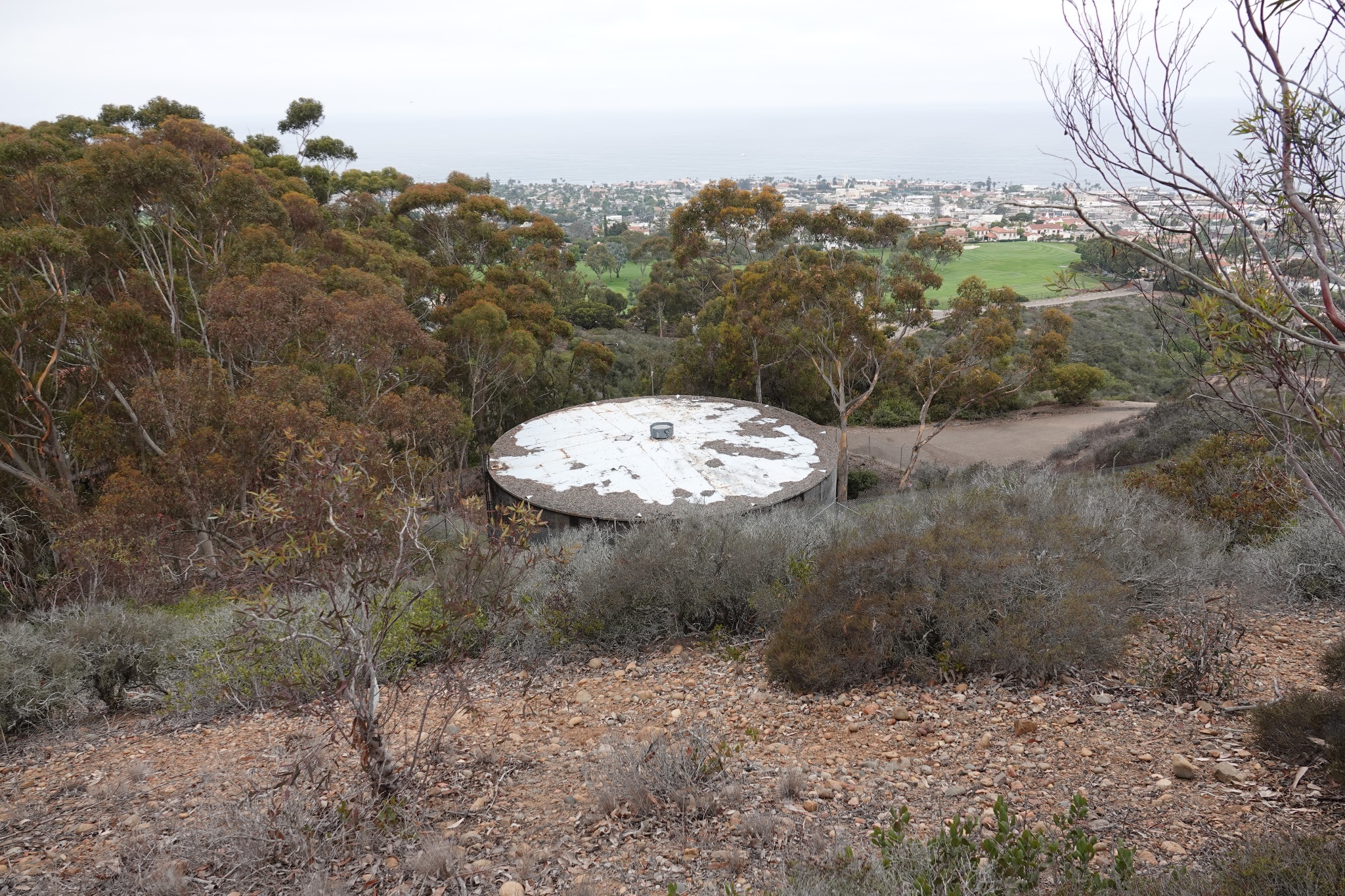 I slipped a couple times and decided retreat was the safest course.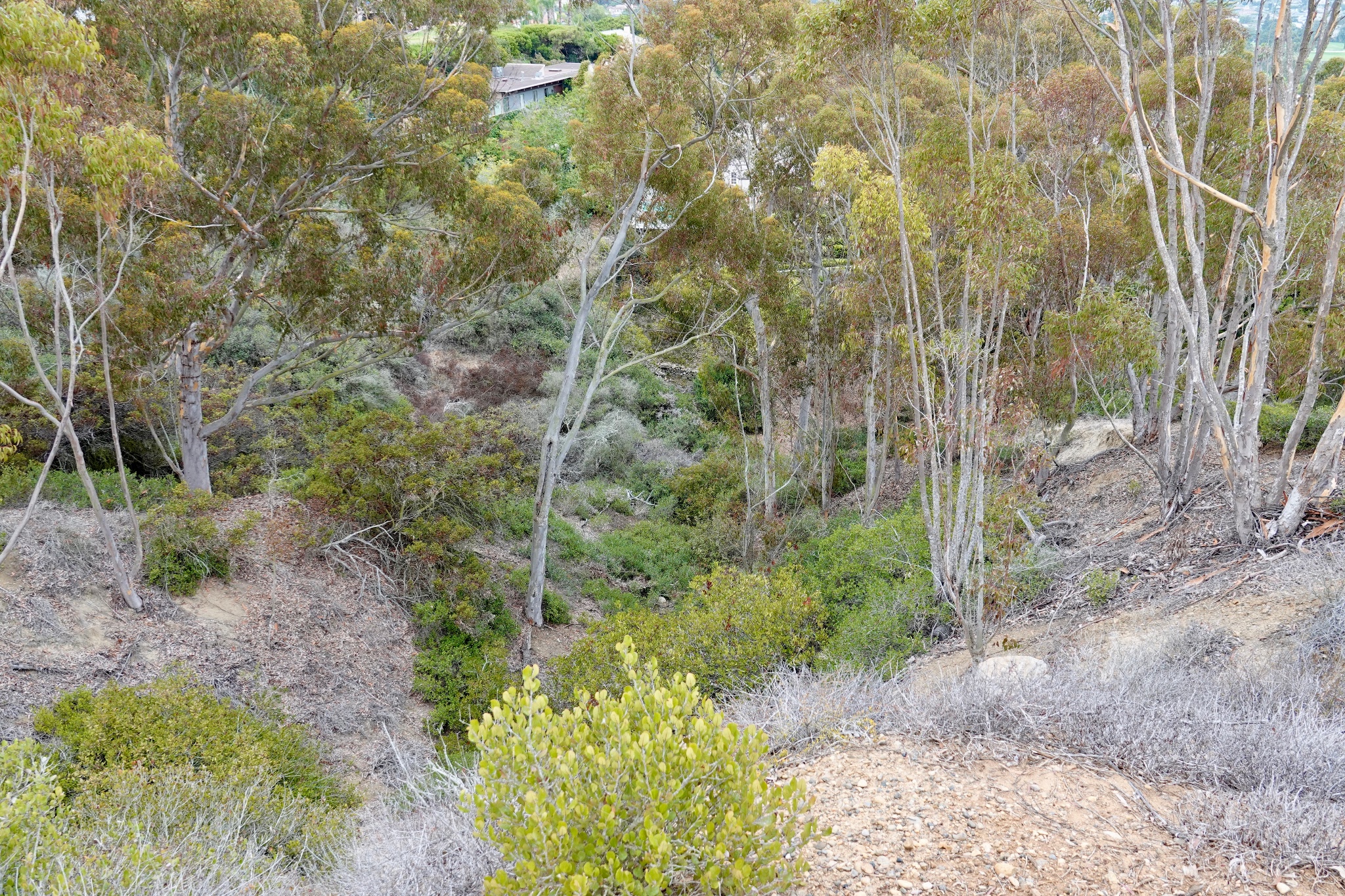 The hillside is incredibly steep here. My wife wisely did not come down to join me.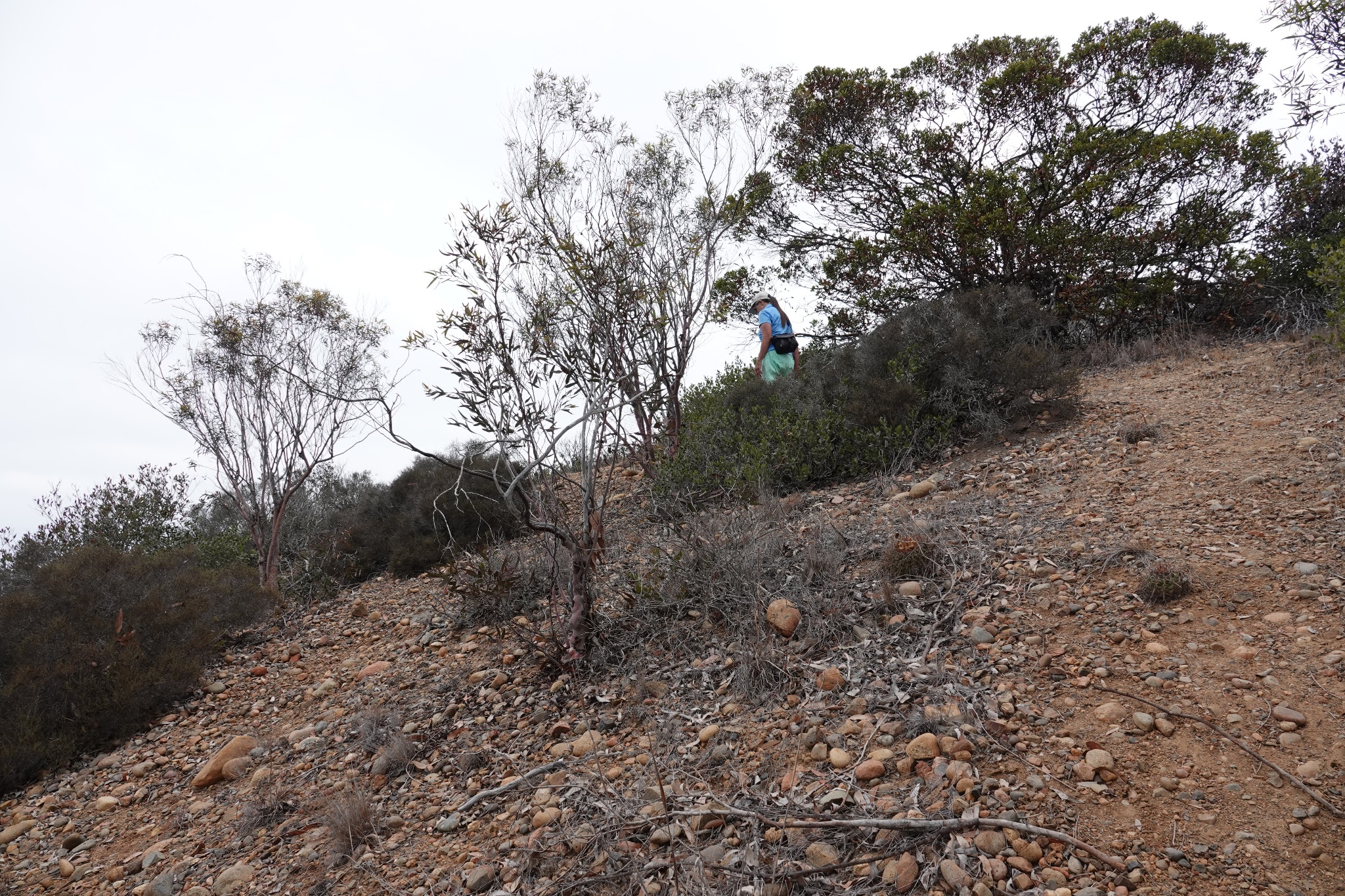 A dove watched us for quite some time.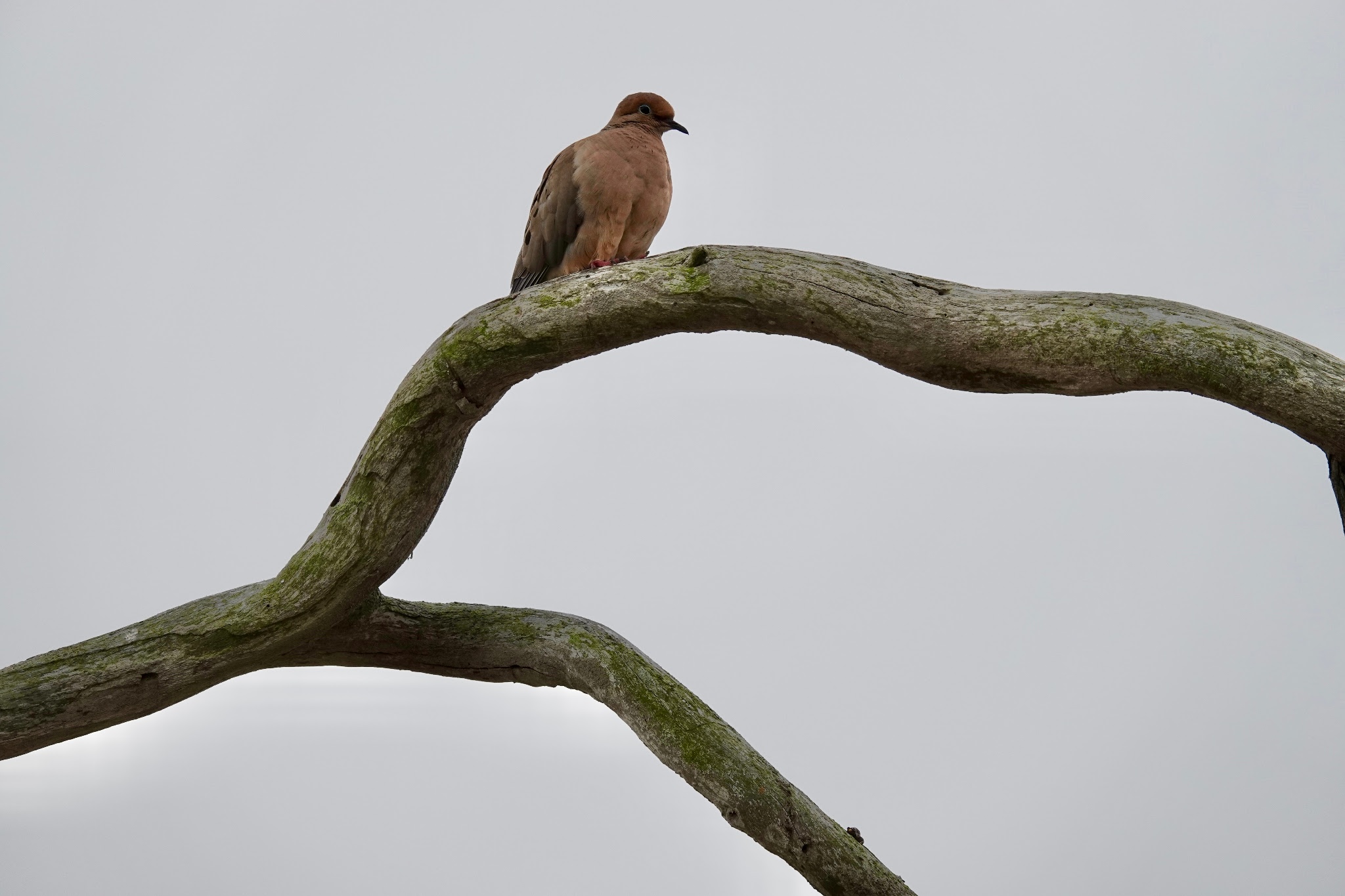 Last look to the north to Del Mar, Solana Beach and so on.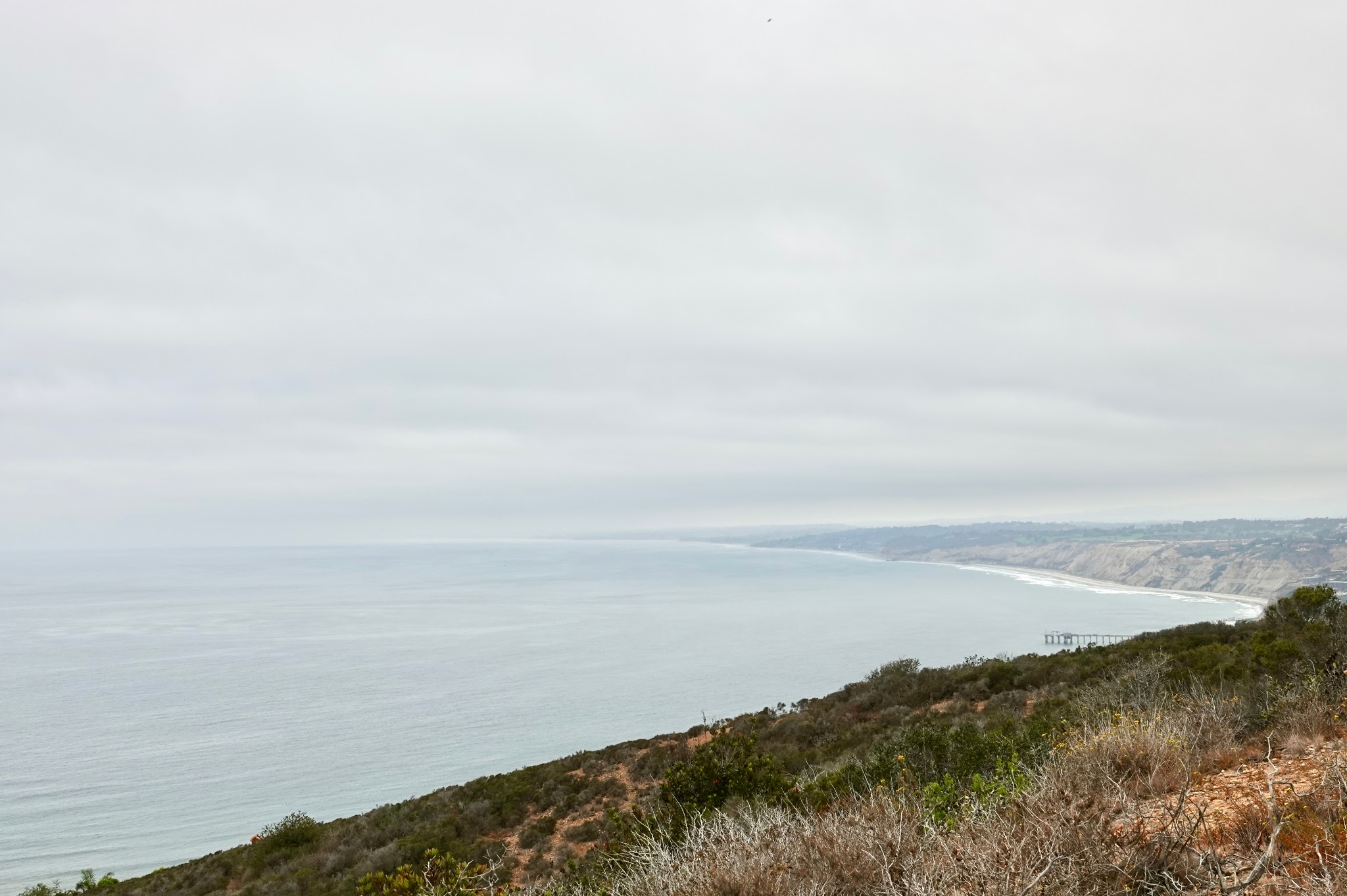 Another dove or the same one? followed us as we headed towards the car.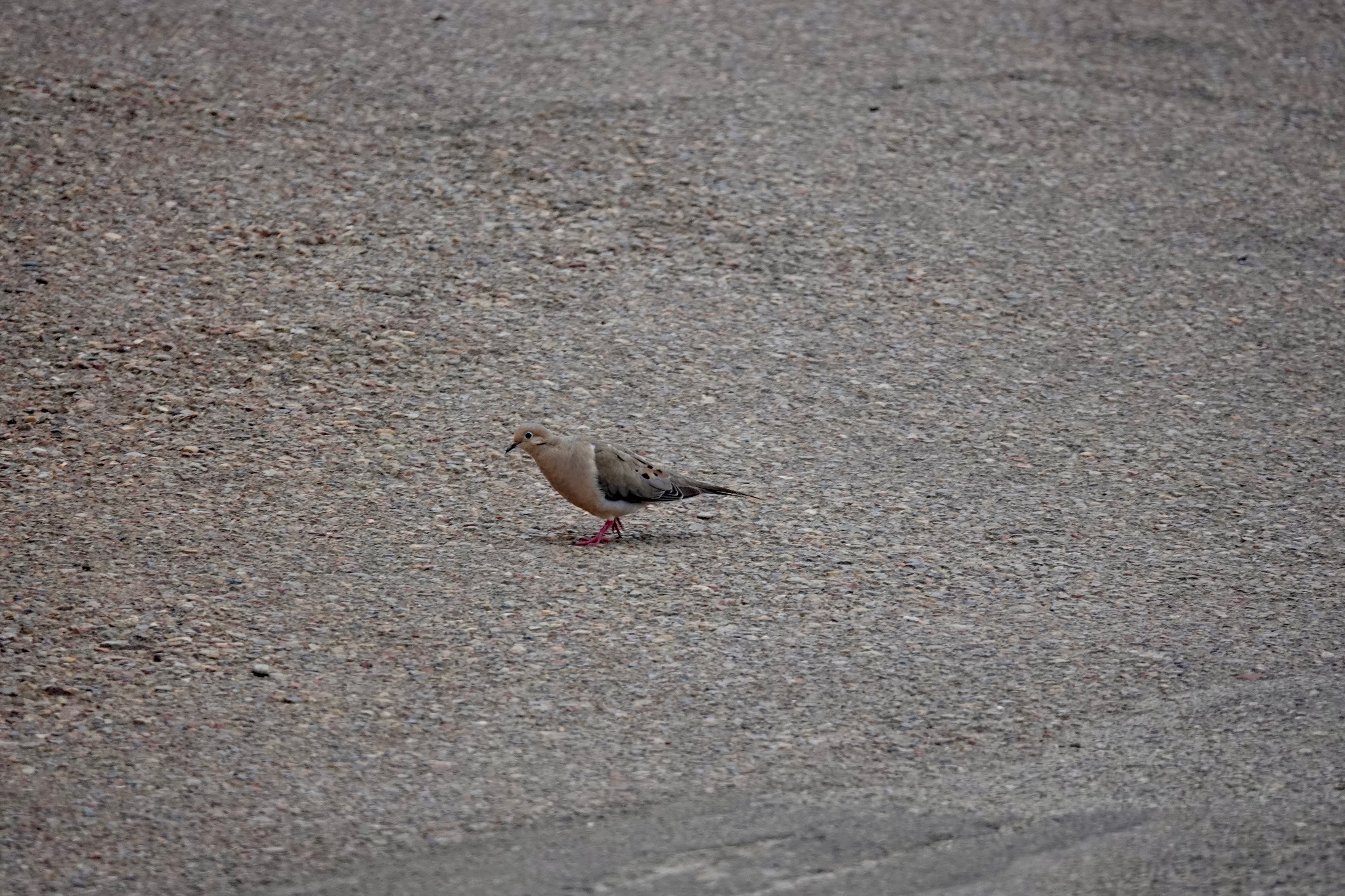 This was a great catch, but for him only... it makes me hungry for my breakfast.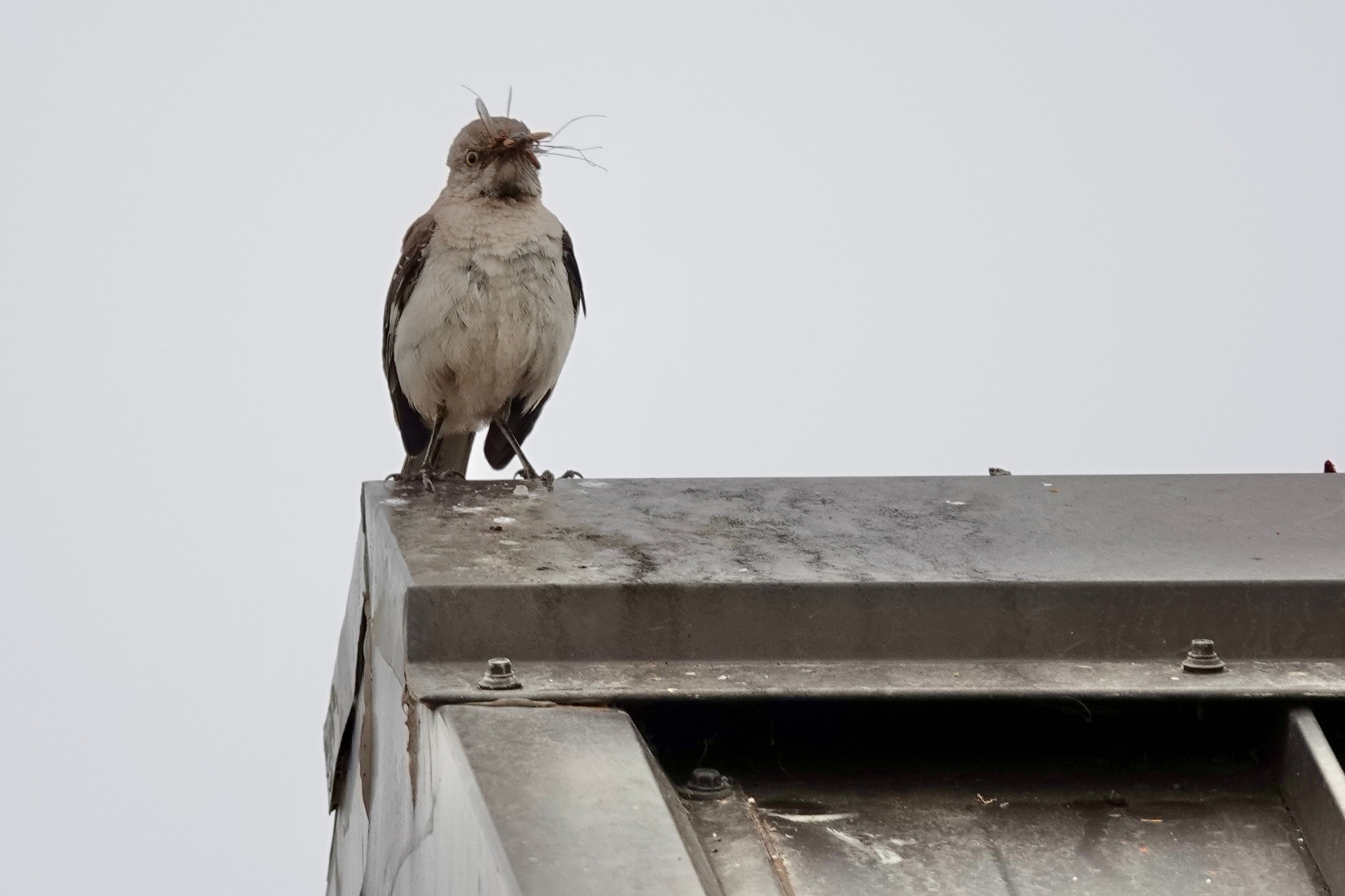 That bird hangs out on the expensive houses, not the dry scrubby open space.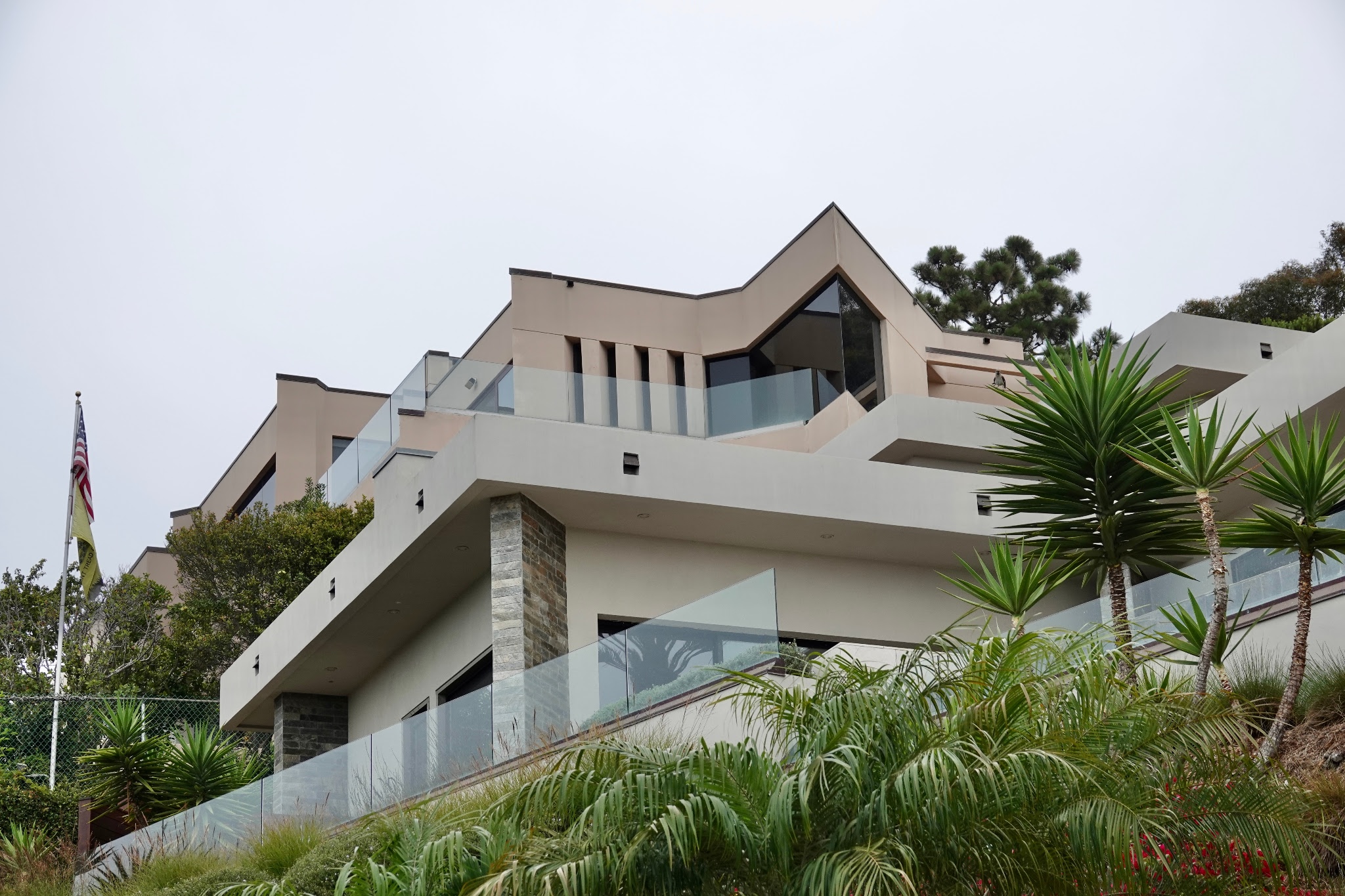 Matilda Poppy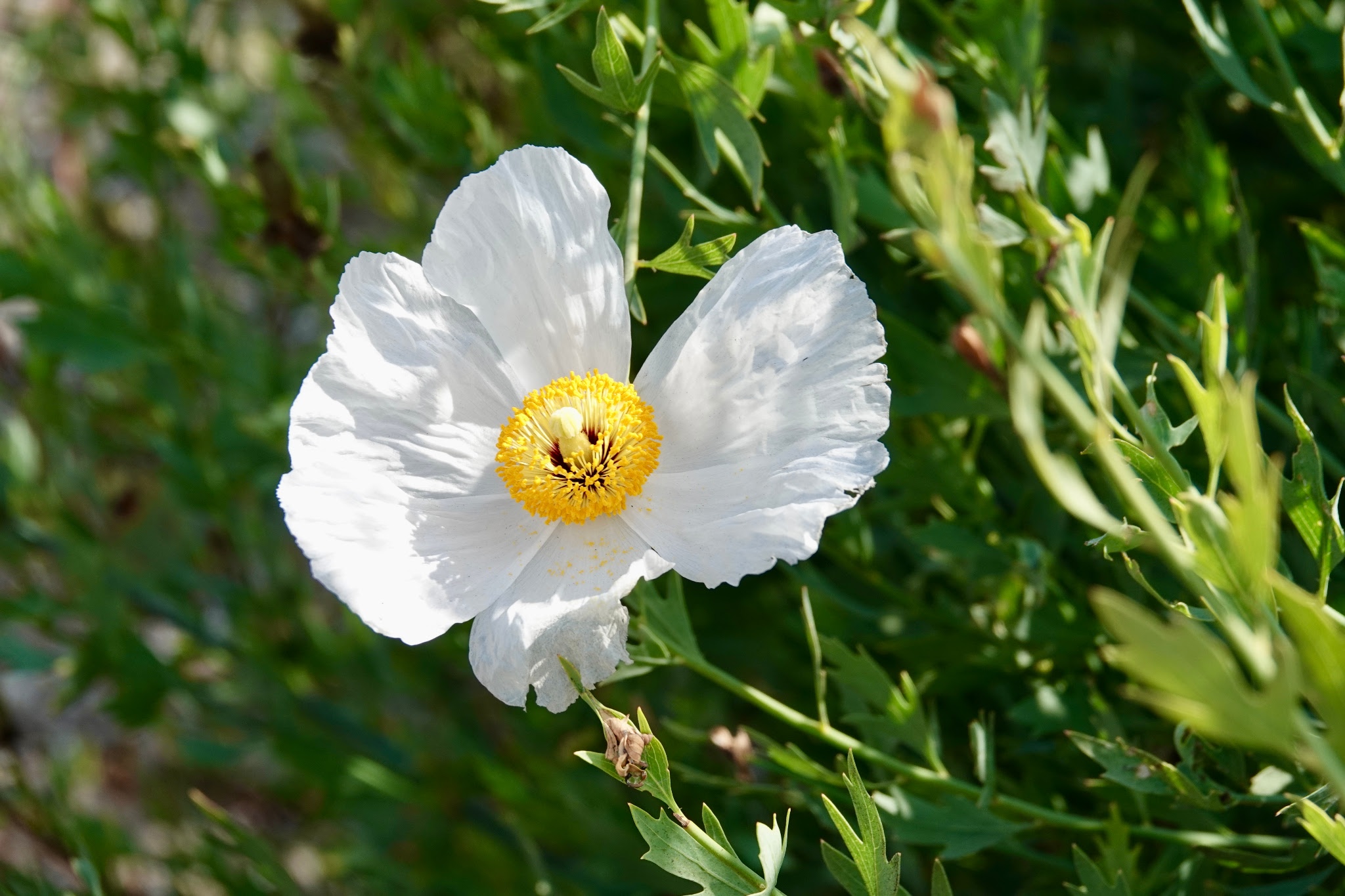 A beautifully painted house name, where we parked our car. With a painted ceramic cow up in the yard too.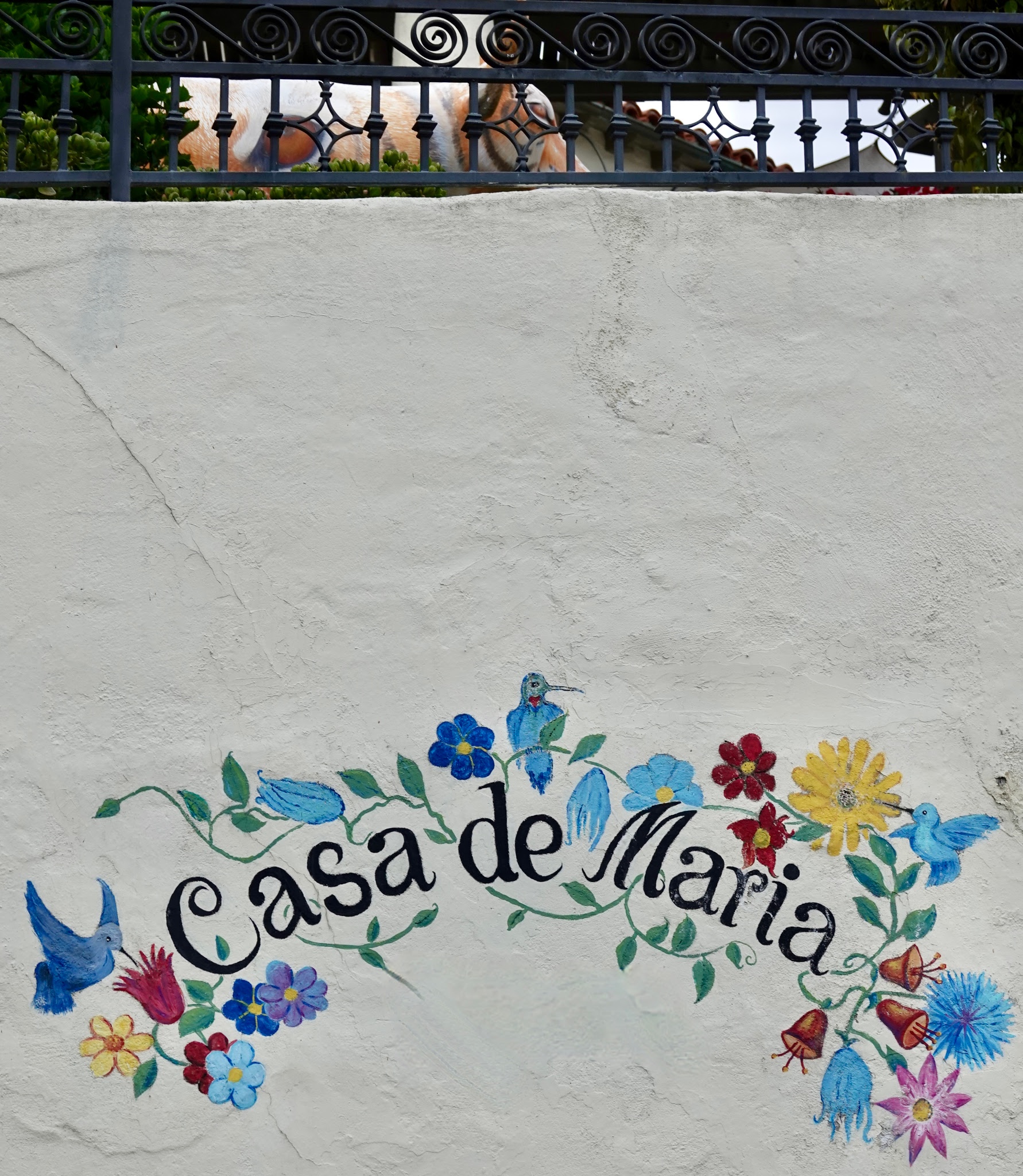 Thanks for walking with us.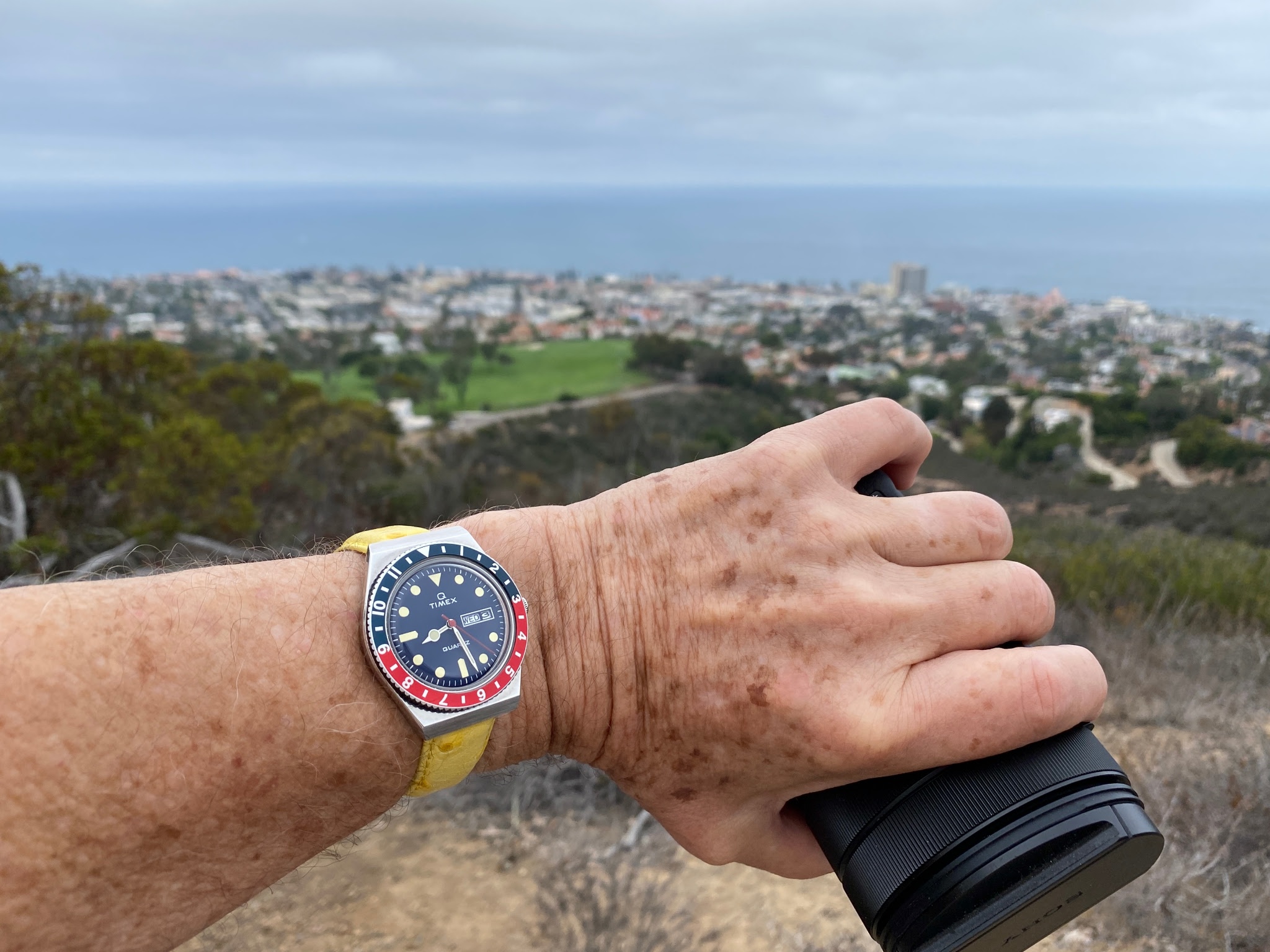 Cazalea