JToddH
[Purist]
2494

TAG Heuer: Aquaracer Saves the Day!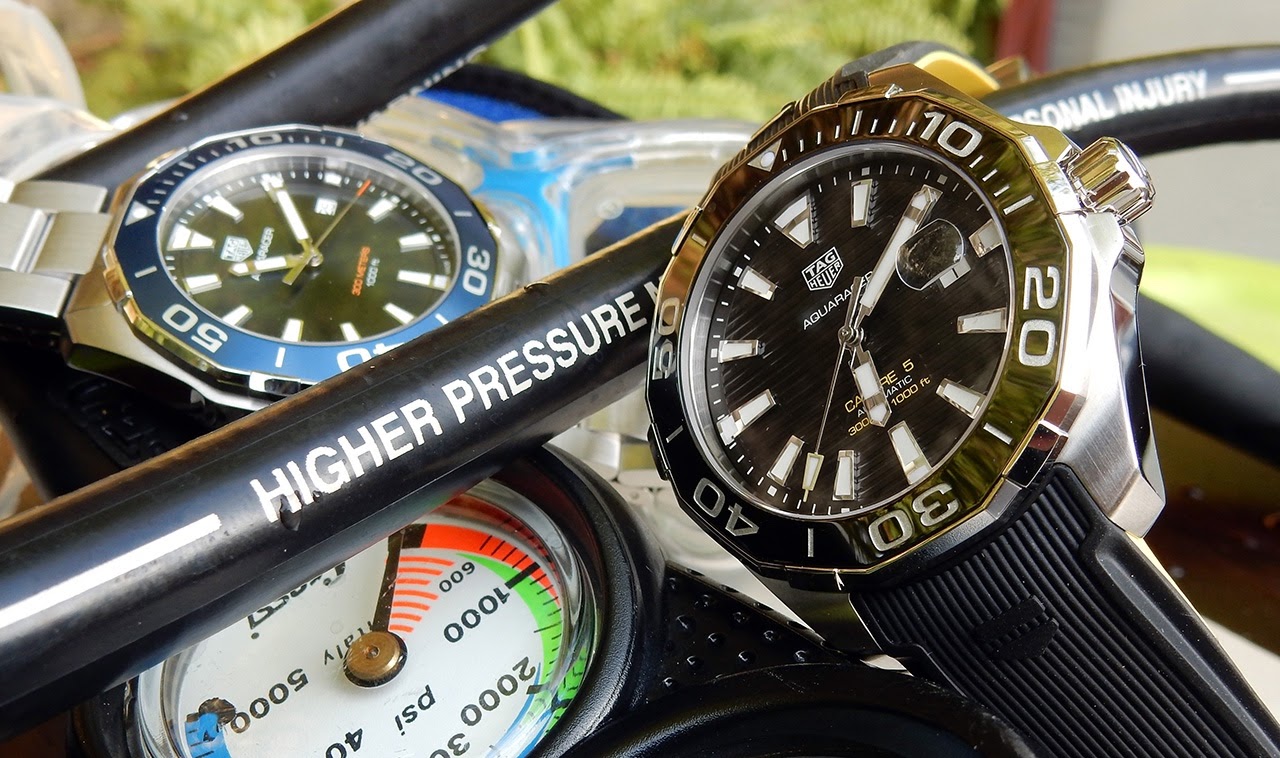 Those who know me have, no doubt, observed that I have a proclivity towards dive watches. In my mind, they carry an air of practicality and ruggedness. If you're recreational diver, few things carry you through the day like a solid diver on your wrist that reminds you of time better spent away from the office, below the aquatic horizon.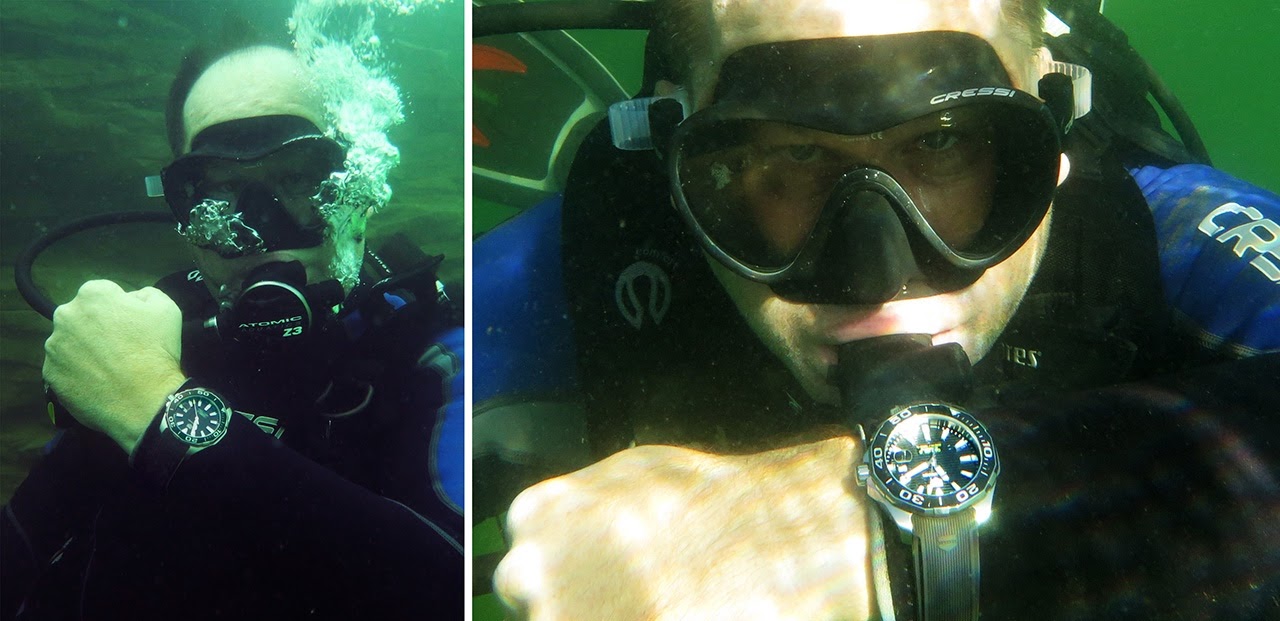 As mentioned in previous writings, and despite my passion for a solid dive watch, I've been among the first to concede that in a day of "nifty, high-tech, does-all, air integrated dive computers" a purpose designed dive watch is all but obsolete; gone the way of printed dive tables. Or is it?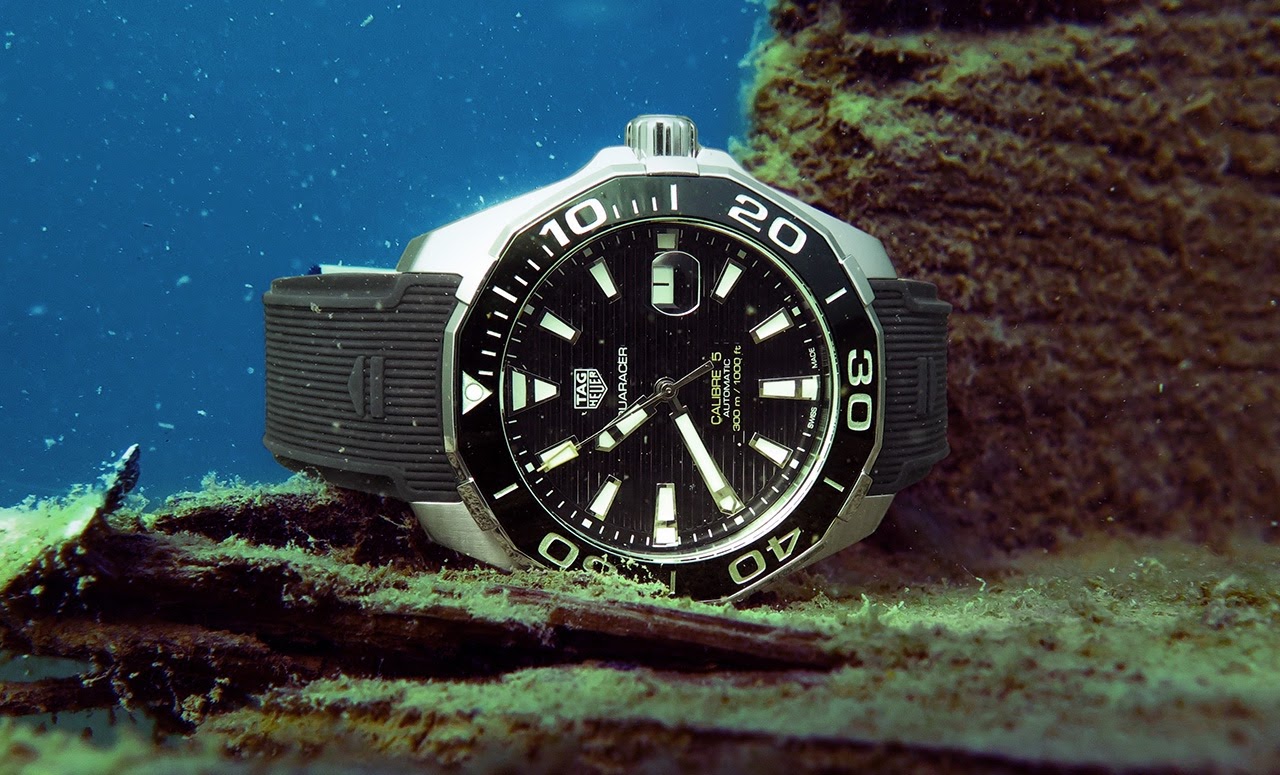 My opinion changed this past weekend as a buddy and I embarked on a hastily planned dive trip to a nearby freshwater lake. With summer behind us, it was one last chance to blow some bubbles before winter set in.
I spent time the prior evening packing my gear bag for an early morning departure. With the plethora of gear required for a dive, I pride myself on being prepared. However, this trip took a different turn. During the rush to load my car the morning of the dive, I realized that I had forgotten to charge my "nifty, high-tech, does-all, air integrated dive computers." Damn.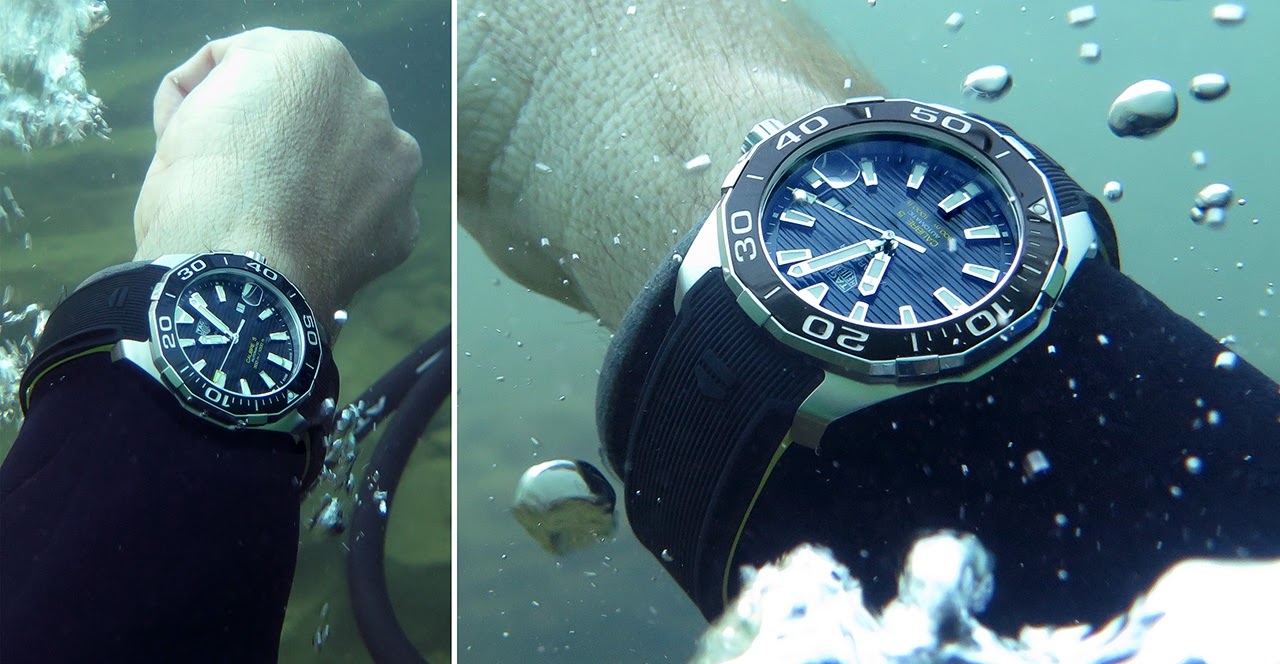 The solution was simple. I just happened to have in my gear a couple of 43mm Aqauracers sent to me for review by the kind folks at TAG Heuer. It was time to go "old school," with a dive watch and printed dive tables. I honestly did not expect to do my review from the bottom of a murky lake. Adapt and overcome. Right?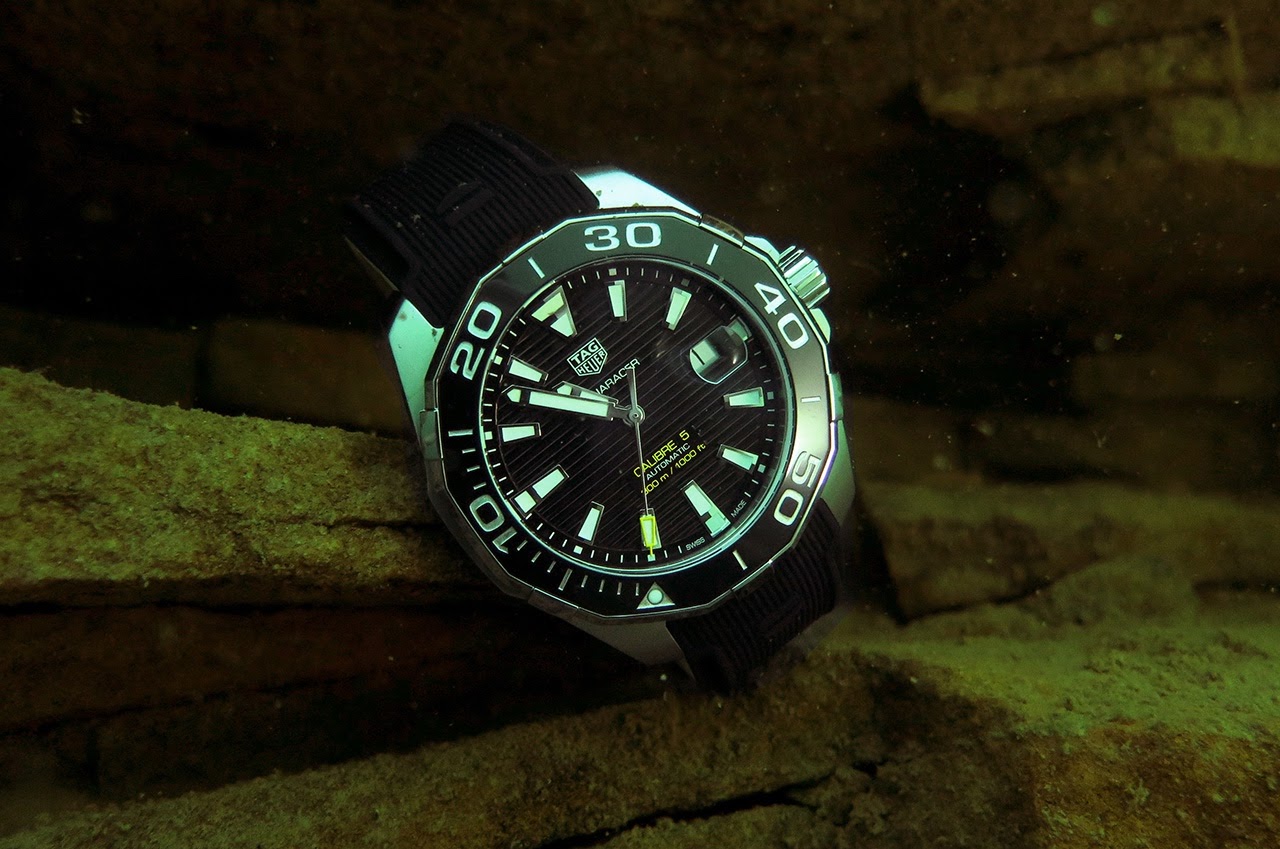 By most horological standards, the Aquaracer is a pretty basic watch. No bells or whistles; no chrono or complications to convolute the practicality (some might say necessity) of a watch functioning as both luxury timepiece and critical tool. And for non-divers, make no mistake, in diving time and pressure are everything. That's not drama, it's real-world life or death.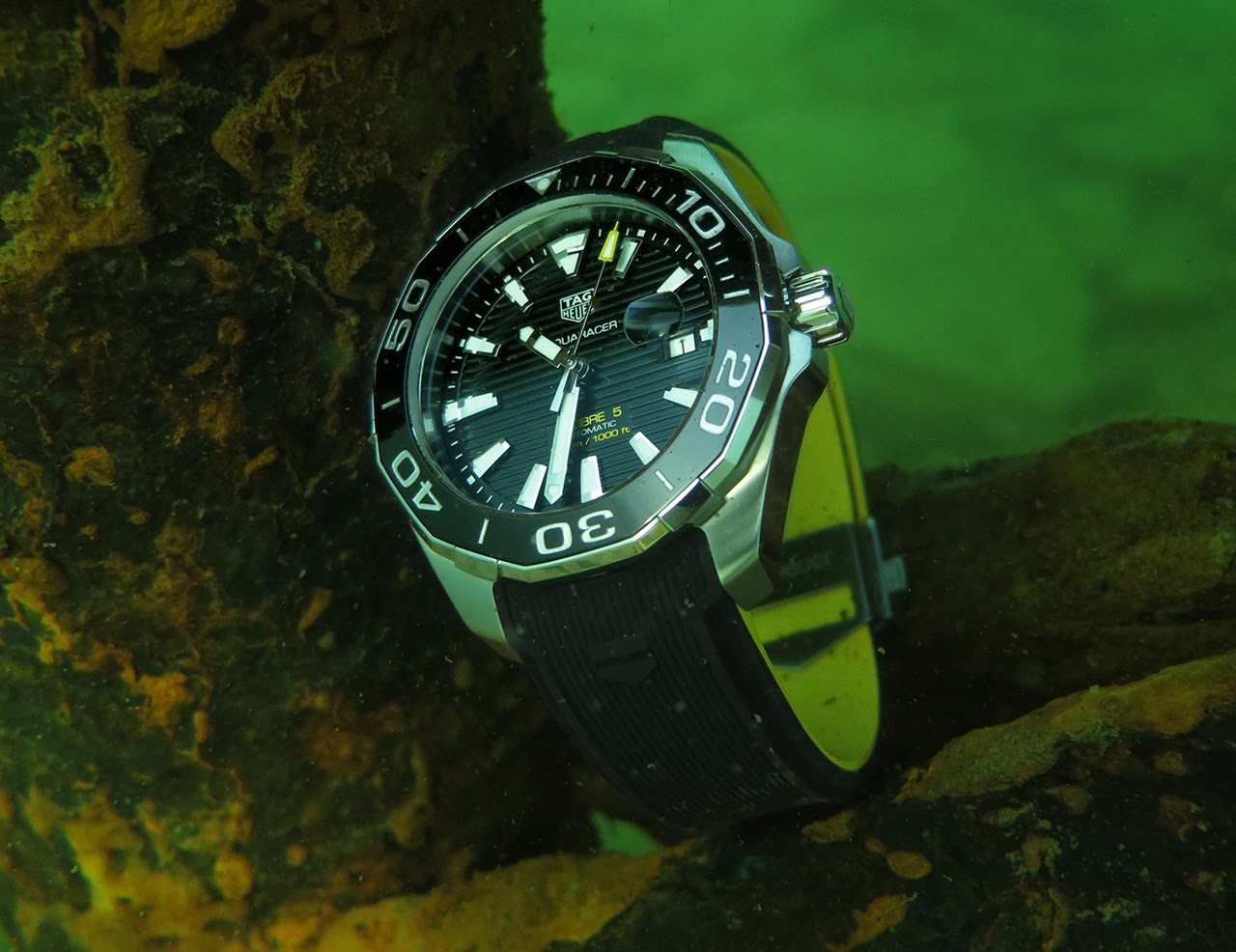 This dive was in relatively shallow water. Still, you can never take time for granted. This TAG kept me honest and reassured me of the time; time to enjoy the dive at hand. I even had plenty of time to take a few photos.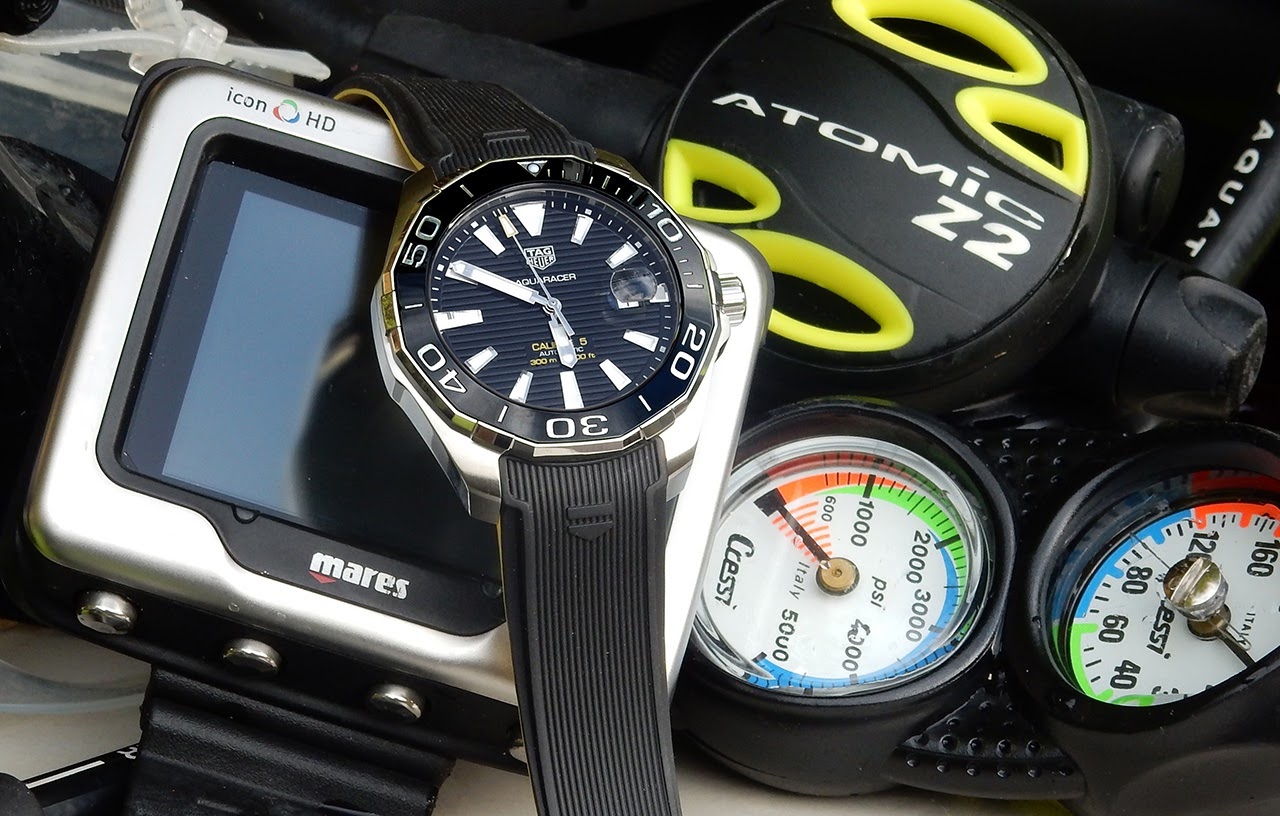 With numerous TAG Heuer watches in my collection, I was confident in the Aquaracer's quality; after all, I've been to the manufacture on several occasions and I've seen first hand the thorough and downright brutal testing to which the brand subjects their products.
Suffice it to say, the Aquaracer performed flawlessly.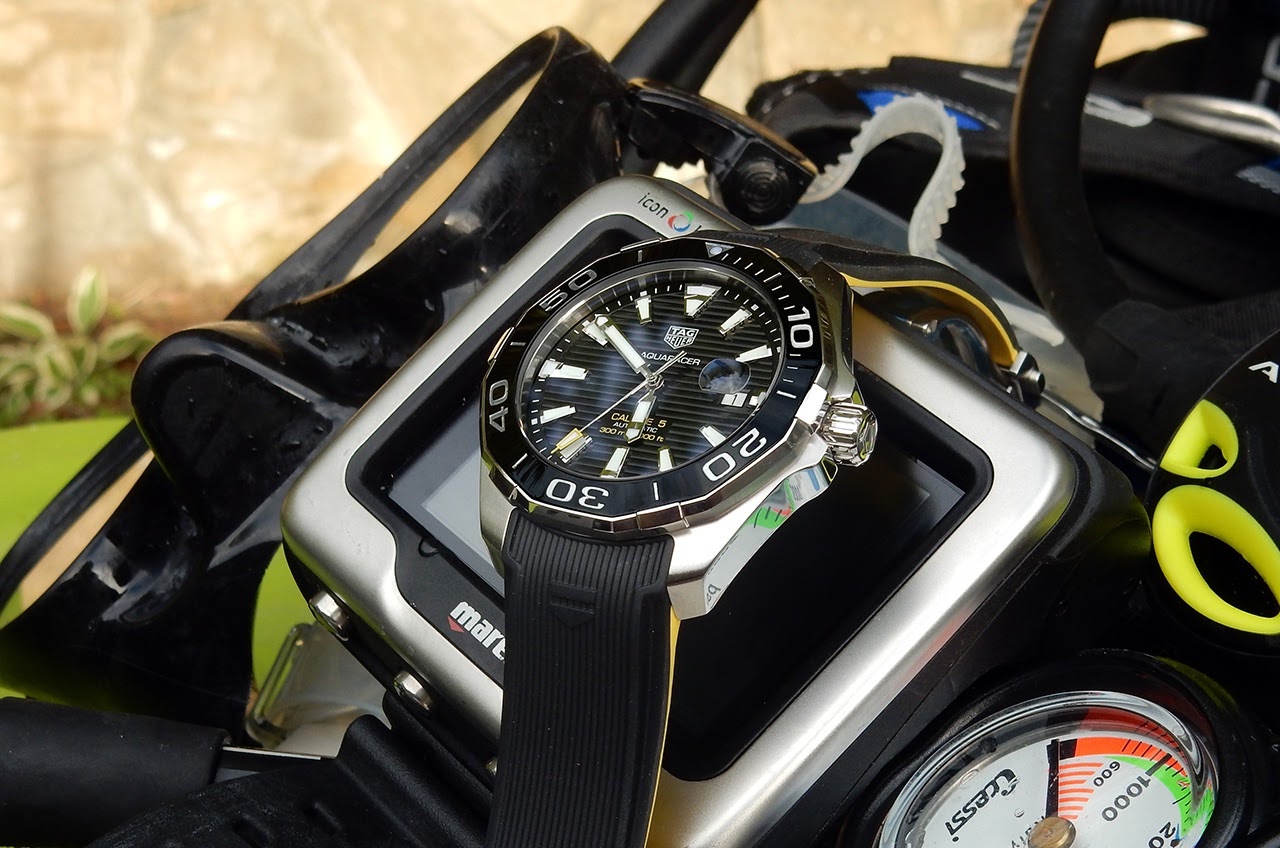 What impressed me most with this watch was not the quality. With TAG Heuer - that's a given. I was most pleasantly surprised with how quickly this model grew on me. I've always like Aquaracers in the 40-41mm range, but personally, they were simply too small for my taste. For me, 43mm on this model is a game changer.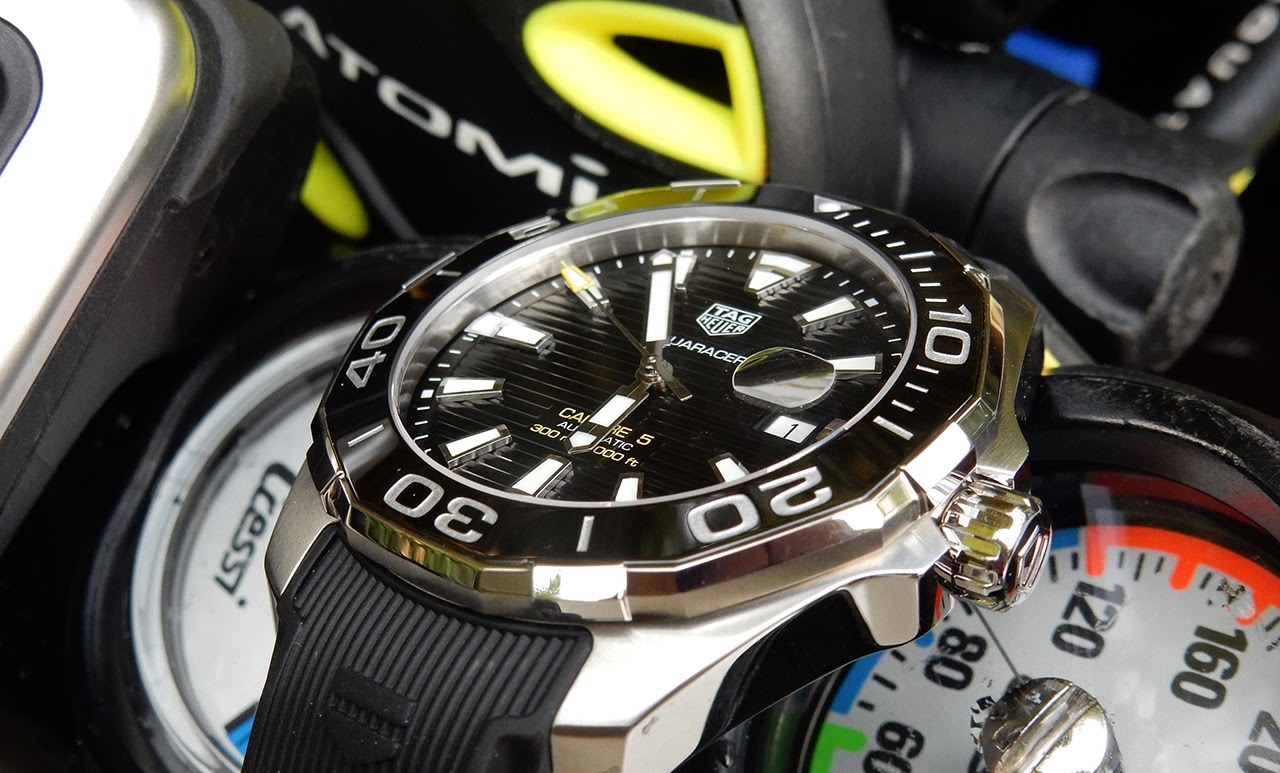 In all its simplicity, I grew more and more fond of its comfort and visibility under water throughout the dive. The rubber strap held it firmly in place for the entire dive. Except of course when I removed it for photos.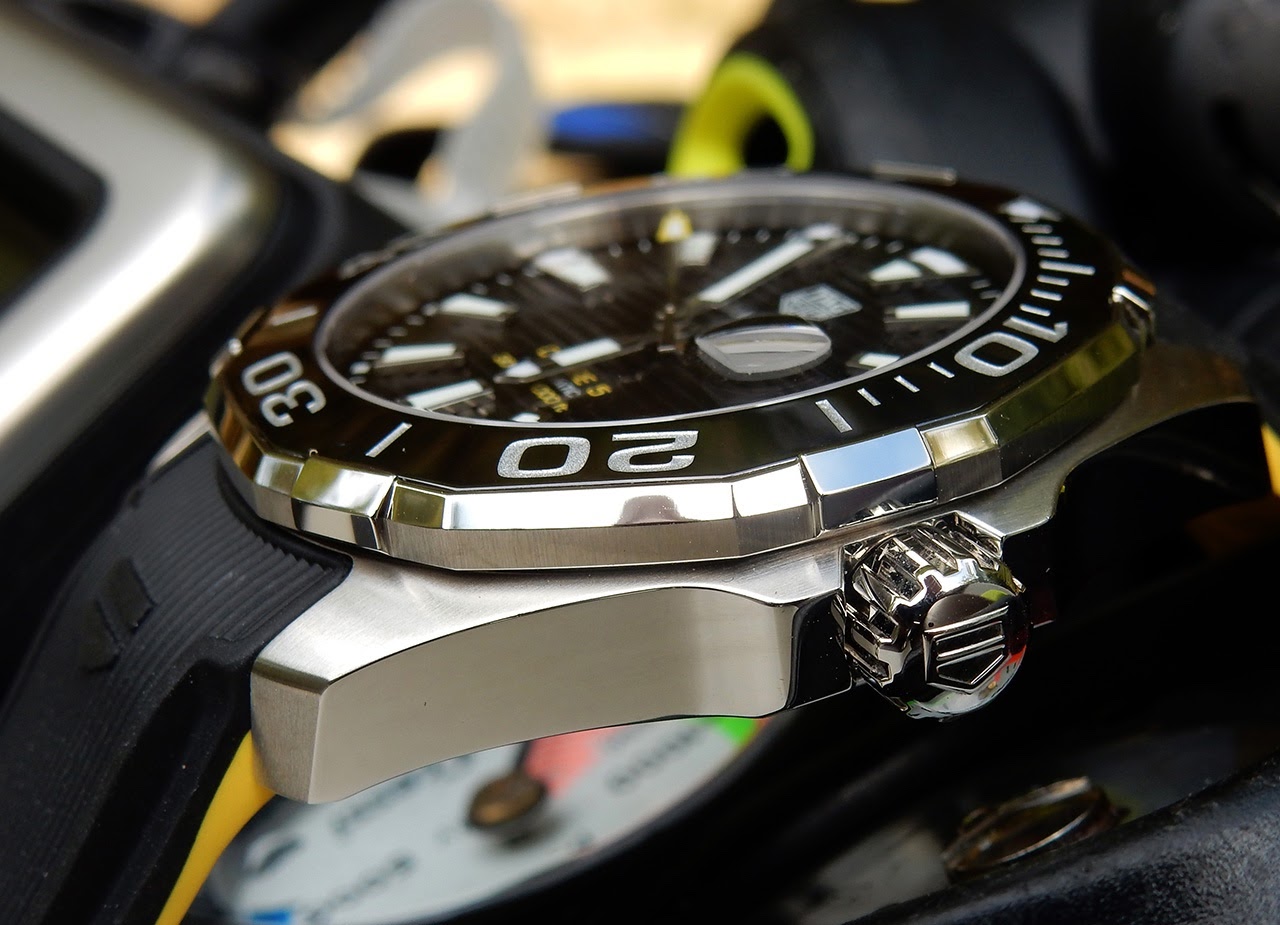 The bezel is bold with strong edges that make it easy to operate; a huge plus when you actually use a dive watch to dive.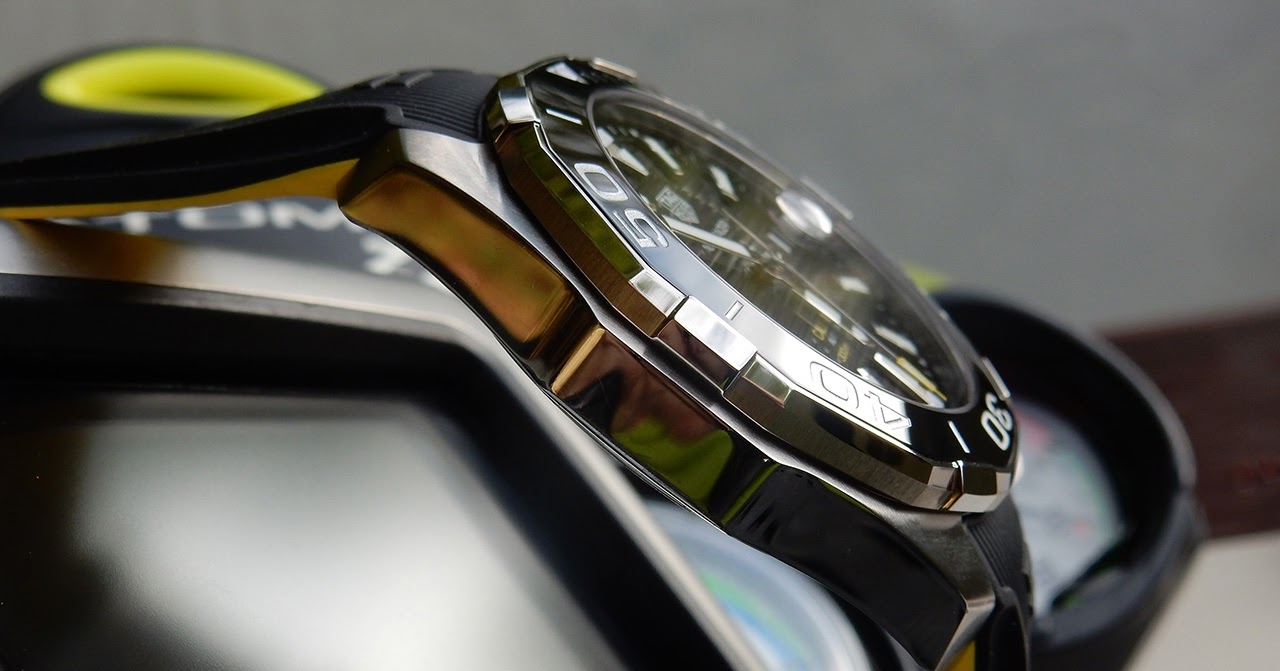 The smooth iconic case is simple, clean and beautiful without a bunch of complicated cuts or details that catch on objects or collect sand and debris. Did I mention simple?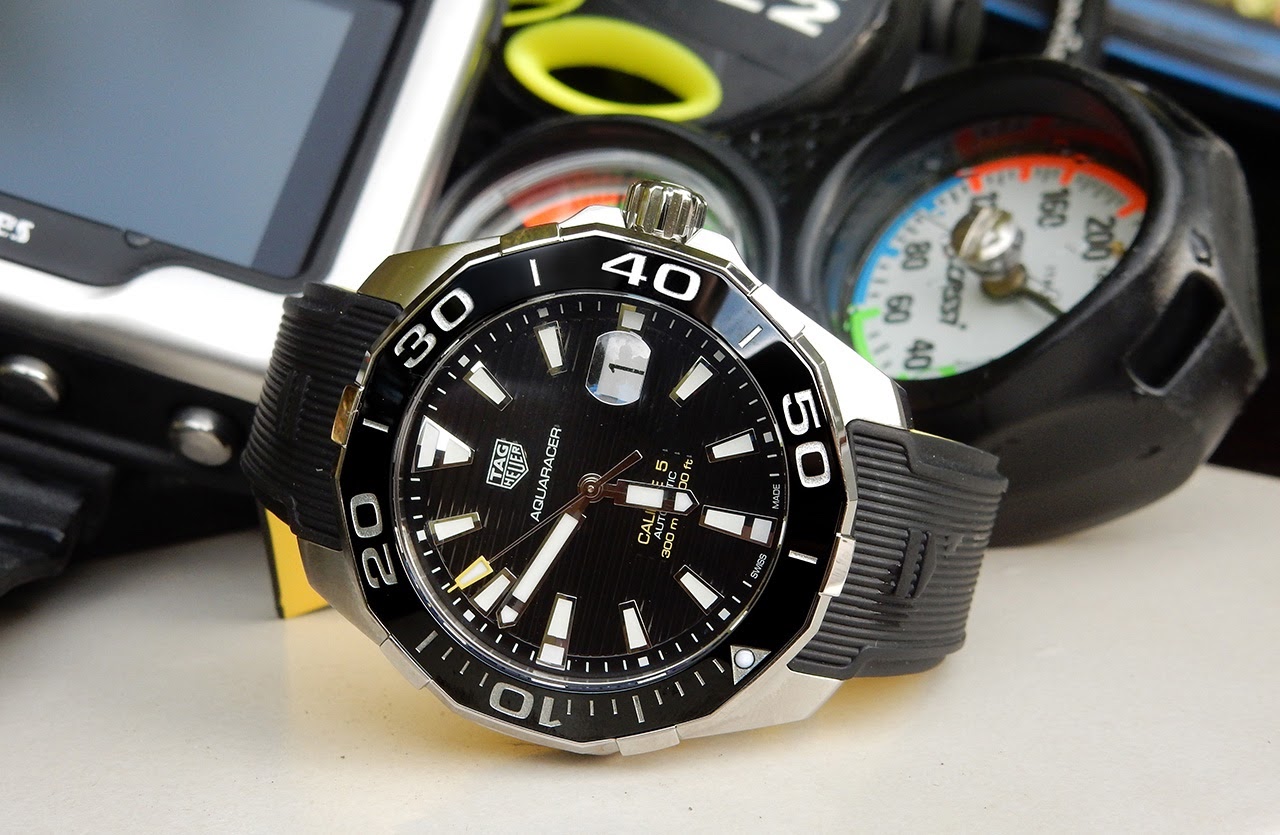 Back on shore, I marveled at the Aquaracer in a new light. Giddy with my newfound appreciation, I can now say that the Aquaracer has earned my respect as a practical and effective dive tool.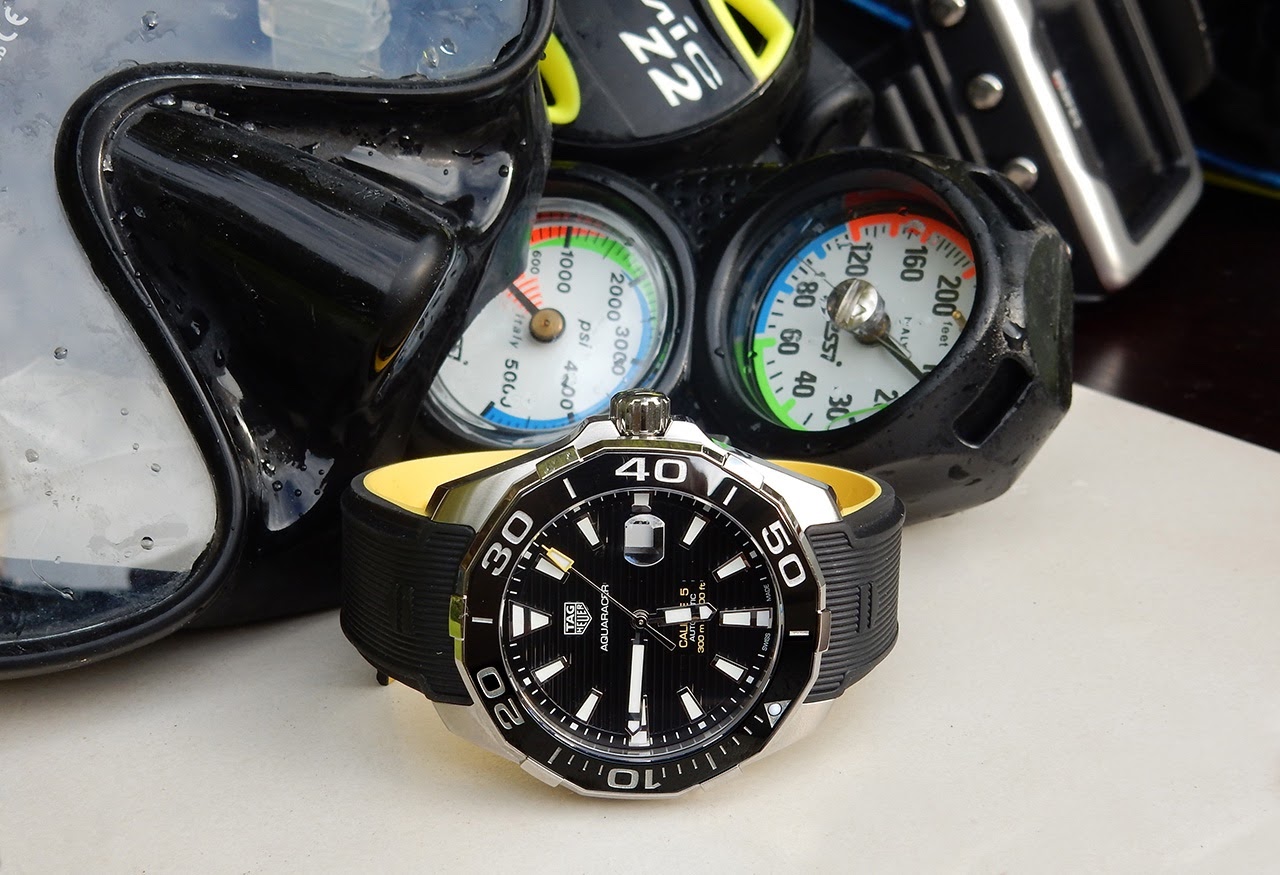 After a fun day of diving, I simply washed of the watch and strapped it back on my wrist for an equally fun evening with friends; this trusty dive tool suddenly transformed into a stylish timepiece, suitable for a night on the town.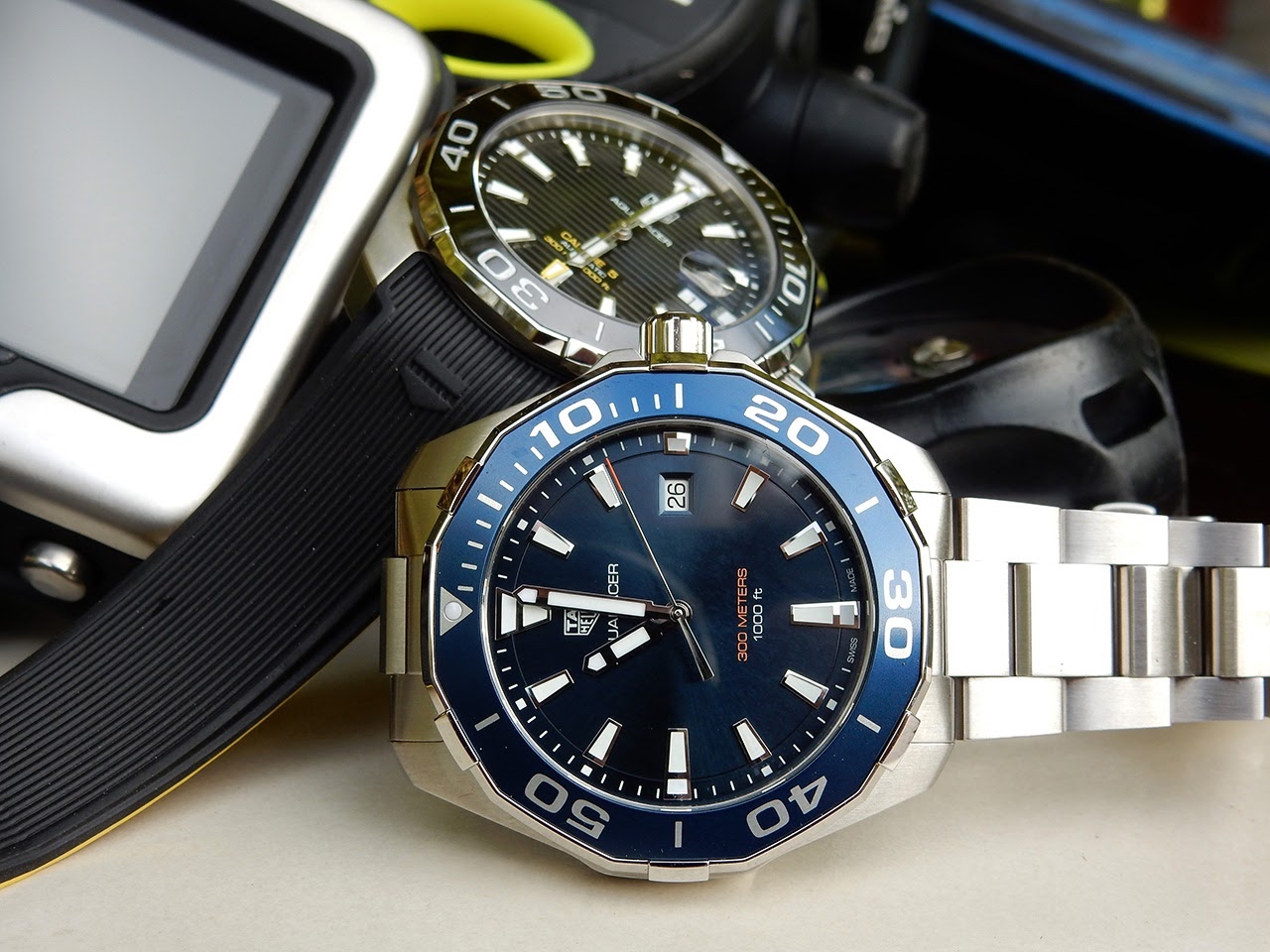 Though my time in the water was spent focused on the automatic version, back on shore, I had the quartz version waiting in the wings. Every bit as capable a diver, I tend to opt for the auto. Still, it's nice to know that TAG Heuer provides plenty of variations of their classic Aquaracer.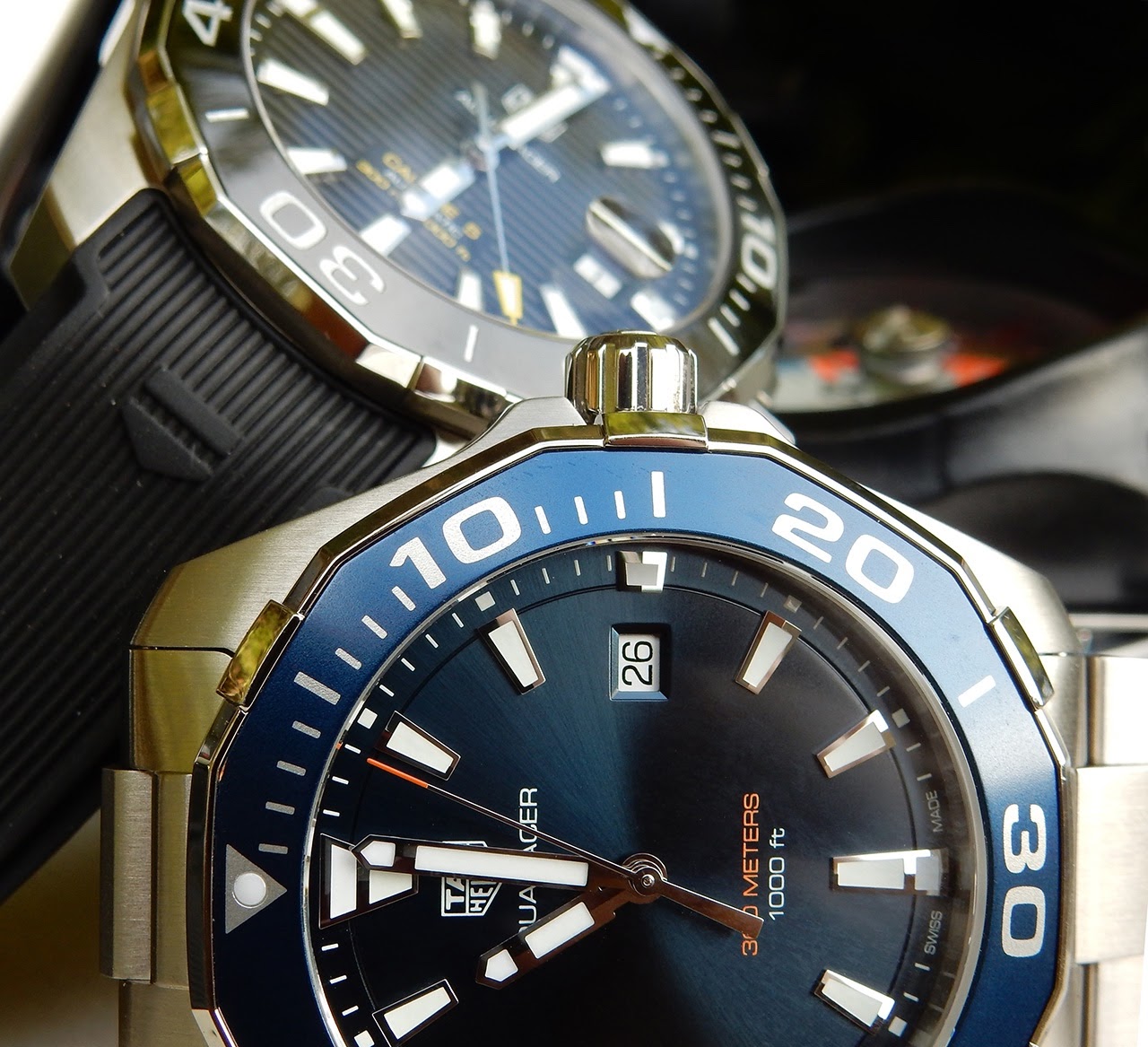 Back on terra firma, I did test drive the quartz model enough enjoy its company. This model sported a bracelet that was quite solid with a clasp that was equal to the task.
Bottom line: The Aquaracer in either variant is a formidable tool watch, a perfect "daily driver." What TAG Heuer often positions as "entry level luxury," is actually quite the performer. With an MSRP of $1,700 for the quartz model and $2,650 for the Calibre 5, the price point of these models adds another feature rarely seen in Swiss timepieces – value. At these prices, I'd consider adding one to my collection for no other reason than, "I like it." At such a value, little other justification is needed.
More posts: