MTF
[PuristS]
13383

<!tag blob="forumpost.visitstar">
Piaget 9P and 6P movements
james1
Remember that between 1943 and 1988, Piaget was a family-run firm producing small batches of exclusive watches. There was no need to record the 'rationale' in company meeting minutes or answer shareholders because usually the chef du manufacture was an owner. The casebacks were solid and nobody looked at the movements even if they were as beautiful as this.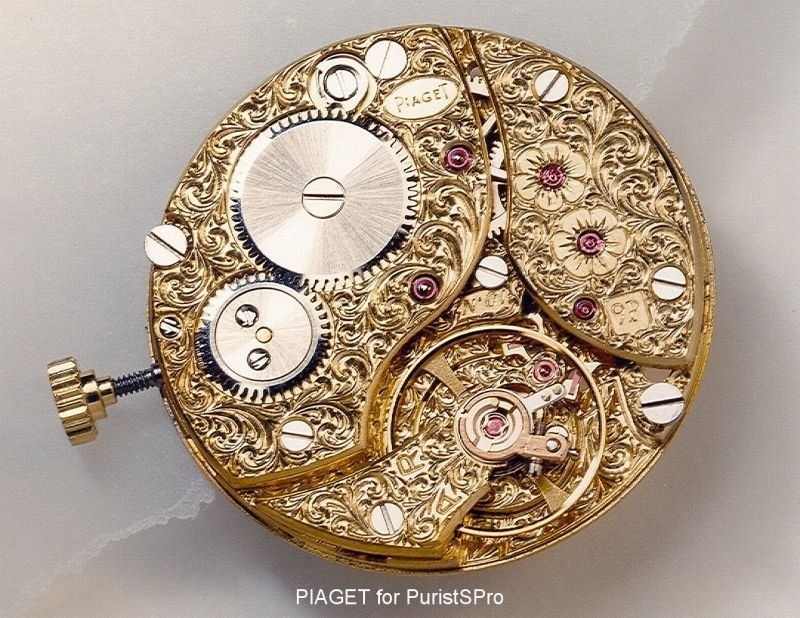 I did do a check forum search because I am a co-moderator of this forum and author of half the 'Altiplano Saga' series mentioned. The URL link given in the last reply took you to the first article that anwers some of your questions.
I cut and past excerpts from the same article that you could not find:
URL click: piaget.watchprosite.com
In 1945, Gérald Piaget became Chairman and Managing Director of the business and he travelled widely as the public face of Piaget. Valentin Piaget became Deputy Director and in charge of technical development and production at the Manufacture. Together, they developed Piaget expertise and fame for extra-plat (flat) movements, breaking one world record after another.
The Piaget 9P caliber was 20.5mm x 2.00mm and was introduced in 1957 as one of the world's thinnest manual wind movements; it ran at 19,800 A/h frequency with 89 components.
The 9P2 is an improvement of the 9P. The 9P2 is a 20.5mm x 2.15mm movement also running at 19,800 A/h frequency but with only 86 components. The extra 0.15mm thickness was sufficient to completely guarantee robustness even though the original 9P already astonished people with it's almost unbelievable reliability for such a slim movement. The extra thickness is because the balance spring is glued to the stud and the collet is a greiner-type that cannot be removed. There is also a micro-metric screw to adjust the rate.
The 9P was engineered in 1956 and introduced in 1957. It was eventually found in both mens' and ladies' watches. I don't know when the 9P2 replaced it as even into the 1990s when special hommage editions were made with 9P2 movements, they still are listed as '9P movement'. I don't think there were movements 9P1 and 6P1. Revised 2nd versions of the 9P were numbered 9P2. Think about it. Finding a 9P1 would be like finding a roman coin stamped 100 B.C.

How did they know Christ would come along a 100 years later?
Piaget movement numbering is not chronological e.g. the 4P was launched in 1976 after the 9P. The number refers to the old watchmaker's measurement of lignes (lines) where 1 ligne=2.25mm. Thus 6P was 13.53mm.
The 6P (hand wind regular crown) and 6N (hand wind back crown) movements are probably from 1950s as the oldest watches that I have seen are from 1957 and 1955 respectively. They were used into the 1970s when Piaget needed two small movements for the time zone or secret watches like yours in 1973.
The 6P movements probably stopped in regular watch use when ladies' watches became bigger so the 9P could be used. Piaget probably led the change in 1960s - 1970s so that ladies could read their watches without embarassment of reaching for reading glasses. This was important for ladies of a certain age and the jet-set.
The 6P movement specifications are no longer listed in today's Piaget reference manual but it is of the same era and maybe a few years earleir than the 9P.
The 9P was long in production as 9P in 1957 and then 9P2 probably a few years later. The quartz period made exact stoppage year difficult to determine because mechanical movements continued to be produced albeit in small batches. It is easier to determine the start date of the replacement 9 ligne or 20.3 mm movement. The closest is the 20.5mm 430P movement launched in 1998.
This base movement was also decorated as a Cartier and found in their high-end Cartier Paris Collection Privee watches listed as MC430 (montres cartier 430). Those Cartier watches were what started my interest in Manufacture Piaget.
Regards,
MTF
This message has been edited by MTF on 2012-07-18 07:43:42