HansL
62

<!tag blob="forumpost.visitstar">
Missing Review: JLC 6B/159 comparison and review
Echo with recent posts regarding JLC military watches, it seems that there is a missing review regarding JLC pilot watch JLC 6B/159 and I think it may be good to have a supplement post for this topic, please feel free to share your idea and comments.
Code 6B/159: Basically there are three series of pilot JLC watch carrying this 6B/159 marking in military JLC pilot watch, 6B/159 Weems, 6B/159 early alloy case or stainless stell case version and a 6B/159 watch with case upgrade issued in 1956. The review will focus on non Weems 6B/159 version, i.e. 6B/159 early version with chromed case and 6B/159 in so called "56" case.
JLC 6B/159 early pilot version: The early verison uses JLC Cal 470 movement which has center sweep hand in an alloy matel chrome plated case, the case size is around 31 mm width with fixed lugs (some samples have the bar removed and replaced by spring bars) with either white and black dial. The handset used is blue steel sword type with second hand either be one with oval counter weight or simply a pointy tail one. There are three found dial variants: white with LeCoultre name with circle in the dial centre, two "MOD repainted white" dial carry either Jaeger Lecoultre or LeCoultre name and the black dial one with Jaeger Lecoultre name. All four vatriants go with minute track markers. Please refer to picture for reference.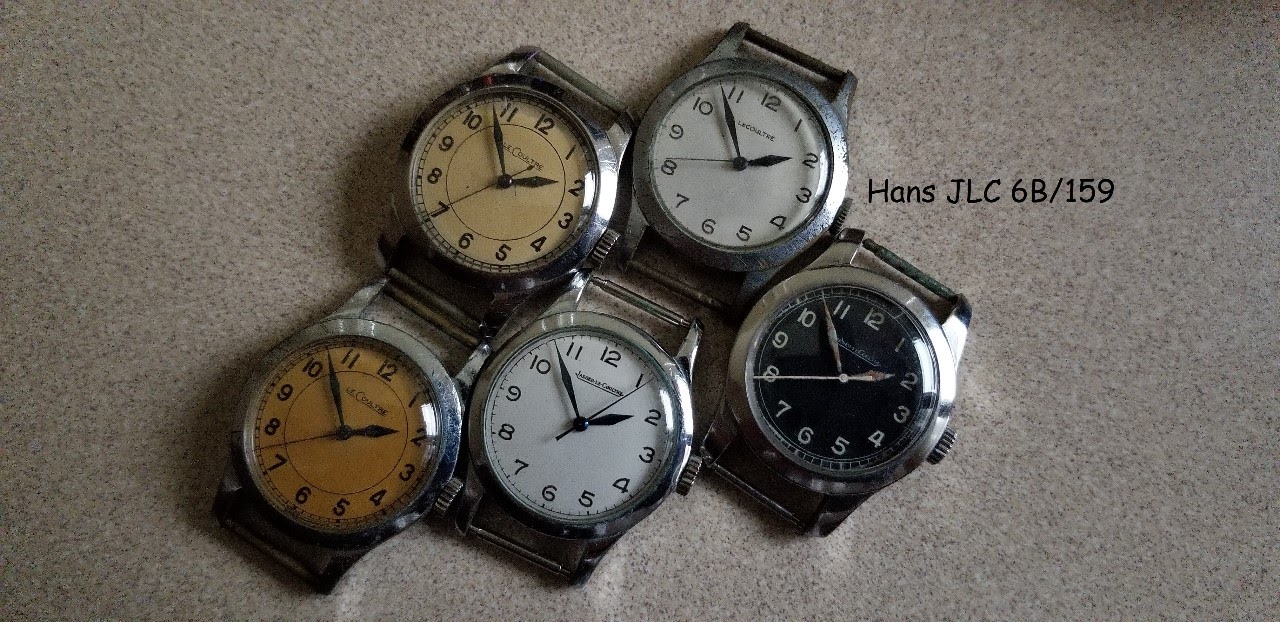 As the original case design is not for military use, plus the chrome case materials (a kind of brass with chrome plating) suffers from respective degree of corrison, there is a common finding about different degree of damages in the case ug after long time use. Together with easy wearout of the chromed plating that increases the degress and rate of corrison, MOD has upgraded the case materials to stainless steel. This upgrade has solved this major problem and enhanced watch usage durability. The new case is much more sturdy, there is no sample find that shows marks of broken case lug in this new casing after use.
Since the focus using stainless steel as casing is to prevent broken down of case lug, the new case has a modification in this area so now the lug has become thicker and shorter.
There is no find record showing how many alloy case JLC 6B/159 recalled for the case upgrade (Please do share such info to me should you know the number and date of service recall!) but according to the samples finds for comparison, the new case does provide good solutions as the movement has received lesser degree of damages compared with the alloy case.
Second case upgrade for JLC 6B/159- the 56 Case
Probably the initial purpose for the first stainless steel case upgrade focus on materail use upgrade, the first version stainless steel upgrade still follows alloy case design with snap on case back, so there are chances for case back loose out, MOD has come up a new case design which can provide a much better sealing, with a much bigger case (around 36mm width), using flanged acraylic stepped plexi with screw in internal retainer instead of pop in plexi, plus a screw in caseback, the new case design address most of the problems. Collectors like to name this as 56 case to differentiate the casing use during different time period.

Due to the size of the movement, the plexi retaining ring used has wider rim so that the upgrade can retain the original dial as well as movement without a need for modification.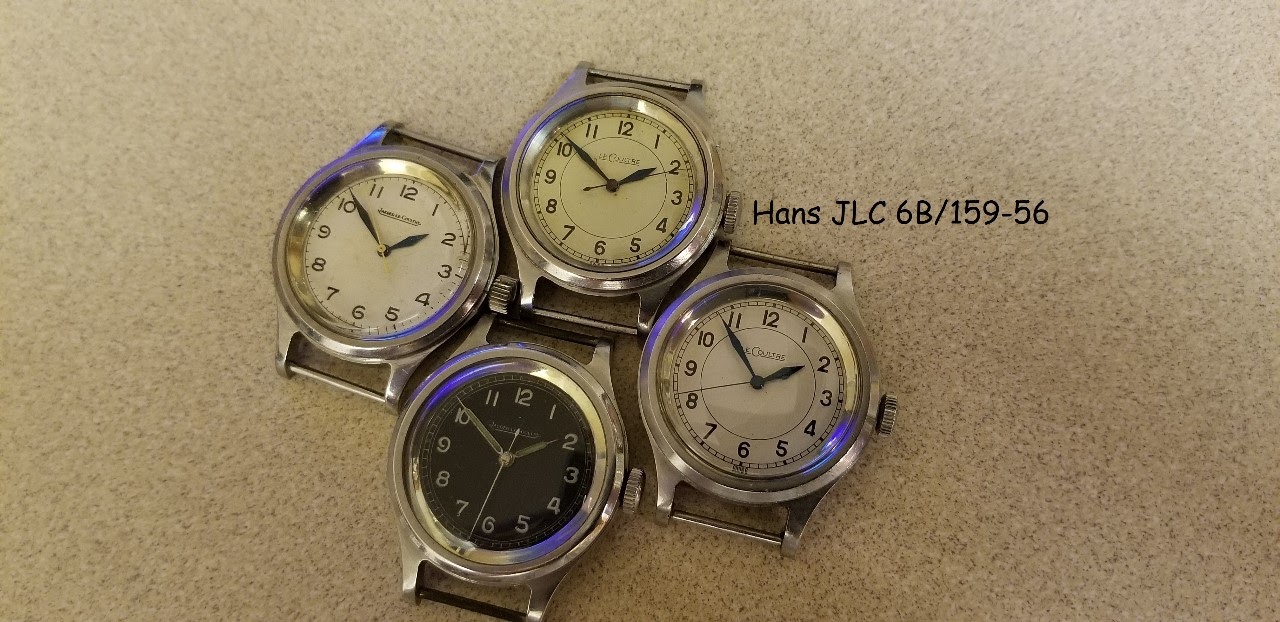 Other than JLC 6B/159, Omega and Longines 6B/159 have the same case upgrade to enhance watch duarability as the 56 case is a new deisgn that can avoid dirt and moisture coming in the case and damage the movement and dial.
Among other brand case upgrade, JLC 6B has an unique sized movement cover which
can further protect the movement (Not fully replicate the one in JLC MK XI) plus acting as movement retaining ring to hold the movement from rattling inside the case. The old case does require two screws to secure the movement in the case and the new case design can simply save this need. Below please find the movement dust cover in JLC 6B/159-in 56 case versus the original 6B/159 in alloy case for reference.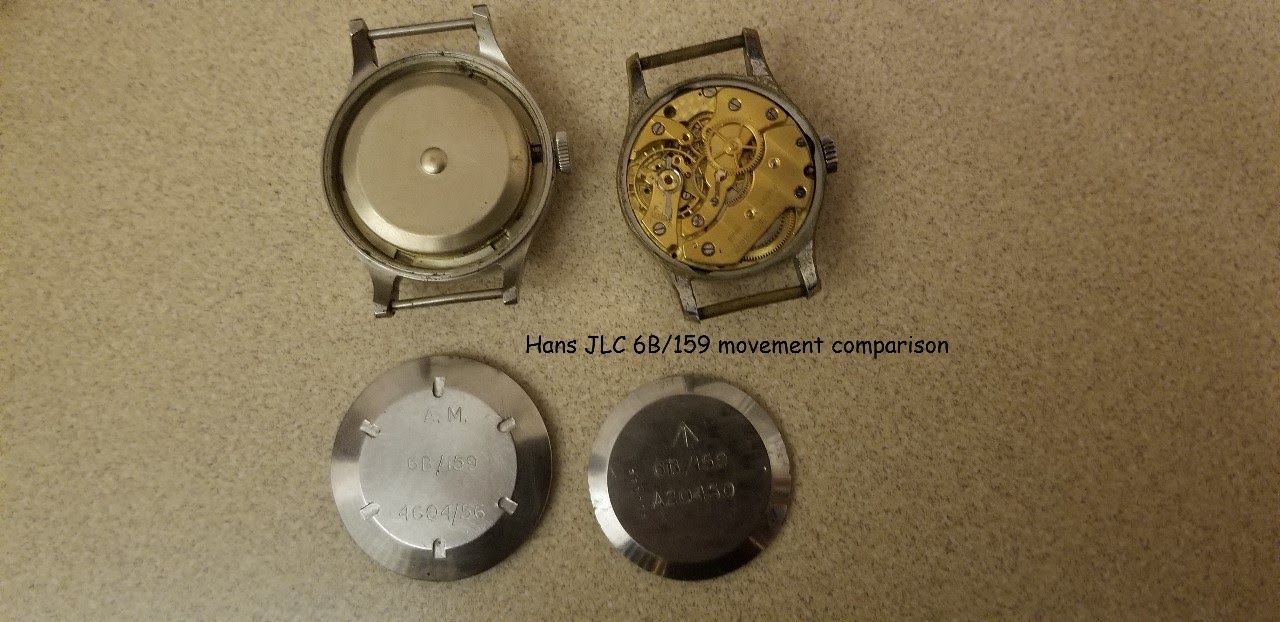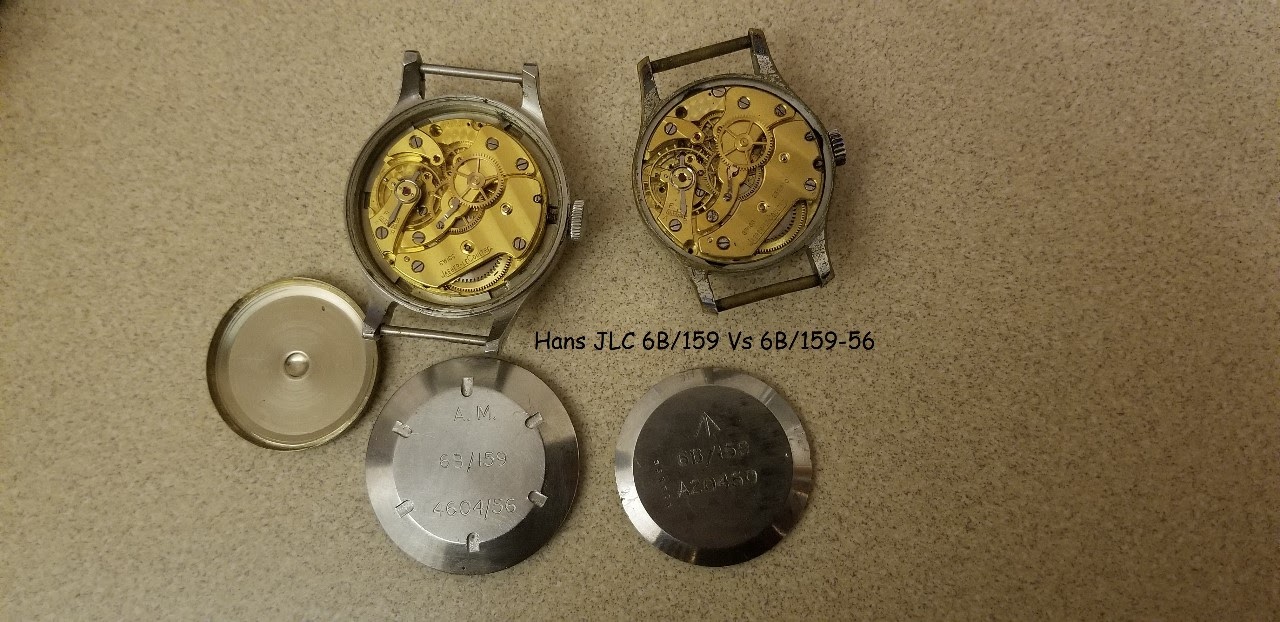 Although some collectors have viewed that 6B/159 in 56 case does not classified as formal and correct 6B/159 due to the fact that it is a watch that has been modified or upgrade and different from original specification (espcially the size now is a lot bigger), more collectors now are recognizing that 6B/159 in 56 case should have a place in the history of military pilot watch under the code of 6B/159.
Thanks for your time of viewing this post!
Best regards,
More posts: