During one of my visits at the Heritage Gallery, in 2008 or 2009, I discovered a strange watch, a curious version of the Master Mariner Deep Sea, with an intriguing dial, displaying the day, the date, with " nipple " indices, and some touches of orange, with the " HPG " mention at 9 o'clock.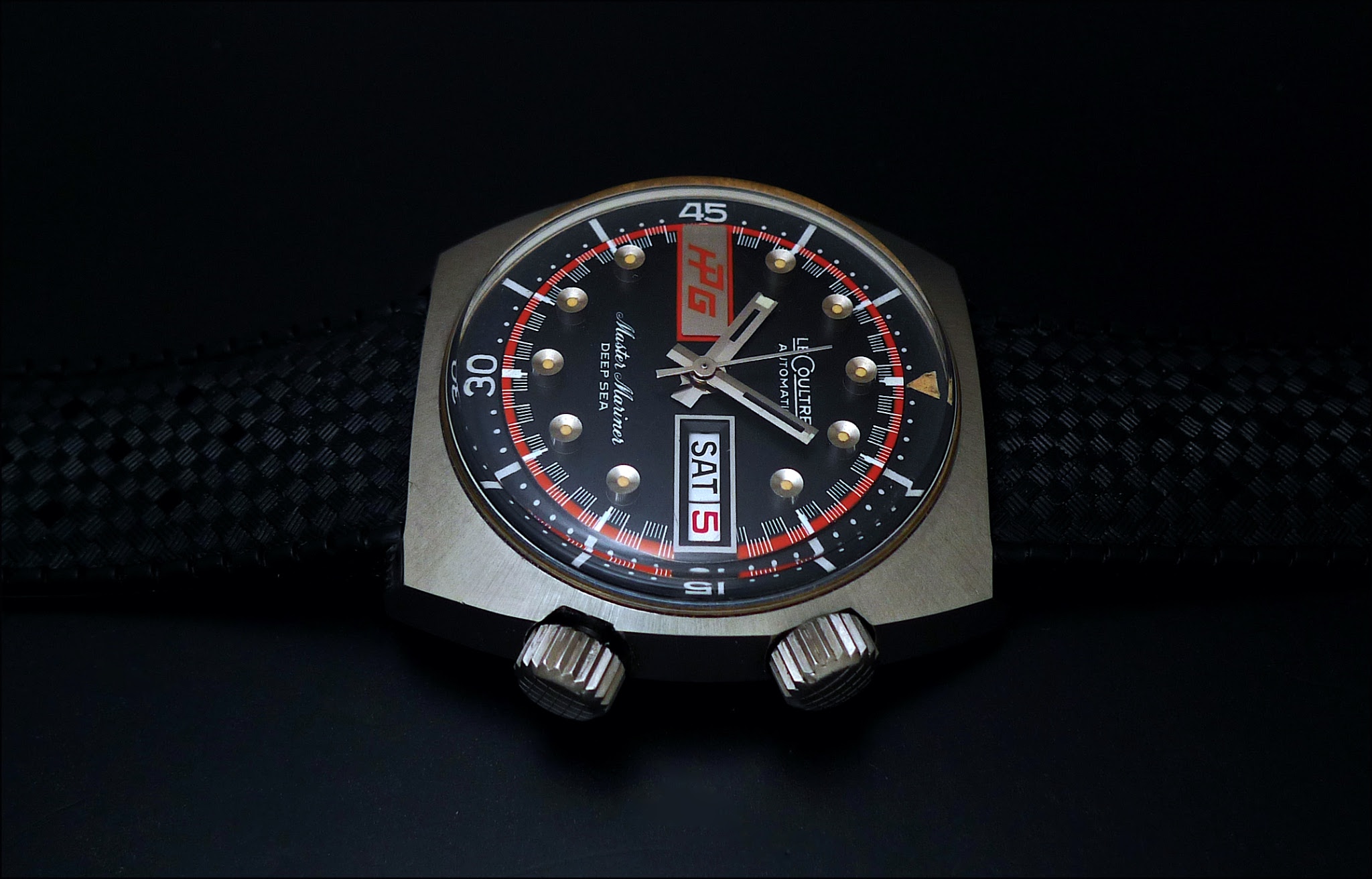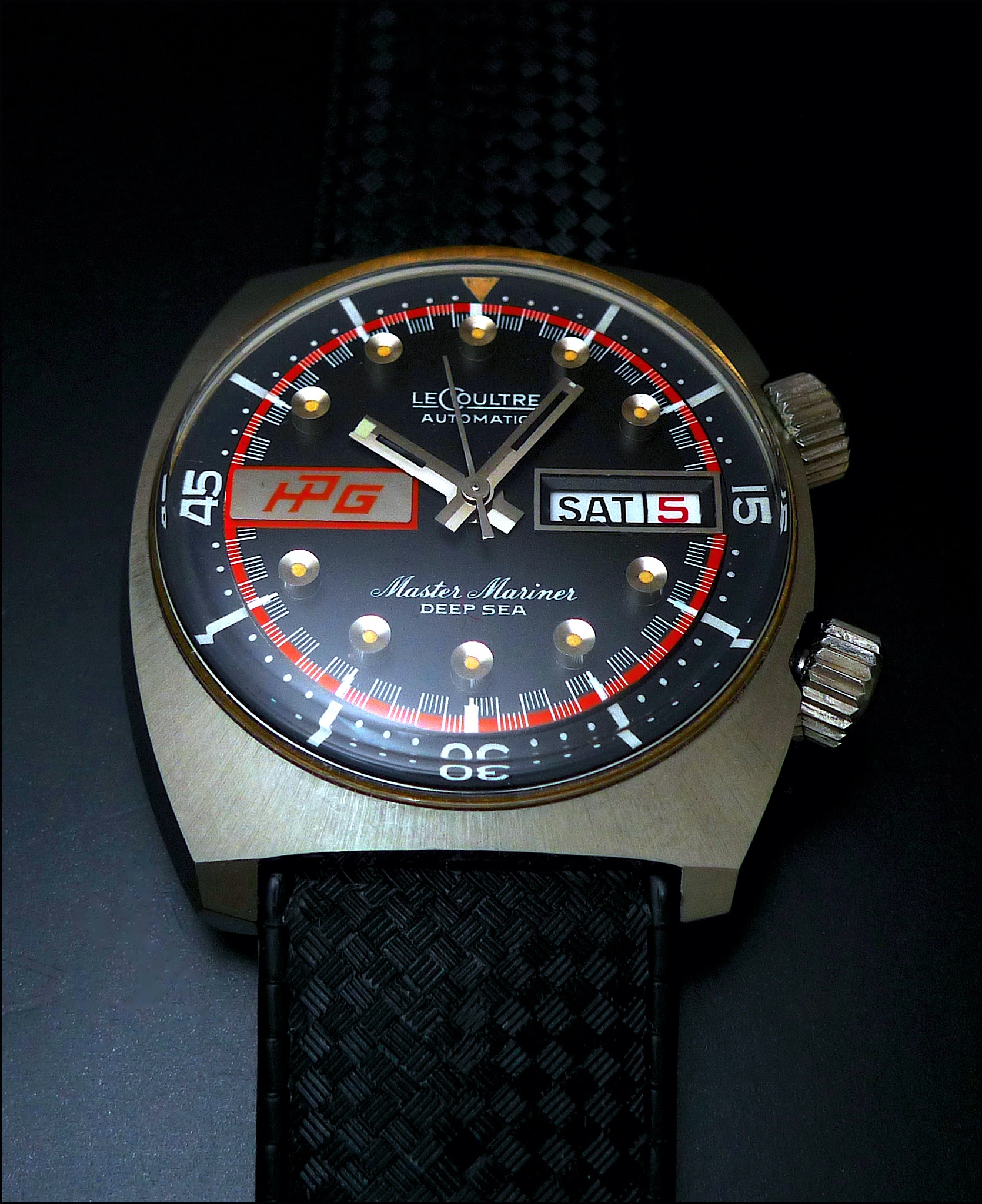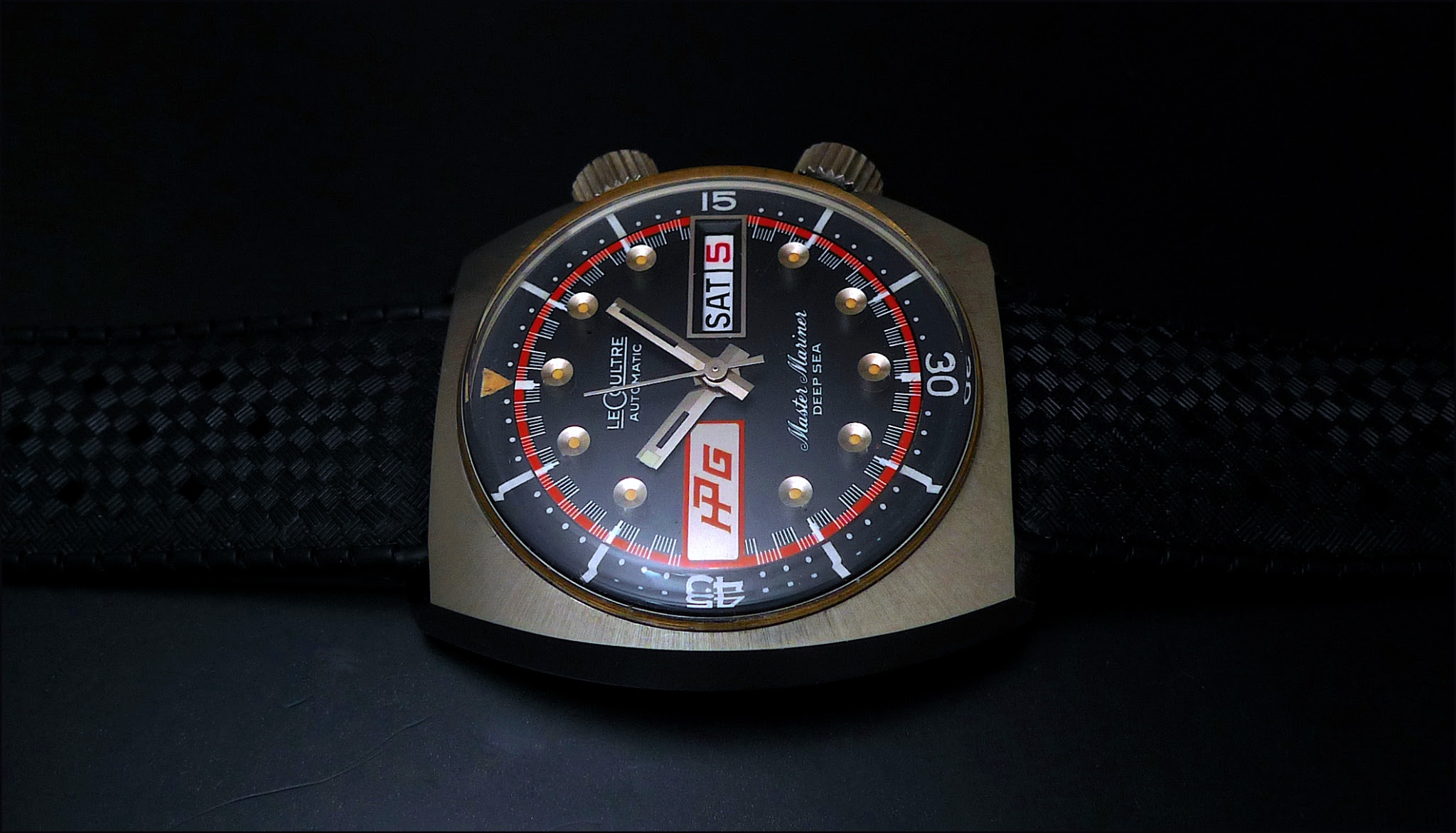 I wondered if it was a special version dedicated to the US Market, or if it was a reassembled watch, I mean a case housing a dial which belongs to another reference.
Different things made me doubt about this watch:
1/ I started to check all the catalogues, the European or american ads I could find here and there, and I didn't find anything. No evidence about a supposed existence, no mention, nothing.
The European Catalogues:
An American document showing the American version of the Master Mariner Deep Sea, called " Barracuda ", in the US.
2/ The hands are " weird ", to say the least. Way too short, as if a watchmaker didn't find any other to put into this watch. They obviously don't go with this watch.
3/ The movement is outsourced. The reference is the Cal 164, which comes from A.S. Curious choice, for a E 558 Master Mariner Deep Sea, which can be seen as a quality diving watch with its normal and noble Cal 883. Why downgrading it with an AS movement?
The Cal 883 which is housed in the E 558:
4/ Last but not least... A Lecoultre Master Mariner Deep Sea was issued for the US Market, and very similar to the European version. The main difference is that the dial is signed Lecoultre, rather than Jaeger Lecoultre. So, once again, how can we justify the existence of a Day Date version?
The US Lecoulre Master Mariner Deep Sea, Ref E 558 ( Credit Amsterdam Vintage Watches, Sothebys )
The European:
Hence, I put that topic in a part of my mind, and I spent some time, regularly, trying to dig a bit deeper into the universe of vintage diving watches from Jaeger Lecoultre, Jaeger AND Lecoultre.
When I received the " The Collectibles " book, I had the surprise to read, Page 442, that " some Barracuda watches, seemingly reserved for the American market, were equipped with Cal 164..."
During these last 8 or 9 years, I found evidence that this statement was related to a wrong reference, and that the watch in question was reassembled.
Indeed, I found at least 4 different Master Mariner Deep Sea Day Date, with the same dial, housing the same Cal 164 from AS, BUT... Coming with a different case and a different reference, the Ref 9513!
1/ 9513 Credit Heritage Auctions:
2/ 9513 Credit Brink67:
3/ 9513 Credit Firekids:
4/ 9513 Credit Select Watch Tokyo:
With a picture of the famous Cal 164:
The hands are much more harmonious, the bezel matches with the color of the outer part of the dial.
It often takes some time to solve a mystery...