<!iframe style="align:center; height: 250px; max-width: 100%; width: 100vw; overflow:hidden;" src="https://storage.googleapis.com/pubzapuscentral/watchprosite/ad/adsGO11b/index.html" frameborder="0">
hary.lim
39

<!tag blob="forumpost.visitstar">
Musée International d'Horlogerie (MIH)
Instead of writing article or review like a pro, I would like to guide you through my journey of discovering the MIH watch.
MIH watch was launched on 09.09.2005. I learnt about it through various watch forums. Love at first sight. I love its simplicity, a truly understated watch. The MIH look is very 'clean', simple and reflects the beautiful Bauhaus design. Inside the watch, it ticks the strong and reliable Valjoux 7750, modified to be mono pusher chrono and drives the sophisticated annual calendar function. It reflects its founder Dr. Oechslin's vision, to develop a watch with great functionality, precision and reliability. He believes the fewer pieces in a work, the greater its value as a complex mechanism. This is how he translated his watchmaking philosophy into MIH, an annual calendar watch with only 9 components!
It took some time though for me to pull the trigger. I simply had too many watches on my target list. I had never seen MIH watch in metal before, only saw the review and pictures from the net. Paying SFR 5K for a watch without seeing it is a obviously a risk. But to cut the story short, finally I decided to get it after reading that the initial hicup issues have been resolved. I sense MIH project will not run forever and it may come to an end soon. I don't want to lose the opportunity to own one, despite long waiting list. Per year, the workshop of Paul Gerber produces only ca. 200 MIH watches.
Ordering process

Smooth communication with Embassy www.embassy.com, which is the partner/sales agent for MIH for this project. Embassy is one of the leading watch retailer in Switzerland, based in Lucerne.
I emailed them and received quick response. They advised me rough estimated delivery time. No deposit is required. When my watch was ready, they emailed me and requested the money to be TT to their account. Less than 2 weeks after payment, I received the watch.
+ Smooth communication, quick response

Packaging & Delivery:

No packaging!! Well, MIH thinks it's not necessary to pass on the expensive packaging cost to customers. Instead of providing a nice watch box, MIH watch is attached to the manual and wrapped with the latest publication of Neue Zürcher Zeitung, Switzerland's leading daily newspaper and a sticker stick on the front page, "Heute mit MehInHalt", meaning (today with more content). I have no complain and decided to keep the newspaper for symbolic reason.
0 Nothing special about the packaging, simple, practical and unique way of packing the watch
- Expensive Fedex fee, SFR 150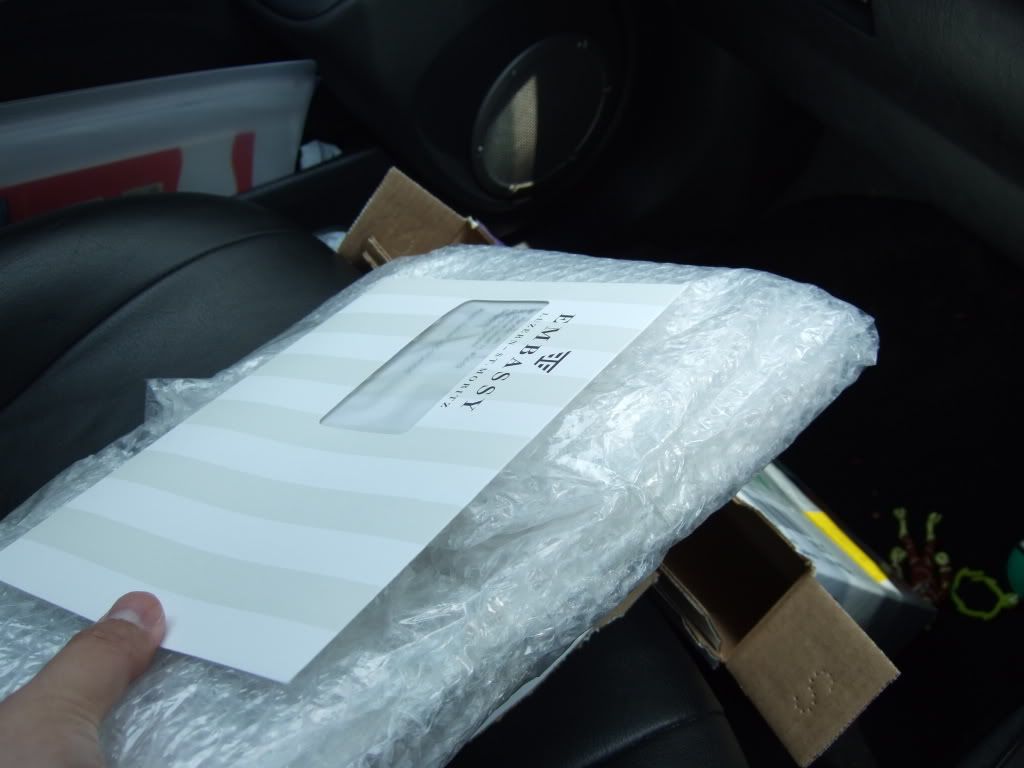 It comes with a Fedex box, bubblewrap with the invoice from Embassy attached on it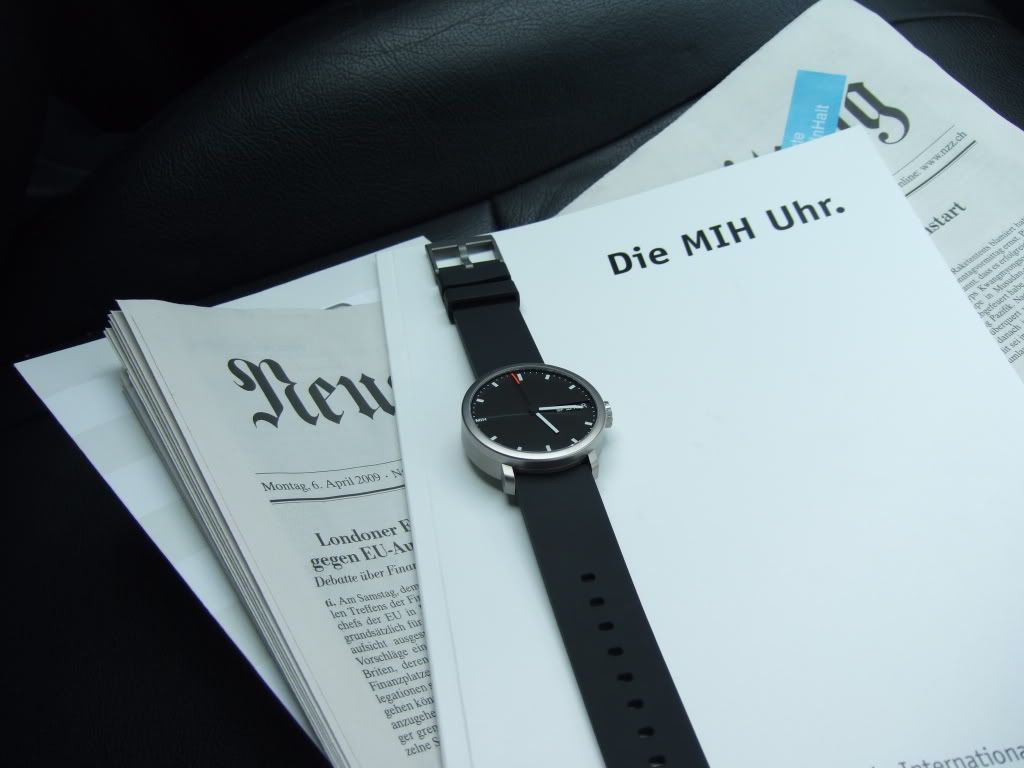 Inside the bubble wrap, newspaper from NZZ together with the manual.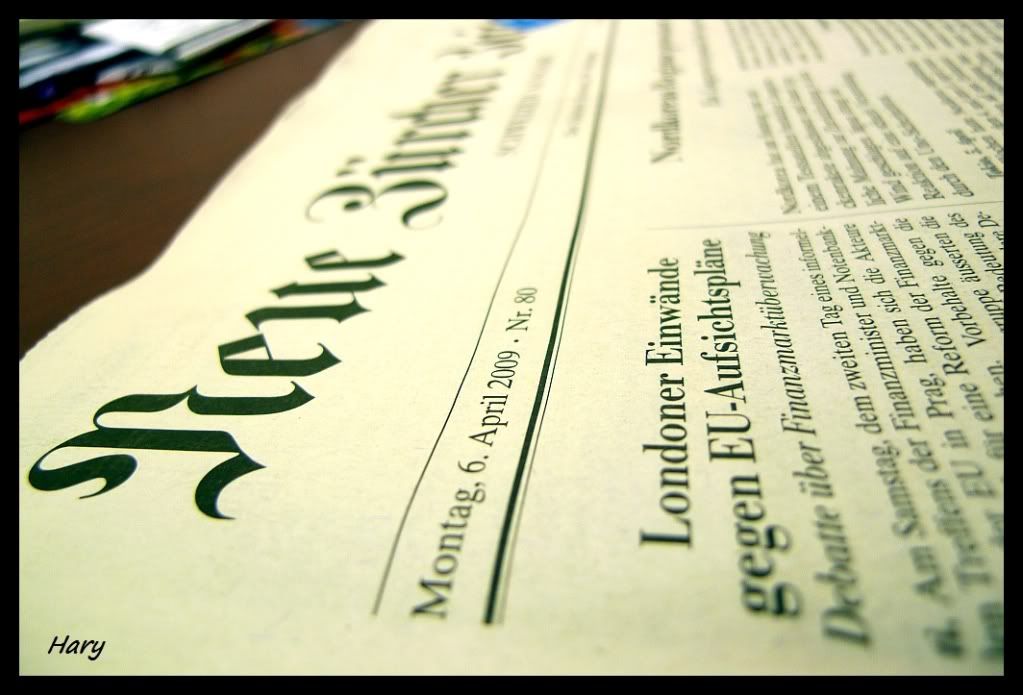 April 6 was the date they sent out the watch to Singapore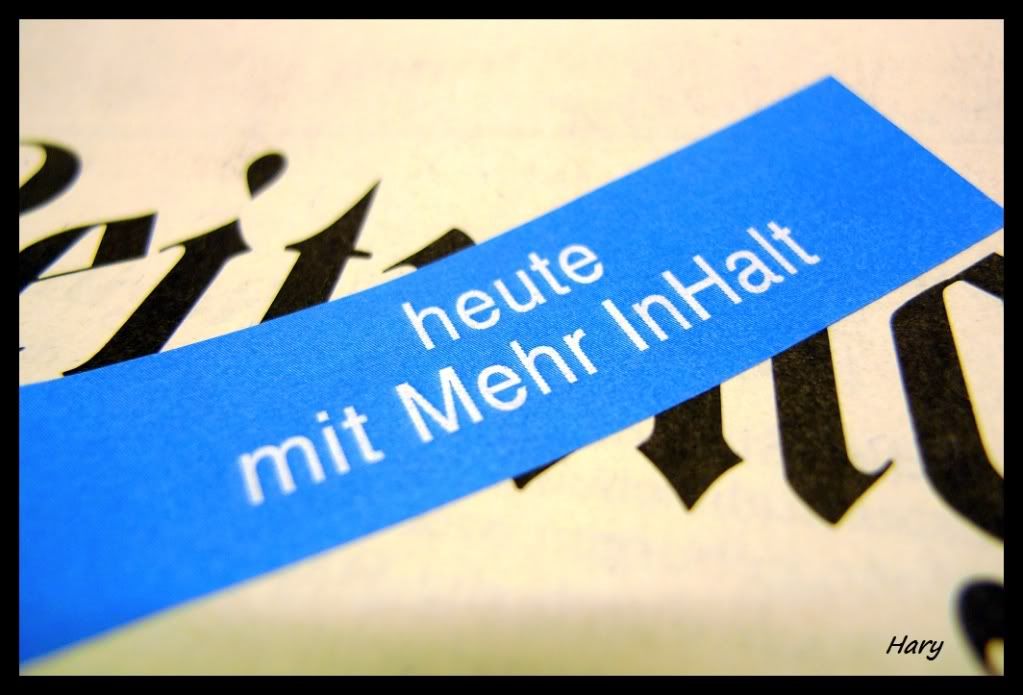 The sticker "heute mit Mehr InHalt"
Casing, Strap, Buckle

Sanblasted titanium casing. It's not too light, maybe due to its 42mm size. Lug width is 22mm and fitted nicely with rubber strap. The rubber strap is comfortable to wear, doesn't attract much dust like Sinn U1 strap that I have. You can choose the normal size or extra long strap. For my 6.75" inch wrist size, I picked the normal length. It fits nicely to my wrist.
The buckle is also made of titanium. At the back of buckle, the latitude and longitude of the MIH location La Chaux-de-Fonds are engraved.
+ Great case finishing
+ Comfortable rubber strap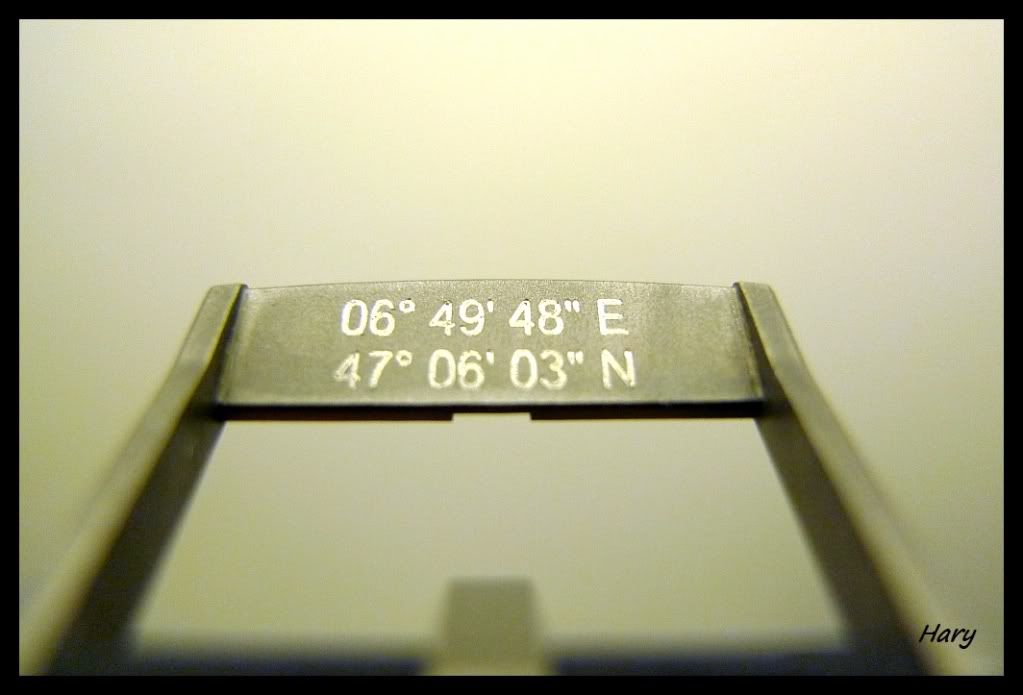 At the back of the buckle, the latitude and longitude of La Chaux-de-Fonds

Dial and crystal

Absolutely stunning and great attention to details. The markers and the hands are lumed and coated with superluminova. The lume is strong and long lasting. Even the MIH logo at 9 o'clock position has lume too!
The chrono second hand has orange color at its tip. It gives a nice color contrast to the dark grey dial. No "Swiss Made" printed on the dial. According to MIH, it is not necessary to print "Swiss Made" because it is so obvious that all components are Swiss Made. A thumb up for MIH for providing transparency of their material sourcing. They listed down all the names of their supplier. It gives people the assurance that it's 100% Swiss product.
I expected to have flat crystal, but it comes with the domed crystal. A very pleasant surprise to me, as domed crystal gives different look to the watch. Both sides of the crystal are coated with anti-reflective coating. Absolutely nothing to complain about the dial and crystal
+ Strong lume
+ Clean, superb dial design
+ Domed crystal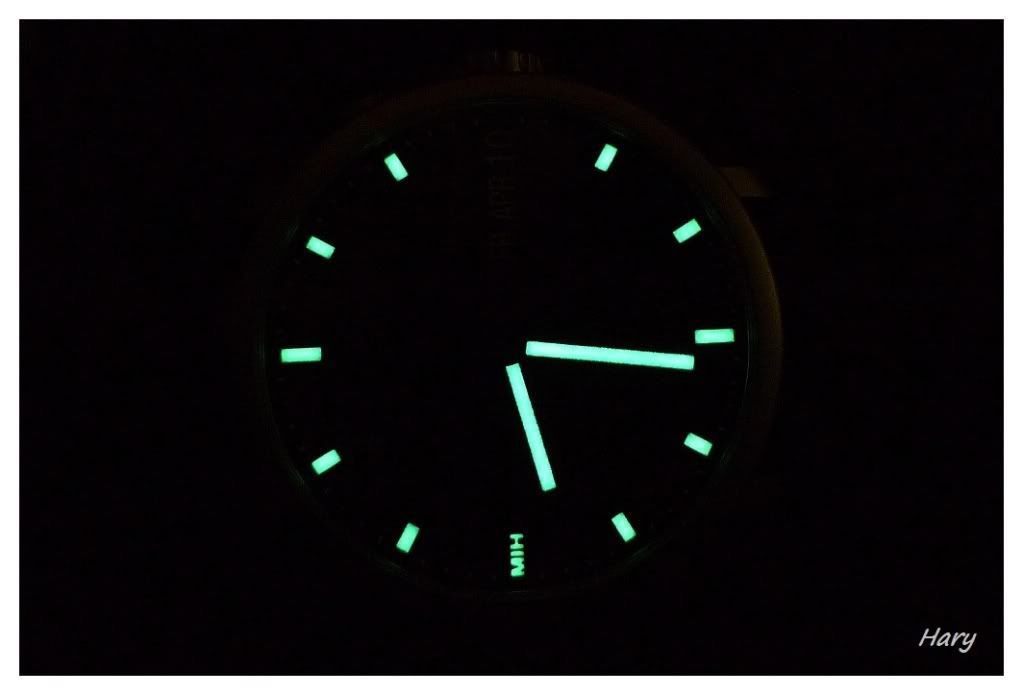 Strong lume with super luminova on indices, MIH logo and the hands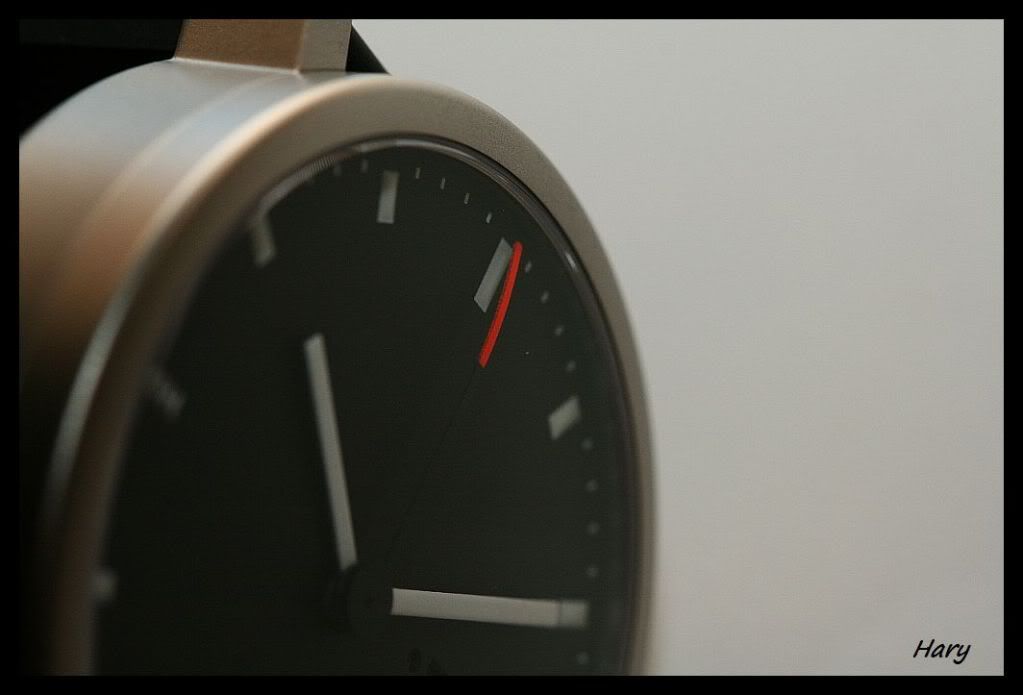 Outstanding casing quality with domed sapphire crystal
Movement/Accuracy

It's powered by reliable workhorse Valjoux 7750 movement. Like many V7750 watches, it wobbles when the rotor spins. But personally I like this kind of wobbling feeling. It has power reserve of 42 hours. Paul Gerber chose Valjoux 7750 to power this annual calendar watch because he needs workhorse movement with high torque to drive the calendar mechanism.
I wear my MIH almost daily for more than a month. It ticks accurately, running like a quartz watch. Average accuracy per day <+1sec, almost spot on!
0 Modified Valjoux 7750, strong and reliable movement
+ Excellent accuracy

Complications:
Chronograph
The chronograph works like a charm with monopusher. The minute counter is located at the back. Paul Gerber has created a rotating disc for the 30' counter. You can view the minute counter through a small opening at the back.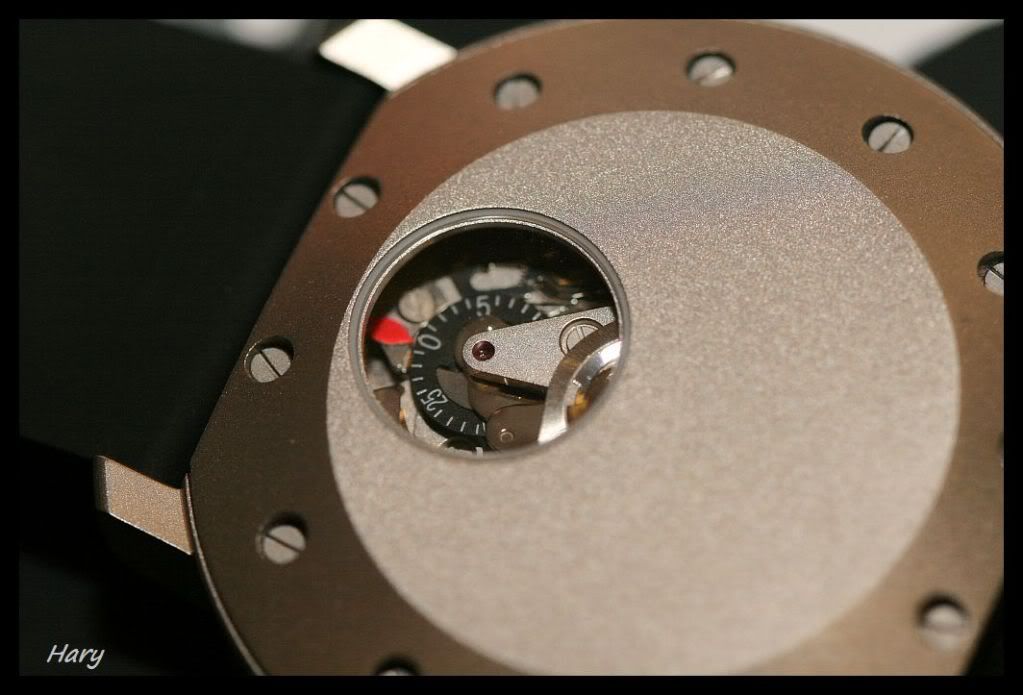 Small window to view the minute counter in a rotating disc
0 Chrono function works perfectly. I don't run the chrono continuously for longer period of time, hence cannot comment on its impact to the accuracy

Annual calendar

I waited anxiously on April 30 evening, to witness how the annual calendar works. It is my first annual calendar watch. Past midnite, the date, day, month, AM/PM indicator are at work. It takes turn for the disc to change. It shifted smoothly from April 30 to May 1. Absolutely impressed.
It is a brilliant idea to have day, month and date lined up next to each other. AM/PM indicator is a bonus. It has been reported and mentioned by MIH too, that during the gears are shifting, the day/date/month will not line up straight 100%. It takes sometimes until the mechanism is settled, then you will see they are in one straight line again.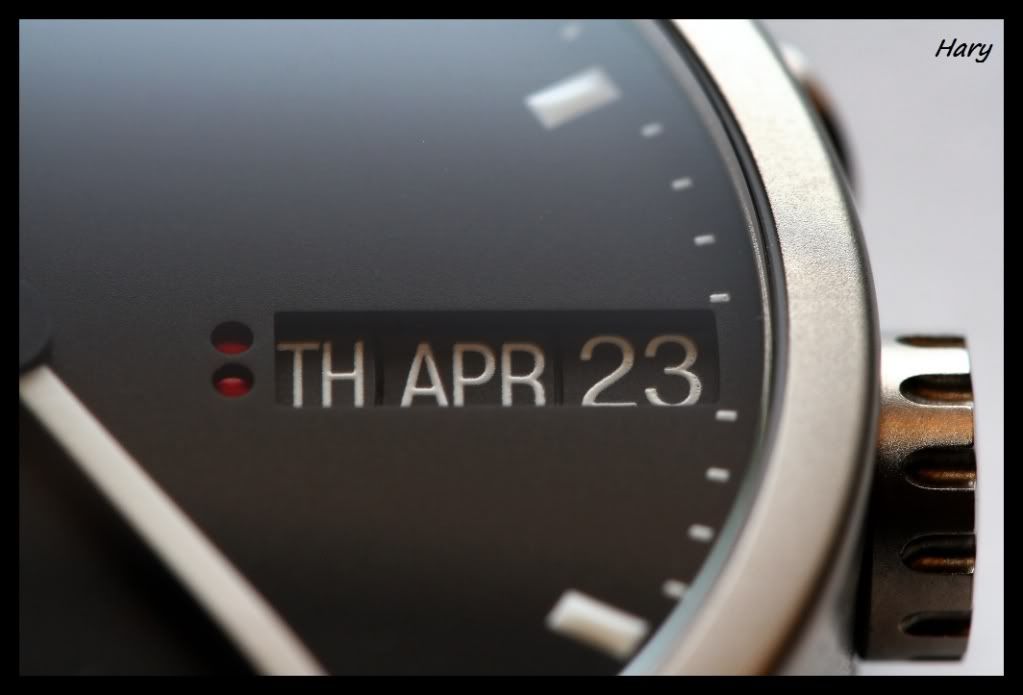 Briliant idea to have such a line up
Here you can see the little imperfection.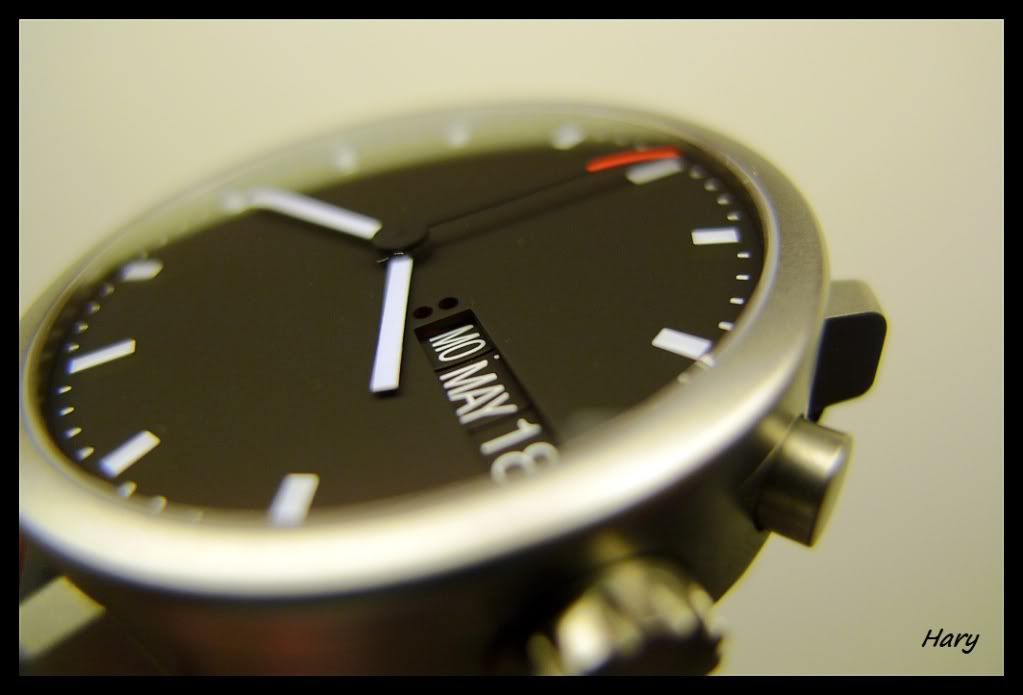 + Hey, it is an annual calendar watch. Cool complication
+ The AM/PM indicator with orange dot gives a nice touch to the monochrome dial
- The process of disc changing takes some time (ca. 2-3 hrs)

Summary
+ It's an annual calendar!
+ Extremely accurate with workhorse movement
+ Great design and nice diameter
+ Good service from Embassy
- Disc change process takes long time
- Improper line up of date/day/month window during the gears shifting
- Expensive Fedex cost

It is difficult to find any major faults for this watch. For less than SGD 7K, you get a watch with such complications, great design and build quality, created by top class watchmakers. Absolutely value for money. Highly Recommended!!
More posts: