MTF
[PuristS]
13383

<!tag blob="forumpost.visitstar">
SIHH 2013 PuristSPro Report: IWC
SIHH 2013 PuristSPro Report: IWC (M. Teillol-Foo, P. Yuan & PuristSPro Team)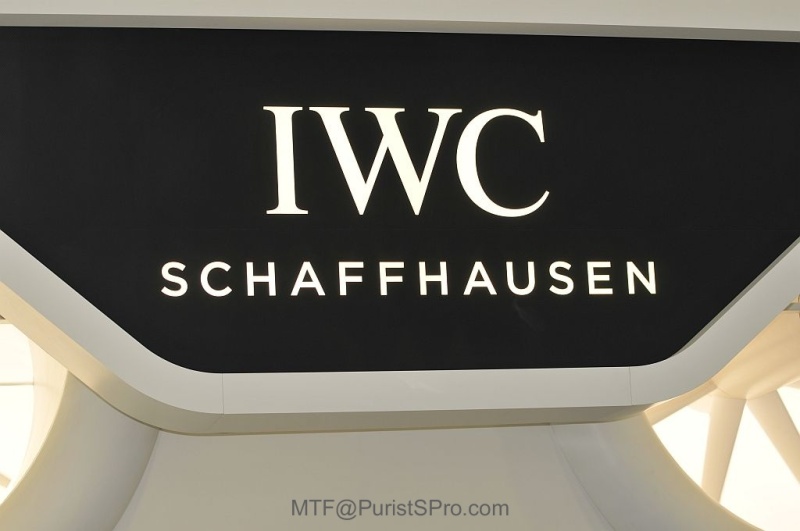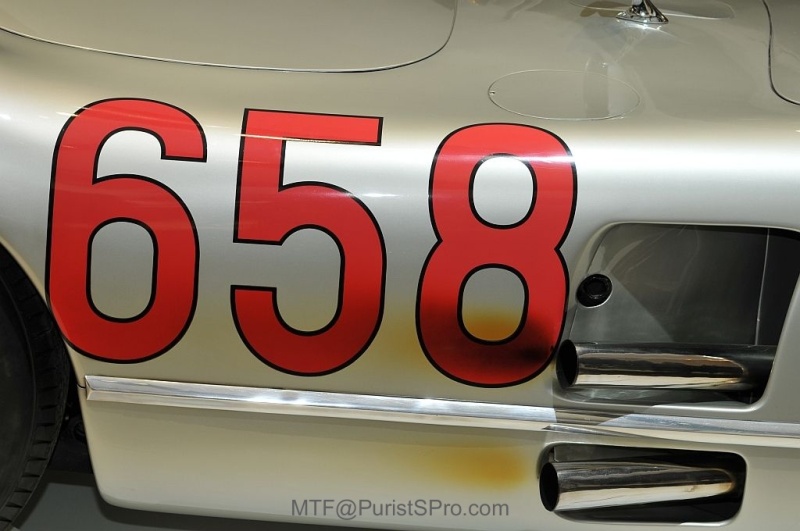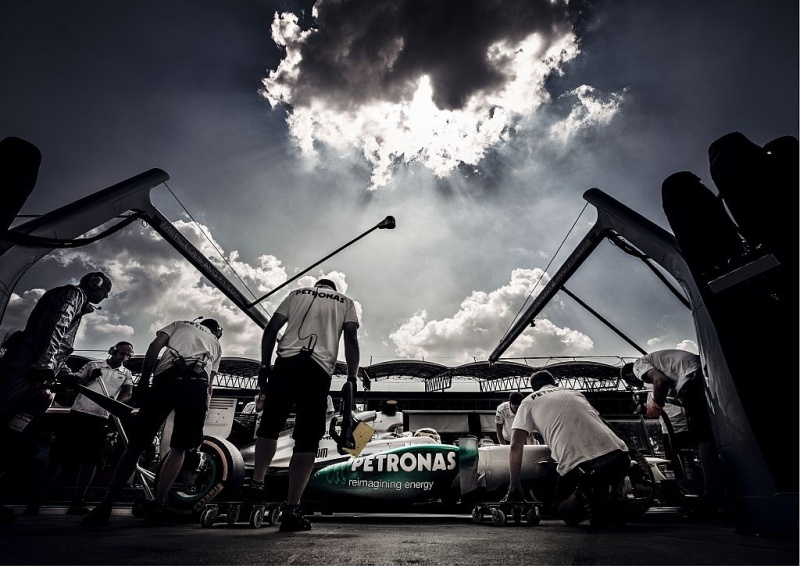 "The mechanics in the MERCEDES AMG PETRONAS Formula One™ Team have a maximum of 3 seconds to change tyres and carry out minor repairs. By way of comparison: in 3 seconds a Formula One™ racing car accelerates from 0 to 150 kph, while a human being has three heart beats and takes one deep breath."

Last Year's (2012) Star of the Show: No Clear Winner
IWC focus on one themed collection each year and 2012 was the Year of the Pilot. They expanded the Top Gun and Pilot watches to mixed reviews. The main criticism was "not enough engineering nor changes". This example of Pilot Chronograph was best received.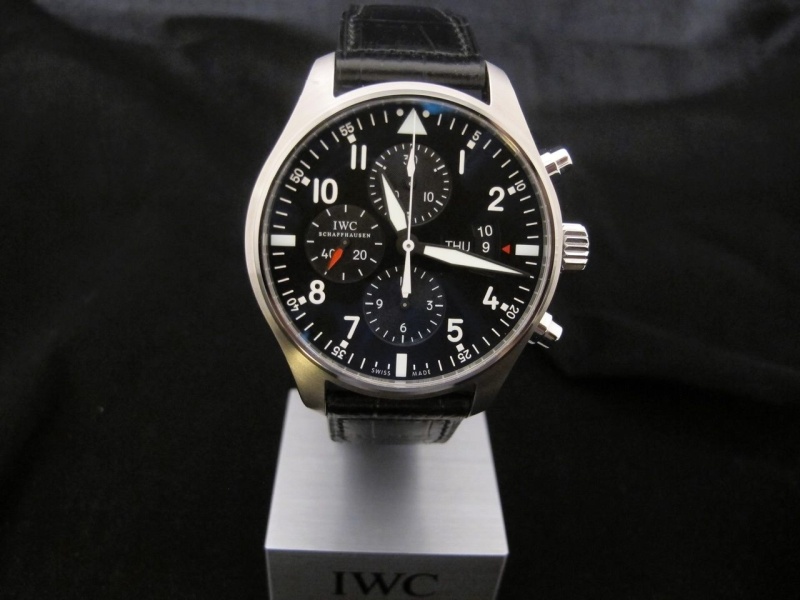 2012 example of IWC Pilot Collection


2013 Brand Thema: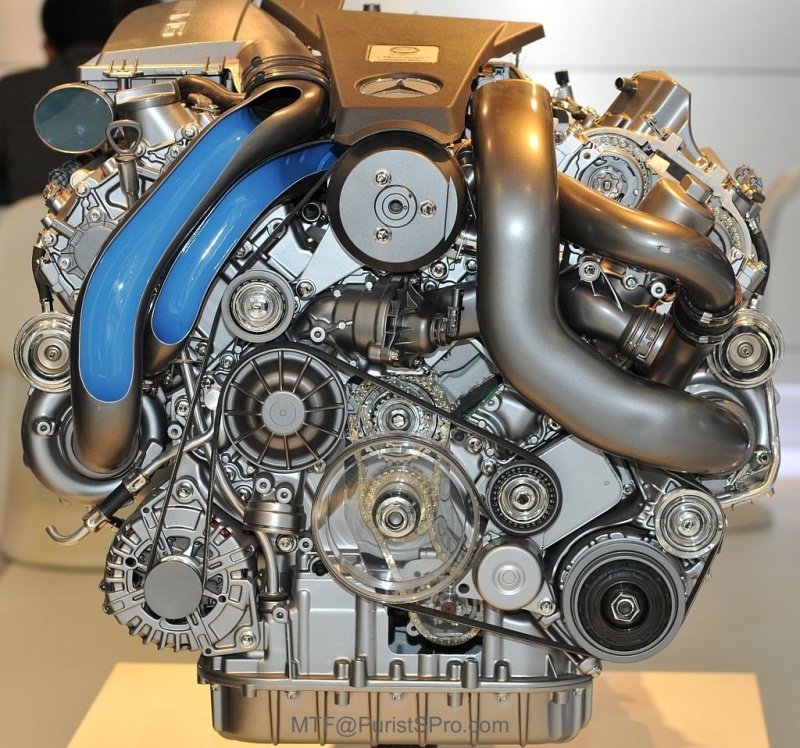 1. IWC continues partnership with Mercedes-Benz AMG and a new partnership with the Mercedes GP AMG PETRONAS Formula 1 Racing Team with a new INGENIEUR Collection.

2. The INGENIEUR line of watches was first designed in 1976 for IWC (Ref 666). Today, the INGENIEUR line represents IWC motorsports line.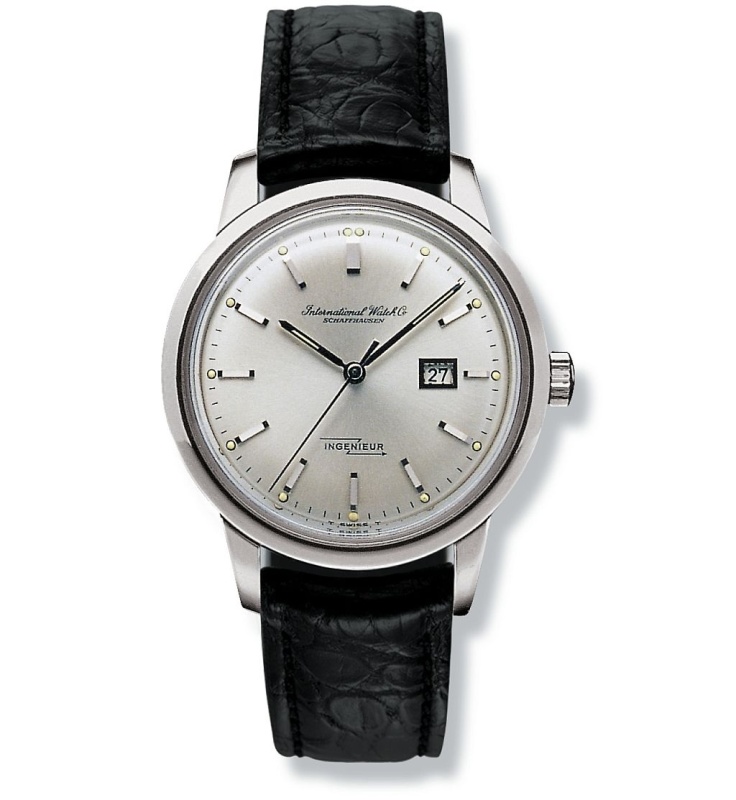 3. Materials science, specialty case materials, and engineering technology will be represented in the INGENIEUR line. The new line comprises of timepieces made with the traditional case materials of steel and precious metals in addition to two new case materials:

a. titanium aluminide, a composite of titanium and aluminium that is commonly used in racing mechanicals (featured exclusively in the INGENIEUR Perpetual Calendar Digital Date-Month).
b. layered carbon fibre, epoxy resin-soaked carbon fibre sheets are hand-layered into moulds to create strong carbon fibre cases (featured in the INGENIEUR Automatic Carbon Performance Series).
c. ceramic cases of black zirconium oxide featuring combination of matte and polished surfaces (featured in the INGENIEUR Automatic AMG Black Series Ceramic).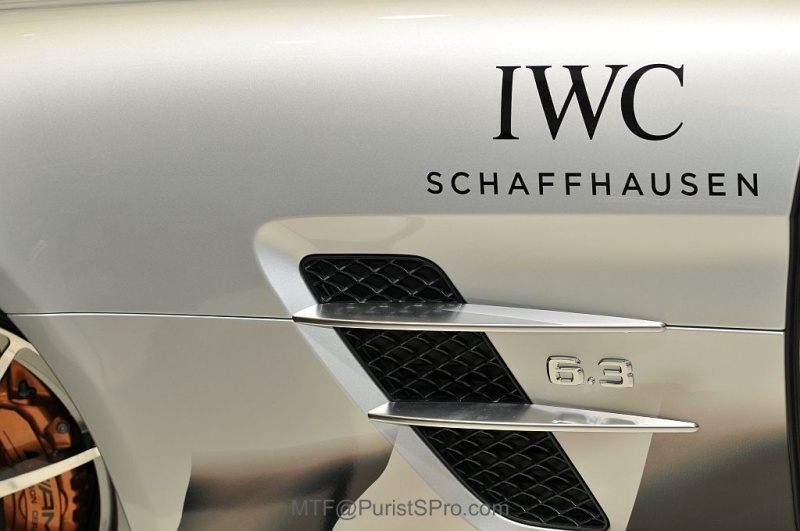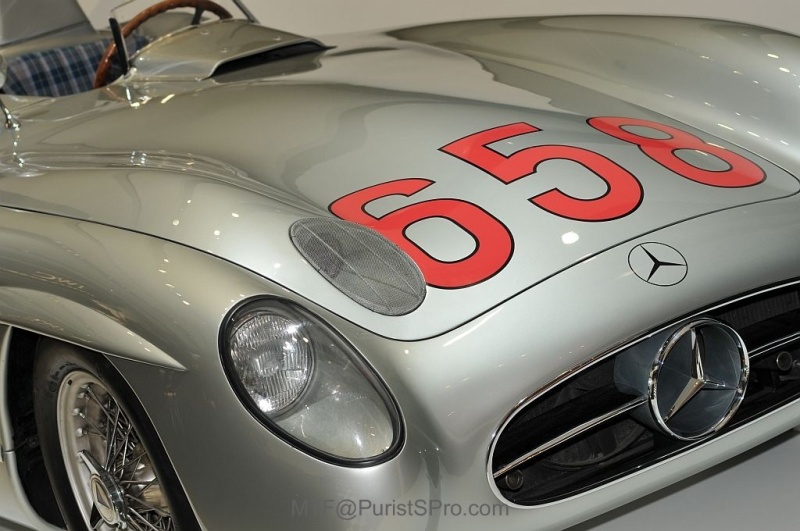 2013 Star of the Show: INGENIEUR Perpetual Calendar Digital Date-Month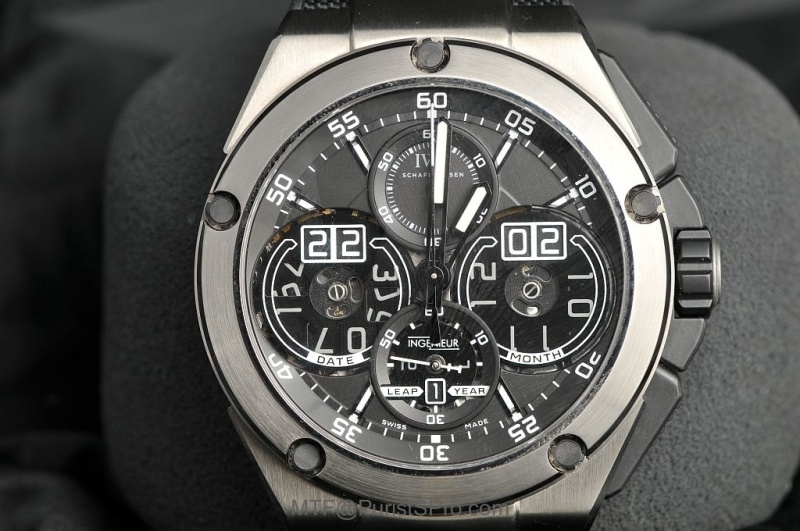 The IWC INGENIEUR Perpetual Calendar Digital Date-Month comes closest to the thema of the design brief combining materials science, engineering and F1 racing design motifs.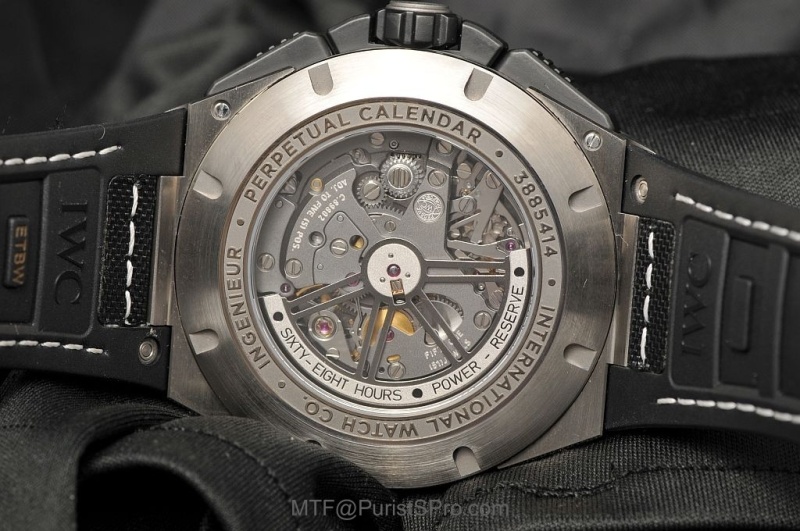 It just edged out the remarkable technology of the INGENIEUR Constant-Force Tourbillon because it ticked more of the boxes on the thema checklist. The Ti aluminide case, useful perpetual calendar function and digital racing display just won the day.
The only feature that raised a few eyebrows is the bold lettering on the winding rotor that announces "Sixty-Eight Hours Power-Reserve". That seems a tad superfluous and redundant; that is not in keeping with the lean, mean credo of F1 Grand Prix racing.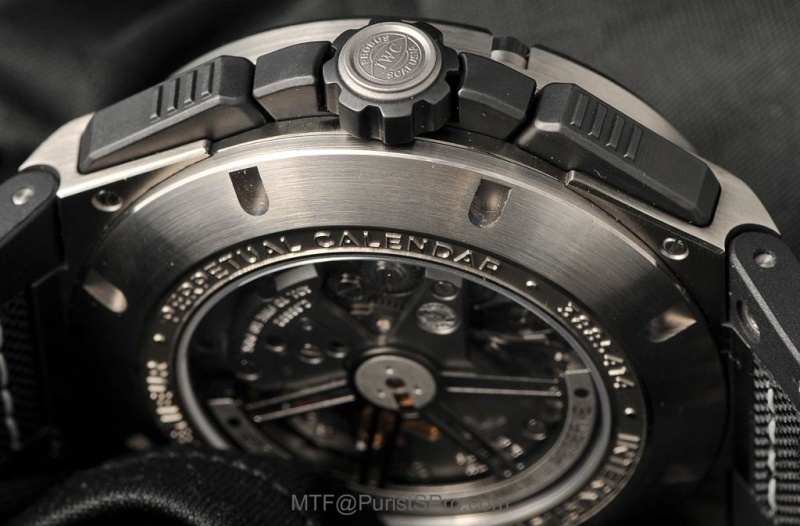 Other Novelties 2013.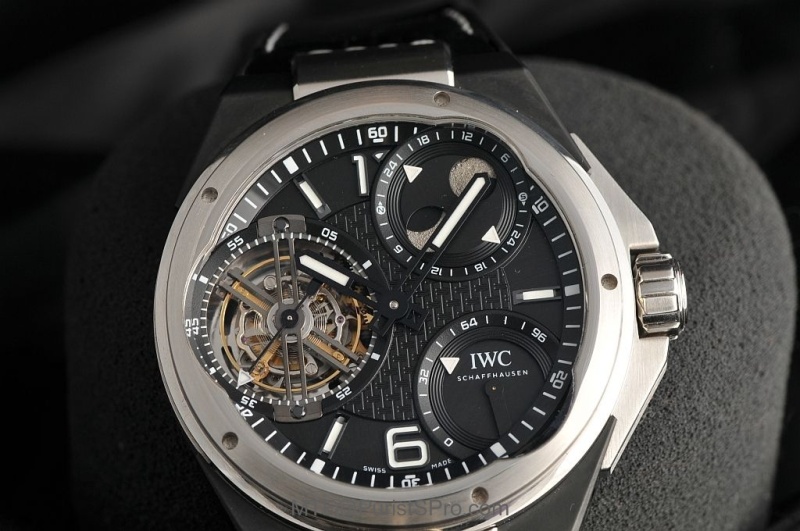 INGENIEUR Constant-Force Tourbillon (Ref 5900) in platinum and ceramic case. The double moon display for Northern and Southern Hemispheres are usual for IWC calendar / astronomic watches and adds a traditional touch to a modern high-tech machine.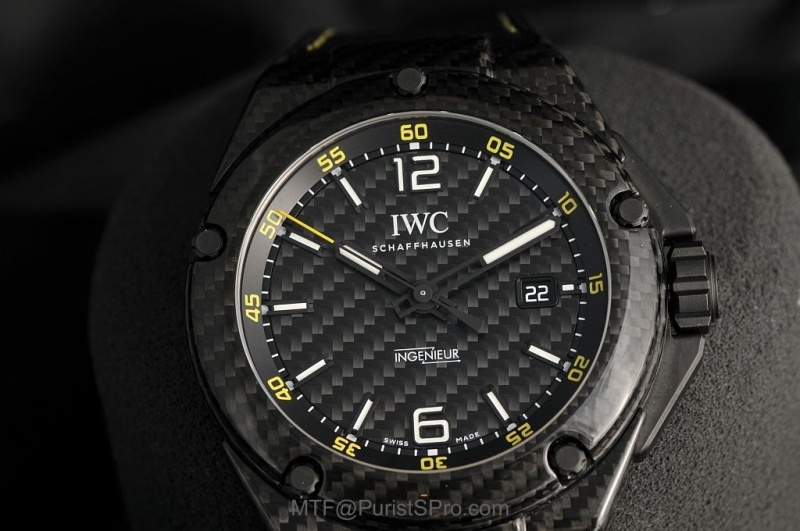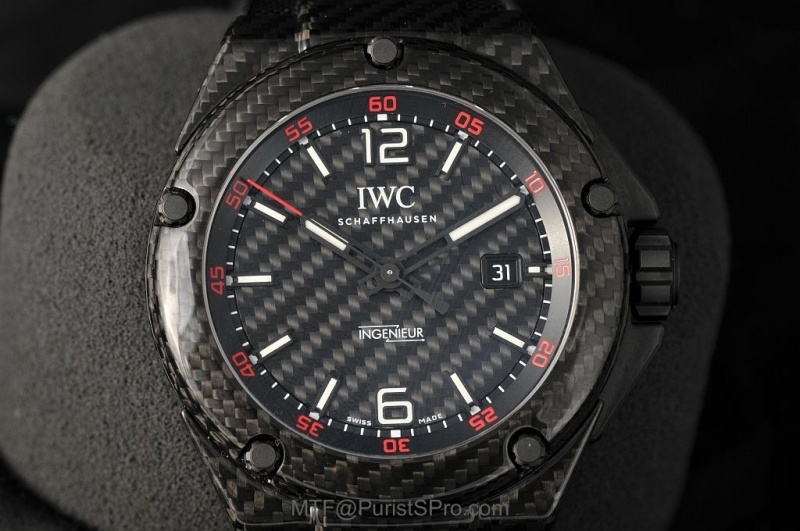 INGENIEUR Automatic Carbon Performance series
For some, this may be the Star of the Show because they are affordable but still engender the spirit of the three main themes: Ingennieur case, F1 Racing and Material Science engineering.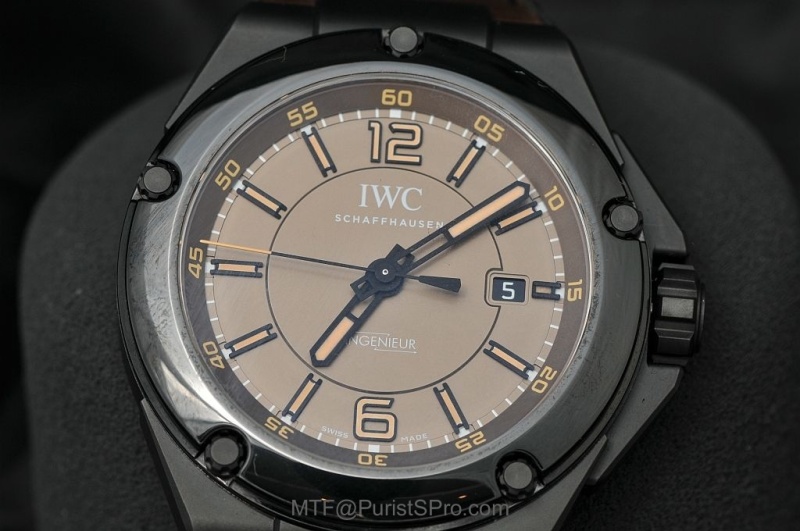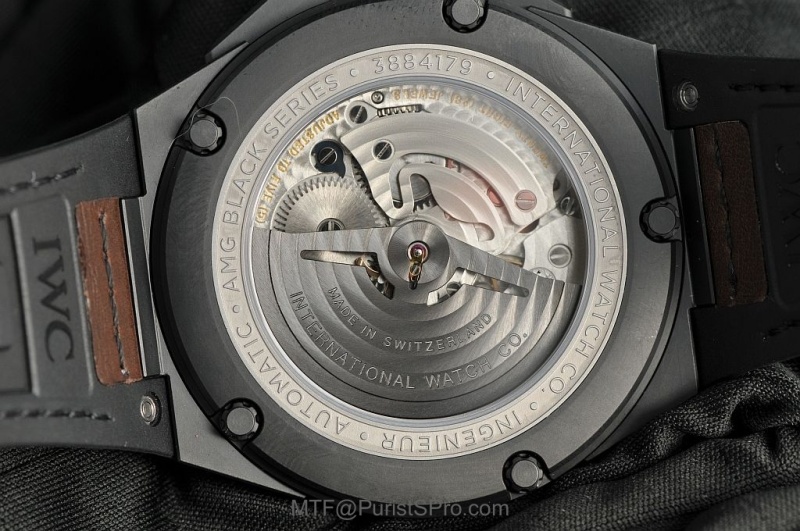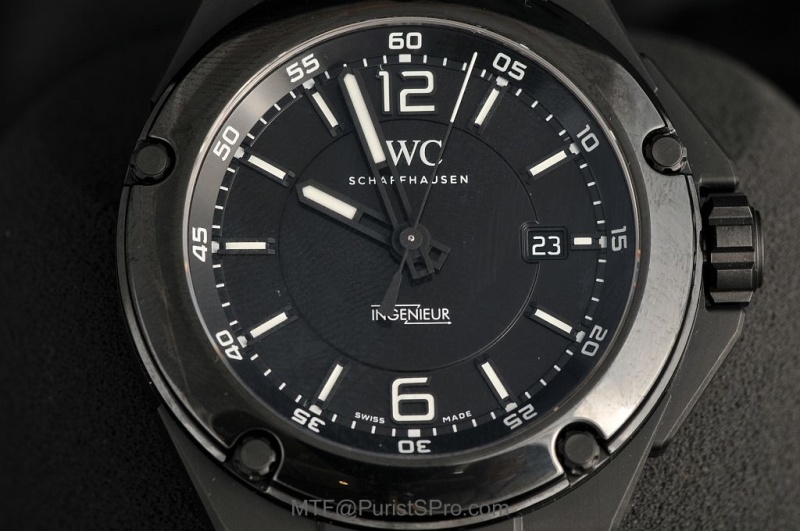 INGENIEUR Automatic AMG Black Ceramic Series explores the special relationship with AMG motorsports and the association of the AMG Black Series of topline customised cars. IWC's experience with ceramic material harks back further than even ceramic brakes in motor racing.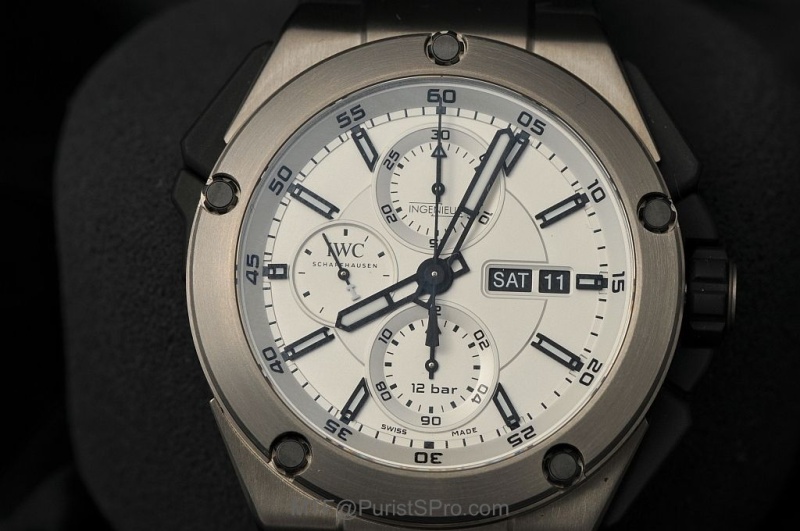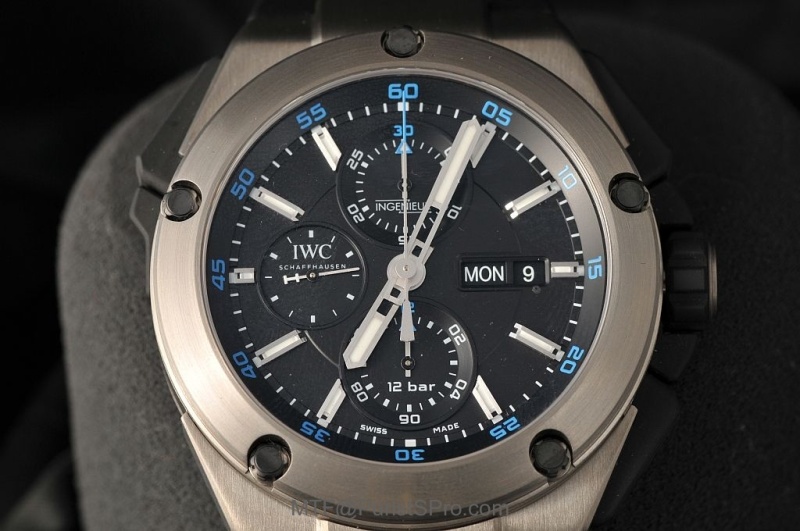 INGENIEUR Double Chronograph Titanium - two dial versions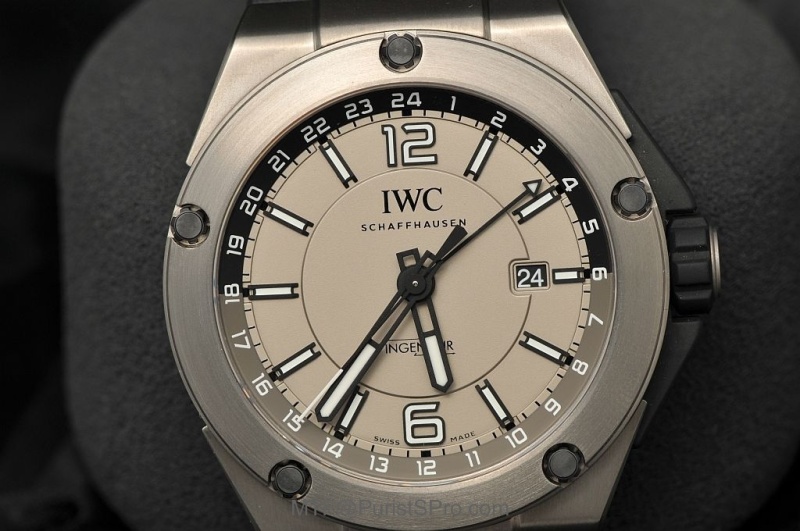 INGENIEUR Dual Time Titanium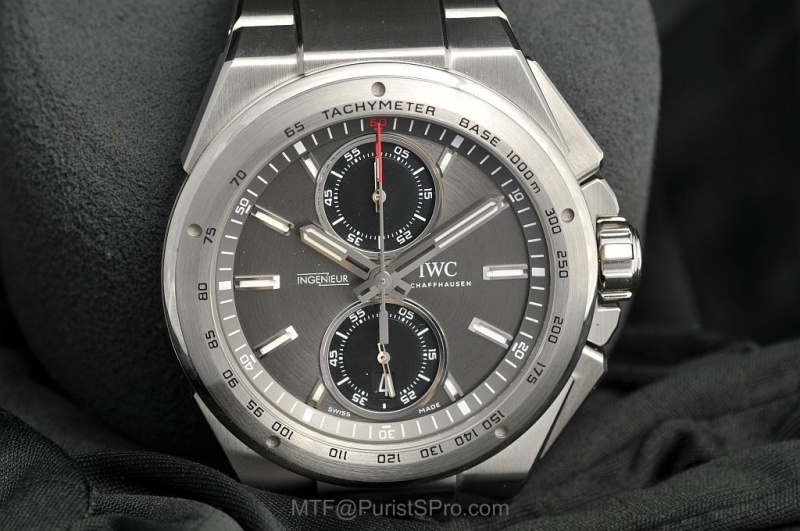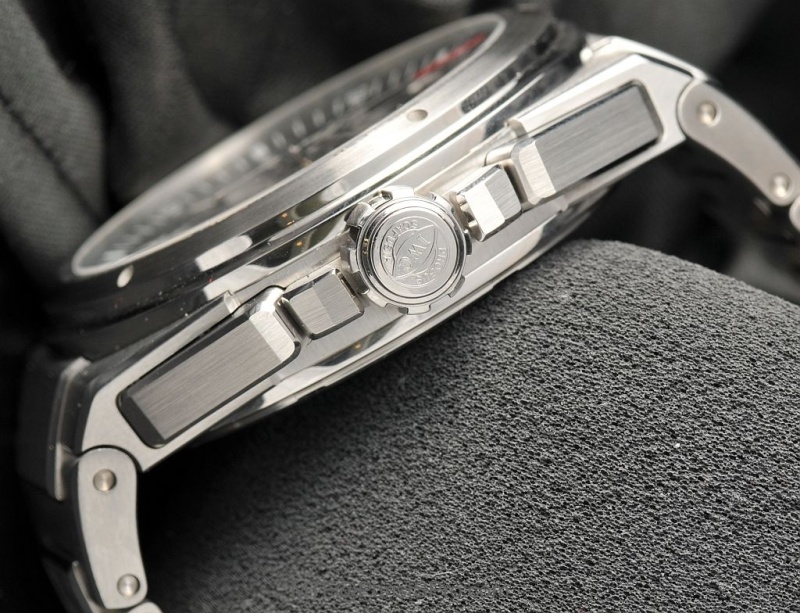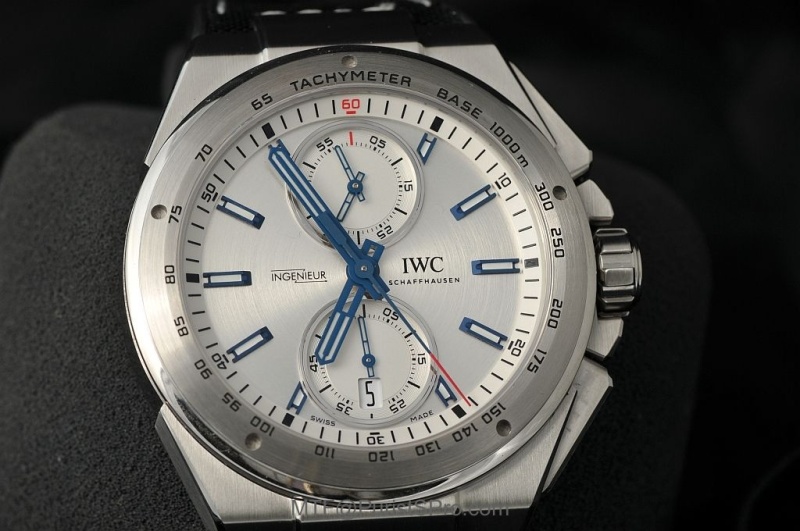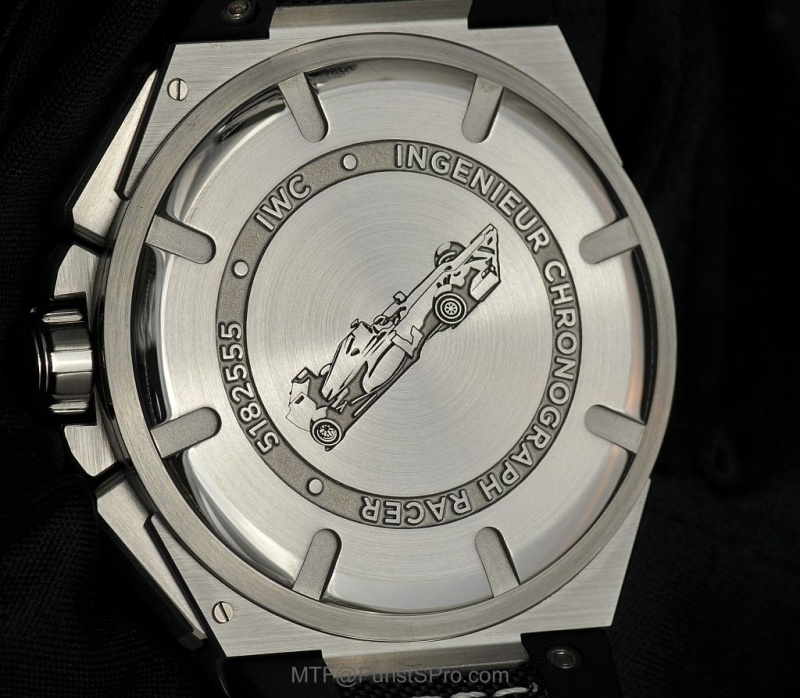 INGENIEUR Chronograph Racer - two dial versions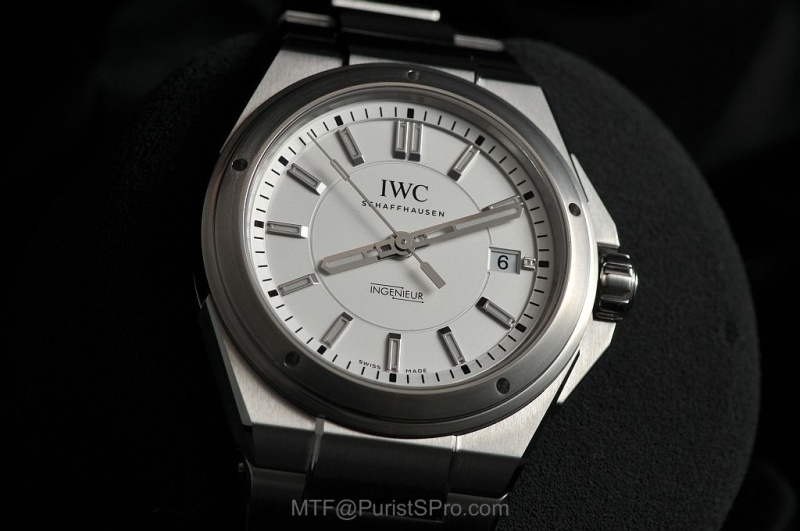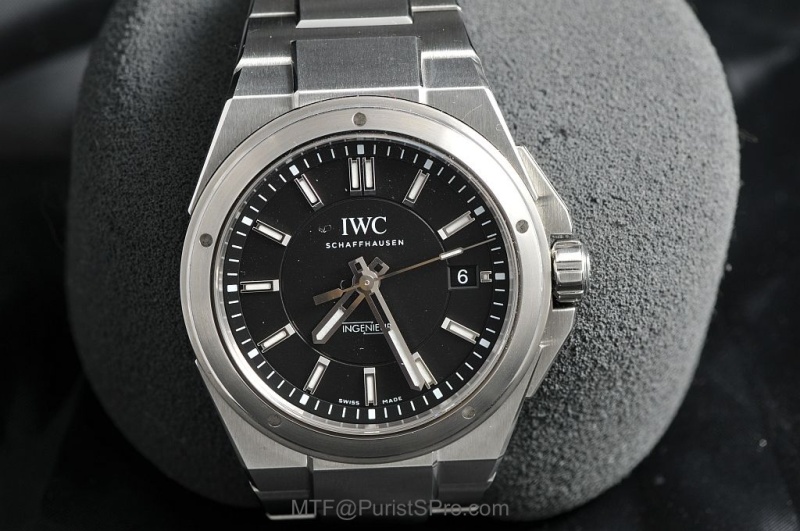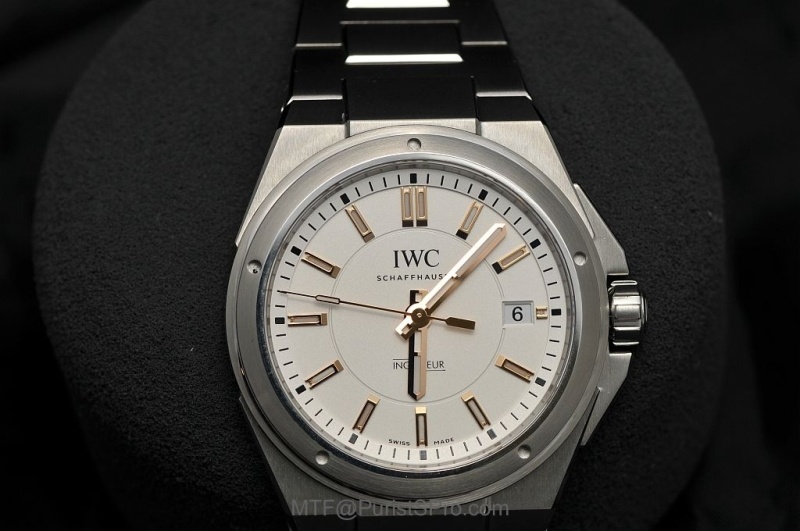 INGENIEUR Automatic 40 mm - three dial versions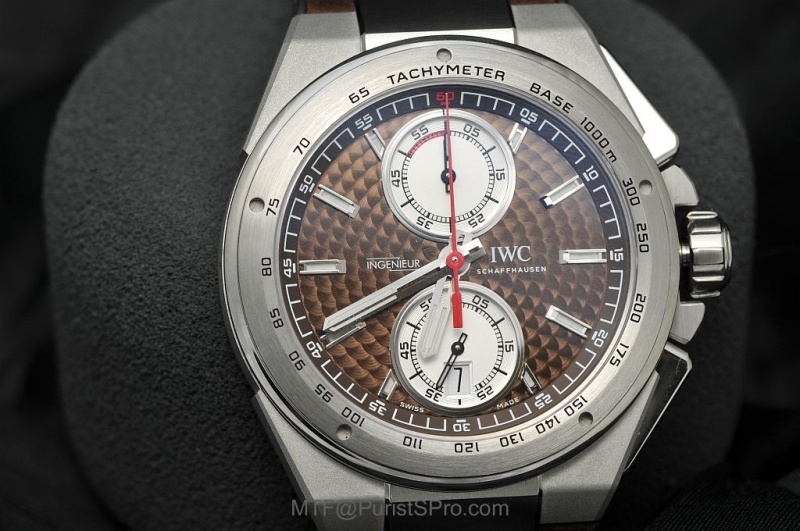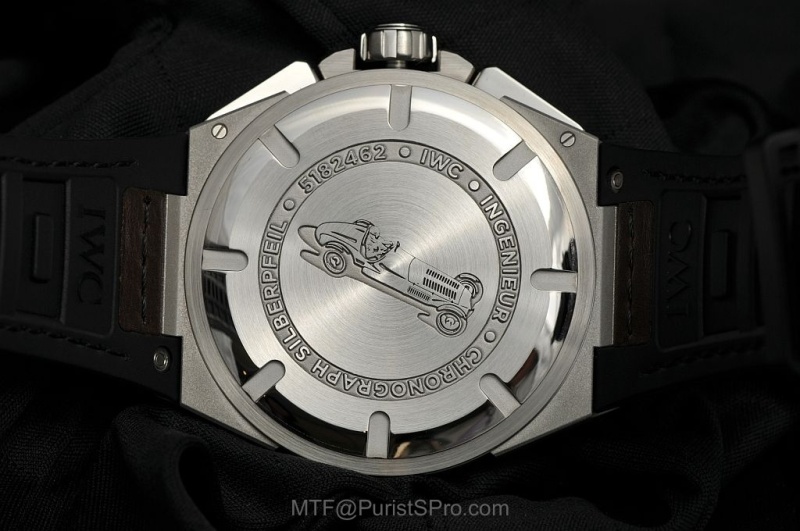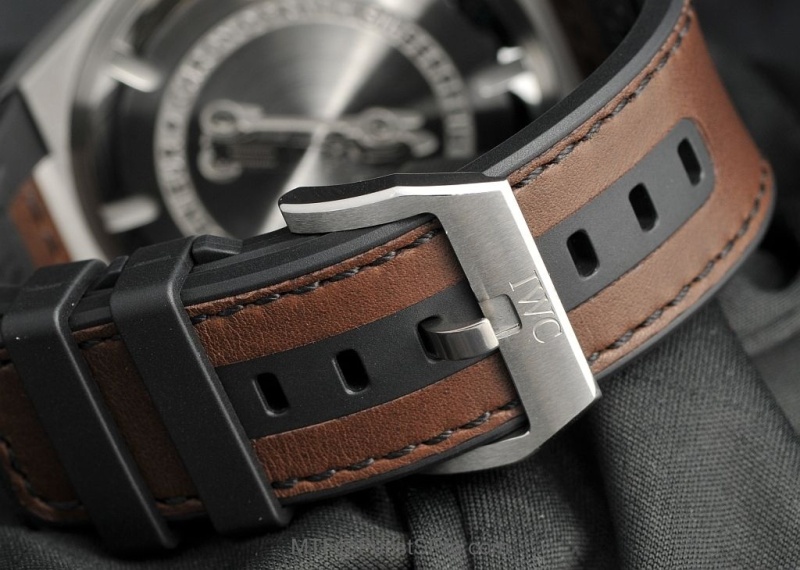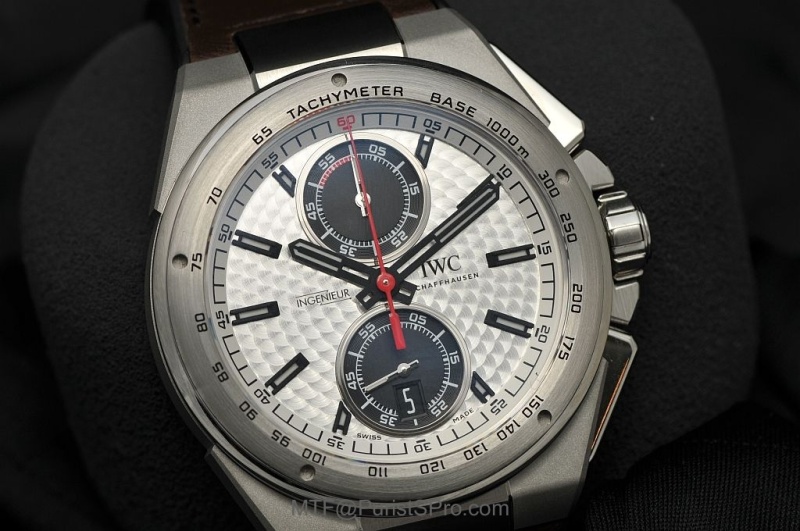 INGENIEUR Chronograph Silberpfeil - two dial versions harking to the vintage Mercedes W25 Silver Arrows with circular grain "dashboard" decoration, engraved "Mercedes Silver Arrow Racecar" case back and brown-black "vintage upholstery" straps.
SIHH 2013 PuristSPro Report


A. Lange & Söhne - alang.watchprosite.com
Audemars Piguet - ap.watchprosite.com
Baume & Mercier - home.watchprosite.com
Cartier - cartier.watchprosite.com
Greubel Forsey - ahci.watchprosite.com
IWC - home.watchprosite.com
Jaeger-LeCoultre - jlc.watchprosite.com
Montblanc - montblanc.watchprosite.com
Panerai - panerai.watchprosite.com
Parmigiani - home.watchprosite.com
Piaget - piaget.watchprosite.com
Ralph Lauren - home.watchprosite.com
Richard Mille - richardmille.watchprosite.com
Roger Dubuis - rogerdubuis.watchprosite.com
Vacheron Constantin - vacheron.watchprosite.com
Van Cleef & Arpels - home.watchprosite.com
This message has been edited by AnthonyTsai on 2013-02-06 08:29:11
This message has been edited by Kong on 2013-02-06 21:50:39
This message has been edited by AndrewD on 2013-02-10 11:05:13
More posts: