<! iframe style="align:center; height: 250px; max-width: 100%; width: 100vw; overflow:hidden;" src="https://storage.googleapis.com/pubzapuscentral/watchprosite/ad/adsGO15/index.html" frameborder="0">

SJX
[Purist]
8540

<!tag blob="forumpost.visitstar">
A favourite from SIHH - the Tortue XL with jaguar
Cartier has a long history with enamelled objects. Louis Cartier, one of the three brothers who internationalised the firm, discovered the works of Russian Imperial jeweller Carl Faberge at the 1900 Universal Exhibition in Paris. The prevailing Russian style of enamel at the time comprised a base of gold or silver with guilloche, covered by translucent enamel fired at 700-800 °C, resulting in scintillating, rich shades. Faberge's famed Imperial Easter Eggs exemplify such enamel work. Enamelled objects made with this technique were popular in the late 19th and early 20th century, first amongst Russian clients and later in Western Europe.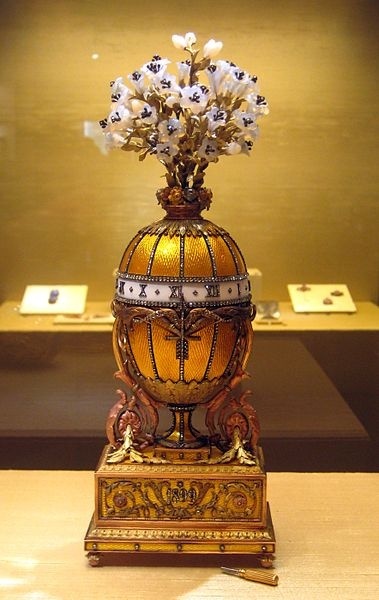 Faberge Bouquet of Lilies Clock egg
Photo credit Wikimedia Commons
To cater to this demand Cartier produced its own enamelled objects. Some were produced at its workshops in Paris but most were designed in Paris but made by craftsmen in Russia, who were arguably the best enamellers in Europe at the time. Interestingly not all the craftsmen were native Russians however; Faberge's enamellers were mostly Scandinavian, like Henrik Wigström who headed Faberge's workshops.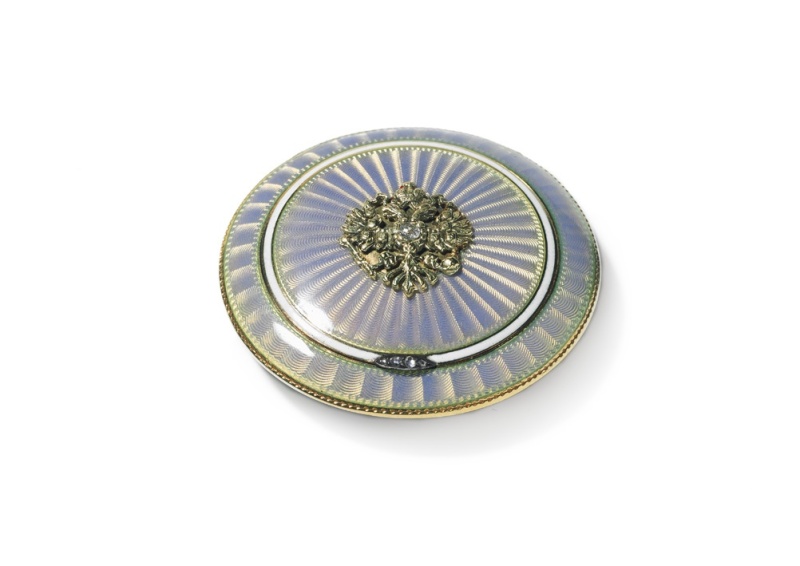 Cartier powder box with Russian Imperial coat-of-arms
Cartier's Russian supplier Yahr, which also supplied Faberge, offered an unparalleled range of shades that Cartier could not match. Cartier did manage to create new colour combinations, for instance purple and green or blue and green, which Louis Cartier termed the "peacock colour".
Fast forward to the 21st century and in 2001 Cartier created a new watch collection known as the Metier d'Art to showcase artisanal decorative techniques, including enamel. This predated similar moves by other watchmakers who more recently began focusing on enamel and similar decorative techniques.
In 2006 Cartier integrated its enamel expertise into the manufacture in La Chaux-de-Fonds. Cartier now has three full-time enamellers at the working on enamelling for timepieces.
Enamelling, regardless of the specific type, is a labour intensive job that takes incredible amounts of skill and time, hence the high cost of the finished product. Put simply enamel is the result of the application of powdered enamel onto a substrate, which is then fired at a high enough temperature to melt the enamel onto the surface, creating a hard and shiny layer.
Six Metier d'Art watches were unveiled at SIHH 2011, including four enamelled watches, amongst them the Tortue XL watch with jaguar motif which was one of my favourites of the fair. The dial and case depict a jaguar – not a panther – staring out at the wearer.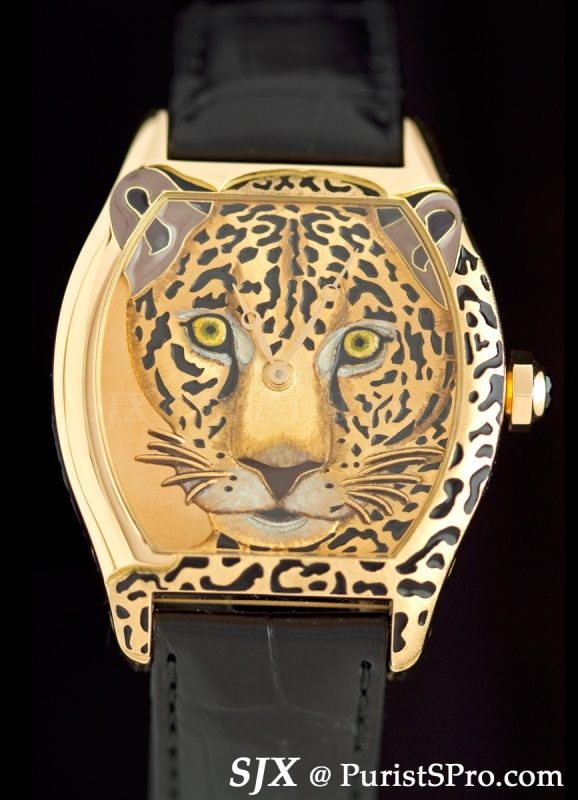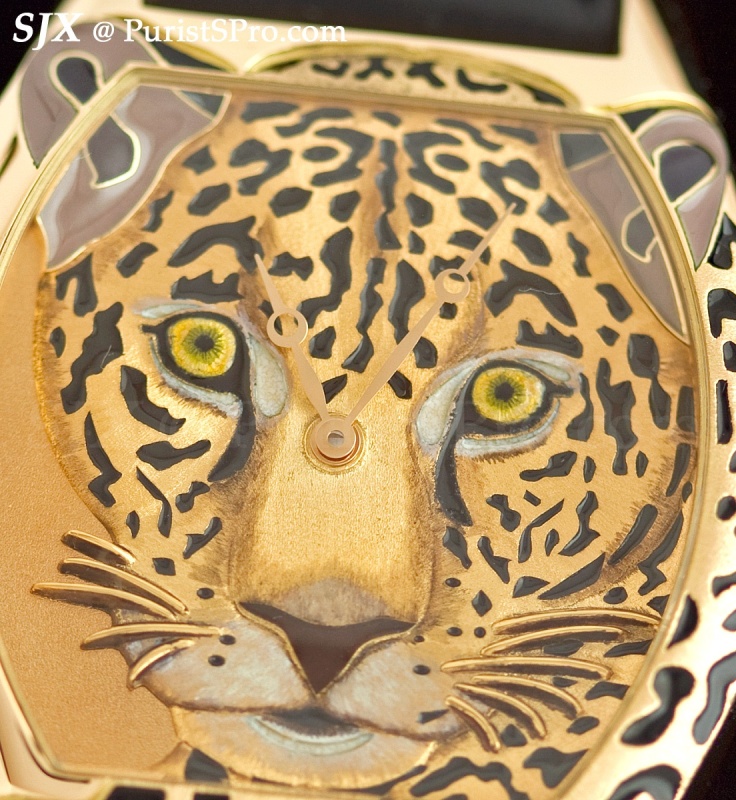 The jaguar Tortue demonstrates not only enamel, but also relief engraving. Comprising four parts, the dial and case is first engraved by hand with a variety of gravers to achieve the various textures. Note that the ultra-fine fur of the jaguar is, incredibly enough, engraved by hand. All the engraving takes sixty hours.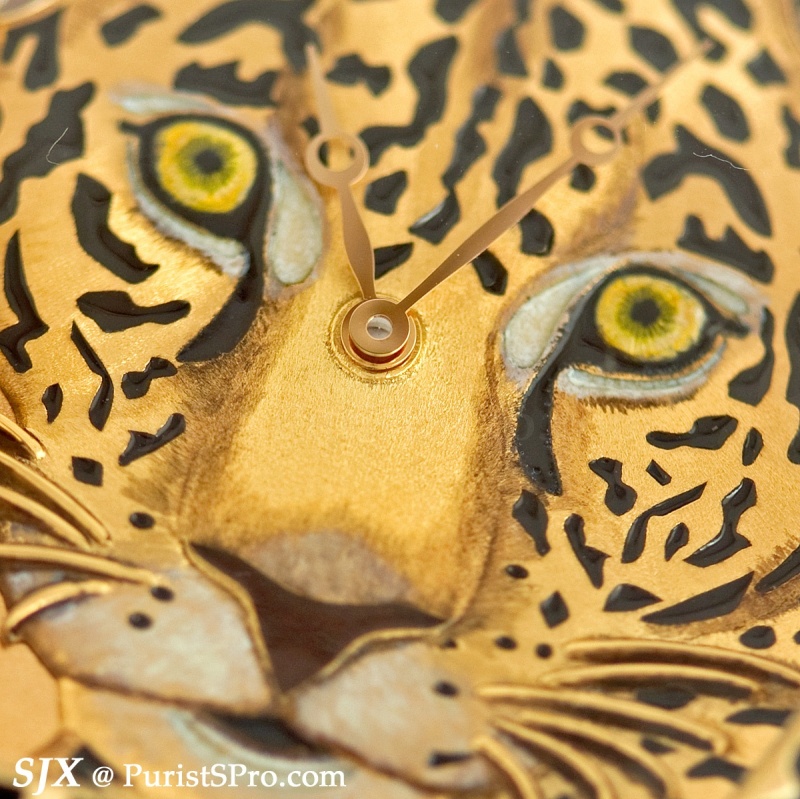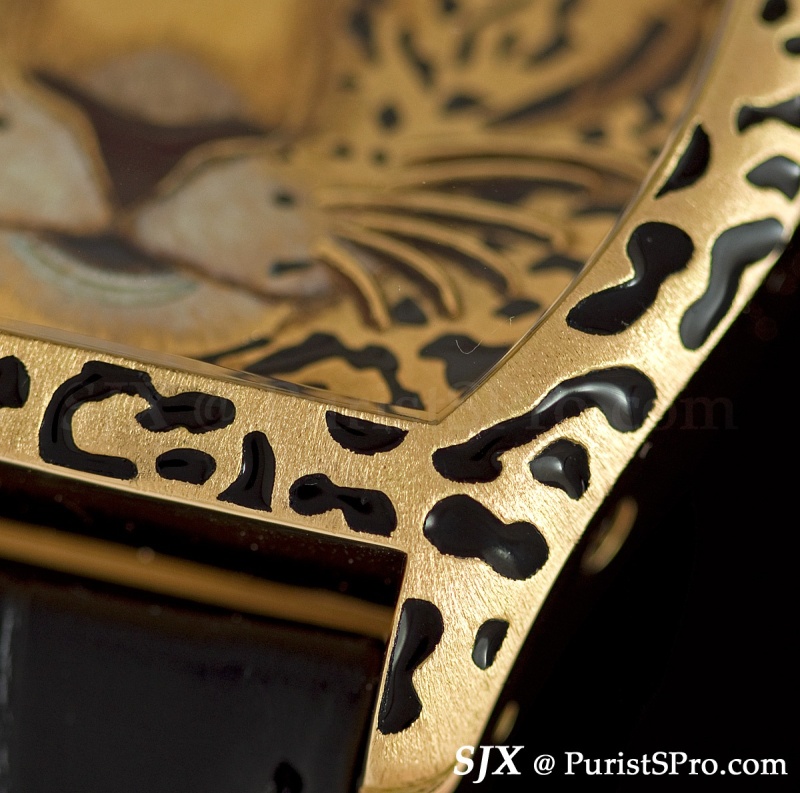 The enamelling, by comparison, is simpler. A mere 25 hours are required to enamel the jaguar with seven shades – black, mauve, grey, opal white, opaque white, and brown- and green-yellows. Most fantastic of all, however, are the eyes which possess an unbelievable level of detail.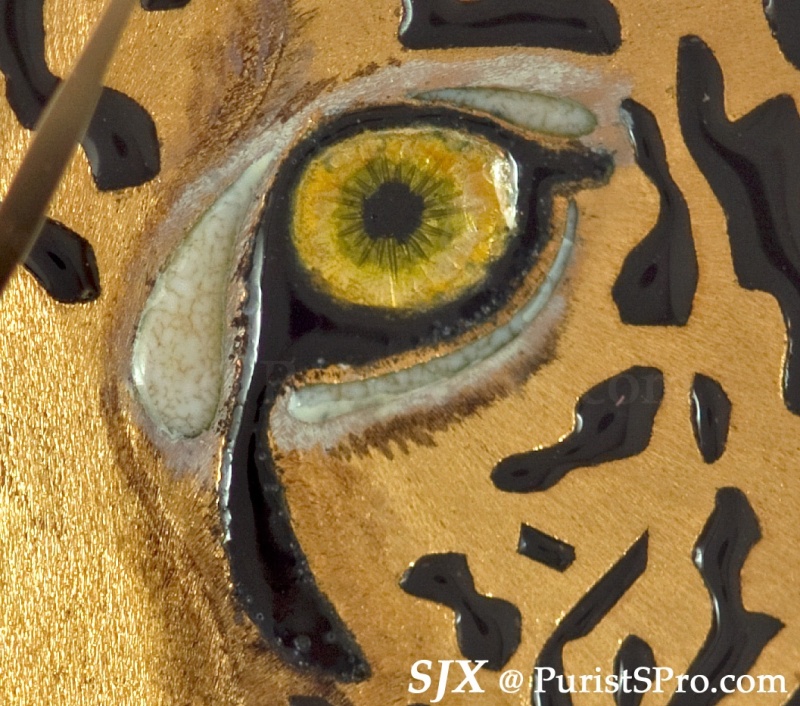 This video illustrates the process of creating the jaguar.
And although it isn't very obviously, the jaguar watch does tell the time. A pair of gold Breguet hands – which fortunately blend into the dial – is driven by the 9601 MC hand-winding calibre. Based on the 8000 MC automatic designed by JLC exclusively for Cartier, the 9601 MC is Cartier's high-end manual wind movement.
Only 80 of these big cats will be released into the wild.
- SJX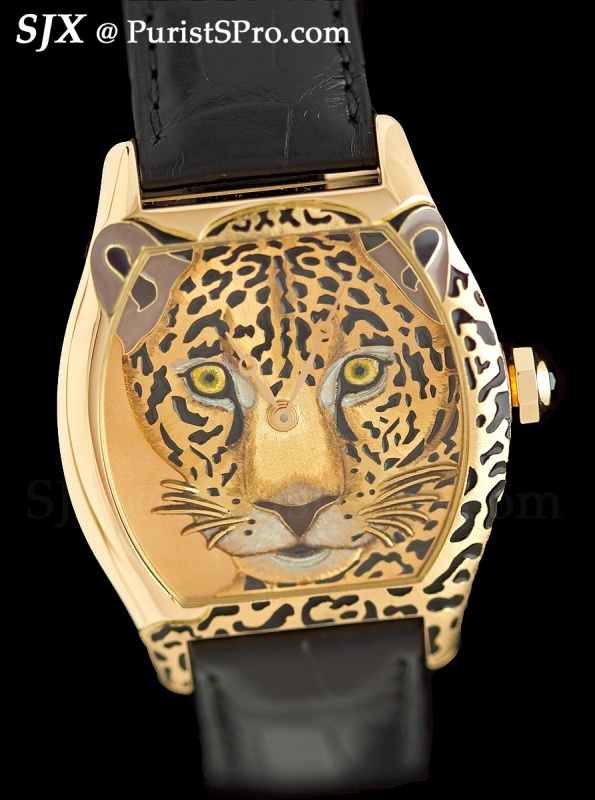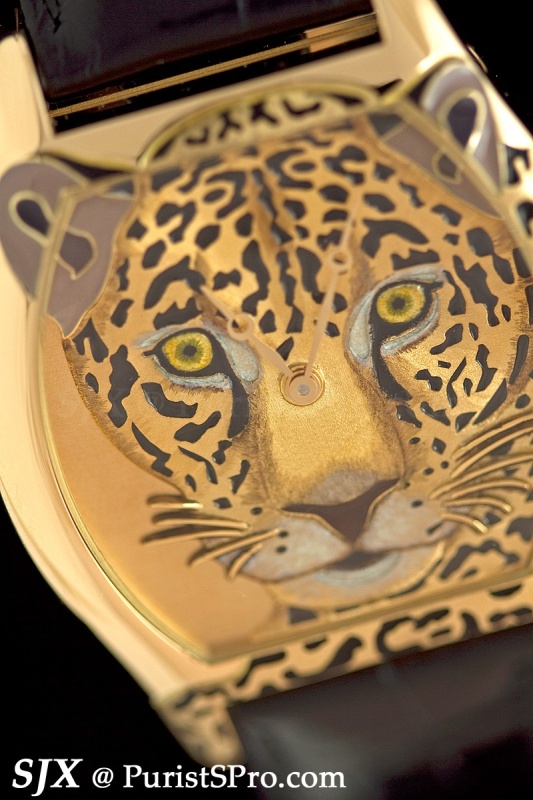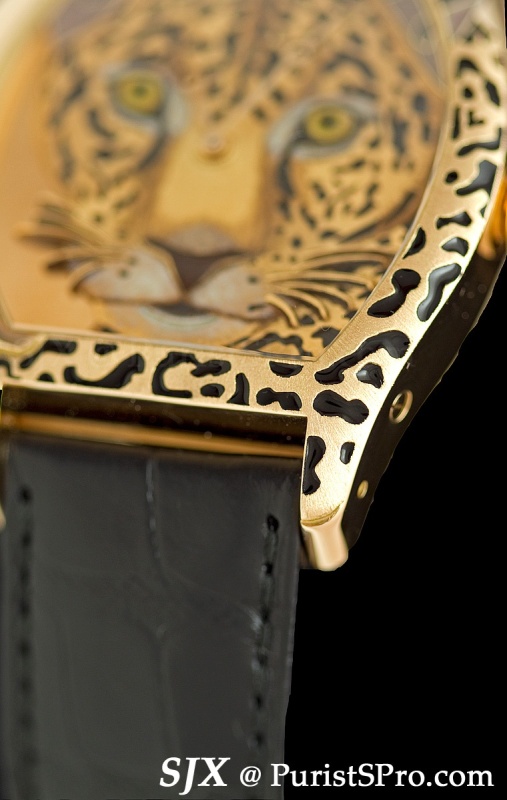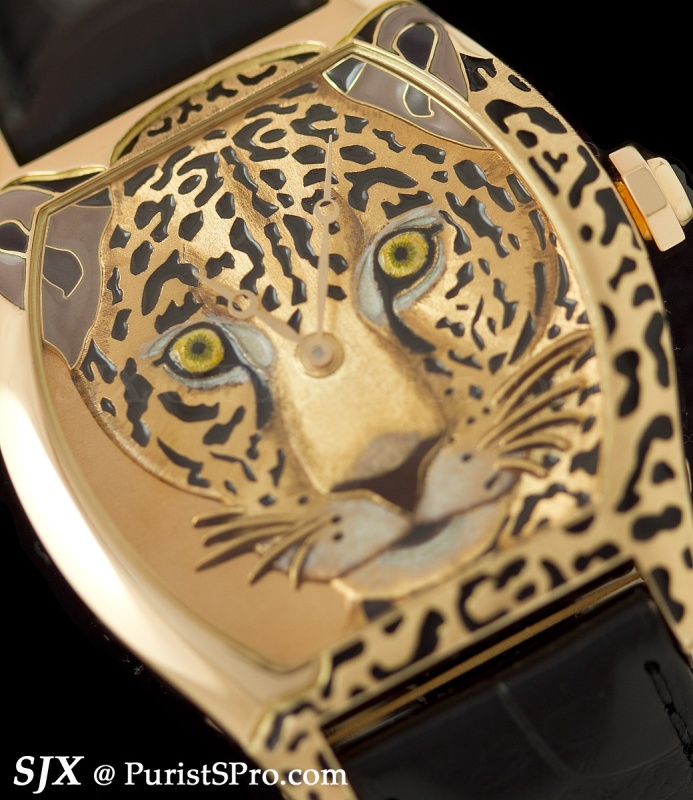 This message has been edited by SJX on 2011-05-06 21:16:45
This message has been edited by SJX on 2011-05-09 06:28:22
This message has been edited by SJX on 2011-05-12 09:41:54
More posts: