PeterCDE
10167

<!tag blob="forumpost.visitstar">
Something i liked today at SIHH
G'day,
it may a bit of a surprise not to start with a "life picture" of a new model by Girard-Perregaux (lots of these later this week), but this one is really different.
I know there´s a lot of fans addicted to dive watches. And a lot of fans adore manufacture-made movements. Quite many appreciate even more in-house work, such as cases.
So here´s a chance to combine all above, with a very very handsome piece in nature. Dive watches seem to be a bit of a topic for this year´s SIHH fair, as many "well known" brands did introduce new models for underwater wear. Frankly speaken, most other models do cater the (real or perceived) "need" for larger case diameters, as few are blow 45mm in width.
And that´s where JEANRICHARD really sets itself apart with the Diverscope.
After seriously reducing the portfolio, the Diverscope today belongs to one of three pillars for the brand and represents the "Sports" genre. It does so in a prominent way, as 43mm in the flesh make for quite a large watch. But it´s far away from being an unwearable brick on the wrist and if you have a close look, it´s legible and sporty, but elegant as well.
The inner values consist of a manufacture-made JEANRICHARD calibre JR 1000, which today is a well-tested and reliable powerhouse.
The outer value are made of steel, which is coated with natural vulcanized rubber in a highly complex process. This results in a soft tactile feel, without compromising the intended use as a dive watch capable to withstand pressure up to 300m depth. The crowns, of which the left is used to rotate the inner bezel, are treated with DLC-type PVD coating. This results in a particularly hard and resistant surface, but it´s a nice optical highlight at the same time.
The Diverscope is proposed in two variants, one black dial and one "white" dial. The bright dial is not a simple "paint job", but actually the whole inner dial is treated with luminescent colour. This will glow up the whole dial, which results in a perfectly legible piece under water or under low light conditions.
All Diverscope models will be delivered with two straps.
The fabric strap, as pictured on the "bright" dial variant, is intended for diver´s gear and fitted with a velcro closing. This way fitting the strap to individual arm (or wet suit) diameters is a quick and easy job.
The vulcanised rubber strap, as pictured on the black dial variant, is probably well known from other models by JEANRICHARD and fitted with a double-folding clasp.
Over all, even for small wrists it´s a piece with great wearing comfort. Particularly the halfway restrained height of 13.5 mm make it a pleasure to wear (and that´s really different from other dive watches i´ve closely encountered in the past two days).
For now i´ll leave you with admittedly clumsy pics, which may help to get an idea - and to look forward for more to come!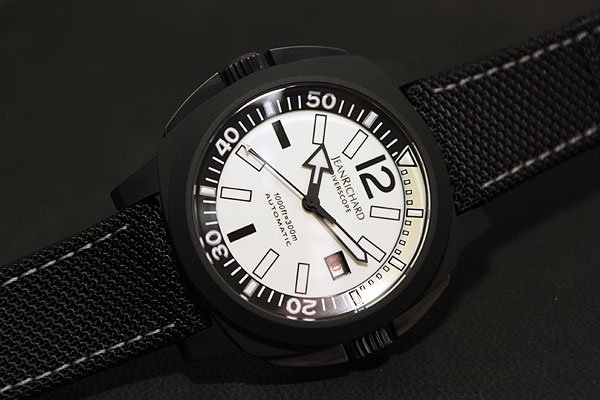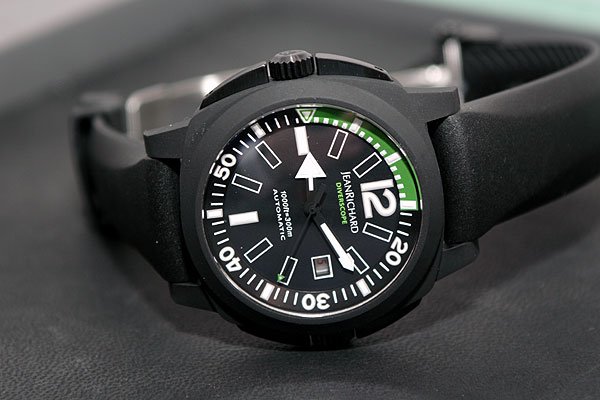 Cheers,
Peter