WHL
[VC Moderator]
4922

MaraWatch for The University of Michigan: A New Watchmaking Concept
An entrepreneur who wants to start a watch company has a couple of business models that he could follow. Assuming that he had earned a stellar reputation working on watches for a brand, he could start a new brand with his own name on the dial. Daniel Roth made his name with Breguet before moving on to form Daniel Roth and then Jean Daniel Nicolas. Roger Dubuis was master of complications at Patek Philippe before starting his eponymous brand, and fellow Patek Philippe alum Laurent Ferrier was technical director there before setting up his own shop to fulfill his dream of creating his own designs.
Another model is for the entrepreneur to partner with watchmakers and workshops to construct the timepieces that he wants to have manufactured and marketed. Max Busser does this brilliantly well with MB&F, as does Steven Holtzman with Maitres du Temps.
Shashi Mara has followed this second path in his own unique way. While Mr. Busser and Mr. Holtzman had long careers in watches before founding their own firms, MaraWatch evolved out of Mr. Mara's passion as a collector of fine watches, and his desire to start a new Swiss firm. His background is in business, having earned his MBA from the University of Michigan, and then pursued a management consulting career with with a focus on strategy and operations. To realize his dream and to make a viable watch company he developed the innovative idea of marrying a collector's passion for watches with a University of Michigan alum's passion for his alma mater, licensing rights from The University of Michigan to design and sell timepieces that take their cues from the colors and emblems that define the school.
Mr. Mara employed experienced Swiss designers and component makers to realize his vision for these watches. The flagship timepiece is The Game Changer, a watch that proudly broadcasts Michigan partisanship with its bold "Maize and Blue" color scheme. Many elements of the design will inspire fond recollections about the college years. Most prominent is the dial, with a sunray blue base and maize rings framing the applied hour markers. There is also the block M at 12 o'clock.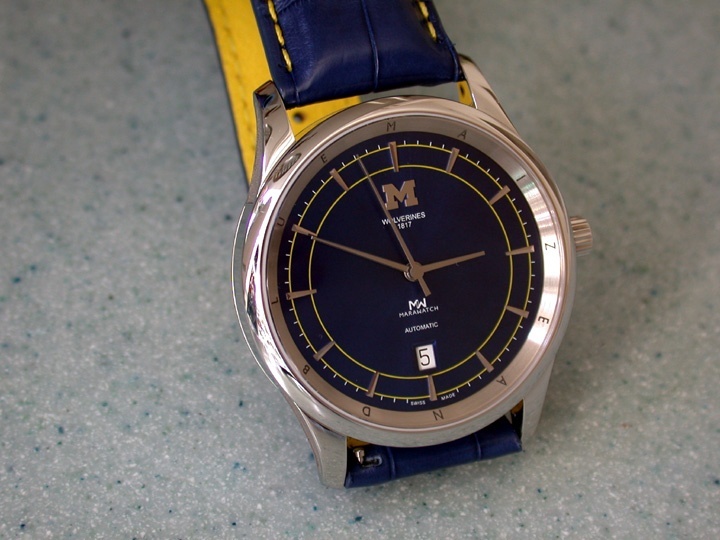 Note also the rehaut with the tweleve letters of "MAIZE AND BLUE" engraved hourly.
The case and movement incorporates a couple of UM elements, with the sapphire crystal for the stainless steel case back outlining the shape of Michigan Stadium, nicknamed "The Big House," for its capacity to hold over 109,901 rabid football fans, and the rotor of the ETA base movement is engraved with "GO BLUE."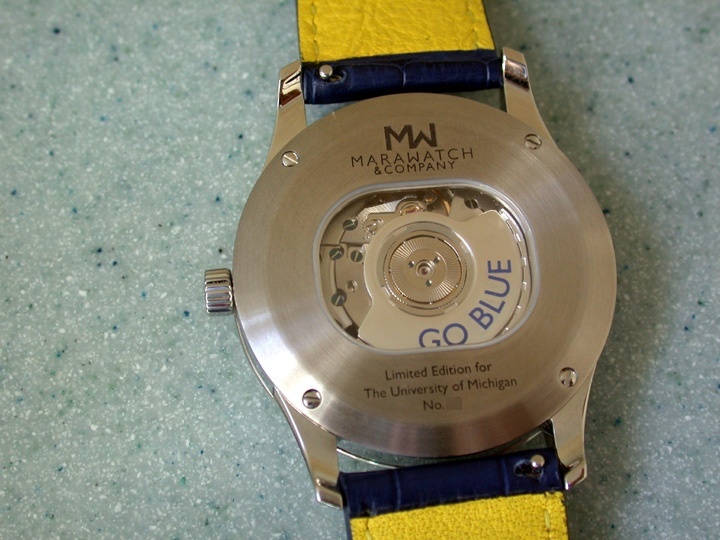 The side of the case have a sandblast finished cutout that reminds me of the iconic winged helmets that the football and hockey players wear.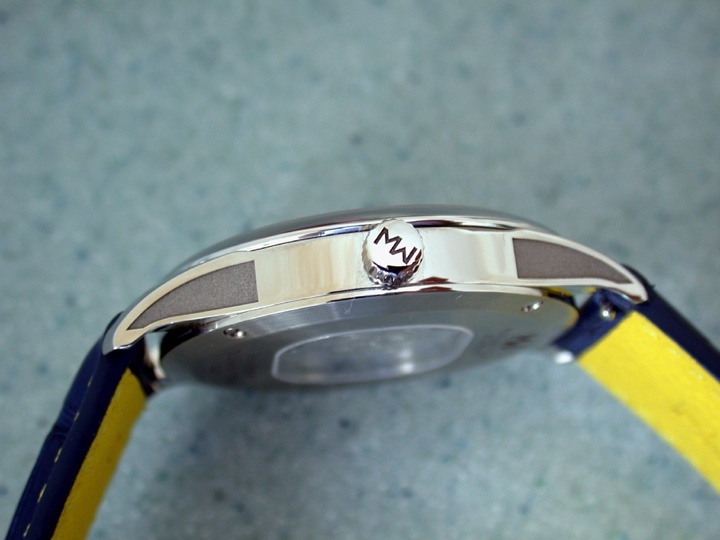 The Game Changer is limited to just 30 numbered pieces.
There are two other designs in Mr. Mara's initial collectioin, The Rainmaker, with a silver dial, where the block M is subtely incorporated into the guilloche pattern: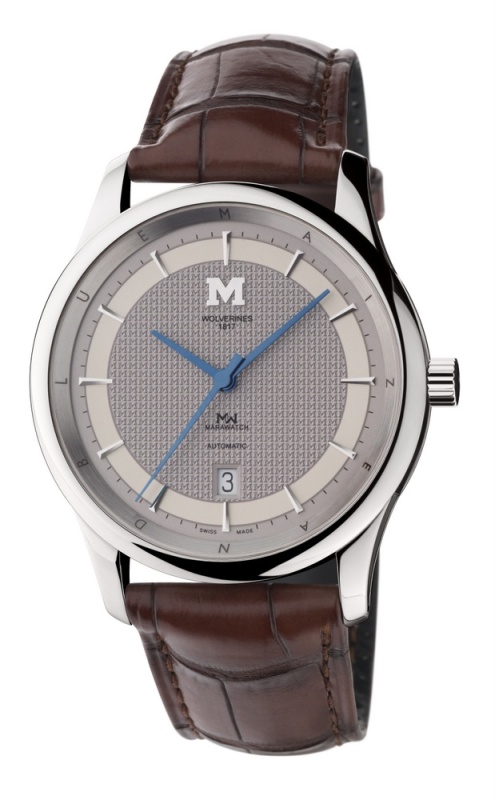 Courtesy of MaraWatch
and The Risk Taker, with black dial, also with M guilloche pattern: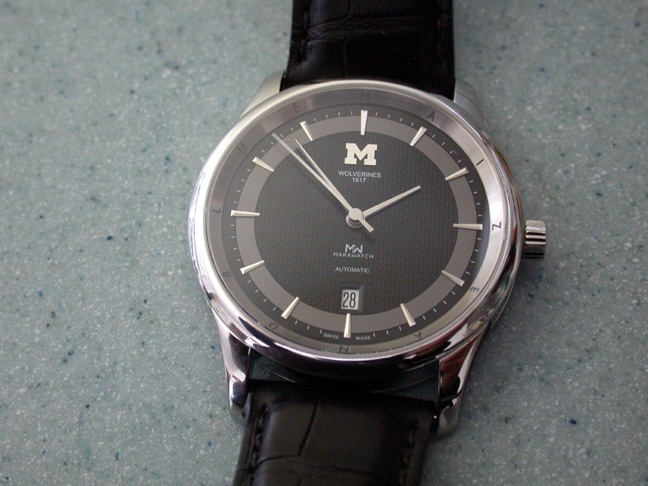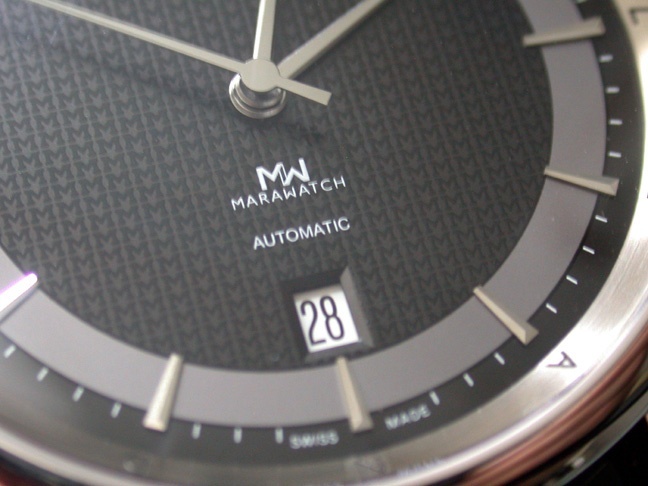 Being a member of the Univeristy of Michigan class of 1994, I couldn't be more proud to wear The Game Changer, infused with school spirit as it is. It looks great on the wrist, is comfortable and masculine with a 41 mm diameter, and is thoughtfully designed and well crafted. It is my football Saturday watch.
I expect that Mr. Mara will have great success with his line of watches for The University of Michigan, and will eventually extend it to included models for women. For those alums like me who have a passion for both watches and the university, this is an exciting watch.
Bill Lind
This message has been edited by WHL on 2012-11-07 19:03:07
This message has been edited by WHL on 2012-11-08 07:32:16
More posts:
<!tag blob=wf.addthis>