<!iframe style="align:center; height: 250px; max-width: 100%; width: 100vw; overflow:hidden;" src="https://storage.googleapis.com/pubzapuscentral/watchprosite/ad/adsGO11b/index.html" frameborder="0">

MTF
[PuristS]
13383

<!tag blob="forumpost.visitstar">
SIHH 2013 PuristSPro Report: Greubel Forsey
SIHH 2013 PuristSPro Report: Gruebel Forsey (M. Teillol-Foo & PuristSPro Team)
Last Years' (2012) Star of the Show: GF 05 GMT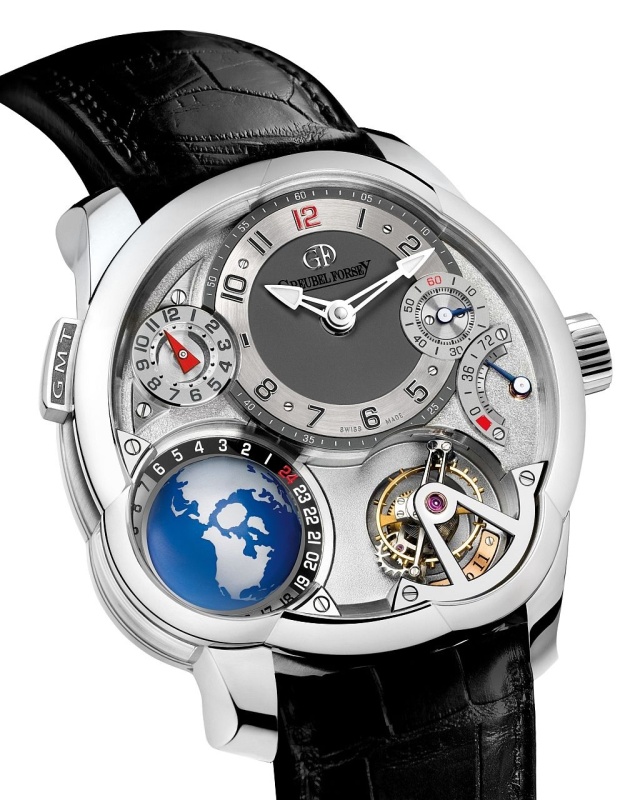 2013 Themes:
Greubel Forsey continue to Innovate by Exploring Chronometry & Materials
First Double Balancier in Watchmaking.
First Black Titanium Case and Rubber Strap.
First Art Piece work in progress.

2013 Star of the Show : Greubel Forsey Double Balancier 35°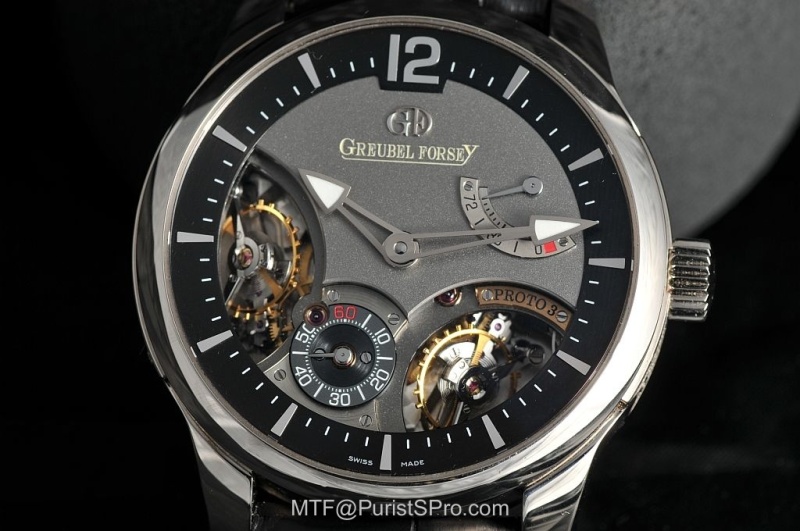 A true first in Horology, the Greubel Forsey Double Balancier 35° features two inclined fixed-oscillators.
This unique regulating system comprises two inclined oscillators and escapements. They are driven through a spherical differential, which provides the average of their rates (via the gear train) to the time display.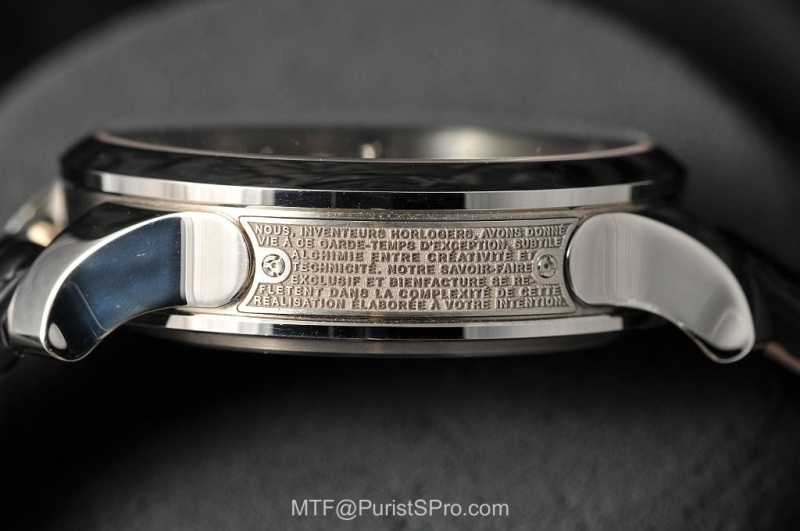 R&D
Since 1999, when Robert Greubel and Stephen Forsey began their ground-breaking research into inclined oscillators, they concentrated first on the challenges of those mounted in rotating cages and then continued at the start of the 21st Century into studying inclined fixed oscillators.
The first working prototype from Greubel Forsey's 6th fundamental invention with inclined escapement was initially a movement with two inclined oscillators, each at 20° and this was unveiled at Baselworld in 2009. This superimposed concept resulted in an exclusive six timepiece edition under the Greubel Forsey EWT label in 2011.

Consequently the timepiece presented in 2013 is an evolution from this first concept. The two inclined oscillators are no longer superimposed, but are spatially disposed in different three dimensional planes.The Greubel Forsey Double Balancier 35° is a one-off unique edition of just six pieces in an18K white gold case, ensuring exclusivity.
Other Novelties 2013:
Double Tourbillon Technique Black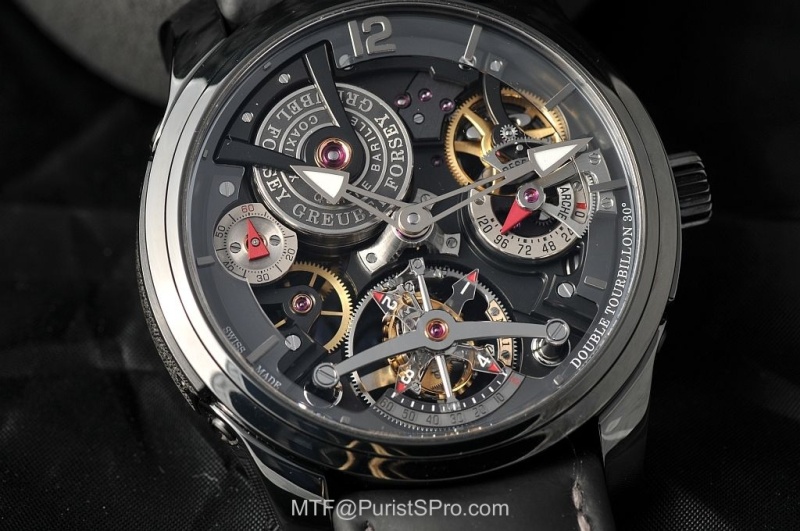 The Double Tourbillon Technique Black breaks completely new ground for Greubel Forsey: It is the first black model in the Collection and the first Greubel Forsey timepiece to feature a titanium case and a rubber strap.
These features endow this three-dimensional engineering sculpture with more casual aesthetics than the classic gold and platinum models. Highly polished steel bridges stand out in high-contrast juxtaposition against the subdued black chrome of the movement plates and bridges.
It may be almost criminal to suggest that this is the first sporty Greubel Forsey but the contrasting textures and red-tipped indicators certainly give that ambience.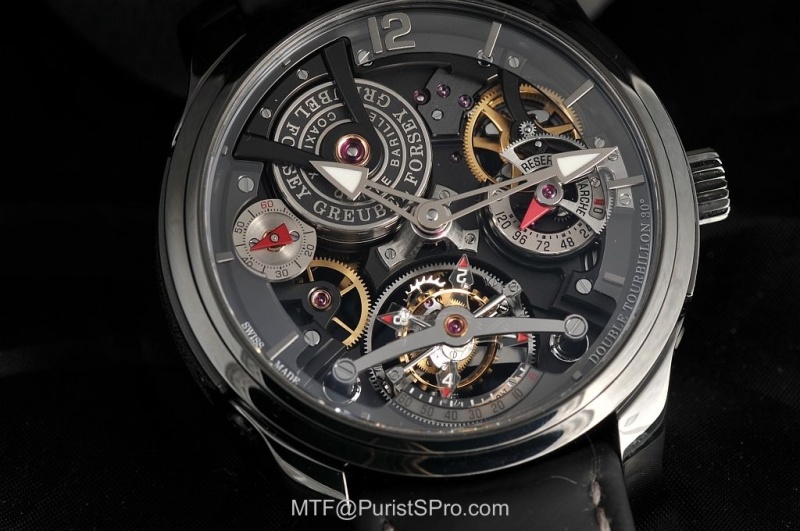 The Double Tourbillon Technique Black features a unique, open-work movement architecture in an entirely original and innovative interpretation of Greubel Forsey's first fundamental invention, the Double Tourbillon 30°.
Art Piece 1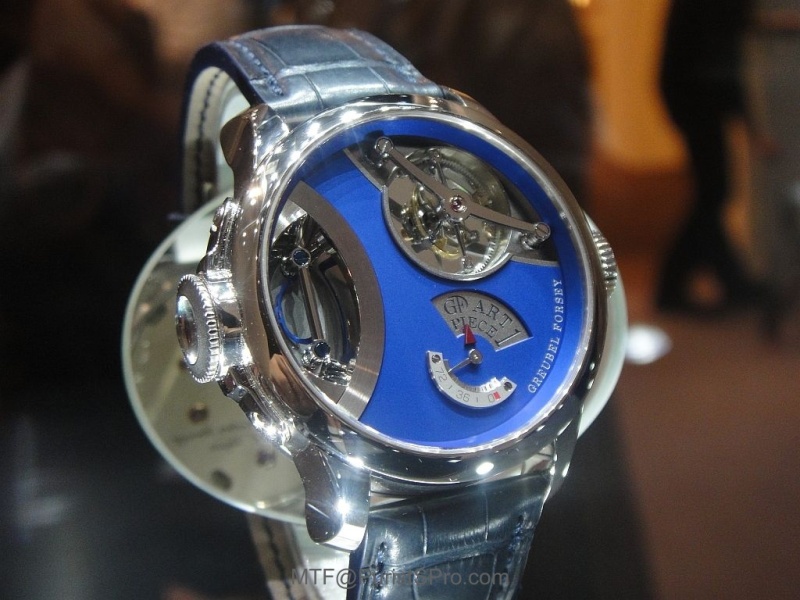 An artistic co-creation by Robert Greubel and Stephen Forsey with Willard Wigan. Whilst still a work in progress, Art Piece 1 will feature a nano-sculpture by Willard Wigan set into its own dedicated space within the timepiece. A miniature microscope set into the caseband will allow full appreciation of this macro-wonder. Willard Wigan's artwork in Art Piece 1 will be complemented by a sublime 30° inclined double tourbillion, which will ensure that this unique timepiece is as accurate as it is alluring.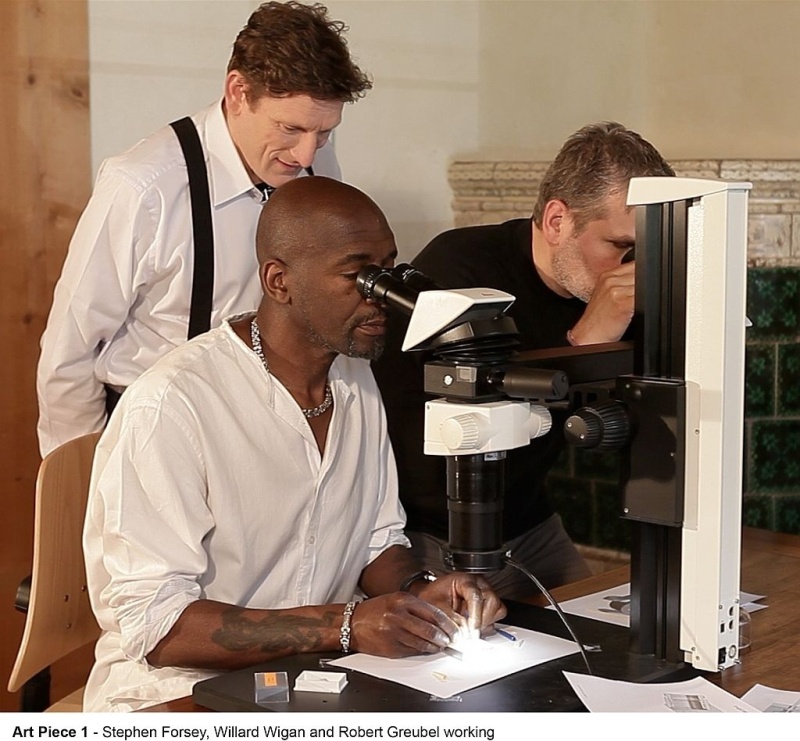 When Robert Greubel and Stephen Forsey first encountered Willard Wigan's nano-sculpture installations in the eye of a needle or on the head of a pin, they found that they shared the same language of the 'miniaturist'. Initially Willard Wigan thought that fine watchmaking was too far from his artistic realm; However, after visiting the Greubel Forsey manufacture, he became fully aware of the 'Greubel Forsey spirit' and how Robert and Stephen's seemingly irrational obsession with perfection resonated with his own artistic sensibilities.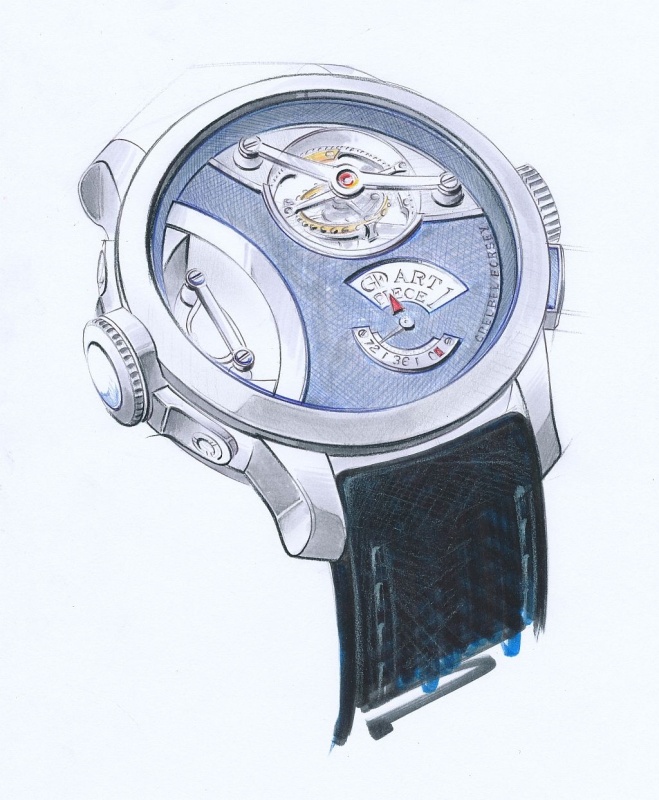 Robert Greubel and Stephen Forsey entered into Willard Wigan's world and he into theirs. It would have been much easier to simply insert one of Willard Wigan's micro-sculptures into an already existing Greubel Forsey timepiece. However, Robert and Stephen wanted to work together with Willard Wigan to create a work of art befitting his sculpture and artistic spirit.
Robert Greubel and Stephen Forsey are creating an entirely new timepiece in which they have incorporated a miniature microscope. Despite its size, this optical-grade instrument offers 23-fold magnification –a significant technical challenge in itself. The only way to appreciate Willard Wigan's sculpture will be with the eye close to the miniature lens.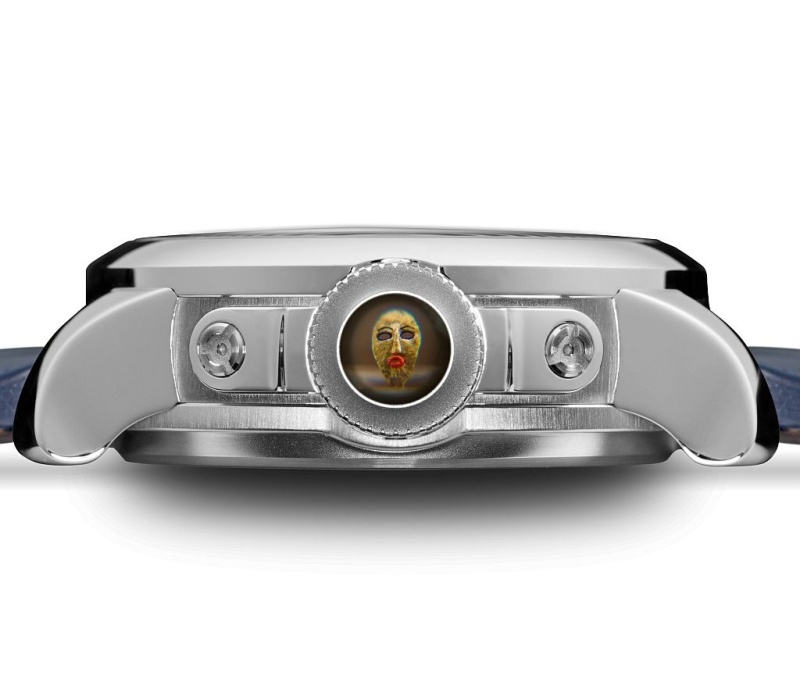 A mock-up illustration of the eyepiece to inspect the nano-sculpture.
Developing the integrated optics was a significant technical challenge in itself. Not only did the timepiece require an adjustable lens with a magnification of 23 times without distorting optical abberations, there also had to be enough natural light illuminating the micro-sculpture without the necessity of an internal artifical light source.
The protoype demonstrator contained a miniature sculpture of a sailing ship with masts, rigging, sails and a spinaker (not photographed). The rigging was made of actual spiders' web; that revelation resulted in quite a few jaws dropping amongst the audience!
What is left to complete? The Art Piece will still function as a time-keeper but in keeping with it's primary raison d'etre, the time display will be "on-demand" at the 5 o'clock position. Greubel Forsey are working on some secret mechanism that opens the display shutters upon activation of the pusher.
Experimental Watch Technology Proto SF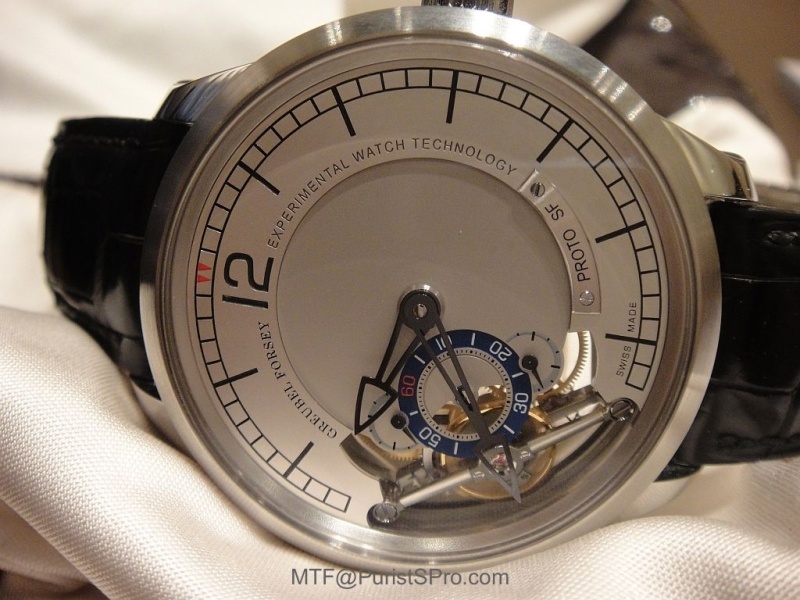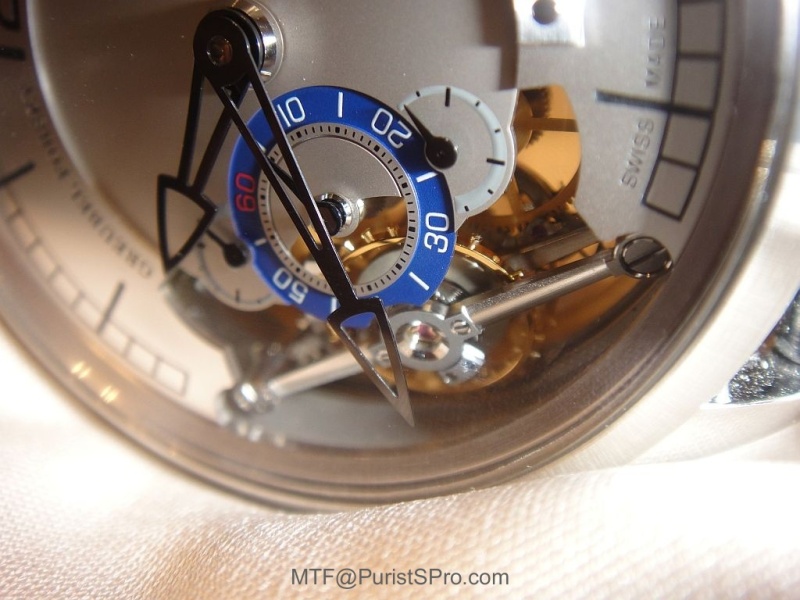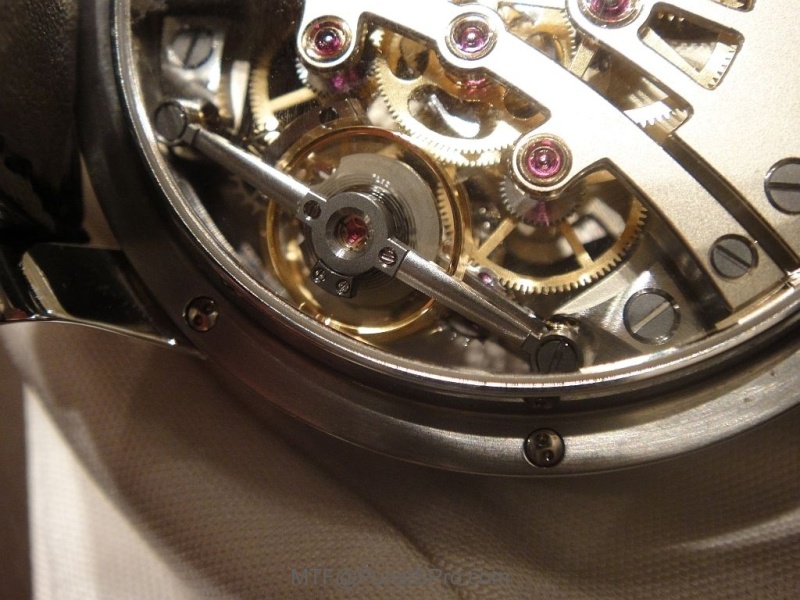 Experimental Watch Technology Proto 3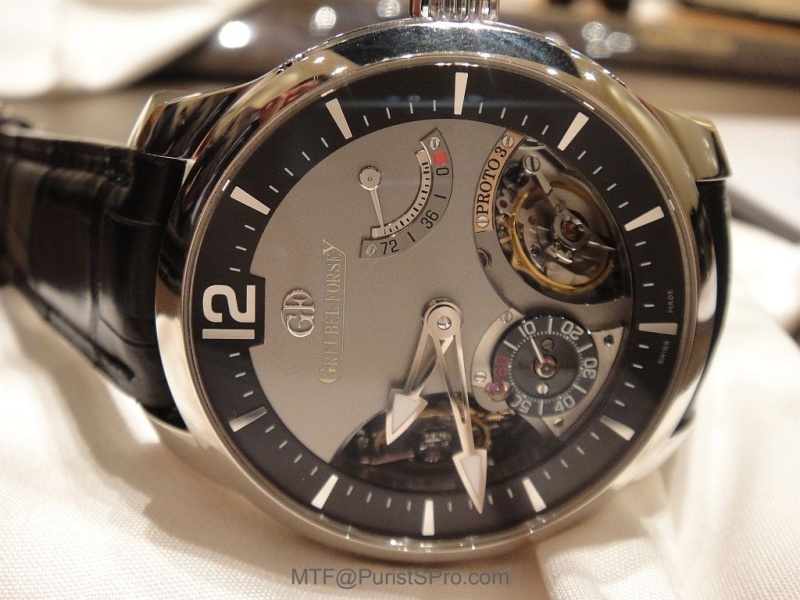 This message has been edited by AnthonyTsai on 2013-02-06 08:26:47
This message has been edited by AnthonyTsai on 2013-02-14 09:21:19
More posts: