AnthonyTsai
[PuristS]
22903

<!tag blob="forumpost.visitstar">
GoS Nordic Seasons - Winter Nights for PuristS - 10 piece limited edition
PuristSPro has collaborated with Gustafsson & Sjögren on their 10-piece limited edition "Winter Nights" series.
Here is the link to the original press release: ahci.watchprosite.com

"Winter Nights" for PuristS is offered on pre-order subscription basis and exclusive to PuristS at US$ 19,000.
A 30% deposit secures your choice of dial design and the remaining 70% paid before delivery. Price includes insured shipping directly from the GoS workshop in Sweden. Import taxes may be added by customs, and California orders must add Santa Monica 9.50% sales tax.
* If you're attending Baselworld 2013, you can also pick up your watch there if you order before February 28, 2013.
* Some PuristSave ordered already and are choosing their dial version.

** This special $19k price for the Winter Nights for PuristS watch WITH the new in-house GoS-MB movement has been held down to the price of older models modified Unitas movements.
** All future GoS watches with the NEW GoS manufacture movement may retail at $23k and higher.
I wanted to share new developments and pictures of the Winter Nights with you as they come out of R&D..
You can see the 4 possible dial combinations to choose from with the stainless damascus steel case.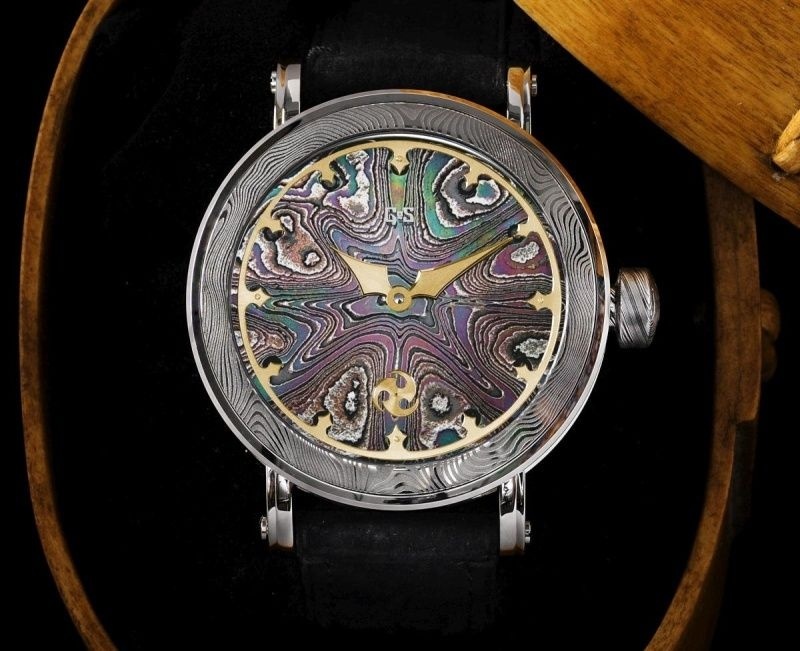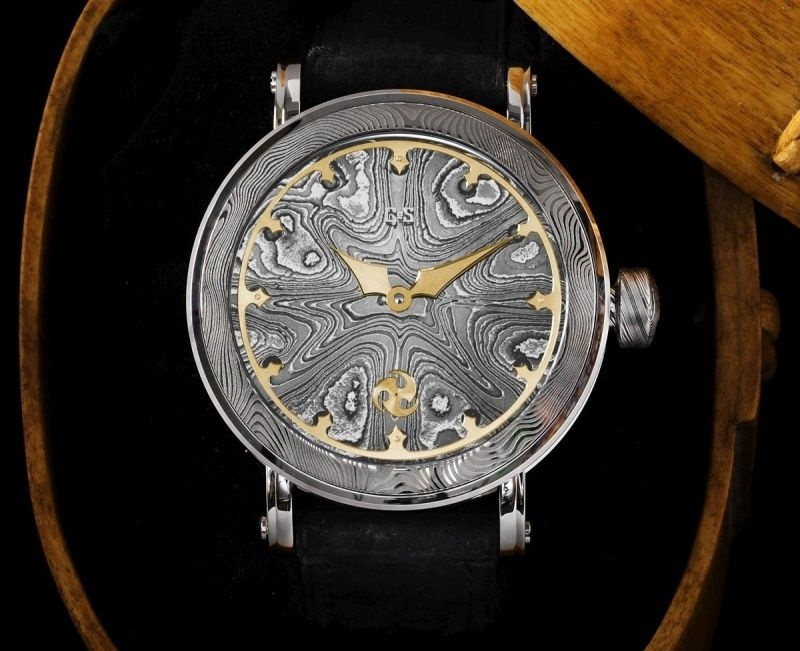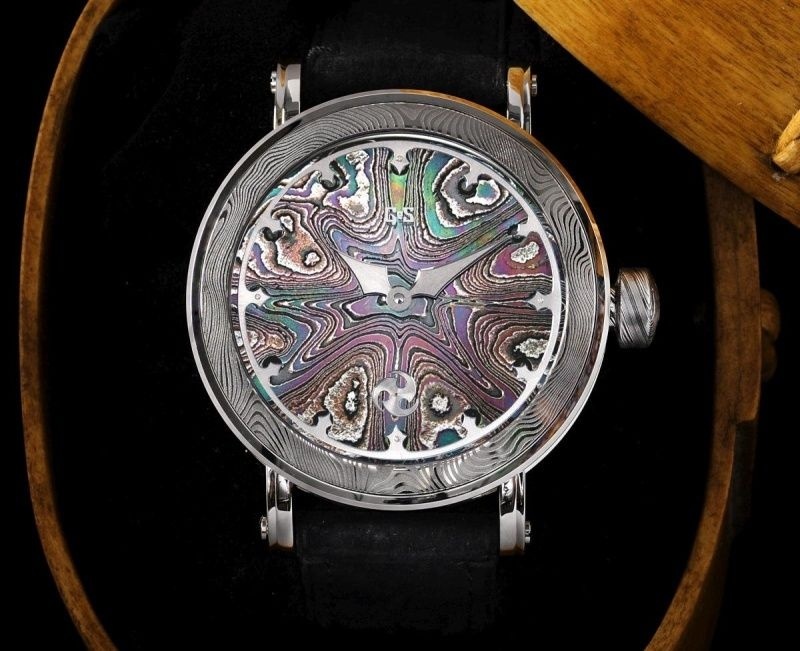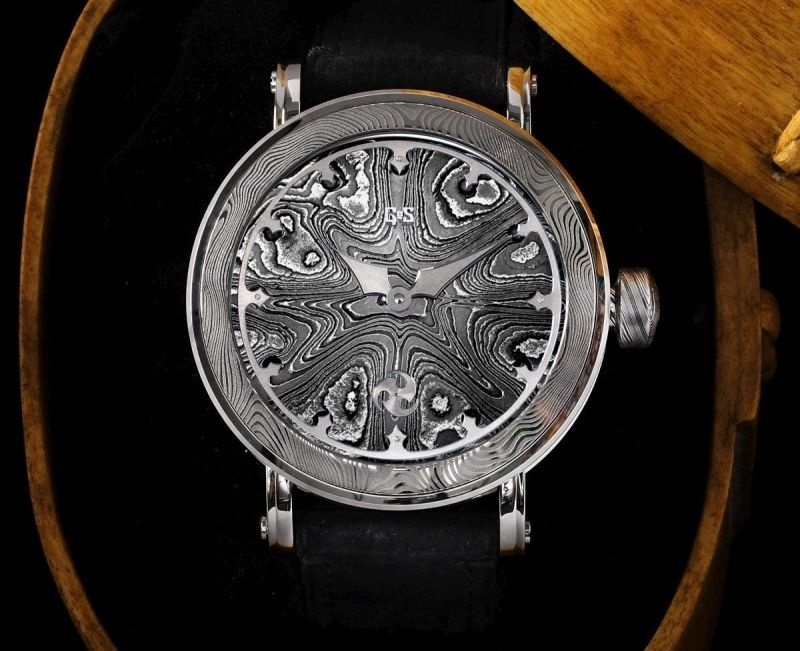 New Crown
The new crown has been enlarged, compared to the prior GoS watches; to make winding easier. (Ignore the "1/5 engraving" in the test photo)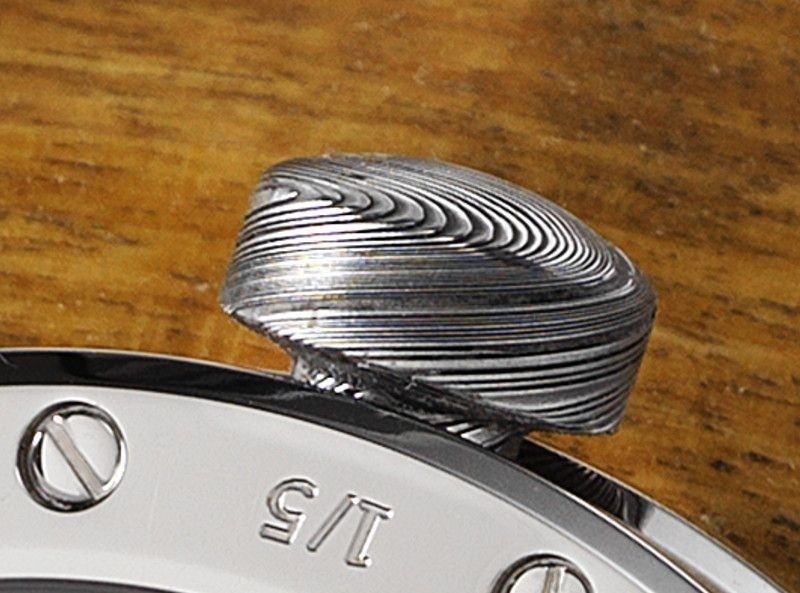 IMPROVEMENT: Power Reserve Display
As a further improvement to the original design, Winter Nights for PuristS will have a power reserve hand on the movement (see below picture). The shape of the power reserve hand is still open to suggestion but most likely will be similar to the seconds hand but with only one arm instead of four. The 2 small jewels on the bridge will function as markers for the power reserve.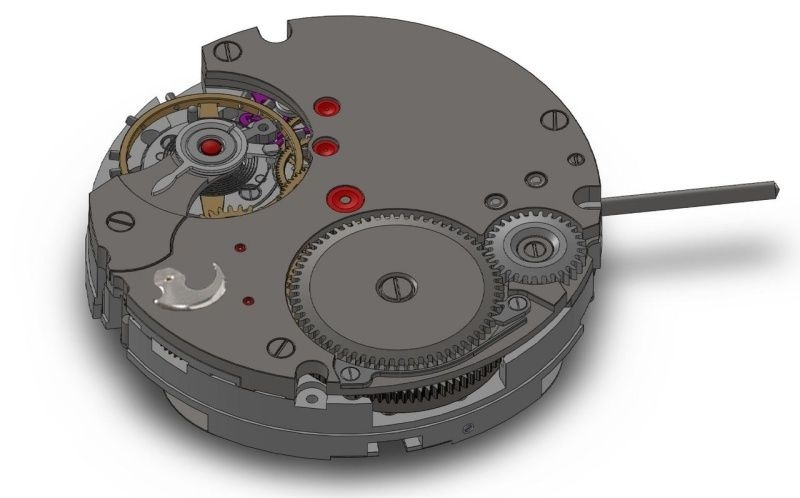 Below is a photo of the actual GoS movement prototype; inset shows actual pattern for a Winter Nights movement, of the Winter Nights damascus steel movement (the power reserve hand is not show).
GoS Manual Caliber 1 - a collaboration between GoS and Martin Braun - with silicon escapement wheel and anchor.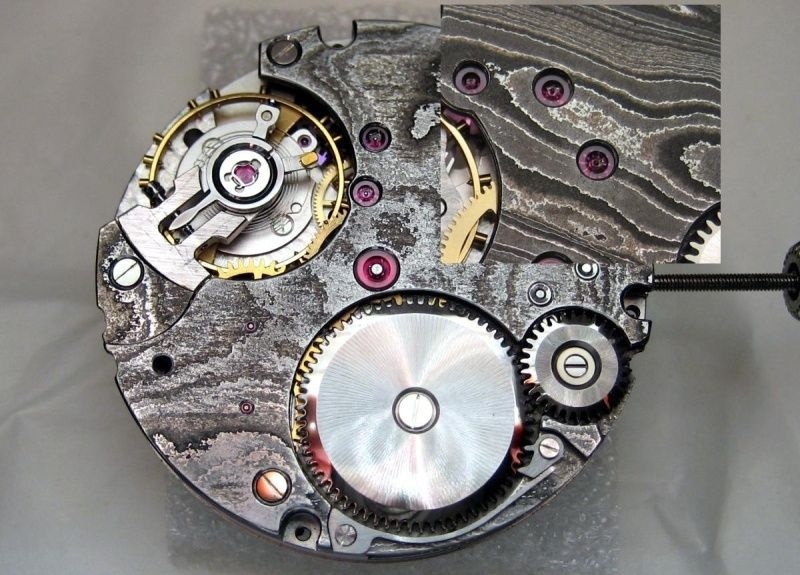 For more details and specifications of the GoS Winter Nights for PuristS, please download an e-booklet by clicking on the following link: www.goswatches.com
Are you a blade enthusiast?
Can a normal watch collector buy this watch?

Which version do you like best?
Cheers,
Anthony
This message has been edited by AnthonyTsai on 2013-01-16 15:15:13
This message has been edited by AnthonyTsai on 2013-01-23 12:43:59
This message has been edited by AnthonyTsai on 2013-02-01 11:20:34