I interview Peter Speake-Marin, English watchmaker in Switzerland, maker of the Piccadilly and Shimoda, and known for his dial materials like maki-e and semi-precious stone.
SJX interviews Peter Speake-Marin
By Su JiaXian
© April 2008
Peter Speake-Marin began his career at Hackney Technical College in London, before continuing his horological education at WOSTEP. Following that he took up a position as a watchmaker at Somlo Antiques, a premier antique timepiece dealer in London's Burlington Arcade, where he worked on restoration of vintage watches. In 1996, he returned to Switzerland to work at Renaud et Papi, the renowned high complications specialist.
It was in 2000 that Peter struck out on his own and set up his atelier in Rolle, a small town in between Geneva and Lausanne. With a focus on uncommon dial materials like enamel and maki-e, Peter since made a name for himself with his distinctive and fine creations, most notably the Piccadilly wristwatch, which was reviewed at length by Michael Ting (click here for the review). As a testament to Peter's creations, Mike wrote the following in the concluding remarks, "I firmly believe that the Piccadilly is so well constructed that it will outlive me."
As well as making his own timepieces, Peter also does work for many leading brands. Turn over a Harry Winston tourbillon and you'll find 'Peter Speake-Marin' engraved on the movement. Recently news emerged of a collaboration between Peter Speake-Marin, Christophe Claret and Roger Dubuis (the man, not the company) - something that has got the attention of many.
In this interview, Peter talks about his latest collection, the Sea & Stone, amongst other topics.
Many thanks to Daniela Speake-Marin and Duncan Wang for making this interview possible.
All images courtesy of Peter Speake-Marin.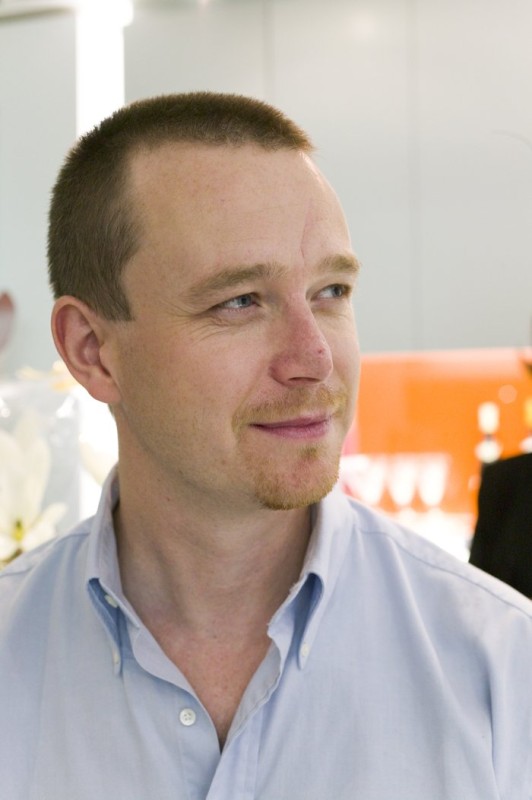 Su JiaXian (SJX): Tell us more about your latest collection of timepieces, the Sea & Stone.
Peter Speake-Marin (PSM): The new collection mixes two basic themes, primarily the use of mother of pearl mixed with other stones, as well as the use of geometric design. The use of mother of pearl and stones was the catalyst for the name of the collection, although some of the pieces such as the maki-e [Japanese lacquer] turtle and crane piece are [the result of] association through subject.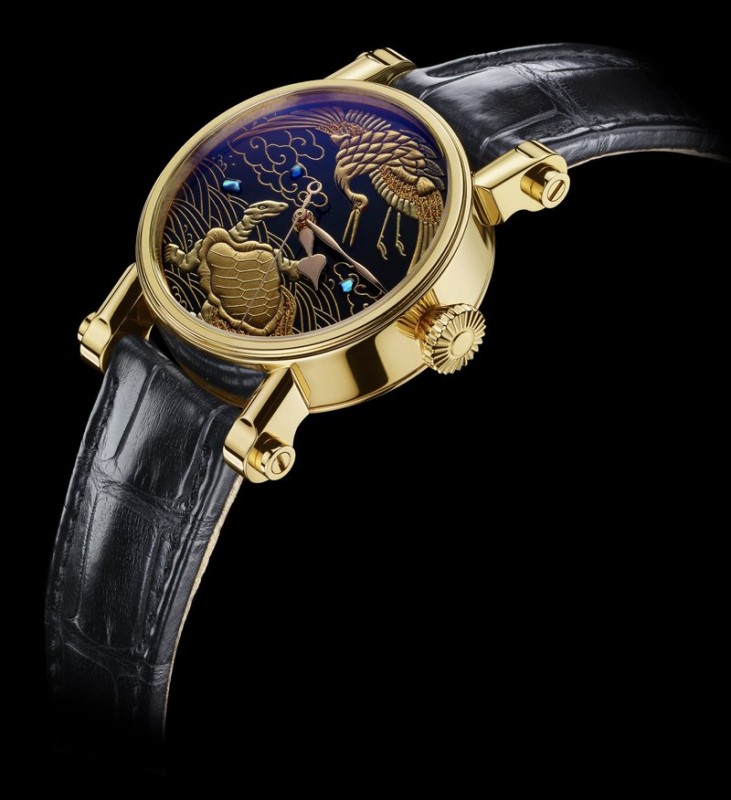 Sea & Stone - Turtle and Crane Maki-e (Unique Piece)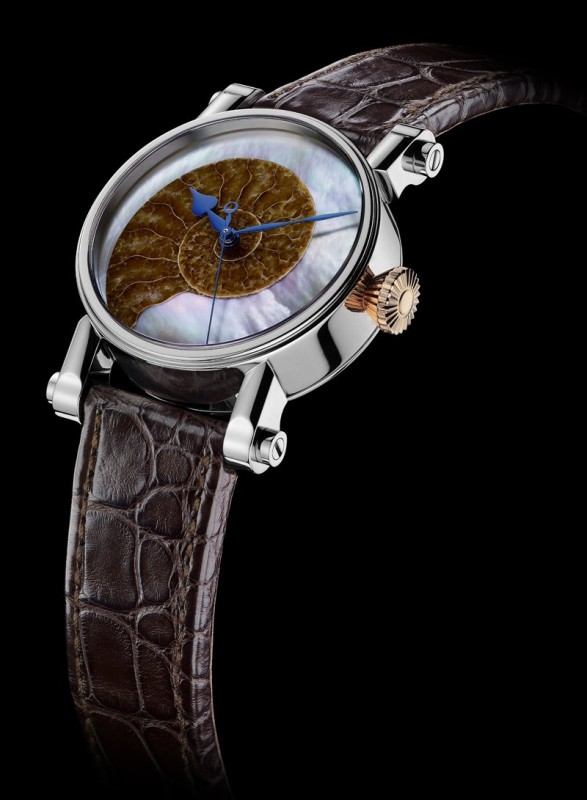 Sea & Stone - Ammonite Fossil (Unique Piece)
SJX: The focus of the watches is on the unique dial materials, which is unusual since most independent watchmakers specialise in complications. Can you tell us more about why you choose to take this route for the collection?
PSM: Every independent has his style and motivation; since I became one I have worked with an array of complications as well as simple time pieces. Watchmaking for me is about creativity and exploring ideas - whether they are technical or aesthetic.
The development of this collection was a rewarding experience in design and materials and its continuation can be as diverse as a simple ballad or a symphony. Being able to experiment like this is one of the chief reasons why I became an independent.
The materials have been used by many companies before for the most part, my interest is using them for my watches, my way. It was also a way to develop a feeling for working with each material - Panther Iron for example is very fragile and requires a certain thickness to give the aesthetic I was looking for; Falcon's Eye can be used in thinner slices and has an extraordinary effect playing with light.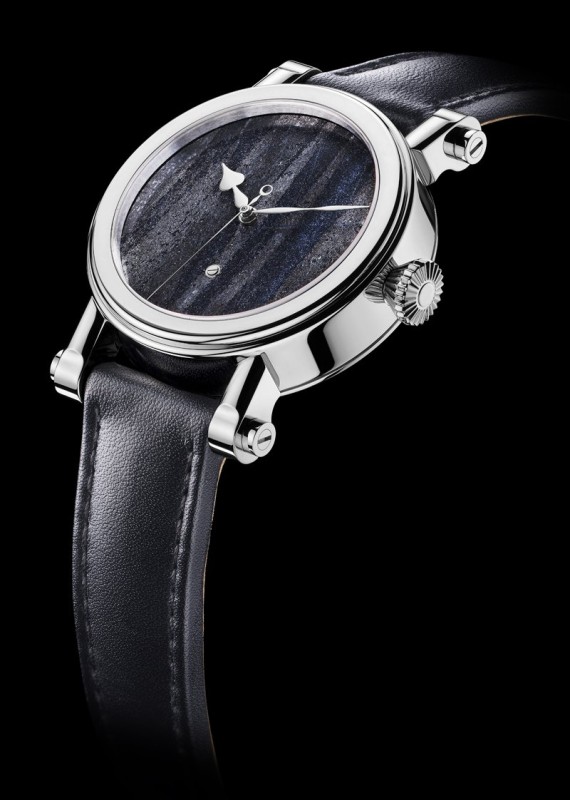 Sea & Stone - Panther Iron
SJX: How are you involved in the production or design of the dials?
PSM: I designed all of the dials with the exception of the maki-e piece which was done by a Japanese maki-e artist. Apart from this piece I design both the aesthetic of the dial and [its] technical execution. The collection for the most part is devoid of my name to place emphasis on the design and material, however, some clients have requested [my logo] added.
SJX: Thus far your watches, including the Sea & Stone, are traditional in materials and design. Do you foresee yourself doing anything high-tech? Maybe a fusion of space age materials?
PSM: My work is a life's work in progress - every step I take I develop a greater understanding for each material. Using new materials for the sake of adding a novelty to a product is not my style; that does not mean that in time I will not experiment with more modern materials, but they must complement my watches in a congruent fashion.
SJX: I asked you this very question at Basel before, but I am sure readers will be interested to know as well. Your watches are very solid and massive, with thick cases and large crowns. What inspired this particular aesthetic?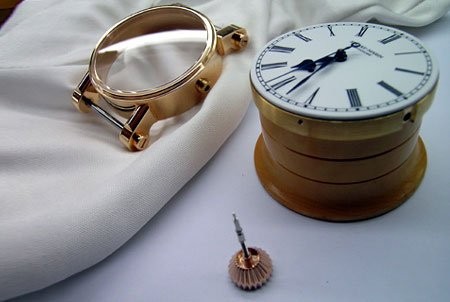 Case, dial and crown of a Piccadilly
PSM: The essential design of the cases stems from the technical philosophy behind them, [which is] to make them resilient to time. I started with a personal approach to make the watch I wanted for myself and it appealed to a larger audience. The watch itself appears thicker than it is because of the straight sides of the case and the strong shoulders, in reality there are many other watches which are similar in thickness. (Editor's note: The trademark Piccadilly case 13.5mm high, not ultra-thin but definitely in keeping with modern watch sizes.)
SJX: I hear that your in-house movement is on its way, can you reveal more about that?
PSM: The first prototype movements will be on test soon and then until the end of the year. I prefer not to say too much until it is closer to being released which will be next year.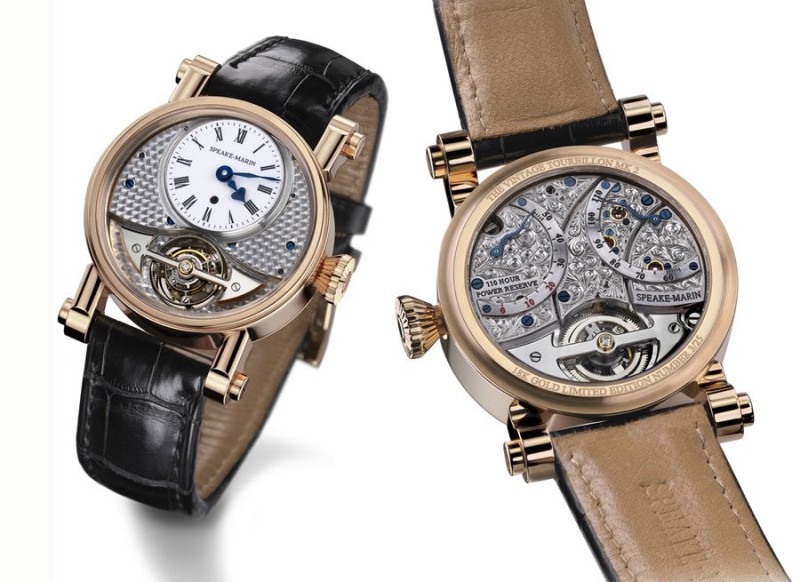 The Vintage Tourbillon Mk 2 in rose gold, limited edition of 25 pieces, based on an STT ebauche
SJX: Any plans for new complicated movements?
PSM: I have several parallel projects under way with the movements, which are in their infancy and again I prefer not to say too much until the projects are more advanced.
SJX: You also do unique pieces, made to order by clients. Can you talk about some of the more interesting bespoke watches you've created?
PSM: The first Shimoda was an order from a Japanese client whose name eventually became the model name; also in this first Shimoda I designed a dragon which was engraved on the movement automatic bridge with the jewels being integrated into the design as the eyes. Another Japanese client requested a specific maki-e dial representing a roaring tiger.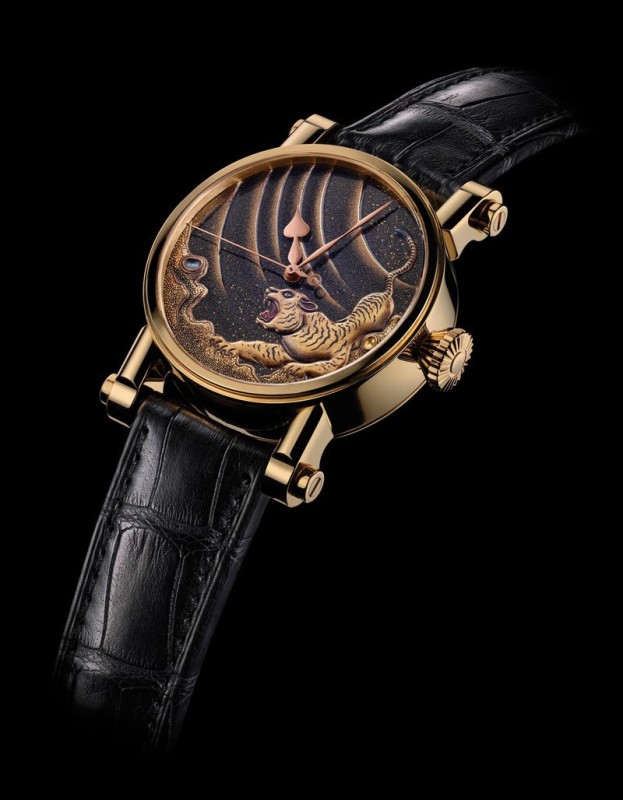 Roaring Tiger Maki-e
More recently we have made a watch for a Russian client which lays the imperial double headed eagle made in gold, silver plated then oxidised on to a slice of brown sard onyx and surrounded by gold chapter rings. The idea came from him, he has a ring which he wanted to inspire the design of a watch, [so] we worked together over many months and created a wonderful piece for him. The same client requested a QP [Quantième Perpétuelle or perpetual calendar] with baguette diamond-set shoulders and various unusual engraving on the case.
We have made others which the clients prefer not to disclose. We are very attentive at clients request for privacy some clients do not want their names being mentioned, others do not want the watch being shown on our website. The majority of the unique pieces are of my own motivation, however, we are getting more and more bespoke pieces requested. The thing to remember is that for such pieces the client has to be aware that it is a lengthy process and can easily take 6 to 8 months depending on the request, sometimes a lot longer.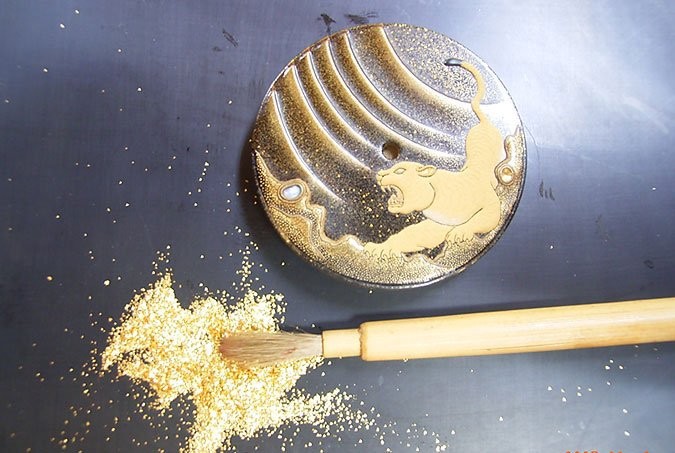 Applying gold dust to the dial of the Roaring Tiger
SJX: Many independents, including yourself with your experience at Somlo Antiques in London, started out doing restoration of vintage watches. Why do you think that is a common thread amongst independent watchmakers?
PSM: Perhaps we are motivated through seeing the diversity in creativity and beauty that our watchmaking inheritance brings.
When you work in antique restoration you see the different systems developed to solve various challenges in watchmaking, whether it be a complication or simply a setting mechanism; each different system is a solution developed by a person and as such shows creativity. It can be functional or aesthetic but it always fascinated me and proved there are many ways to approach each element that constitutes watchmaking.
SJX: As an English watchmaker, do you think watchmaking in England - not English watchmakers in Switzerland - will make a comeback? There has been recent news that the Frodsham name is being revived.
PSM: Absolutely, with the height of interest that exists today and the growing technical developments that exist in the UK, combined with the potential financial rewards for the future, I have no doubt.
SJX: What direction do you think watchmaking will take in the UK?
PSM: It will start slowly and accelerate exponentially over the next 10 years, combining elements which are highly innovative with an imagination which is fresh and runs tangentially from conventional horology today.
SJX: Independent watchmakers are a varied group. In my mind they can be divided into three general categories. One uses outsourced movements which they modify, others utilise vintage ebauches, while others claim to create their movement from scratch.
PSM: The advantage of the first is that it potentially increases capacity of individual and advance quicker. But regardless of the amount of additional work made the watch always carries connotations of original manufacturer [of the movement].
It's the same for those who use vintage movements except the final watch can, by essence of an early movement, carry added value as a rarity, but in this case there are potential long term problems with future servicing and parts.
The last group allows for the pure DNA of company with complete freedom to make the movement as one is aspired to, but it is hugely expensive and complex; it can potentially reduce production capacity depending on the approach to manufacture.
SJX: We hear that you are collaborating with Christophe Claret and more surprisingly, Roger Dubuis, the man. Can you say anything about that?
PSM: I have always enjoyed working in teams and (instead of or) making collaborations with companies that have interesting projects. For some time now I have been involved in a project with Mr. Roger Dubuis and Christophe Claret. In April of this year in Geneva you will see the first result of this new company which is based on collaborations of master watchmakers.
SJX: What will be the biggest challenges for independent watchmakers over the next five years?
PSM: Not to be drowned amongst the multitude of new brands with serious money behind them.
SJX: New brands with serious money behind them often charge serious money for watches that collectors see as lacklustre. Do you think this just a sign of the current good times in the industry, or is this trend here to stay?
PSM: New markets, new wealth and greater interest in horology and luxury products combined with a market fascinated by branding will assure a positive future, regardless of the peaks and troughs that inevitably hit the industry - this is what I see but ultimately I am a watchmaker and not an economist. All I can say is that if you have a clear direction, identity and can react quickly and believe in what you are doing, you will succeed no matter what the market dictates and how aggressive it may be.
SJX: How do you spend your free time when you're not making watches?
PSM: When I am not working my favourite pass time is being with my family and friends, hobbies have taken a back seat for some years.
SJX: Which of the watch brands, not watchmakers, do you admire the most?
PSM: Every time I am asked this I give a different answer, the answers are not contradictory it's the angle of subjective appreciation that changes. There are many brands that I like but admire I would have to generalise and say independent watchmakers as they often place the same passion, spirit and soul into the watches as I do myself, their motivation is their art.
SJX: Thank you for your time!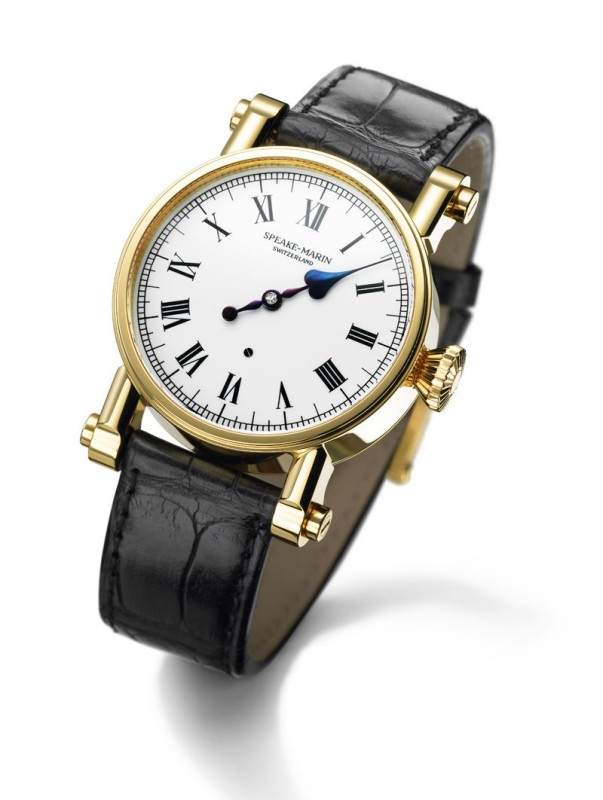 My personal favourite, the Piccadilly Shimoda
Copyright April 2008 - Su JiaXian & PuristSPro - all rights reserved