<! iframe style="align:center; height: 250px; max-width: 100%; width: 100vw; overflow:hidden;" src="https://storage.googleapis.com/pubzapuscentral/watchprosite/ad/adsGO15/index.html" frameborder="0">

Marv
356

<!tag blob="forumpost.visitstar">
Inspiration and history
Dear Bill

If we step back, don't you think that, in the past, many models were already sharing the same design and similar lines although been produced by different brands? Imitation has been a common practice in the swiss watchmaking industry for years. It is part of their history. It could also be a consequence of a business model based on the outsourcing of many activities.

From the photos hereafter, it looks like history if repeating itself. What happens now between Vacheron and Mont Blanc also happened with :

- Audemars Piguet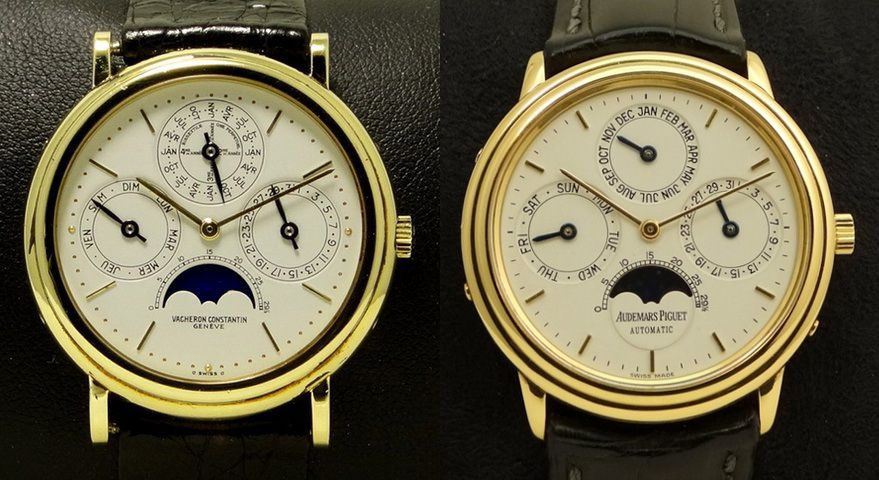 - Rolex






- Jaeger Lecoultre (at a time when Vacheron had been bought by JLC)





- Omega





- Patek Philippe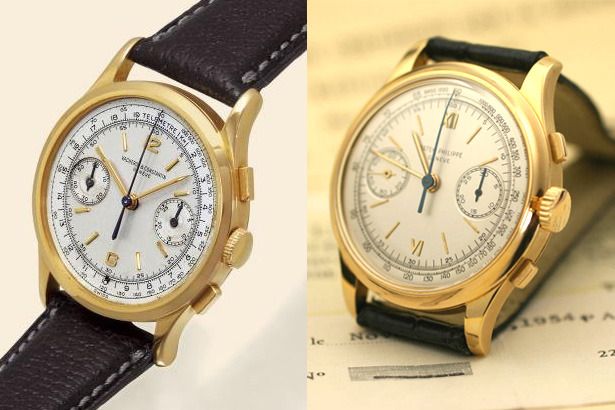 Nice series of twins, don't you think?-)
This message has been edited by Marv on 2015-05-15 16:39:54
<!tag blob="addthis.follow.small"> Comments:
view entire thread
Imitation and flattery
The good poets borrow, great poets steal quip that is attributed to T.S. Eliot is actually paraphrased from a longer passage from the poet and critic which I quote more fully with its context: Immature poets imitate; mature poets steal; bad poets defac...
A bold question! But one with merit!
Wow! Someone finally asked what everyone was thinking! Yes, the Montblanc "WorldTime" has many similar attributes to the Vacheron Constantin WorldTime. And considering the Vacheron Constantin came to market first, we are all inclined to say Montblanc imit...
Waxing lyrical?
Bill, I think that simple extra flat watches are exempt from exclusivity by one brand. Thus the Vacheron & Constantin and JLC shown are not copies of each other. That would be proof of convergence in evolutionary terms. We've seen similar from Piaget,...
Interesting observations, but...
The idea of convergent evolution is interesting, and certainly may apply to the Lambert projection, but what about the other aspects? - Dauphine hands - Bezel shape and proportions - Lugs - Location of brand name - Indices on the hour/5 minutes track I do...
Thank you Bill. A few weeks ago I put a rude comment to Hodinkee
telling them that they write an entire article on the JLC automatic with date, saying how great it is, but do not point out that is is blatant Plagiarism. I just find it strange that there are so many so-called watch journalists and experts in the world t...
Put me in the "blatant ripoff" camp
I have to say that I think it is not flattery at all but that it is intentional and a big mistake. I also have to believe that Richemont not only knows about it, but is promoting it as a strategy - much like the VW, Audi, Bentley strategy. The biggest dif...
We can learn from other hegemonies, Bill
I am reminded of car manufactures who offer a piece of the dream at every price point through their sub-brands. It benefits the low and high end offerings; giving the former an obvious target to step up to while the latter enjoys primacy of marketing and ...
Interesting discussion Guys. But I must say this; Richemont
brands overall still have a distinct identity from each other, even though they have a common platform for engineering know how and development should a brand choose to or need to utilize it. Plus - VC CEO did say in a recent interview that VC and RD will...
Thank you for all the thouhtful replies....
I really appreciate the analogy to the auto manufacturers. With respect to Montblanc, I am intrigued by their having the prestigious Villeret collection, which I have a lot of respect for, and which has its own distinctive and well-defined look that does ...
Inspiration and history
Dear Bill If we step back, don't you think that, in the past, many models were already sharing the same design and similar lines although been produced by different brands? Imitation has been a common practice in the swiss watchmaking industry for years. ...
Nice pics
Thanks for putting this together :-) I find they most often share the same case maker, the Manufactures are choosing from a limited selection.
I don't know about the others
But these Dual-times share the JLC ebauche between Audemars Piguet and Vacheron Constantin. Just like this piece... and this one... Vscheron Constantin only puts their version - the 1222SC in one model - the Overseas Dual-Time. ...