remarque
487

BB58 on strap
Today I finally got to see the new BB58 in the flesh, roughly 10 months after its unveiling at BW2018. When I asked the AD assistant manager if he had one for me to see, I was pleasantly surprised when he said he did. In fact, it was sitting in the Tudor display case for all to see... He told me it just was delivered on Wednesday, 3 days ago, and was the first one to be delivered to the store. It was on the strap. Of course I tried it on. It is indeed a lovely case size and case thickness, and wears very well. This was the first time I got to examine a woven strap, too. The strap is nice, and the colors complement the gilded watch very well. However, I was surprised at one thing -- I have a fairly standard 7" wrist, and for me to wear the strap, I would be using the first hole (or last, depending on your perspective). With the tang buckle in this hole, the very short remaining bit of strap does not even make it to the first keeper! I asked the manager if Tudor makes different sized straps, and he said no, all of the Tudor woven straps have the same one and only one length. For anyone with a larger than 7" wrist, the strap will absolutely not fit, and the manager told me that one is ill-advised to punch an additional hole in the woven strap, because the strap will then unravel... When I get a BB58, it will be on the bracelet.
The very nice manager told me that they have no (waiting) lists for this watch, which is why it went straight into the case. My observation: if BW2019 was not just 2 months away, I would have bought the watch, but since it is so close, I want to wait to see what new iteration Tudor brings out with this case size, hopefully the same watch without the gilt bezel, indices and hands. The indices are identical in size to those in the 41mm black bays... I think they look a little "maxi", and wish the applied indices were a bit smaller, like they are on the BB GMT, despite it being a 41mm watch (which I own and love). Lastly, the manager told me that his store has received a total of 4 BB GMTs since they have been available. Not very many since they began hitting stores last June 2018...
So we shall wait and see Tudor's presents in March. But I thought I'd share these observations for all.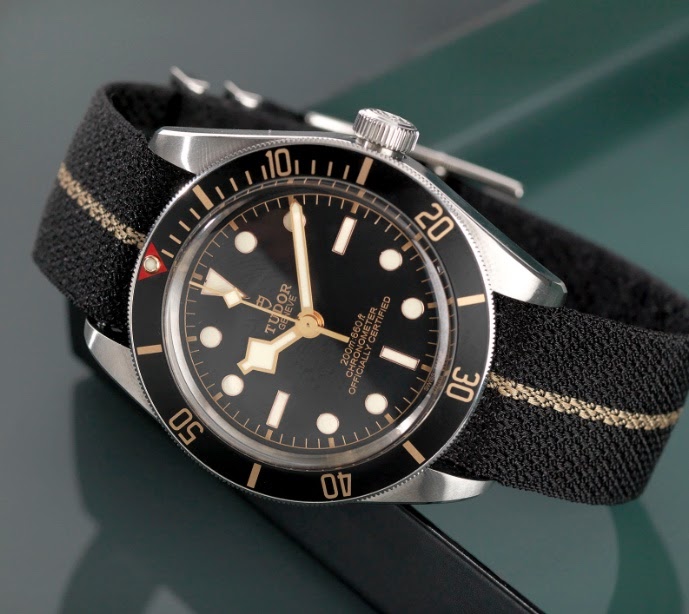 More posts:
<!tag blob=wf.addthis>