Like New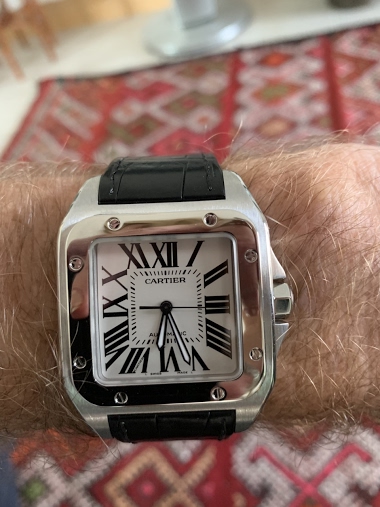 A while ago I posted a thread that I had exchanged a CARTIER Santos 100 for a set of golf clubs The watch had pretty severe scratches I brought it to CARTIER for full service plus new strap. Unbelievable job it's like new and I will wear it with great joy
9M
Jurry
Interesting Santos 100, but......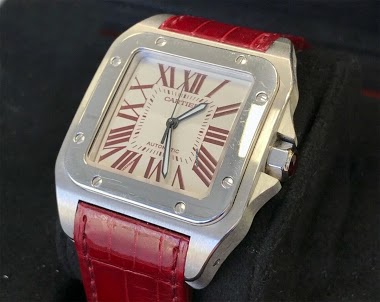 Yesterday I saw this Santos offered at a second hand internet dealer. Really good looking Santos 100 with red numerals, that I have never seen before. The seller describes the watch as a Collection Privé, Cartier Paris item and shows the piece together wi
9M
amanico
Trade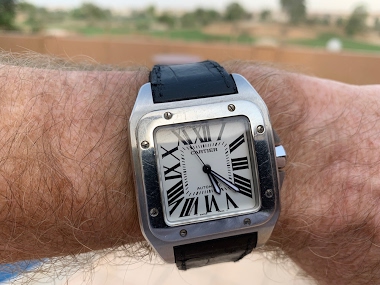 A friend of mine gave me this Santos 100 which he had worn few months and after which he had put it back in the box and left it in a drawer for many years. The cushion of the box had melted into the bracelet which was dried out. The case has many small sc
10M
Jurry
My first square watch is a true icon. Loves the new Cartier Santos!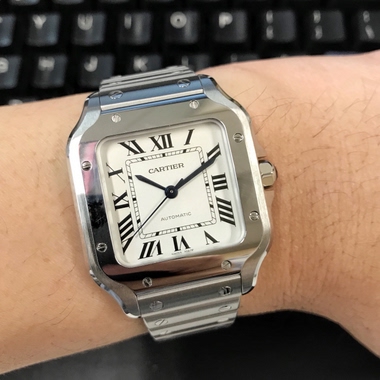 I have always admired the Cartier Santos on other folks' wrists since I got into watches three years ago but somehow the Santos 100 and 100 XL don't click for me. Maybe it's their bigger/thicker cases plus their more aggressive and sporty look. So when th
2Y
Subexplorer
Incoming! Our 3rd pair of Cartier couple watches.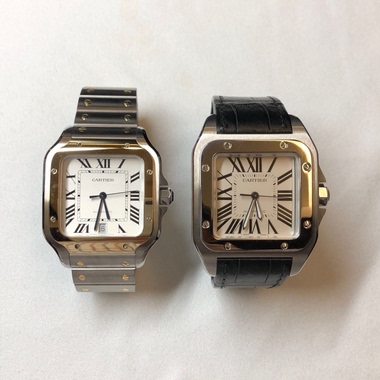 Here are two side by side photos for your reference. New Santos L(L) vs. Santos 100 XL(R) Santos 100XL(L) vs. New Santos L(R) On my wrist (16cm / 6.3inches) I think some traditionalists would happily wear the medium model for a more elegant wrist appearan
2Y
Luis6
Incoming! Our 3rd pair of Cartier couple watches.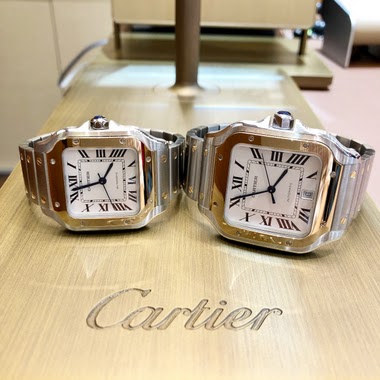 Wife and I have been waiting to try the new Santos range in person since SIHH this January. The watches was finally available this week across the world. Before visiting my AD, I had the SS version in mind as priority. After seeing the watches in the fles
2Y
Luis6
Changing Cartier Santos 100 18K/SS bracelet to Leather
Hi honey62, Yes I managed to convert my bracelet Santos 100 XL (not Chrono XL) to leather and the ss/gold buckle MX004XS8. Hope this helps! What is your current watch model? #W20091X7? If you are purchasing from the Cartier boutique, you can always bring
1Y
jomni1
My Cartier Santos 100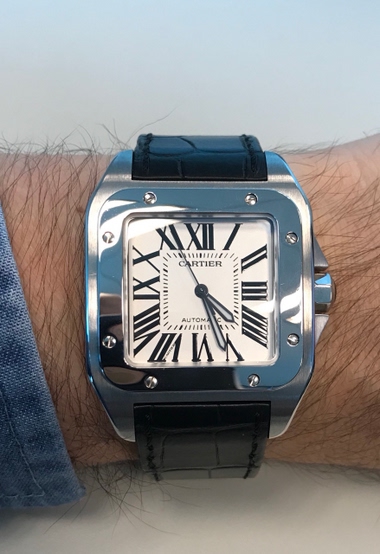 First time in my wrist. "Quite early, Louis Cartier took an interest in watchmaking. It was not long before a large number of fob and chatelaine watches appeared. In 1888 Cartier account books mentioned the first ladies' wristwatches. In 1904, he created
2Y
Luis6
Incoming. Another pair of Cartier couple watches for wife and me.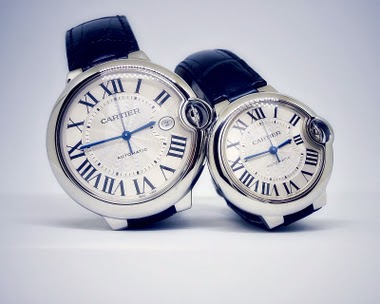 Wife and I have already had a pair of Santos 100 as couple watches. We dropped by an AD last Friday, and my wife said: "Why don't we take a closer look at the Cartier Ballon Bleu? I saw it on the magazine every now and then and quite like it." So we tried
2Y
Luis6
What Cartier are you wearing today?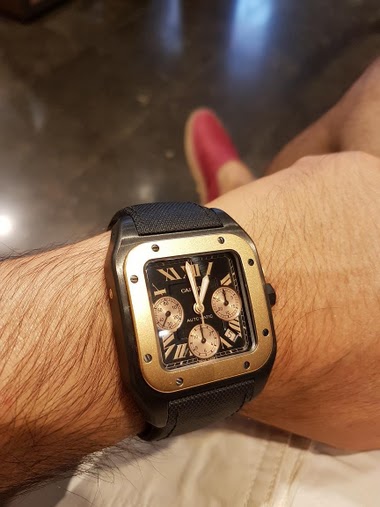 2Y
dqsu