The Tortue and the Hare (and a question)
Hasitate. I am the same. I buy never on impuls. Study the lugs if i can change straps by myself. I study the movement. Study the price. Learning about a brand. I own no Cartier, but i saw serveral Cartiers who are nice to see. This model the Santos 100XL
1M
amanico
Like New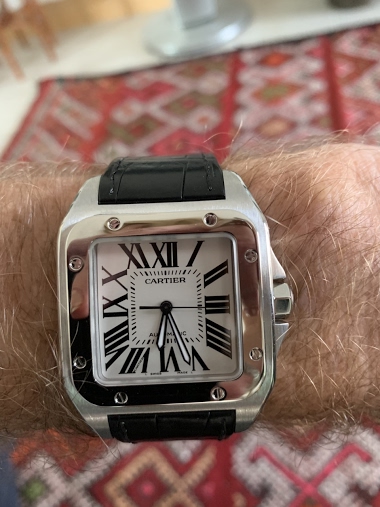 A while ago I posted a thread that I had exchanged a CARTIER Santos 100 for a set of golf clubs The watch had pretty severe scratches I brought it to CARTIER for full service plus new strap. Unbelievable job it's like new and I will wear it with great joy
1M
Jurry
Interesting Santos 100, but......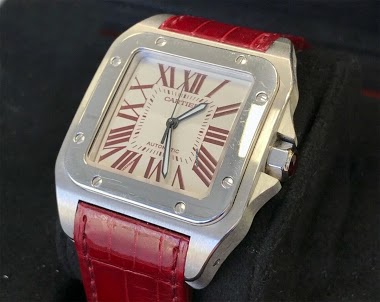 Yesterday I saw this Santos offered at a second hand internet dealer. Really good looking Santos 100 with red numerals, that I have never seen before. The seller describes the watch as a Collection Privé, Cartier Paris item and shows the piece together wi
2M
amanico
Few months ago I bought the Cartier Santos Dumont ultra slim winding with Fredric Piguet movement ...after few months it is back from Cartier as new ...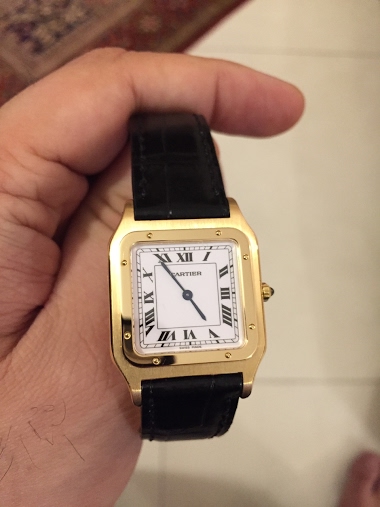 They have done a superb job ...worth the wait ! old picture before restoration for your ref
1M
Horology75
Trade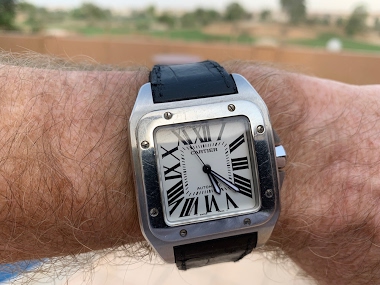 A friend of mine gave me this Santos 100 which he had worn few months and after which he had put it back in the box and left it in a drawer for many years. The cushion of the box had melted into the bracelet which was dried out. The case has many small sc
3M
Jurry
Happy wrist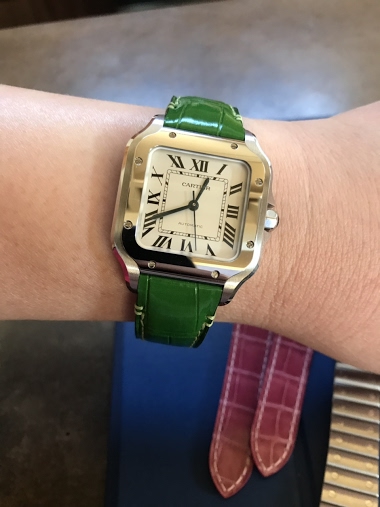 Still like to congratulate Cartier for the ingenious design on their Santos family....makes bracelet and strap changes so easy. Now I found a more affordable way to make my boss happy with 1-for-4 watches.
2M
pat1964
The new Santos Dumont, that will be out in May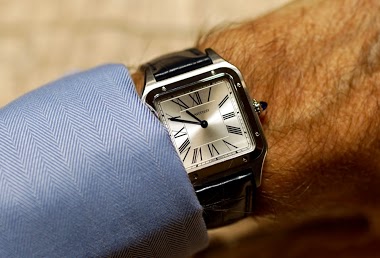 A a few more weeks and this new Santos Dumont will be available from the BTQ's and AD's. I really like this model and especially the historical details of the watch, like the bigger crown and stretched numerals. This is the bigger version of the two sizes
5M
Dmitriy
Is this mean it's fake?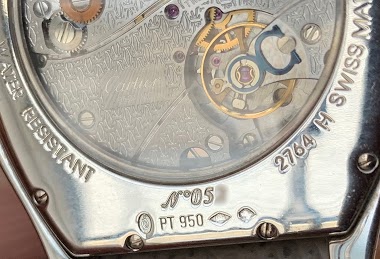 Here are the backs of my Santos Dumont and the one of my Tortue XL both from the CPCP series. But most models have the engravings like my Tortue. GEO
4M
W.F.
What do you think about the new blue dial santos?
for 2018 and so far for 2019. I love the dial on this blue model. The dials on the other new Santos were a little too dull for me. The sunburst dial on this one plays with the light. Around the edges it looks darker and towards the center it looks more bl
6M
Watch_This
A nice match for the Santos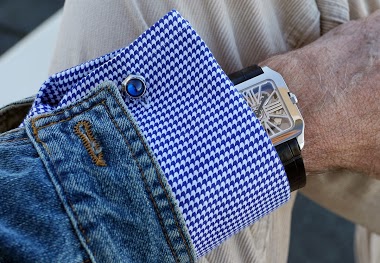 Cufflinks I almost wear every day, also casually and I like it a lot when the style matches my watch. But these silver Cartier Santos links are a great match for almost any Cartier watch. GEO
7M
Geo