Sharing a recent arrival to the Panerai stable...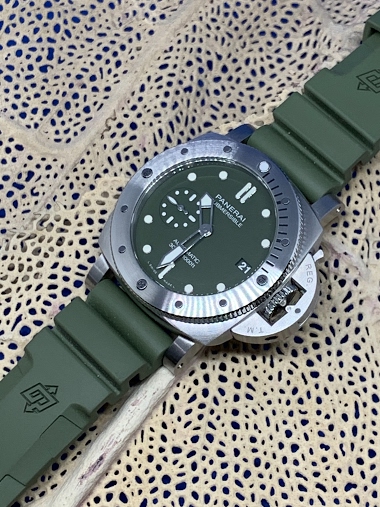 Pam 1055 Verde Militare. I run on this watch unexpectedly yesterday. I confess had not paid much attention to this model when it was launched a few months ago as an Special Limited Edition of just 500 pieces available through the Panerai web site only. I
4M
Subexplorer
Review of 995
is that this model, as many other..modern..ones, belongs to the category: I like it, I don't like it. If you do, you buy one, if you don't you don't buy one. It's a scaled down model of an historical reference and as such a definite NO-NO for a Panerai pu
5M
sergio
No flames , I used to be a fan
you've opened, by asking the question The short version: the bubble exploded BEFORE a new grass roots layer of Panerai lovers could be formed. In MY PERSONAL OPINION; the early days, hard core Panerai enthusiasts (the ones that used to go unearth the vint
5M
jonrus
Panerai - PAM01055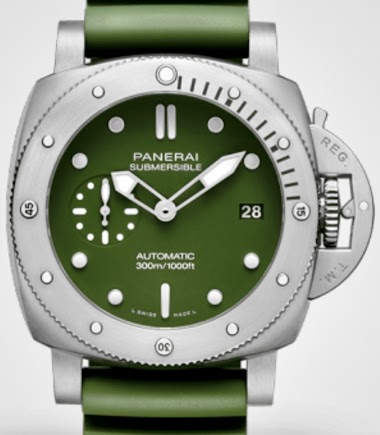 As we all probably know, Panerai have a rekindled love for the Submersible and the range has been increased further with this new limited edition of 500 pieces. Personally I like it and the "military" colour choice makes sense for Panerai. I would have pr
7M
Ahoi
Fx in Rome: visit of the new Panerai boutique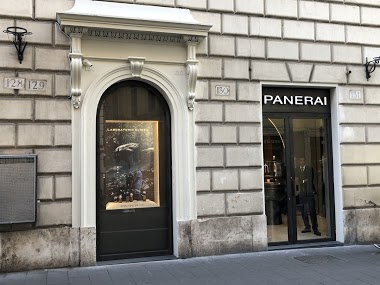 Rome is a city on the move from the watchmaking point of view. In a few months, the capital of Italy has been the setting of the openings of a Rolex boutique, a Patek Philippe boutique (both operated by Hausmann, the famous Roman dealer), a Hublot boutiqu
10M
sergio
A blast from the Past: Panerai Pre Vendome 5218-203/A.
of which there are 500 to 600 tops, the Pre-V are the...historical...ones. Somewhat "historical" are also the Pre-A (produced in 1997, year of the purchase from Vendome, but with all left over materials and components from Panerai) Of all the historical,
1Y
amanico
white dial and blue indices / numbers .... a combo you never see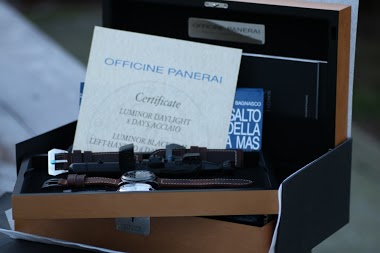 Inspiration was the 1993 - 1995 SLYTECH DAYLIGHT 5218-207/A. A watch of which only 4 exist. Sylvester Stallone ordered 41 of these but at the ende did not like the blue and returned 37 of them back to Panerai asking to change the dial into one with black
1Y
logan2z
Hands on review of the Panerai Radiomir 1940 3 days Acciaio PAM790 & PAM791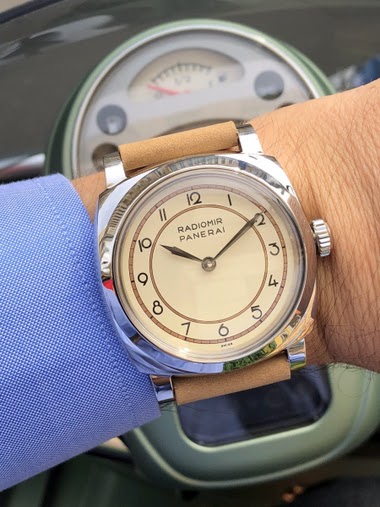 The appointment of a new CEO is never a trivial event but it takes a particular dimension at Panerai. Indeed, Angelo Bonati was replaced by Jean-Marc Pontroué a few months ago after 18 years at the head of the brand. A position with such duration necessar
1Y
Serafino
Can someone tell me if Luminor Pam 117 has a sandwich dial?
the early production of destros does not consist in Limited Editions (if the word limited in you post suggests that). They just have been..produced..in low numbers. That had more to do with the sales than anything else IMO. Still and all there are 1500pie
2Y
Dan.F.Rado