Audemars Piguet Royal Oak Offshore Diver Carbon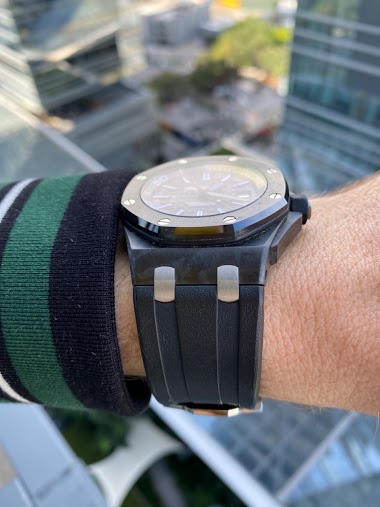 A new acquisition from Orlando. I've been eyeing this watch for a while and prices have been creeping up the past year. Finally pulled trigger after having found a pristine example. Why the diver ? I had previously worn a chrono Offshore 42mm. While the s
1M
respo
Bumblebee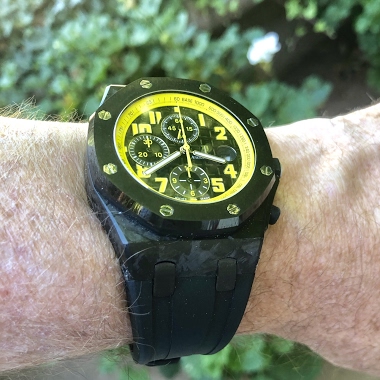 I am enjoying the bumblebee with rubber strap.
5M
Pretty Boy
Here is a 2018 novelty Royal Oak Offshore I hope to see live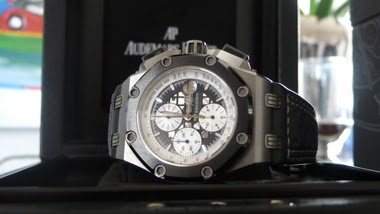 So this style seems to be more common than the more dramatic finishing as on the black Diver??
1Y
shafran
Long term durability of forged carbon?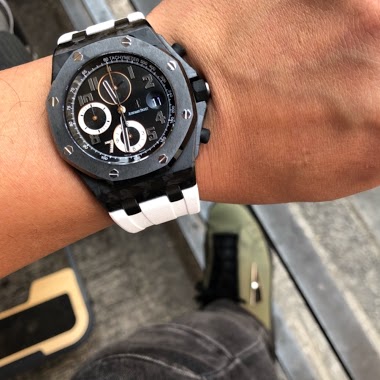 The forged case is jut an amazing material. AP were innovators in this field. They were the first. For a long time they were still the only ones making forged carbon. Other companies tried with a form of carbon fiber but it didn't have the same characteri
1Y
AyrtonSenna777
The good old BumbleBee, such a strong character, imo much better balanced than the EOD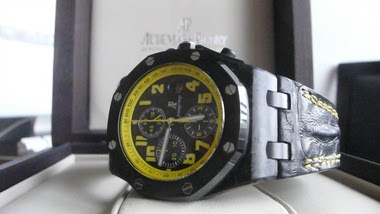 Not the best quality of photo's, but it was back in 2012 or so when I started to photograph my watches..
1Y
VMM
AP ROO 42mm with Ceramic Bezel
Hi friends, apart from the Sebestien Buemi limited edition, bumblebee and the ceramic divers, does AP have any other 42mm ROOs with ceramic bezels? J
2Y
Conkers
Thinking of getting another AP
Hi guys... It's been awhile since I buy AP watch. Have been lurking at some watches.. I've got a few under my AP collection such as RB2, Bumblebee, Legacy, grey theme, panda, etc. Have been seriously thinking of getting AP Montoya Ti since price has dropp
4Y
dr.kol
My "Contemporary" Vintage AP ROOs!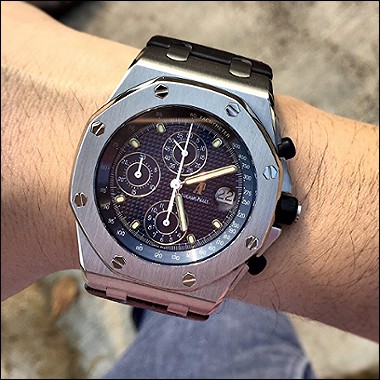 Hi All, I've own a fair number of AP 42mm ROO's from the Bumblebee, Safari, Volcano, Navy(old rubber pushers/crown model ), Panda, White themes, Rubberclad black dial, and I have to say I went back to the "beginning" of the AP ROO range and found the "Bea
4Y
amanico
First AP decision - bumblebee or ROO carbon ceramic novelty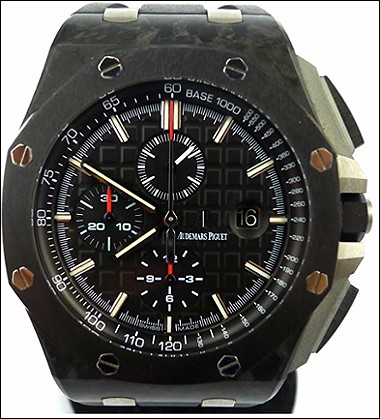 Hi all, I've decided to finally pull the trigger on an AP watch I'm seriously stuck right now between the bumblebee or Novelty 44mm Offshore Chronograph Carbon Ceramic 26400AU. I love them both equally and it is really a flip of a coin to decide. I'm seek
4Y
MichaelC
A very satisfied INCOMING!
textbooks. Red colour is "filtered" nearly totally in 5 meters and totally in about 6 meters. Orange disappears next and by 10 meters it's nearly gone and just after 12 meters totally lost. The best colour underwater is blue. It can be fully separated in
4Y
FieLDY-B