Is the Dufour Dato (403.031) hard to acquire?
The lugs on a Lange 1 are pretty long, so the 36mm version may look just fine. Not sure if you're trying the 182.030 (Little Lange 1 Moonphase with MOP guilloche dial and white moon disc), but if so, then I hope you like it. Lange offers that watch on a w
4d
CR
Is the Dufour Dato (403.031) hard to acquire?
I will be lucky enough to try on my favorite three Germans! The 1st gen Dato rose gold with white dial, brown strap with RG deployant, the first gen 1815 Chrono in the coveted rose gold case, black dial and white sub-dials, and the 36-37mm (ladies?) Lange
4d
CR
Pictorial report of the Lange & Söhne party yesterday in Paris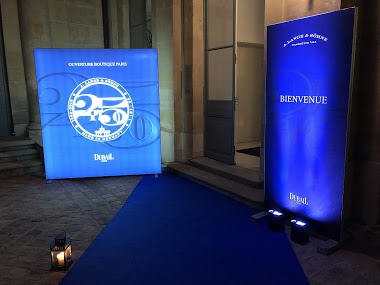 Lange & Söhne organized yesterday in Paris a party which aim was to celebrate the inauguration of the new Lange boutique (located by the Hotel Costes and which replaces the former boutique rue de la Paix) and the unveiling of the latest piece dedicated to
3d
JLG22
Is the Dufour Dato (403.031) hard to acquire?
Quick question. Been doing research and trying to find the 403.031 rose gold Dato with black dial and white sub-dials... WITH the rose gold deployant clasp. I'm having lots of trouble finding one under $40k. Is the two-year run of that particular variant
4d
CR
Portraits of my Tourby before...
I don't full heartedly believe in. If you can get one in the price range that I mentioned above, you are very safe. I'm sure you are familiar with Micro Artist Studio and how small a set up they are. With all the new watches coming out from there. they ca
10d
CL
Portraits of my Tourby before...
I visited the workshop of Dufour in 2007 and also enjoyed dinner with him and a group of collectors. He is a very charismatic and charming person. However, I left a little disappointed, after experiencing the Simplicity. The Duality I saw as well, and it
10d
CL
Portraits of my Tourby before...
but based on the photo and the various trusted reviews, I think I will like it. It is well priced and has some sort of relationship with FP Journe. As for Simplicity, it is now more of a hype. Other than an excellent finishing, nothing much is original fr
10d
CL
Is our beloved 7027 discontinued?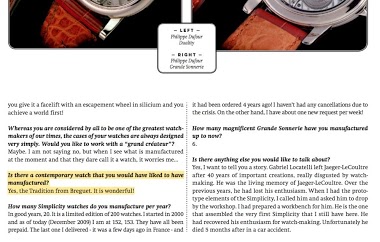 Philippe Dufour agrees, too.
11d
amanico
Dufour Simplicity 103 Recovered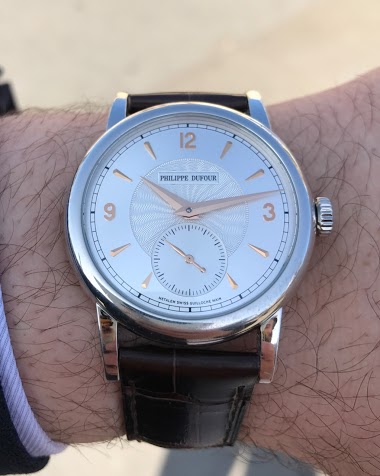 I'm happy to report that, after lengthy court proceedings, I have finally recovered my stolen Simplicity. I want to thank my friend SJX in Singapore and also Mr Dufour himself for their help recovering the watch. Also, thank you to all you forum members w
13d
pplater
London's latest tourist attraction!
I am used to anything below 39mm. Once it hits 39mm and above, I will start to resist it. Personally, RM is a better watch than a Dufour Simplicty... much better but not as great as Dufour Duality. In term of exquisiteness, it also beats Kari's pieces or
2M
sham1