Why I chose the Lange One Luminous ref. 101.029
First and foremost, I hope you continue to enjoy the fabulous timepiece for many years to come. Almost all of your preferences resonate with me. I too prefer the older movement with the two sub-bridges. I would much rather look at that movement than the n
1M
Mr.Gatsby
An explanation regarding the finishing of the hands.
... reminds me about how each of us has our own idiosyncrasies. It's interesting and amusing to read about these things. It's part of what makes this hobby fun for me. For example, in another recent thread, several people said they wouldn't own a Zeitwerk
1M
jlc.thomsen
Starting the week with cold elegance from Lange.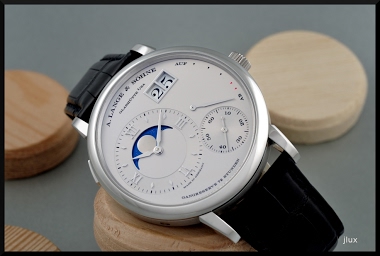 Namely the Grand Lange 1 Moonphase. The typical asymetrical design of the Lange 1 which has become a kind of modern classic. And a very romantic moonphase which successfully breaks the somewhat austere german design. The Lange movement in all its splendor
3M
patrick_y
Very Happy With My New Acquisition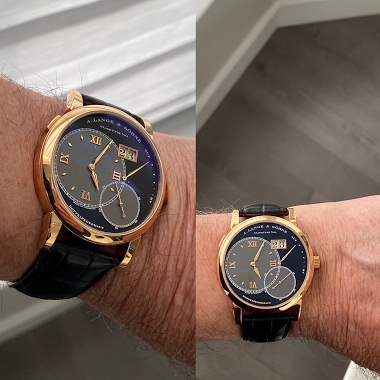 Grand Lange 1: This is my first gold watch and my first A. Lange & Sohne! Fits perfectly on my 7 5/8 inch wrist -- really love it. Thanks to Steve (BABKA)!
3M
Mr.Gatsby
That old black magic has me in its spell That old black magic that you weave so well ... Johnny Mercer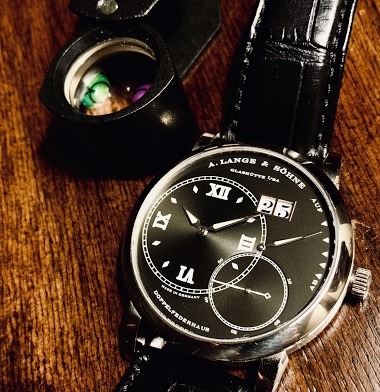 A. Lange & Söhne Grand Lange 1 Luminous White Gold Ref. 115.028
1Y
amanico
Lumen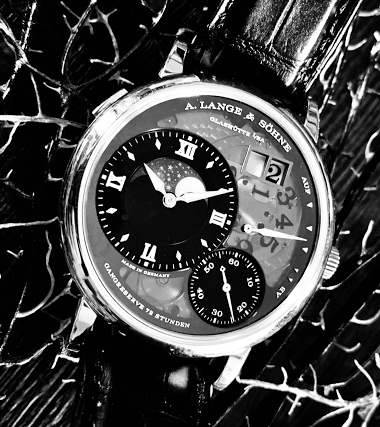 Life is not a series of gig lamps symmetrically arranged; life is a luminous halo, a semi-transparent envelope surrounding us from the beginning of consciousness to the end. ......Virginia Woolf A. Lange & Söhne Grand Lange 1 Moonphase Lumen Ref. 139.035
1Y
CR
Grand Lange 1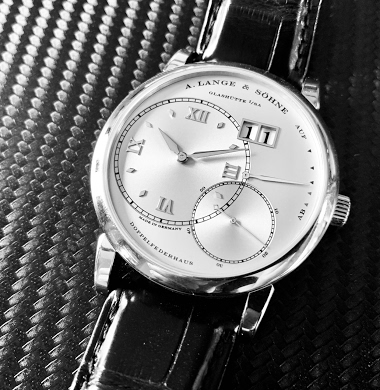 Prior to 2012 the 41.9mm Grand Lange 1 models were based on the same L901 movement as the original Lange 1, resulting in overlapping dials. This was changed with the development of the new L095 movement with the better balanced and non-overlapping dials,
1Y
GreatPilot@me.com
Question on Lumen Moon Phase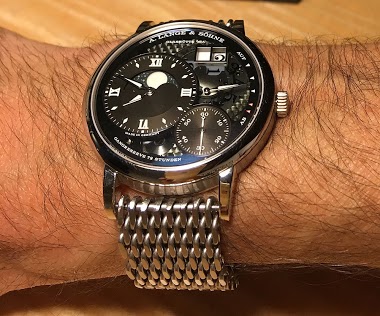 I'm biased because I own one. I wear this watch very often and never, ever tire of it. I did, however, put it on a shark mesh bracelet that most others find revolting. I love it this way because I think "mesh" -- the idea of seeing through a metal "guard"
1Y
amanico
Ok, so its the Datograph up&down LUMEN...
... to change appearance under different lighting conditions (such as Lange's guilloche dials and these lumen models), I cannot judge how I feel about them from the photos alone. And of course we all have different tastes about these, which is one of the
1Y
GreatPilot@me.com
First time with the Grand Seiko SBGJ021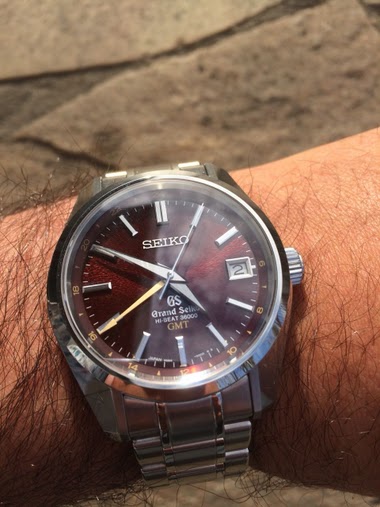 I was able to find this beautiful SBGJ021 in NOS condition for way less than the original retail price in Spain. I've longed and searched for this for a year, and it's now in my wrist since last Saturday. I've officially achieved my first grail watch! I h
1Y
teamhanded