Finishing Touches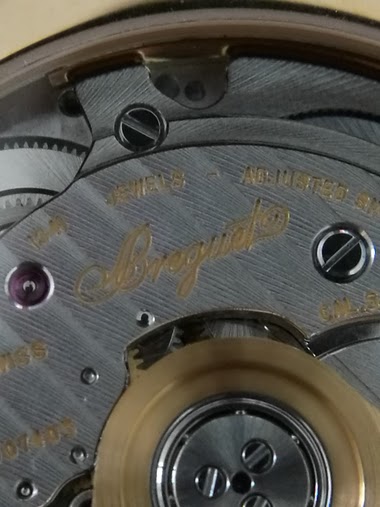 While examining a macro of the ref 5207, I noticed that the stamp on the movement contained some imperfections. The tops of some of the letters are not completely filled and appear darker. Would a stamp process versus hand engraving explain the unevenness
9M
JP_iron_head
Breguet 5207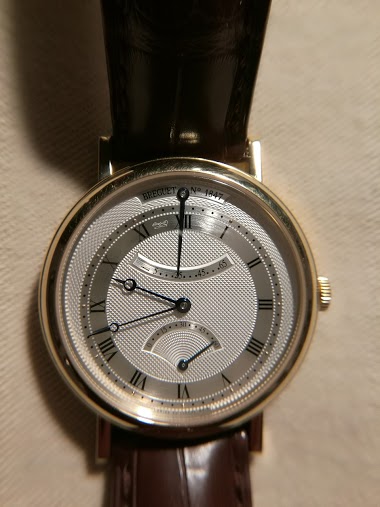 Trying to learn how to use a macro on a cell phone. I love the off center hour markers and the alignment of the power reserve, hour/minute hands and the fly back second hand.
11M
amanico
Trouble with a Reine de Naples
I purchased a Reine de Naples for my wife. After using the watch for a few weeks (without any issues) we put the watch onto a watch winder (I have three of the same model watch winders, one for my IWC perpetual calendar, another for my Breguet 5207, and a
5Y
blenny100
Best place to buy a Reine de Naples?
Hi, After owning my own Breguet 5207 for many years, I've decided to get my wife a Reine de Naples 8911BB/58/864 D00D. We both think it's a stunning watch. For a while, we were deciding between a GP bi-retro (Tahitian black face), but, after seeing the wa
5Y
small-luxury-world
5207 YG - weight
Hello Breguet experts, I am interested in finding the net weight in grams of the YG 5207, including strap and deployant clasp. I was recently presented with one as a gift and love the piece, but it feels a bit light compared to my other pieces in YG, e.g.
5Y
WHL
A quick look at the Classique Moonphase, Ref 7787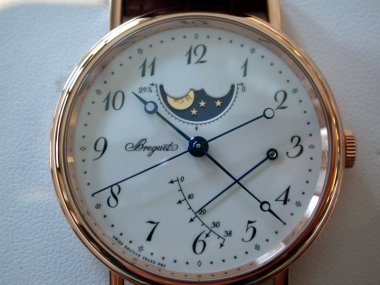 While most famous for their tourbillon designs, and also making beautifully conceived and executed simple watches, Breguet, to my eyes and like no other brand, excels at designing and manufacturing mid-range complicated timepieces. Some classic designs, l
6Y
jane
Some Breguets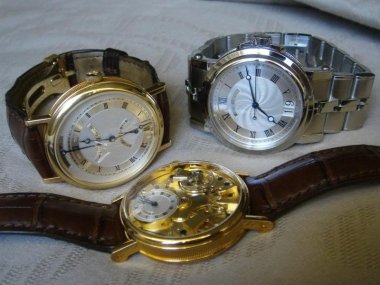 This forum is rather quiet, decided to post some pics of my 7207, 5817 and 5207.
8Y
nitediver
Another compare model thread
I'm getting closer to taking the plunge on a Breguet and am seeking feedback on different models. In order of cost, here is where my list is narrowed down to with what I see as the pros and cons of each; would love to hear people's thoughts, especailly fr
9Y
Breguet - Calibre Night in Kuala Lumpur, Malaysia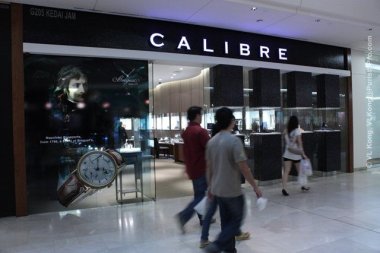 12 June 2009 , Breguet and Calibre jointly kickstarted an event in Kuala Lumpur, Malaysia. A peek at the preparation work done by the team of Calibre before the dinner event at 7:30pm. 5:30pm , approaching the Calibre boutique at the Gardens-Mid Valley. T
9Y
canonken
Your opinion: is it too much...
Hi Tassos, You have asked....So we should answer honestly. But remember, our opinions are just a reflection of our own personal desires, and we are all very different....We are all unique. And so is each watch. But I think that you have already answered y
9Y
Tassos