Omega Chronometre DeBords ....

An on going research project...

Hello everyone,

This has to be the first time in about a month that I was able to sit down and write an update on my research on boxed chronometres from Omega. I was keen on getting a Omega DeBord boxed chronometre about 9 years ago. One was on ebay but the ending time was during my sister inlaws wedding in Toronto ! My wife did not know it but I brought a laptop and a phone wire with me. I ducked out of the party went to the mtg office and set up and I lost it in the last seconds. I was bummed , but kept an eye out for another and about a year later another one poped up and to cut a long story short I got it.

Once I got it home and after close examination the movement was "slightly" different from the two other Omega Debords that I have seen, one in person and the other via an Omega publication.

The Debord I bought.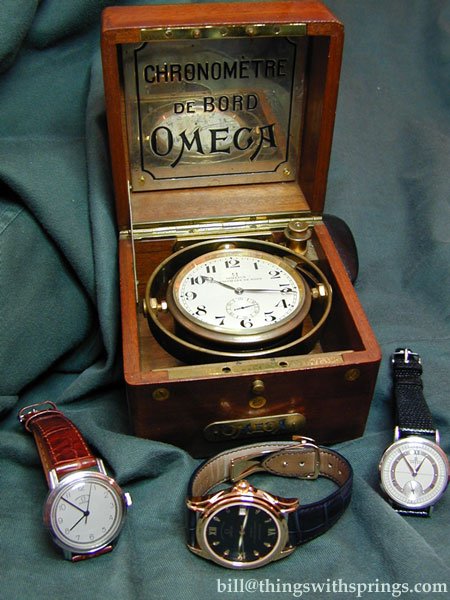 The basic plate shapes are the same but that is where it ends. I contacted Omega in 2000 with the movement serial number and Omega confirmed that its a Debord. I then asked about the slight differences in my example of the movement : slightly different position of the escapement, the click was in a different position, The balance wheel is larger, the spring barrel is like 40% larger then the std. The spring barrel is so large that it extends past the plate of the movement. I sent Omega a scan of the movement here is a excerpt of the reply

" about the " Chronomètre de bord "... we cannot identify exactly the
movement which should be a 21''', but has some strange and different parts"

John then said he would have a technical watchmaker look into this. I never followed up but it was always in the back of my mind.

Last year, I was in communication with Marco Richon Omega Museum curator. I asked him about it, he said look at pg 170 in the Omega SAGA ( He wrote it and it was all in French). I translated via altavista and Eric Knyt took a shot at it as well. Not too much info other then it had a larger main spring for better regulation capability. Well I ask Marco a few more questions like how many of this "modified" version did Omega actually make. Well two months later I got a reply from Daniel Anselmi detailing the production run...

The proper name of my example is caliber 21/24''' Chronomètre de Bord "Observatoire !! It was a experiment at Bienne to make a better Debord for chronometer competitions. The version of movement built with an oversized barrel device which permits to increase the power reserve from around 45 to 70 hours improving the rate stability during the first 24 hours of the running autonomy. They made 66 examples of this caliber

So after years of asking questions and searching the net for additional info and photos, I have now archived multiple photos of what I have found and wanted to share with this with others.

The Omega Chronometre DeBords were made with multiple DIFFERENT calibers from Omega over the years...

They used the 1905 DDR 19"' pocket watch movement. It was the highest quality produced at the turn of the last century. Accuracy of one min per month.
Omega produced about 600 DDR movements and they were not all used in Debords, they were also sold in pocketwatch cases as Railroad watches.

Here is an DDR example in an Omega Debord gimbled box. The button you see on the case side is for hacking the movement.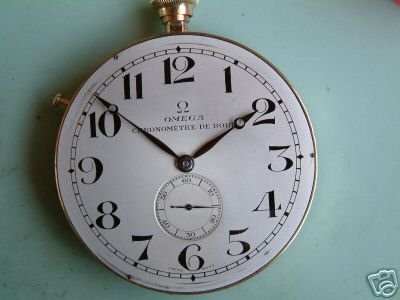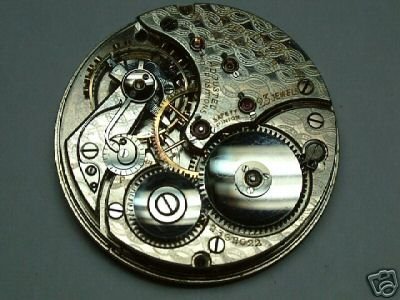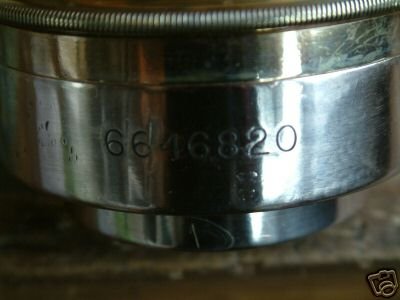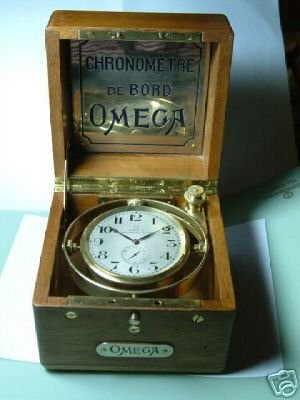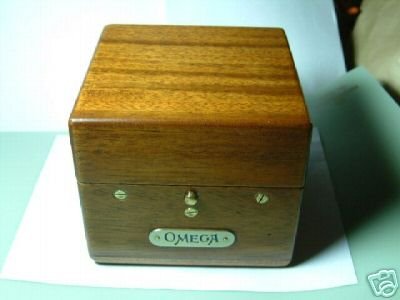 Close up of the snail cam regualtor of a the DDR :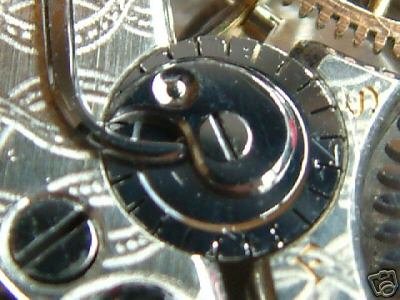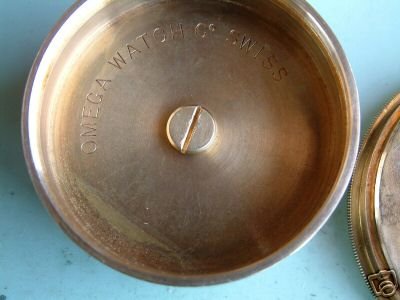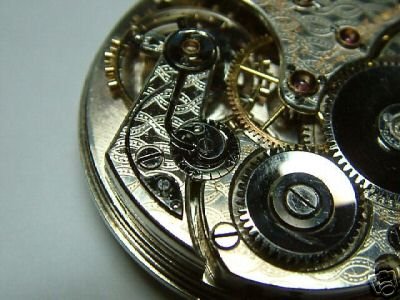 Then Omega started using the Standard version of caliber "21'''1/2 NN L bull" becoming "47.7 NN L bull" with the newest caliber's designation in mm. (started in 1918).

1911 - 12 movements caliber 21''' Chronomètre de Bord
1912 - 360 movements caliber 21'' Chronomètre de Bord

This is an example of the earlier 21"' 1/2 NN L bull ( bull standing for bulletin aka a chronometre certificate).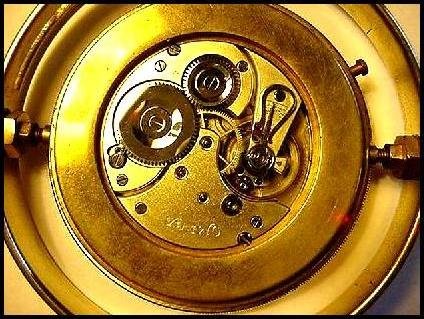 I like the Roman numeral dial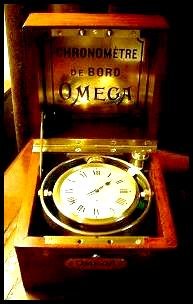 1919 - 66 movements caliber 21/24''' version Chronomètre de Bord "Observatoire
This is a photo of the one in my collection, I have never seen another one until a year ago on ebay (my friend Chris Hooper bought it).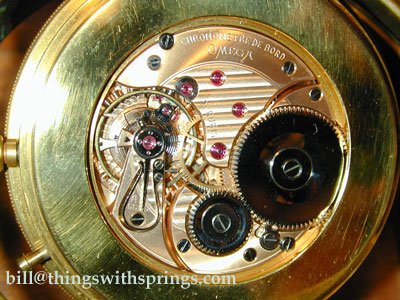 1919 - 300 movements caliber 21'''1/2 (or 47.7) version Chronomètre de Bord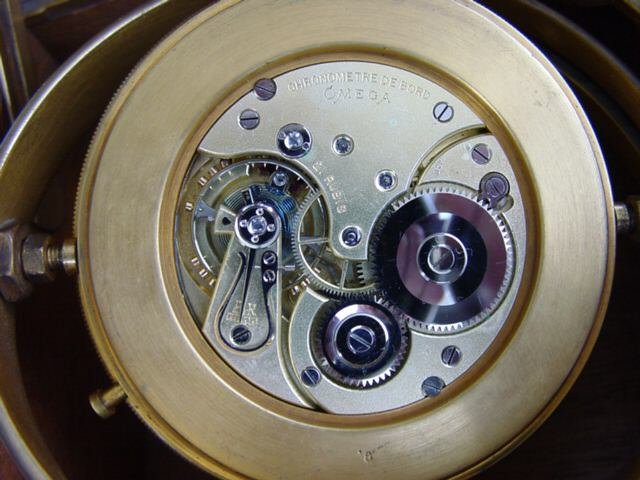 For a total of 672 Chronomètre de Bord movements, using the 21"' or 47.7 mm movement

And a total of 66 movements caliber 21/24''' version Chronomètre de Bord "Observatoire"

Omega also used the 59-8D movement. Which is a double spring barrel 8 day movement. I when to the Omega museum back in 1999, I took about 200 photos and I think they have one in their collection. I have not seen another one. I do have a 59-8d SCS, which is also rated as a chronometre. Its a jump seconds desk clock. I am including photos. What I have noticed is the movement plate finish is very similar to that of the Chronomètre de Bord "Observatoire.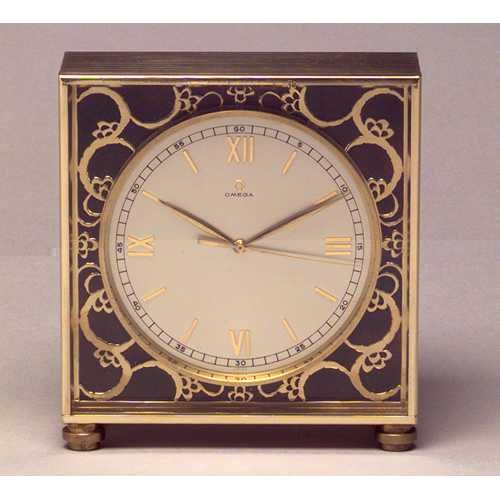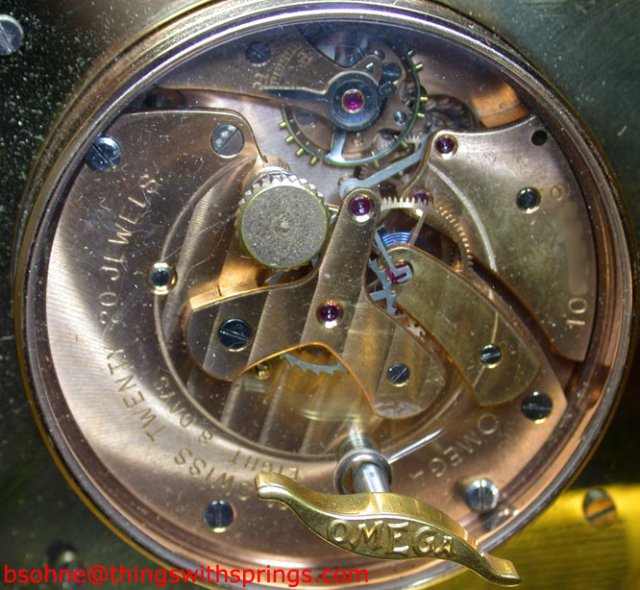 I am seeking pictures of other Omega Chronometre DeBords. If you have one please let me know.

Well that was the end of my last installment on the Boxed Omega Debords until NOW!

For the First time anywhere on the internet .... Photos of dial and movements of Omega Debord with the 59-8d 15j , 59-8D SCS jump sec and a Prototype DeMarine using a caliber 60.8 .

The following boxed Omega Chronometres are the property of the Omega Museum. When I visited the museum back in 1999 I took "dial" shots. Seven years later I was able to get the museum to supply me with movement shots of the 59-8d and the 59-8d scs. The picture of the caliber 60.8 is from the NYC Omegamania cocktail party I attended.

OMEGA, 1926, ship's chronometer, 8 days autonomy, Reference BA 122 JS, calibre 59 8-D.
Polished brass case and gimbal suspension with poising mass and small tongue for blocking during carriage.
Mahogany ornemental box. This is the same model that is for sale in the Omegamania auction...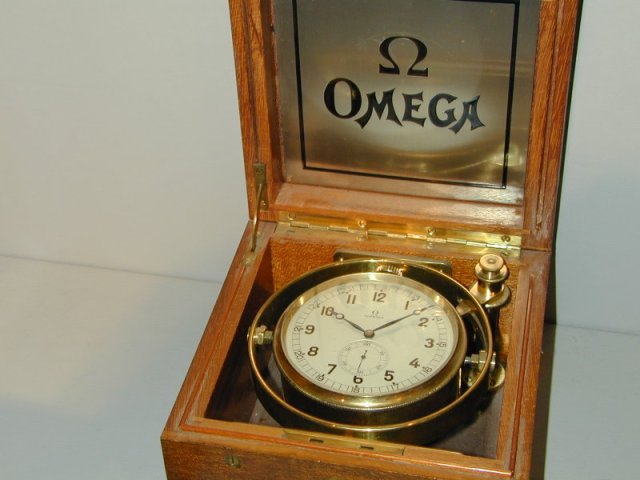 and the 15j 59-8d ( 8 Day power reserve).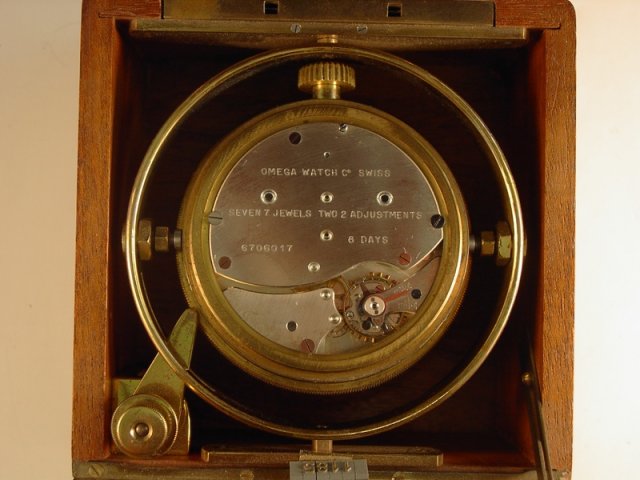 This next DeBord I find very interesting....
OMEGA, 1949, acoustical start chronometer, high precision time piece with jumping second, 8 days autonomy, calibre 59 8-D SCS T1.
Every 30 seconds, or optionally every minute, its vibrations are transformed into electrical pulses that trigger an acoustical start signal to competitors.
Used especially for horse shows or track evens. (e.g. at the Helsinki Olympic Games.)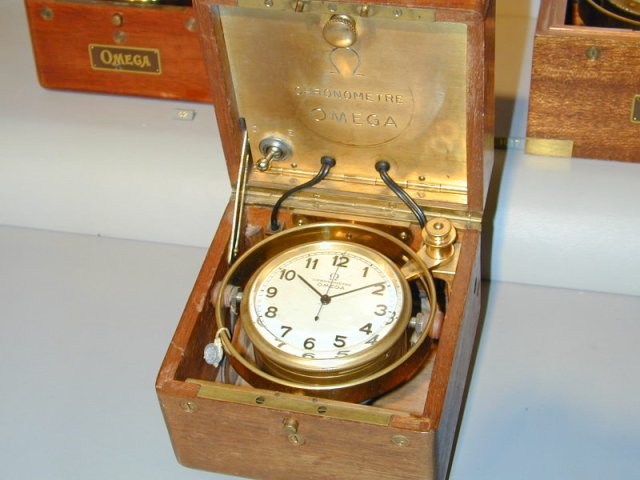 This movement is a modified version of the 20j movement that is in my jump second clock that I posted earlier in this article.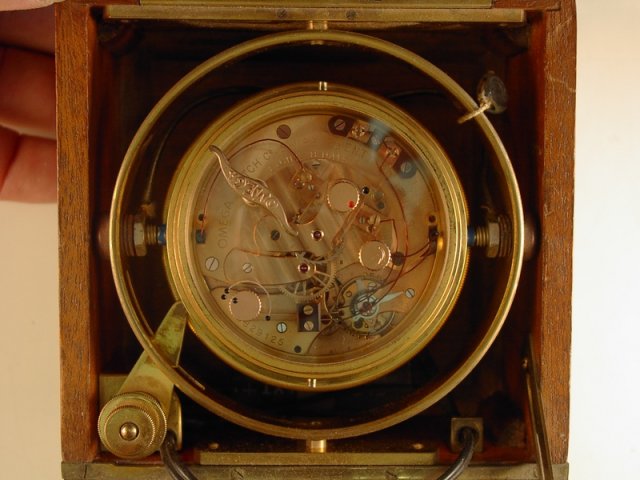 And I saved the best for last.....

Prototype of Omega marine chronometer (around 1930), calibre 60.8, polished steel case equipped with a balancing weight and mounted in gimbal suspension which maintains it in horizontal position whatever the position of its support, locking lever for blocking during carriage. Not commercialised.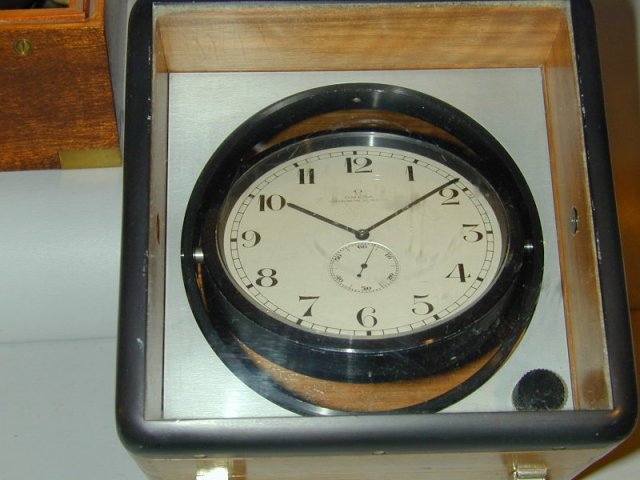 and here is an example of a caliber 60.8 movement ( this one is mounted in a open face pocket watch case for sale in the Omegamania sale).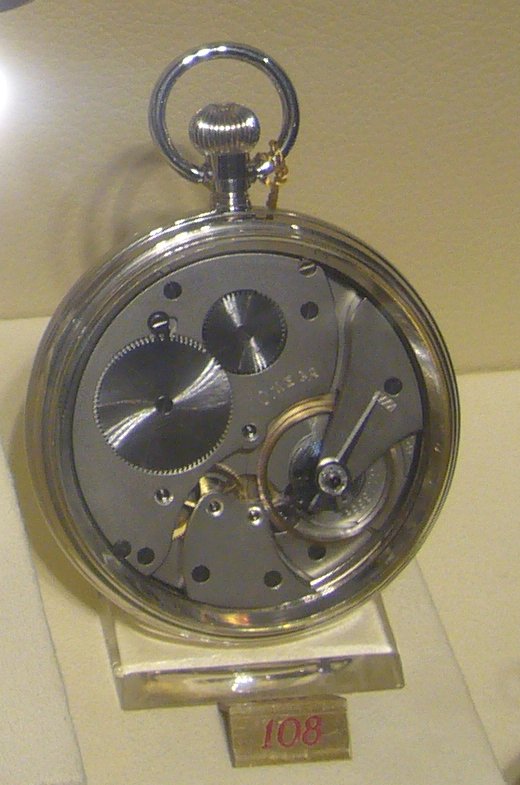 To the best of my knowledge these are ALL the movements Omega used in the gimbaled Omega DeBord cases.... If anyone comes across other movements used... Please contact me.

Good Hunting

Bill Sohne