AnthonyTsai
[PuristS]
22902

<!tag blob="forumpost.visitstar">
Cartier SIHH 2008
Cartier debuted a lot of different models at this year's 2008 SIHH, and I consider this year's collection much more impressive than last year's because many more pieces caught my attention. It would take forever to list each and every single new model, so I'll just talk about the pieces I found interesting. I was going to report more than the 4 watches below but was told not to share some of the new models on the web (for some strange reason?) so either way, here are the models I'm currently "allowed" to post online that I think the PuristS community would enjoy.
First off is the new Carter Roadster XL which incorporates walnut wood in both the dial and metal bracelet. Cartier chose the use of walnut wood from the inspiration of the Roadster car. Available in both pink gold and white gold, this new Cartier Roadster XL is more masculine IMO than prior versions and is perfect for the confident gentleman who wants a watch that is bold and makes a statement.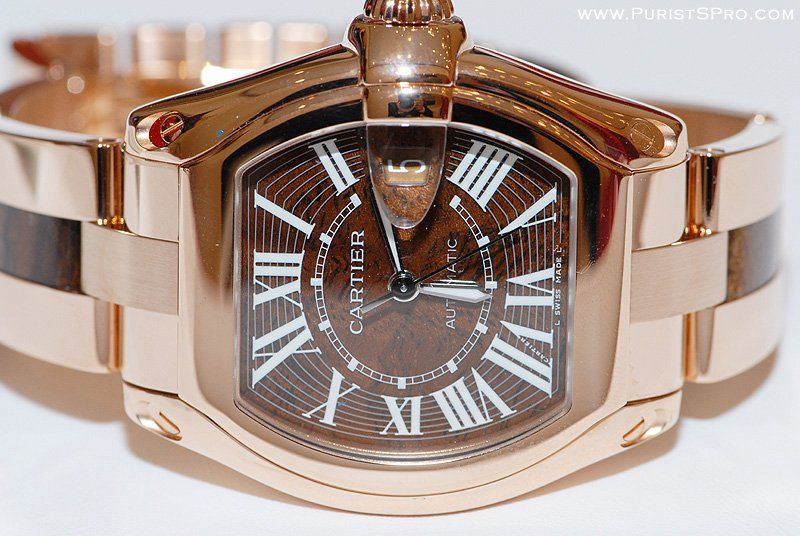 Rose gold Cartier Roadster XL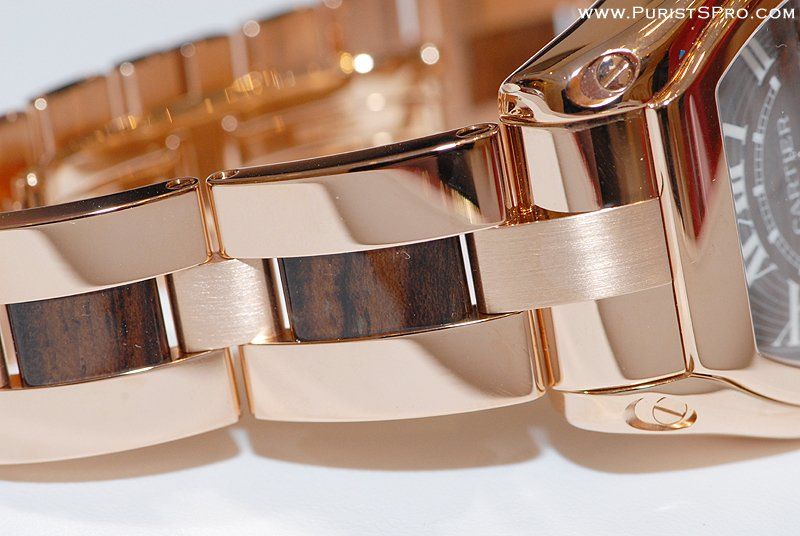 The contrast of the walnut and rose gold is amazing!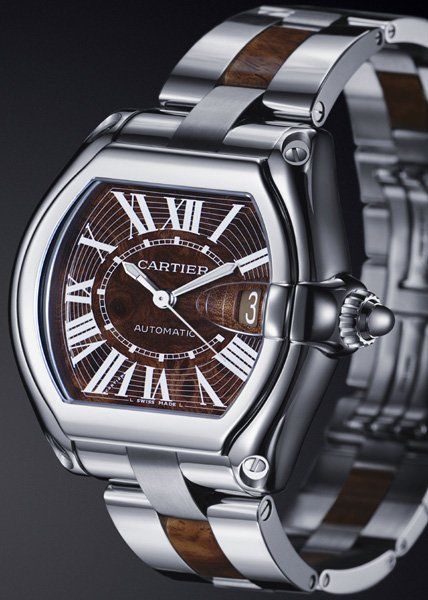 White gold Cartier Roadster XL


Next watch is the Santos de Cartier. The size large case is a block of brushed pink gold and the bezel is matte black rubber. Bezel screws are matching pink gold screws, and this new Santos de Cartier should give the Audemars Piguet rose gold Royal Oak Offshore Rubberclad a run for its money. Cartier's intention for this piece is to protray the Santos as one of strength and reinforced sportiness.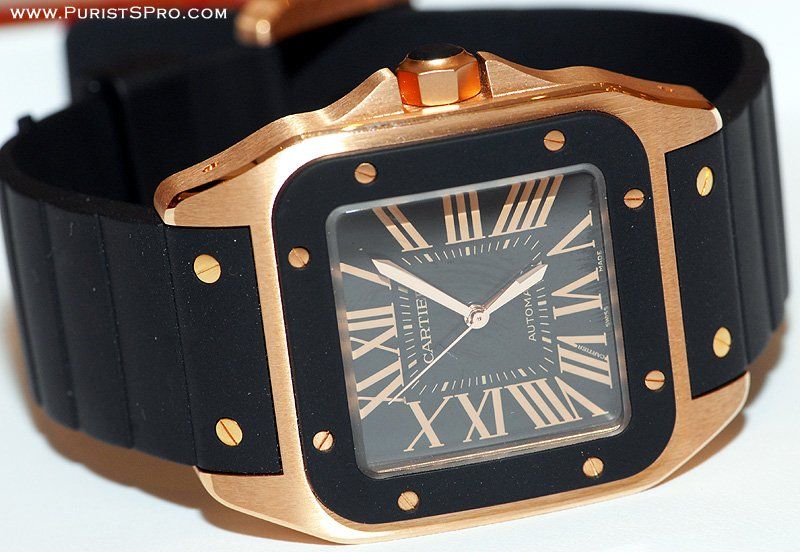 Rose gold rubber Santos de Cartier


Now let me show you the watch that is getting everyone talking - the Ballon Bleu de Cartier Flying Tourbillon w/ Geneva Seal - and fellow PuristS even started the following interesting thread in our HOrological MEandering forum: click here . The Ballon Bleu Tourbillon is Cartier's first watch to bear the Geneva Seal Hallmark, and Cartier is very proud of this feat because it wants to show that it is a brand with technical watches.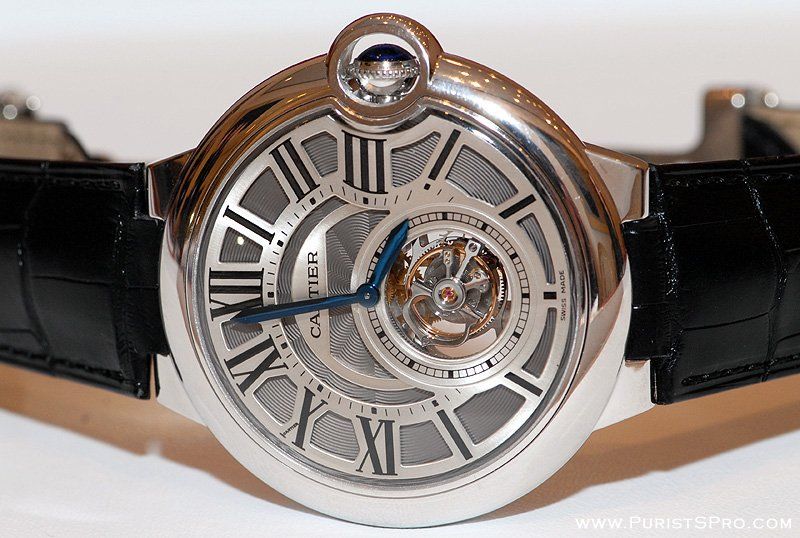 Ballon Bleu de Cartier Tourbillon houses the calibre 9452 MC in a massive 46mm case




For those who aren't familiar with the requirements of the Geneva Seal, here's a link to Wikipedia which describes all the requirements of a mechanical movement bearing the Geneval Seal: click here .
Cartier didn't create this tourbillon movement by themselves as the Ballon Bleu is the first watch coming from the recently acquired Roger Dubuis facilities, hence the 9452 MC calibre is based on a Dubuis movement. I believe all Dubuis movements bear the Geneva Seal so I'm not sure how much more work Cartier did themselves to "achieve" the hallmark.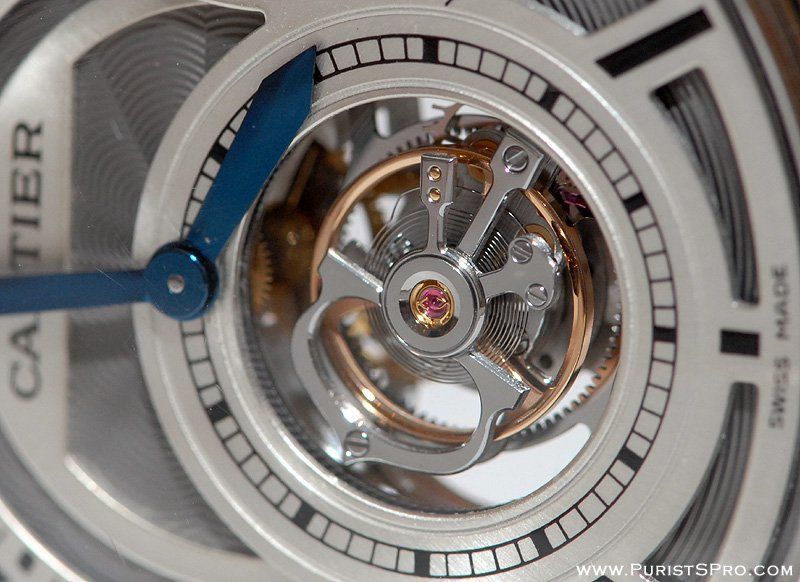 Flying Tourbillon based on a Roger Dubuis tourbillon movement


Either way, the Ballon Bleu Tourbillon is available in either pink gold or white gold. The dial is a guilloche double-layered dial, and the 9452 MC movement has a power reserve of 50 hours.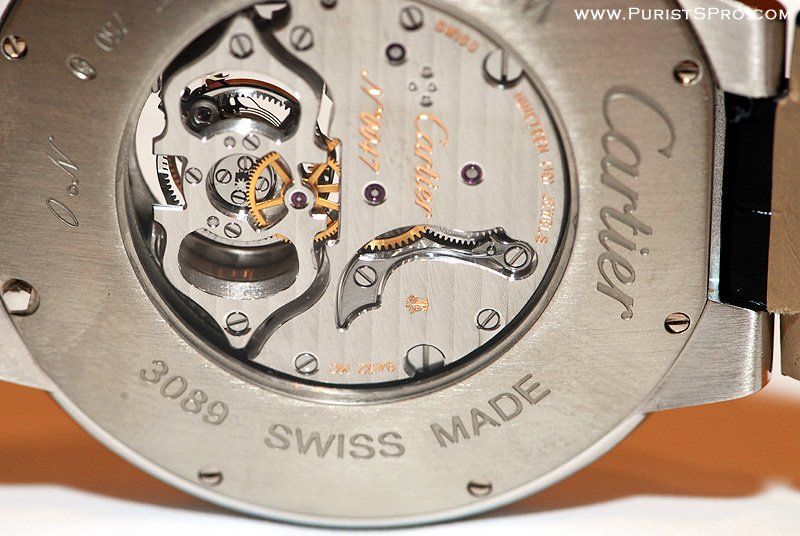 Can you see the Geneva Hallmark? Tiny ain't it?




The last watch I'm going to talk about is the extra-large Cartier Santos Triple 100 which is a very interesting watch with 3 dials in 1. You're probably thinking "How can a watch have 3 dials?" Cartier created a mechanism where 3 different dial faces appear in succession by turning of the crown.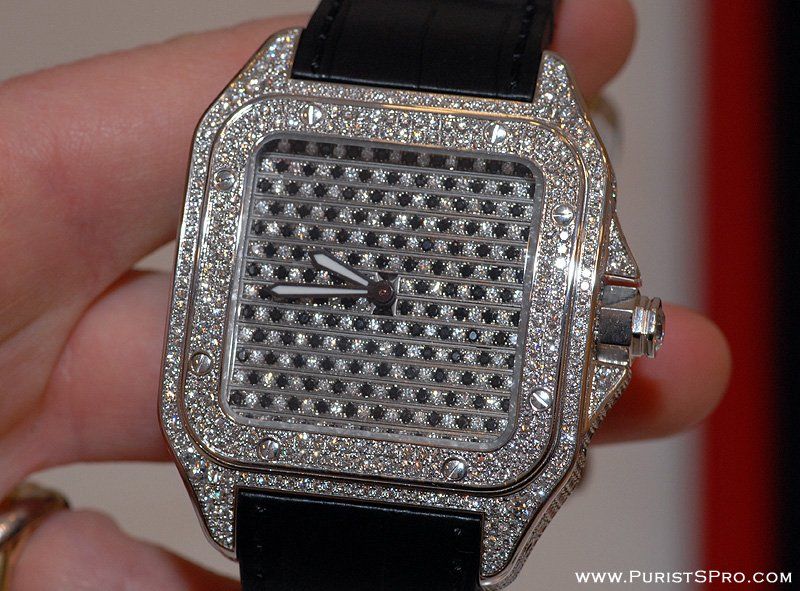 One of the 3 dials fully paved with diamonds and black sapphires in a chessboard pattern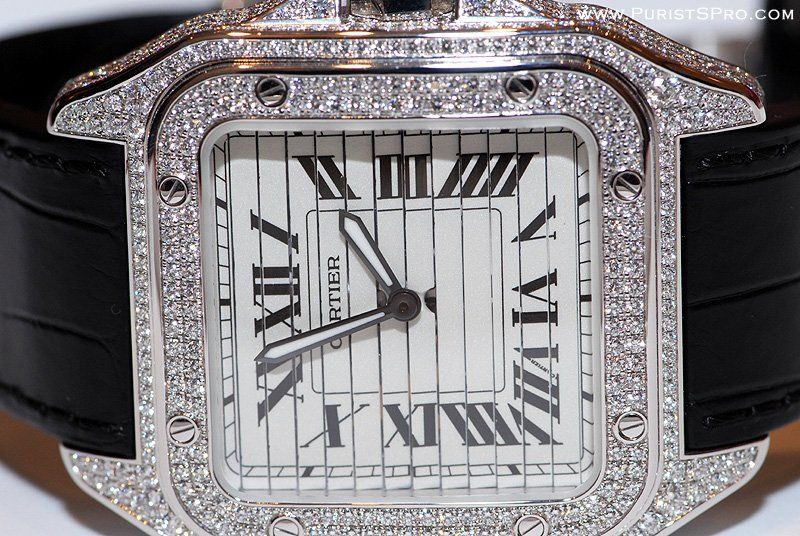 14 mobile prisms made out of 18k white gold create the classic dial of the Santos Triple 100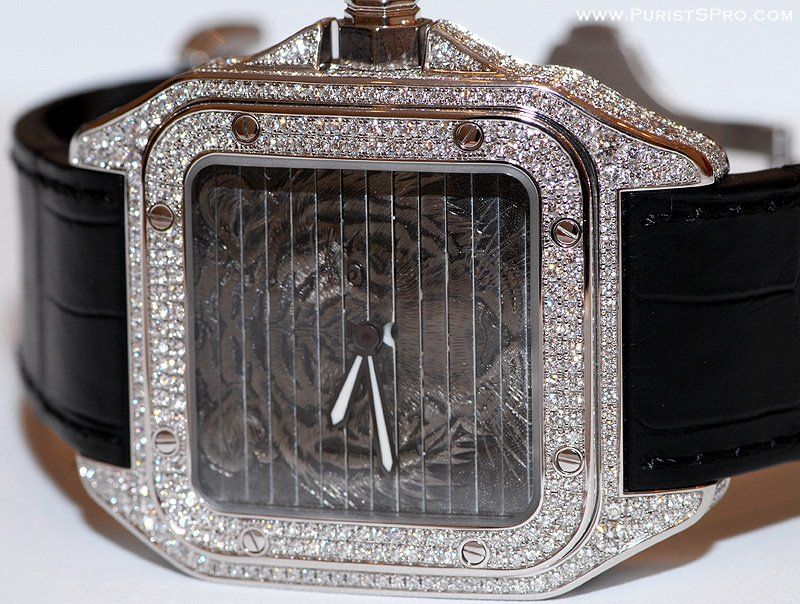 Hand engraved tiger face in WG which takes an entire week to engrave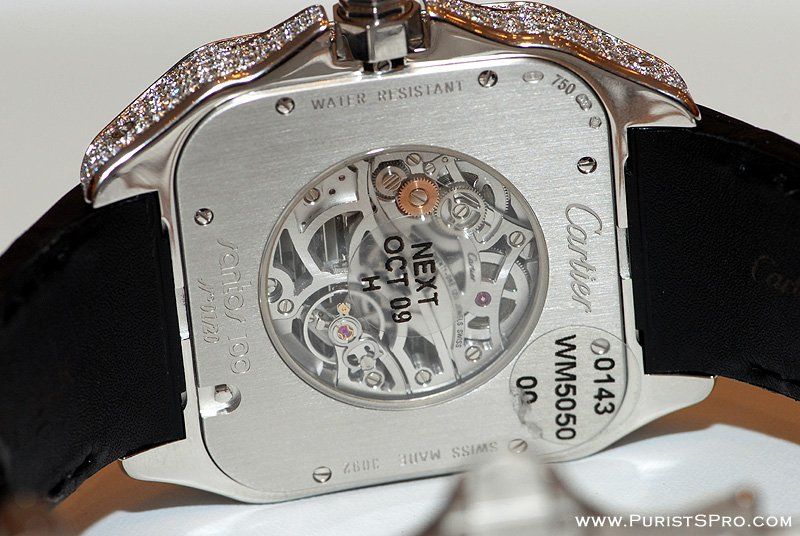 White gold XL Santos case w/ skeleton movement


The Santos Triple 100 has 861 diamonds on the case and dial which approximately equates to 7.6 carats. Offered in a limited edition of 20 pieces, the Santos Triple 100 is expected to be released sometime between June through September with a price tag of approximately $150k Euros.
One thing I hope Cartier does in the future with this Santos Triple 100 is to make a customizable version where a client can request what he or she wants on each of the 3 dials. If this is possible, then maybe I can order one with Panerai, IWC, and Cartier faces so not only do I have 3 dials in 1 watch, I'll have 3 watches in 1 watch too! :P Yeah I know, I'm silly.
Anyways, Cartier debuted some interesting pieces this year, and I'm happy to see they're moving more into the direction of a serious watch manufacturer with the debut of their first watch with a Geneval seal . Hope you guys enjoyed my brief preview of the interesting new watches in Cartier's line-up, and below is an animated gif I created for you guys so you can see how the dial prisms move when you turn the crown.
Cheers,
Anthony
More posts: