Seiko Watch Corporation has introduced a baffling number of watches over the past several decades that I have been collecting. Not just individual watches, but product lines or brand names. Some of these are more long-lived than others -- Credor is one example of the "keeper" brands. Others come and go, suddenly or gradually (think of Brightz, Wired, Galante, etc.). Prospex has been around at least 12-15 years, judging from the Yellow Prospex boxes in my watch box storage warehouse!
Prospex is Seiko's range of sporty watches -- in case you are wondering why they don't make sporty Credor, or more sporty GS watches, Prospex is the reason. True to form, Seiko has various sub-lines of products within Prospex, such as the economical Street range
(profiled here)
. Or their astonishingly wide range of diver watches (
profiled here
).
Today we are focused on Seiko's 2019 interpretation of what is currently the highest level of Propex, the LX range. These were first shown in Basel, but now that they've decided to open specialized Prospex boutiques, I think it's worth a reminder. Now in Seiko's own words: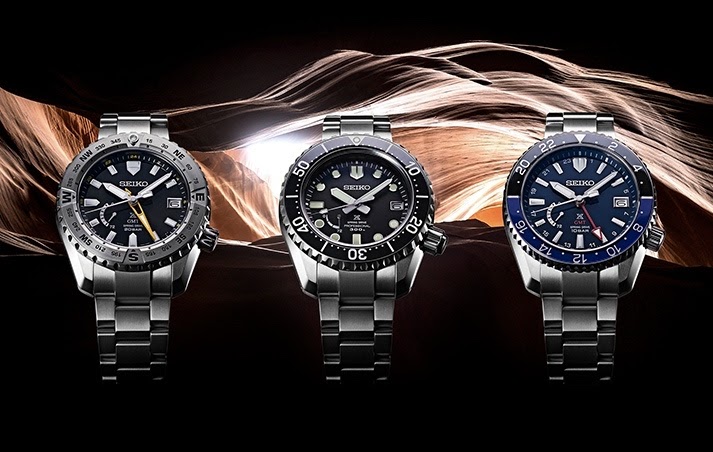 Ever since it released its first diver's watch in 1965, Seiko has created many watches that have found favor among sportsmen including professional divers to explorers. Among these many creations, the 1968 Seiko Professional Diver's watch struck a special chord with successive generations of sports watch enthusiasts, thanks to its robust design and high functionality. Today, the spirit of this classic sports watch is expressed anew in a line of watches for sport on land, in the sea and in the sky. The line's name, LX, hints at the Latin word for light and is a subtle nod to the way that light is reflected in the broad, flat surfaces of each case.
When, at the 2018 Grand Prix d'Horlogerie de Genève, a Prospex re-creation of the 1968 Professional diver's was honored with the Sports Watch award, the Prospex design team allowed themselves a moment of profound satisfaction. Not only had their creation won the highest possible award for a sports watch but the world's respect for the design on which the LX line is based was, once again, amply demonstrated.
Evolution in design and function. Continuity in character.
The design of the Prospex LX line strikes an unusual balance. On the one hand, it is true to its heritage and its overall appearance reveals its strong link with the 1968 professional Diver. On the other, it is thoroughly modern in its execution. The center of gravity of the case is lower so that the watch sits comfortably on any wrist. The upper side of the case is set at a more pronounced angle to allow the Zaratsu-polished surfaces to shine more brightly.
Most of all, the contemporary feel of the LX line is revealed in the use of Seiko's advanced 5R Spring Drive caliber, which offers one-second a day precision alongside high levels of shock and temperature resistance. With these attributes, 5R is the perfect caliber for use in all types of sporting and adventure environment; it has been worn successfully both in space, when it travelled to the International Space Station and was worn on a space walk and at the top of the world, when Yuichiro Miura wore a Spring Drive watch on his third successful ascent of Mount Everest.
The LX line was developed in collaboration with Ken Okuyama Design. With his international experience in the design of automobiles and other high-profile products, Ken Okuyama brings his own special creativity to Prospex LX. At the Baselworld launch, he said ''My aim was to take the unique inheritance and integrity that Seiko has built in sports watches over the decades and to bring them alive in a design that has simplicity, harmony, power and presence. The Prospex LX is a true Seiko with a thoroughly contemporary feel.''
A line designed for sport on land, in the sea and in the sky
All watches in this first collection have the robustness, legibility and reliability that every sport or adventure demands but different functions have been incorporated for three specific activities. You may also select either bright titanium or a blackened version in each of the three segments. The blackened versions come on straps, to reduce that worn look of black bracelet links after years of use.
The land versions SNR025 (black 027) have a GMT hand and a compass bezel for direction finding.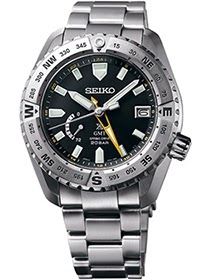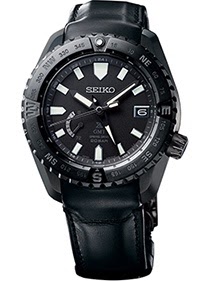 The sea version SNR029 (black 031) has a uni-directional bezel to indicate the length of diving.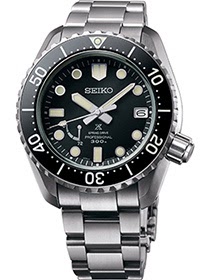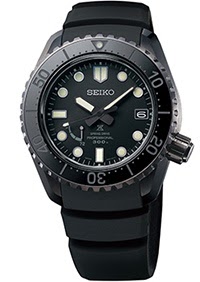 The sky version SNR033 (black 035) has a GMT hand and a bi-directional bezel for showing time in a third time zone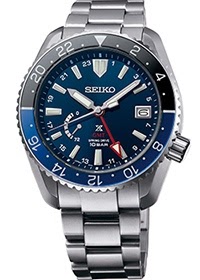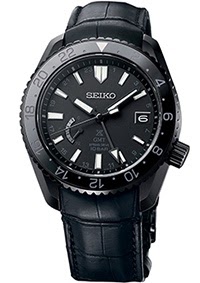 SPECIFICATIONS & PRICES for the Seiko Prospex LX line
Caliber:
Spring Drive GMT 5R66 (SNR025, 027, 033, 035)
Spring Drive 5R65 (SNR029, 031)
Winding system: Automatic
Power reserve: 72 hours
Accuracy: ±1 second per day (±15 seconds per month)
GMT hand (SNR025, 027, 033, 035)
Number of jewels: 30 jewels
SPECIFICATIONS
Titanium case and bracelet with super-hard coating (SNR025, 029, 033)
Titanium case with black super-hard coating (SNR027, 031, 035)
Sapphire crystal with anti-reflective coating (SNR029, 031 diver)
Sapphire crystal with super-clear coating (SNR025, 027, 033, 035 land and air)
Screw-down crown, screw case back
Water resistance:
300m saturation diver's (SNR029, 031)
20bar land explorer(SNR025, 027)
10bar air(SNR033, 035)
Magnetic resistance: 4,800 A/m
Diameter: 44.8 mm
Thickness:
14.7 mm (SNR025, 027, 033, 035)
15.7mm (SNR029, 031)
STRAPS
Titanium bracelet with three-fold clasp with push button release and slide adjuster (SNR025, 029)
Titanium bracelet with three-fold clasp with push button release (SNR033)
Calf strap (SNR027)
Silicone strap (SNR031)
Crocodile strap (SNR035)
PRICES
Approximate recommended retail price in Europe:
€5,100 (SNR025, 027)
€6,100 (SNR029, 031)
€5,600 (SNR033, 035)