A perfect size, a modern bracelet, a ceramic bezel…
For me a perfect synthesis between the past and modernity.
I love divers, especially those without a date because I find the dial to be more balanced without. Moreover, the presence of a date on most divers is for me an incongruity since it is not necessary underwater. Thus the presence of a date on a diver is unnatural and gives it the character of a living diver.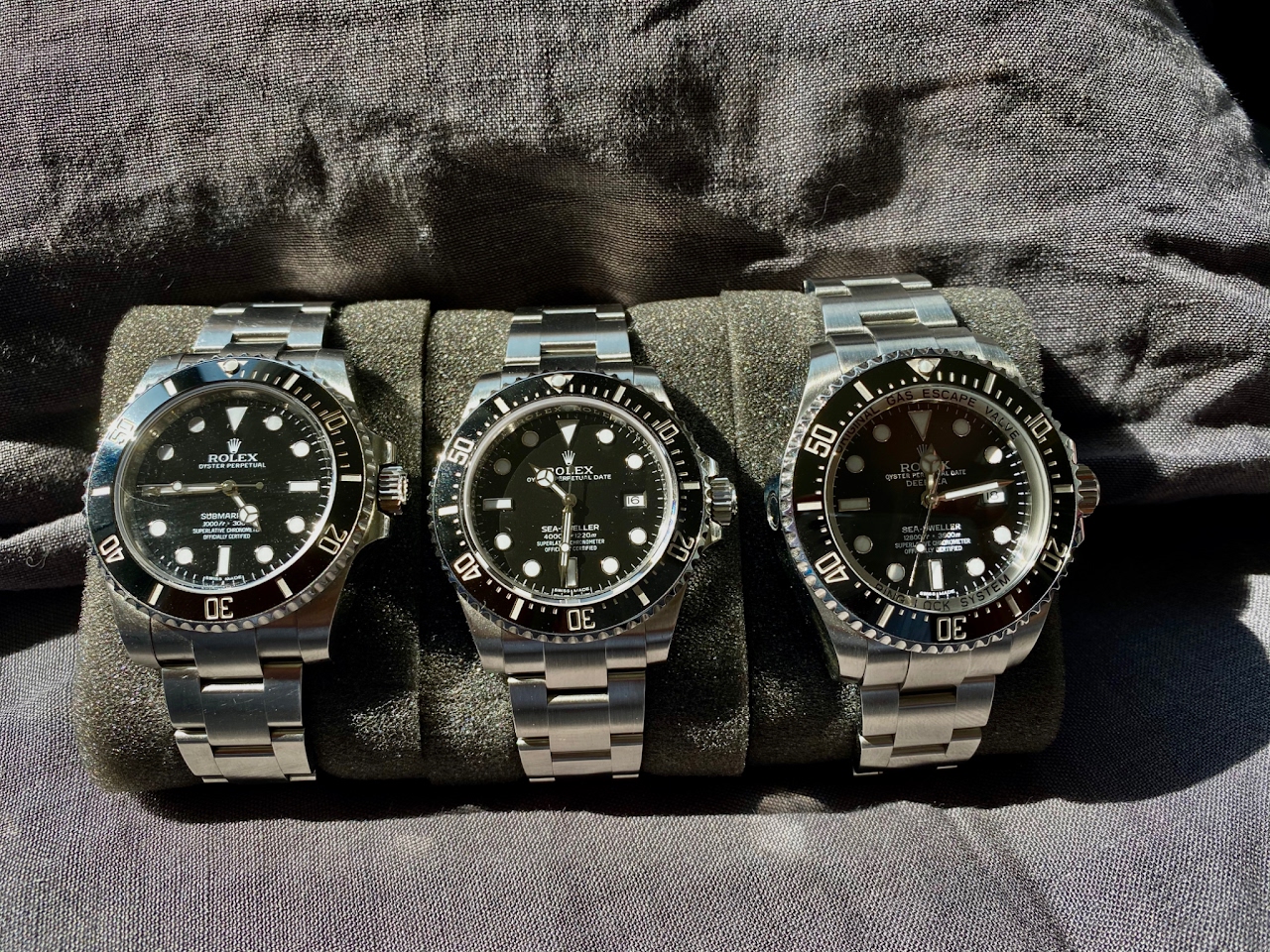 But…there is a practical reason for the presence of a date on this particular watch (And on the DSSD) :
Deep dives can be recreational (18 to 60 meters - PADI recommends that the Advanced Open Water Diver not exceed 30 m, 40 m if he has the Deep Diver certification).
They also can be technical (Beyond 60 meters - Knowing that the scuba diving record with tanks is held since 2014 by the Egyptian combat diver Ahmed Gamal Gabr who reached the depth of 332.35 and that the deepest dive in the world with a diving suit was carried out by Theo Mavrostomos in 1992, for the company COMEX, with a hydreliox mixture at 675 m - the compression was made exactly up to 703 m and it reached 701 m in simulated diving in a caisson).
As with watches, underwater, gases present in liquids cause significant problems during ascent, hence the presence of a valve on this Sea Dweller. So, most technical agencies recommend not to exceed 50 to 55 meters using the air (with the notable exception of PSAI which allow to go up to 73 m). Most of agency (GUE, NauiTec, UTD, ISE) ban the air and very quickly impose (beyond 33 meters) the use of trimix mixtures. If the gas mixture in deep diving is generally trimix, heliair or more rarely heliox can be used. In very deep diving (professional research, technical dives or special operations), hydrox is sometimes used. To be completely precise, I have to mention that decompression is done with mixtures enriched in dioxygen (surox): nitrox or triox (mixture of nitrox and helium, also called helitrox) and possibly with oxygen.
Considering the constraints imposed by physics and human physiology, the deeper the dive is, the bigger the volume of gas carried should be because they impose decompression stops which are sometimes impressive in length.
While the decompression time may last a few hours (15 hours of ascent in levels for a descent of only 12 minutes during the world records), it can last several days in most of the cases.
And it is precisely for this technical reason that the date takes its full meaning on the Sea Dweller : it becomes useful for the diver who sometimes has to wait for days in their decompression chamber.
Best Ø