Previously the ten PuristS 10th anniversary watch editions were announced in two parts.
Part 1: home.watchprosite.com
Part 2: home.watchprosite.com
FOR IMMEDIATE RELEASE 10 May 2011

PuristS and Paul Gerber announce the Gerber PuristS 10th Model 42 Watch

The PuristS' family of horology and luxury websites (ThePuristS.com and PuristSPro.com) is celebrating its 10th anniversary in 2011, with a gathering of PuristS, friends, watchmakers and sponsors. A number of watchmakers and brands are issuing limited edition or piece unique watches to commemorate a decade of PuristS independence on the horological scene.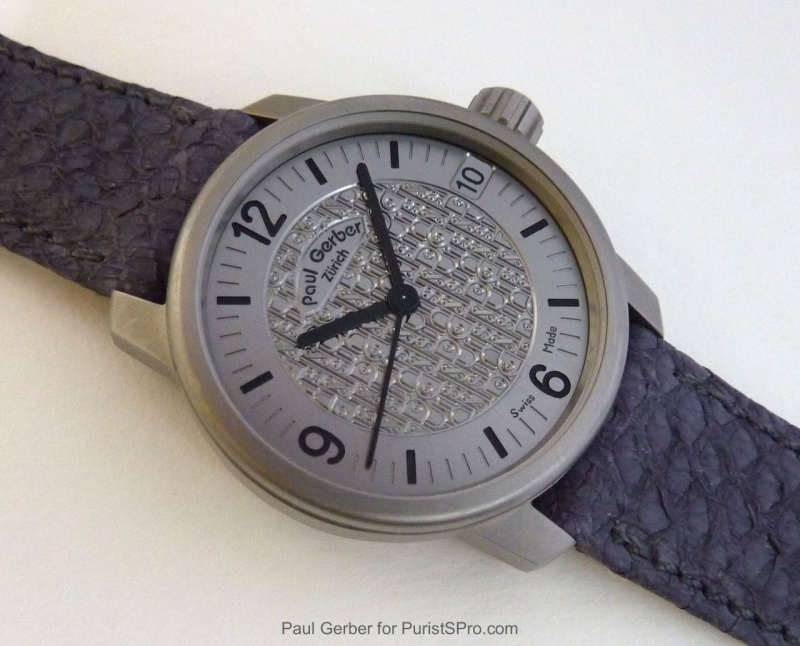 "We are thrilled about the Gerber PuristS 10th Model 42, with its special machined dial, being one of the PuristS 10th Anniversary watches, said Dr Melvyn Teillol-Foo (PuristSPro CEO), continuing: "Paul is one of the original members of AHCI and all-round good guy. Being the engineering behind the recent Ochs & Junior and MIH watches, Paul is also known as the 'Master of Miniaturisation' from his days behind the scenes for many big brands and special watches. The Gerber PuristS 10th Model 42 brings affordable haute horlogerie to all."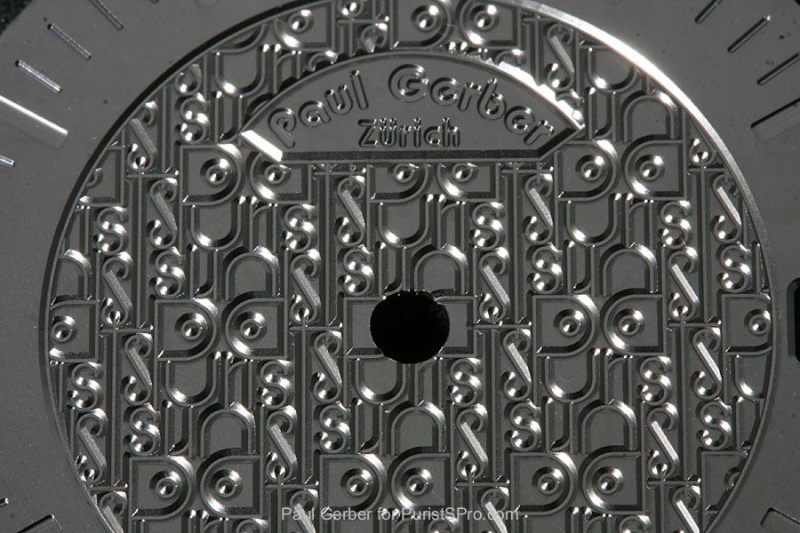 Master Watchmaker Gerber explained (in German), "A watch does not necessarily work better with a high degree of finish, but I think a watch without any aesthetic finish is simply an instrument to tell time. For me, the aesthetics, quality and finish are important because I feel this is what gives a watch its soul. I truly believe one can feel when a watch is "alive". I try hard to do something new, something that has not been done before. The synchronised triple rotors on Model 42 were a fun challenge and the special PuristS-inspired dial is a tribute for 10 years of supporting the Independents."

Gerber PuristS 10th Model 42 watches – Specifications – US $6200 (includes shipping anywhere in the world)
Buyers are responsible for their local country customs and import taxes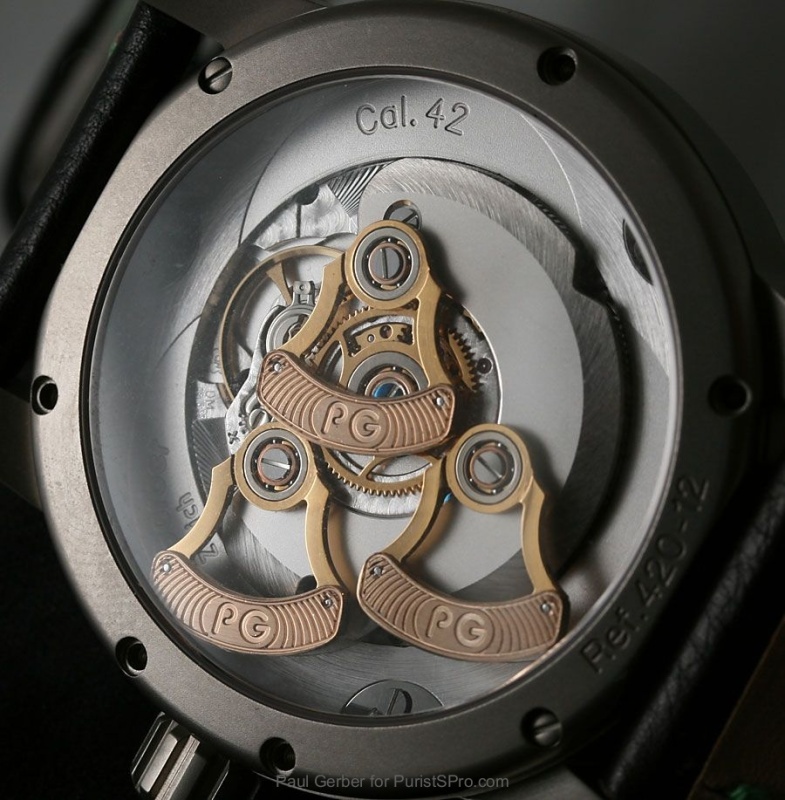 Type of movement: Base automatic ETA 2824-2
Winding: Gerber Synchron three synchronised 18K gold rotors
Power reserve: 38 hours
Movement diameter: 36 mm
Movement height: 6.1 mm
Watch Displays: Hours, minutes and seconds from the centre; enlarged date disk.
Case: Titanium; screw-down crown; 10 ATM water resistance test
Back: Screw-fastened case back with transparent pane of sapphire crystal
Dimensions: Diameter 42 mm
Dial: PuristS logo machined; Indexes with Superluminova
Hands: Hands with Superluminova
Wristband: Salmon leather; custom hand-made by a Swiss saddle-maker
Availability
Paul Gerber PuristS 10th Model 42 watches will be available initially to PuristS at the 10th Anniversary Party (IGOTT-2). The watch will be presented at IGOTT-2 on 30th May 2011. IGOTT-2 attendees will get priority before the rest of the PuristS worldwide.
Please send your early requests to this email: PuristS10th @ puristspro . com [remove spaces]


How to order?
1. Write to the dedicated order e-mail address: PuristS10th @ puristspro . com [remove spaces]
2. State your contact details and which model of PuristS 10th edition watch that you want.
3. State your PuristS log-in name as a check on IGOTT-2 attendance status.
4. Instructions about payment and delivery time will follow.
International Gathering of the Tribe 2 (IGOTT-2), LAS VEGAS, 30 May to 02 June 2011
This is a unique event bringing together members of the PuristS community from across the world. The 2nd IGOTT event is where watch collectors, enthusiasts and buyers gather to share in the passion of high horology. The event will take place in Las Vegas 30 May - 2 June 2011 with a series of seminars, gala dinners and watch novelty presentations. The last PuristS gathering had great success in Singapore (2004). Las Vegas is the IGOTT-2 destination with its world class facilities and easy access for our guests coming from around the world.
About PuristSPro.com
PuristSPro.com is the premier independent moderated on-line discussion forum covering haute horlogerie and luxury brands, and focused on owners, collectors and watch enthusiasts across the globe. URL: www.puristspro.com
Contact Information:
Anthony Tsai, General Manager PuristSPro LLC
E-mail: AnthonyT @ PuristSPro . com [remove spaces]

===
For MTF's original post in AHCI forum, ahci.watchprosite.com