I'm biased because I own one. I wear this watch very often and never, ever tire of it. I did, however, put it on a shark mesh bracelet that most others find revolting. I love it this way because I think "mesh" -- the idea of seeing through a metal "guard" -- goes with the overall theme of the watch. And bonus points for being able to see the springbar, too!

I spent some time in person with both the Datograph Up/Down Lumen and the Zeitwerk Phantom. I don't like either one of those Lumens. Never did.
The Dato Lumen looked odd to me -- I don't like the color of the green perimeter, and you can't see much of anything through the transparent dial other than the date discs. I'd much rather have an original, standard-production Datograph.
The same is true for me of the ZW Phantom, which I've seen multiple times, but I know I'm in the minority because that watch has developed quite a cult following! My problem with is is that all I see through the dial are the date discs (i.e., random numbers scattered all over the place below the dial), and to make matters worse, the printing for the power reserve indicator is stuck on top of all that.
My impression of the Grand Lange 1 Moonphase Lumen stands in stark contrast to my impression of those two other Lumen editions. Just look at your photo! The visible areas beneath the transparent dials are balanced, varied (more than just date discs), and don't interfere with anything on the dial. And the moonphase display bridges the gap between what's on the surface of the dial and what's beneath it. It's truly lovely.
Most importantly, keep in mind that Lange's luminous watches glow in the dark only for a few minutes, even after being fully and deliberately charged -- certainly not hours. So you'll really only see this watch (and the Dato Lumen and the ZW Phantom) in their "discharged" state, not glowing. I can tell you that looking through the dial of the Grand Lange 1 Moonphase Lumen in normal daylight, when walking down the street or sitting on the bus, will always bring a smile to your face.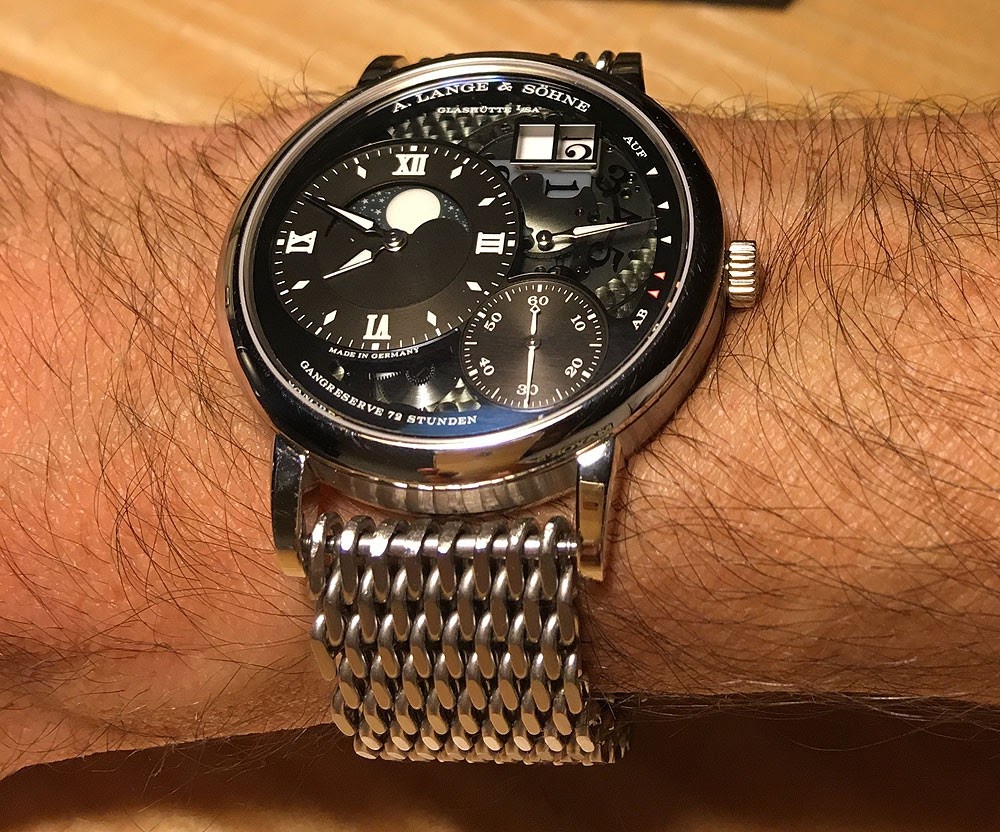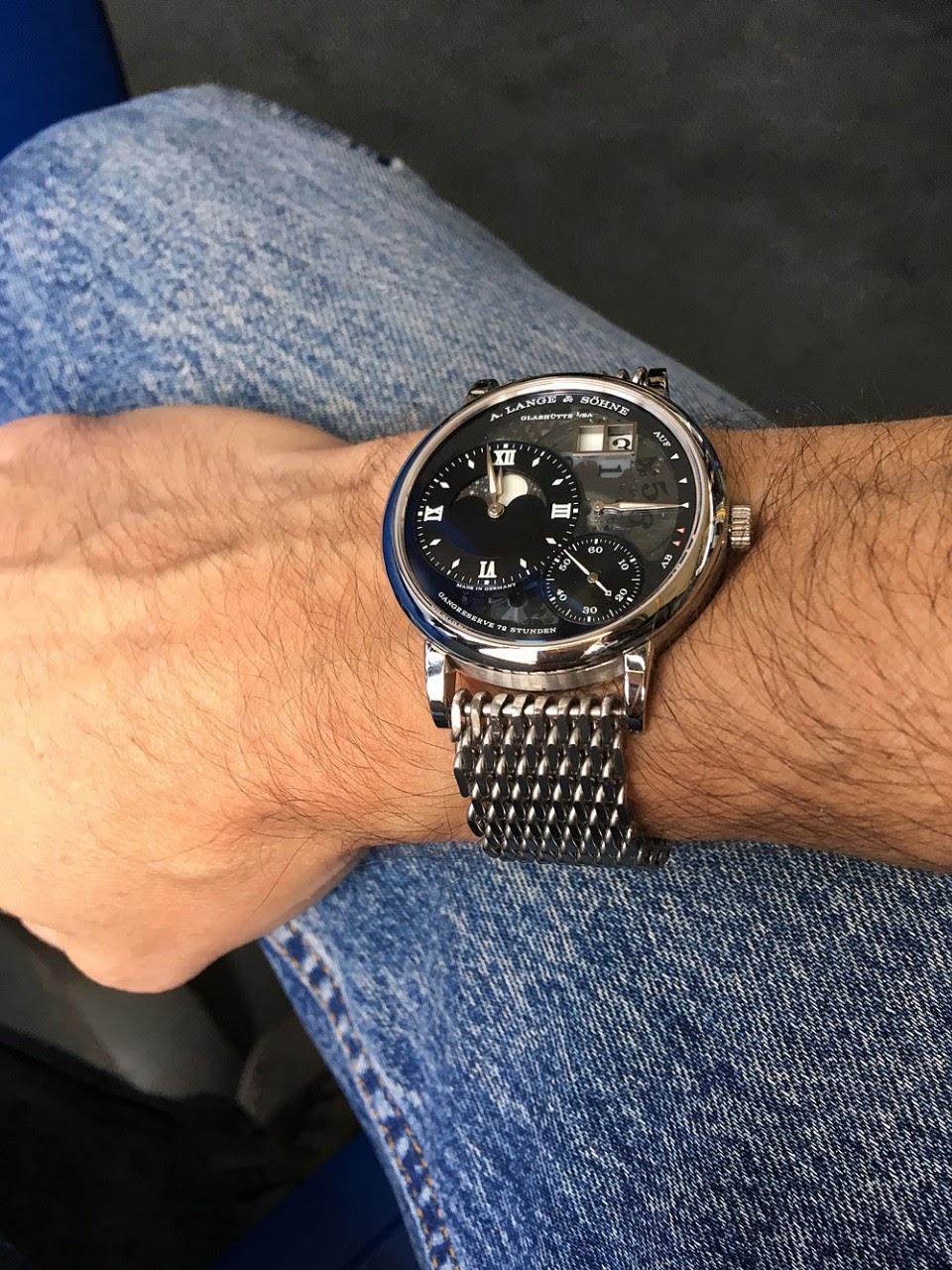 I took this pic below on the subway, which actually provides really good watch photography lighting conditions: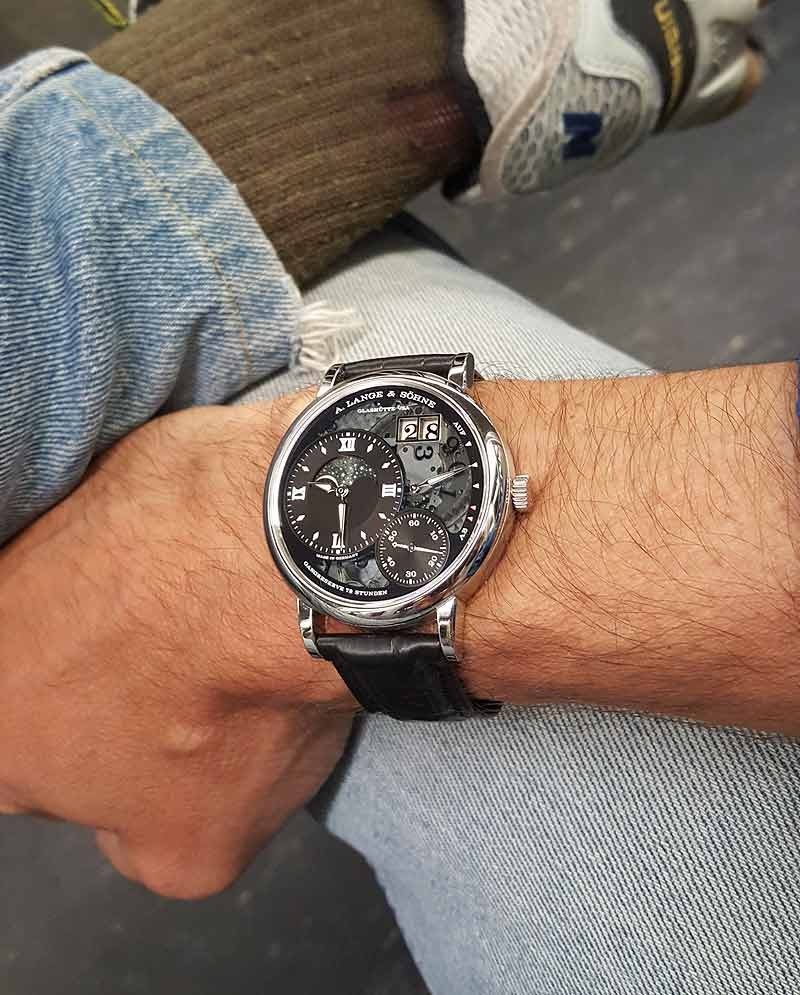 The transparent dial doesn't seem to have any anti-reflective coating on it. I took this photograph below while listening to former US Vice President Joe Biden speak at an outdoor public speaking engagement. I looked down at my watch and -- much to my surprise, because I'm used to looking at Lange 1 dials with AR coating -- noticed that it perfectly reflected the tree leaves above me, so I discreetly took this pic: