foversta
[PuristSPro Moderator]
20512

A few thoughts about the Panerai Radiomir 3 days Acciaio 47mm with brown dial
I had the opportunity to see again the Panerai Radiomir 3 days Acciaio 47mm with brown dial a few days ago. This Radiomir with bears the reference PAM687 is one of the recent Panerai watches that I prefer. It was unveiled in the pre-SIHH 2017 context as part of a limited series of 1,000 pieces with its alter ego with black dial, the PAM685 (which is less appealing to me). In fact, every time I see it, I feel that I like it a lot. I find it very charming and despite its generous dimensions, it seems to me as refined and warm. It stands out from the rest of the collection thanks to the special color of its brown dial (which is available now with the Radiomir California 47mm PAM931) which offers pretty gradient effects. The rendering of this dial is really beautiful and there is, in a way, something very Italian in this aesthetic approach. Maybe because it reminds me of the patina of leather or the color of coffee? In any case, it works perfectly in this Panerai context. And then the other element that I really like is the attractive bezel, sharp and original thanks to its engraved inscriptions.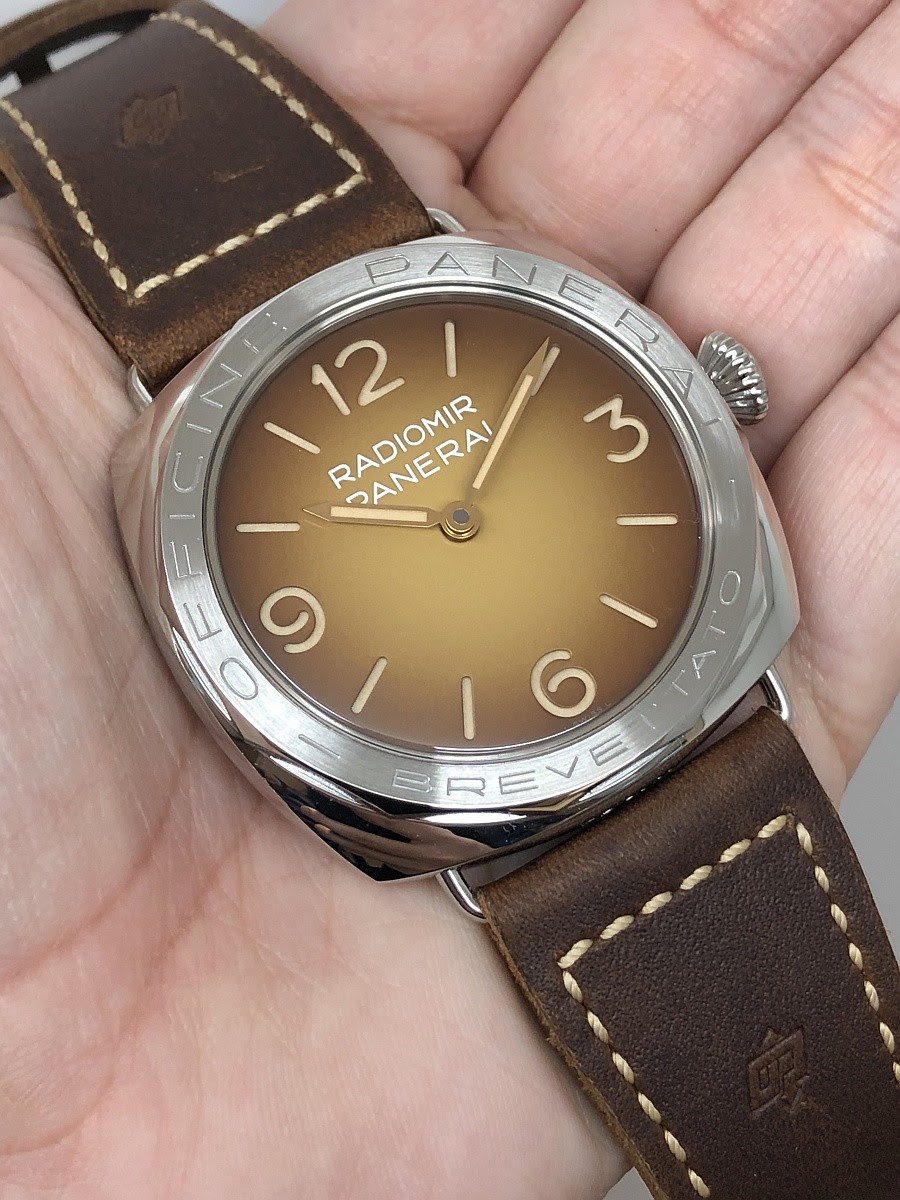 For the rest, the PAM687 offers features that are regularly found with a Radiomir: a 316L steel case, a luminescence of the numerals obtained thanks to a sandwich dial structure, a diameter of 47mm, the absence of a second hand and the use of the manual winding movement P3000.
The purpose of this basic movement from Panerai (and Val-Fleurier), which is member of a comprehensive family of movements was in particular to replace the caliber Unitas. It thus meets several requirements imposed by the style of the brand: this movement had to be large, robust and handwind. Its size is therefore important (16.5 lines), its frequency remains low (3hz) and its architecture based on a double barrel system allows it to obtain a very satisfactory power reserve (3 days) while maintaining good operational regularity. Its presentation is decent with a transversal balance bridge but I find that the main bridge offers a little too uniform rendering. On the other hand, the movement generously occupies the case, what makes the see-through caseback of the PAM687 legitimate.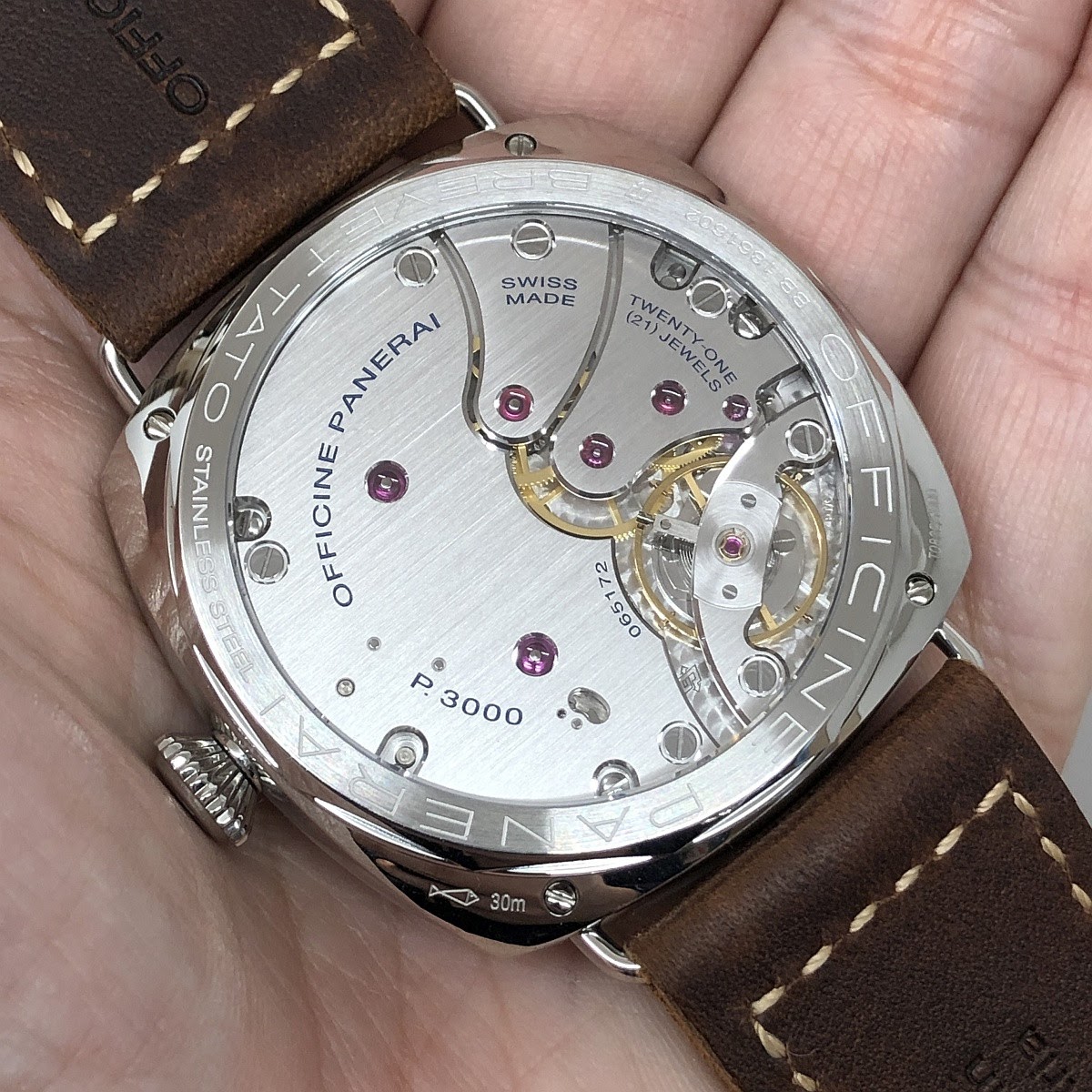 The strap is a brown Ponte Vecchio calfskin that matches effectively the dial and highlights it.
So no matter how I analyze this Radiomir from every angle, not only do I find it charming, but I also don't find any critical downside. In addition, its glass is flat which is an additional advantage for me because it catches less reflections. And yet I have not yet taken the plunge. Maybe because I'm afraid of getting tired of a watch without a second hand? But on the other hand, having only two main hands is hardly surprising at Panerai and the color of the dial even benefits from the absence of a second hand. Is its diameter a problem for me? Perhaps because I like to stay within reasonable diameters but I have already worn watches of equivalent size without having been bothered. In addition, due to the thickness of the bezel and the controlled opening of the dial, the perceived size doesn't appear to be bulky. Is it due to movement? No, because it effectively does the job and it is consistent with the watch. Is it because of its poor waterproofness (30 meters)? This argument doesn't matter to me, I did not plan to swim with it. I just think it was my sixth sense that held me back. The PAM687, due to its dominant color, may not be sufficiently versatile from an aesthetic point of view as some other references of the brand can be. It is part of this category of watch that you have to buy on the spur of the moment because afterwards, the more you think about it, the more you hesitate. If I haven't purchased it, it may be that because deep down inside me, I thought that I would have little opportunity to wear it. Unless writing these lines makes me want to reconsider it as a future acquisition! Situations are never final among watch lovers!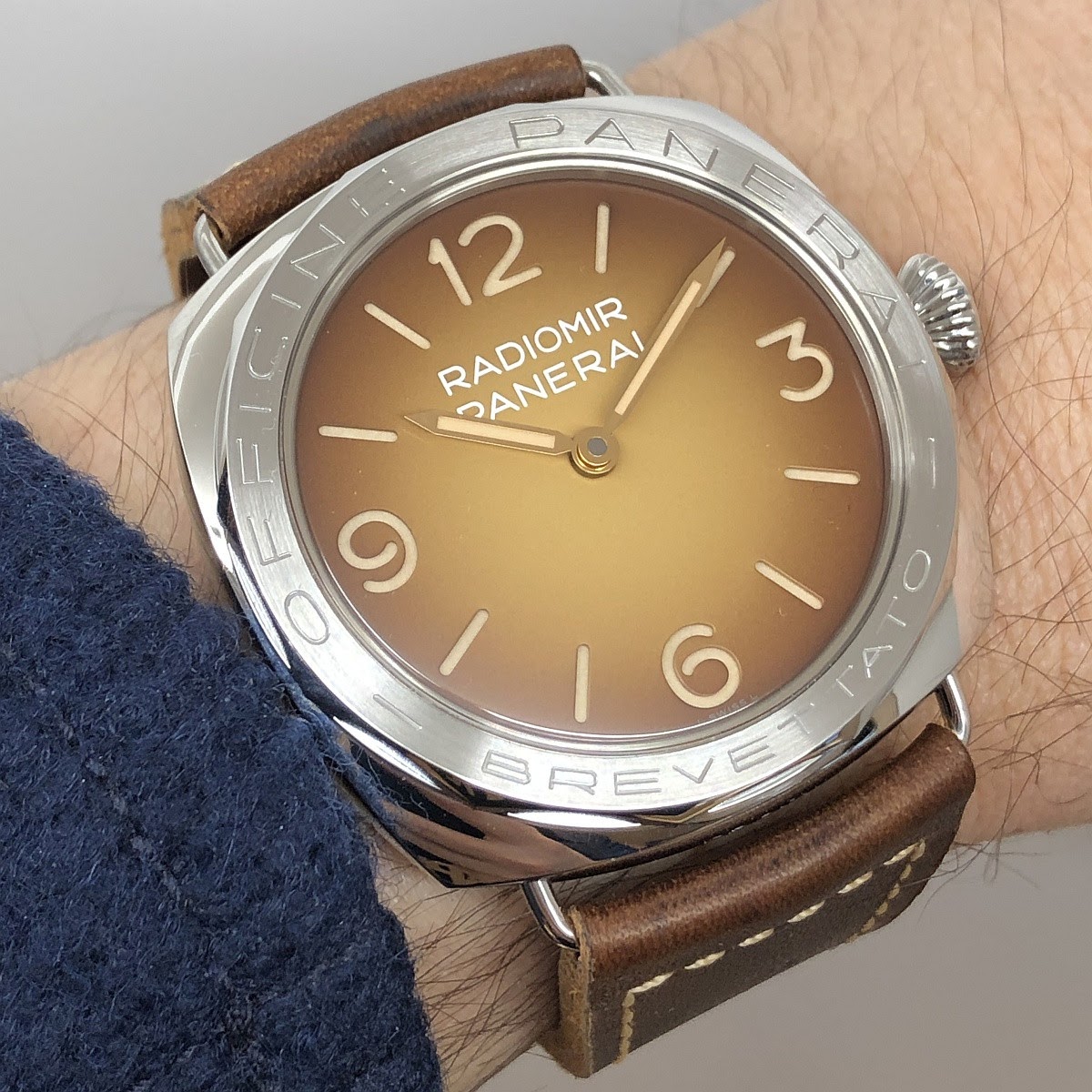 Pros:
+ a superb and (almost) unique dial at Panerai
+ a bezel with character
+ a slender style amplified by the flat glass
+ a well-chosen strap
The lessers:
- poor waterproofness
- a more distinctive watch which makes it less versatile from an aesthetic point of view ... but isn't it ultimately what makes it appealing?
More posts: