KIH
[Purist]
12030

Afternoon with Philippe Dufour and Olivier Muller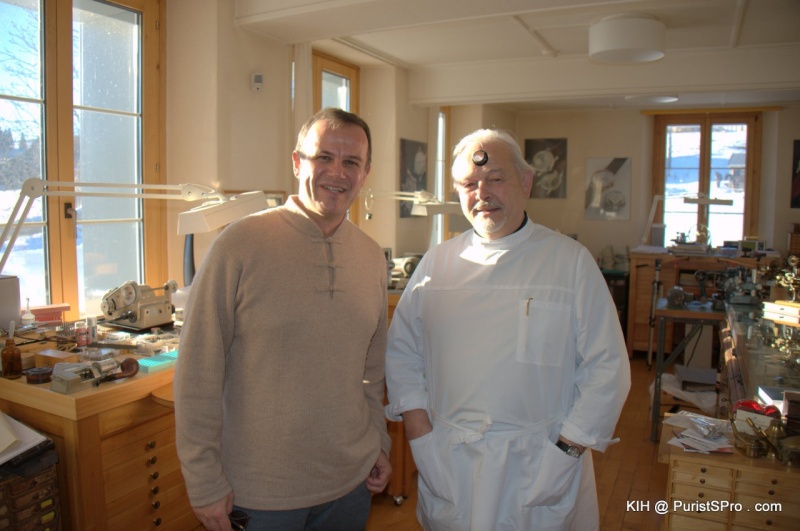 Please read the article here=>
ahci.watchprosite.com
================================================================================================
I had the pleasure to meet my old friend, Mr. Olivier Muller, the ex-CEO of Laurent Ferrier, who took me to his good friend and the one everyone knows here, Mr. Philippe Dufour. By the way, Mr. Muller is to be come the Managing Director of L. Leroy (Montres Leroy) from January - huge congrats!
Since it was not meant to be an interview, I will just write down some of our conversation with photos from my memory (I have pretty good memory, so don't worry

) - as far as I am permitted to write here

.

0. The road to Valle de Joux from Geneva
Mr. Muller kindly drove me to the Vallee de Joux, for an hour and a half.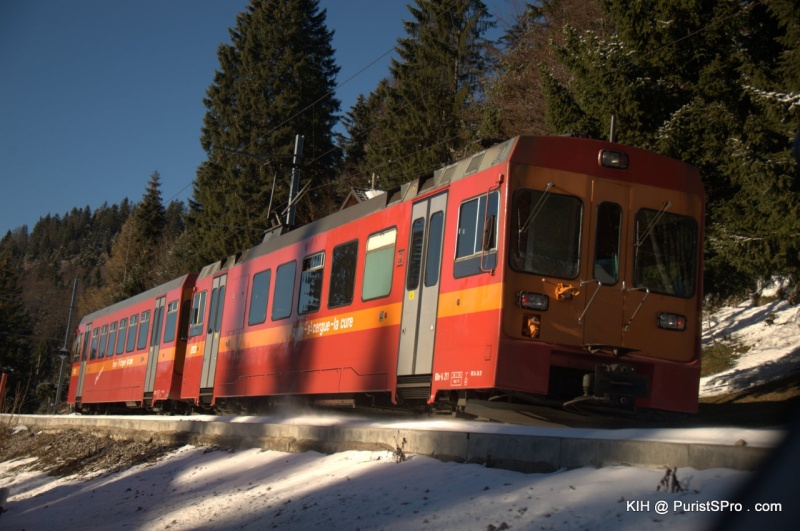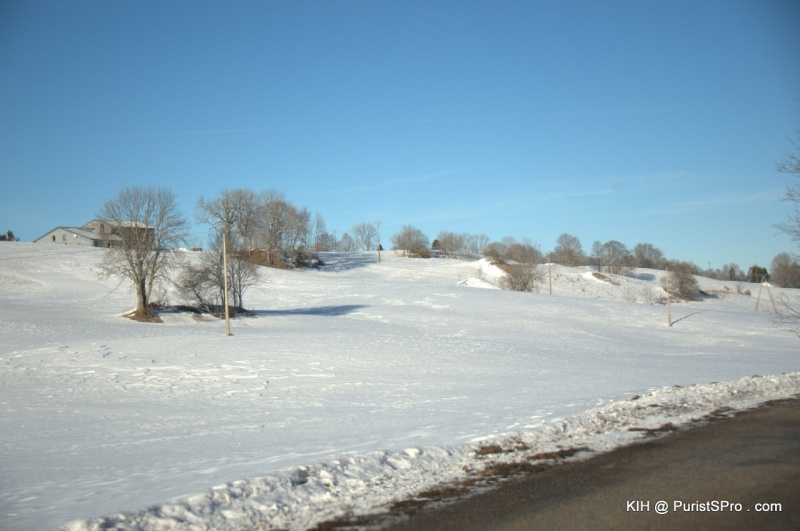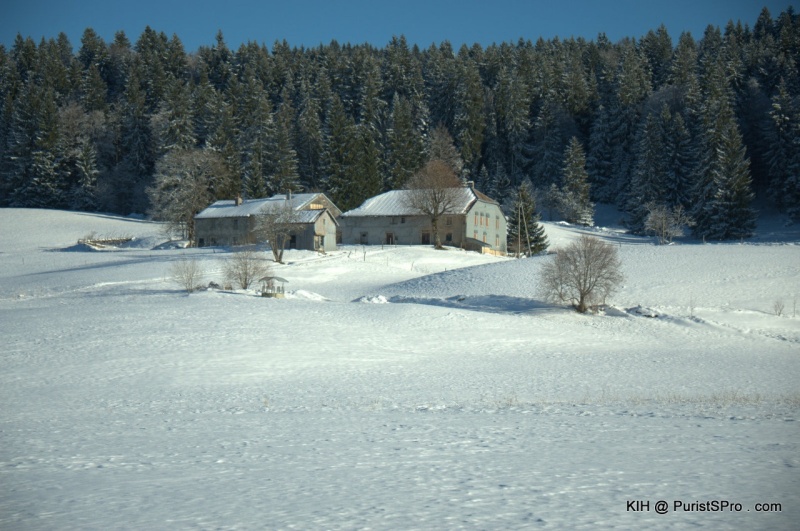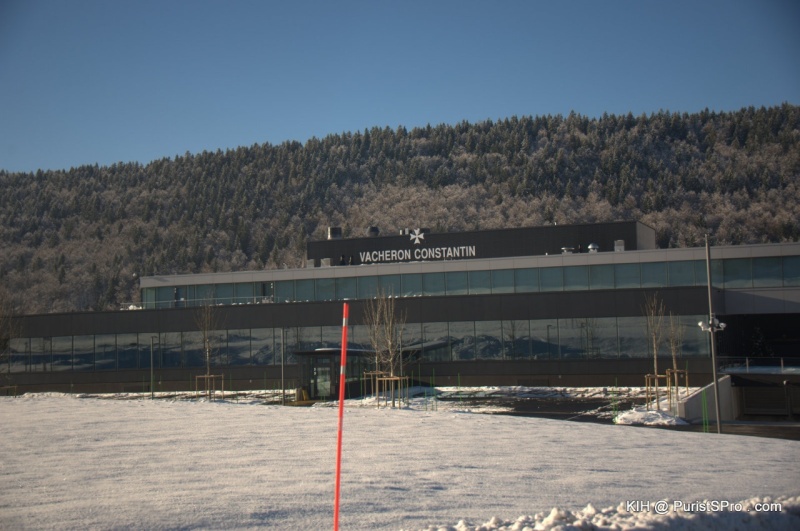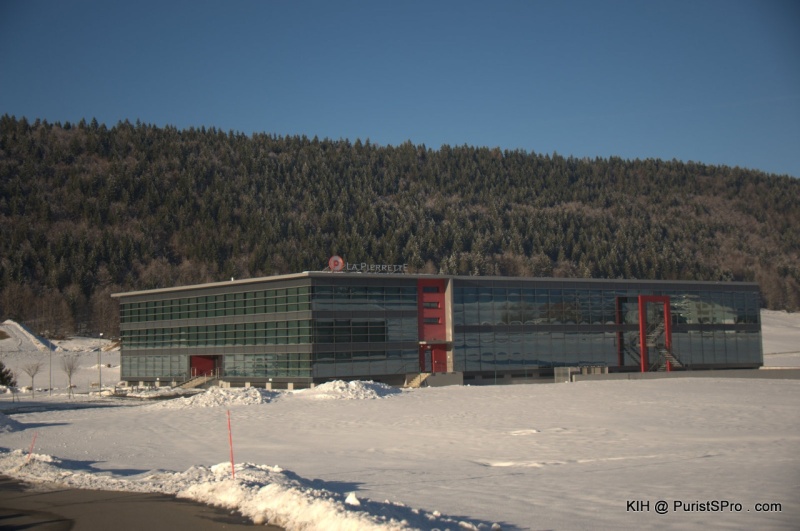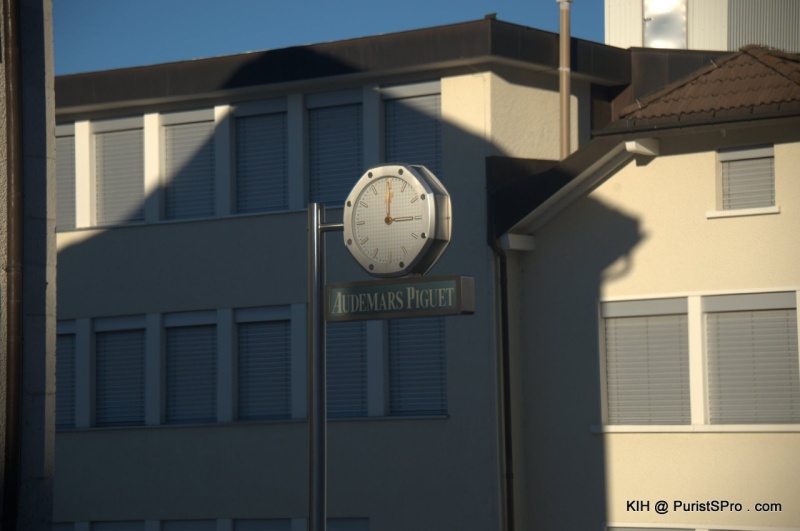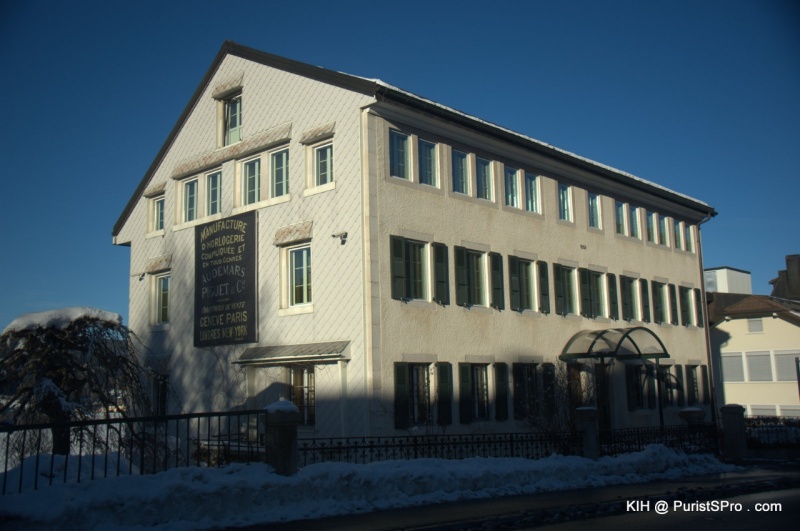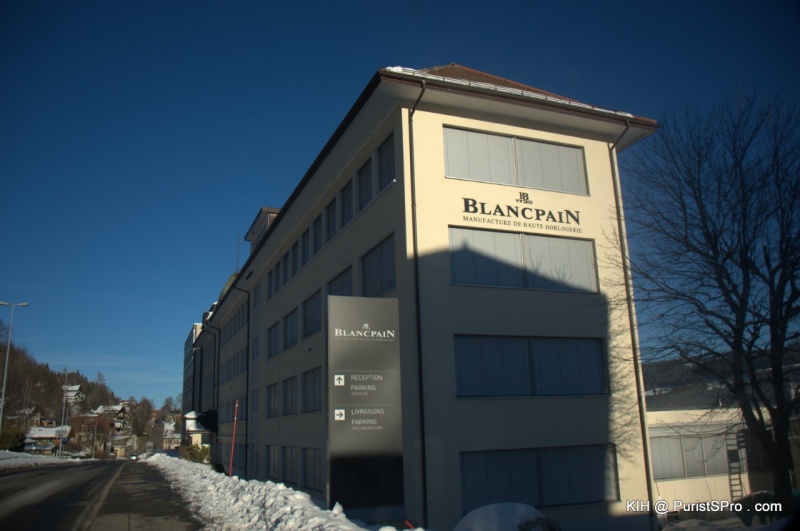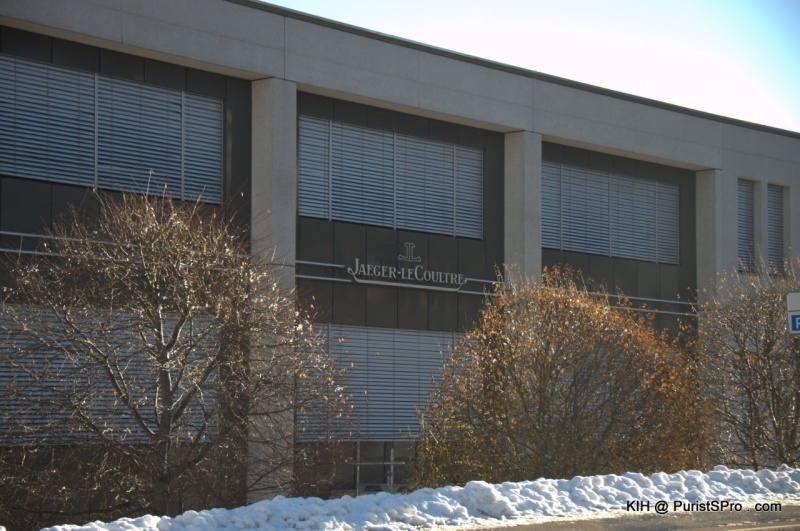 This is where Olivier will start working from January. Movement company of the group.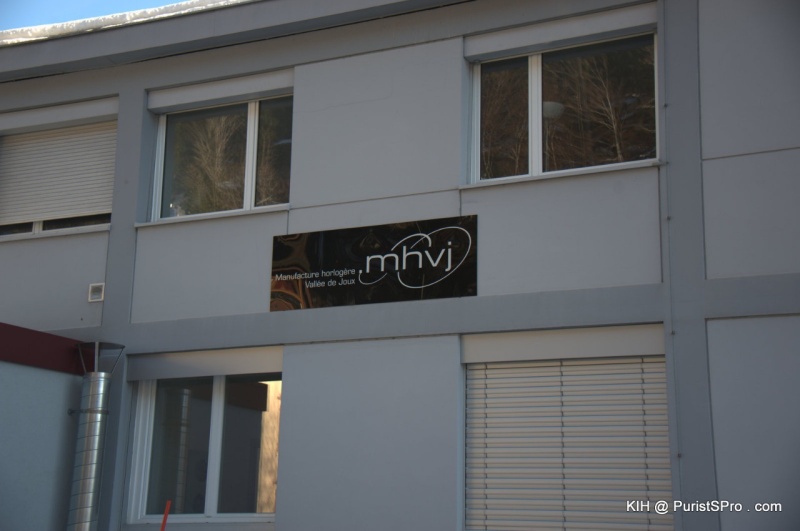 Here we are!!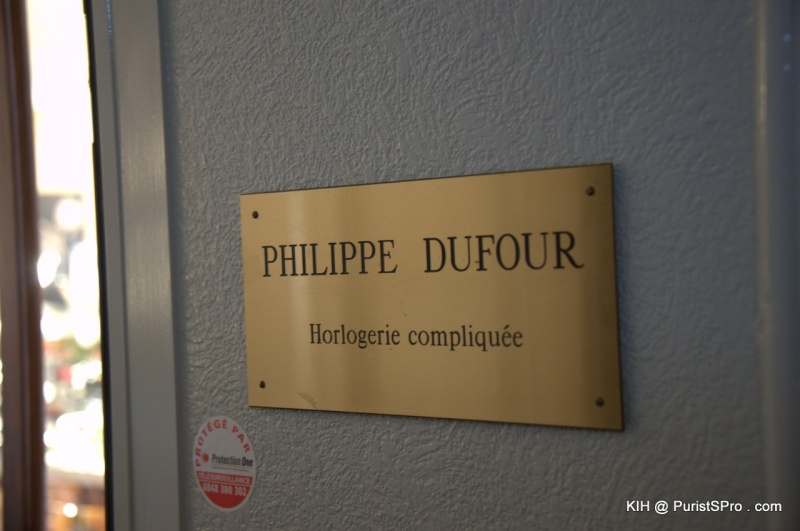 1. What Mr. Dufour is going now?
He was servicing one Simplicity, and assembling the Grande Sonnerie. Duality waiting list is soooo long, that he did not promise that they would be all delivered. And the Grande Sonnerie - this is the seventh one. Took order long time ago. Have been working on it after he finished Simplicity for 9 months, but still need a few more month.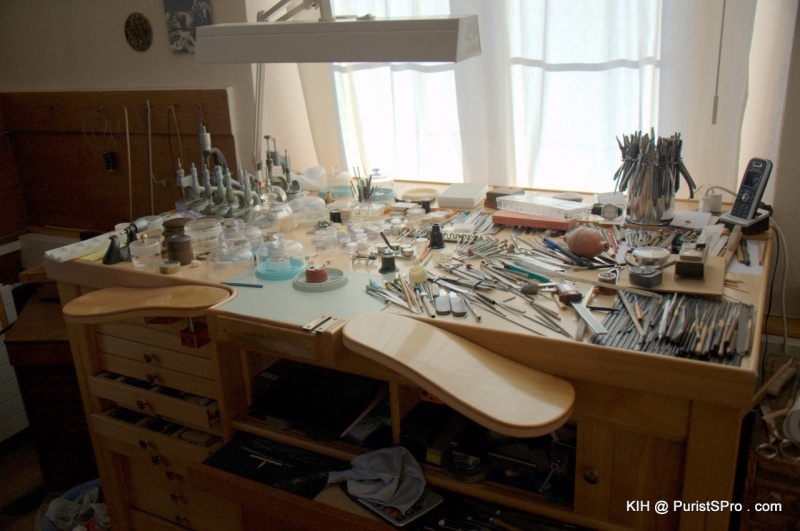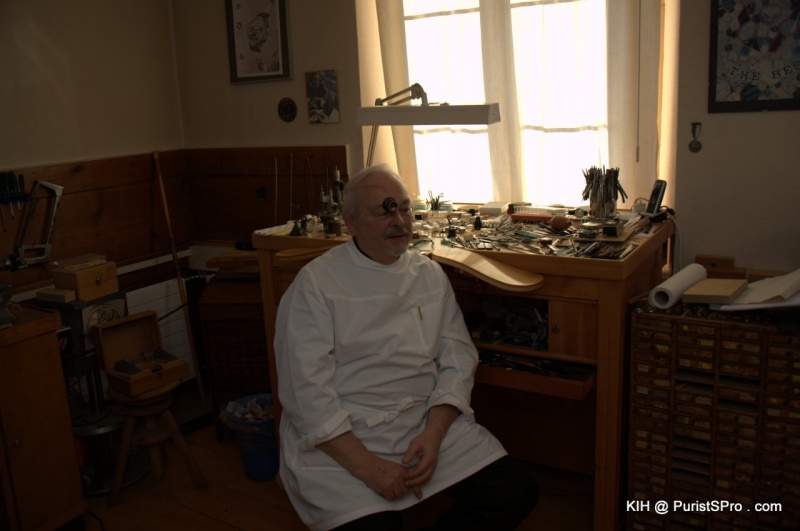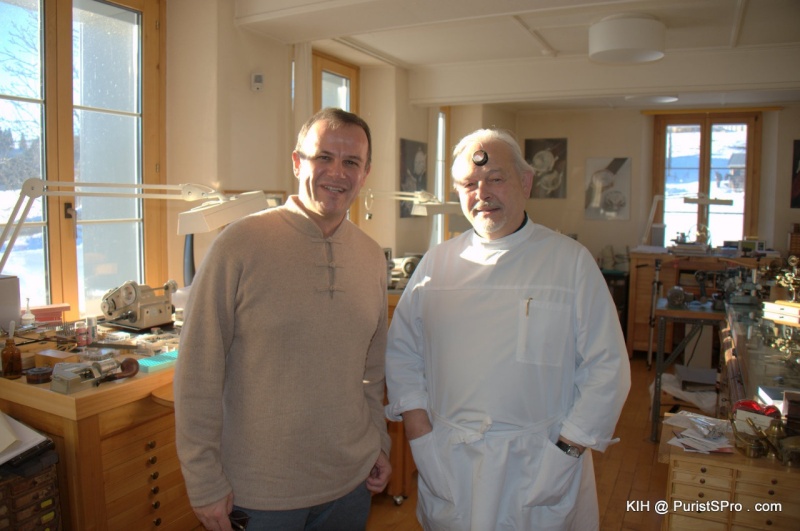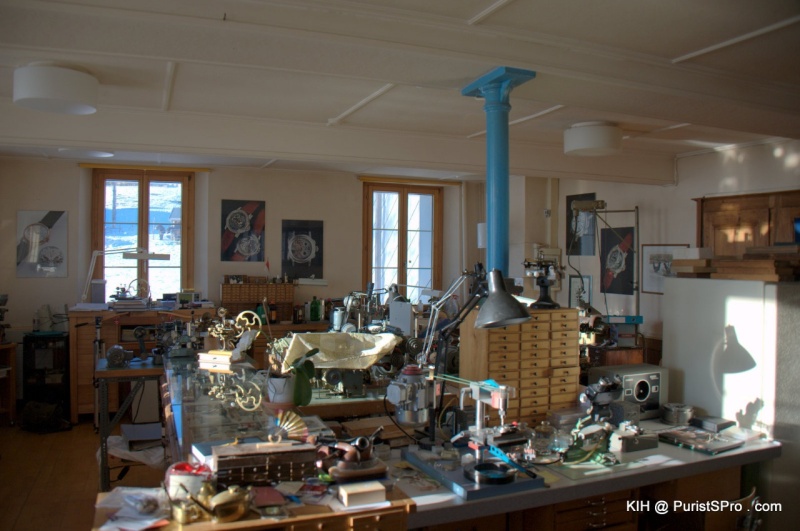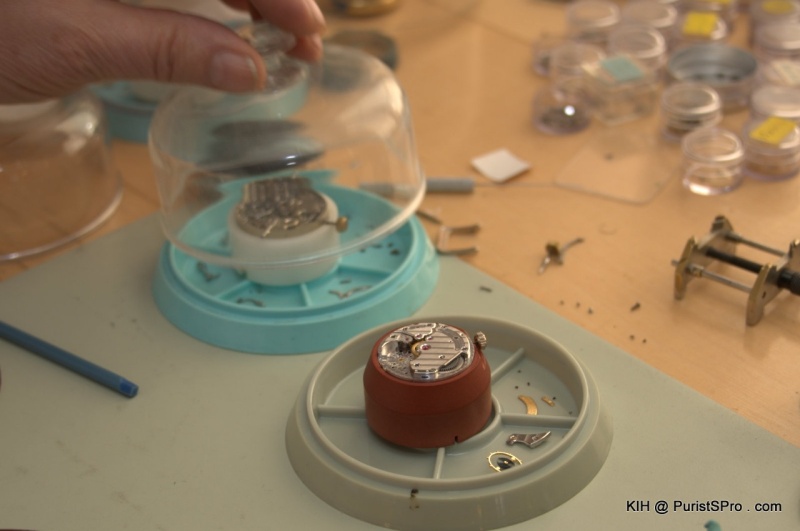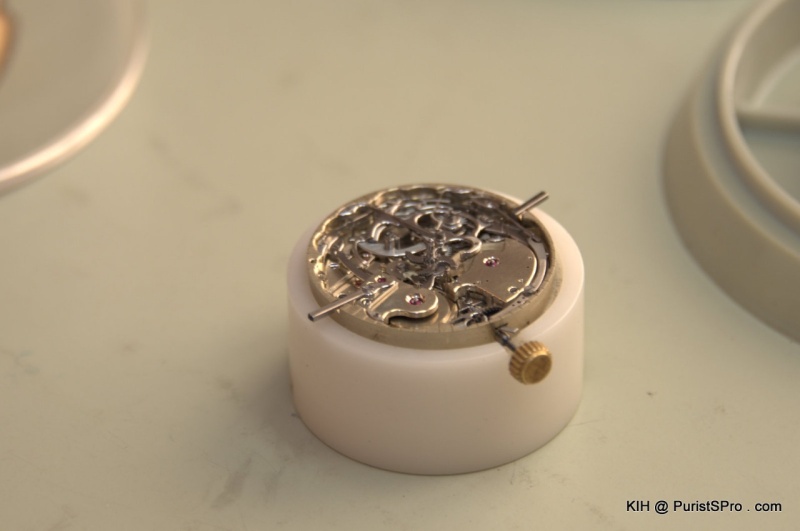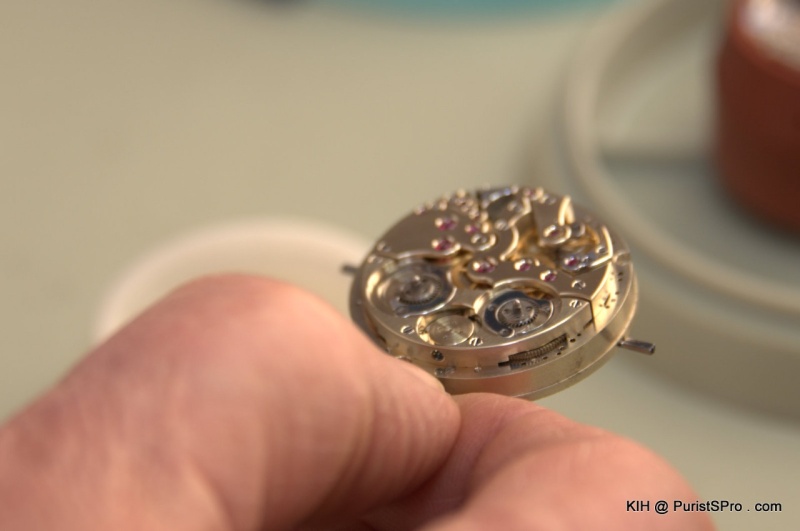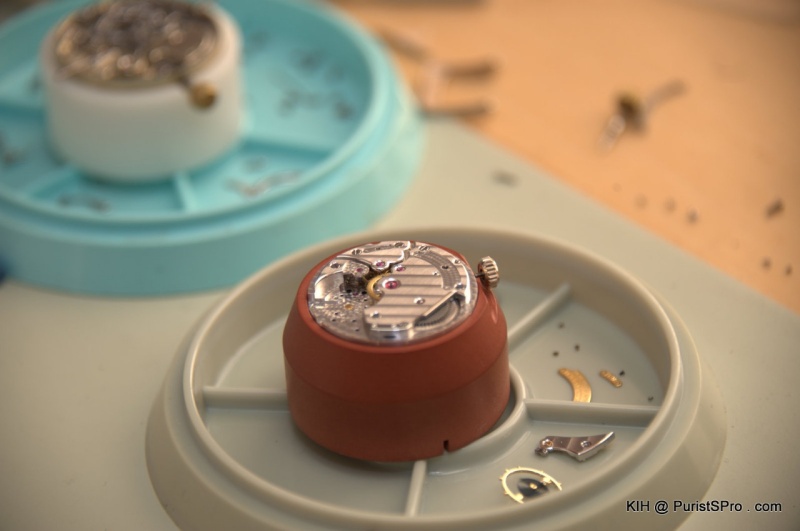 Surely he was wearing his No. 000 (prototype) 34mm Simplicity, saying "this is the only watch I can afford among what I make", laughing....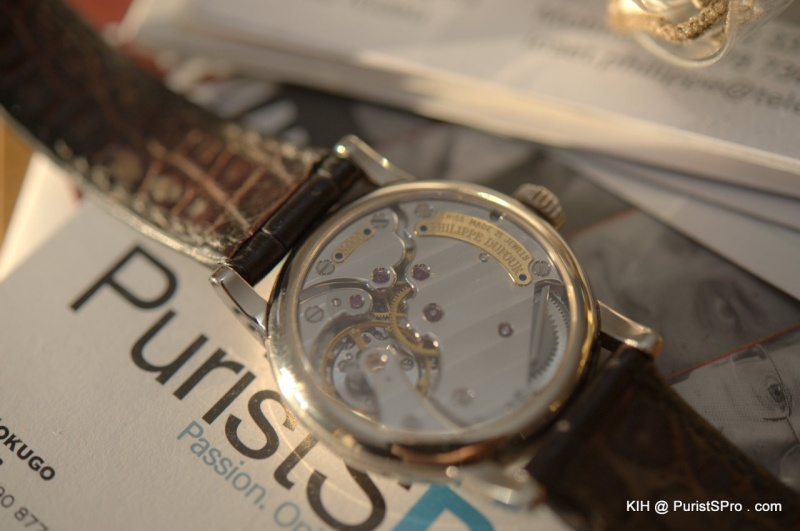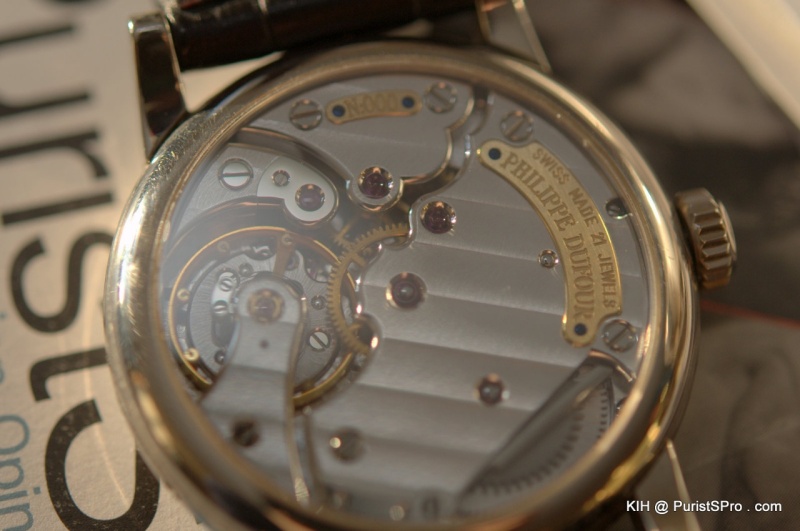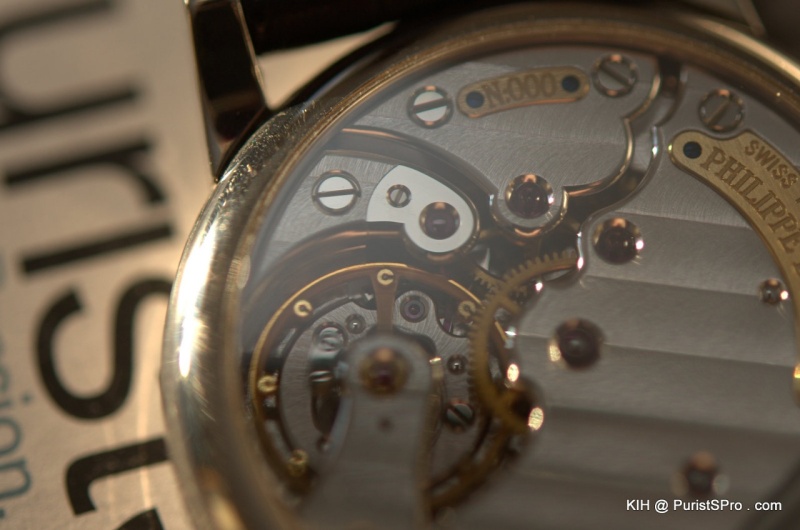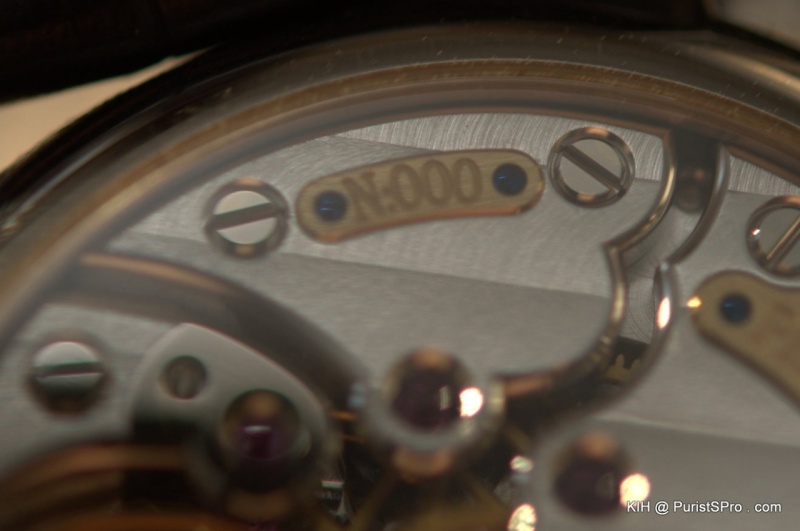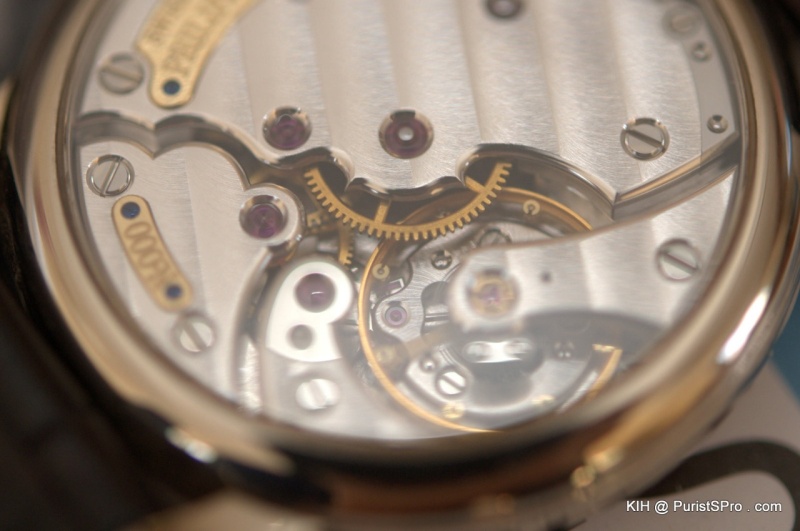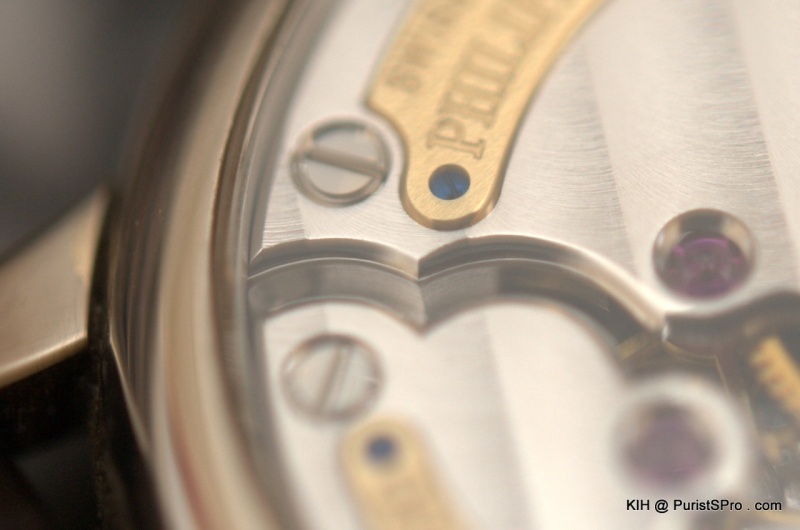 He said that it was just prototype (No. 000) and is not the best finished - but I could be happy with this....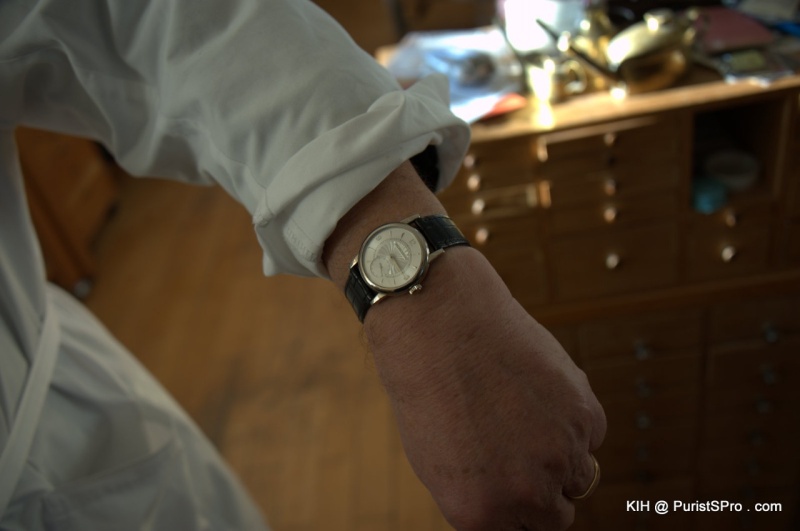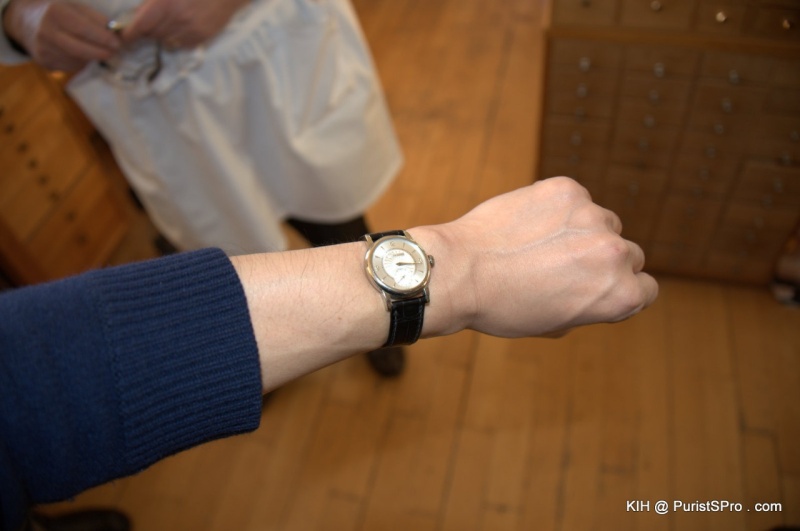 Note:
- I DID ask him whether he would make more Simplicity or Duality on special order basis. The answer was, "NO" for Simplicity and "There are XX people are waiting before you for Duality which I still don't have time to execute...". So, don't bother to ask him

- Story about Duality. He made nine of them. Then someone put it up for auction so soon. And it fetched more than twice the price he was paid. So, he stopped making Duality. He hated it so much. So, those who think you are on the list, you may not get Duality before this Christmas

.
- But he also said that if he had two watchmakers working with him, he may be able to fulfill the order. There have been several and two of them were Japanese. One, now working in Tokyo as an official servicer of Simplicity. Another, having worked with him for two years, left last year saying, "Thank you for giving me a chance. But after these years, I still didn't catch it.....". He was expecting so much from him (trained for two years is substantial investment) and of course he was disappointed...... He is always looking for good watchmakers to help him - anyone? Must be very tough, I can only imagine, though.
His favorite (other than his own), from his vault.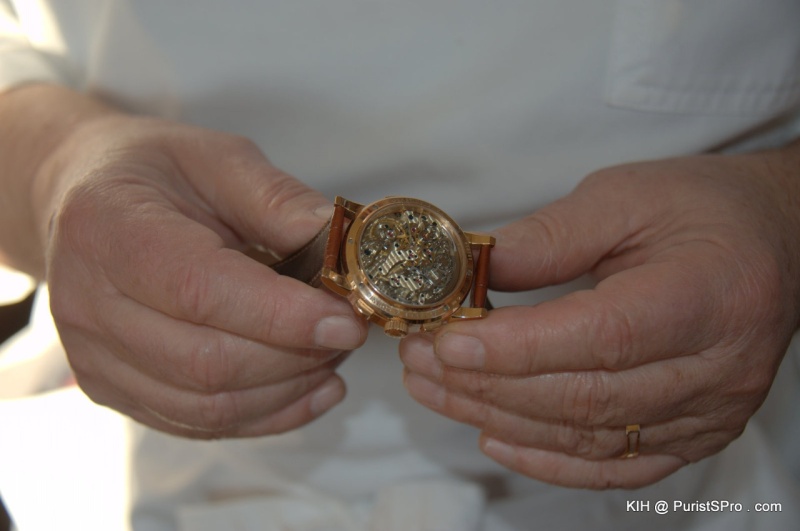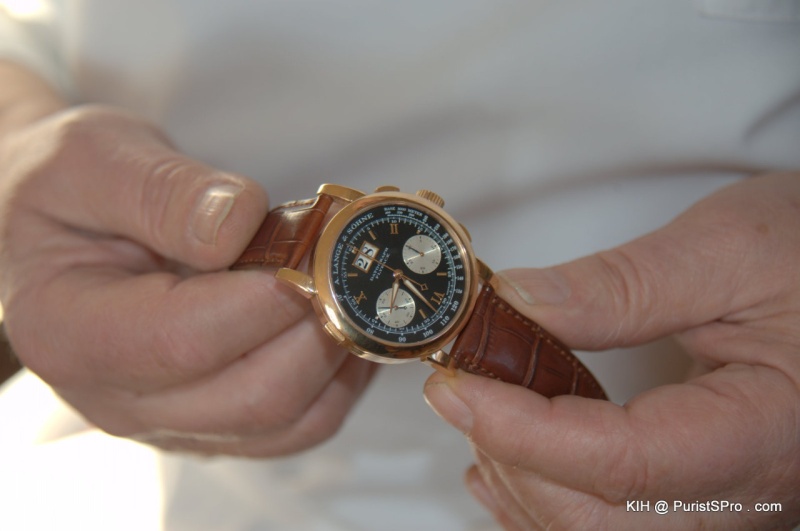 His collection....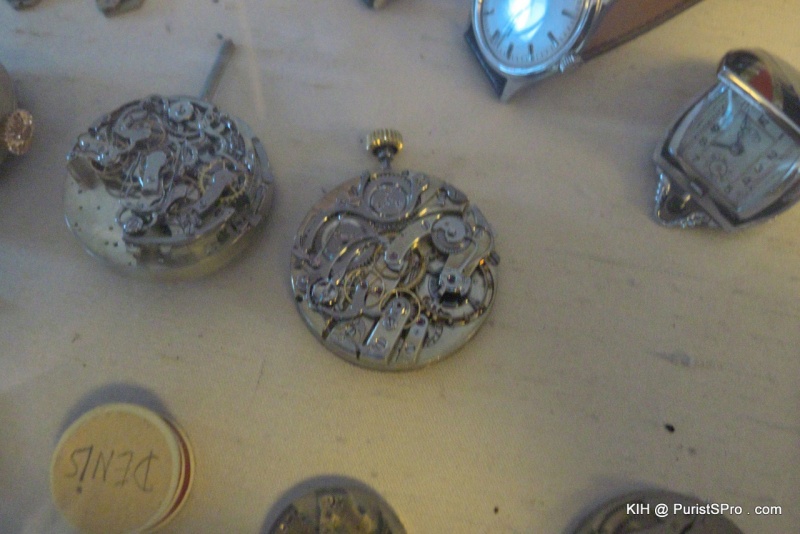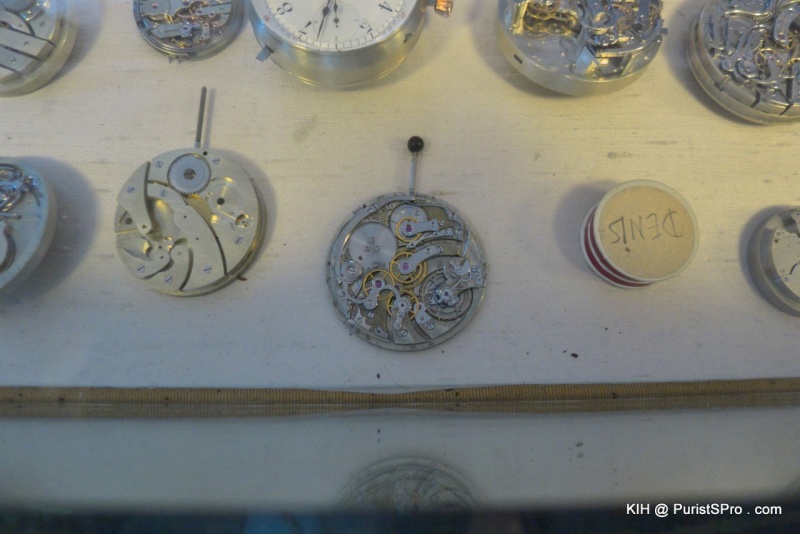 2. What will be the next?
"It will be between Grand Sonnerie and Simpicity" - well, too huge difference, but you got the answer, hahaha.
"I will tell you later"
"When?"
"When it's ready" - hahaha, now you got that answer, too

, he added "probably in a few years....". Let's wait and see!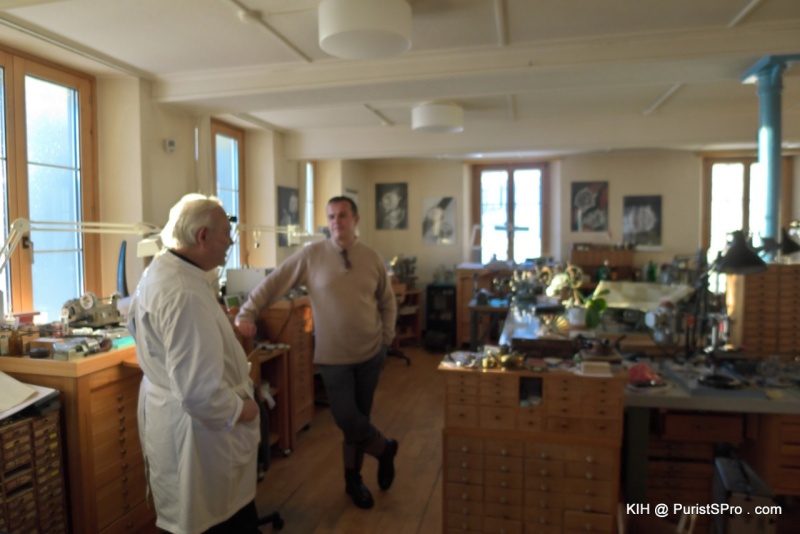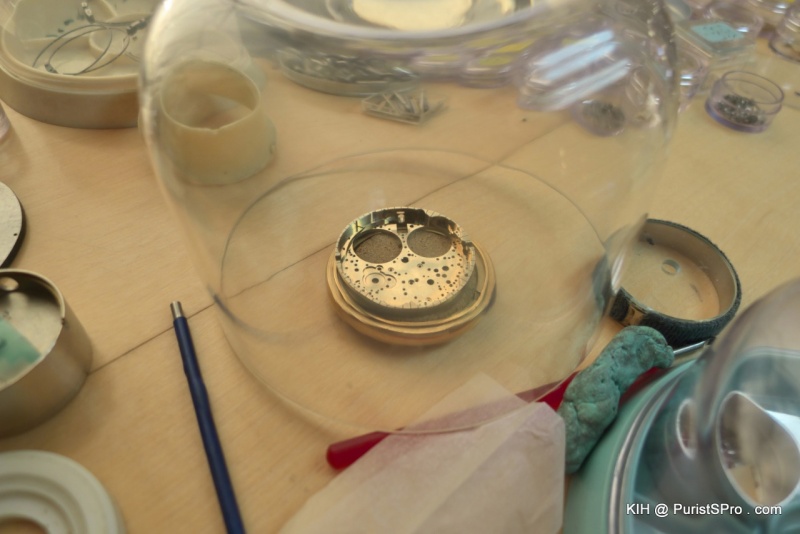 ?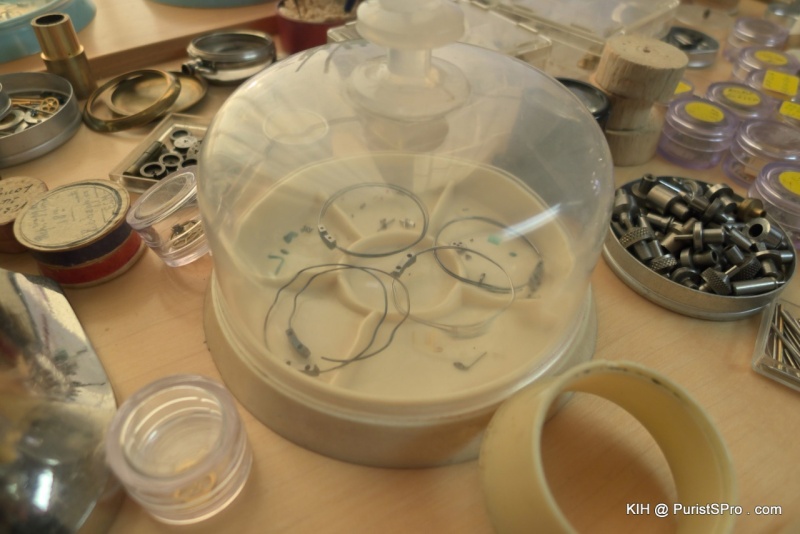 ?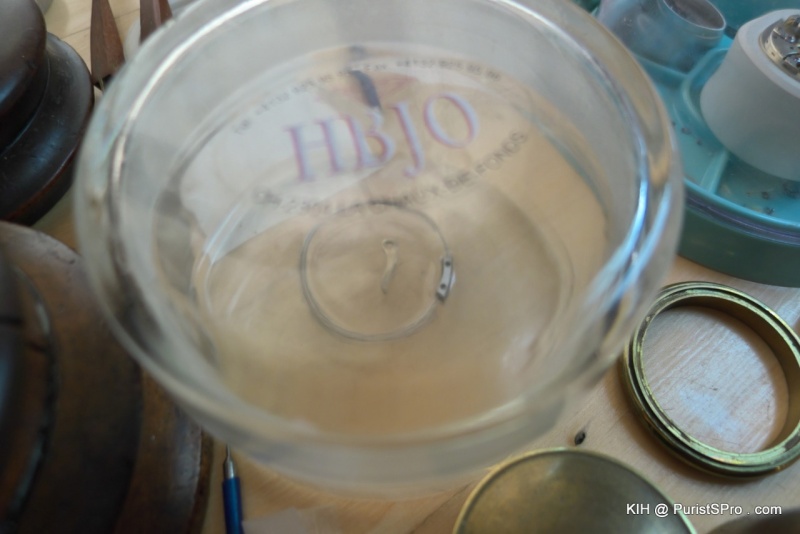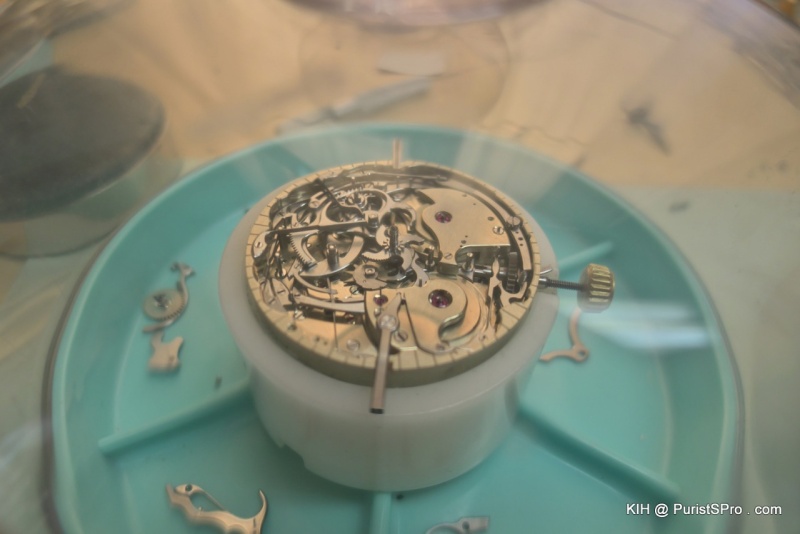 Simplicity being serviced.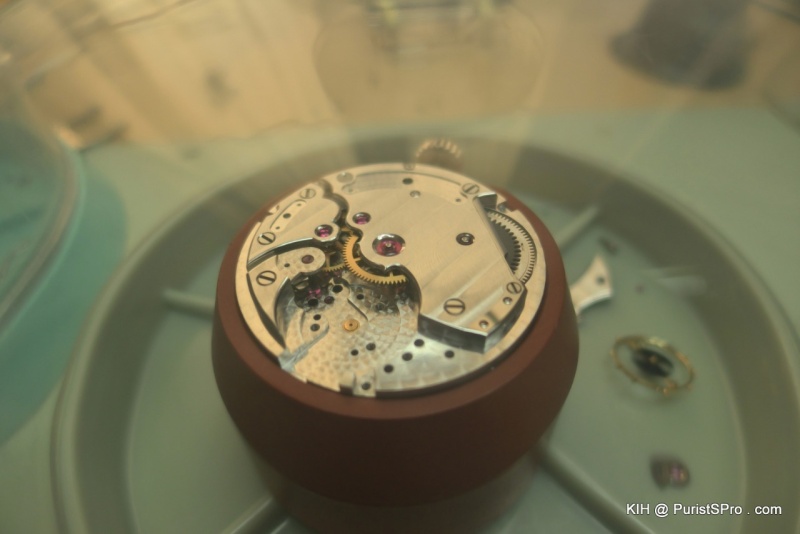 On the wall.....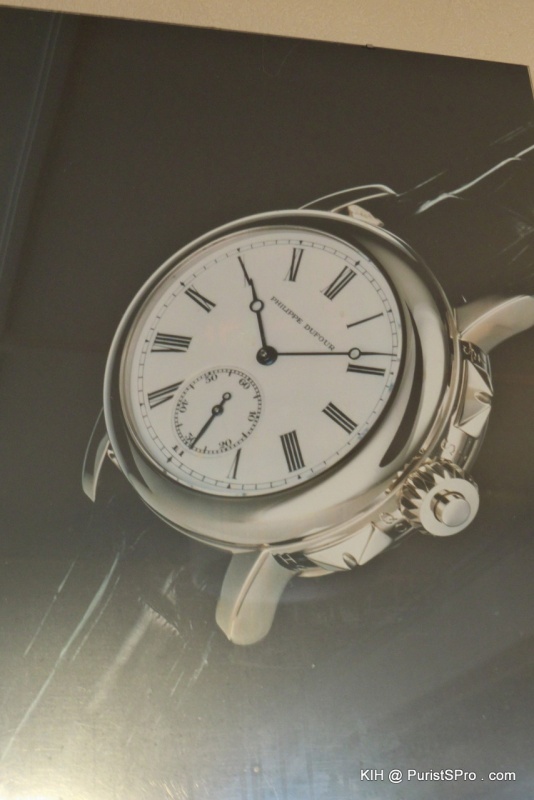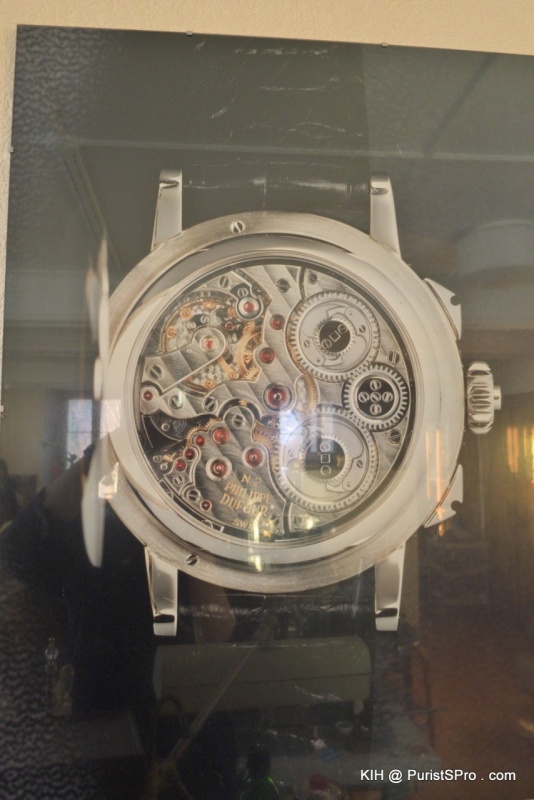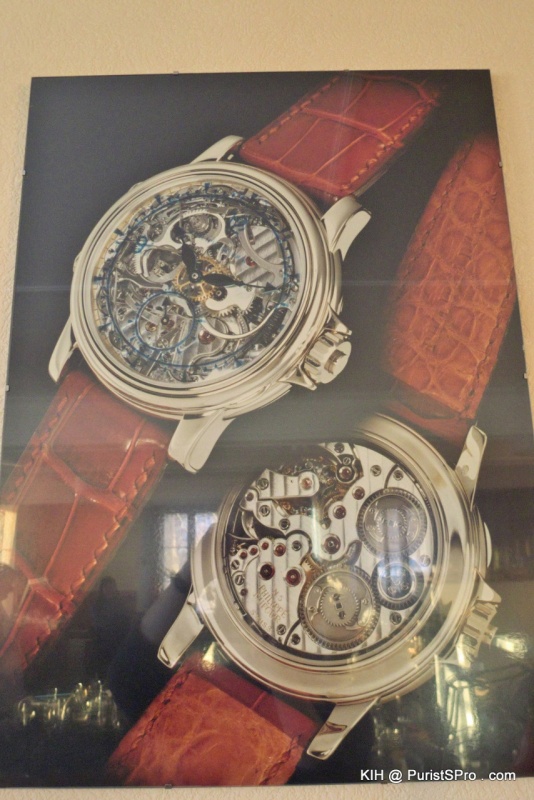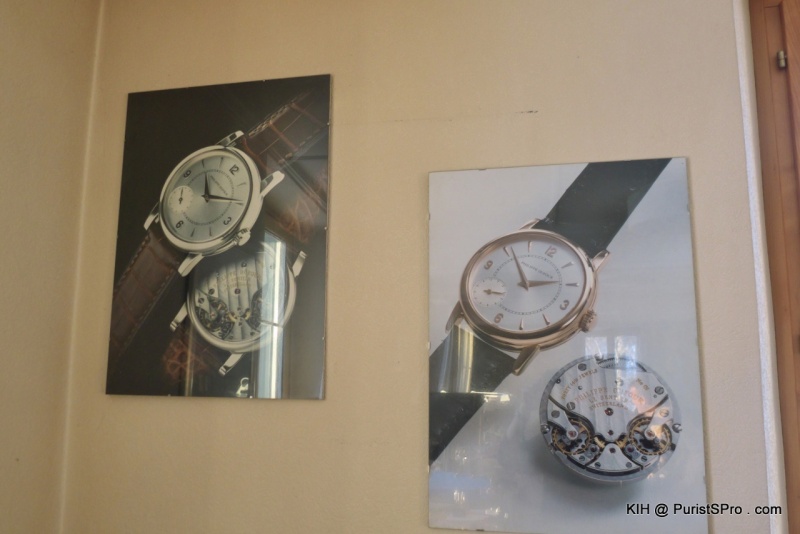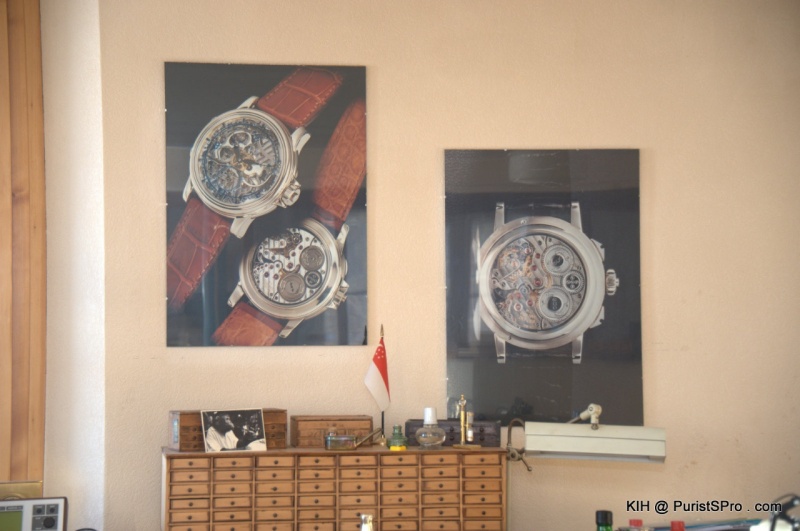 His latest award.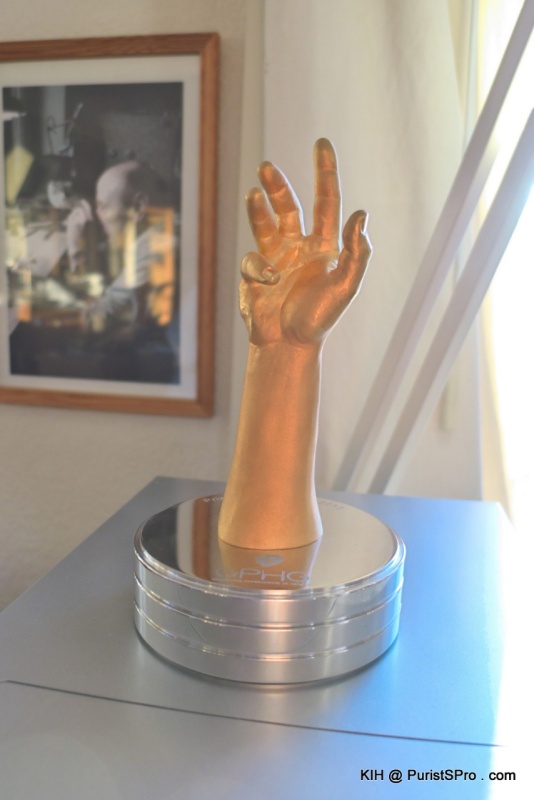 3. Co-operation with Greubel Forsey
I saw a poster on the wall and asked what exactly his relationship with GF is.
He said that they cooperate in educating the young watchmakers about the traditional way of making watches, which is in fact the disappearing art.... He is not making watches with them.

4. Masahiro Kikuno
Mr. Dufour was one of the two AHCI members who recommended Kikuno to become the member. I brought his new creation (reported here recently) to show him. His first words were "he is improving, looks good.". He then went on to say, "he has a very unique but traditional watchmaking style, with the flavor of Japanese tradition and history, then he does all this with his own hands, just like me". He wants to see Kikuno at Basel every year.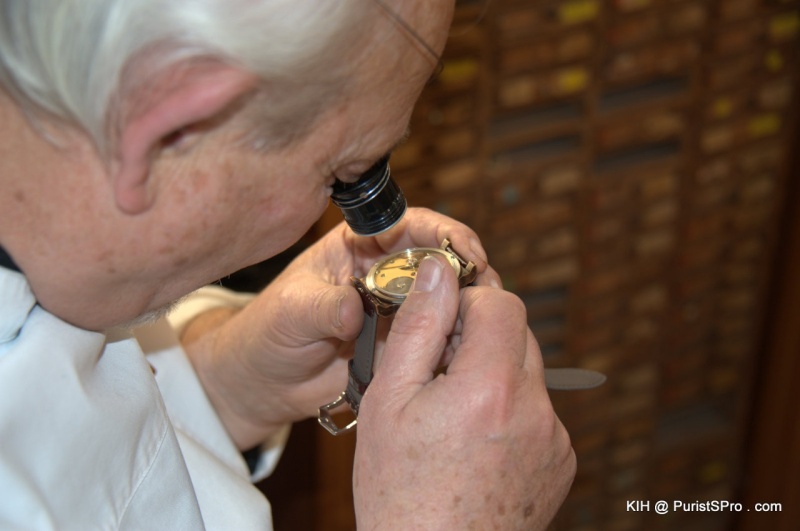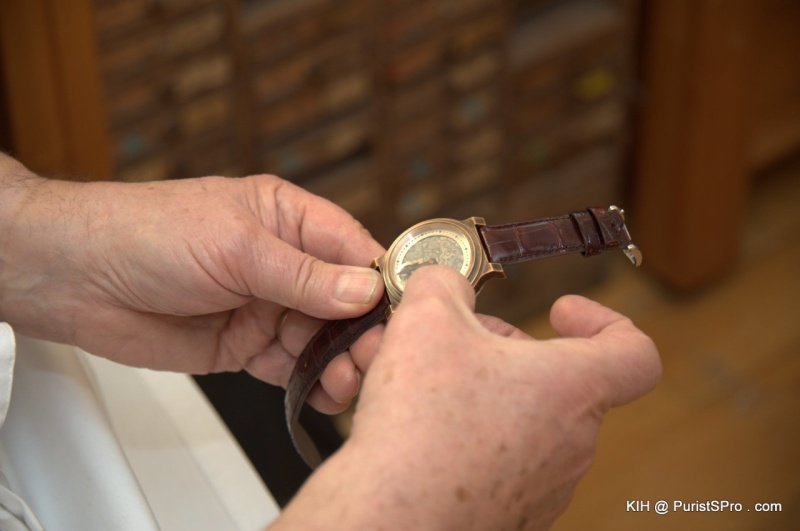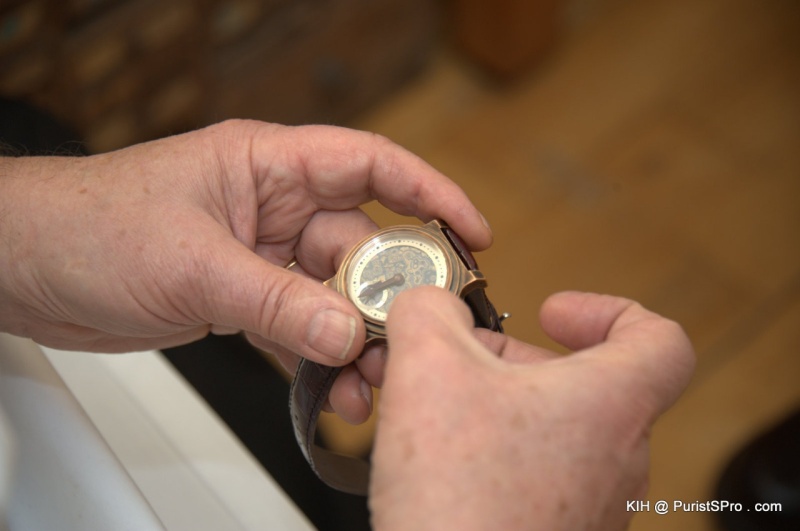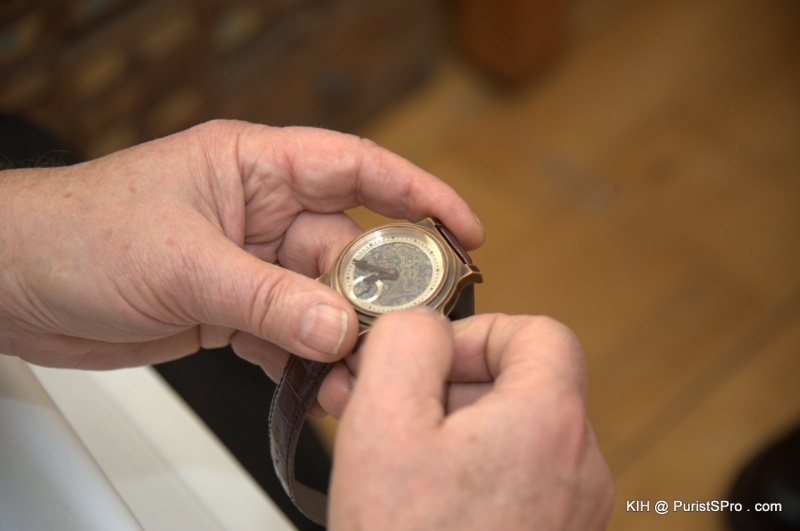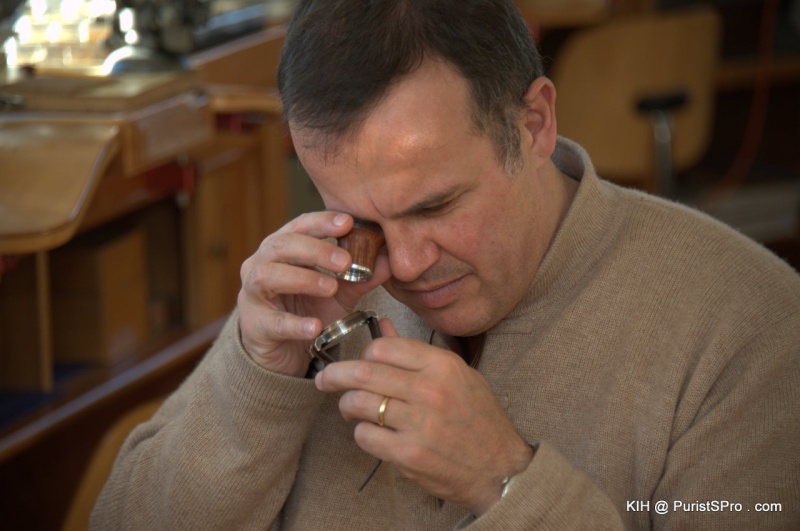 5. Memory of Japan
After talking about Kikuno, he started talking about his memory of visiting Japan in early 2000s. He visited the watchmaking school - Hiko Mizno (introduced here a few times before), and he gave lecture there as well as heard some other guest speakers, like Mr. Komaki (80 years old back then already) who was the master adjuster at Seiko when it was participating the Neuchatel Observatory Chronometer Competition. Mr. Komaki was talking about how Seiko went up the ladder quickly and Neuchatel stopped the competition, with a bit of smile on his face.
By the way, they re-started three years ago the observatory chronometer competition recently, and it is open to everybody EXCEPT for Japan and China, according to Mr. Dufour. He was critical about that attitude and said that the competition without all over the world wouldn't mean anything. (so, as a result, there are so few participants including major brands now). Mr. Muller added that Japan is not good at marketing..... Swiss brands are good at it, good at story telling and branding.
Mr. Dufour continued that it was the shame that Credor is not available outside Japan. Some of the Credor are better finished than Grand Seiko...... and beautifully designed and executed watches. Are you reading this, Seiko people?

6. Workshop
All early to mid 20th century machines. No CNC and such.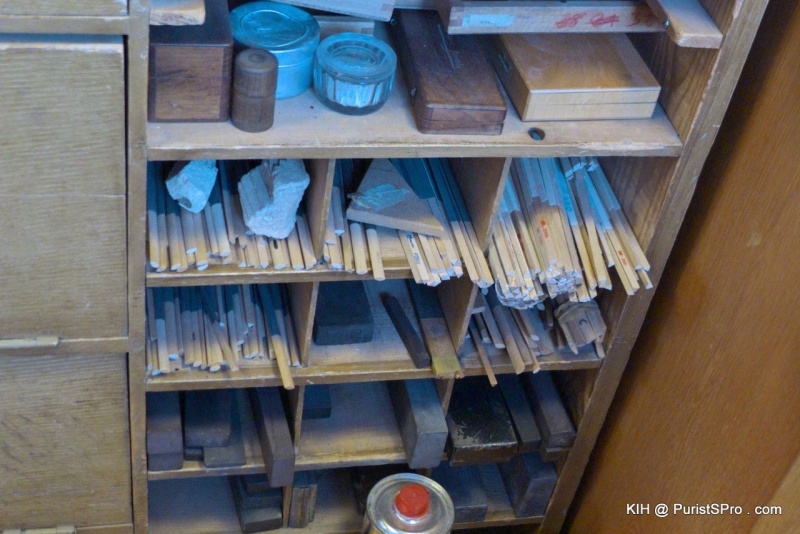 He showed how he put "cotes de Geneve". And let me touch it afterward - my finger didn't feel a thing, meaning the pattern is so shallow and subtle that touching the surface won't let you realize they are there. Surprised.....
And now, press kit photos of brand XXX (a big brand in a big luxury group) - he hates the products like these are actually sold let alone being chosen as a press kit photo. His words were "incredible incompetence".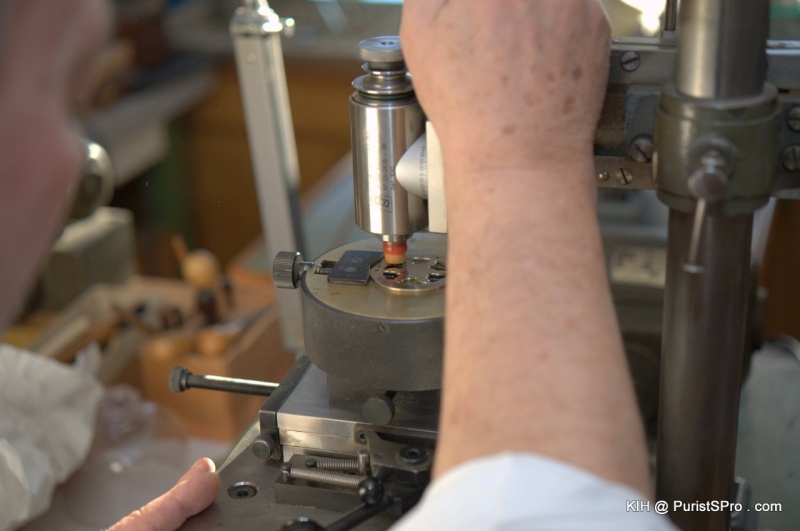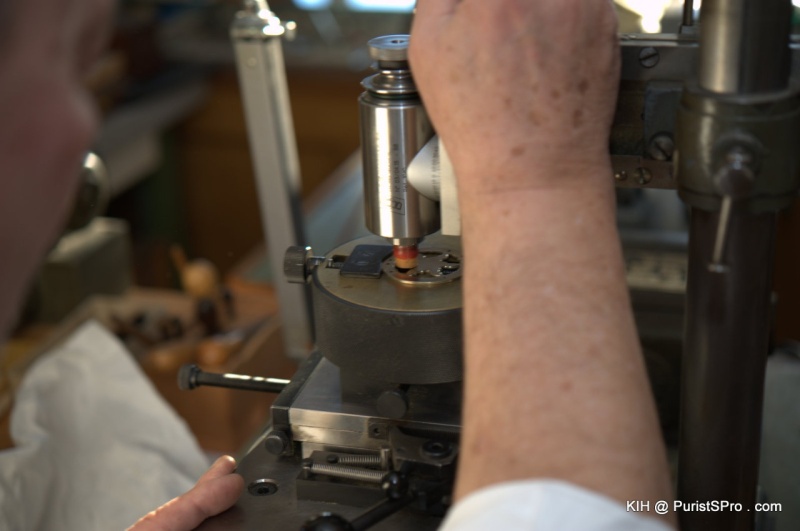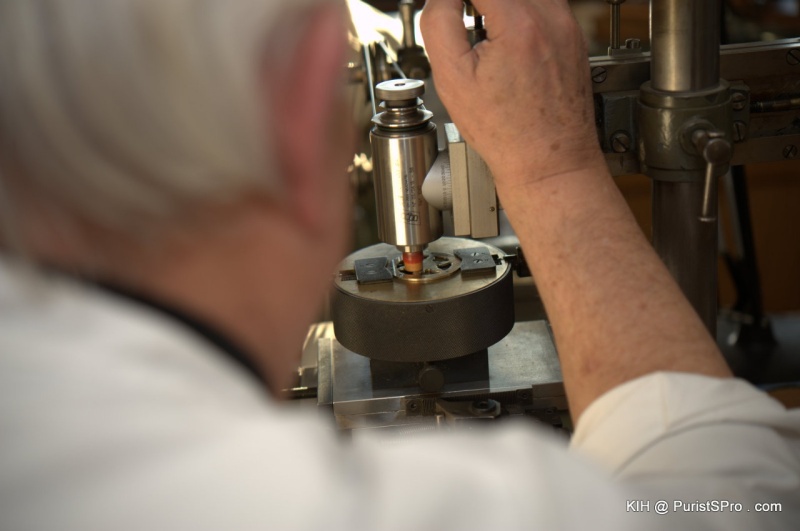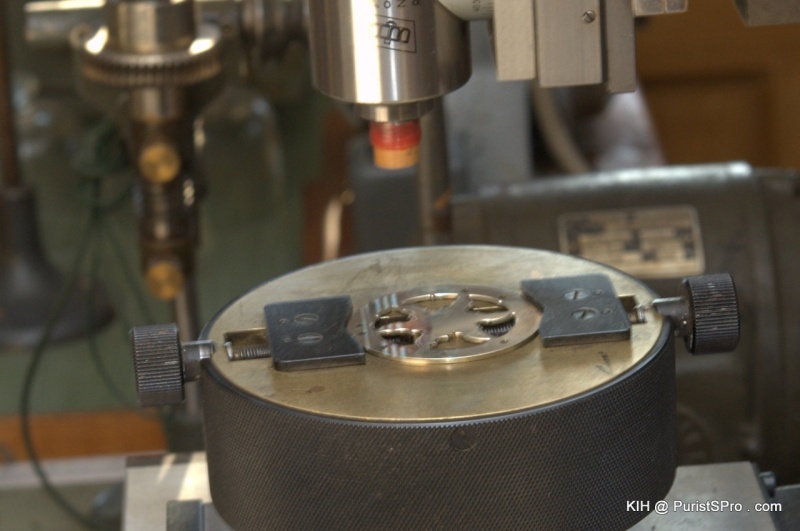 So smooth surface and you wouldn't feel a thing when you touch it.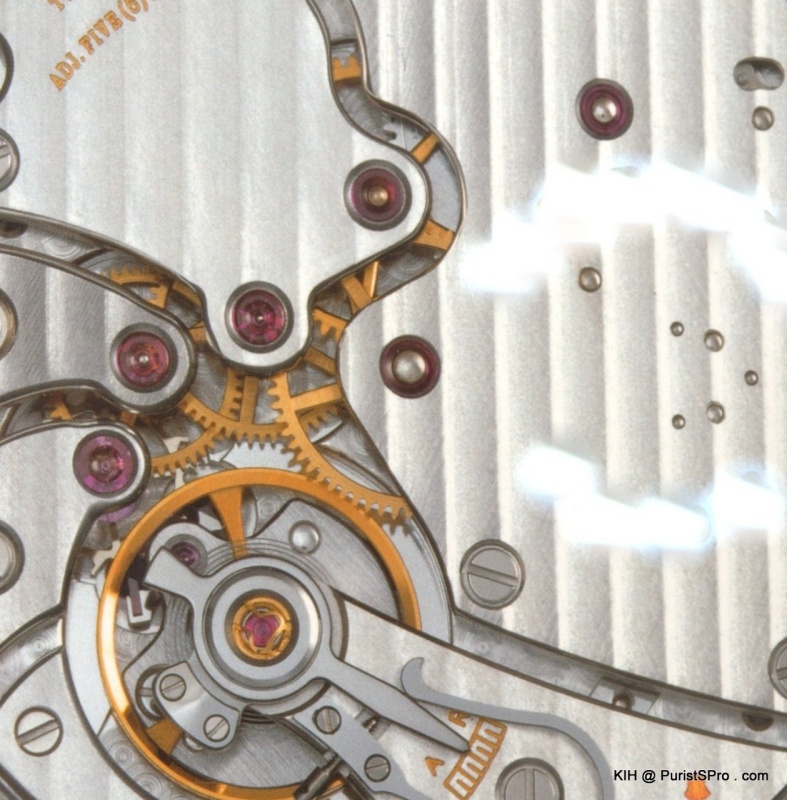 Very, very bad example shown by Mr. Dufour. Do you see the inconsistency (depth, width) and even non-aligned cotes de Geneve on the separate bridges? I have erased the brand name, but it is a big brand in the big luxury group.
Then he showed how he makes pattern on the barrel.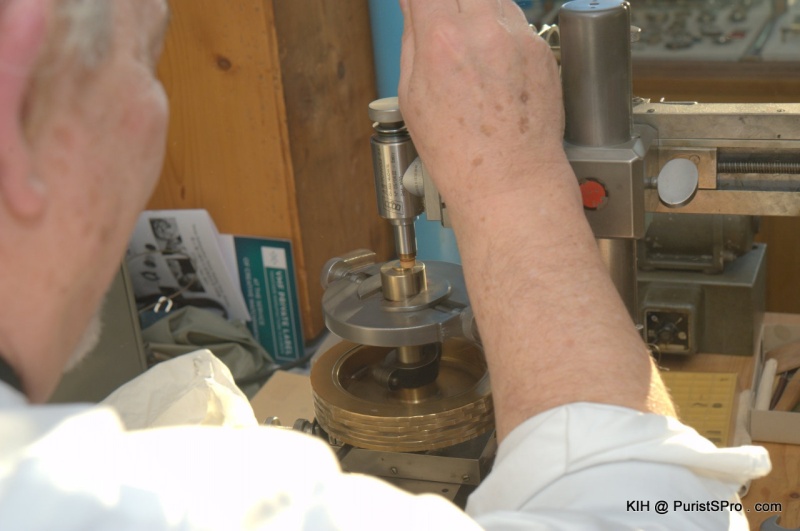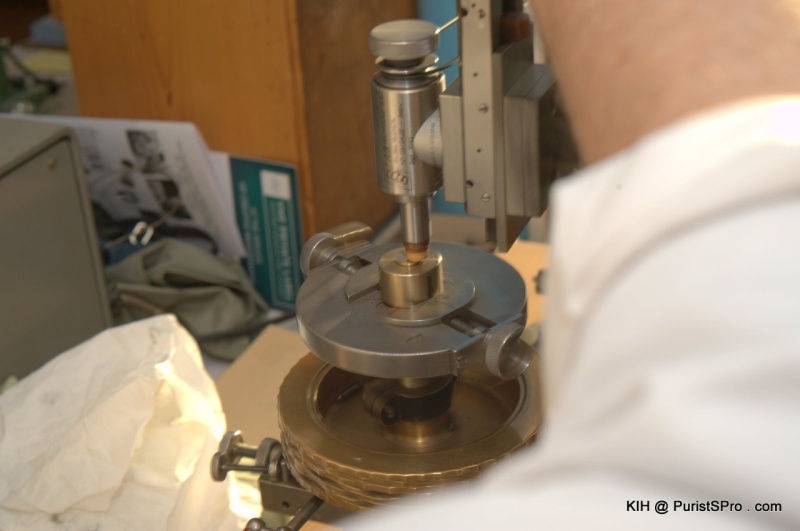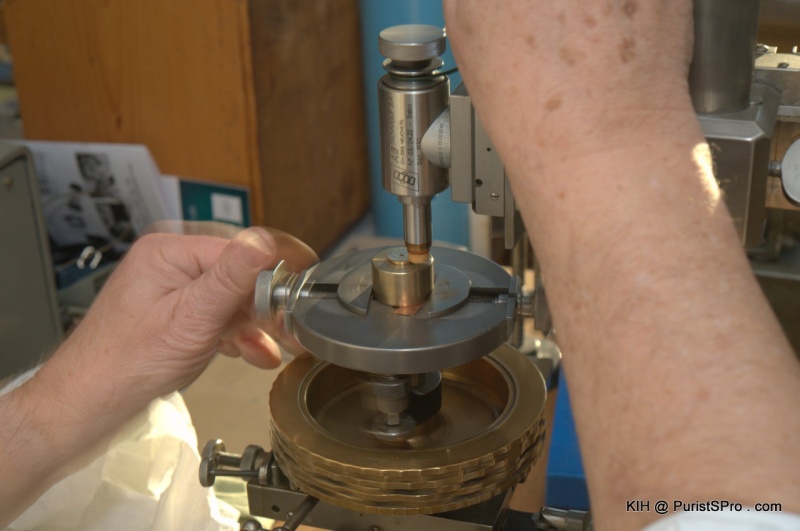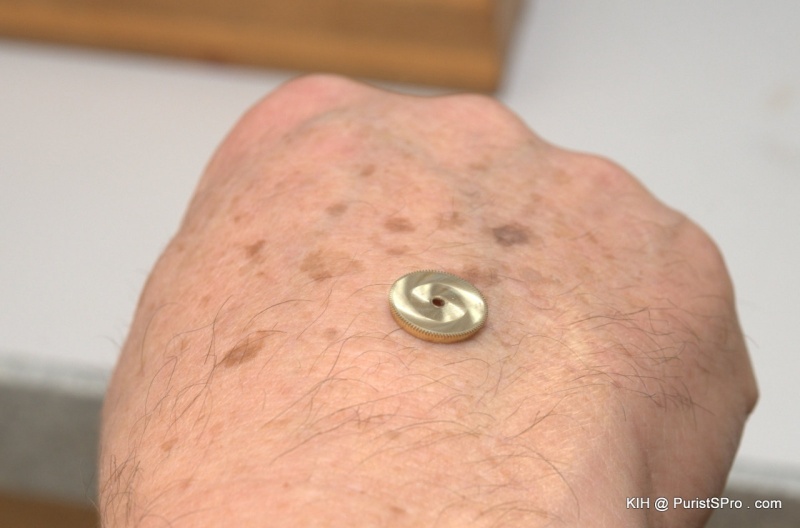 Just like that!
He then showed his own Simplicity macro shot, taken by Steve G - "now this has become our standard. We have to do this all the time. And by that, I have become the "black ship" for all those big boys because they just can't." Steve G, good job!
Mr. Dufour also mentioned that he was actually glad that he became the "black ship" because consumers have been educated, thanks to internet forum like PuristSPro, and their expectation has been elevated and that PuristSPro discussion level is now so much higher than before. It's all good for the watch industry.
7. His early products
First pocket watch he made in mid 60s - he is now 65 years old and have been watchmaking for 50 years, so, this pocket watch was made when he was around 20 years old or younger? Wow.....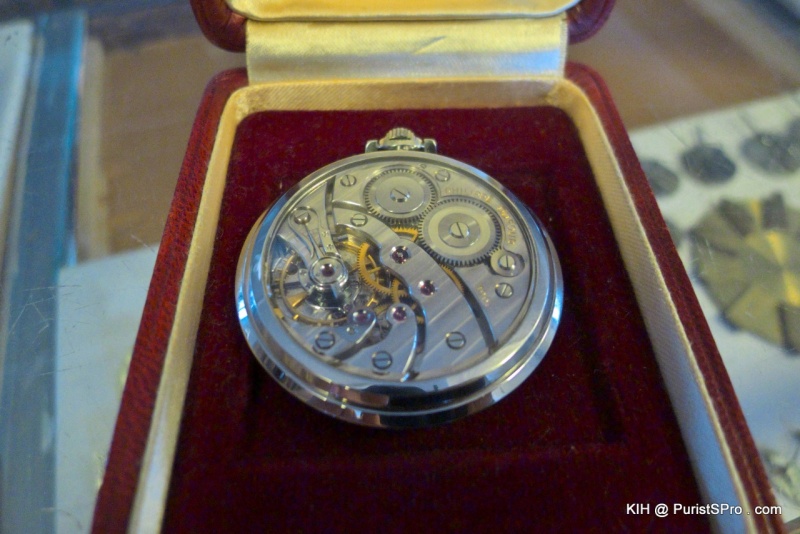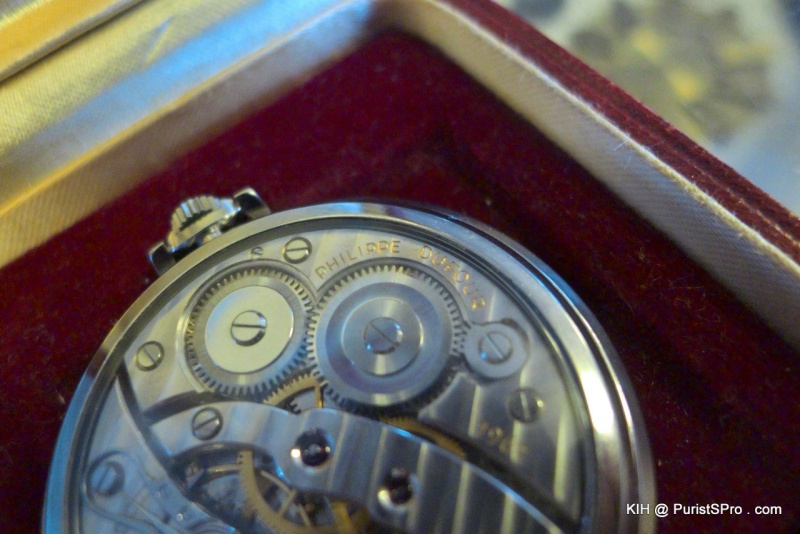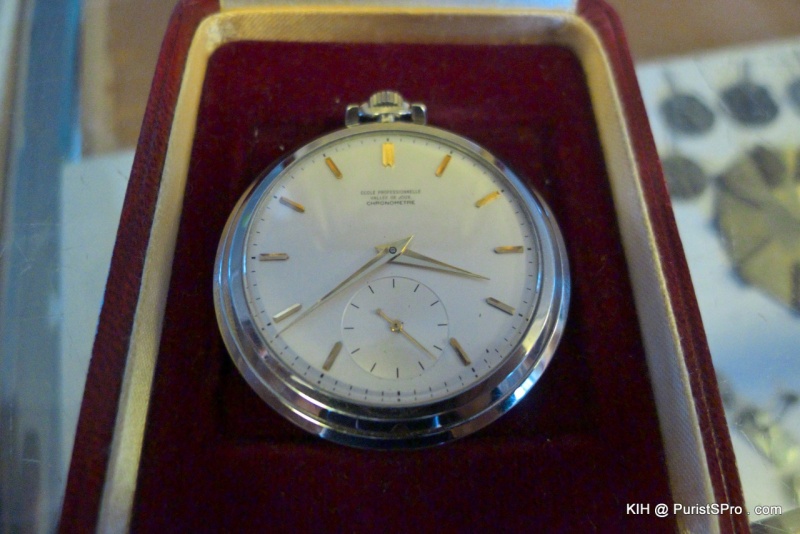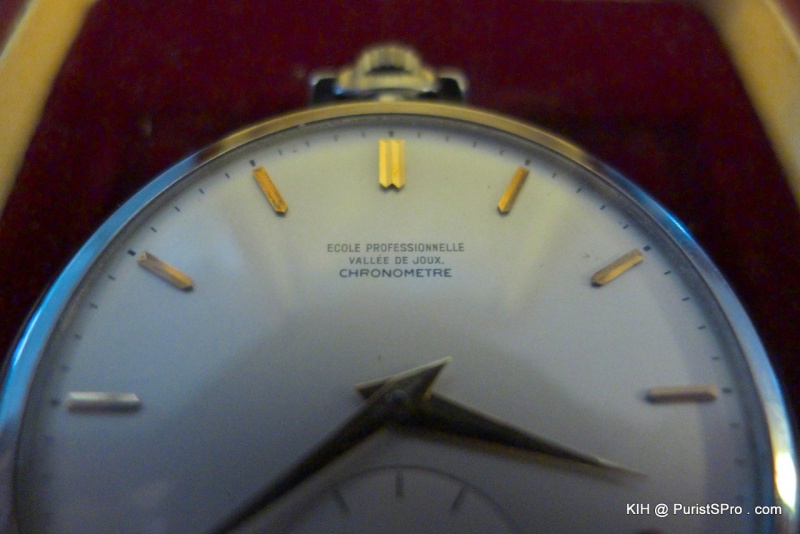 And his first Grande Sonnerie pocket watch version (mid 80s).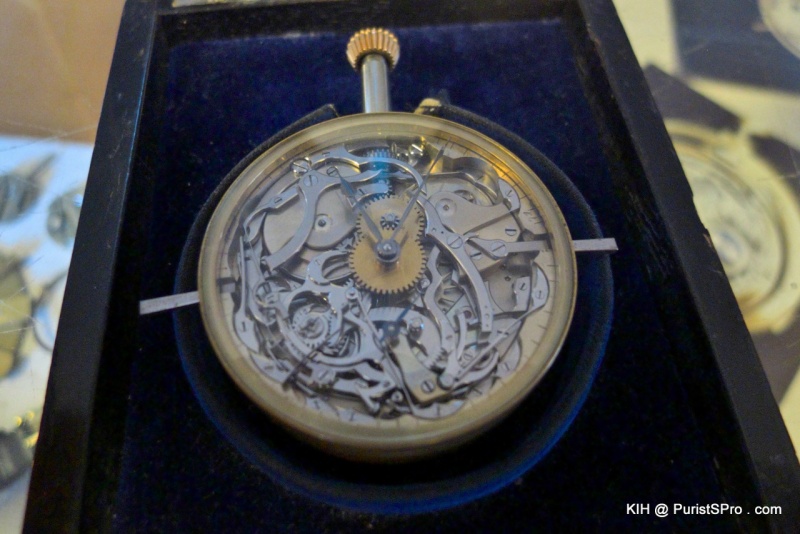 Sound....
Audemars Piguet ordered five (5) of them and sold as AP pocket watch.... Super collectible, I am sure!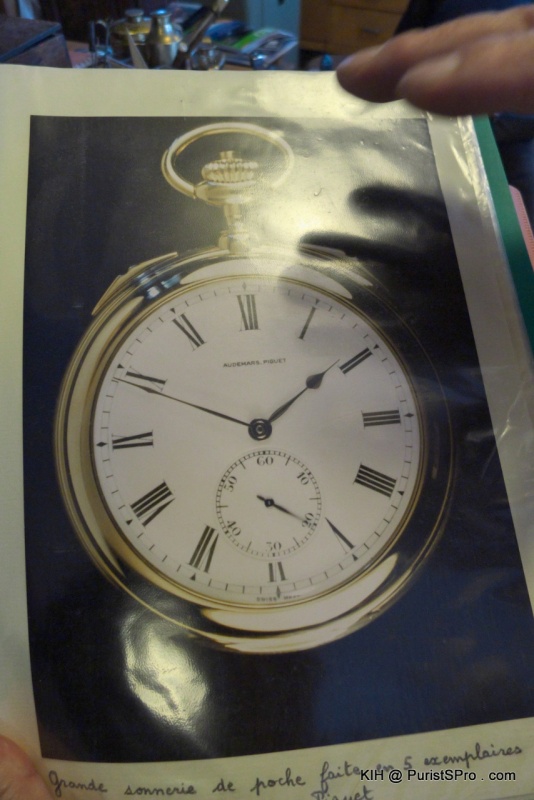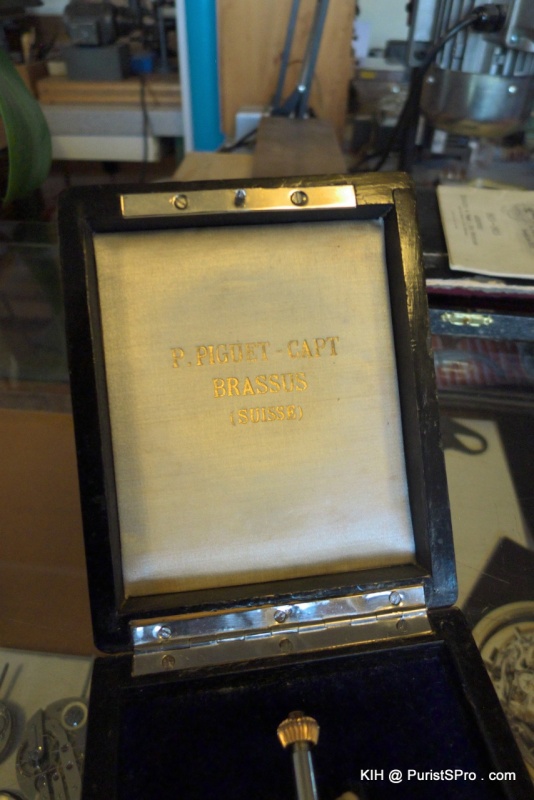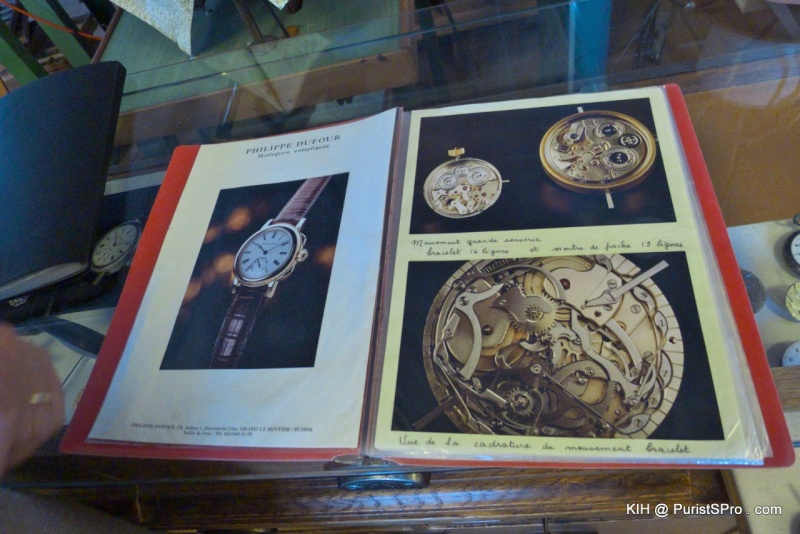 Shows the difference from 19 ligne pocket watch to 14 ligne wrist watch - was not an easy task!
8. Message to PuristSPro readers?
Mr. Dufour: "I like PuristSpro as it is the biggest supporter for the independent watch brands like us. PuristSPro is the best Ambassador for Independents. Thank you so much for that!".
Mr. Muller: "I appreciate PuristSPro management and members as, without PuristSPro, Laurent Ferrier could never fly. But you should be always aware that there may be less known Independents which are not getting enough attention they deserve. It should be fun to dig out such Independent watchmakers."
9. On the way back to Geneve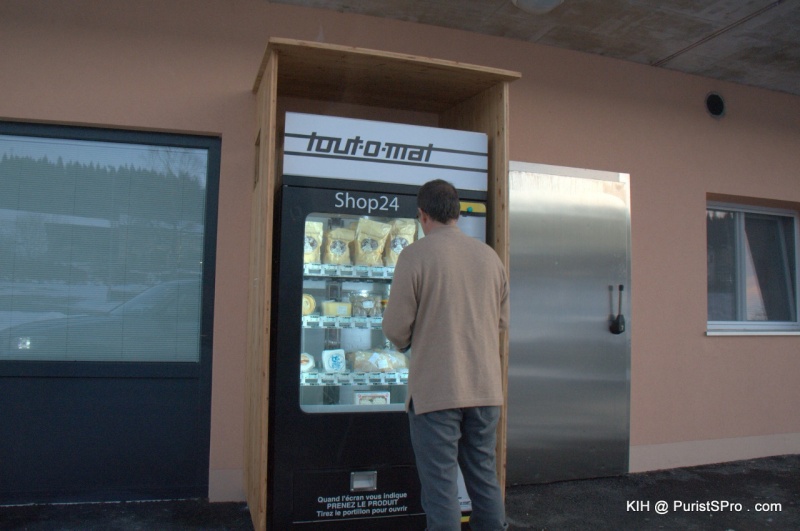 Ex-CEO trying to buy Cheese Fondue from the vending machine.....in vain....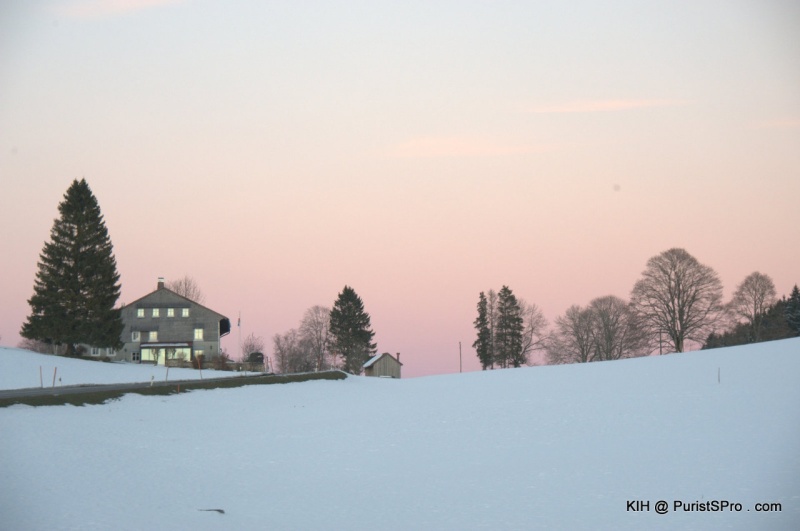 Could be the Holiday Greeting card.....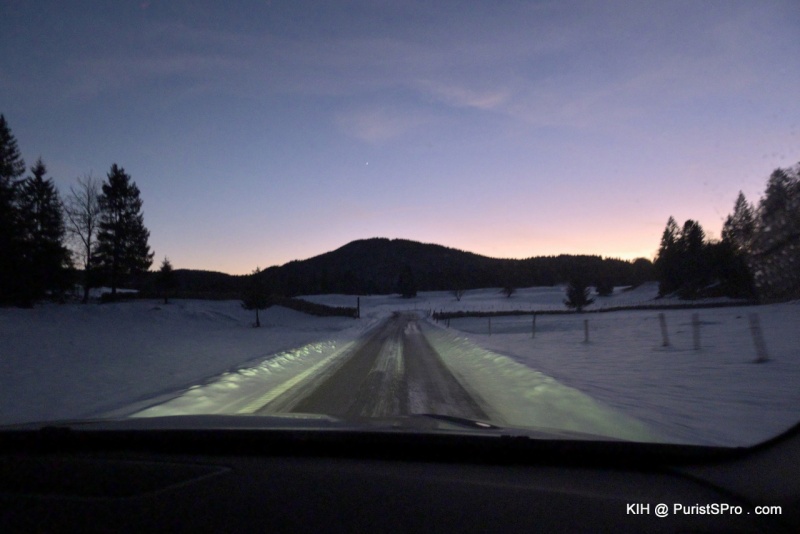 After all, on our way to the Fondue place...

Yummy!!
============================================================================
Thank you again, Mr. Dufour, Mr. Muller for a very memorable afternoon. I would love to visit again.
And, Olivier, thank you for driving me to Mr. Dufour and good luck with you new position!
Thank you for reading.
Best,
Ken
This message has been edited by KIH on 2013-12-14 00:07:28
More posts: